Where to stay in Colombia? Like any other country, Colombia has so many beautiful hotels. For both work and personal trips, I visited Colombia dozens of times and stayed at many different places. When I travel by myself, I always look out for smaller scale hotels with beautiful interiors, a nice atmosphere and setting. In addition, I like to support the locals and love a sustainable approach around a hotel. I always spend a lot of time researching, before I book my stay. In this article I will tell you more about my favorite places to stay in Colombia: The best boutique hotels and unique places to stay sorted by city and region in Colombia.
Sazagua Boutique Hotel – best boutique hotels in the coffee region
In the heart of the Risaralda Valley, lies Sazagua Boutique Hotel, with so much attention to design, service and detail. Here you can completely unwind in your own little paradise and be at the best places in the coffee region in no time. Sazagua Boutique Hotel is located in a tropical garden, surrounded by flowers and hummingbirds, near Pereira in Colombia. The former finca has been transformed into a boutique hotel with 18 completely different rooms, spread over the main building and a number of lodges on the grounds.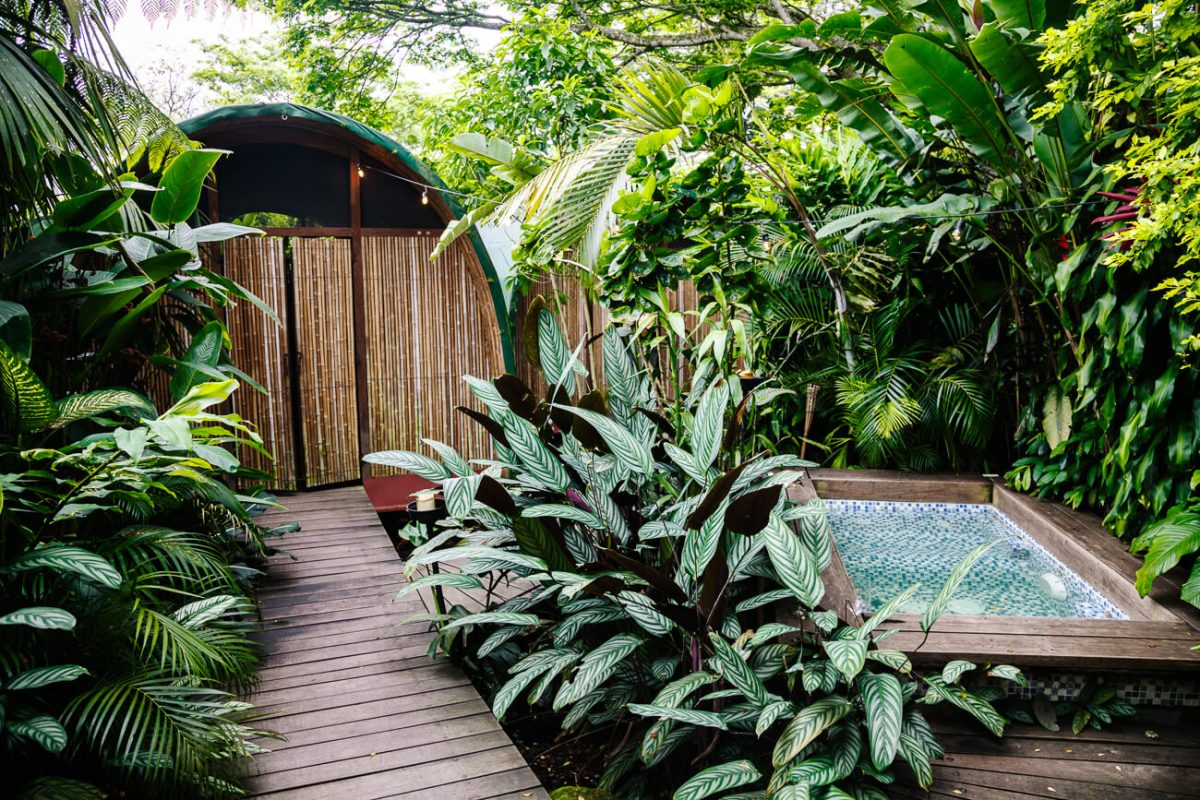 Rooms
Each room at Sazagua Boutique Hotel is unique, designed by Colombian architect Marcelo Villegas, who is known for his designs with guadua (a species of bamboo). All the rooms at Sazagua are special and beautiful, but the very best for me is the Masinga Lodge. Masinga Lodge consists of several cottages: A bedroom, a living room, a Turkish bath and an entrance with two bathrooms. The lodge is surrounded by mighty jungle trees and water with carp in it. A highlight is the private jacuzzi, which is also illuminated in the evening. Believe me, you never want to leave this room anymore.
Check the availability and latest rates for Sazagua Boutique Hotel here.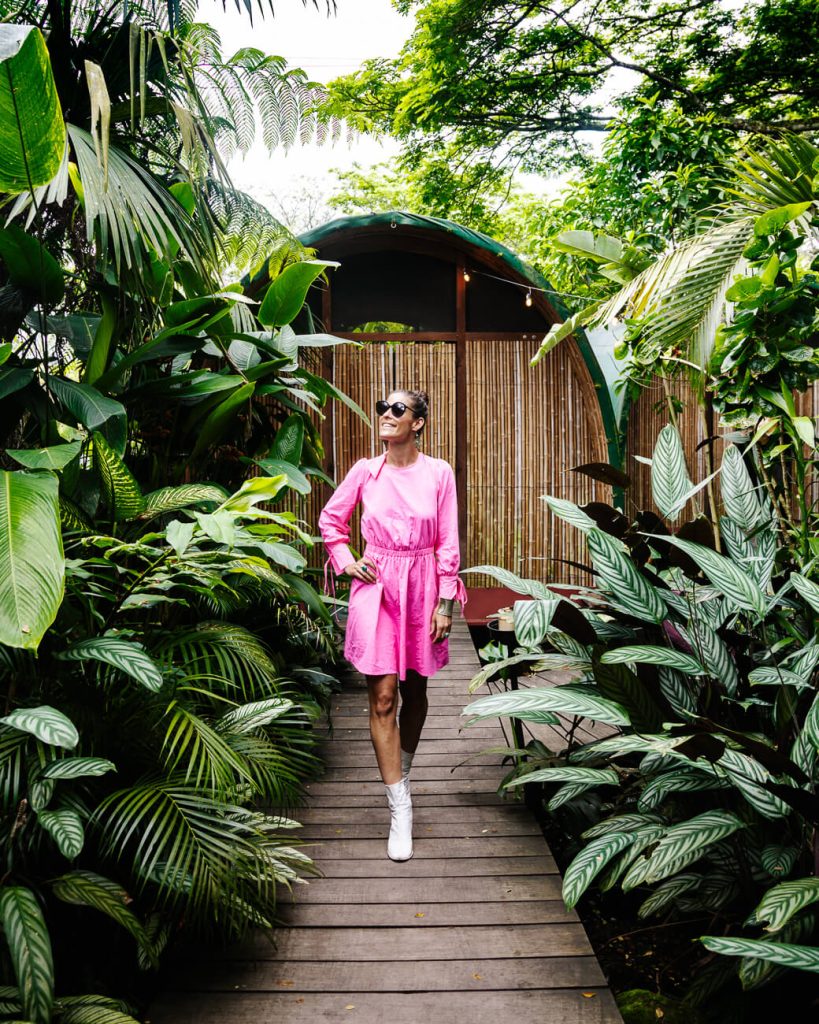 The property includes a spa where you can go for traditional treatments (don't forget the coffee spa treatment), a nice pool and a restaurant where you enjoy high-end dishes. And in the evening, the grounds are fairily lit! Sazagua Boutique hotel is only 10 kilometers away from Pereira airport and a perfect place to discover the coffee region in Colombia.
Interested in staying at Sazagua Boutique Hotel? In the next article you'll read everything you want to know about a stay at Sazagua Boutique Hotel, one of the best hotels in the coffee region in Colombia.
El Nido del Condor – Manizales
El Nido del Condor is an ecolodge, located on a mountain, between two gorges in the Colombian coffee region. Therefore it is also called an island in the mountains. Special is it that this ecolodge can only be reached by cable car. From the road, where you leave your car, you enter a small gondola that takes you to the other side of the gorge, within 12 minutes.
El Nido del Condor is so breathtaking that there are almost no words for. The location on a mountain, completely surrounded by avocado plantations, flowers and birds, the high-end architecture and the amazing views, make this a place you only encounter in your dreams. And when you think it can't get any more beautiful, there are also condors flying around.
Rooms
El Nido del Condor ecolodge has 5 rooms of 72m2 each. And from everything you can see that the owner, Jaime Botero, is an architect. The room, in the shape of a tent, is beautifully decorated with high end materials and everything has been thought about. Colors are soft and nice and even the most nondescript hotel room elements are stylish here. The room includes a large bed, from which you have an amazing view of the canyon. On the perfect balcony you take a seat and enjoy the surroundings. And while taking a shower, you look out through the open window over the valley.
El Nido del Condor has a restaurant where delicious meals are served. There are different hiking trails around the property and plenty of activities to do in the surroundings. Save money and time because El Nido del Condor is a place to never forget!
Curious to learn more? In the next article, you'll find everything you want to know about El Nido del Condor, one of the best and most unique hotels in Colombia.
Hacienda Bambusa – Armenia – best boutique hotels in the coffee region in Colombia
Hacienda Bambusa in the Colombian coffee triangle is a place straight out of a Colombian soap opera! This traditional finca, situated on a large cocoa and avocado plantation, has been transformed into a luxury boutique hotel where you can experience the authentic atmosphere of the coffee region.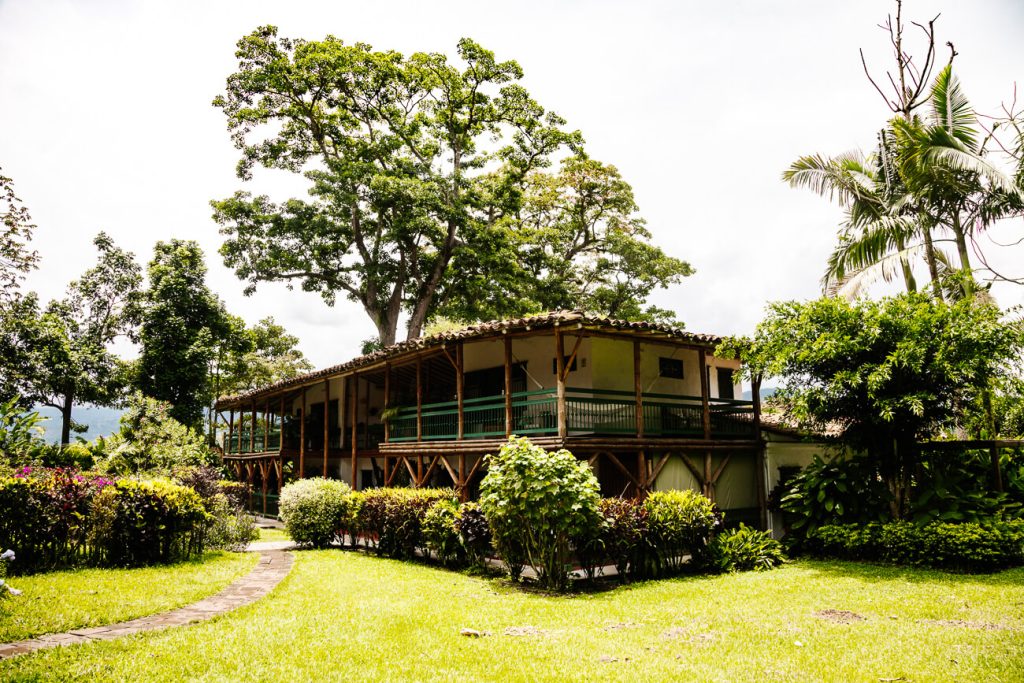 Hacienda Bambusa is perfectly located, on a large open field, surrounded by plantations, with the mountains in the background. The hacienda consists of two floors, including a courtyard and two terraces. The property also includes a swimming pool, spa and restaurant.
Rooms
Hacienda Bambusa includes 8 different rooms: Standards, superior rooms and some suites. They differ in size and location, but all have comfortable beds and a nice balcony or terrace, overlooking the pool or the plantation.
You can find availability and current prices for Hacienda Bambusa here.
There are countless things to do around Hacienda Bambusa. Since you're in a whopping 500 acres of nature, you'll have the best activities such as a cocoa- and birdwatching tour, right on your doorstep.
Curious about Hacienda Bambusa? In this article you can read more about Hacienda Bambusa, one of the best authentic hotels in the coffee region in Colombia.
I recently went on amazing road trip in the coffee region of Colombia, visiting numerous sights and staying in three of the best and unique hotels in Colombia. In the next article you'll read more about my road trip through the coffee region, the itinerary and hotels.
One Love – Palomino
Do you love unique places in nature and are you looking for a true paradise? Then you should stay at One Santuario Natural, also known as One Love Colombia, near Palomino in Colombia. This eco resort is located in a natural reserve along the Palomino River, at the foot of the Sierra Nevada mountains and is a place you will not easily forget. The jungle surroundings, the flowers, the sound of the river, the food and the sounds of the birds will make you relax and completely disconnect from the outside world.
Bungalows
The complex consists of 80 acres, and with only 6 bungalows you will enjoy ultimate privacy. Through a narrow path with numerous flowers, you reach your bungalow, which consists of two houses. One house with a bedroom and one house with a spacious bathroom and outdoor shower. Outside you can relax in the hammock or sit in one of the lounge chairs and gaze out over the river. But one of the highlights is your own little jacuzzi.
Curious about One Love Palomino? Check the availability and latest rates here.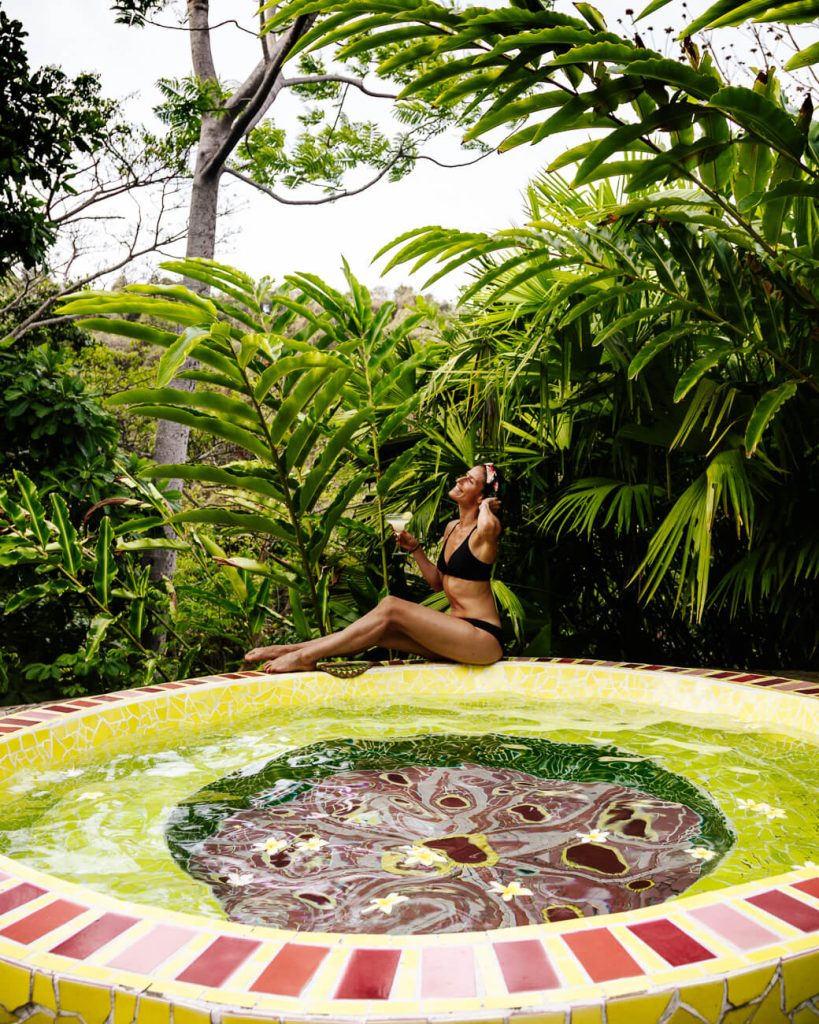 There are hiking trails that connect the bungalows with the rest of the complex. You can walk to the river and take a refreshing dip, observe the birds, eat in the fine restaurant, go on hikes or tubing, visit waterfalls or book one of the treatments in the spa.
Interested in staying at One Santuario Natural – One Love Colombia? In the next article you'll read everything you want to know about a stay at One Santuario Natural, one of the best and most special hotels around Palomino.
Playa Koralia – best boho-chic hotels in Colombia
Are you looking for a place to stay on the beach? Then you want to spend the night at Playa Koralia, located on the Caribbean coast of Colombia, at the foot of the magical Sierra Nevada mountain range. You will find luxury and simplicity together here, because everything is about the connection with nature. Barefoot luxury, as they describe it themselves. You can completely unwind from daily life because of the beautiful surroundings and privacy, but still live in luxury.
The bungalows
There are several bungalows, located on a private beach, surrounded by jungle. The houses are made of natural materials such as palms, reeds and guadua (a species of bamboo) and each has its own theme. Something that can be seen in the colours, murals and mosaics. So stylish. The bathroom has an open roof, so you can enjoy the sounds of the birds around you. And at the front there is a terrace with a nice hammock.
At Playa Koralia you walk on the beach to the sea, through tropical gardens, along the river and find yourself in your own little paradise.
The restaurant and facilities
Playa Koralia is located on a large beach surrounded by greenery. In the bohemian restaurant surrounded by dreamcatchers, the most delicious dishes are served. Not just any dish, but a culinary three-course menu with fresh and local tropical products from their own garden. A true surprise! There is also a stylish bar, yoga room and a spa where you can relax through indigenous techniques and scents.
The area around Koralia invites you for the most beautiful trips. For example, you can hike in the Sierra Nevada, swim in waterfalls, find yourself on indigenous territory, spot birds, go tubing on the river or visit Tayrona National Park. Playa Koralia is located near Buritaca, about an hour's drive from Santa Marta. One of the most beautiful boutique hotels at the beach in Colombia.
Curious about Playa Koralia? Check the website for more informaion, the latest rates and availability.
Calanoa Amazonas – Leticia, Colombian Amazon
Are you planning to visit the Colombian Amazon? If so, you definitely want to stay at Calanoa Amazonas lodge. This jungle lodge is in the Condé Nast list of best and most beautiful hotels in Colombia and that is for a good reason. You will be staying deep in the jungle, surrounded by the most incredible nature and yet you stay here comfortably in nicely designed cabanas. From Calanoa you can go on different tours that allow you to experience the jungle in its most beautiful form.
Rooms
Calanoa Amazonas lodge has 7 rooms, decorated with natural materials by artist Diego Stamper. There is a master cabaña, including three floors, a bathroom with a garden and a huge balcony overlooking the jungle. But the junior suite and suites overlooking the river are also beautifully situated. In addition, Calanoa has a treehouse with two private rooms.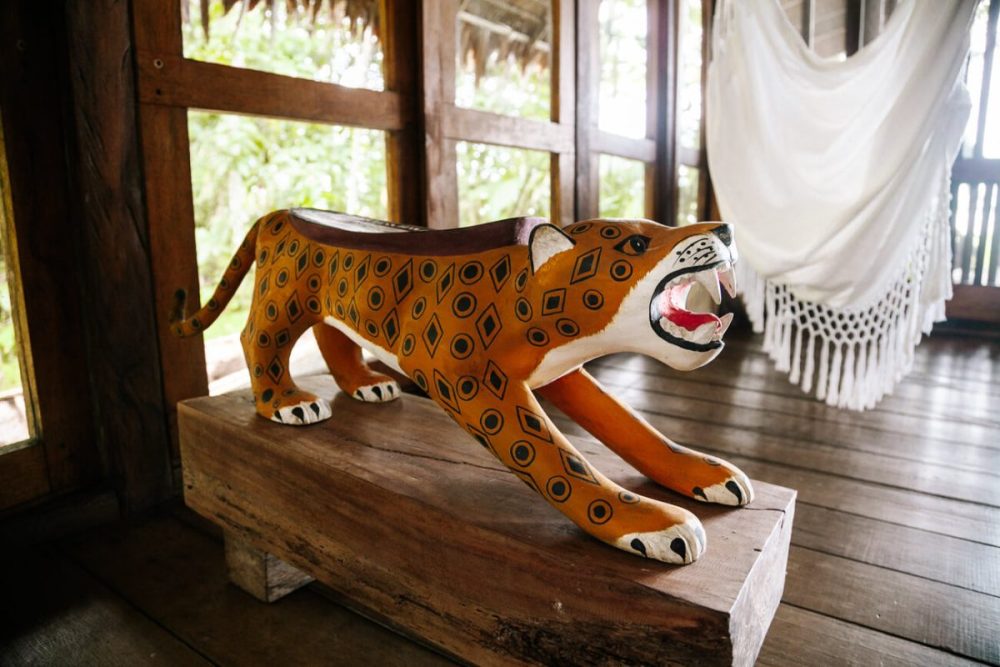 Restaurant and activities
During your stay at Calanoa Amazonas lodge, all meals are included. Every day the kitchen team prepares a breakfast, lunch and dinner, using local ingredients and indigenous cooking techniques.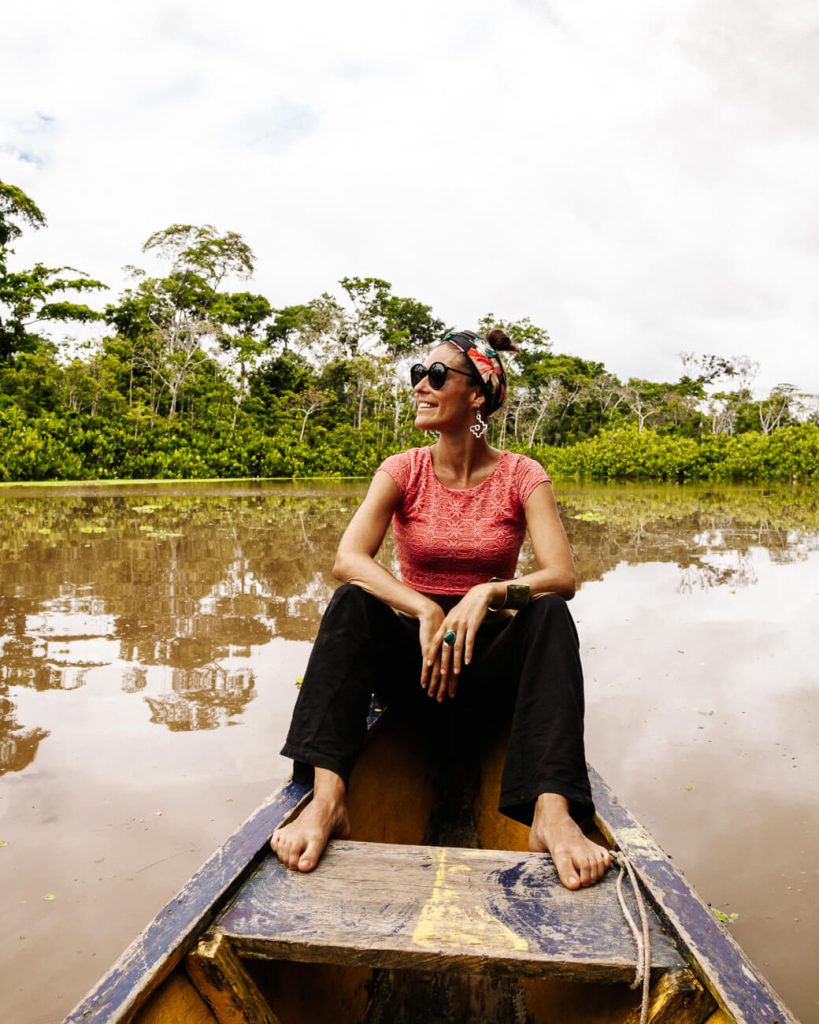 Also, you can choose two excursions a day that are included in your stay. Super nice, because you don't have to think about extra expenses. You get a list of options, make your choice and discuss your program with the staff. Your visit is completely tailored to your needs.
In this article I'll tell you more about my experiences at Calanoa Amazonas jungle lodge, one of the best hotels in the Colombia Amazon.
Awatawaa – best ecolodge hotels in La Guajira Colombia
Do you like being surrounded by nature and birds? Then you want to spend the night in Awatawaa Ecolodge in La Guajira in Colombia. Awatawaa Ecolodge is located on a small peninsula with the Caribbean Sea on one side and the Cienaga de Mababita on the other, a lagoon where numerous bird species, including flamingos, gather due to the large amount of fish. From your bungalow you walk straight into the sea, while you are surrounded by countless pelicans, herons, ibises and crabs.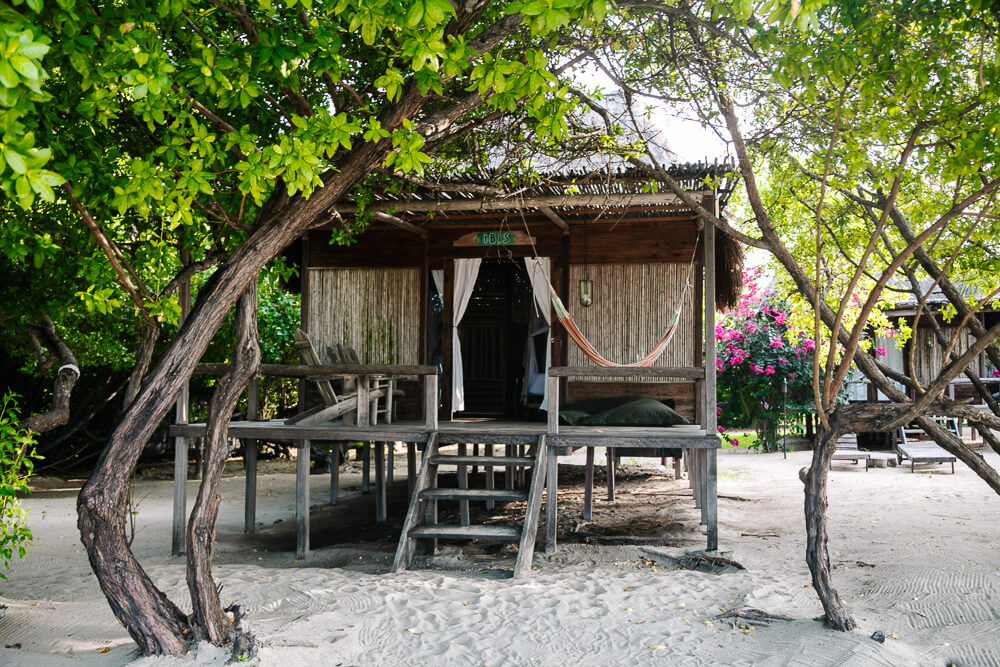 Bungalows
Awatawaa Ecolodge has 6 bungalows, all located directly on the beach. The houses are made of wood and have a nice terrace where you can relax in one of the beanbags or chairs. The beds are great and the bathroom in spacious, nice and in the open-air. Just keep in mind that there is no light (but there is electricity), meaning you have to work with candles and flashlights in the evening. Something that adds to the experience in my opinion.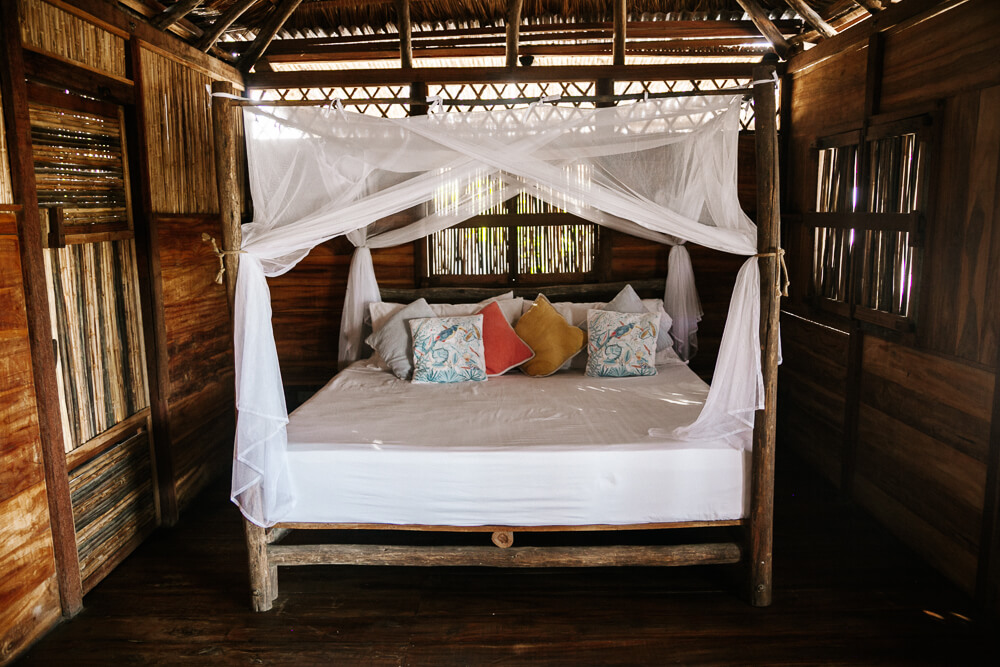 Restaurant and activities
The lovely team of Awatawaa Ecolodge prepares three daily meals for you, that are served at tables on the beach. And in the evening everything is beautifully lit with torches.
You can go for endless birdwatching around the lodge. Something I couldn't stop doing. But you can also explore La Guajira, an interesting province with three national parks and many indigenous communities. The team can help you with tours such as a sailing trip through the flamingo reserve and a visit to a indigenous Wayuu community. Both very recommended.
Do you want to learn more about Awatawaa Ecolodge? In the next article I will tell you everything you want to know about Awatawaa Ecolodge in La Guajira, including many tips for things to do in the area.
Trekker Glamping – Minca
In the lovely mountain village of Minca you will find countless hotels to stay. But are you looking for something unique? Then spend the night at Trekker Glamping, 5 luxuriously furnished domes, located on a mountain, surrounded by greenery, numerous flowers and birds. From your private terrace, you can enjoy amazing views of the jungle, Santa Marta and the Caribbean coast.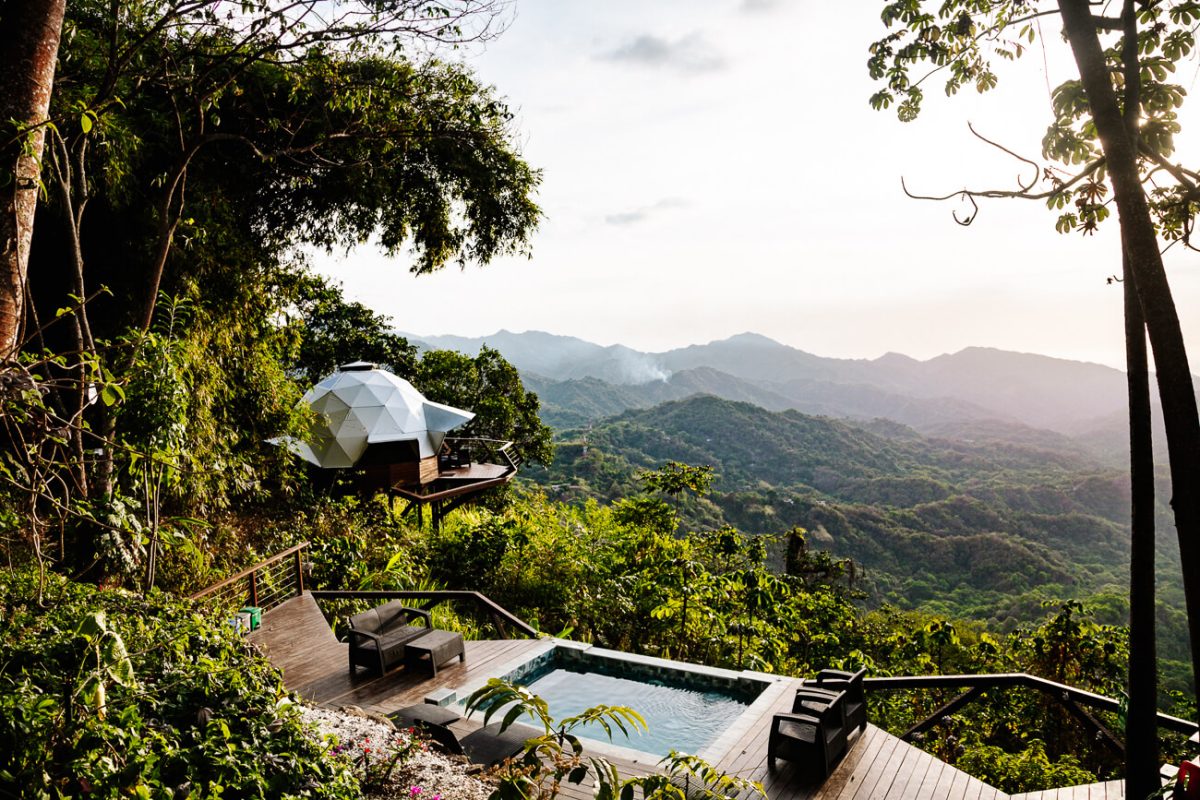 The domes
The domes are simple but furnished with comfortable beds and nice materials. There is small bathroom but it has everything you need, including hot water. Each dome has its own terrace with a few chairs and a built-in hammock where you can take great pictures.
Check the availability and latest rates for Trekker Glamping here.
Trekker Glamping has a restaurant and can call itself the owner of one of the most beautiful jacuzzis. The view is just phenomenal! Trekker Glamping is the perfect base to explore Minca, offering hiking trails, waterfalls, birdwatching, viewpoints and coffee and cocoa plantations.
In this article I'll tell you more about my stay at Trekker Glamping. Want to know more about Minca? Check out my Minca Colombia Travel Guide.
Lumbre Glamping – Cocora Valley
Are you planning to visit Salento and the Cocora Valley in Colombia? Then make sure you spend the night at Lumbre Glamping. You'll stay in the middle of nature and be surrounded by the tallest (wax) palms in the world. From your suite you can walk to waterfalls and viewpoints and you are only ten minutes away from the famous Cocora Valley.
The tents
Lumbre Glamping has 10 luxury tents, that are comfortably furnished. The beds are lovely and the room is fully equipped, including furniture, electricity and hot water.
Interested in staying at Lumbre Glamping? Check the availability and latest rates here.
In addition, all tents have a small terrace, overlooking the surroundings. But the highlight is the glass wall and roof, which cover a large part of the tent dome. From your bed and seating area you can look at the views and in the evening at the beautiful starry sky.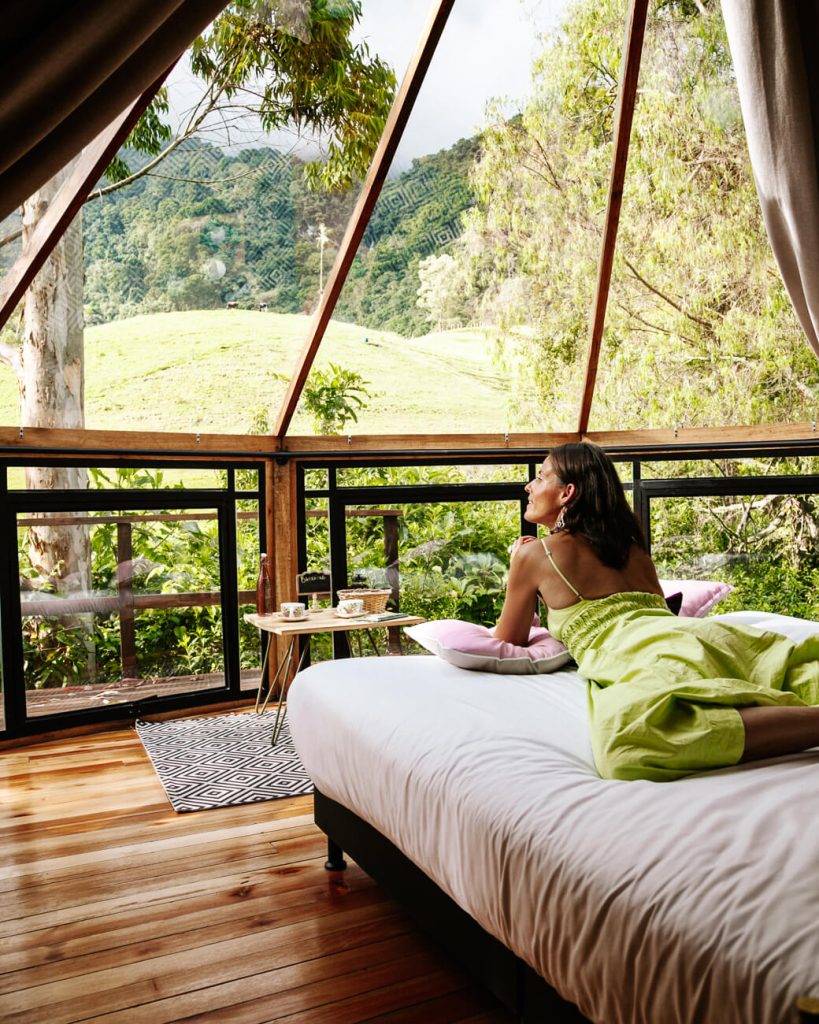 Lumbre Glamping is located on the road from the village of Salento and the Cocora Valley and is surrounded by green meadows, flowers, whistling birds, waterfalls and palms.
In this article I'll tell you more about Lumbre Glamping, one of the best glamping hotels near Salento in Colombia. Want to read more about Cocora Valley? Check out my Valle de Cocora Travel Guide.
Ankua Eco Hotel Usiacuri – sustainable hotels in Atlantico Colombia
Are you near Barranquila in Colombia and looking for an off the beaten track destination? Ankua Eco Hotel is one of the first sustainable hotels in the province of Atlantico Colombia. Here you will find yourself in a different Caribbean world than the coast, with small villages, fertile valleys and farms.
The hotel is located near the town Usuacuri and surrounded by 20 hectares of fertile land with numerous fruit and vegetable plantations, lakes and a farm. It is a great place to include in your your travels from Cartagena to the provinces of Magdalena (capital Santa Marta) and La Guajira. You can completely relax and immerse yourself in everyday Colombian life here.
The rooms
Ankua Eco Hotel has a few unique rooms, spread over a gigantic complex. The four available bungalows are located on a mountain and have the most beautiful views, including sunset (atardecer) or sunrise (amanecer). The houses are made of beautiful materials and have a terrace with a hammock in the extension, where you can relax with pillows and blankets. Inside it is spacious and the king-size bed is not only mega but also really wonderful. From your bed you look straight into the valley through the windows. There is an outdoor shower on the terrace, which is also connected to the bathroom.
There are also two suites: The mountain suite and the treehouse suite. I myself stayed one night in the sunrise bungalow and one night in the tree house. The special thing about this treehouse suite is the terrace with jacuzzi. Great for cooling off during the day.
Do you also want to stay at Ankua Eco Hotel? Check out the latest prices and availability here.
Restaurant en activities
Ankua Eco hotel Usiacuri Colombia has a restaurant where you can eat simple but delicious dishes three times a day. And all meals are included. The dishes consist of seasonal products and 80% of what is on your plate comes directly from the surrounding land.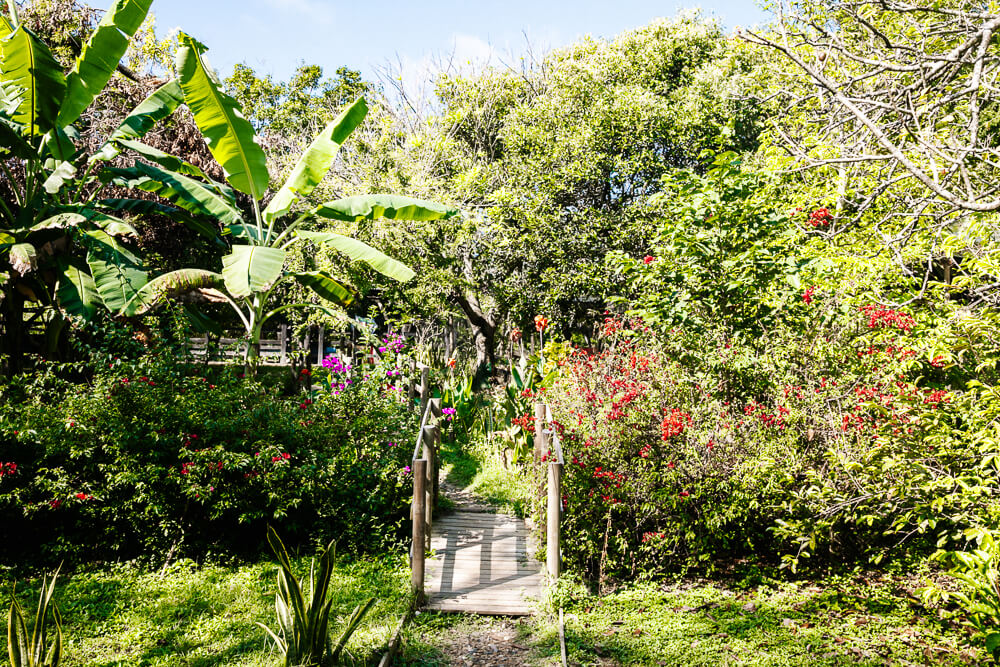 Ankua Eco lodge introduces you to the rural life of Colombia. You can learn about ecosystems, farming techniques and life on the farm by going out with a Colombian farmer. In the area you can go hiking, horseback riding, visit the nice village of Usiacuri or cool down in one of the pools.
In the next article I will tell you more about my stay at Ankua Eco Hotel Usiacuri in Colombia.
Casa Eden – Rosario Islands
Your own house on a private island? It is possible on the Islas del Rosario, an archipelago off the coast of Cartagena in Colombia. On Oceanario, one of the Rosario Islands in Colombia, you will find Casa Eden: A large house, surrounded by the Caribbean Sea, with only dolphins, sharks, sea turtles and pelicans as your only neighbours.
The house
Casa Eden has a huge living room, 4 bedrooms, a large kitchen and dining room, surrounded by the waves of the Caribbean Sea. Nice is it that you have terraces all around the house, from which you can jump straight into the sea. Moreover, from the hammocks and sun loungers you can watch the countless birds flying around you for hours. Casa Eden on the Rosario Islands is a place where you will quickly feel at home and experience ultimate tranquility.
Restaurant and activities
You can bring your own food or have one of the locals prepare three daily meals for you. Something that I strongly recommend. Around the house it is possible to go swimming, snorkeling and kayaking. It is also possible to visit the Oceanarium, next door. After closing time, wich is already at 1 pm, you have the entire site to yourself. You can stroll around and meet the dolphins, sharks, turtles, rays, fin whales and countless birds that flock here around feeding time. The animals live in the open Caribbean Sea and are well cared for. Besides that, they were all born in captivity. Important things to know before your visit.
Casa Eden can be reached from Cartagena and is the perfect place to relax with a group of friends or family. Read more about Casa Eden and the Rosario Islands in the next article.
Tequendama Suites – Bogota
There are so many different hotels in Bogota. It is therefore recommended to think about what sights you want to visit during your stay in advance, because Bogota is a large city. Are you looking for a central hotel that allows you to easily explore the numerous Bogota attractions? Then book a room at Tequendama Suites. This grand and classic hotel has always played an important role in the city and been around for many years. You will experience the ultimate city feeling here for sure.
Tequendama Suites is located opposite the National Museum and you can walk within half an hour on Carrera 7 to the central plaza Bolivar, or cable car Monserrate. Moreover, you are close to major roads, which means you'll be moving to neighborhoods like Chapinero and the Zona Rosa in no time. Make sure you book a room on one of the highest floors. I myself slept on the 19th floor and the view was phenomenal.
Curious about what to do in Bogota Colombia? Bogotá is a city I'm visiting on a yearly base and I'm always happy to spend time there! Bogotá is the cosmopolitan capital of Colombia and for most travelers a first introduction to the country. Discover my city guide with many tips and things to do in Bogota and surroundings. To get the most out of your stay in this bustling capital!
Secret tip for Bogota
On the 30th floor of Tequendama Suites is a helicopter platform. You can book a picnic lunch or wine session here. You then have 360 degree view of Bogota and its sights.
Check out the latest prices and availability for Tequendama Suites here. Looking for more hotels in Bogota Colombia? Here you can find a comprehensive overview.
Hichatana & Zuetana – Villa de Leyva
Are you looking for a unique place to stay around Villa de Leyva? Then you'll want to book a stay at Hichatana & Zuetana. This gigantic mansion is located in the middle of a natural area, with the quaint town of Villa de Leyva just around the corner.
The house
Hichatana & Zuetana hotel consists of two houses, including a living room, several ensuite bedrooms, a kitchen and a mega garden with views over Villa de Leyva and the green surroundings. In the morning you wake up to a sea of yellow flowers and listen to the sound of birds. In the evening, on a clear night, you gaze at countless stars.
The houses are minimalist in design which makes it feel spacious. There is an eye for detail and everything is taken care of. You'll also find an extensive selection of fine wines and craft beers that you can make unlimited use of. Moreover, owner Jairo has numerous tips for discovering Villa de Leyva. By bike, car or foot.
In this article you will read more about Hichatana & Zuetana country house. Want to read more about what to do in and around Hichatana & Zuetana hotel in Villa de Leyva? Check out my Villa de Leyva tips travel guide.
Did you enjoy reading this list with boutique hotels in Colombia? Check out my recommendations for the best places to stay in Guatemala.
More about Colombia
Did you enjoy reading this article about the best hotels in Colombia. Want to read more about Colombia? Check out the next articles with lots of inspiration and tips
This article may contain affiliate links. If you purchase something using one of our links, we may receive a commission at no extra cost to you, which helps us keep this blog alive. Thank you for your support! Please see our disclosures for more information.