As long as I've known the name of the Mexican painter Frida Kahlo, I have been impressed. Impressed about her outspoken appearance, her life, her art and her unique style. Many people see Frida Kahlo as a victim because of her physical limitations and the way her husband Diego Rivera treated her. In my eyes Frida stands for independence, perseverance, inspiration and daring to be unique. I love seeing her work and pictures in museums and exhibitions around the Latin American continent. In Mexico City you can visit her former home: La Casa Azul. Read more about La Casa Azul – the Frida Kahlo Museum in Mexico City in this article.
Frida Kahlo & La Casa Azul
Who was Frida Kahlo?
Frida Kahlo was considered one of Mexico's greatest artists. She became famous because of her unique appearance, notorious relationship with artist Diego Rivera and characteristic art. Frida became a symbol for feminism, only after her death in 1954. Her work can still be seen all over the world.
Frida started painting primarily self-portraits after being seriously injured in an accident, at the age of 18. The bus in which she was traveling was run over by a tram. She went through a long recovery and her parents installed mirrors on top of her bed so she could paint during this period. After this accident she went through 32 surgical operations along her life. Her frustration, suffering and grief were frequent subjects of her paintings.
Frida Kahlo portraits
Frida was seen as an exotic beauty because of her continuous eyebrow and slight mustache, which she emphasized ignoring the prevailing ideals of canonized beauty. She became a true fashion icon and appeared on the cover of Vogue in 1937. As she is best known for her self portraits in which she explores her own identity and experiences, she is sometimes called the selfie queen of the 20th century. Frida was the first female artist to choose herself as a subject more than eighty times. Frida "I am my own muse. I am the subject I know best. The subject I want to better"
Frida Kahlo & Diego Rivera
In late 1928 Frida Kahlo met the twenty-one years older renowned painter Diego Rivera (1886-1957), whom she married. They both admired each others work and shared their aesthetic and political ideas. Both became politically involved in the Communist Party wich also made them give shelter to Leon Trotsky between 1937 and 1939. Frida and Diego had a turbulent relationship that included many extramarital relationshps. Diego cheated on her with her sister and Frida had affairs with famous women and men, including like Leon Trotsky. They divorced in 1939 and married again a year after.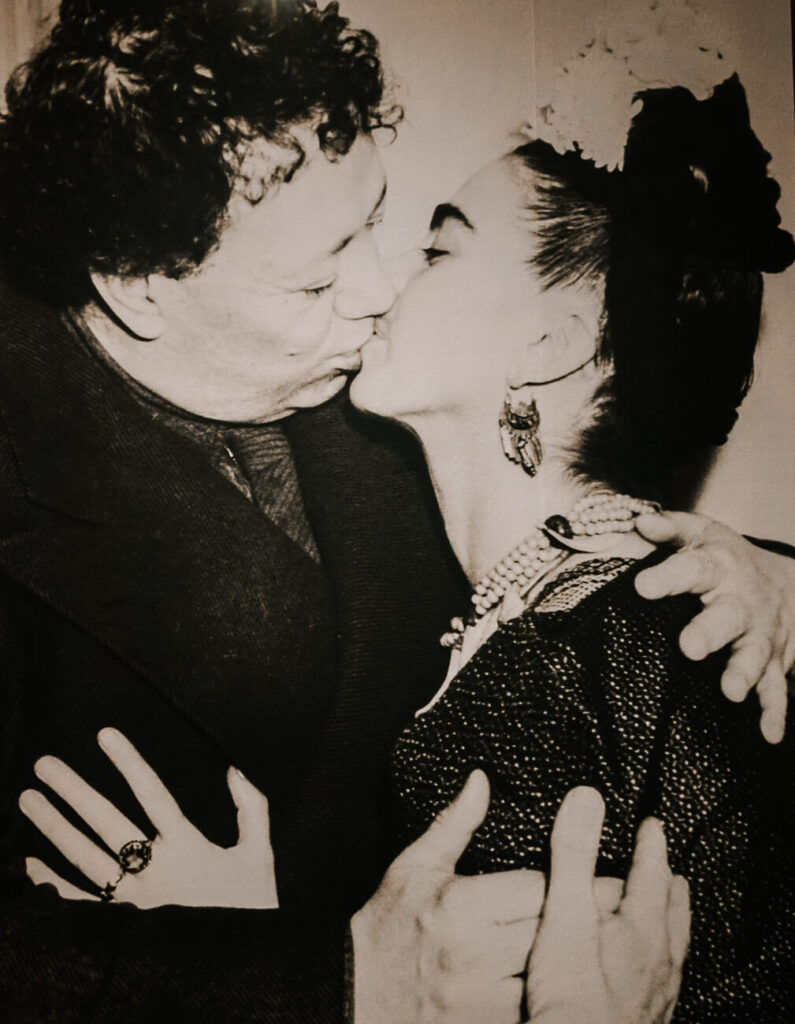 Frida's work
In 1938 Frida exhibited her work in New York and in Paris. One of her artworks was bought by the Louvre, being the first Mexican artwork acquired by this museum. André Breton, father of Surrealism, considered her a natural surrealist, but she never saw herself like that. Frida: "They thought I was a Surrealist, but I wasn't. I never painted dreams. I painted my own reality" In 1953, Frida had her first solo exhibition in Mexico where she arrived in an ambulance and entered in a hospital bed.
Frida today
Frida died in 1954 at the age of 47. Her funeral took place in the Palacio de Bellas Arte, Palace of Fine Arts, in Mexico City. Only after her death she became a symbol for feminism. Her life and work represents a revolutionary way of being a female artist and a woman itself. Frida and Diego lived together in La Casa Azul, the blue house, in Coyoacán in Mexico. Nowadays this place is a famous museum you can visit. Read more about visiting the Frida Kahlo Museum in Mexico City below.
A visit to La Casa Azul – Frida Kahlo Museum in Mexico City
La Casa Azul, the birthplace and museum of Frida Kahlo, is a place you can't miss when you are in Mexico City. La Casa Azul or blue house, was transformed into a beautiful and interesting museum about her life and work. Frida Kahlo lived in La Casa Azul, together with her husband and famous artist Diego Rivera for years. She also died there in 1954.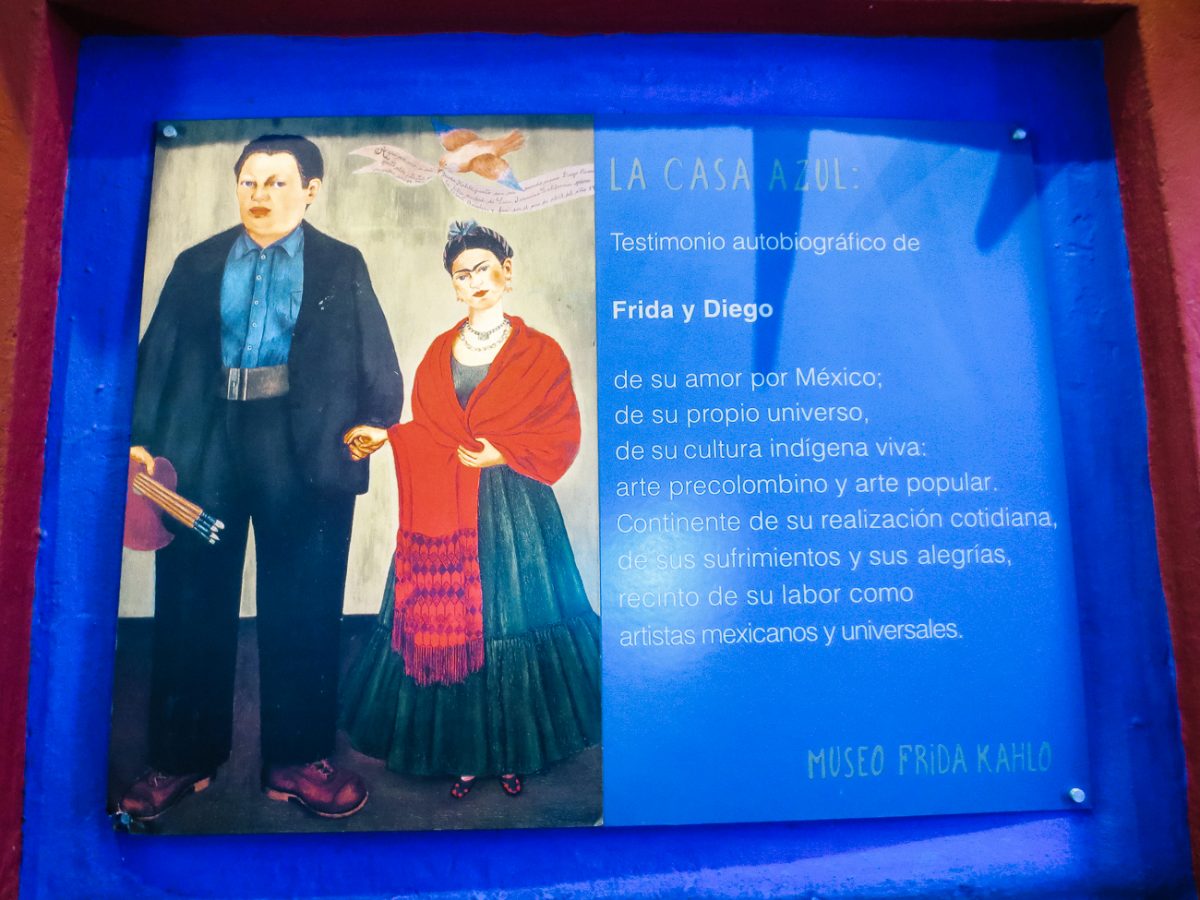 In La Casa Azul you can walk through the different rooms of the former house and garden of Frida Kahlo. Each space showcases pictures and paintings, including works by Diego Rivera, as well as art from their private collection.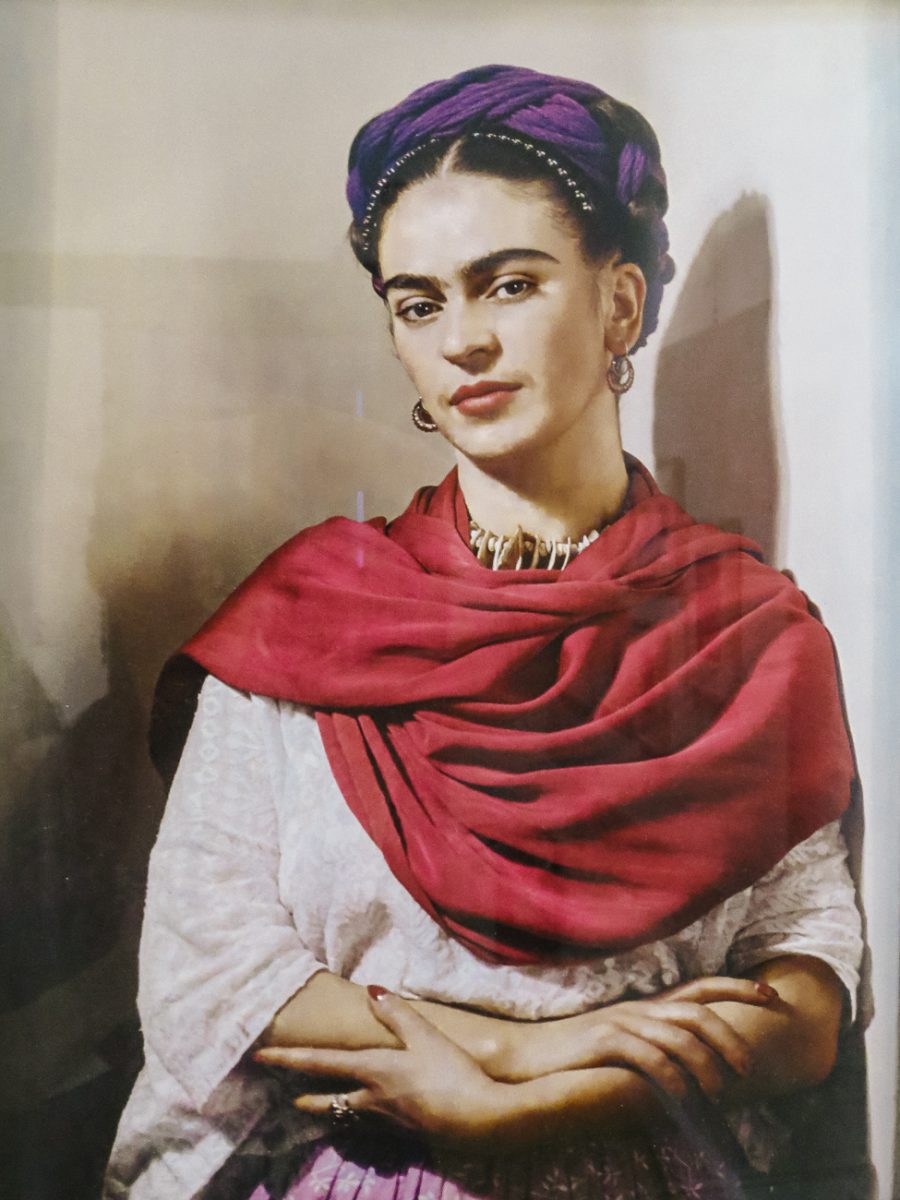 You can observe the old kitchen, the working and living areas. A special place is the famous bed from where Frida was forced to create many of her paintings, due to her handicap.
A mirror was attached above this bed to make sure she could see herself while painting.
The gardens, fountains and dark blue walls, with pre-Columbian artifacts, part of their private collection, make the outside area a wonderful to walk around. You can settle down on one of the benches and think about the life they must have lived here.
Famous quotes by Frida Kahlo in La Casa Azul
Frida Kahlo became famous because of her many quotes, showing her positivity and independency. It is said that her quotes were a daily inspiration to herself. On the walls in the Frida Kahlo Museum in Mexico City, you will find some of these expressions. This an overview of some of my favorite Frida Kahlo quotes.
Who needs feet when I've got wings to fly…..
Perhaps they expect me to wail and moan about 'how much I suffer', living with a man like Diego. But I don't think that the banks of a river suffer by letting it flow
I hope the exit is joyful. And I hope never to return.
I paint flowers so they will not die.
I was a child who went about in a world of colors. My friends, my companions, became women slowly; I became old in instants.
I am in agreement with everything my father taught me and nothing my mother taught me.
The most important part of the body is the brain. Of my face, I like the eyebrows and eyes.
At the end of the day, we can endure much more than we think we can.
Nothing is absolute. Everything changes, everything moves, everything revolves, everything flies and goes away.
Nothing is worth more than laughter. It is strength to laugh and to abandon oneself, to be light. Tragedy is the most ridiculous thing.
I think that little by little I'll be able to solve my problems and survive.
Frida Kahlo in Mexico City – a fashion icon
Also worth visiting in the Frida Kahlo Museum in Mexico City, is the special exhibition space, showcasing Frida Kahlo's characteristic style and her influence at the fashion world. Frida became a fashion icon and appeared on the cover of Vogue in 1937. Different brands and fashion designers have used Frida Kahlo as an inspiration for their own work. Including Givenchy, Comme des Garçons and Jean Paul Gaultier.
Frida Kahlo's style could be described as Mexican traditional but with European influences, because of the different blouses she used to wear. Her signature dress was the beautiful Tehuana dress from Oaxaca, combining lots of color, silk, lace, shawls and skirts.
Curious about art and artists coming from Central & South America? Read the article about works from Latin American painters!
Tips for visiting La Casa Azul – Frida Kahlo Museum
How to reach La Casa Azul
The Frida Kahlo Museum is located in the Coyoacán district in Mexico City, the former neighborhood for the rich, wealthy and bohemian artists. It is still a nice and quiet neighborhood, completely unlike the busy city center. Casa Azul is within walking distance of the Plaza Hidalgo and El Jardin del Centenario. These are two large central squares where you can sit on a bench or enjoy one of the many terraces. By taxi or uber, depending on traffic, you will reach Coyoacán within 20 minutes. You can also take the subway. Get off at the Coayacán stop and walk to the Frida Kahlo Museum in about 20 minutes.
Buy your tickets in advance
Do you want to visit the Frida Kahlo Museum in Mexico City but not stand in line? You can buy your tickets here. It is recommended to buy your tickets in advance, as there is a special line for online tickets and you will be sure to enter at your preferred timeslot. If you don't have a ticket, you have to make another line and wait until there is availability. Something that can take a long time because La Caza Azul is a popular place in Mexico City.
Museum shop & Frida Kahlo gadgets
Museum shops always make me happy, I can wonder around for hours admiring the beautiful books. In this little shop you can buy books, post-cards and other Frida Kahlo gadgets. Just keep in mind that you can also buy Frida Kahlo items at the surrounding markets for less money.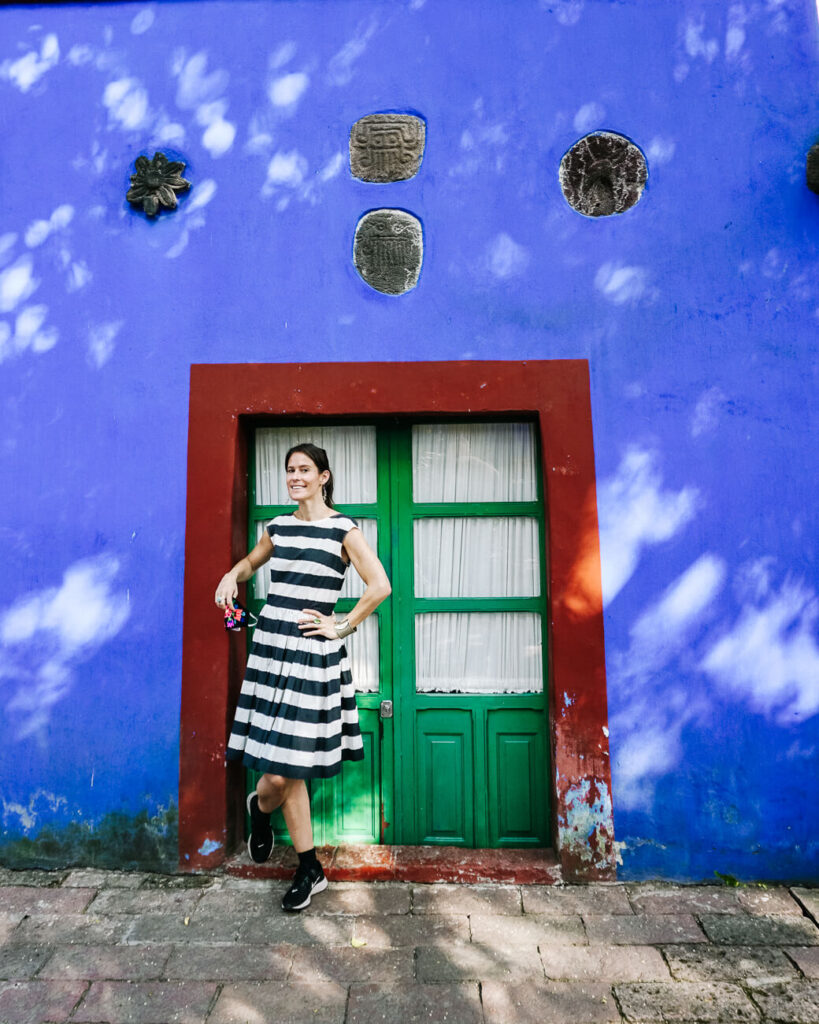 I hope you enjoyed reading this article about Frida Kahlo in Mexico City and started to appreciate her work and story as much as I do.
More about Mexico
Did you enjoy reading this guide about La Casa Azul in Mexico? Looking for more tips and inspiration? In the next articles you can discover more about beautiful Mexico:
Interested in art, culture and archaeology? Read my articles about:
This article may contain affiliate links. If you purchase something using one of our links, we may receive a commission at no extra cost to you, which helps us keep this blog alive. Thank you for your support! Please see our disclosures for more information.
Pin and save "Frida kahlo in Mexico City" for later