Your own house on a private island? It is possible on the Islas del Rosario, an archipelago off the coast of Cartagena in Colombia. On Oceanario, one of the Rosario Islands in Colombia, you will find Casa Eden. A large house, surrounded by the Caribbean Sea, with only dolphins, sharks, sea turtles and pelicans as your neighbors. In this article I will tell you more about Casa Eden and what to do on this island in Colombia.
The Rosario Islands in Colombia
Islas del Rosario is an archipelago off the coast of Cartagena. Rosalio Islands archipelago consists of 27 small islands, with idyllic sandy beaches, a turquoise sea and coral reefs. The whole area has been declared a national park because of its natural beauty; the Corales del Rosario y San Bernardo. The Rosario Islands are one of the most popular places to visit and can be easily reached by boat from Cartagena in Colombia.
Welcome to Oceanario Islas del Rosario
You may feel a little bit in shock, when you get to the island. A jetty with many boats, music, people in the water holding beers in their hands, children running around with dolphin hugs and at the same time countless pink and white ibises are walking around. You are in fact on one of the most famous Rosario Islands in Colombia: Oceanario, wich houses a large oceanarium that attracts countless visitors every day. But soon you forget this world and walk through a large gate into your own little oasis: Casa Eden. Casa Eden is a large house, located directly on the Caribbean Sea. In addition, the island closes to visitors at 1:30 PM, meaning you will have the entire island all to yourself.
Casa Eden – Rosario Islands Colombia
Casa Eden is a place where you can relax with a group of friends or family. There is a huge living room, large kitchen and nice dining room, surrounded by the waves of the Caribbean Sea. The interior is simple and calm, with lots of blue and white colours. The highlight is that you have terraces all around the house, from which you can jump straight into the sea. Moreover, from the hammocks and sun loungers you can watch the countless birds flying around you for hours. Casa Eden on the Rosario Islands is a place where you will quickly feel at home and experience ultimate tranquility.
The rooms
Casa Eden has 4 rooms, 2 on the ground floor and 2 on the first floor. The suite on the first floor at the front, has a private terrace with a wide view of the Caribbean Sea. You can't get a better view than this.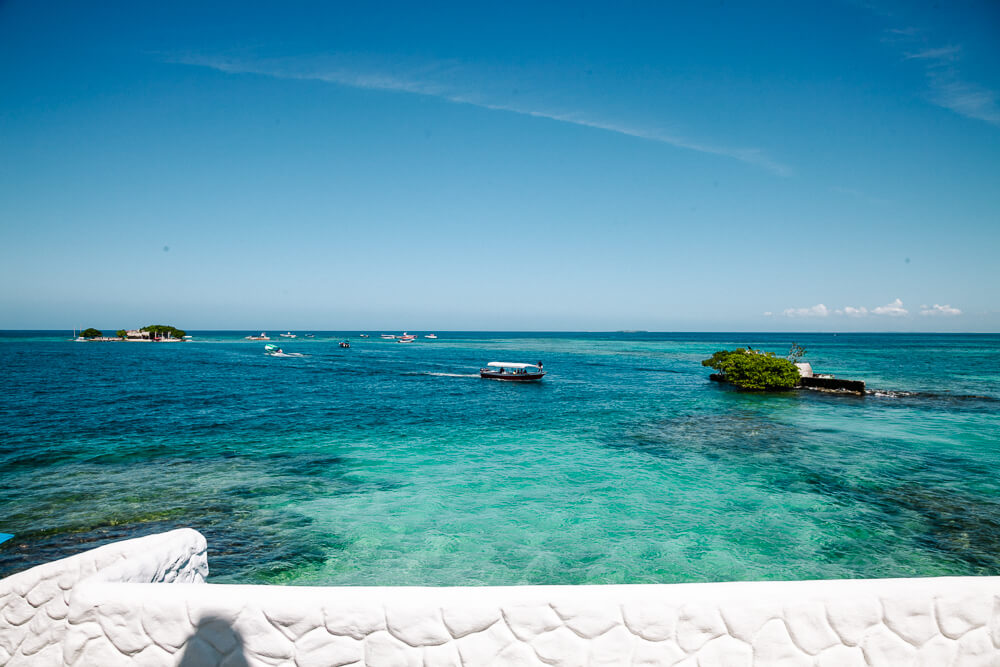 From the suite on the ground floor you can walk straight onto your own seaview terrace. There is also a room with a door to the terrace and a room more at the back of the house, without a terrace. All rooms have at least 3 separate beds, perfect if you are planning to stay with a group of people. And, all rooms have hot water. Something that is not guaranteed in Colombia.
Food and drinks
Of course you can choose to bring your own food and cook yourself. But if you want to relax and don't think of anything else, you can hire Andrea's cooking skills for an additional fee. Andrea prepares three fantastic Colombian meals for you every day. Think of the most delicious fresh fish with rice, salads, patacones and freshly squeezed fruit juices. In addition, she is available all day to help you with anything you need.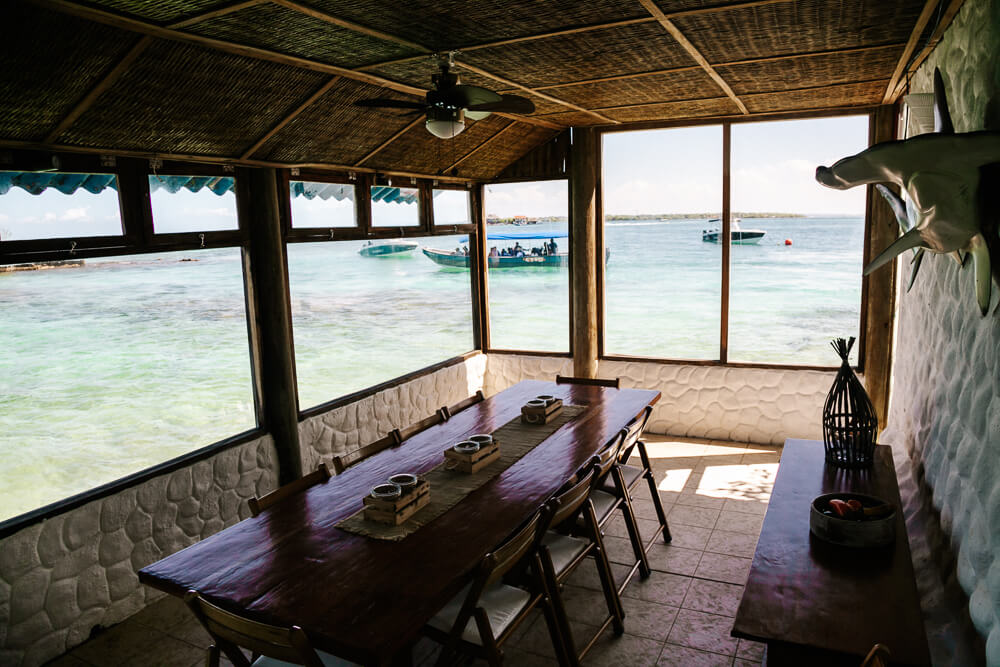 Keep in mind that there is little available on the island. A small bar of the Oceanario is open until 1 pm to provide visitors with drinks, but the options are limited. So make sure to bring your booze and snacks from Cartagena.
What to do around Casa Eden – Oceanario Islas del Rosario in Colombia
Go out with the kayak
Casa Eden has kayaks available. You can sail to one of the Rosario Islands on the other side (depending on the wind, this takes 15 to 20 minutes). In the late morning this is a party island where boats gather to have a drink with loud Latin music. In the afternoon you have the island to yourself and you can see Casa Eden on the Oceanario Islas del Rosario from the beach in the distance.
Swimming and snorkeling
Just in front of the house is a small coral reef. You can swim here and admire the most beautiful fish. Make sure you bring your snorkel gear. Do you want to go for a snorkeling tour around the Islas del Rosario? Then Casa Eden can help you book an excursion and you will be picked up by boat.
Visit the Oceanario on Islas del Rosario in Colombia
First of all, let me start by saying that I don't support animals living in captivity. It is therefore not something I quickly look for on my own. But since the Oceanario Islas del Rosario is part of a national park, and Casa Eden is located right next to it, you can hardly help but take a look. In addition, the complex closes to visitors at 1:30 PM and as an island resident you have the entire site to yourself.
You can stroll around and meet the dolphins, sharks, turtles, rays, fin whales and countless birds that flock here around feeding time. The animals live in the open Caribbean Sea and are well cared for. Besides that, they were all born in captivity.
Swimming with dolphins
For many it is a dream and others are strongly against it. Whether you want to swim with dolphins or not, is therefore very personal. I've never done it before, until here on the Islas del Rosario in Colombia. At the end of the afternoon around 5 pm you can swim with dolphins all by yourself without any other people. It takes 8 minutes. That sounds short but it is just long enough. And I have to admit, it is truly special to be surrounded by five dolphins, to touch them and to have the feeling of playing with them.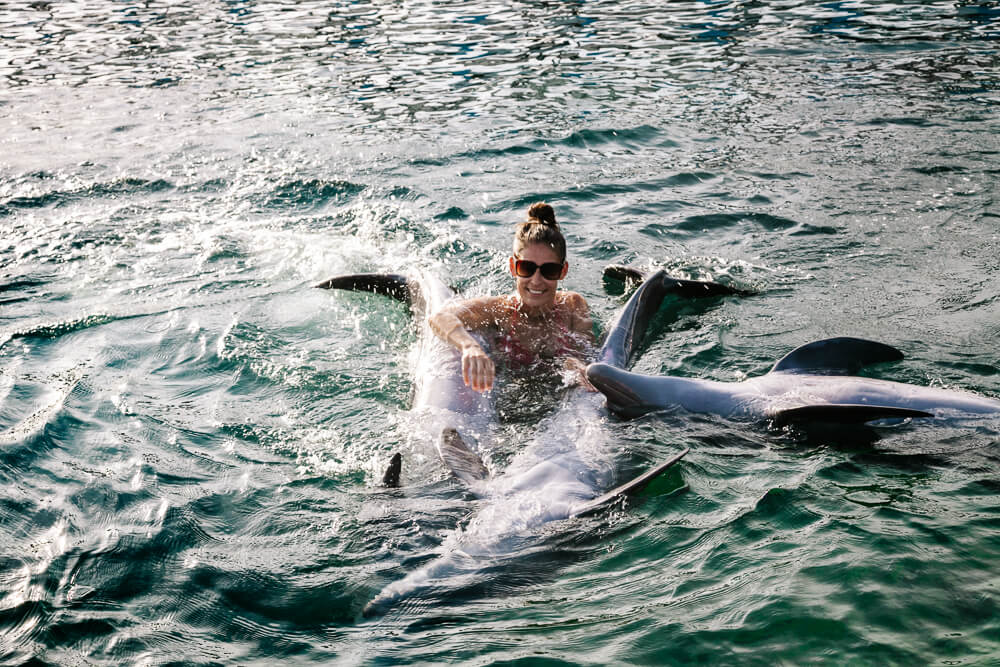 You will receive clear instructions in advance about where you can and cannot touch them and it is important to stick to them. I was more nervous than I thought, because they bite and hit around with their tail. Not something to be afraid of, but good to be aware of.
Tip: Put on a life jacket so that you can float comfortably. I didn't do this myself and I had to tread water for 8 minutes.
Swimming with dolphins – yes or no
Do you also want to swim with dolphins? Always make sure you do proper research beforehand. Try to find out what conditions the animals live in and whether they are well taken care of. Is it just about money or play welfare and education of the animals a central role? Were the animals born in captivity or are new animals still being captured? Based on this you can make your own choices.
How long do you want to stay at Casa Eden at Rosario Islands in Colombia
It is good to know that Casa Eden is located on a very small Islas del Rosario island. There is little to do in the area without your own boat. There are also no restaurants. Casa Eden is therefore really a place to relax and enjoy sun and sea moments. I myself stayed here for 2 nights and I thought that was too short. I would stay here a next time for 3 or 4 nights at least.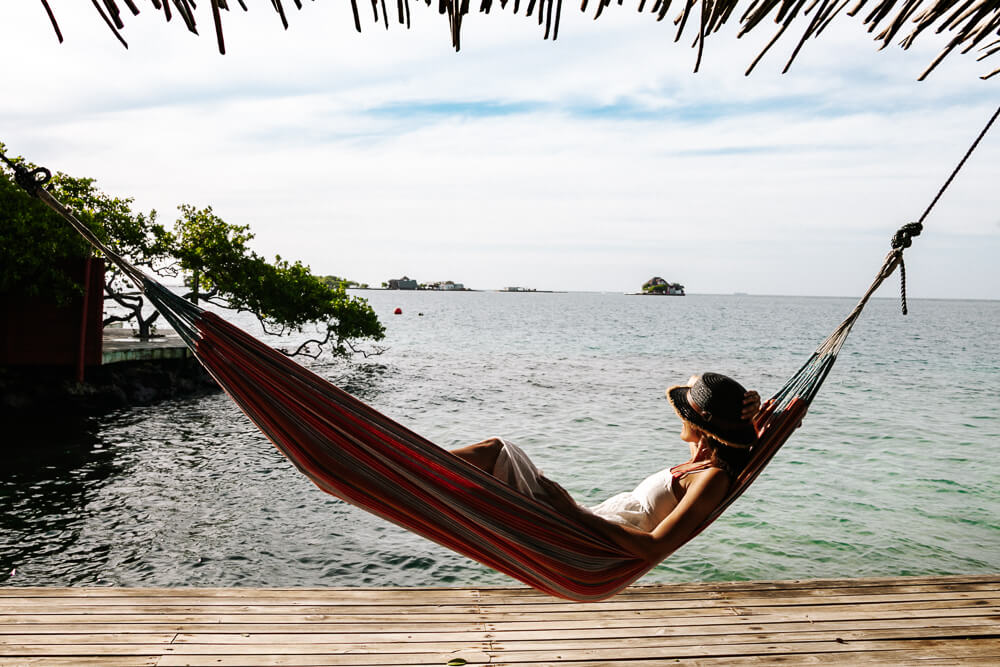 How to reach Casa Eden – Oceanario Islas del Rosario in Colombia
In the port of Cartagena you will find several boat companies that sail to and around the Rosario Islands in Colombia. You must clearly tell them that you want to be dropped off at Oceanario Islas del Rosario. You then hop on a shared boat, that takes you within 1 hour to the island, depending on the other stops. Tickets cost around 25 euros, including port tax. It is quite busy and chaotic in the port, so it is recommended to arrive on time.
Do you want to travel more comfortably to Casa Eden on Oceanario Islas del Rosario? Then you can also book private transportation. You will be there much faster and be dropped off directly in front of the house. Costs are around 100 euros per trip. This is definitely an interesting option if you are traveling with more people.
More about Casa Eden – Rosario Islands Colombia
Do you want to know more about Casa Eden? You can book the house through air bnb.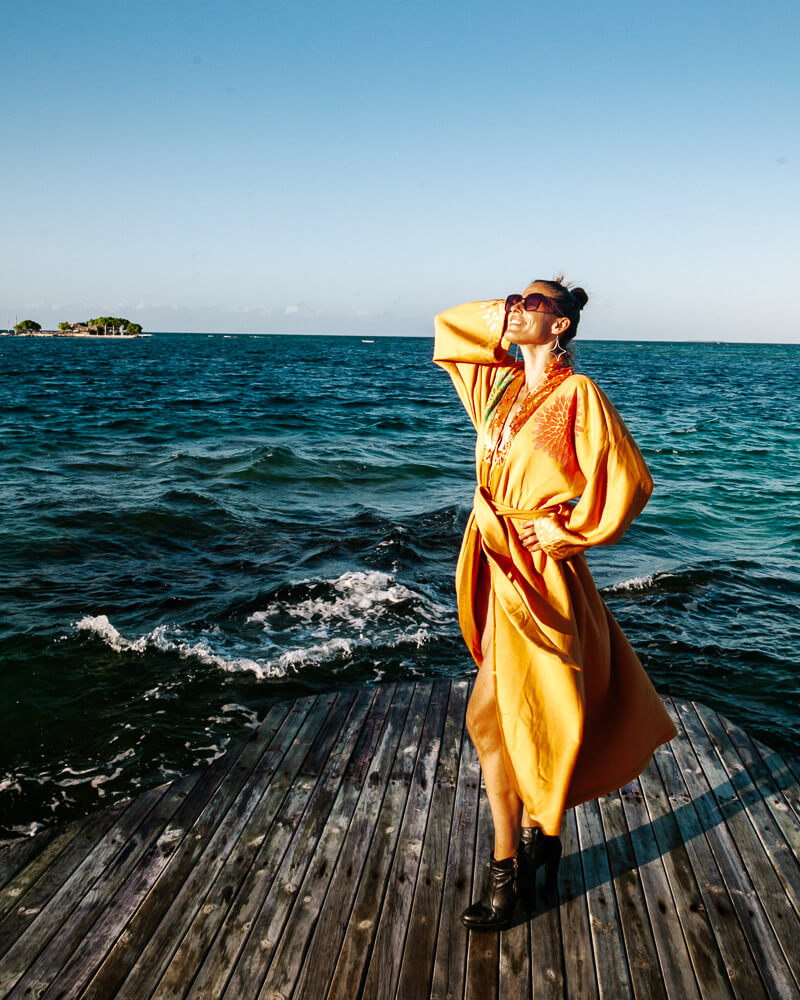 Visit more Rosario Islands in Colombia
In Cartagena you can book different day trips that take you to the Rosario Islands in Colombia. There are catamaran, sailboat, and speedboats, sailing past the islands, stopping along the way for snorkeling, swimming, and lunch. You can also choose to spend a day at one of the beach clubs on the islands. These are hotels that offer a daypass, that include a beach bed, towel and delicious lunch. You will be picked up by boat in Cartagena in the morning and return at the end of the day. There are all kinds of beach clubs: From party islands to more family style beaches. My favorite places are IslaBela, a quiet place with a nice sandy beach and Fenix Beach , an Ibiza-like beach club with a nice beach and music.
Do you want to spend the night on the Rosario Islands in Colombia? On IslaBela, you will find simple but nice bungalows on the beach. Are you looking for a luxurious beach experience? Then have a look at Hotel Las Islas, located on a private beach, with your own swimming pool (note, this is a place where you have to save some money for). Looking for more options? In the following links you will find an overview of hotels in Isla Baru, Isla Grande and Tierra Bomba.
More hotels in Colombia
Like any other country, Colombia has so many beautiful hotels. For both work and personal trips, I visited Colombia dozens of times. When I travel by myself, I always look out smaller scale hotels with beautiful interiors, a nice atmosphere and a convenient location. I always spend a lot of time researching, before I book my stay. In this article I will tell you more about my favorite places to stay in Colombia: The best boutique hotels, sorted by city and region in Colombia.
More about Colombia
Intererested in reading more about Colombia? This is an article with the most beautiful places to visit in Colombia, including the best time to visit. Or check out the Colombia blog page with city guides for Bogotá, Medellín and Santa Marta. Tips for lovely towns such as Salento, Mompox and Villa de Leyva. But also the Tatacoa desert and Valle de Cocora. Interested in archaeology? Read more about the mysterious San Agustín statues.
Disclaimer: I was invited to stay at Casa Eden but this review is based on my personal view and is independent from the invitation.
This article may contain affiliate links. If you purchase something using one of our links, we may receive a commission at no extra cost to you, which helps us keep this blog alive. Thank you for your support! Please see our disclosures for more information.