Santa Cruz de Mompox, also known and pronounced as Mompos, is a hidden gem in Colombia. The city is located on the Rio Magdalena, one of the most important rivers in Colombia. Mompox is a real off the beaten track destination, as it is only visited by a few people. Picturesque squares, colored churches, pastel-colored houses, beautiful facades and interior gardens with endless flowers: The center of town is just beautiful. Behind every door there is a new world opening and you want to start a bed & breakfast and restaurant just everywhere. In this article I'm sharing my tips for what to do in Mompox Colombia, including some lovely hotels and restaurants.
Welcome to Santa Cruz de Mompox in Colombia
Did you ever read a book by Gabriel García Márquez? Then you might recognize the lovely atmosphere and stories of the locals in the fictional town of Macondo. Santa Cruz de Mompox Colombia, often called Mompos by the locals, could be one of these towns. You will find the tranquility of everyday Colombia here. Locals hang in their chairs in front of their houses and wait for the day to cool down. People are friendly and willing to have a chat or even drink with you. During the day it can be indescribably hot. There is no breath of wind so the only thing you can do is go with the flow of the locals.
What to do in Mompox Colombia
Mompox, with a few thousand inhabitants, used to be an important trade center because of its favorable location on the Magdalena river. When other side arms of the Magdalena River began to be put into use, the trade and economy in Mompox collapsed completely and the city was left behind. Today, a handful of tourists know where to find the town. There are not many highlights but it is the unique atmosphere what makes the town so pleasant to visit. Enjoy my tips for what to do in Mompox Colombia.
Walk around and enjoy the atmosphere
In Mompox Colombia you really just want to walk around, enjoy the atmosphere and have a chat with the locals. Walk along the banks of the Rio Magdalena, spot iguanas, stroll through the colonial streets, visit the beautiful churches and take a seat at one of the squares at the end of the day, such as Parque de la Concepción and Plaza de San Francisco. In the evening people gather on the streets to play games or join a dance class.
Enjoy a tour on the Rio Magdalena
Early in the morning or late afternoon, when the temperatures start to become convenient, you can take a boat trip on the Río Magdalena. You will pass small villages, local fishermen and plantations full of bananas, yucca and mangos. You are going to be surprised about the amount of birds flying around.
Besides that, dozens of iguanas are relaxing along the banks. In the beginning they are difficult to recognize, but if you have spotted a few with the help of the trained eyes of the locals, you will find them yourself as well. These animals are so pieceful and beautiful to observe.
Most tours go to the Ciénaga de Pijino, a large lake where you can also take a dip. With a little luck, you'll enjoy a beautiful sunset at the end of the afternoon. Boat trips are offered in almost all hotels, but the best thing is do is to book a private trip with one of the local people in the harbor. That way you support the locals even more.
Looking for more tour options in and around Mompox? Have a look in the next overview with Mompox tours.
Stroll along the boulevard and have a chat with the locals
Along the river and on the boulevard, around the Santa Barbára square, you will find small bars where the locals come together. You will immediately be invited to have a drink and talk about life. I made many friends over the years and some of them I'm still meeting for a drink when I visit Mompox in Colombia.
Taste the local wine: Vino de Mompox | Mompos Colombia
In Mompox you will find different places where you can buy Vino de Mompox. This is a local wine made from banana, orange, apple or tropical fruits such as tamarindo and guayaba. And this might sound like a very sweet wine but that is not the case. You are going to be very surprised. Buy a bottle, find a nice spot on the boulevard and give it a try.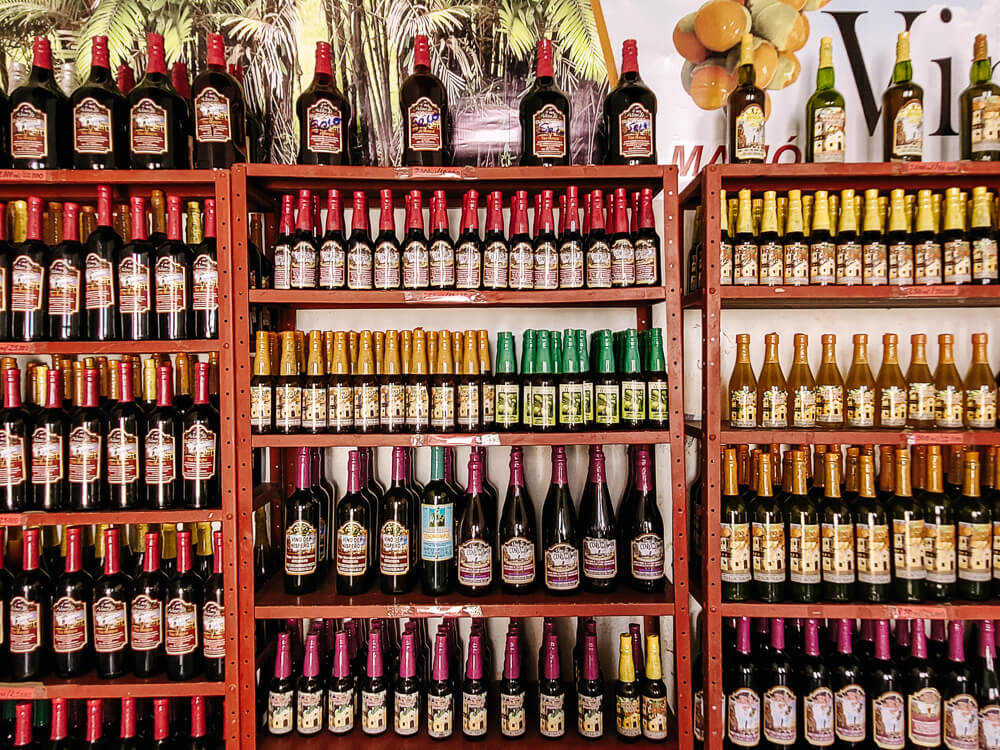 Planning to visit Santa Marta? Even though you mainly use the city as a starting point for a trip to the Tayrona national park, the mountain village Minca and The Lost City trek, Santa Marta is a nice place to spend a bit of time. In the next article I'm sharing my tips for the best things to do in Santa Marta.
Mini travel guide Mompox Colombia
Hotels in Santa Cruz de Mompox Colombia
Mompox has many pretty boutique hotels and bed & breakfasts. You will be surprised about the world behind the closed doors. Most places have beautiful inner gardens filled with flowers and greenery, and large rooms with high ceilings. And the owners are very friendly and helpful. My favorites places to stay are Portal de la Marquesa, located at the boulevard and Boutique hotel Bioma because of their spacious rooms and lovely atmosphere. Both of them have a swimming pool and Bioma has a nice roof terrace. La Casa Amarilla en Casa Verde Albarrada are a bit more basic but convenient as well.
Check the latest prices and availability for: Portal de la Marquesa, Boutique hotel Bioma, La Casa Amarilla and Casa Verde Albarrada. Looking for more hotels in Mompox? Here you will find a comprehensive overview.
Best restaurants in Mompox Colombia
Even though more restaurant start to appear in Mompox Colombia, you won't find a shop or restaurant at every corner. You might have to look a little further, before you find something. But the city offers some cute places for a drink or meal. Read more about the best restaurants to eat and drink in Mompos Colombia.
How to visit Santa Cruz de Mompox Colombia
Mompox is an off the beaten track destination and you have to put a bit more effort to reach this place. Mompox is a 3-hour drive from Corozal Airport, 6 hours from Cartagena, 5 hours from Santa Marta and 6 hours from Barranquila airport. There are public buses, but if you have a little more to spend and want to travel faster, it is recommended to book a private transfer to Mompos Colombia. It also possible to book a Mompox package from Cartagena, with transportaton, guide and hotel included.
Hotels in Colombia
Where to stay in Colombia? Like any other country, Colombia has so many beautiful hotels. For both work and personal trips, I visited Colombia dozens of times. When I travel by myself, I always look out smaller scale hotels with beautiful interiors, a nice atmosphere and a convenient location. In addition, I like to support the locals and love a sustainable approach around a hotel. I always spend a lot of time researching, before I book my stay. In the next article I will tell you more about my favorite places to stay in Colombia: The best boutique hotels, sorted by city and region in Colombia.
More about Colombia
Did you enjoy reading this guide about Mompox in Colombia? And do you want to read more? In the next article you will find lots of inspiration and tips for visiting Colombia.
This article may contain affiliate links. If you purchase something using one of our links, we may receive a commission at no extra cost to you, which helps us keep this blog alive. Thank you for your support! Please see our disclosures for more information.
Pin and save for later