Guatemala has it all! Colonial cities, where you can stroll around for days. Indigenous villages and markets, where people walk in colorful traditional costumes. But also fascinating ancient Maya cities, located deep in the jungle, a Pacific and Caribbean coast, breathtaking lakes and many active volcanoes! 20 years ago I visited Guatemala for the first time and I visited more than 15 times after. Guatemala is a country, you can explore for weeks and you absolute will fall in love with. In this article you'll find the best things to do in Guatemala. I'm not only sharing the highlights of Guatemala, but also travel tips for off the beaten track destinations, cultural and gastronomic experiences. Besides that you'll find a special section about beautiful hotels, different travel itineraries, best traveling time and safety.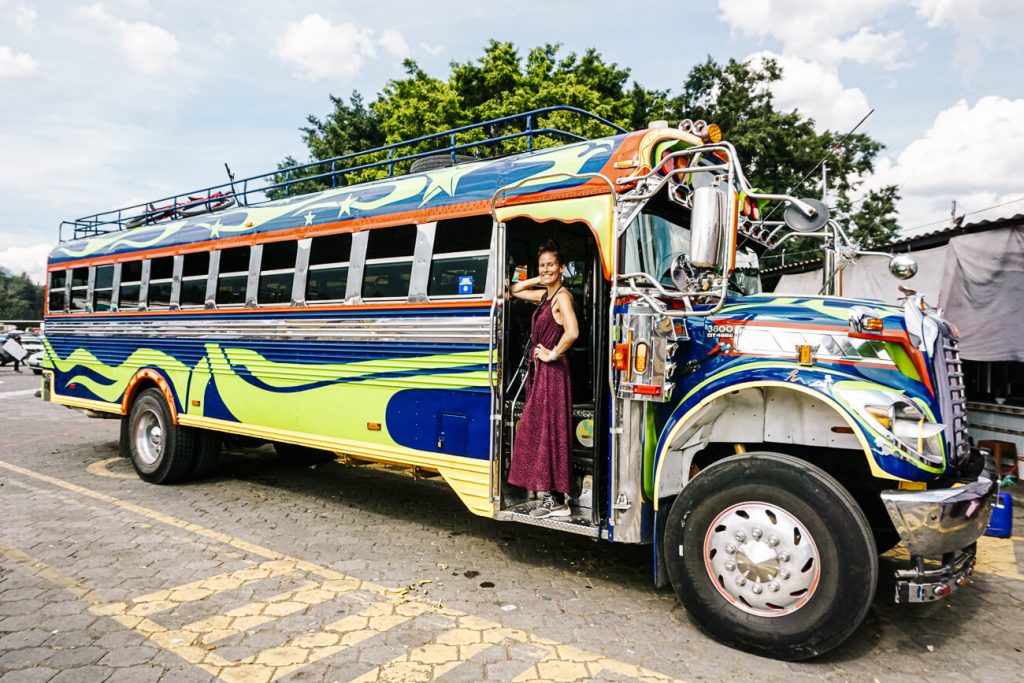 Covid 19 – update January 2022: Guatemala is open for tourists. To enter the country you must show a proof of vaccination and a negative PCR test or Antigen test, no more than 72 hours prior to entering Guatemala. This will be requested during check-in and when you arrive in Guatemala and go through customs. You also have to complete a health statement. In Guatemala it is mandatory to wear facemasks in interior places. Your temperature is also measured when you enter a store, hotel or restaurant. But rules and measurements change on a daily base. It is very important to check with your government, embassy and airline before traveling.
Things to do in Guatemala | 20 x destinations and travel tips
Guatemala is a country with so many different and unique things to do. Enjoy the overview with activities, with corresponding numbers on the map below.
The map is color coded as follows:
Blue: places to visit & things to do
Red: hotels
Light blue: restaurants
Antigua (1)
Antigua is the most beautiful city in Guatemala, with so many different things to do. Its location, at the foot of the Agua volcano, the narrow streets with colored houses and ruins of collapsed churches (due to earthquakes) make it a real open air museum. You can stroll through the colonial center, visit the many museums, shop in fancy boutique stores and eat in great restaurants and lunchrooms. And the surrounding area is also worth exploring, with coffee plantations, viewpoints and organic farms. Besides that, Antigua is your starting-point for many volcano hikes such as the Pacaya and the Acatenango volcano. Giving you the chance to observe smoking volcanoes from nearby.
You can easily spend days in Antigua. Have a look in my extensive Antigua Guatemala travel guide with many travel tips and things to do.
Chichicastenango (2)
Every Thursday and Sunday, the city of Chichicastenango, is one large and colorful event. Then the famous market of Chichicastenango takes places. Local people, dressed in colored traditional costumes, come from far to buy and sell their goods. You can buy fantastic handmade souvenirs here, but the best thing to do is to just walk around and observe daily life in Guatemala. There is so much going on! It is also worth to visit the little church, located at the main square. The Santo Tomás church is the example of how the Catholic religion has mingled with indigenous Andes beliefs and traditions. On the steps in front of the church, you will be able to experience traditional ceremonies, where people sing and wave incense during their prayers. And inside the church there are catholic paintings and figures displayed.
Chichicastenango is a real experience and can best be visited on the way from Antigua to Panajachel – Lake Atitán or the other way around. Read more travel tips for a visit to the colorful Guatemala market Chichicastenango.
Lake Atitlan, top things to do in Guatemala (3)
Lago Atitlán is a mighty lake surrounded by three volcanoes: the Tolimán, Atitlán and San Pedro and many villages. Each village is representing its own vibe and characteristics. And in some of the villages, people still live according to ancient Mayan traditions and customs. The light and view of the lake and surrounding volcanoes are breathtaking, from just every single angle.
You can cruise the lake and explore villages such as Santiago de Atitlán, San Marcos, Santa Catarina Polopó and San Juan la Laguna. You will learn more about indigenous art and weaving techniques and meet local hero Maximón. A wooden statue, with a cigar, where people come to offer cigarettes and alcoholic drinks, while making a wish. You can also hike by yourself from the village of Santa Cruz to Jaibalito, overlooking the lake during the entire trail. Or visit San Marcos, famous for its many yoga schools and meditation centers, and nearby natural reserve Cerro Tzankujil.
Panajachel is your starting point for all trips around the lake. You can choose to spend the night in this city, but the best thing to do is to stay in different villages and hotels around the lake, such as Casa Prana. Or if you don't have a lot of time, just book a hotel in Panajachel and enjoy a day trip on the lake. Want to more about this beautiful destination? This is my Lake Atitlán Guatemala travel guide, including many useful travel tips.
Hiking around Lake Atitlan Guatemala extra travel tips:
If you like to go on hikes, climb your way up to the Indian Nose viewpoint or hike to the top of the San Pedro Volcano. To enjoy some of the most amazing views. From the Indian Nose you'll be able to look out over the entire lake, including the San Pedro, Atitlán, Toliman and the active Fuego volcano. Try to do a sunrise if you can.
Hike the Acatenango volcano (4)
One of the most special trips in Guatemala is a two-day hike to the Acatenango volcano. The first day you hike from the village of La Soledad, in about 6 hours to the 3500 meters high, base camp of the Acatenango volcano, where you spend the night in a tent. From here, you can literally see the red lava spouting from the active Fuego volcano. It's pretty unbelievable!
The next morning you'll leave around 4 AM to the top of the volcano. And here you have a breathtaking 360degree view of Guatemala, which extends to the coast, Mexico, El Salvador and the peaks of the surrounding volcanoes! The hike is not easy but definitely doable. It is the altitude in particular that makes this tour challenging. But it is so worth it. Where in the world will you be able to see an active volcano smoking and spouting lava from that close.
This tour is one of the most spectacular things to do in Guatemala. Tours leave from Antigua on a regular base. Want to know more about this impressive hike, how to prepare and what to bring? Read everything you want to know about hiking the Acatenango volcano in Guatemala + many tips in the next article.
Lanquin (5)
Lanquin is a little mountain town in the province of Alta Verapaz. Getting there is not easy (read: a long, bad and bumby road). But a visit to Lanquin is something you simply can't miss. It is one of the most beautiful places to visit in Guatemala, because of its surroundings.
Lanquin is your starting-point for Chemuc Champey. A national park, hidden in the mountains of Guatemala, with a series of naturally formed water basins. It is surrounded by steep mountain cliffs and a lush jungle vegetation. The pools consist of crystal clear turquoise river water and you are able to swim in it. It is also possible to hike up to a viewpoint, from where you have an incredible top view of the natural wonder. But not only Semuc Champey is worth visiting, Lanquin area also offers unique caves, where thousands of bats fly out during sunset, tubing and canopy tours.
Find everything you want to know about what to do in Lanquin, including tips for hotels, best time to visit, the caves and Semuc Champey, the natural wonder of Guatemala in the Lanquin and Semuc Champey guide.
Zona 4 – Guatemala City (6)
Guatemala City doesn't have a good reputation when it comes to safety and is often skipped by travelers. Understandable given the negative stories, but a shame! In Guatemala City people also live a daily life and there are interesting things to do. If it fits in your travel itinerary, I would definitely recommend staying here for a day and/or night. Even if it would be only to visit the archaeological museum, Munae, in zona 13 and the hip neighborhood zona 4.
Quatro Grados Norte (zona 4) consists of a few streets with many cool restaurants and bars. In Casa del Aguila you will find nice boutique stores and the famous restaurant Flor de Lis, offering an amazing gastronomic experience.
Quetzaltenango (7)
Quetzaltenango, aka Xela, is a city that is often skipped during a tour through Guatemala. A shame, because even though this city in Guatemala doesn't have many spectacular things to do, it is a city to experience the real Guatemala! It is Guatemala's second city and has a nice mix of students and business people. It is an ideal startingpoint to explore surrounding indigenous villages such as Zunil, Salcaja, San Andres de Xecul or just relax in the hot springs of Fuentes Georginas. But you can also go on spectacular volcano hikes, to the active Santa Maria volcano (elevation of 3,772 meters), Santiaguito (elevation of 2,790 meters) or take a multi day trip to the Tajamulco at 4,222 meters, the highest point in all of Central America.
Things to do in and around the Pacific & Caribbean coast of Guatemala
Things to do in El Paredón | Pacific coast Guatemala (8)
When you think of Guatemala, you probably don't think of beautiful beaches. Yet people from Guatemala City regularly travel to the Pacific coast to spend there a few days. Most beaches are not that beautiful, especially when you compare it to neighbouring countries such as Belize, Honduras and Mexico. But El Paredón is a place to remember, because of its cool vibe. This upcoming beach destination is approximately 2.5 hours from Antigua. There are restaurants, beaches with volcanic sand, beautiful sunsets and lots of surfers. And if you're planning to stay multiple days, make sure to check out the interesting tours offered by Lacho Zachula, where you directly support the locals. Swell is the place you want to check out and make a reservation.
Rio Dulce + Livingston | The Caribbean coast (9+10)
From the town of Río Dulce you can take one of the most beautiful boat trips in Central America. You will cruise the Río Dulce, the sweet river, through a protected nature reserve with numerous birds and water lilies, to the Caribbean coast of Guatemala. Here you can visit Livingston, a messy town, which is only accessible by boat. Before reaching the town, you will sail along large cliffs, densely covered with deep green jungle vegetation, while local fishermen cast their nets. Livingston will show you a completely different side of the country, because of the unique mix of people living here. The Garifuna's, (who are descended from the Caribbean Arawak Indians and African slaves) and the indigenous Maya population. You can explore the village, enjoy the many pelicans in the harbor and have a chat with the welcoming Rastafari characters.
Have a look in the guide for more information and travel tips about the boat trip from Río Dulce to Livingston in Guatemala.
Guatemala cultural things to do
Support the locals
When on the road, I always keep an eye on ways to support local projects. One of the projects I love in Guatemala is Niños de Guatemala. A foundation offering high quality education to over 500 children from low-income families in Guatemala. You can support this foundation by staying overnight at the stylish Good Hotel Antigua or by booking a cultural tour with Niños de Guatemela. Both are social businesses, where 100% of the profits go to the foundation.
I experienced a worry doll tour, organized by one of the mothers of the schools. Worry dolls are traditional little dolls that you put under your pillow when you go to bed and they take will take away your worries. You visit the house of a local family and work on the worry dolls. It is also possible to visit one of the schools and learn about the project. By visiting the schools and meeting the local people, you are not only learning about other cultures, but you also know where the investments goes. It is for sure one of the best cultural things to do in Guatemala and a great way to support. Curious about these cultural activities? Take a look at the website of Niños de Guatemala.
Iterested in spending the night at Good Hotel Antigua? Check the latest rates and availability for Good Hotel Antigua here.
Experience a traditional sauna – the temazcal
When you are in Guatemala (or Mexico), a visit to a temazcal, a traditional Maya sauna should not be missed. A temazcal is a small round house made of volcanic rock and adobe. The Maya used this sweathouse as a ceremonial cleansing of the body, for example after a battle or a ball game. Sick people, elderly people and pregnant women could also strengthen and recover here. Volcanic rocks are used to heat the temazcal and different indigenous herbs are used as aromatics. I experienced a temazcal at La Lancha. A wonderfully romantic experience! And one of the most relaxing things to do in Guatemala.
Curious about La Lancha? Read more about my stay in La Lancha in Guatemala here!
Historical & Archaeological things to do in Guatemala
Tikal, top things to do in Guatemala (11)
Tikal is one of the most visited places in Guatemala. This ancient Mayan city is located in the northern province, Petén. An area dominated by jungle and tropical rainforest. Because of its mysterious atmosphere and location in the dense jungle, it is one of the most impressive archaeological Maya sites for me.
Tikal used to be one of the largest Maya cities in the region, with more than 3000 buildings. What is remarkable is that only 30% of the buildings have been discovered and excavated. The rest is still under vegetation.
Tikal can be visited from the town of Flores or La Lancha, located at the Lago Petén Itzá. A visit to Tikal is an unforgettable experience where you'll learn more about the fascinating Maya history and enjoy the tropical rainforest with countless monkeys, coatis, butterflies and birds. During my last trip I went out with the experts of Tikal Go, a tour combining archaeology and bird watching. So interesting and worth it! Read more about my trip to Tikal, including the highlights and lots of useful tips in the next article.
Yaxhá (12)
If you are interested in history, make sure you visit the archaeological site of Yaxhá. An off-the-beaten track destination, less visited than nearby Tikal. But here too, you walk through the dense jungle, past ancient Mayan structures with countless monkeys and birds. And if you are lucky you can even see crocodiles!
Yaxhá, together with smaller ruins such as Nakum, Topoxté and El Naranjo, is part of the Yaxha National Park consisting of 37,000 hectares! The largest Mayan complex in Guatemala, after Tikal and El Mirador. It is located 30 kilometers from Tikal, on the Laguna Yaxhá, also known as the crocodile lake. Watching the sunset from the 30 meters high temple (structure 216 or temple or the hands) is a magical moment!
Yaxhá can be reached from the town of Flores, El Remate or La Lancha, located on the Lago Petén Itzá. Another option is to spend the night on the edge of the national park in El Sombrero.
El Mirador – by helicopter or 5 day jungle hike (13)
Are you looking for some serious adventure? Then you should visit El Mirador, one of the most remote Maya sights in Guatemala, only accessible by going on a five-day jungle tour or helicopter. El Mirador is less known than Tikal, due to its isolated location.
This old Maya city is one of the largest in the Maya empire and is said to have had 2 million inhabitants at its peak. The first rumors about this city were circulated in the 19th century, but it was a long time before the first investigations and excavations took place. And still only a small part of the city is excavated and can be actually seen. El Mirador is known for La Danta tempel. With a height of 72 meters and a size of (2,800,000 cubic meters), this is the largest pyramid in the world, according to scientists.
The jungle trek
The trek is not easy. You walk 65 kilometers in 5 days through a dense jungle, completely cut off from the outside world. The humidity is high and that is what makes the trip challenging (comparable to the trip to La Ciudad Perdida in Colombia). After two days of walking, you will reach the city. The third day is all about exploring El Mirador and afterwards you walk back in two days. Along the way you will sleep in campsites and visit smaller ruins such as El Tintal and Nakbé.
You can make this trip from Flores or El Remate. Even though there is always a chance of rain, it is best to make this tour in the dry season (November to April). In general the paths will be less muddy and slippery.
The helicopter tour
Not in the mood for this challenging jungle tour? It is also possible to visit El Mirador by helicopter. You'll leave early morning and fly over the endless jungle to El Mirador, within half an hour. After an extensive tour you'll fly back at the end of the day. (note average costs pp USD 450).
Gastronomic Guatemala travel tips
Try the Tapado
One of the best dishes in Guatemala and my personal favorite is el Tapado. A soup consisting of coconut milk, including lobster, shrimp, crab, shellfish and fresh white fish. The dish can be found along the Caribbean coast of Guatemala and Honduras and is related to the Garifuna culture. One of the best places to taste this dish is around the Río Dulce and Livingston, mooring your boat at one of the riverside restaurants.
Gastronomic experiences in Guatemala – the best tasting menus
Guatemala is not internationally known for its culinary delights. Yet there are two amazing restaurants in Guatemala that offer a true gastronomic experience. Flor de Lis in Guatemala City and Quiltro in Antigua. Both chefs were alumni at Noma in Denmark and have developed their own style, where modern cooking techniques meet ancestral processes. A 6 or 8 course tasting menu takes you on a journey through Guatemala, with local ingredients and corresponding stories.
The tasting menu at Flor de Lis, is inspired by The Popul Vuh, the sacred book of the Maya and each course comes with an explanation. I particulary loved the dessert, as it was a creation of the flower mosaics that line the streets of Antigua during Semana Santa. Eating in one of these restaurants (and preferably in both) is one of the best thing to do in Guatemala, if you love a high-end food experience.
Off the beaten path things to do in Guatemala
What if you have visited Guatemala before? or just want to explore a different side of the country? Then, one of the best things to do, is to go off the beaten path in Guatemala. There are so many destinations less known but worth exploring.
Such as Laguna de Petexbatun (14), located in the jungle of Petén. You can stay in a jungle lodge around the lake and visit small archaeological Maya sites, only accessible by boat or horse.
Or Biotopo de quetzal (15), a natural reserve and natural habitat of the quetzal. Guatemala's beautiful national bird.
But also the steles of Quirigua (16) are worth adding to your traveling schedule.
The area around Quetzaltenango and the Huehuetanango district (17) with the stunning Laguna Brava (18), Hoyo Cimarron (19) Cenotes Candelara (20) and hiking possibilities in the Sierra de los Cuchumatanes (21)
The quetzal
One of the most beautiful birds in the world to me is the quetzal, the national bird of Guatemala. It is a bird that mainly lives in cloud forests, at altitudes between 1200 and 3000 meters. Despite the beautiful colors, the quetzal is not easy to spot. But it's worth a try! Both male and female quetzal have a glossy green head, back and wings and a red breast. In males, graceful green strings grow from the feathers during the mating season. The quetzal also plays an important role in indigenous cultures. This is said to be related to the Aztec god Quetzalcoatl, or the god of the wind. In Mayan times, the quetzal symbolized freedom because the quetzal dies in captivity. The quetzal is also the symbol in the Guatemalan flag.
Guatemala travel itineraries
Guatemala is a country, you can explore for weeks. But what if you a limited amount of time? What should you include in your Guatemala itinerary? Have a look in my Guatemala itineraries, with highlights, travel tips and information about traveling time. Including a special section if you are coming or continuing your journey to Mexico and Honduras.
Hotels
I love staying in smaller scale hotels with beautiful interiors, a nice atmosphere and convenient location. In addition, I like to support the locals and love a sustainable approach around a hotel. I always spend a lot of time researching, before I book my stay. Curious about my favorite hotels to stay in Guatemala? This is an overview with travel tips for the most beautiful hotels to stay in Guatemala, sorted by city and region.
Best time to visit Guatemala
The best time to visit Guatemala is between November to April. Have a look in the article about the best traveling time to Guatemala to find more useful tips.
Is Guatemala safe?
Unfortunately, Guatemala, doesn't have the best reputation when it comes to safety. And I receive so many questions about safety in Guatemala. I visited this country more than 15 times myself and never experienced something bad. But yes, incidents do happen and you should definitely be careful and take the necessary precautions. I believe that if you are a responsible traveler, do your research and use common sense, Guatemala is a country you can visit in a safe way. Read more about safety in Guatemala in the next article, with useful travel tips, based on my personal experiences.
Books about Guatemala
A book I really recommend reading is I, Rigoberta Menchu. Rigoberta Menchú, is a a Guatemalan peasant woman, who reflects on the experiences common to many Indian communities in Latin America. Menchú suffered gross injustice and hardship in her early life: her brother, father and mother were murdered by the Guatemalan military. She learned Spanish and turned to catechistic work as an expression of political revolt as well as religious commitment. Menchú vividly conveys the traditional beliefs of her community and her personal response to feminist and socialist ideas. Above all, these pages are illuminated by the enduring courage and passionate sense of justice of an extraordinary woman.
Pin things to do in Guatemala & travel tips
Looking for more Guatemala travel tips?
Do you want to read more about beautiful Guatemala? Have a look in the Guatemala archive for a cityguide for Antigua and travel guides about Lake Atitlan en Lanquin. The famous market of Chichicastenango, the Acatenango volcano hike, a boat trip on the Rio Dulce to Caribbean Livingston and a Guatemala hotel guide. Interested in archaeology? In this article I'm taking you to the Maya ruins of Tikal and Quiriguá, a smaller and less visited Maya site with beautiful Maya stelae. I also created different itineraries to get the best out of your travels in Guatemala.