In the lovely mountain village of Minca there are countless beautiful places to stay. But are you looking for something unique? Then spend the night at Trekker Glamping: 5 luxuriously furnished domes, located in a natural environment. From your private terrace, you can enjoy amazing views of the jungle, Santa Marta and the Caribbean coast. In this article I'll tell you more about my stay at Trekker Glamping and give you many tips for things to do in Minca Colombia.
Welcome to Trekker Glamping in Minca, Colombia
Already on the road to Minca you are able to see the white domes of Trekker Glamping rising above the green jungle. From the village of Minca you drive for 30 minutes by jeep on a bumpy road up to the entrance of the glamping. And as soon as you enter the complex, you will be quiet for a moment, because of its amazing location. Trekker Glamping is located on a mountain with panoramic views of the jungle, the city of Santa Marta and sea.
Upon arrival, a short introduction video follows, where the owners share their personal story. Diana and her family changed their hometown Bogotá for this new place in the middle of nature. The exact location of Trekker Glamping in Minca was the place appearing in Diana's dreams. When she saw this place in real life, she had no choice but to realize her dreams here. Diana also explains how they worked intensively with indigenous communities. In a beautiful way, permission was asked from Mother Earth to officially use the site as Trekker Glamping.
The domes
There are white 5 domes, surrounded by greenery, numerous flowers and birds. The domes are simple but furnished with nice materials. And the beds are so comfortable. The bathroom is small but has everything you need, including hot water.
But the highlight here is the amazing view. From your bed and your balcony you look out over the jungle and in the distance you see Santa Marta and the Caribbean Sea. Each dome has its own terrace with a few chairs and a built-in hammock.
Setting the alarm early, when it is not necessary, is not really something for me. But at Trekker Glamping I couldn't help but move the blankets to the hammock very early in the morning to listen to the birds and watch the sun rise.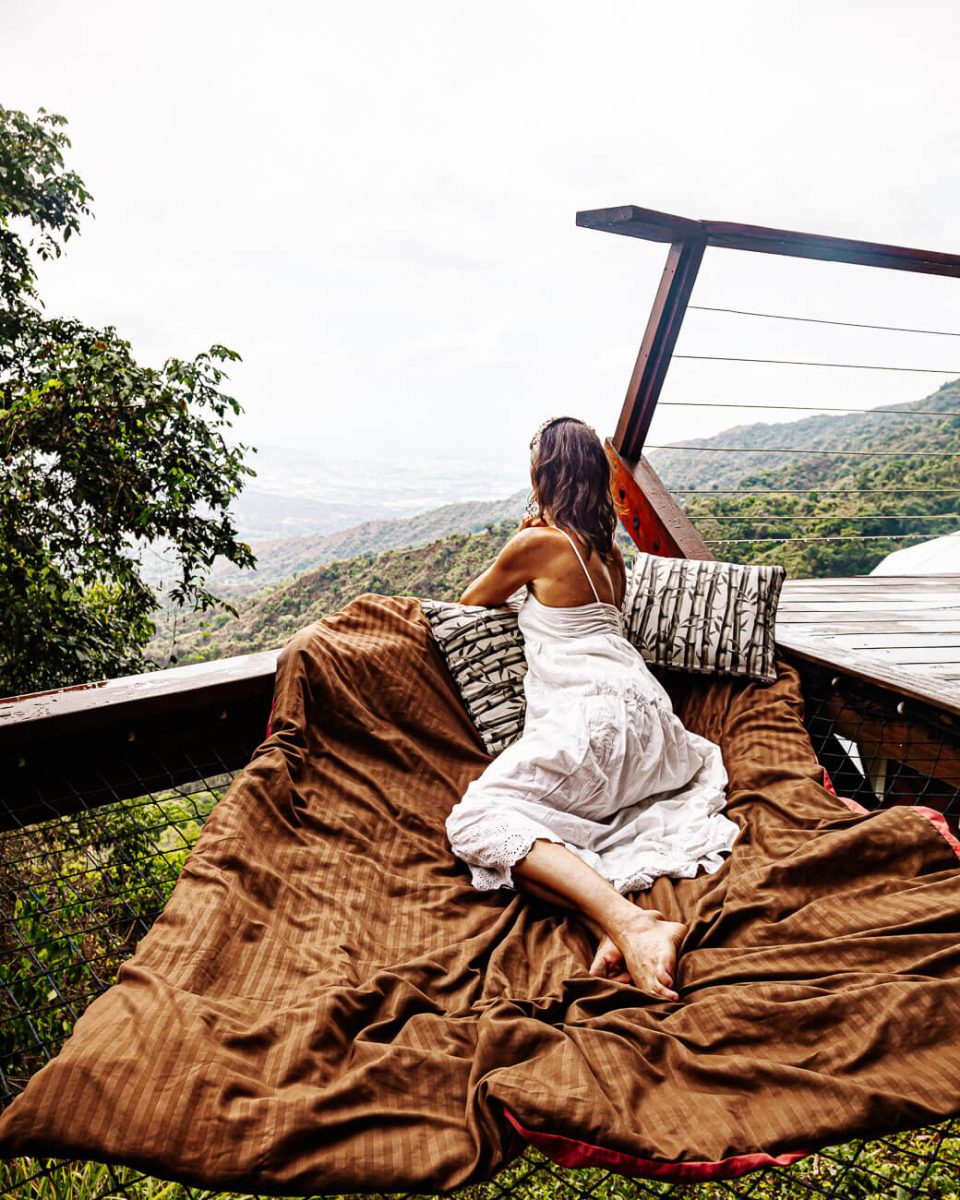 Interested in staying at Trekker Glamping in Minca? Check the availability and latest rates here.
Facilities at Trekker Glamping in Minca Colombia
Jacuzzi
Trekker Glamping can call itself the owner of one of the most beautiful jacuzzis. The view is phenomenal! Enjoying the sunset at the end of the day, with a cocktail in your hands is just magical.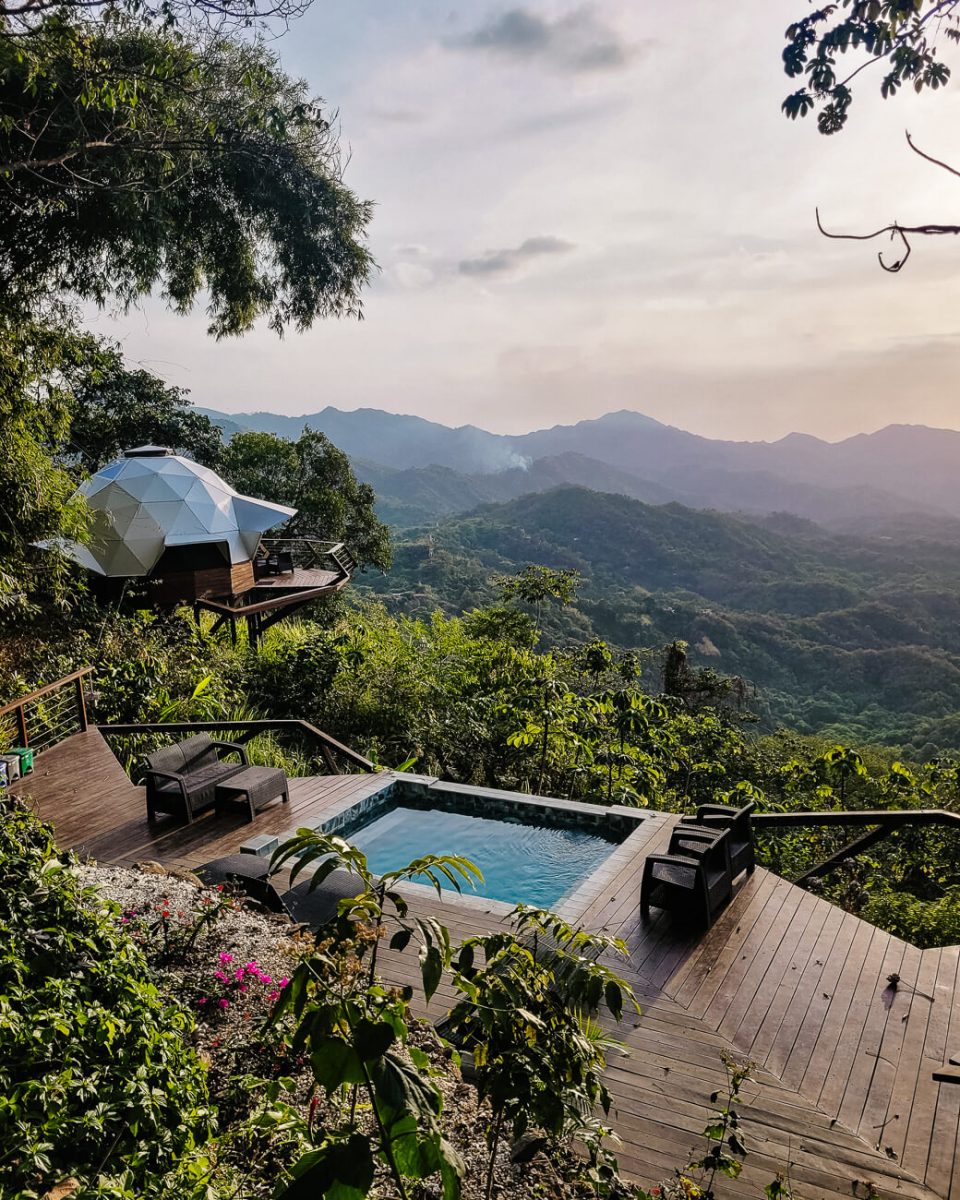 Natural water source
Indigenous people have been believing in the energy of the mountains and the power of nature for decades. The owners therefore want to introduce all visitors to the spirituality of the region. On the grounds of Trekker Glamping there is a natural spring with a small waterfall. Do you want to completely open up to the beautiful area you are in? By taking a dip, you leave the energy of the city behind and open up to the forces and energy of the surroundings.
Tip: Trekker Glamping offers several spa treatments and ceremonies. Definitely recommended, especially after a day of hiking in Minca.
Restaurant
The restaurant is also located in a large dome, where different dishes are served. I especially enjoyed the ceviche's and dishes with rice, coconut and shrimp among others. It is important, however, to pass on your order in time via the WhatsApp channel. Because only a few guests stay at Trekker Glamping, everything has to be planned in advance. The reception will send you daily reminders.
Marshmallows at the campfire
In the evening it is possible to sit at the campfire and roast marshmallows. Something I of course could not resist. If you let the friendly staff know, they'll light the fire for you.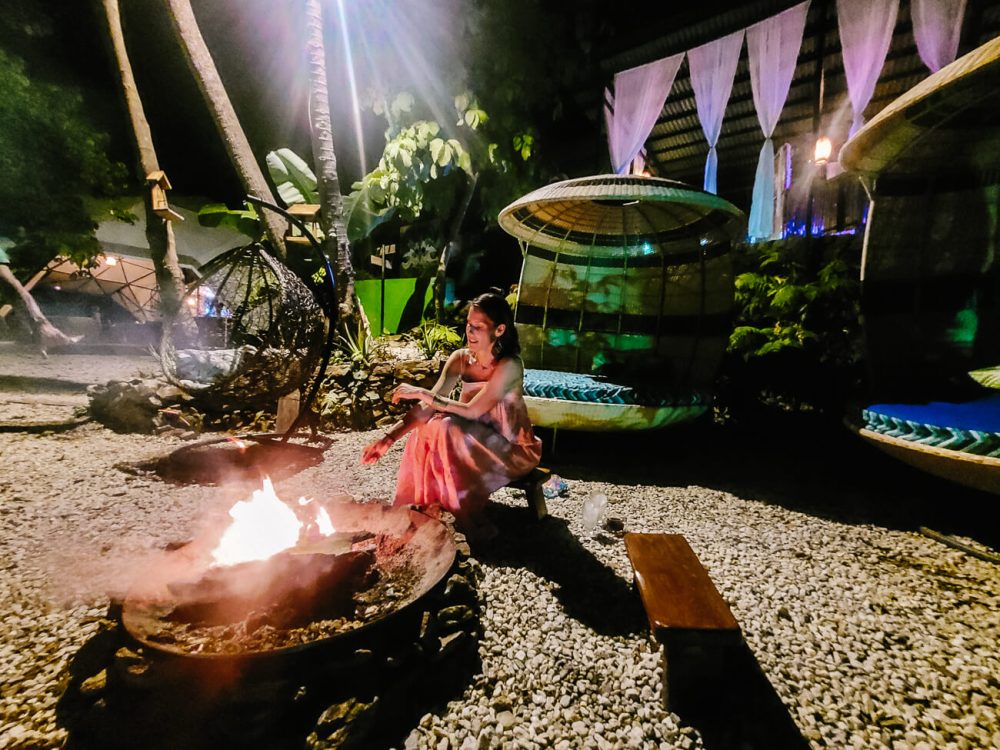 What to do in the surroundings of Trekker Glamping in Minca Colombia
In Minca, you can spot birds, walk on coffee and cocoa plantations, visit waterfalls and go for great hikes. Here are a my tips for things to do in Minca when you are staying at Trekker Glamping.
Go birdwatching
Minca is also called the bird paradise of Colombia and if you walk around here you immediately understand why. There is no place in the world where I saw so many hummingbirds and toucans at the same time. You can go for birdwatching tours in the morning. If you don't feel like taking a tour, do get up early to spot them yourself. You will not regret it.
Visit coffee and cocoa plantation La Candelaria
On a half hour walk from Trekker Glamping, via a scenic trail, lies La Candelaria. La Candelaria is a coffee and cocoa plantation, where you can go for a tour and get an explanation of the cocoa process: From seed to cup. At the end of the tour you will feel how cacoa works as a facial mask and of course there are different chocolates to taste. It is small but nice. A visit is worthwhile, if only because of the beautiful location.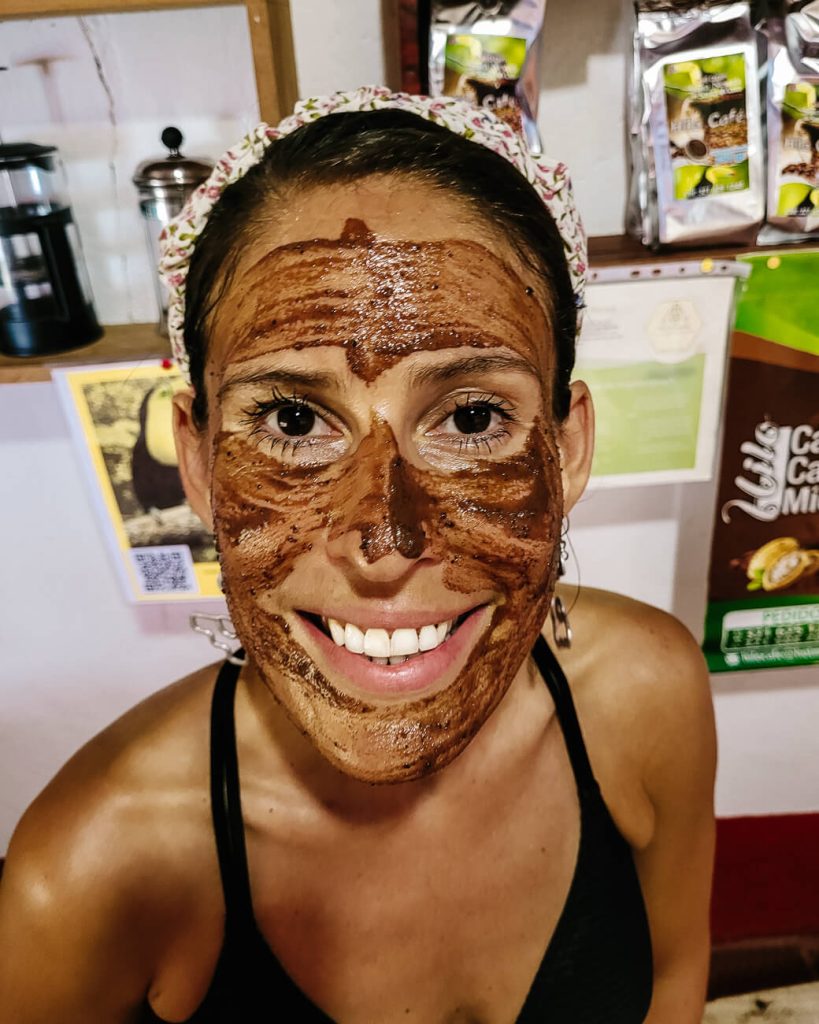 Hike to Mundo Nuevo
From La Candelaria you can continue your journey to Mundo Nuevo. A beautiful trail through the tropical rainforest. Mundo Nuevo is again such a stunning place, because of the incredible views. You can have a drink or visit the lower community of the Wiwa indigenous people. Just keep in mind that there are only a few houses and the residents will often hide. A visit is therefore to just get an idea of how people live and to find yourself on indigenous territory.
Do you still have energy left? Then follow the trail up the mountain to a viewpoint. Here you have a 360-degree view of the surroundings.
Visit the waterfalls
There are plenty of waterfalls around Minca in Colombia such as Cascada de Marinka, Cascada Escondida and Pozo Azul. All beautiful places but unfortunately also often very busy, because they can be easily reached by car. If you want to visit one of these waterfalls, try to go very early in the morning and avoid weekends and holidays as much as possible.
Explore Minca village
It is nice to visit Minca town. Minca is a small village, with a few nice restaurants and bars like Lazy Cat, Amora en bakery La Miga.
Do you want to learn more about what to do in Minca? Check out my Minca travel guide with many tips in the next article.
How to get to Trekker Glamping in Minca Colombia
Trekker Glamping Minca is located on the mountain on the road to Mundo Nuevo. The glamping is best reached by jeep. Especially if you're traveling with luggage. It will take you about 30 minutes from the center of Minca. You can arrange transportation at Trekker Glamping and you then be picked up in Minca.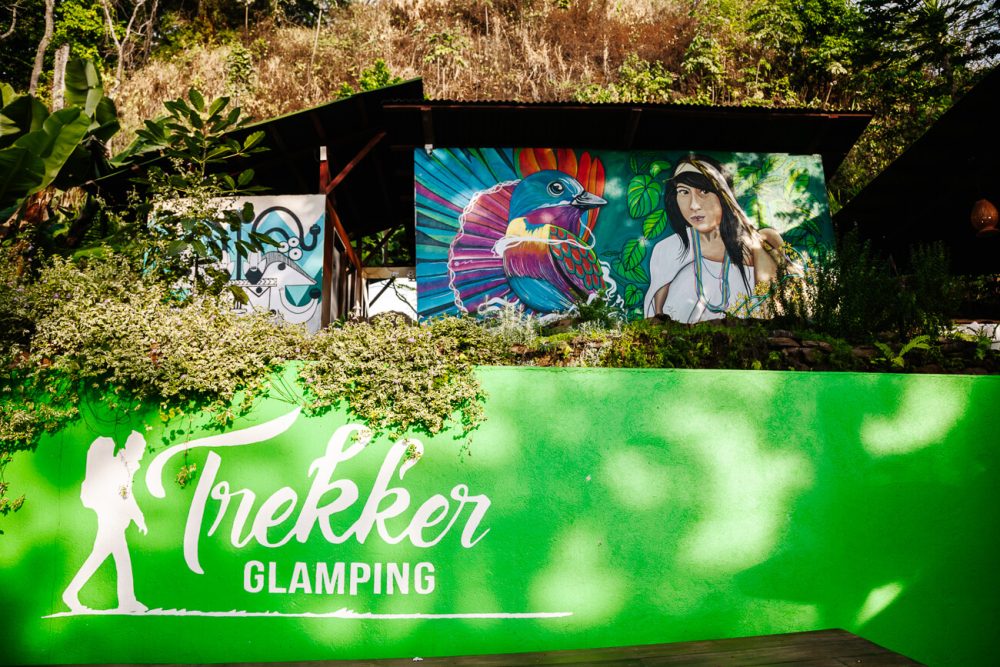 If you have no luggage, then Trekker Glamping is also easy to reach by foot (20 minutes downhill, 45 minutes uphill). If you do not feel like walking up the mountain, then there are numerous motorcycle taxis in Minca that will take you up the mountain for 10,000 COP (a few euros) per person.
More about Trekker Glamping in Minca, Colombia
Want to know more about Trekker Glamping in Minca? Here you'll find the latest rates and availability. You can also follow Trekker Glamping Minca on Instagram and facebook.
More about Minca
Do you want to learn more about what to do in Minca? Check out my Minca travel guide with many tips in the next article.
More hotels in Colombia
Like any other country, Colombia has so many beautiful hotels. For both work and personal trips, I visited Colombia dozens of times. When I travel by myself, I always look out smaller scale hotels with beautiful interiors, a nice atmosphere and a convenient location. I always spend a lot of time researching, before I book my stay. In this article I will tell you more about my favorite places to stay in Colombia: The best boutique hotels, sorted by city and region in Colombia.
More about Colombia
Intererested in reading more about Colombia? This is an article with the most beautiful places to visit in Colombia, including the best time to visit. Or check out the Colombia blog page with city guides and things to do in Bogotá, Medellín and Santa Marta. Tips for lovely towns such as Salento, Mompox and Villa de Leyva. But also the Tatacoa desert and Valle de Cocora. Interested in archaeology? Read more about the mysterious San Agustín statues.
Disclaimer: I was invited to stay at Trekker Glamping in Minca, but this review is based on my personal view and is independent from the invitation.
This article may contain affiliate links. If you purchase something using one of our links, we may receive a commission at no extra cost to you, which helps us keep this blog alive. Thank you for your support! Please see our disclosures for more information.