Minca is a beautiful village in the mountains of Santa Marta in Colombia, surrounded by jungle, countless flowers and birds. Less than an hour drive from Santa Marta, you will find yourself in a completely different environment. In Minca you can watch birds, enjoy breathtaking views, walk through coffee and cocoa plantations, visit waterfalls and go for hikes. In this travel guide you can read all my tips for things to do in Minca Colombia, including unique places to stay and restaurants.
Minca travel guide | 10 tips and things to do in Minca Colombia
Go birdwatching
Minca is also called the bird paradise of Colombia and if you walk around here you immediately understand why. There is no place in the world where I saw so many hummingbirds and toucans at the same time. One of the best things to do in Minca in Colombia is therefore to go on a birdwatching tour, to understand more about the different species of birds. Moreover you will train your eyes and see so much more than going out by yourself.
Most lodges located on the mountains in Minca offer these tours. In case you are staying in Minca town, you can head out with Jungle Joe. Jungle Joe, offers daily tours in the morning where you will explore the Minca surroundings. If you don't feel like taking a tour, promise me to get up early to spot birds yourself. You will not regret it.
Visit the waterfalls in Minca
There are plenty of waterfalls around Minca in Colombia such as Cascada de Marinka, Cascada Escondida and Pozo Azul. All beautiful places but also often very busy because they can be easily reached by car. Pozo Azul is a 20-minute drive from Minca. You can also go hiking for about an hour, but you walk most of the road along a motorway. It is therefore best to take a motortaxi.
Cascada de Marinka is one the largest waterfalls and is a 30-minute drive from Minca. Cascada Escondida, one of the hidden waterfalls in Minca is less crowded. But as the name implies, is it sometime difficult to find, as you really need to know where it is (all motortaxis can help you).
Tip: If you want to visit one of these waterfalls in Minca, try to go very early in the morning and avoid weekends and holidays as much as possible. Tip 2: On the way to Pozo Azul, you will pass Panaderia del Bosque, a lovely place for coffee, tea and cake.
Go for hikes in Minca Colombia
In Minca Colombia you can go hiking all day long. It is therefore best to choose some places and include them in your trail. Just try to avoid the paved roads and walk the mountain trails instead. You will past tall trees, plants, flowers and beautiful views. Below in this Minca travel guide you will find a few things to do that are easy to reach by foot.
Tip: Are you short on time but do you want to get the maximum out of your stay? It is also possible to rent a motortaxi and have it drop you off at the different places in Minca.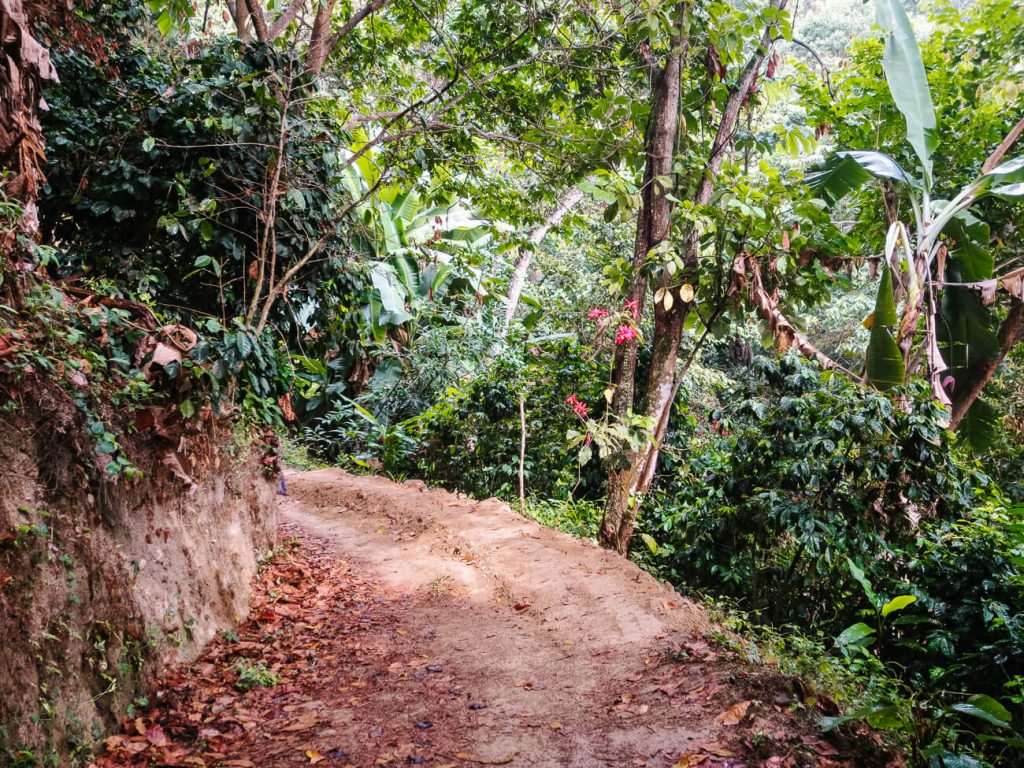 Visit coffee and cocoa plantation La Candelaria
La Candelaria is a coffee and cocoa plantation, where you can go for a tour and get an explanation of the cocoa process: From seed to cup. At the end of the tour you will feel how cacoa works as a facial mask and of course there are different chocolates to taste. It is small but nice. A visit is worthwhile, if only because of the beautiful location. La Candelaria can be reached by foot from Trekker Glamping within 30 minutes.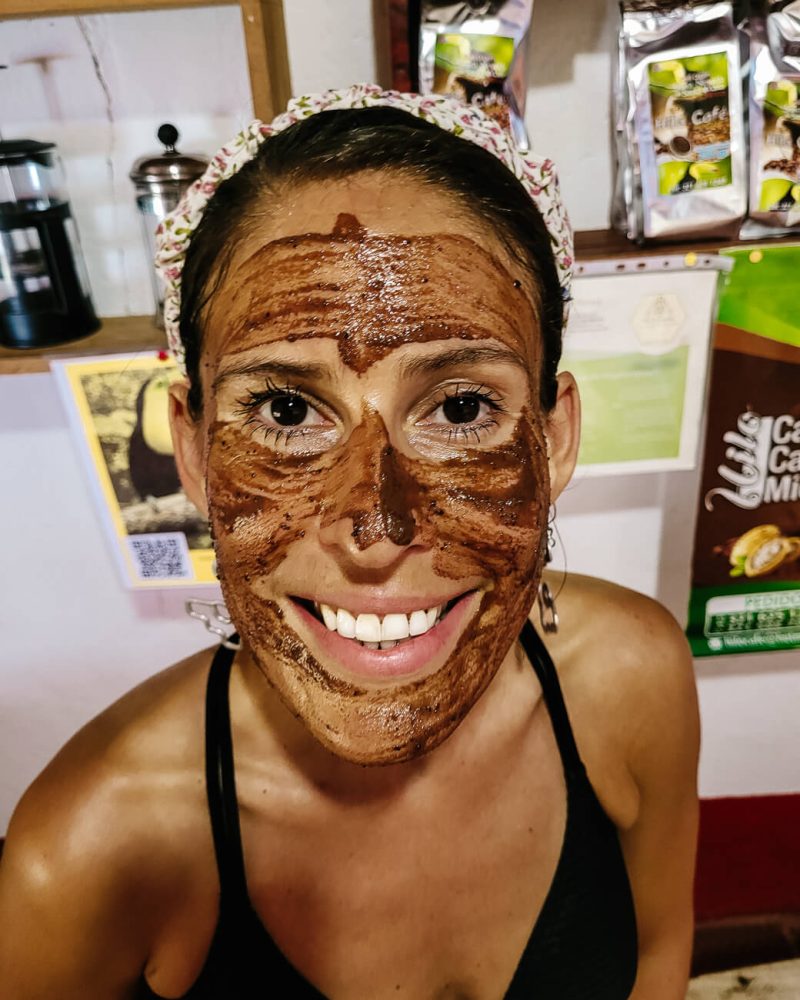 Enjoy views at Mundo Nuevo
From La Candelaria you can continue your journey to Mundo Nuevo. A beautiful trail through the tropical rainforest. Mundo Nuevo is again such a stunning place because of the incredible views of the surroundings. You can have a drink or visit the lower community of the Wiwa indigenous people. Just keep in mind that there are only a few houses and the residents will often hide. A visit is therefore to just get an idea of how people live and to find yourself on indigenous territory.
Tip: Do you still have energy left? Then you can follow the trail up the mountain to a viewpoint. Here you have a 360-degree view of the surroundings.
Enjoy a drink and meal in one of the Minca restaurants and bars
Minca in Colombia is a small village, with a church and a number of shops and restaurants. It is nice to walk around, but especially to have a meal or drink on one of the terraces, located at the river or plaza. My personal favorites are Lazy Cat, Amora and bakery La Miga.
Trekkers Glamping – where to stay in Minca
There are countless beautiful places to stay in Minca. But where to stay in Minca if you looking for something unique? Then spend the night at Trekker Glamping. Here you will find 5 luxuriously furnished domes, located in a natural environment. From your private terrace, you can enjoy amazing views of the jungle, Santa Marta and the Caribbean coast.
In the next article I'll tell you more about my stay at Trekker Glamping.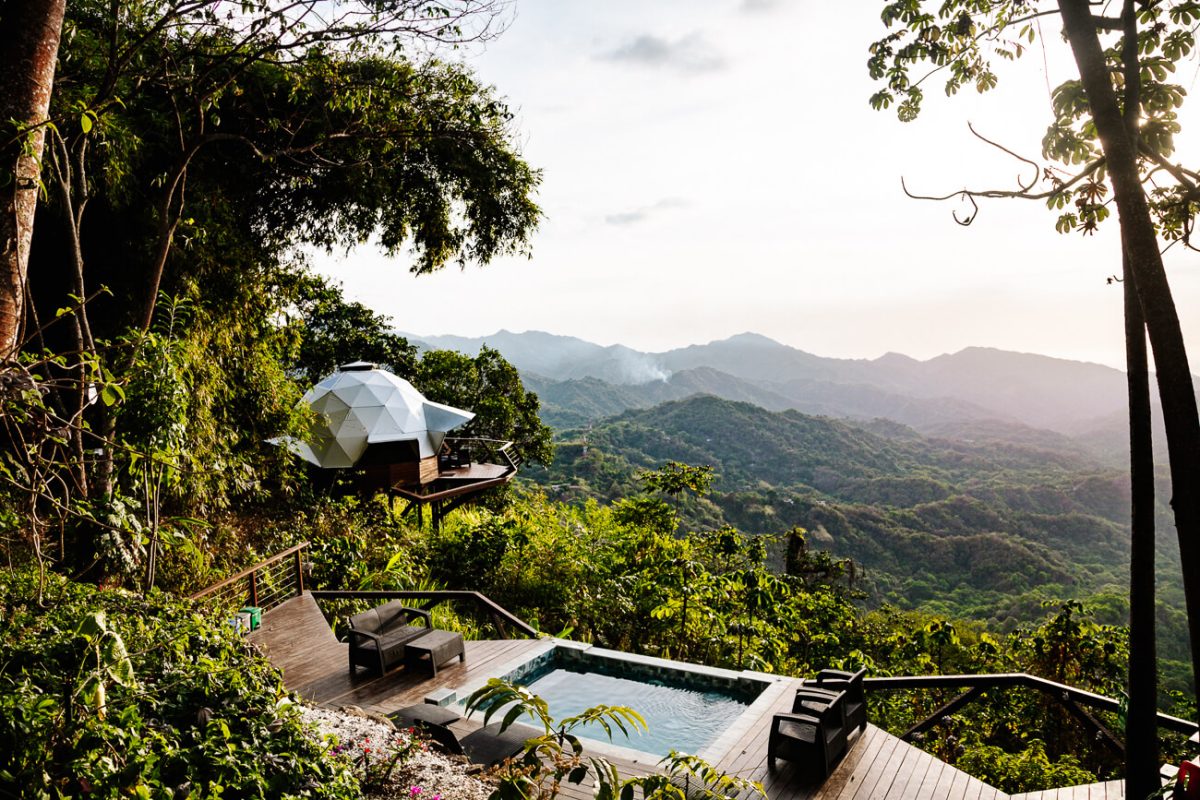 The 5 domes are simple but furnished with nice materials. Each dome has its own terrace with a few chairs and a built-in hammock. Trekker Glamping has its own restaurant and offers different tours. Moreover it can call itself the owner of one of the most beautiful jacuzzis. And there is nothing better than enjoying the sunset, with a cocktail in your hands, after a full day visiting the many things to do in Minca. Trekker Glamping is located halfway up the mountain and is a good startingpoint to start your hikes and discover the different things to do in Minca Colombia.
Interested in staying at Trekker Glamping in Minca? Check the availability and latest rates here. Looking for more hotels in Minca? This is an overview with hotels in Minca.
What to do around Minca
La Ciudad Perdida trek Colombia
Looking for some adventure? Then the hike to the Lost City in Colombia, could be a trip of a lifetime. This lost city of the Tayrona, is located in the middle of the jungle of the Sierra Nevada. The only way to reach this place, is by foot, through the jungle, for four days. You will be hiking for two full days to reach this mysterious city and afterwards you will have to return the exact same way back.
The highlight of the La Ciudad Perdida tour is your visit to the archaeological site. There is not much left, but you will be amazed by the colors, mystery and peacefulness, as you won't find many visitors here. But not only the destination is worth it, the landscape, lush vegetation and isolated indigenous communities along the way, will make every day of this trip unforgettable. All tours start in Santa Marta but it is also possible to be picked up in Minca.
Do you also want to hike the Lost City? You can book your tour here. In the next article you can read everything you want to know about the Lost City trek and hike in Colombia, including a packing list + many useful tips.
Mini travel guide Minca Colombia
How long do you want to stay in Minca Colombia
You can visit Minca easily as a day trip from Santa Marta. But if you have the time, spend at least a few nights in Minca to really enjoy the nature, the nice vibe and the many things to do. I therefore recommend a minimum of 2 nights in Minca, so that you have 1 full day to explore the activities of this travel guide.
Try to avoid weekends and holidays. Minca is also a popular weekend escape for the people living in the nearby cities. Especially the waterfalls in Minca will be very crowded.
How to reach Minca in Colombia
Minca in Colombia can be easily visited from Santa Marta. Depending on traffic, you can reach Minca in just 45 minutes. You can book your day tour here or take a taxi. Is your hotel, such as Trekker Glamping, located halfway up the mountain? Then it is recommended to book transportation in advance so that the pick-up is waiting for you. Are you visiting Minca for the day? Then it is best to move around on foot or by scooter. Many motortaxis offer fixed prices and tours that take you to the different places to visit in Minca.
Curious about what to do in Santa Marta and surroundings? In the next article you will find all my tips for things to do in Santa Marta.
More about Colombia
Did you enjoy reading this Minca travel guide with tips and things to do in Minca Colombia? Intererested in reading more about Colombia? Check out the next articles with lots of inspiration and tips.
This article may contain affiliate links. If you purchase something using one of our links, we may receive a commission at no extra cost to you, which helps us keep this blog alive. Thank you for your support! Please see our disclosures for more information.