Are you planning to visit the Colombian Amazon? If so, you definitely want to stay at Calanoa Amazonas lodge. This jungle lodge is in the Condé Nast list of most beautiful hotels and that is for a good reason. You will be staying deep in the jungle, surrounded by the most incredible nature and yet you stay here comfortably in nicely designed cabanas. From Calanoa you can go on different tours that allow you to experience the jungle in its most beautiful form. In this article I'll tell you more about my experiences at Calanoa Amazonas jungle lodge and I'll give you tips for the best things to do in the Colombian Amazon.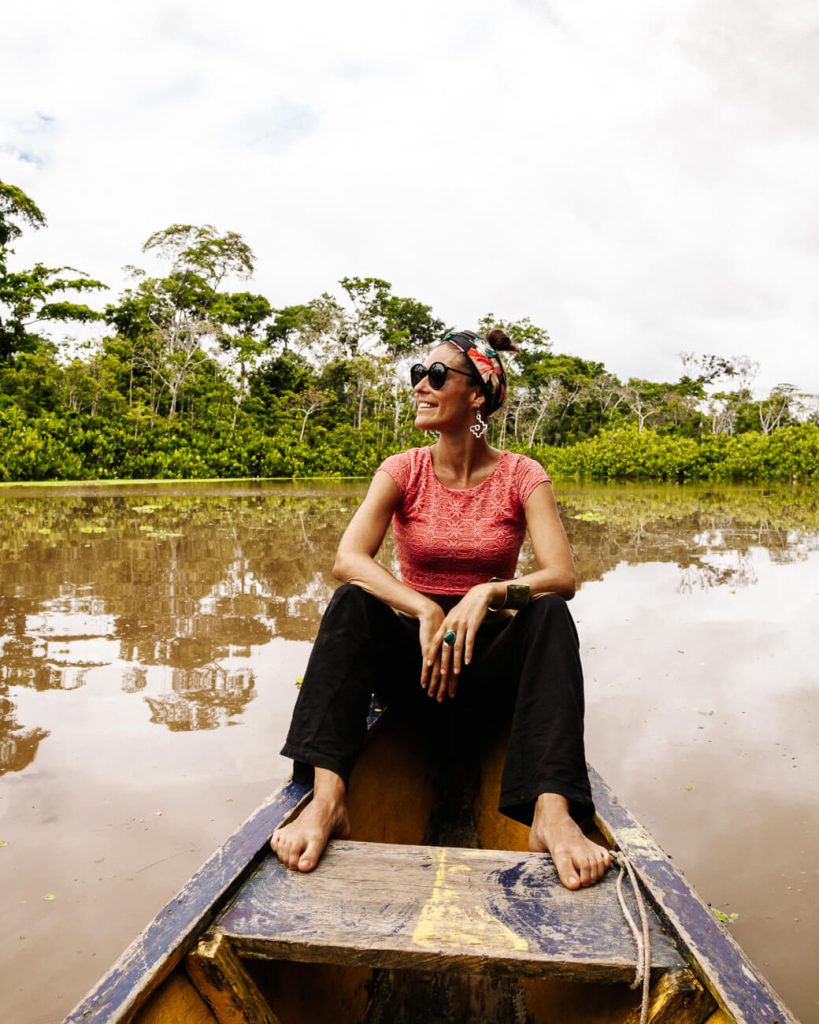 Welcome to Calanoa Amazonas jungle lodge in Colombia
Calanoa Amazonas jungle lodge is located in the Colombian Amazon, on the Amazon River about 1.5 hours by boat from Leticia. On the border with Peru and Brazil. The boat ride ensures you that you can leave the civilized world far behind and completely immerse yourself in the surroundings. The dense jungle vegetation left and right, the unique shape of clouds above the jungle and the vast Amazon River, provide unforgettable views.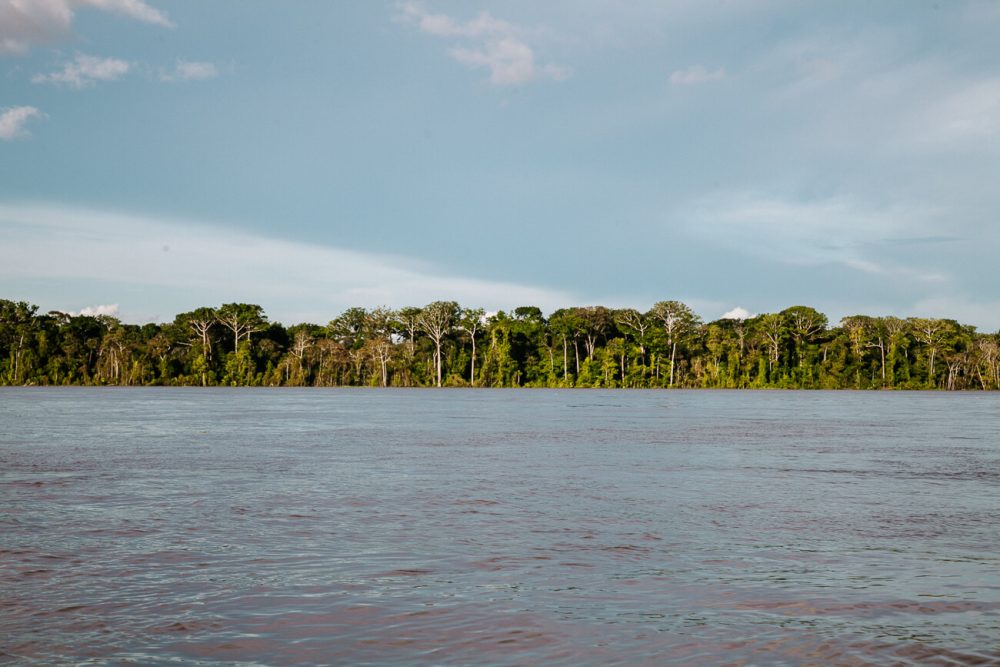 Calanoa Amazonas jungle lodge is a small boutique hotel, located in a natural reserve, with several cabanas, a restaurant and a jetty. A place where you enter a dense and green environment, including tall trees and countless flowers. The sounds you hear here during the day and evening are indescribably beautiful!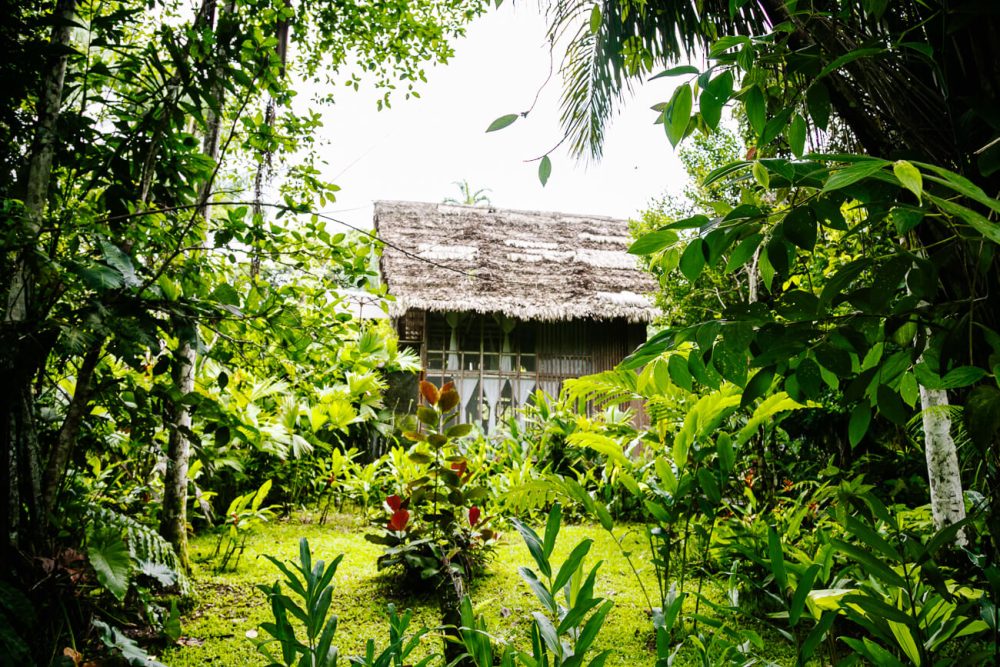 Calanoa Amazonas is not only a jungle ecolodge and a natural reserve in Colombia, but also a foundation dedicated to nature conservation, information and education. With your visit, you are therefore also supporting Calanoa's projects.
The rooms
Calanoa Amazonas lodge has 7 rooms, located in the middle of the Amazon in Colombia. All rooms are decorated with natural materials by artist Diego Stamper. The interior is simple but stylish, with decorations of wood including animals from the Amazon.
Master cabaña
I myself stayed in the master cabaña, including three floors, a bathroom with a garden and a huge balcony overlooking the jungle. There is nothing better than seeing the jungle wake up in the morning, while drinking a cup of tea or taking in the sounds of the jungle, while enjoying a glass of wine at the end of the day. But the junior suite and suites overlooking the river are also beautifully situated. In addition, Calanoa has a treehouse with two private rooms.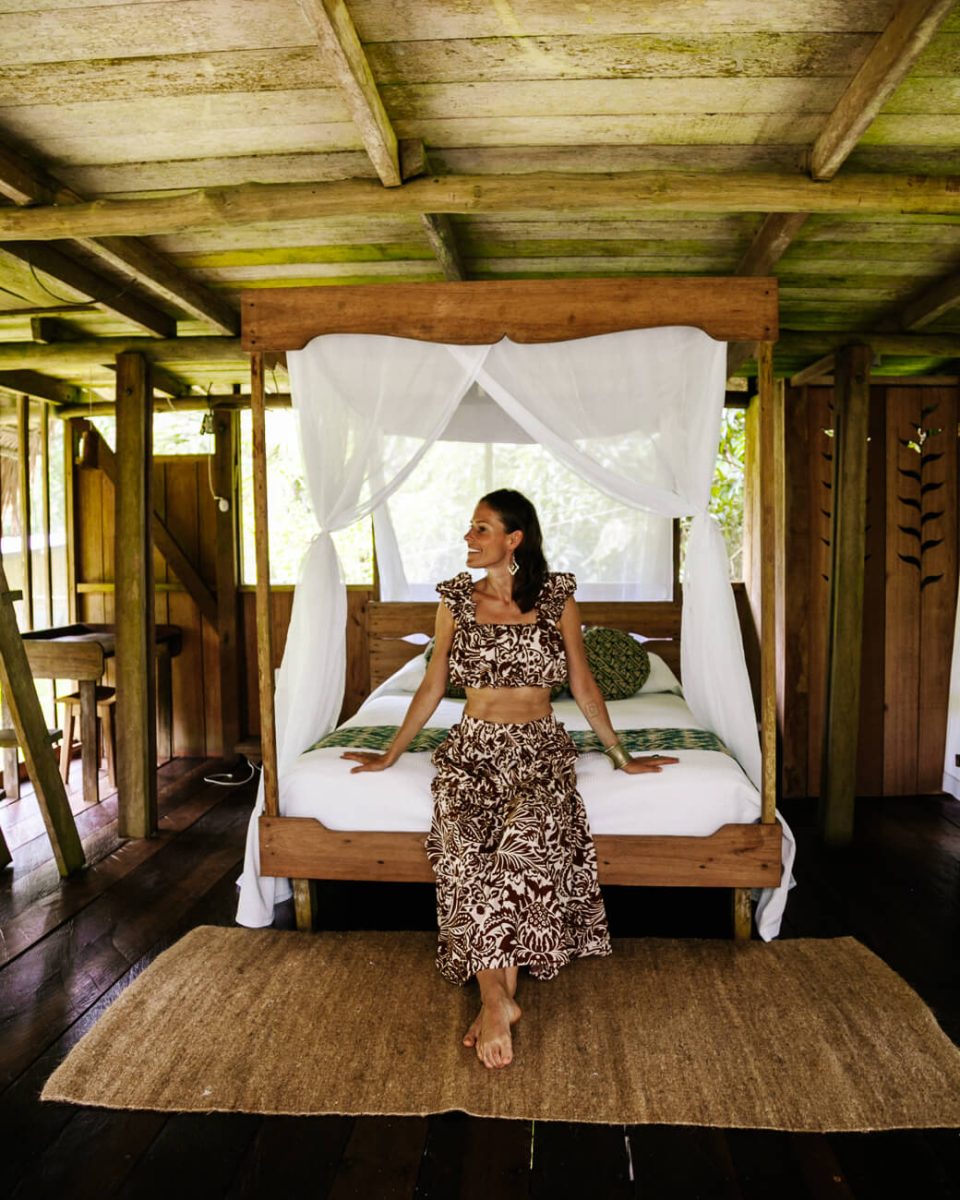 Calanoa Amazonas is an ecolodge where nature plays an important role. Therefore, there is no air conditioning (not bad at all) and there is no hot water. Because Calanoa is well maintained, you will have little trouble with animals in the room. However, it is important to inspect the room regularly. Take lots of anti-mosquito spray and afterbite with you, the mosquitoes in the jungle are persistent. And I am telling you this out of experience.
Restaurant and meals
During your stay at Calanoa Amazonas lodge, all meals are included. Every day the kitchen team prepares a delicious breakfast, lunch and dinner, using local ingredients and indigenous cooking techniques. You eat a lot of fish, tropical fruits and special vegetables.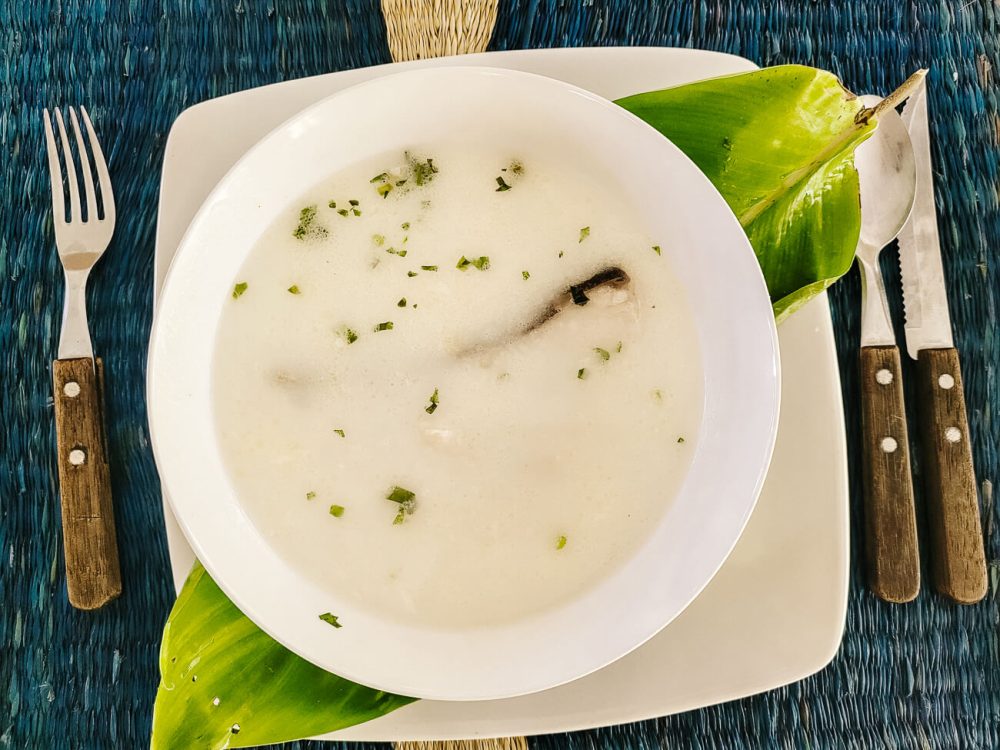 At Calanoa you sit with all guests around a large table. Nice is it to get to know your fellow travelers a bit this way. Don't feel like socializing? Not a problem at all. You also have the option to book a private dining in the restaurant lounge area.
Tip: Take a seat on the jetty of Calanoa Amazonas jungle lodge at the end of the day. Here you can enjoy the most beautiful sunsets and starry skies. To see the sun going down while listening to the sounds of the jungle, are moments to never forget.
Activities at Calanoa Amazonas lodge
At Calanoa Amazonas jungle lodge you can choose two excursions a day and they are included in your stay. Super nice, because this way you don't have to think about extra expenses. You get a list of options, make your choice and discuss your program with the staff. That way your visit is completely tailored to your needs and everything is top-notch taken care of. And because Calanoa is small, most trips are completely private. Sometimes combined with a single other guest, when you have the same interests.
The night hike
One of the highlights in the Colombian Amazon is a night hike. Every evening I was ready to go out again. Accompanied by a local guide you walk with flashlights into the jungle. And it's incredible what you encounter: Spiders including the tarantula, stick insects, frogs, mushrooms, fluorescent insects and giant beetles, whose names I don't even know. The local guides know exactly where to look to show you the secrets of the jungle. The evening hike is scheduled on the day of arrival, after dinner and is a great introduction to your jungle adventure.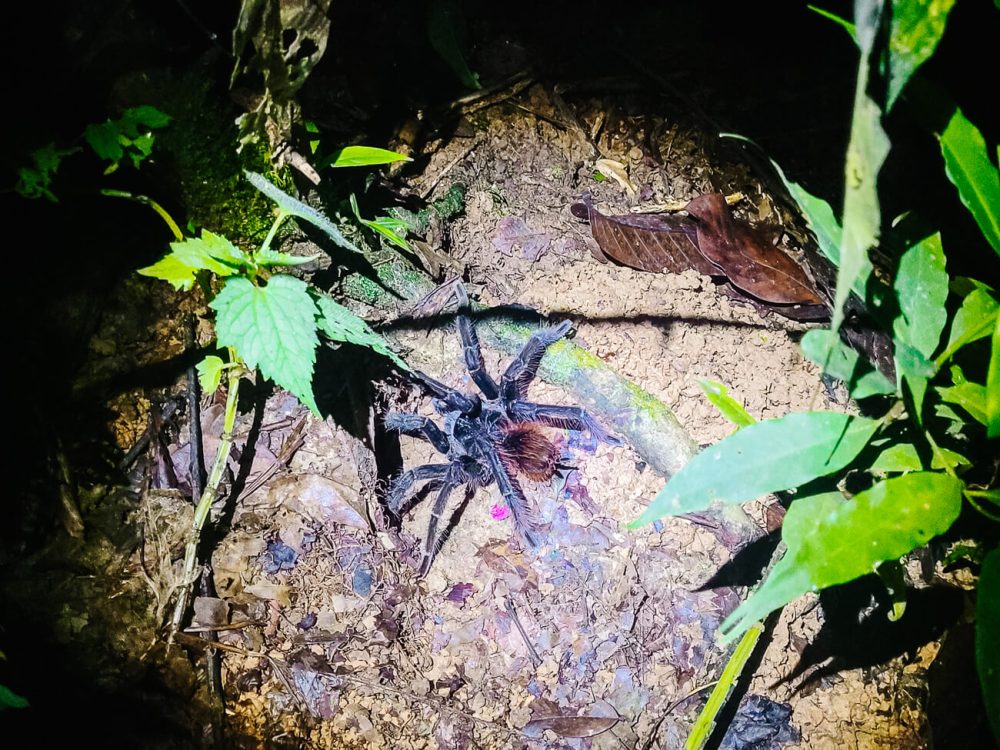 During your stay at Calanoa Amazonas lodge, you can use boots free of charge. The trails can (especially after a rainstorm) be quite swampy.
Visit a local community
One of the things you can do when you are in Calanoa Amazonas lodge, is to visit a local jungle community. I went to visit Mocagua, where two local guides gave me an extensive tour. You walk through jungle streets, past houses with chickens, dogs and cats on the terrace, laundry hanging to dry, a school, church and local murals. It is so interesting to observe daily live in the jungle. Besides that, people are super friendly and curious to learn about you. The community is working hard to develop tourism: Local people are being trained as guides, small restaurants and even some guesthouses are springing up. It is a short walk from Calanoa to the community and you will spend a nice morning here.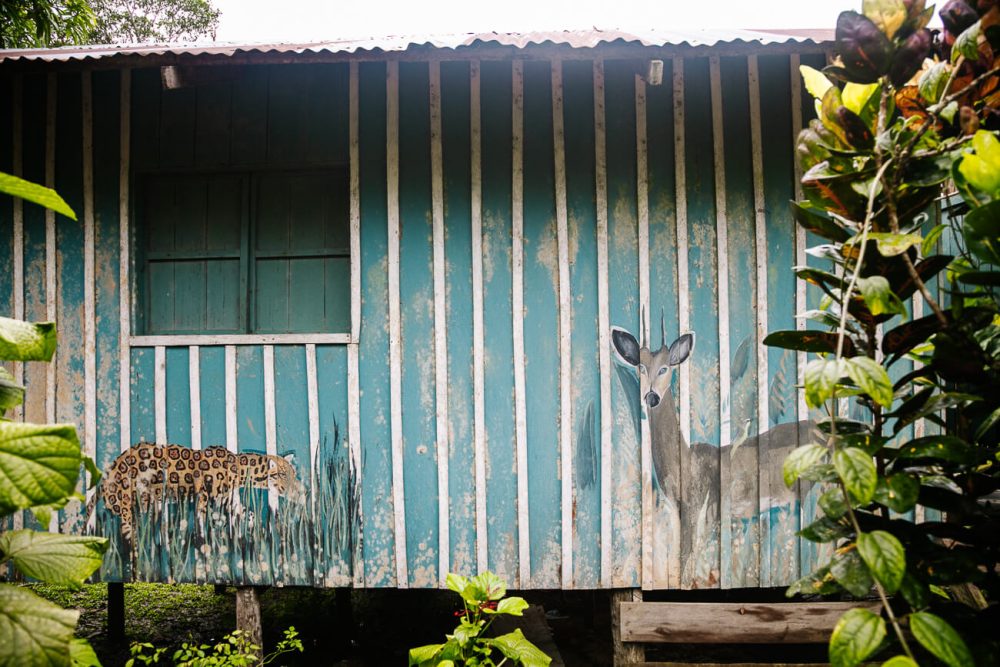 Calanoa Amazonas lodge works together with local communities including Mocagua on educational projects in which nature conservation plays a major role. With your visit and investment you actively contribute to these projects.
Fundación Maikuchiga
You can extend your visit with a trip to the Fundación Maikuchiga, a shelter and rehabilitation center for sick and abused animals, including monkeys. In Fundacion Maikuchiga they are received, fed and then reintroduced. In addition, the foundation provides education and information in the area so that animals and nature are treated with respect.
You can visit Fundacion Maikuchiga with a guide and sail through the jungle to the shelter. During my visit, a baby sloth that was found floating on the river by a fisherman was brought to the center for care. It was so cute and nice to see how the people of Fundacion Maikuchiga work.
Interested in learning more about the origins of indigenous people from the Colombian Amazon? Visit the small Museo Etnografico Amazonico in Leticia. Here you will find an overview of different peoples and cultures from the Amazon. A nice introduction before visiting the communities.
Hike through the Colombian Amazon
One of the activities you can't miss while at Calanoa Amazonas lodge is a hike through the jungle. With a local guide, you'll discover the surroundings and learn all about the impressive trees, medicinal plants and animals that make their way here. Nature is so fascinatingly beautiful and the stories of guide Jorge, who tells about life in the jungle, make it even more special.
After a hike of about 2 hours, you will arrive at the river and sail back to Calanoa lodge. The combination of hiking and sailing, makes it an Amazonas tour in Colombia that lets you experience the jungle in its finest form.
Admire the lotus leaves
Around Isla de Mocagua, which is part of the Parque Nacional Amacayacu, you will find the Victoria Amazónica, the largest lotus in the world. From Calanoa it is a short boat ride towards the island, where you sail along the leaves on the water.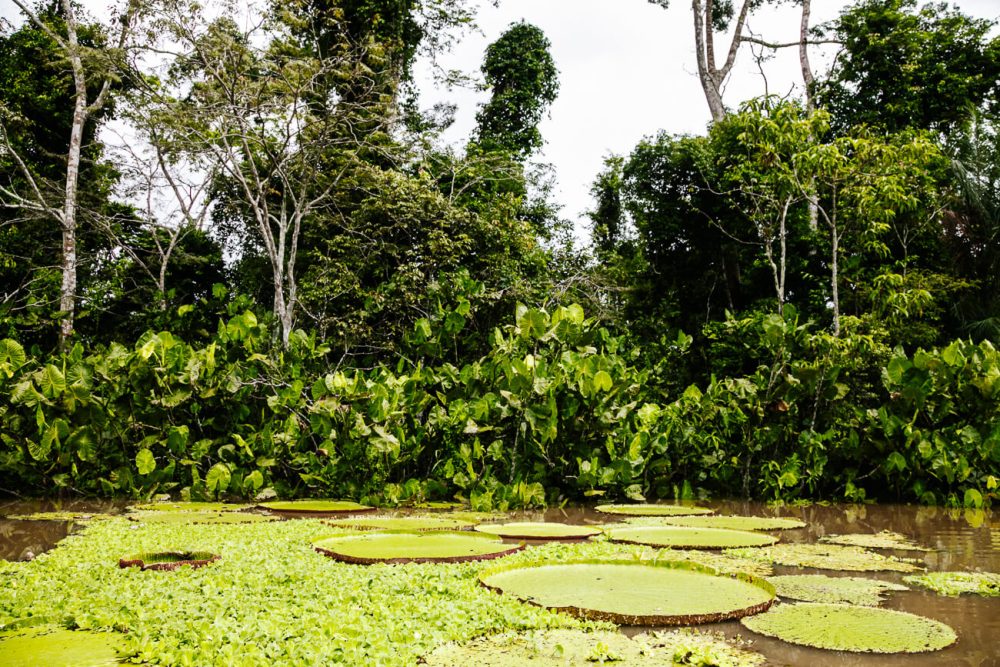 Nice is it to combine this tour with piranha fishing. You need to be a biit lucky, but if you catch one you will be very proud. The chance of catching piranhas is bigger if the water is low. But if you do not catch a piranha, there are other fish that you can try to catch. Of course you take your trophy with you to eat it in the evening.
Spot pink dolphins
When you are in the Colombian Amazon, of course you want to see the pink dolphin. This freshwater dolphin is a true dolphin and pastel pink. I was lucky enough to spot these animals already on the way to Calanoa Amazonas lodge. But this is something you simply can't get enough of. You can therefore choose to go dolphin spotting for an afternoon. Not easy! But the local guides know exactly where they are. On the border with Peru, you lie still with the boat at various points to take a good look around you. And once the pink animal jumps out of the water, you will be really happy. Unfortunately, it's almost impossible to get them properly photographed so after several attempts, I decided to let this go and enjoy the experience to the fullest.
Experience a jungle blessing in the Colombian Amazone
Because I am always very curious about local traditions and customs, I wanted to do a jungle blessing with a shaman. Of course you have to open yourself to this experience but if you are in the Colombian Amazon anyway, you definitely should.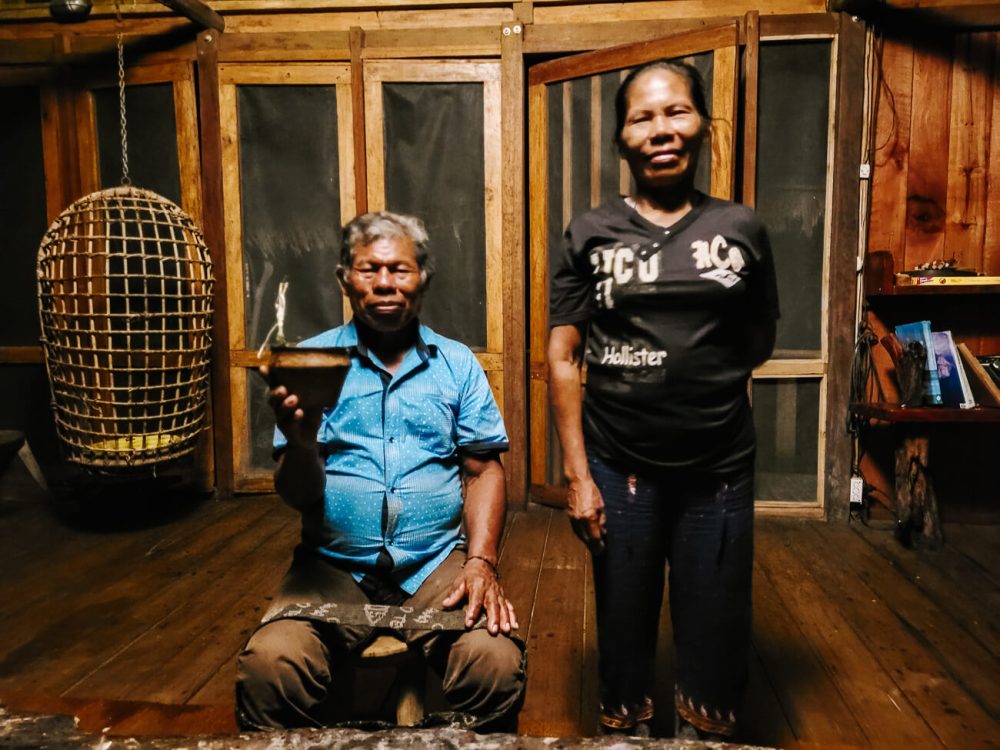 Because Calanoa Amazonas lodge works together with the community Mocagua, you can make an appointment with the shaman and his wife. They will come to Calanoa for a short but beautiful ceremony during which you will be blessed for your stay in the jungle and further travels. This is done with music and singing by the wife and a blessing by the shaman.
Besides the above excursions, there are many more excursions and activities to experience. Make sure you discuss your wishes with the staff and create your own program.
How to reach Calanoa Amazonas jungle lodge in Colombia
Canaloa Amazonas jungle lodge is located 1.5 hours by boat from Leticia in the Colombian Amazon, on the border with Peru and Brazil. You can choose from a private boat or a shared shuttle boat. The private boat is obviously more expensive, the advantage is that you can decide what time you travel and you can stop for a photo along the way. My skipper did everything he could to spot dolphins and we really took our time for the ride. The shared shuttle service runs at set times. Calanoa will help you with these logistics during your booking. They also pick you up from the airport to take you to the port. Leticia is a 2-hour flight from Bogota.
What is included during your stay at Calanoa Amazonas jungle lodge in Colombia
Each overnight stay includes two activities a day, that you can choose yourself. Also, all meals are included, meaning breakfast, lunch and dinner. Transportation to and from Calanoa Amazonas lodge needs to be paid separately.
Packinglist – Amazon of Colombia
Light clothing that covers your body because of mosquitoes
Mosquito repellent (lots of it)
Afterbite
Hat against the sun
Raincoat in the rainy season
Flashlight
Good shoes (boots are available at Calanoa)
Money (you can't get cash there)
More about Calanoa Amazonas jungle lodge in Colombia
Calanoa jungle lodge in Colombia is a place where you can relax and experience the different sides of the Colombian Amazon. Want to know more about Canaloa Amazonas lodge? Check out the website. You can also follow them on Instagram and facebook.
More boutique hotels in Colombia
Like any other country, Colombia has so many beautiful hotels. For both work and personal trips, I visited Colombia dozens of times. When I travel by myself, I always look out smaller scale hotels with beautiful interiors, a nice atmosphere and a convenient location. I always spend a lot of time researching, before I book my stay. In this article I will tell you more about my favorite places to stay in Colombia: The best boutique hotels, sorted by city and region in Colombia.
More about Colombia
Intererested in reading more about Colombia? This is an article with the most beautiful places to visit in Colombia, including the best time to visit. Or check out the Colombia blog page with city guides and things to do in Bogotá, Medellín and Santa Marta. Tips for lovely towns such as Salento, Mompox and Villa de Leyva. But also the Tatacoa desert and Valle de Cocora. Interested in archaeology? Read more about the mysterious San Agustín statues.
This article may contain affiliate links. If you purchase something using one of our links, we may receive a commission at no extra cost to you, which helps us keep this blog alive. Thank you for your support! Please see our disclosures for more information.