Bolivia is also known as 'the Tibet of South America' and that is for a reason. The temperatures are much lower than you might think. In the lowlands of Santa Cruz, the weather conditions are different than in the Altiplano, the high plains with heights, between 3000 m and 4000 m above sea level. Since most sights are located on the high plains, it is best to focus on this region. In this article I'm telling you more about the best time to visit Bolivia and the best time to visit and go Bolivia salt flats.
What is the best time to visit Bolivia?
The best time to visit Bolivia is between May and October. In the winter months (May-August), it is almost always sunny in the highlands, with a clear blue sky, during the day. This is the best time of the year to take pictures and the weather conditions are pleasant for hiking. The temperatures are between 15 and 18 ° C, during the day. But as soon as the sun is gone, it cools down and temperatures even drop below freezing at night. It can be extremely cold, especially on the salt flats of Uyuni, Lake Titicaca and Potosí. Museums, hotels and restaurants are not always warm either. It is important to bring enough warm clothes. I also recommend to put on layers of clothing, so that you can always put on and take off your clothes, depending on the time of day.
The summer and rainy season, run from December to March. Temperatures are higher, but it will be cloudy, foggy and rainy more often.
Bolivia salt flats best time to go | Salar de Uyuni
What is the best time to visit Bolivia salt flats? The Bolivia salt flats can be accessed between April and October. In the rainy season, between December and March, it is not possible to access the Salar and visit famous rock formation, such as Incahuasi and Pescado. The Salar then turns into a lake, where you can enjoy surreal and almost psychedelic views. In April, it is still possible that you will sink a bit through the salt in some places, because the water has not dried completely. Nothing to worry about, but make sure you put on solid shoes. Read everything you want to know about El Salar de Uyuni in the next article.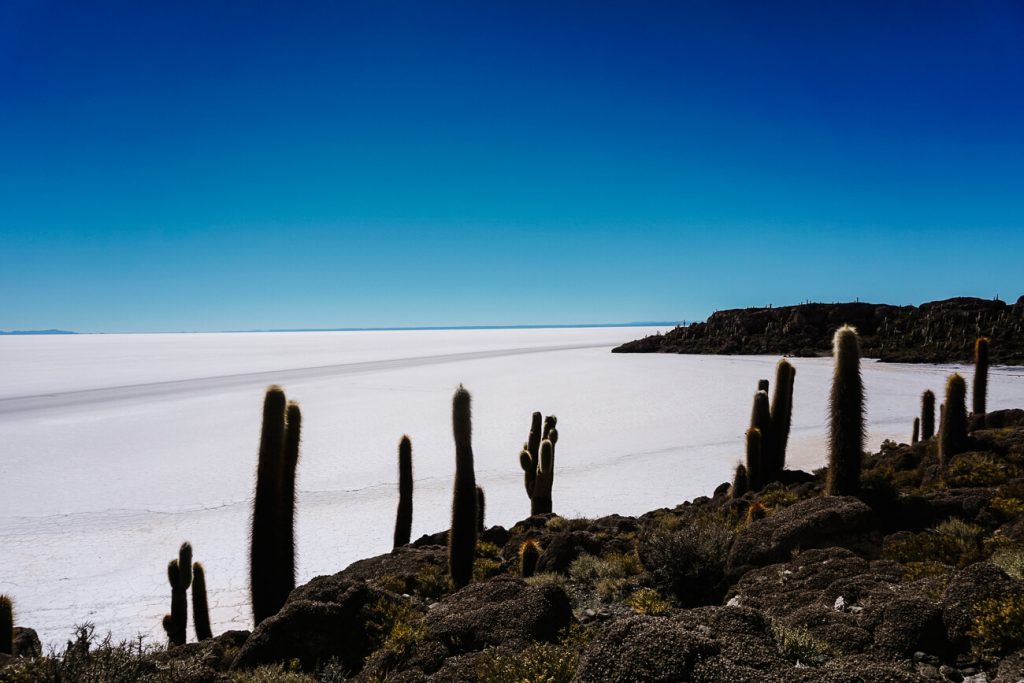 Essentials items to pack for a trip to Bolivia
Sunglasses and suncream. The light is bright, because of the altitude.
Sufficient warm clothing, preferably in layers, so that you can put things on and off during the day
Mosquito repellent, if you plan to visit the jungle and lowlands
Hat, scarf and gloves. You can also buy these items in Bolivia and take them as a souvenir back home.
Hiking shoes + hiking poles (if you plan to go for some serious hiking)
A waterbag for cold hotel beds, especially if you are planning to stay in simple/budget accommodations
Hand sanetizer
Sufficient antidiarrheal medicines + paracetamol
The right power plug and socket
This post is also available in:
Nederlands (Dutch)