Bogotá is a city I'm visiting on a yearly base and I'm always happy to spend time there! Bogotá is the cosmopolitan capital of Colombia and for most travelers a first introduction to the country. The city is located at an altitude of 2600 meters, in a valley of the Andes mountains. Like many South American capitals, Bogotá is a crowded city with more than 8 million inhabitants. The city has different sides: A nice colonial center, rich and hip neighborhoods in the north, poor slums in the south, a large business center, many universities and a vibrant art and cultural scene. Bogota has a lot to offer and it's worth to spend a couple of days here. Discover my personal tips for the best places to visit and things to do in Bogota Colombia and its surroundings. To get the most out of your stay in this bustling capital!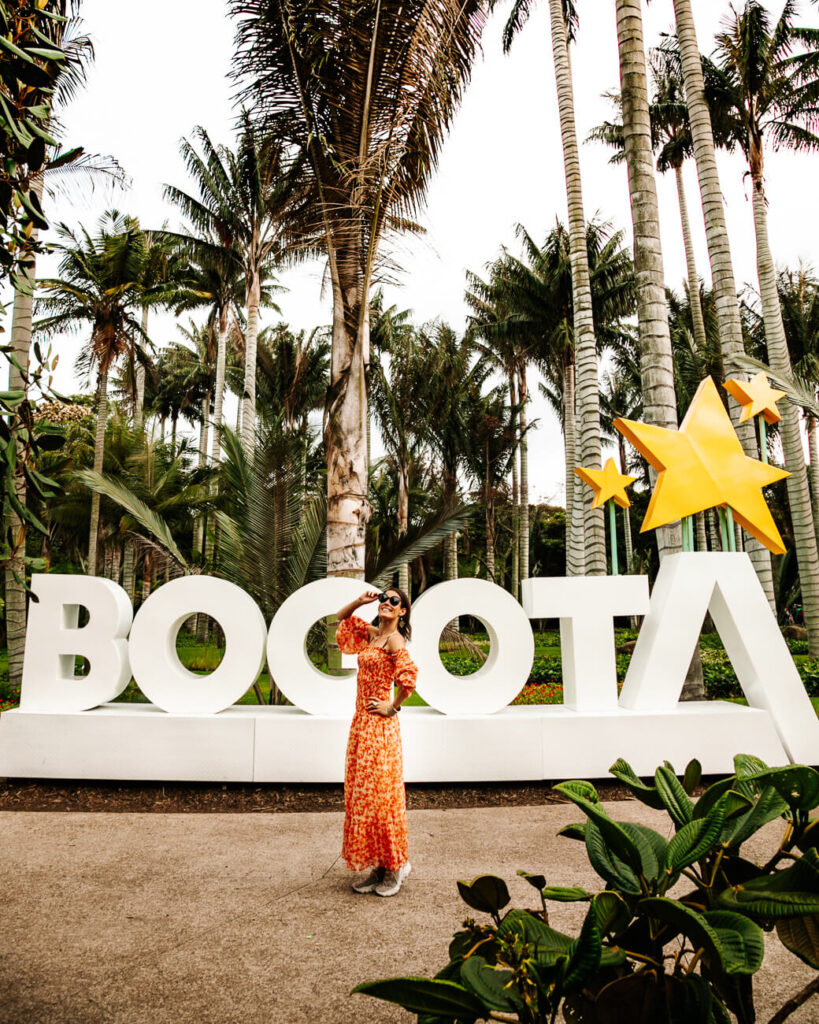 Background & historical facts
Bogotá was founded by the Spaniards as the capital of the colony, in 1538. The location, at the foot of the Monserrate and Guadeloupe mountains, was ideal to protect the city against the strong Andes winds. The city has always been the center of political and cultural life and on top of modernization. Halfway through the 20th century, the city started to grow explosively and turned into a bustling metropole! But Bogotá experienced many tragic times in the past, such as the murder of politician Jorge Eliécer Gaitán, "the Bogotázo" with days of demonstrations and ravages in the city and the hostage at the Sumpreme Court by guerilla organisation M19 (in 1985). During your visit you will learn more about these historical events for sure.
What to do in Bogota Colombia | 25 tips for things to do
Ready to discover Bogota? These are my tips for the best things to do in Bogota Colombia, including landmarks, highlights, scenic and cultural destinations, restaurants and hotels.
A view not to miss, Monserrate | famous things to do in Bogota
One of the top things to do in Bogota Colombia is to visit the viewpoint of the Monserrate mountain. A cable car will take you to the top of the mountain, at an altitude of 3152 meters, within 10 minutes. Here you will find a beautifully designed park with fountains and statues, a restaurant and a small church. Monserrate offers incredible city views, as you can watch over entire Bogotá! It makes you realize how huge this city is. So many people are living here, each with its own stories and lifes.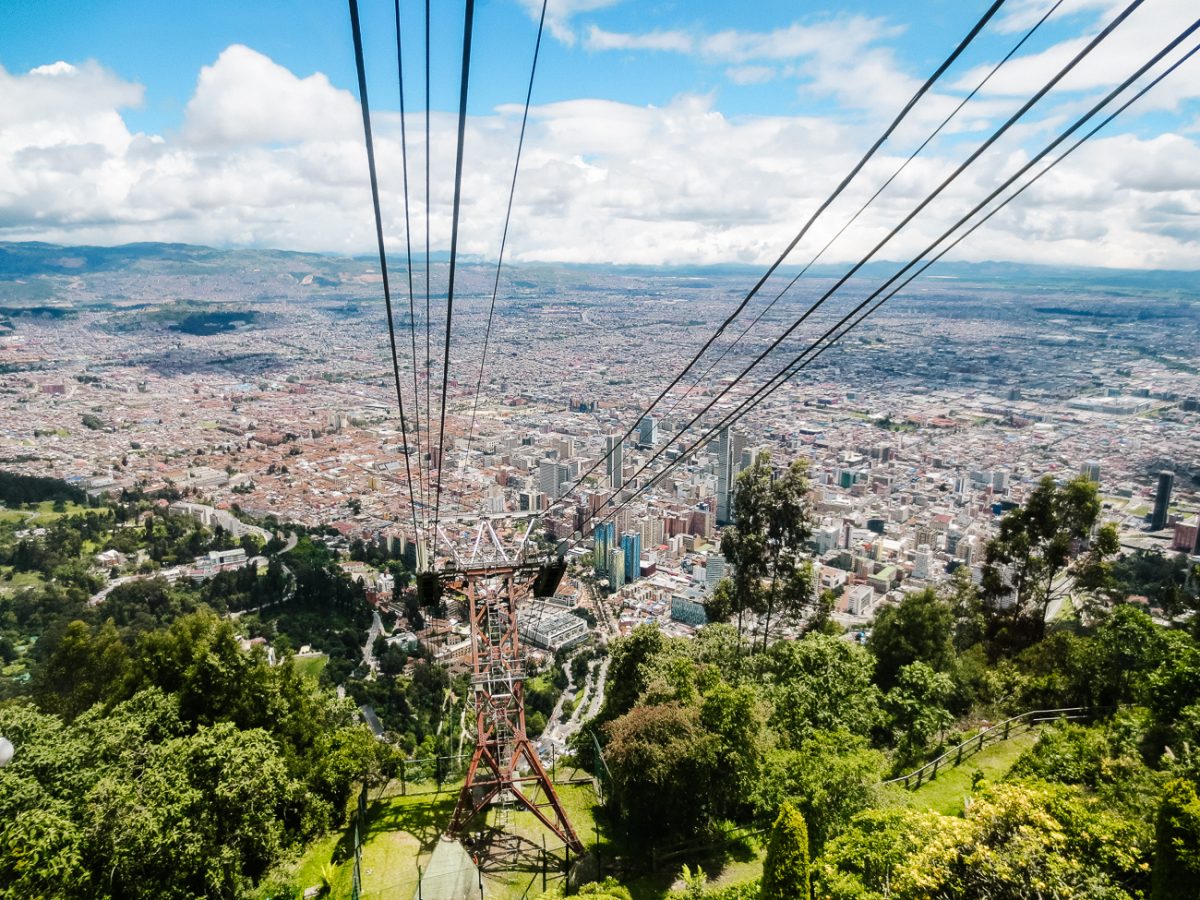 Tip: You can also hike your way up. However, I would not recommend doing this during your first days of visiting, as your body needs to get used to Bogota's altitude.
One of my favorite things to do in Bogota is to stroll around "La Candelaria"
The colonial center of Bogota, is listed in the world heritage list of UNESCO and a nice startingpoint to explore the area of La Candelaria. Plaza de Bolívar, where the cathedral and the Supreme Court are located, is the center and landmark of the city. From here, different narrow streets run up the mountain. In these streets you will find beautiful houses, small squares and many shops, coffeeshops and restaurants.
The city was founded on the Chorro de Quevedo, in 1538 and the fountain reminds of the river that fled here. Nowadays it's a popular place for young people to gather and listen to poetry and music. In the streets around the square you will find many artists who sell jewelry and other art. Strolling thorugh this area is one of my favorite things to do in Bogota Colombia!
Go for a coffee tasting at Divino Café Especial
When you are in Colombia, a coffee tasting is a must. And you do not have to travel far to experience this. In the center of Bogotá you can visit Divino Café Especial, owned by coffee lover, barista and expert, Leandro Galindo Giraldo. Here you will learn in a fun and educational way about different types of coffee and especially what influence the preparation method has on the taste. And that is quite something! I am not a real coffee drinker myself but because the coffee is presented in a special way, it all tasted surprisingly good to me. Especially the coffee from a wine glass! How unique is that.
Coffee experience
From dripping methods, the use of an AeroPress to preparations using the Japanese Siphon method and V60. Leandro uses different extraction methods (all manual), most of which I had never heard of before. Visiting Leandro will make you see, buy and drink coffee in a whole new way. Whether you like coffee or not, this place is highly recommended and is among one the best things to do iin Bogota Colombia. Want to book a coffee experience? On the website of Divino Café Especial you will find more information.
Leandro is a third generation coffee producer and has been growing coffee with his family for 20 years in Pitalito, a town in the department of Huila, in the south of the country. Huila, along with the coffee triangle, is considered the most important coffee producing region in Colombia. For the coffee connoisseurs: During my visit we tasted Caturra, Castillo Tambo and Rosé Bourbon, all from this region. Planning to travel to the province of Huila? Huila is also home to the archaeological site of San Agustin. You can read more about visiting the San Agustín archaeological site in the following article.
Enjoy amazing street-art
Bogotá is known for its fantastic street-art. The best area to spot these works are the streets around Chorro de Quevedo and Parque de los Periodistas. It also can be interesting to join one of the many graffiti tours. Artists take you along different walls and explain the story behind their work. The cool thing is that many pieces express situations about the country's problems and history, so you will learn a lot. Not interested in taking a tour? Just stroll around and observe the pieces yourself.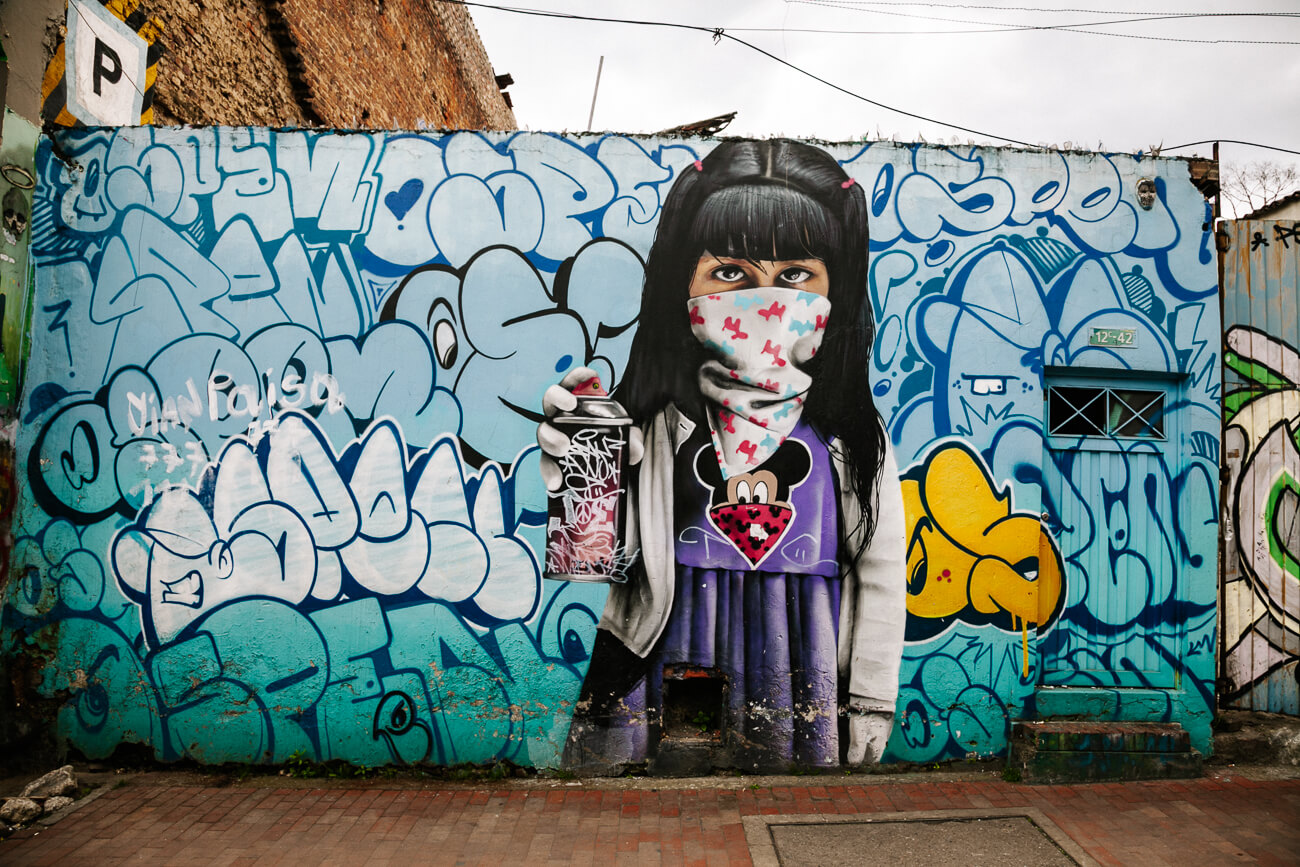 Personally, I am very impressed with the work of Carlos Trilleras. He is known for his expressive portraits of indigenous people from the Amazon.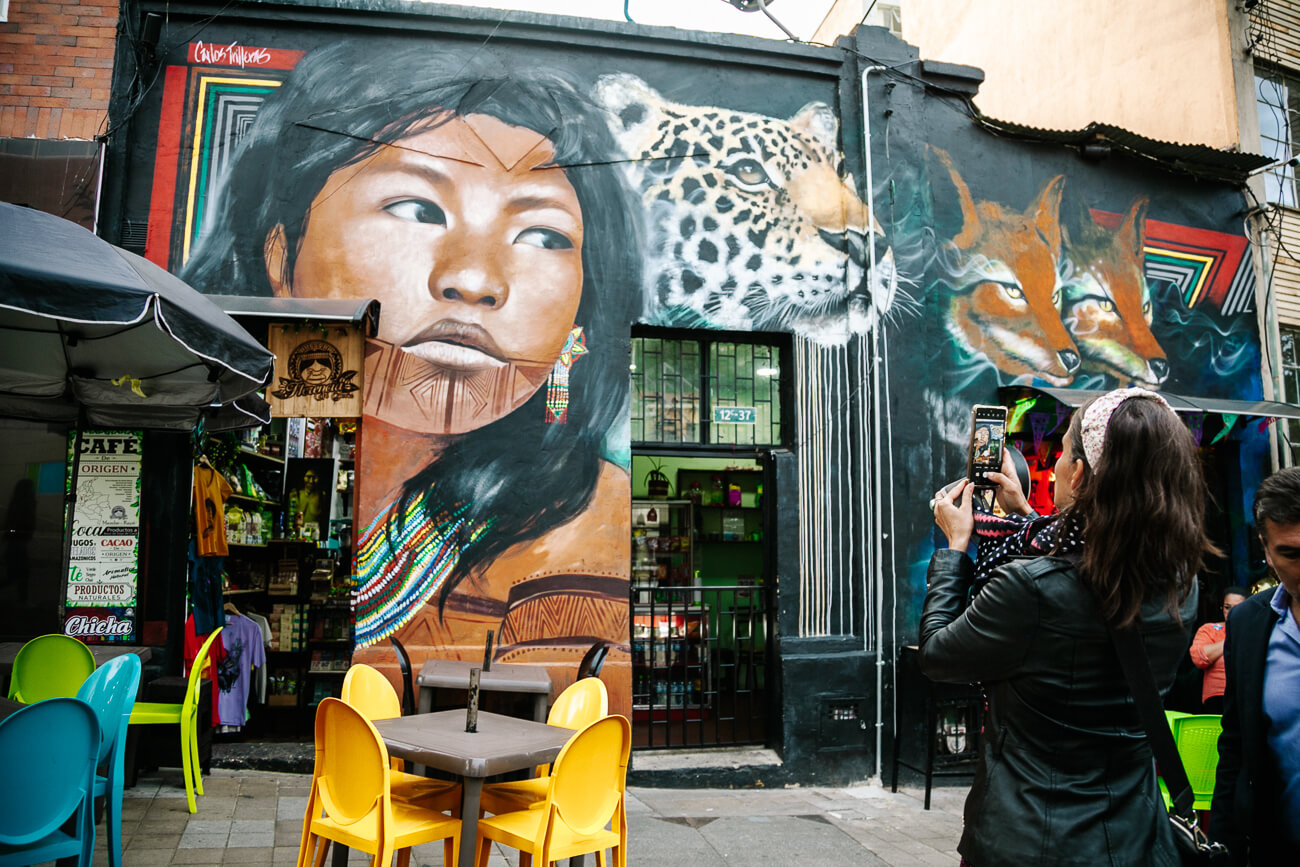 Stroll through Plaza de la Concordia
Are you on the road in the center of Bogota? Then be sure to visit Plaza de la Concordia, located a few blocks from the Chorro de Quevedo. This market hall from 1933 was completely restored and is today a cozy place with local entrepreneurs selling their products here. Nice is it that the market is small and uncluttered, giving you a quick impression of the many offerings. Think of local herbs, food stalls with lots of organic food, special plants, traditional Colombian coffee, handmade weaving products, fruits and vegetables and artisan beers. And everywhere there is an entrepreneur ready to tell you more or let you taste something.
Personally, I liked the kombuchas made from tropical fruits, but a beer with a hint of coca leaves is also interesting. And as a chocolate lover, I can't help but name my favorite place: Late Choco, with delicious sustainable cacao from the Pacific. Here you can do a little cocoa tasting and be amazed at the different available flavors. How about chocolate with pineapple, or tropical fruits like carombolo, guayaba or borojó? One thing is for sure: If I lived in Bogotá, I would come here regularly to do my shopping.
Play a game of tejo
Ever heard of Tejo? The national sport of Colombia? I found out about this traditional throwing sport during one of my first visits to Colombia, but never played it myself. Until I was invited to Tejo la Embajada. Believe me, one of the very best places to visit and master tejo in Bogota. Basically, you just go for a night out: You invite your friends or travel companions, order an artisan beer with some snacks and start the tejo game. And that's a lot of fun, because every time a mecha is hit, it's accompanied by a loud bang and lots of cheering.
What is tejo?
The tejo game consists of throwing a kind of steel disc (a tejo), to an angled board, covered with clay, on the other side of the room. Inside this frame is a metal pipe that is strong enough to withstand the constant bumping of the tejo. The goal of the game is to hit one of the mechas, exploding paper triangles, located in a ring (bocin), that contain gunpowder. As soon as the tejo collides with these, a small explosion occurs, accompanied by a loud bang. And this, of course, makes for points. You also get points if your tejo lands in the ring and even double points if it hits the ring and mecha at the same time. Still following me?
Tejo was practiced as early as 500 years ago by the Muisca, a pre-Columbian culture that lived on the high plains in and around Bogota. The game was played to celebrate life and honor the gods.
Meanwhile, tejo has become a national sport and cultural heritage, but it is still a super fun way to get together and celebrate something. And that can be done in an ideal way at Tejo la Embajada. Highly recommended and one of the most fun things to do in Bogota.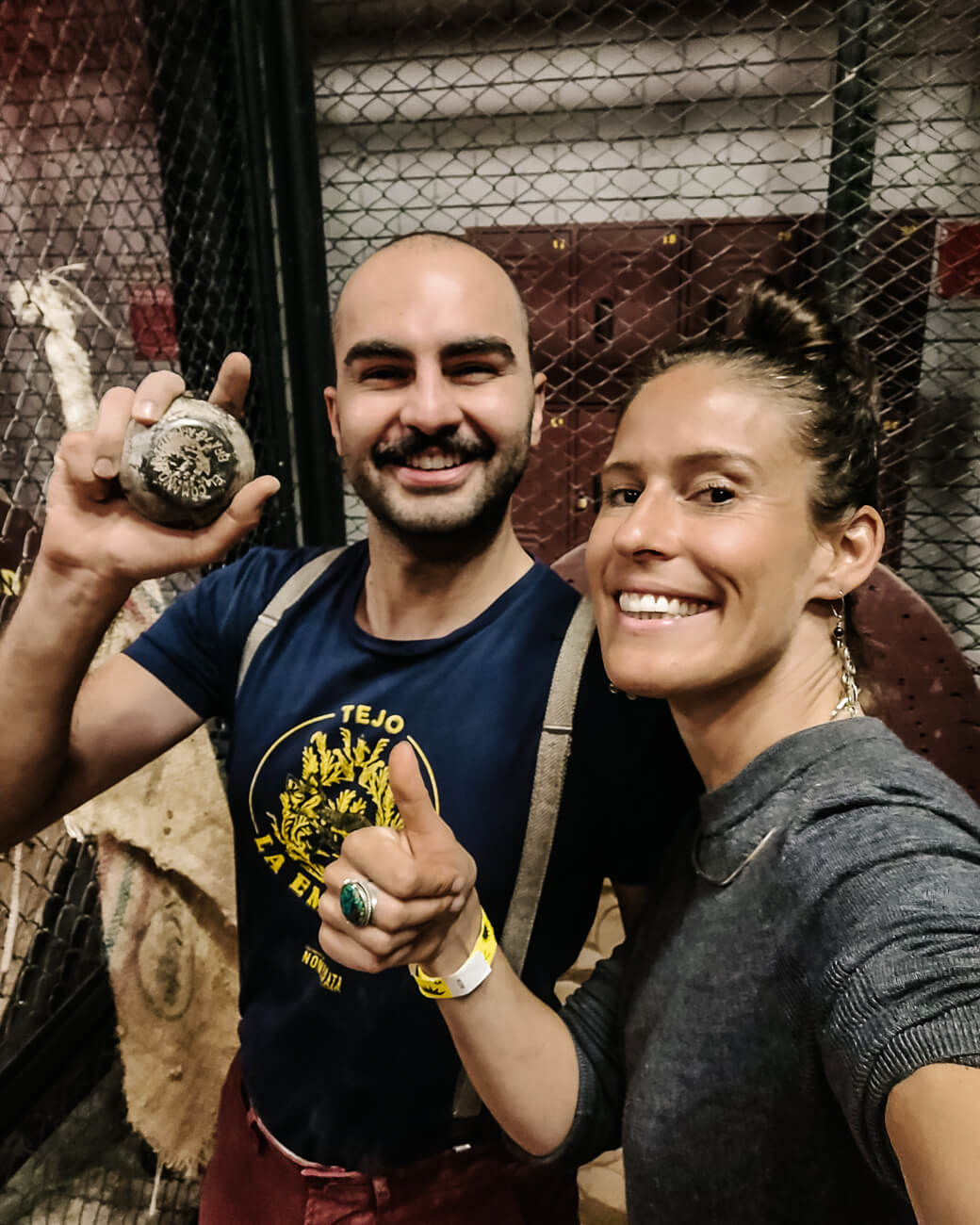 In any case, I need to improve my skills and play a lot more Tejo. And that's something I'm definitely going to do during my future Colombia visits. Would you like to play Tejo too? Then make a reservation at Tejo la Embajada, with or without Colombian friends. At Tejo la Embajada there are always people willing to teach you the tejo skills.
Visit the botanical garden
As long as I've been traveling, I love visiting botanical gardens. Especially in big cities so you can leave the hustle and bustle of the city behind for a while. In Bogota you will find the largest botanical garden in Colombia. This garden consists of almost 20 hectares and is full of trees, plants and flowers from Colombia, grouped by region and ecosystem. By walking around here, you realize how diverse nature is in Colombia. You walk through beautifully landscaped gardens, forests, along ponds to grand greenhouses.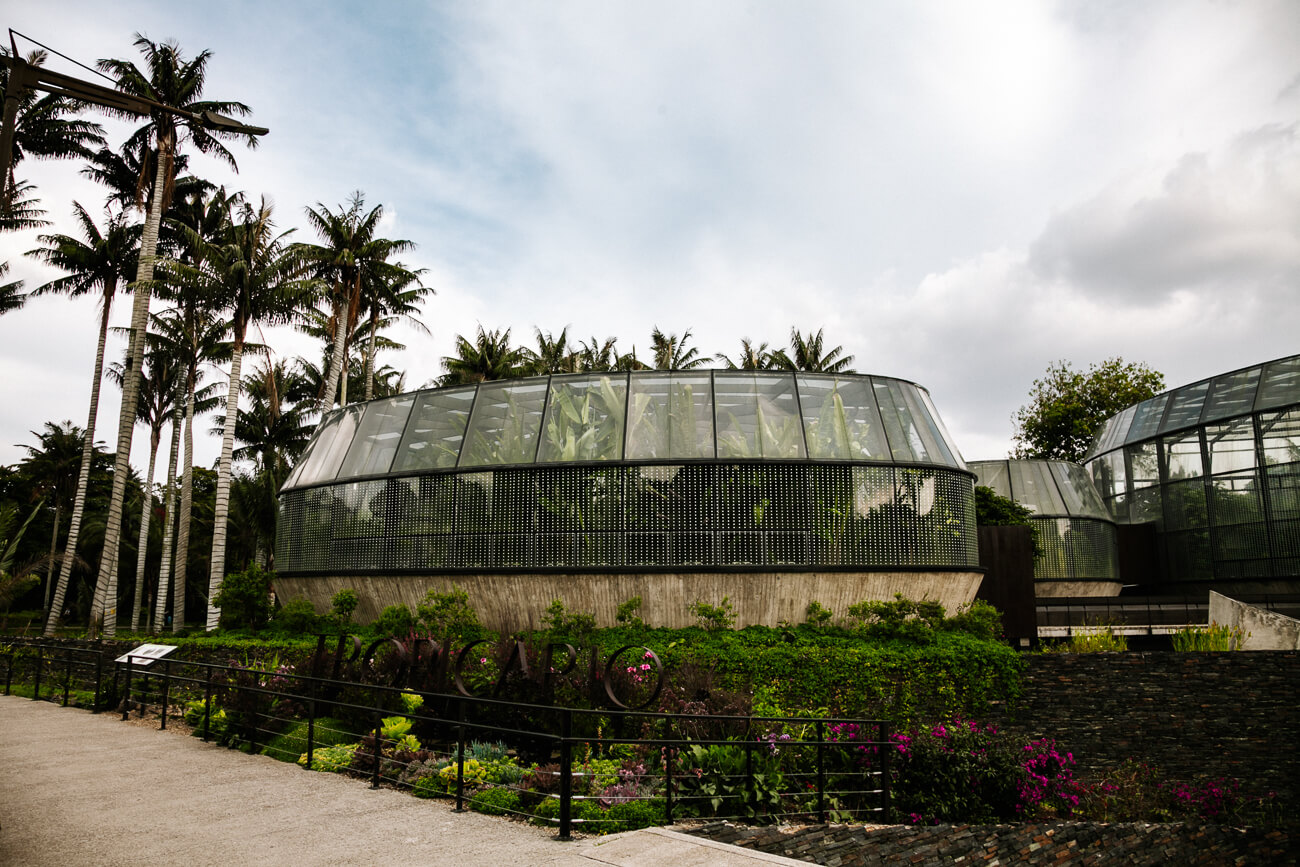 Tropicario
One of my favorite greenhouses is the tropicario – the tropics, with flowers and plants from the tropical rainforest and the Amazon. Walking paths over three floors show you the different sides of this beautiful region. But also the vegetation from the special Páramo area and the Andes is worth seeing. In addition, you should definitely take a picture at the national tree of Colombia, the Quindío wax palm, as a preview of your visit to the Valle de Cocora. These tallest wax palms in the world are just impressive.
Are you planning to visit the Cocora Valley in Colombia? In the following article you can read all my tips for visiting the Cocora valley.
Be sure to visit the botanical garden at the beginning of your trip through Colombia. That way you get to know the different ecosystems and a nice impression of the country. Moreover, you get extra excited to visit all these beautiful areas.
Medellín also has a botanical garden. In the following article you will find all my tips for Medellin in Colombia.
Discover Bogota by bike
Want to discover Bogota in a different way? Then definitely take a bike tour with Colomia Bike Touring. Nice thing of this excursion is that you see other parts of the city than just the center. For example, the tour takes you along the district of Teusaquillo where you find a large number of historic houses. You also get to know the northern part of the city where you cycle through parks and visit the Biblioteca Virgilio Barco, an architectural masterpiece.
Along the way you stop regularly for a brief explanation and to take pictures. The guides are very passionate about their bike tours and can tell you everything about cycling through Colombia. Highly recommended! Curious about more bike tours in Colombia? Check the website of Colomia Bike Touring for more information.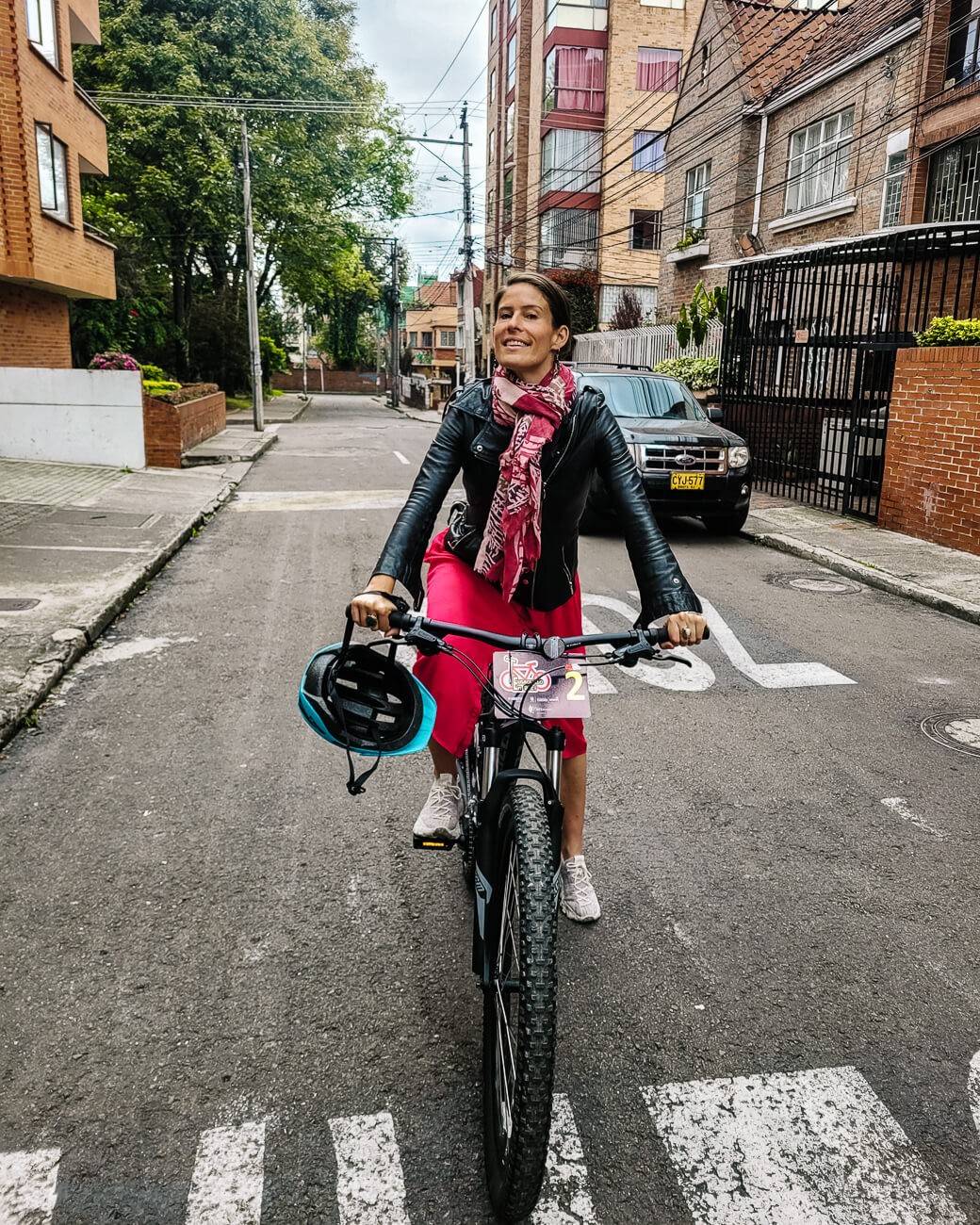 Did you know that Bogota in Colombia has more than 540 kilometers of bike paths? In addition, every Sunday the center is closed to car traffic so that cyclists can take over the city completely
Dine and shop in the cosmopolitan north of Bogota
Bogota is a city with so many different sides and faces. Do you have more time and do you want to see a different side of the Bogota? Then head to the north of the city. Here you will find neighborhoods such as Zona G (where the G stands for gourmet / fine dining) & Quinta Camacho, Zona Rosa and Chapinero. These neighborhoods have many nice art galleries, boutique stores, bars and fantastic restaurants. New hotspots open regularly. Try to book a table at Versión Original, El Chato, La Despensa, Criterion or Bistronomy by Rausch.
Walk through the T-zone
Want to discover hip Bogotá? Then visit the "Zona Rosa la 82", also called the Zona T. Also located in the north of the city. In this district you want nothing more than go shopping in the finest boutique stores, eating good food in high end restaurants and drinking in cool bars. Here are some tips for Zona T in Bogota:
St. Dom: great concept store with many Colombian brands
Huerta: Good food and cocktails
Reyna: Great bar
Dolce Stella: Coffee and cake
Great stores and brands: Padova, Bahia Maria, Pepe Pomba, Eugenia Fernández, Silvia Tcherassi, Mario Hernandez
La Plaza de Andres: good fun and fun place.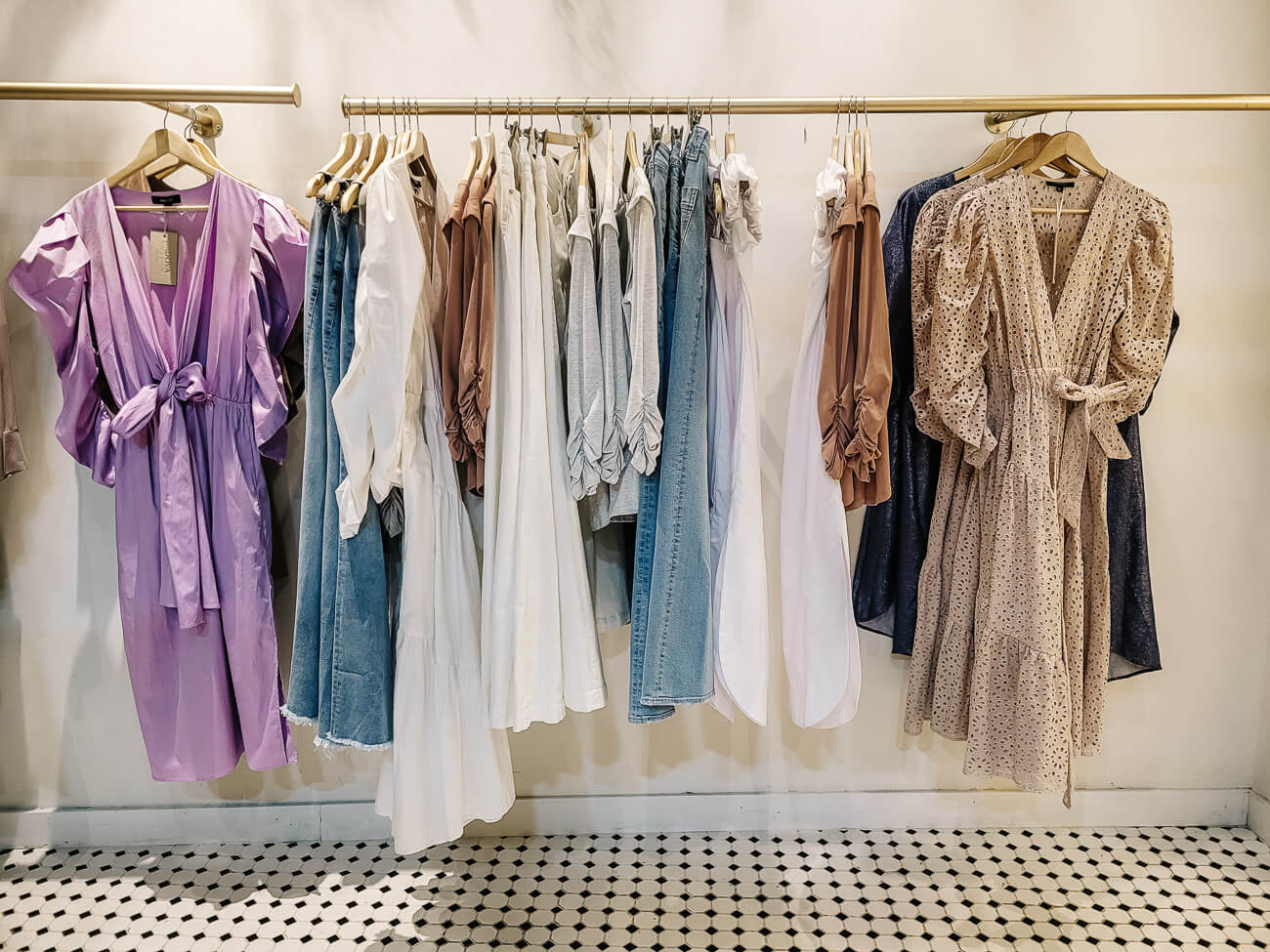 Discover slum La Ciudad Bolivar by cable car
Most people, visit the famous neighborhood Comuna 13 in Medellin. Formerly one of the most notorious neighborhoods of the city, because of the fierce war on drug that was waged here. Nowadays a much visited district because of the fantastic street art and social projects you will find there. But from Bogota you can visit Ciudad Bolivar, a disadvantaged neighborhood, accessible by cable car, with spectacular views of the city. And where you share the Comuna 13 with hundreds of other visitors, in Ciudad Bolivar you are probably alone!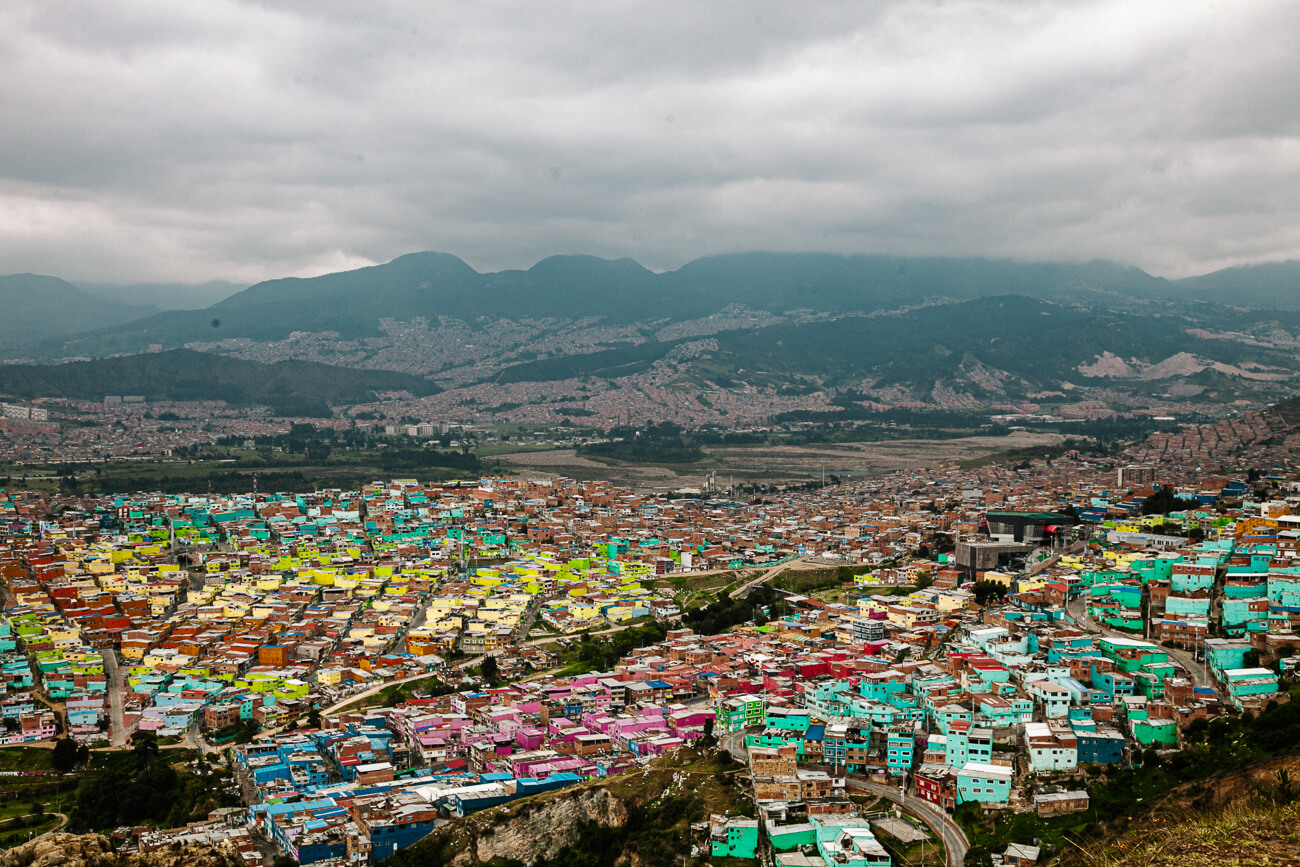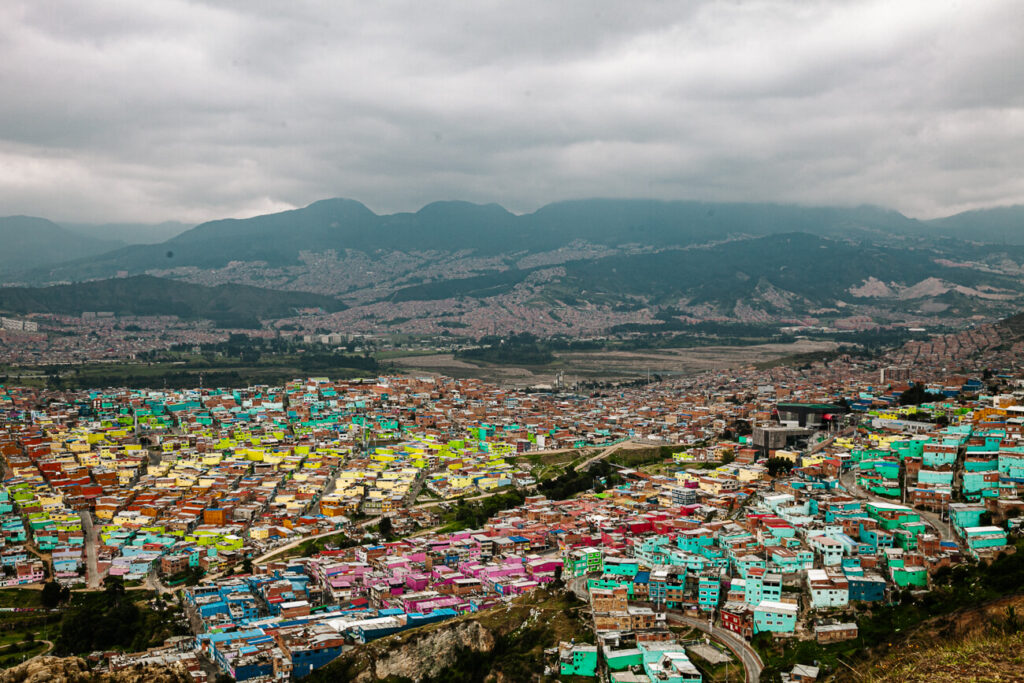 For years, Ciudad Bolivar had a negative image. But a few years ago, several artists, including Michael Rojas of Bogota Colors changed that. Together with the community he created cool murals. Initially important leaders from the neighborhood were portrayed, later this expanded to multiple works of art, in which residents also had a say.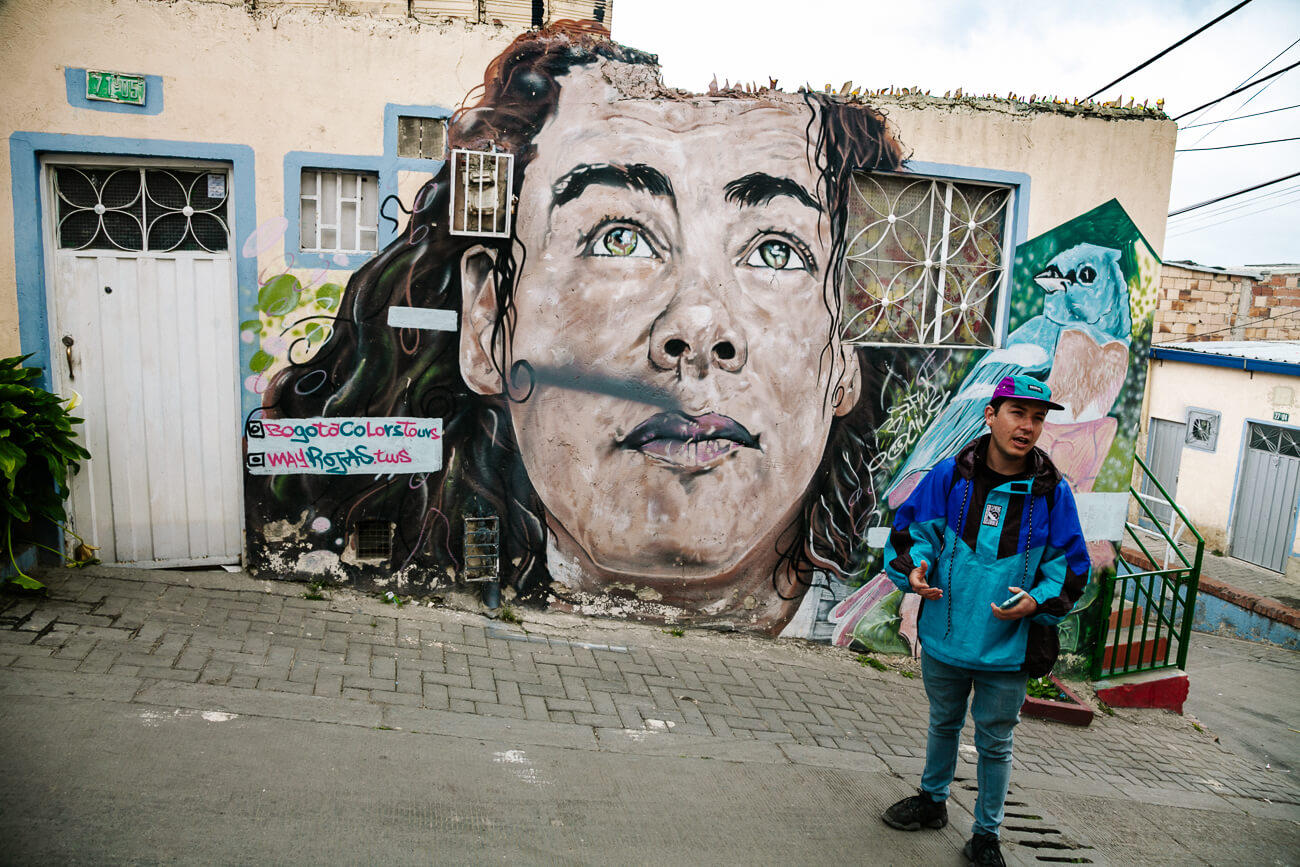 Street art tour
Nowadays you can visit the community through a street art tour. Michael takes you through the neighborhood and tells you more about the history through street art. You also meet many locals who like to chat with you about life in their neighborhood. One of the highlights is the spectacular view of Bogota. Something you will not soon forget. Ciudad Bolivar is not yet discovered by mass tourism and therefore one of the best places to visit when you are in Bogota Colombia.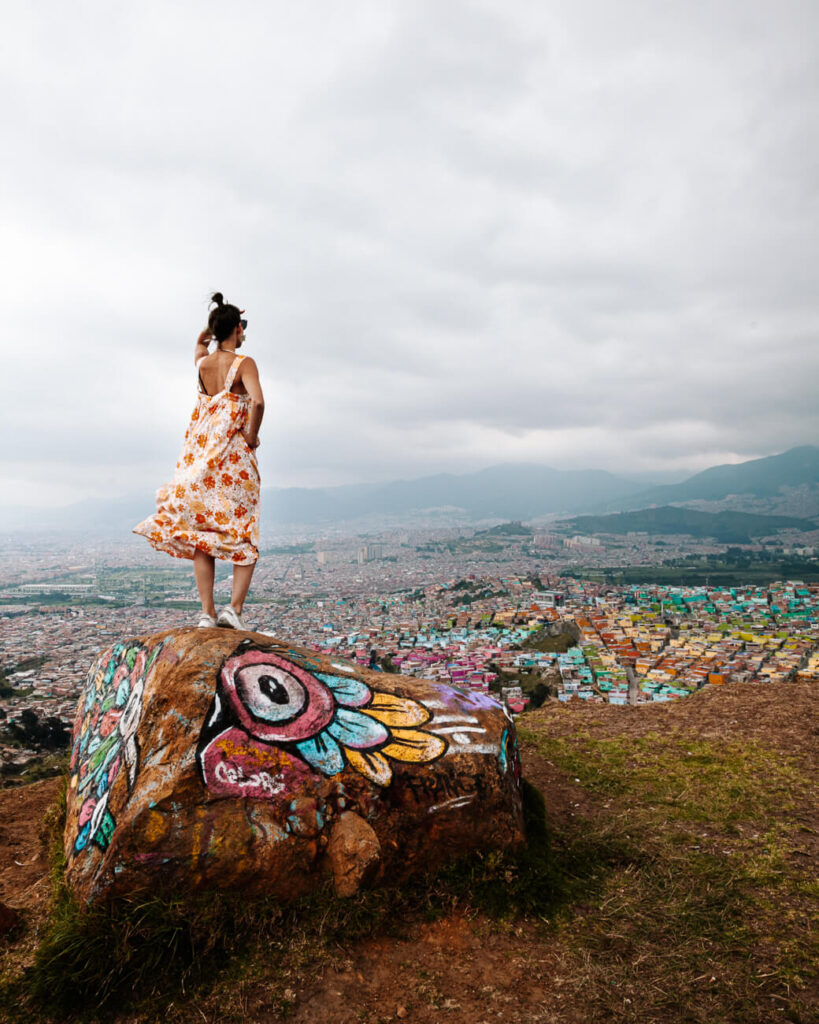 Route: Take the uber or cab to transmissible tunnel station. Here Michael is already waiting for you and you go by cable car up the mountain, for a 20 minute ride. Along the way you observe all the local life and the colorful houses of La Ciudad Bolivar from above. Interested in taking a tour of Ciudad Bolivar? Send Michael a message on instagram.
Go out with a local and discover the best local things to do in Bogota
If you are interested in good food, architecture, photography, salsa dancing or drinking a high-end cocktail, head out with one of the locals of 5 Bogotá. They are all experts in their fields and show you the best places in the city. From the most beautiful corners for photography, outstanding architecture to the best dance locations, markets and cocktail bars. I once set off with bartender Maurizio, who showed me the city hotspots and Diana, who told me everything about daily life. It's one of the best things to do in Bogota Colombia, if you want to dive into the local life and understand more about the culture and history of the city.
Shop at Artesanías de Colombia
Looking for unique and handmade products from Colombia? In Bogota you can find Artesanías de Colombia, an organization dedicated to local people and their crafts. Artesanías de Colombia provides guidance, a fair income and an important sales channel for local communities from all over the country. As a result, the stores are a treat to stroll through. You will find clothing, jewelry, interior design and many other beautiful works. The products are a little more expensive than average but that way you know that your investment is well spent. Artesanías de Colombia has several branches, two in Bogota and two in Cartagena.
Artistic things to do in Bogota Colombia
Interested in art? Colombia has a lot of great artists, including painters and writers. I'm always curious and love to get inspired by art around the world. It's a great way to understand a country and its culture. These are my tips for the best things to do and places to visit in Bogota Colombia, if you are interested in art.
Get inspired by Modern Art in Mambo
One of the best places to visit in Bogota to see modern art, is called Mambo, Museo de Arte Moderno de Bogotá. I always like to get inspired by exhibitions and artists I don't know. During my last visit, Mambo had an interesting exhibition about the Venezuelan refugee crisis, portrayed by Teresa Margolles. A true eye-opener because we only get half of this situation in Europe. Colombia was experiencing one of the largest refugee crises (in 2019). I also visited an exhibition highlighting cartoonist Vladdo, famous for its controversial work and portraits of Colombian presidents. The museum is always presenting new exhibitions, so it's best to check out the website and see whats going on in Mambo Bogota.
Visit the Fernando Botero museum
Fernando Botero was born in Medellín and is one of Colombia's most famous artists. The Botero museum in Bogota is free and a visit is recommended. Even if you've never heard of Fernando Botero. His work is known for the voluptuous and bizarre shapes of the people he portrays and can be seen all over the world.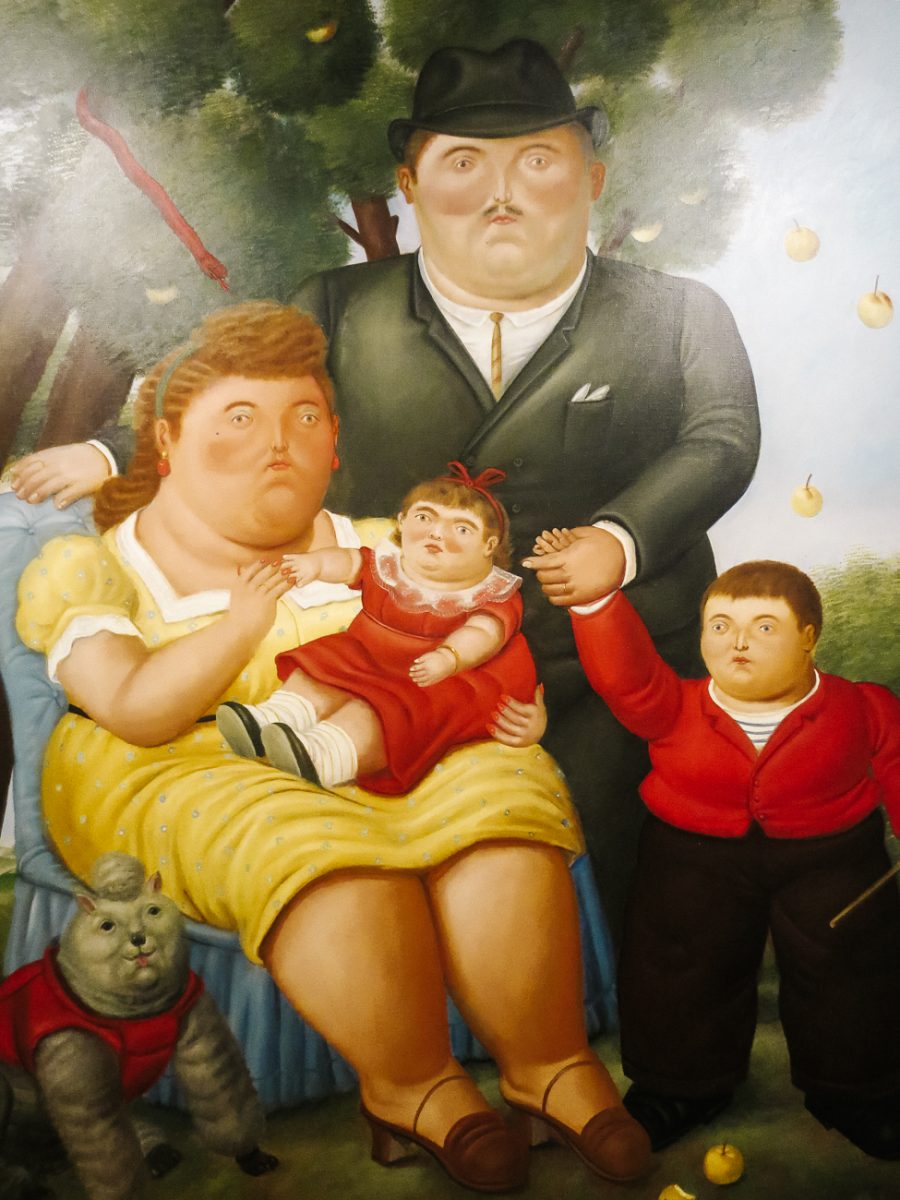 In Bogotá and Medellín you can visit his most important works. His paintings always make me smile! The Botero museum is a must visit and one of the best things to do in Bogota Colombia, if you are interested in art.
Interested to learn more about art in Colombia? Check out the article about the most famous artists from Colombia, where I'm listing some of the most remarkable artists, including the best places to visit their work in Bogota and the rest of the country.
Admire gold pieces in the Museo de Oro
The Museo de Oro is for sure one of the most beautiful Pre-Columbian art museums in Latin America. The museum has the largest collection of gold. Different exhibition rooms, take you on a journey through the cultures of Colombia and Latin America, such as the Cauca, Zenú, the Muisca and Tayrona. One of the highlights is the golden "Balsa de El Dorado". This explains the story of the Muisca Indians, organising ceremonies with the golden man, on the Laguna de Guatavita (Lake of Guatavita). During these ceremonies, a lot of gold ended up in the water. That's how the legend of El Dorado was born. People and companies have been looking for this gold for years. Are you interested in visiting the lake? Keep on reading. Below you will find more information.
Things to do in the Bogota Colombia surroundings | 2 tips for places to visit for a day-trip
Do you want to go on a day trip and explore the surroundings of Bogotá? One of the best places to visit in the surroundings of Bogota for a day trip, is the underground salt cathedral of Zipaquirá and the Guatavita lake. If you are on a road trip in Colombia, I would recommend to make a stop at these place when traveling from Bogotá to Villa de Leyva, other northern provinces, or the other way around. This way you will be efficient with your time and get the most out of your stay.
Visit the underground salt cathedral in Zipaquirá
The town of Zipaquirá is known for its salt mines and large salt reserves. The highlight of Zipaquirá is the Catedral de Sal, an underground cathedral, build within the tunnels of a salt mine.
Salt mines already played an important role, in the times of the Muisca Indians. But when the Spaniards arrived, they were able to win the salt on a large scale. Because miners spend many hours working in the mines, they began to create their own places of prayer. Over the years, the mine became a popular place of pilgrimage. Due to the high amount of visitors, a second cathedral, created in a deeper layer of salt, was even opened.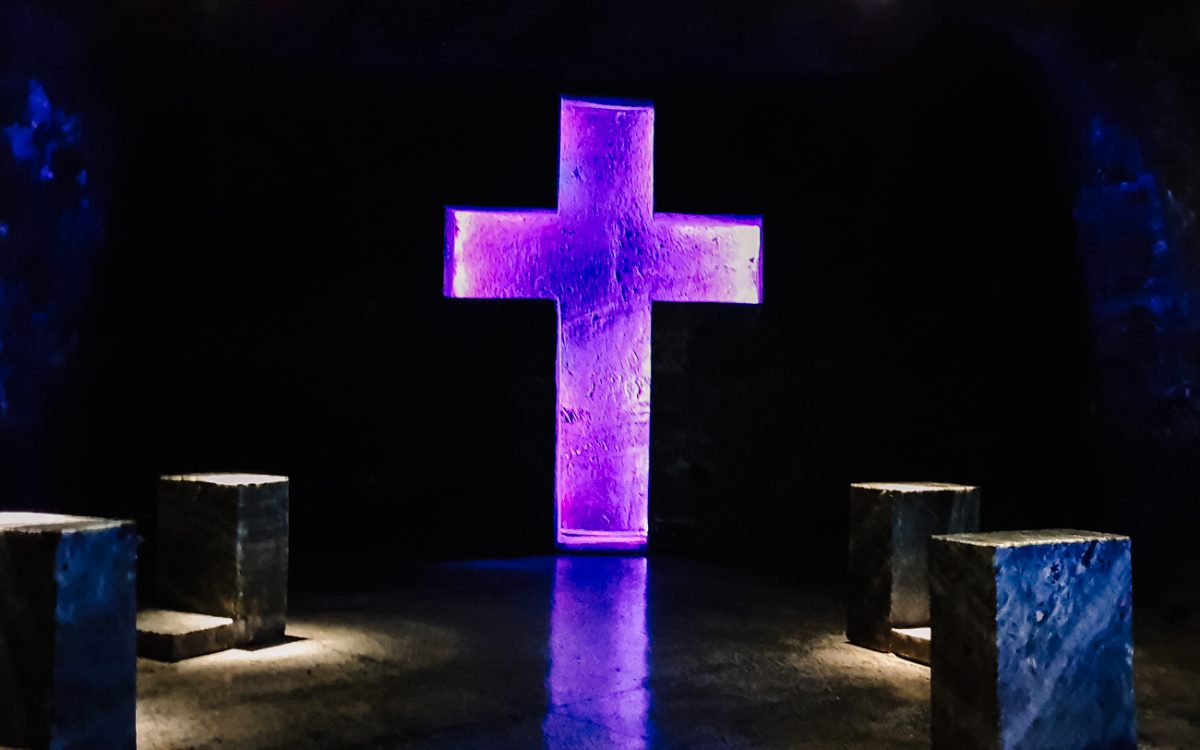 Nowadays the cathedral is open to the public. In the Road of the Cross, a long tunnel, you will pass caves and corridors, including angels that are illuminated. Have a look at the old and new cathedral, statues, chapels and learn all about the important role, this salt mine played back in the years. The way the salt mine is illuminated together with the different colors and music used, make your visit a nice experience.
Discover the myth of El Dorado at Guatavita Lake
The lake of Guatavita is a special lake, due to its historical significance! This is the place where the Muisca Indians held their ceremonies in honor of the golden man, their future leader. The golden man, was covered with resin and golden powder. As soon as he jumped in the lake and washed himself, he became officially the new leader. These rituals took place for years, meaning that the lake should have contained kilos of gold. Many people and companies have been trying to find the gold over the years. The lake was even emptied several times. However, nothing was ever found.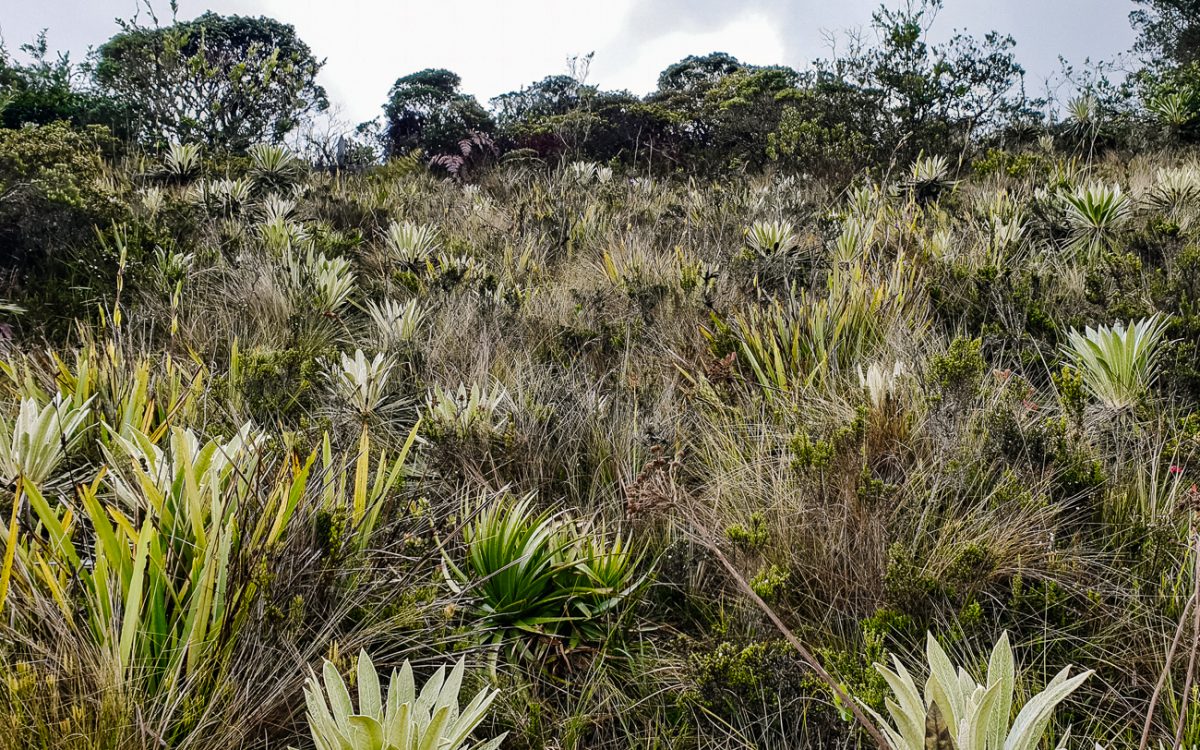 The lake is peaceful and the surroundings are beautiful. You can go for a nice walk, passing different viewpoints along the trail. Unfortunately it is no longer allowed to walk alone. There are guides at the entrance and this service is included in your ticket fee, so you don't have to make a reservation. Try to break free if you happen to be part of a big group or pay a bit more and ask for a private guide. Take it easy, since Lake Guatavita is located at an altitude of 3000 m.
Looking for a nice weekend away from the busy capital of Bogotá? Follow the Bogotanos and visit Villa de Leyva. This mountain village is located in the province of Boyacá, only a few hours away. In this article I'm telling you more about what to do in Villa de Leyva.
Mini travel guide Bogota Colombia
Restaurant tips for Bogota Colombia
Nothing better than settling down in a restaurant or bar after a day full of impressions. And in Bogota you will find numerous restaurants. These are my tips for some of my favorite restaurants and bars all over Bogota.
A culinary experience at Aquelarre
In downtown Bogotá you'll find countless restaurants but are you looking for something special in a unique setting? Then make sure you reserve a table at Aquelarre restaurant. Aquelarre is all about mystery and witchcraft. The interior is very creative with hidden corners and cool decoration.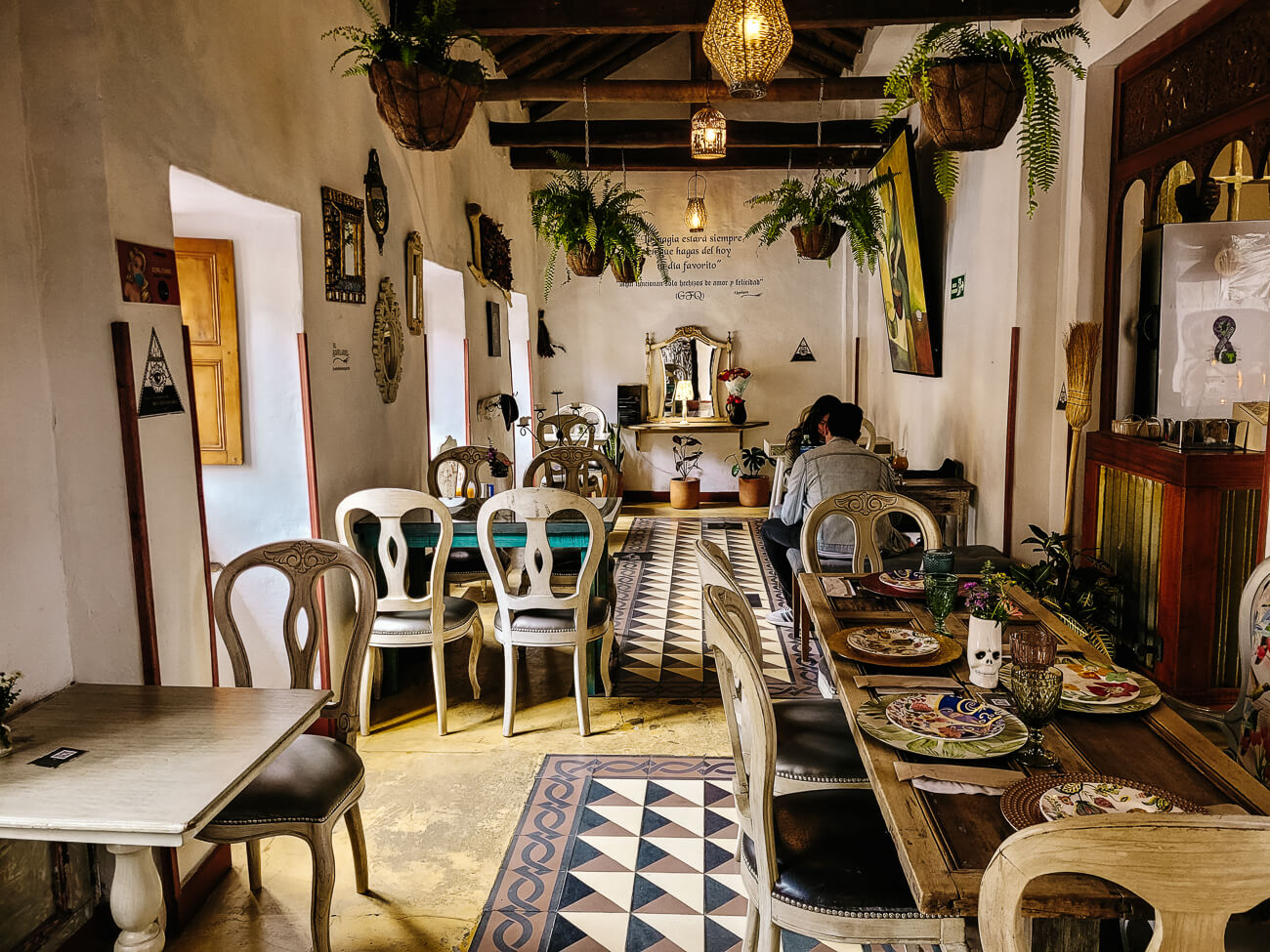 There are several dishes on the menu but most of all you want to book a surprise menu here. Chef José Bautista takes you on a journey through Colombian cuisine, playing with unusual combinations of flavors. Think of dishes with the cocoa fruit (not necessarily chocolate) and cheese but also ceviches with coconut cookie and seafood paste from the Pacific. Not over the top high end, but creative and very tasty. And only Colombian ingredients are used. Don't forget to order one of the delicious cocktails. The bartenders make it real special.
Templo Te
Do you, like me, love tea? Then you definitely want to go to Templo Te. Here you can drink different types of tea, all presented in a beautiful way. There are several places in the city. I myself spent quite a few hours at Templo Te on the Parkway, a green strip in the Teusaquillo neighborhood.
Storia d'Amore
If you love Italian cuisine, then you should definitely eat at Storia d'Amore. One of my new favorite restaurants in Bogota. The whole place looks chic and beautiful. The building consists of three floors with lots of light, space and decoration. There are lush plants hanging on the walls and flowers everywhere you look. In addition, you'll find fun decor pieces like a car, Italian vespa and dripping candles.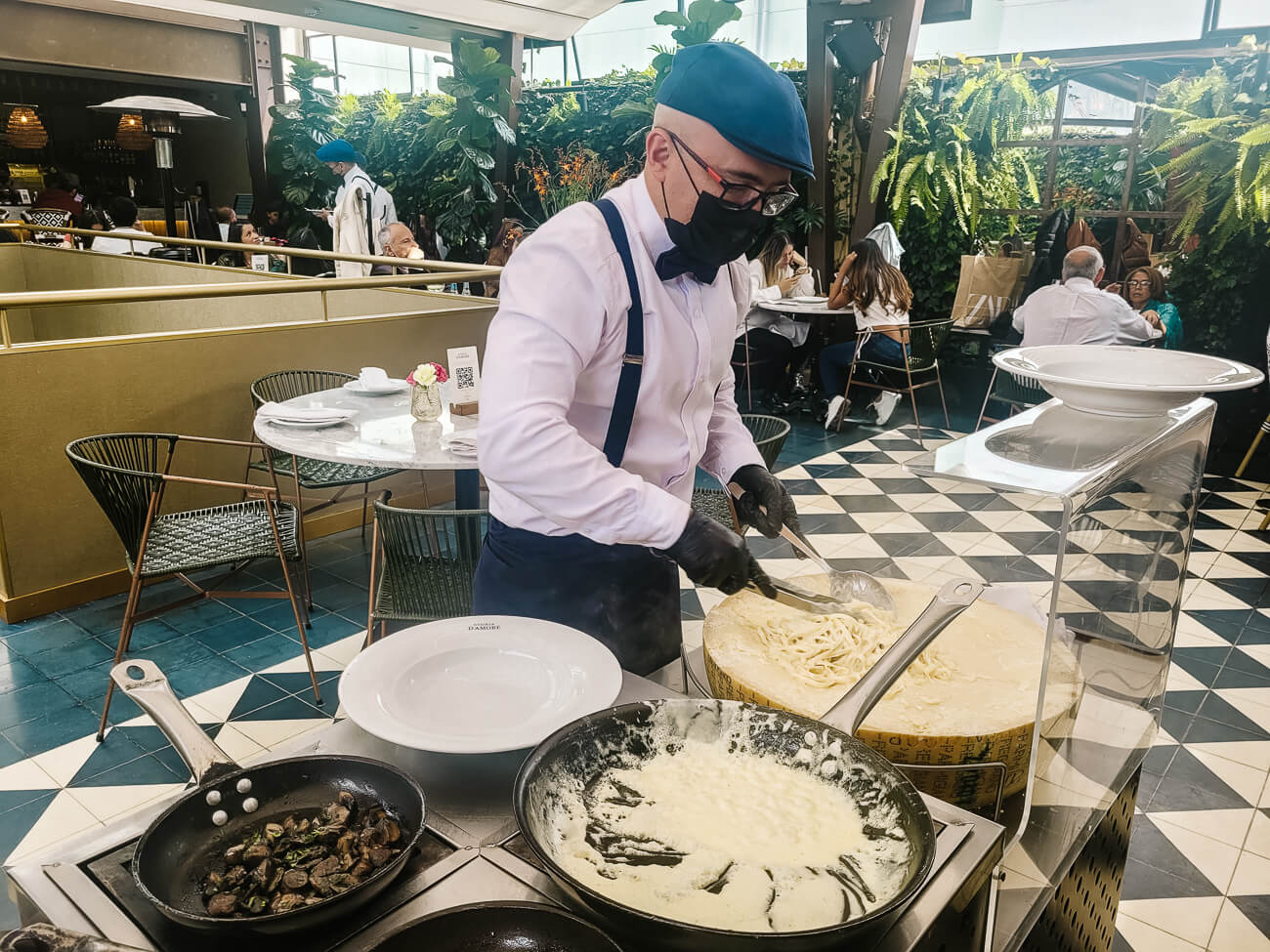 And then the food. First of all, every dish is more than delicious but it also looks beautiful. As you walk past the tables, you can't help but stare at the plates of others.
Restaurant tips for Bogota: Order one of the pastas here, they come and prepare it for you with a special show at the table.
Groso
I can't resist recommending this place because I love Argentina. At Groso in la Candelaria, you'll find Argentine delights like medialunas (sweet croissants) and alfajores (cookies filled with sweet). And you can even order the Argentine mate (tea) there.
Have a drink at Café Pasaje
On the Plazoleta Rosario there is Café Pasaje, founded in 1930. It is one of the places to visit in Bogota, where you go back into the past, because of its special historic atmosphere. Café Pasaje is a cafe that has always been visited by important politicians, artists, writers and journalists. The walls are decorated with historical pictures and objects. Drink a tea or coffee and feel like a real Bogotano!
Star restaurant El Cielo
El Cielo is perhaps one of the most high end restaurants in Bogota. Here you enter a culinary experience where all your senses are stimulated. You will wash your hands with chocolate which you then have to lick off, you will be served dishes with dry ice and a bill which you eat for dessert. In addition, each dish is a true taste sensation. El Cielo, founded by Colombian chef Juan Manuel Barrientos Valencia, now has three restaurants, in Miami, Medellin and Bogotá.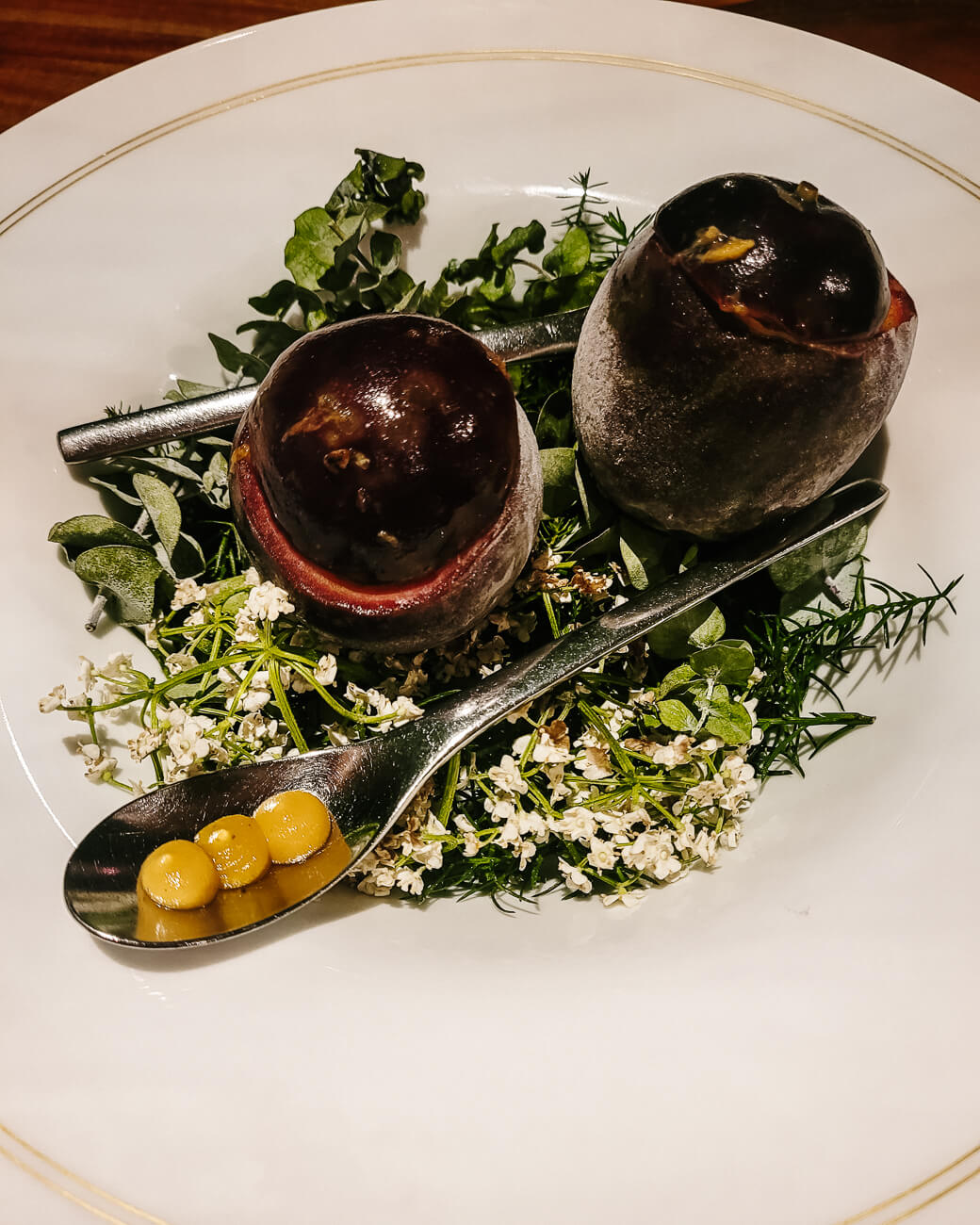 Son de los Grillos
Everyone I take to El Son de los Grillos instantly falls in love. The food, the decor, this place is a getaway during your visit to the busy downtown area. Large candles decorate the tables and flowers are everywhere. You will find typical Colombian dishes such as the soup Ajiaco, chicken, meat and fish dishes but also good pastas. The salmon teriaki is my all-time favorite.
Hotels in Bogota Colombia
There are many different hotels in Bogota. It is recommended to think in advance about what sights you want to visit during your stay because Bogota is a large city. I myself stayed at different places in the city, in la Candelaria (the center), Teusaquillo and Chapinero.
Tequendama Suites Bogota
Are you looking for a central location that allows you to easily explore the numerous Bogota attractions? Then book a room at Tequendama Suites. This grand and classic hotel has always played an important role in the city and been around for many years. You will experience here the ultimate city feeling. Tequendama Suites is located opposite the National Museum and you can walk within half an hour on Carrera 7 to the central plaza Bolivar, or cable car Monserrate. Moreover, you're close to major roads, which means you'll be moving to neighborhoods like Chapinero and the Zona Rosa in no time. Make sure you book a room on one of the highest floors. I myself slept on the 19th floor and the view was phenomenal.
Secret tip for Bogota: on the 30th floor of Tequendama Suites is a helicopter platform. You can book a picnic lunch or wine session here. You then have 360 degree view of Bogota and its sights.
Check out the latest prices and availability for Tequendama Suites here. Looking for more hotels in Bogota? Here you can find a comprehensive overview.
Safety in Bogotá + tips
Due to the years of political problems, guerrilla war and big social differences within the city, Bogotá is a city where you have to be careful. In any case, it is important to be alert in Bogotá. Make sure to be aware and keep the following recommendations in mind:
be well informed before you take off (ask your hotel, airbnb, friends, collagues where to go or not)
do not walk in suburbs by yourself
take little or no belongings, when you go out
leave all valuables in the safe of your hotel or lock it in your bag/suitcase
take care of your belongings (do not carry them on your back but on your belly)
in the evening take a cab as much as possible (especially in the center)
Enjoy your time in Bogota!
More about Colombia
Intererested in reading more about Colombia? This is an article with the most beautiful places to visit in Colombia, including the best time to visit. Or check out the Colombia blog page with city guides and things to do in Medellín and Santa Marta. Tips for lovely towns such as Salento, Mompox and Villa de Leyva. But also the Tatacoa desert and Valle de Cocora. Interested in archaeology? Read more about the mysterious San Agustín statues.
This article may contain affiliate links. If you purchase something using one of our links, we may receive a commission at no extra cost to you, which helps us keep this blog alive. Thank you for your support! Please see our disclosures for more information.
Save and pin for later