Curious about the highest palm trees in the world? Valle de Cocora is known for its many shades of green and its tall palms: the Quindío wax palm. This national tree of Colombia can call itself the tallest wax palm in the world, as it can reach 80 meters in height. The Cocora valley is a place you simply can't miss during a trip to Colombia. You can go for beautiful hikes and take amazing pictures. In this article you'll find everything you want to know about Valle de Cocora in Colombia, including hike options, hotels and a packing list.
The Cocora Valley Colombia
Valle de Cocora, better known as the Cocora Valley, is located in the department of Quindío, part of the coffee region of Colombia. The first time I visited this place, I was so impressed by the colors and couldn't believe my eyes. There are so many different shades of green that it looks almost surreal.
The area lends itself perfectly to a number of long and short hikes, starting in Cocora village. And if you don't feel like walking, there are also possibilities to go horseback riding. Make sure you schedule enough time for your visit, bring enough food and drinks and find nice spots to sit down and take in the impressive surroundings.
Valle de Cocora – the short hike
The short hike will take you to two viewpoints in Valle de Cocora. The first part of the hike can be a bit challenging, as you are going to climb and find yourself at altitudes between 1900 and 2500 meters. I would recommend to take your time and don't start off too fast. Once you arrive at Mirador 1, you have two options.
Option 1 is to continue the hike for 15 minutes more, to the second mirador 2. Option 2 is to sit down for a while and make your way through the Valle de Cocora, back to your starting point. This hike will take about 2.5 hours to complete and is doable for everyone.
The long hike through the Cocora valley
You can approach this hike in two ways. The first option is to walk up to Mirador 2 and continue your way to Finca La Montana, where you enjoy again great views. You will also notice that the vegetation along the way changes all the time, due to the different altitudes. Afterwards, follow the path along the river with several suspension bridges down to the blue gate in Cocora, your final destination.
The other option for the Valle de Cocora long hike is to start at the blue gate in the village of Cocora. You will be hiking uphill for a while and pass a hummingbird reserve along the way. Once you arrive at Finca La Montana, follow the trail via the Miradores, down to the Cocora valley. This trail takes you through different landscapes: The jungle, the cloud forest with its orchids, ferns, bromeliads and the Cocora valley with its wax palms. This hike takes about 5 to 6 hours to complete, and it's worth every minute.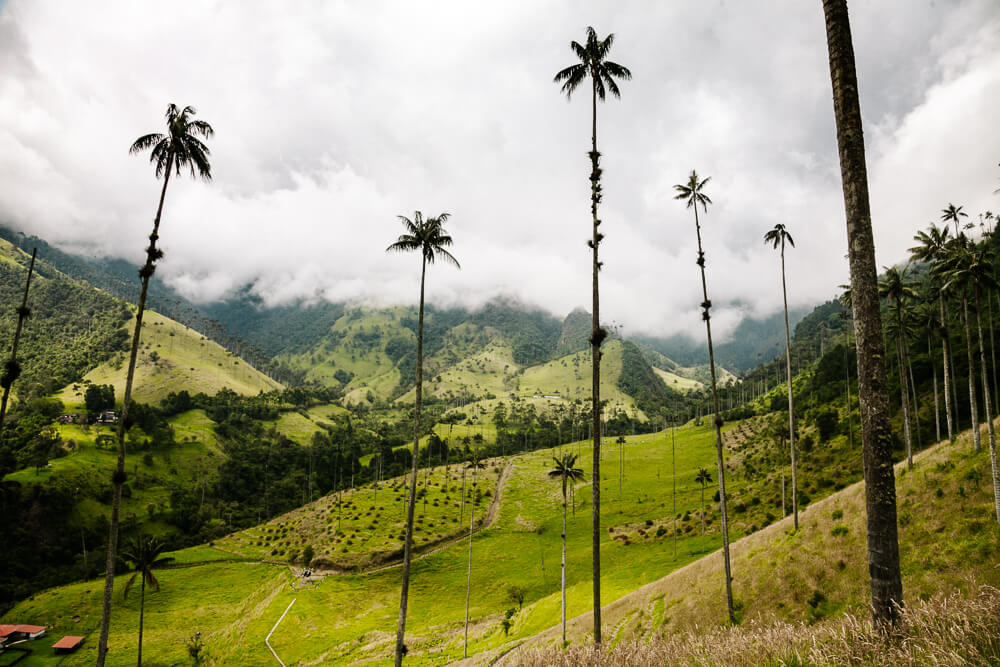 Where to stay around Cocora Valley
Are you looking for a unique place to stay in the Cocora valley? Then make sure you book a night at Lumbre Glamping. You'll stay in the middle of nature and be surrounded by the tallest palms in the world. From your suite you walk to waterfalls and viewpoints and you are only ten minutes away from the famous Cocora Valley.
Interested in staying at Lumbre Glamping? Check the availability and latest rates here.
Lumbre Glamping has 10 luxury tents, that are comfortably furnished. The beds are lovely and the room is fully equipped, including furniture, electricity and hot water. In addition, all tents have a small terrace, overlooking the beautiful surroundings. But the highlight here is the glass wall and glass roof, which cover a large part of the tent dome. From your bed and seating area you can enjoy the views and in the evening look at the beautiful starry sky.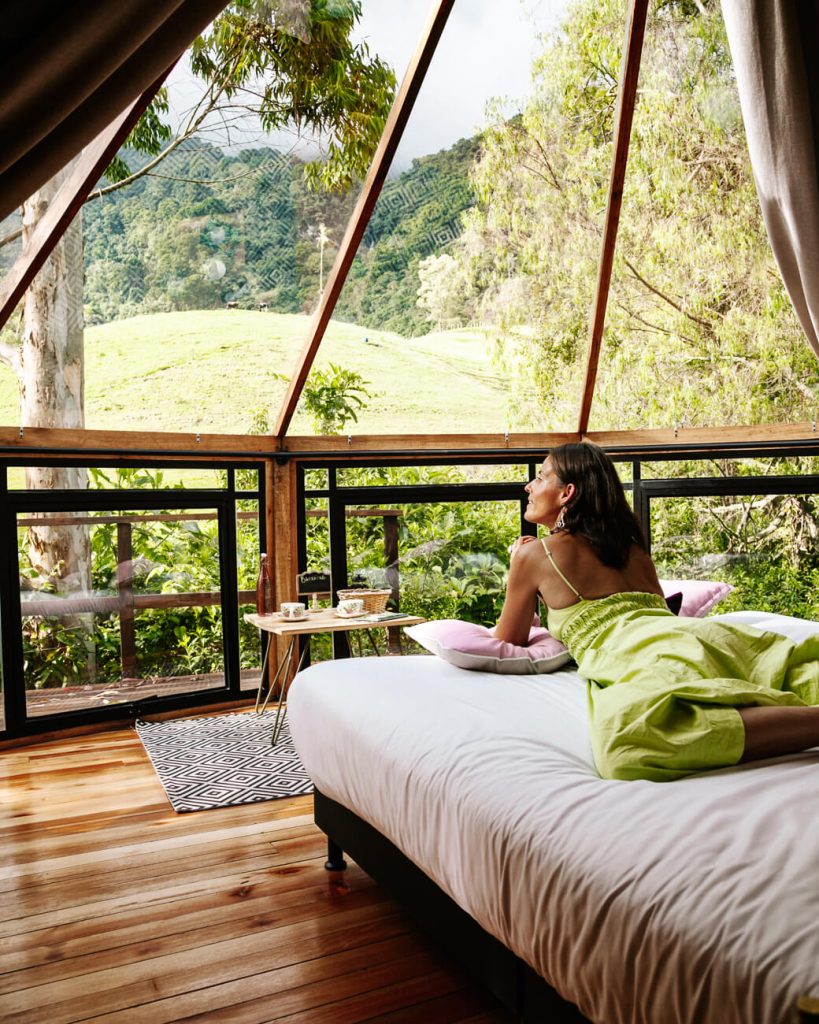 Want to know more about this hotel in Valle de Cocora Colombia? In this article you will find a review and everything you want to know about Lumbre Glamping.
Weather in Cocora Valley + packing list
Because Cocora valley has its own ecosystem, the sun may be shining in Salento, while it is pouring in Cocora valley. It is therefore important to be prepared for different weather conditions. Sun, wind and pouring rain alternate quickly. This is my packing list for Valle de Cocora Colombia.
day backpack
hiking boots
layers of comfortable clothes that you can easily take on and off during the day
rain gear
sunscreen
sunglasses
sufficient amounts of water and food
How to get to Cocora valley Colombia
From Salento you can travel by Will's jeeps, leaving on the main square and dropping you off in Cocora, within 30 minutes. It is also possible to park your car. From here it is just a couple of hundred meters walking to the official entrance of the national park, where you pay a small entrance fee. And then, you just follow the path. I would recommend to take a picture of the map on display or download google maps, before you go hiking, so you have an overview of the different trails.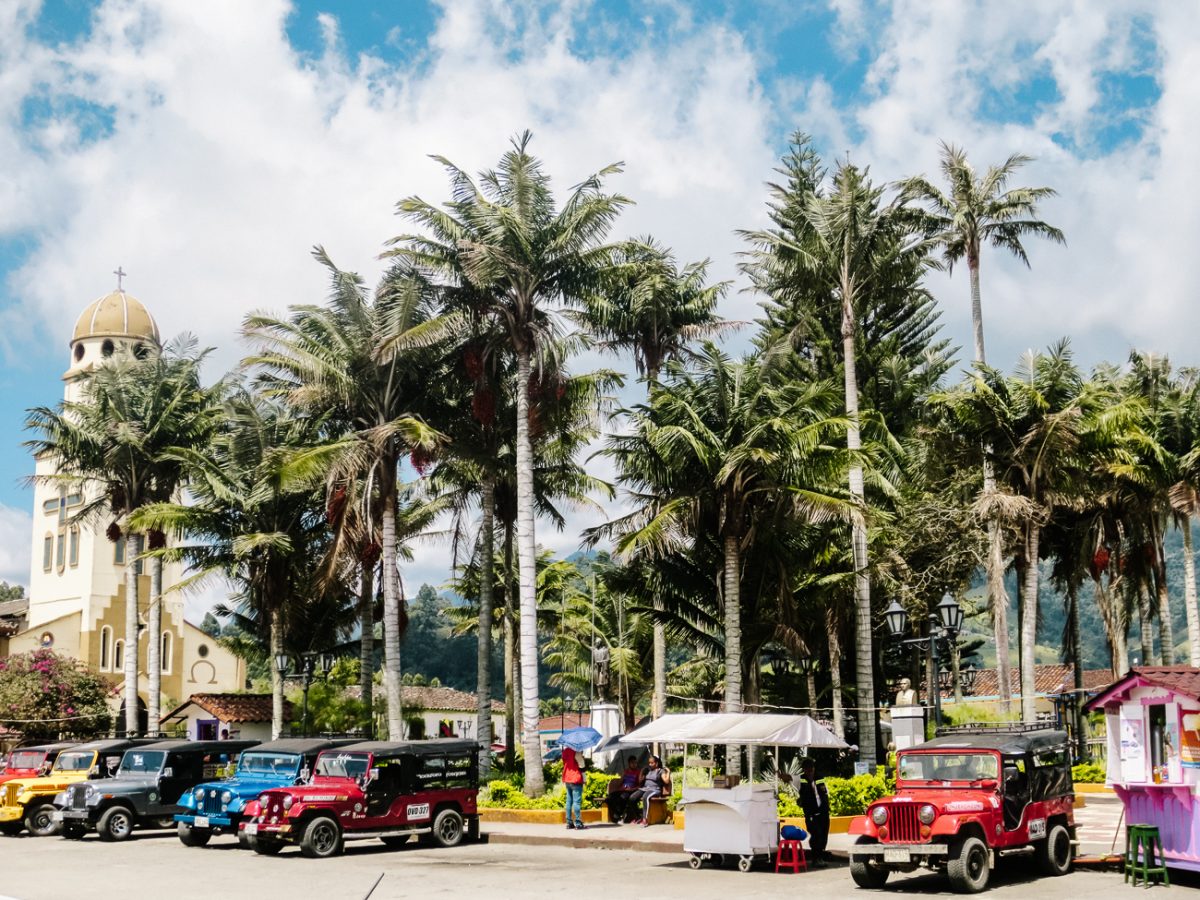 If you want to know more about the different species of birds, it is recommend to bring a guide from Salento. Colombia is known for its diversity of special birds, and this place is a bird watching paradise!
Salento is the perfect starting point for a trip to the Cocora valley. In this little town, you will find several hotels, restaurants and possibilities to book a guide. Read here more about what to do in Salento.
More about Colombia
Intererested in reading more about Colombia? This is an article with the most beautiful places to visit in Colombia, including the best time to visit. Or check out the Colombia blog page with city guides and things to do in Bogotá, Medellín and Santa Marta. Tips for lovely towns such as Salento, Mompox and Villa de Leyva and the Tatacoa desert. Interested in archaeology? Read more about the mysterious San Agustín statues.