Hacienda Bambusa in the Colombian coffee triangle is a place straight out of a Colombian soap opera! This traditional finca, beautifully situated on a large cocoa and avocado plantation, has been transformed into a luxury boutique hotel where you can experience the atmosphere of the coffee region. In this article I'll tell you more about Hacienda Bambusa, near Armenia, and I will give you several tips for things to do in the Colombia coffee region.
Welcome to Hacienda Bambusa
As soon as you drive up the unpaved road towards Hacienda Bambusa, you realize that you are going to end up at a special place. Along the way you see the first farms and fantasize about how Hacienda Bambusa will look like. After about 15 minutes of driving you reach a gate where you have to register. Hacienda Bambusa is located in the middle of a 500 hectare plantation, with, I don't know how many cacoa trees. It is therefore a stunning road over the terrain, before you reach the hacienda. You feast your eyes on the amount of fertile soil, trees and colors of green.
Hacienda Bambusa is perfectly located, on a large open field, surrounded by plantations, with the mountains in the background. The hacienda consists of two floors, including a courtyard and two terraces, one at the front and one at the back. The 8 totally different rooms are spread over the finca. There is also a swimming pool, massage room and restaurant.
The rooms
Hacienda Bambusa has 8 different rooms: Standards, superior rooms and some suites. They differ in size and location, but all have comfortable beds and a nice balcony or terrace, overlooking the pool or the plantation. I stayed at the back of the hacienda, with a private garden. As soon as I opened the door I looked into the vast fields
Interested in staying at Hacienda Bambusa in Armenia in Colombia? Check the availability and latest rates here.
Activities at Hacienda Bambusa Colombia
There are countless things to do around Hacienda Bambusa and Armenia Colombia. Since you're in a whopping 500 acres of nature, you'll have the best activities right on your doorstep. Read more about what to do at Hacienda Bambusa and in the surrounding area just here.
Cacoa tour
One of the highlights of a stay at Hacienda Bambusa is a tour of the plantations. By bike or on foot you go with a local guide and learn everything about the cacoa fruit. It is wonderful to immerse yourself in rural life and explore the area with your bike.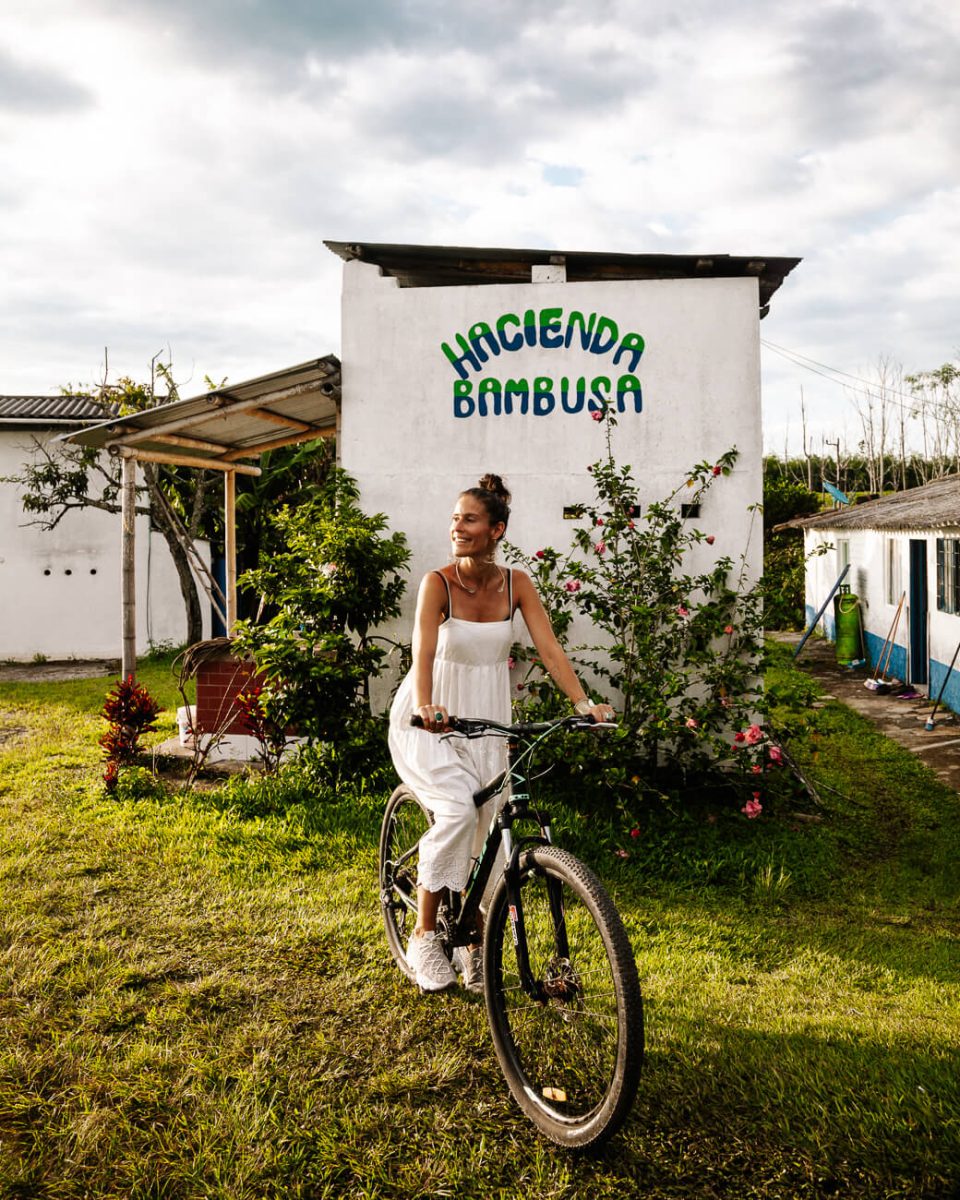 You visit the cacoa plantations and then get to see some of the steps of the cacoa process. You also visit the impressive bamboo forest, almost fairytale-like, where at the very back a large picnic table awaits you with fresh juices. Afterwards, of course, you can taste the necessary chocolate. And do not forget to drink the delicious cocoa tea. Very special!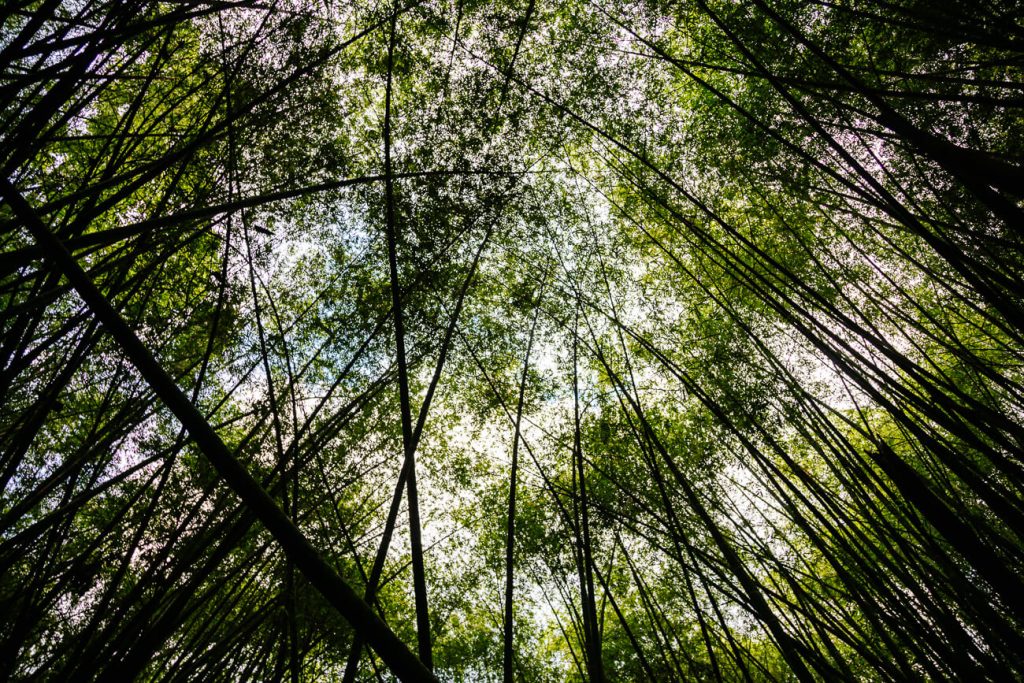 Tip: During your stay you can use the hotel bikes free of charge. There is nothing better than going for a nice ride in the morning or afternoon.
Pool
Hacienda Bambusa has a great pool. Go for a nice dip at the end of the day and take in the soothing surroundings. Moreover, in the evening the pool is transformed into a romantic dinner spot, where you can enjoy delicious food, with good wines
It is also possible to have a coffee tasting at Hacienda Bambusa on request. Besides that you can learn about the traditional cuisine through a cooking workshop led by local chefs.
Bird watching
Hacienda Bambusa has more than 160 different bird species in its surroundings, including parrots, ibises and the red-tailed hummingbird. With a professional biologist/guide you can go out and try to spot these beautiful birds.
Restaurant and seating areas
You can have your breakfast and lunch on the terrace of Hacienda Bambusa or in one of the many seating areas. Everywhere you are surrounded by greenery and the views are so pretty.
Things to do in the Colombia coffee region
Curious about things to do around around Hacienda Bambusa? This is an overview with tips for the Colombia coffee region.
Visit coffee village Filandia
Filanda is one of the nicest coffee villages of the region and slightly less crowded than Salento. In Filandia you will find streets with colored houses, boutique stores and many cozy coffee shops with the best coffee.
Make sure to have a look in the Centro de cestería, "Bejuco Al Canasto" (the museum of the coffee baskets). It is very small but gives a nice impression. In addition, take time to try the many local dishes and specialties. What about ice cream made from tropical fruits like guanábana and chirimoya? Or empanadas (filled pastry rolls), the sweet obleas (waffles) along with the local drink aguardiente that you can find in every bar.
Want to know more about Filandia? In the next article you can read my tips for Filandia in Colombia.
Stroll around Salento
Salento is the most famous village of the Colombia coffee region and is often visited by foreign tourists. Here too, it is lovely to walk around and take in the atmosphere. As in Filandia, you will find numerous colored houses, trendy stores, coffee shops and good restaurants. You can also walk to a viewpoint for a good view of the surroundings.
In the next article you will read more about Salento, including many of my personal tips.
Hike along the palmtrees in Cocora Valley
Salento is the gateway to the Cocora Valley where you'll find the tallest (wax) palms in the world: the Quindío Wax palm, also the National tree of Colombia. You can make great hikes here: From a 1 hour walk to a full day hike. In the next article you can read everything you want to know about the Cocora Valley including useful tips for your visit.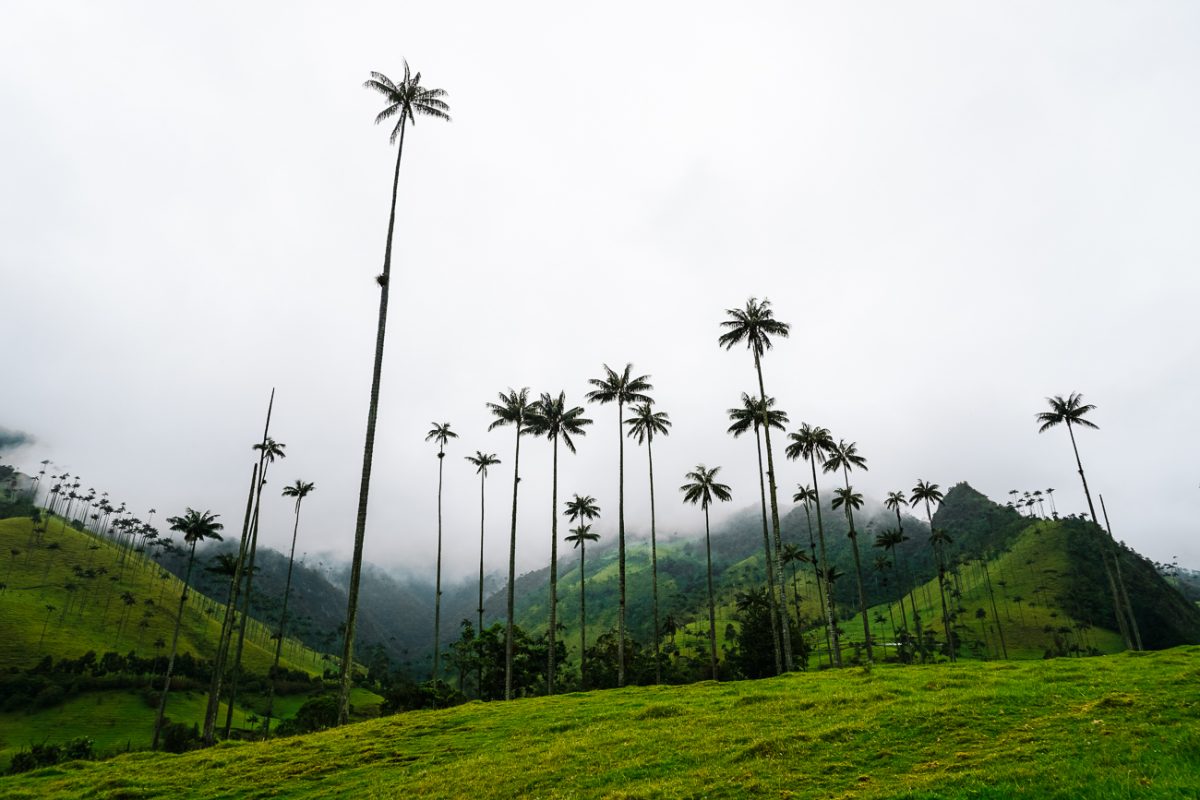 How to reach Hacienda Bambusa in Colombia
Hotel Hacienda Bambusa is located in the province of Quindío, a 45-minute drive from Armenia, the capital. Part of the route consists of a dirt road but is easy to drive. It is best to rent a car and explore the Colombia coffee region that way. It is safe and the roads are good. Make sure you have downloaded the route in advance because on some parts of the road you won't be able to use the internet. Coffee villages Salento and Filandia are about an hour and a half away from Hacienda Bambusa. And the Cocora Valley another two hours.
Quindío, together with the province of Caldas and Risaralda, is part of the coffee triangle in Colombia. I recently went on an amazing road trip through this area, visiting numerous sights. In the next article you'll read more about my road trip through the coffee region, the itinerary and hotels.
More information about Hacienda Bambusa
Do you want to learn more about Hotel Hacienda Bambusa in Armenia in Colombia? Then be sure to check out their website. You can also follow them on instagram and facebook. Interested in staying at Hacienda Bambusa? Check the availability and latest rates here.
Curious to discover more hotels in the Colombian coffee region? Read more about Sazagua Boutique Hotel in Risaralda and El Nido del Condor in Caldas.
More about Colombia
Intererested in reading more about Colombia? This is an article with the most beautiful places to visit in Colombia, including the best time to visit. Or check out the Colombia blog page with city guides and things to do in Bogotá, Medellín and Santa Marta. Tips for lovely towns such as Salento, Mompox and Villa de Leyva. But also the Tatacoa desert and Valle de Cocora. Interested in archaeology? Read more about the mysterious San Agustín statues.
Disclaimer: I was invited to stay at Hotel Hacienda Bambusa, Armenia in Colombia but this review is based on my personal view and is independent from the invitation.
This article may contain affiliate links. If you purchase something using one of our links, we may receive a commission at no extra cost to you, which helps us keep this blog alive. Thank you for your support! Please see our disclosures for more information.