Bolivia is a country in South America that is not often visited and less known, in comparison to neighboring country Peru. I have visited this country more than 20 times and it is one of my favorite countries in the region. The snowy peaks of the Andes mountains with its beautiful villages, the volcanoes, salt flats, lagoons, colonial cities and indigenous people, make Bolivia an amazing and interesting destination to visit. But what to do in Bolivia? In this article I will share the most beautiful destinations, best things to do and best places to visit in Bolivia. I tell you about altitude sickness, traditions and beliefs, the best time to visit and safety. To make you excited about putting this destination on your bucket list and help you get the most out of your stay.
Welcome to Bolivia
Bolivia is a country of extremes and contrasts. It has the highest navigable lake, the largest salt flat and the highest city in the world. If you thought a mountain was high, in Bolivia the snowy peaks of the Andes reach up to 6400m. Steep cliffs? Wait until you see the road from La Paz to Coroico. Altitude sickness? With the highest city in the world, at an altitude of 4070m, you know what it means and you really get to know your body well. I arrived in Bolivia for the first time in 2003, and its diversity and authenciticy left a big impression. Now 20+ visits later, I've developed a special bond with this country and I look forward to every new journey.
Map of things to do in Bolivia
The map is color coded as follows:
Blue: places as mentioned below in the article
Things to do in the cities of Bolivia
Sucre
Sucre is located at an altitude of 2800 meters above sea level, in a valley of the Andes Mountains. It is one of the most beautiful cities and one of the best places to visit in Bolivia. Sucre is called the white city or city of spring, because of the many white buildings and the pleasant climate. You can easily spend hours walking through the colonial center and enjoying the nice and relaxed atmosphere. Sucre has numerous churches, museums, viewpoints and restaurants. The colonial center is listed as a Unesco World Heritage site and easy to explore.
Did you know that Sucre is the official capital of Bolivia and not La Paz? La Paz is often seen as the capital, because of its political significance and size.
Sucre is also your starting point for lovely trips in the area, such as the Bolivian Inca trail and the Sunday market of Tarabuco. Read more tips and the best things to do in Sucre Bolivia in the next article.
Hotels in Sucre
Potosí
Potosí is located at an altitude of 4090m above sea level. It is therefore important to take it easy during your first days and get used to the altitude. Potosí is a city that once belonged to one of the richest cities in Latin America, because of its flourishing mining industry. When the Spaniards discovered large amounts of silver in the Cerro Rico mountains , they started to exploit these mines on a large scale. Millions of people died because of the horrible working conditions. When the mines were exhausted in the early 19th century, the city was left empty behind, with a lot of poverty.
Today, you can immerse yourself in the history of the city, by visiting the monasteries, churches and the Casa de la Moneda, (the coin building), the former financial center. The city center of Potosí is listed as a UNESCO World Heritage Site, because of its tragic history.
Potosí is located at an altitude of 4090 m above sea level and therefore the highest city in the world.
A visit to the mines of Potosí
It is also possible to visit the silver mines with a former miner. It is one of the best things to do in Bolivia if you want to experience a real mine and understand more about the life of a miner. Although, for many people, crawling through the tight and dusty corridors is an intense experience. This tour is therefore not for everyone. In this article I'm telling you everything about a visit to the mines of Potosí.
Hotels in Potosí
La Paz
La Paz is often seen as the capital of Bolivia, because the city is the political and commercial center of the country. I think La Paz is a fantastic city. In my opinion it is one of the best places to visit in Bolivia to get an overall picture of the country. The city is located at an altitude of 3600 m above sea level, in a valley surrounded by high volcanoes. It is a city with different sides and big contrasts: A busy commercial center, slums on the mountainsides and rich suburbs in the Zona Sur. People in traditional costumes alternate the street scene with people in tight suits. It's lovely to observe.
What to do in La Paz Boliva?
It's nice to spend at least one day exploring the city center and observe the chaos of the daily city life. Visit the witch market with the llama fetuses, the main square, known for its many demonstrations, the black markets and the Sopocachi district with many nice restaurants. You can also book a tour through "El Alto", the former upper district of La Paz, which is now just as big or perhaps larger, than La Paz itself. A ride in the longest cable car in the world is one of the best things to do in Bolivia and can't be missed, to enjoy views of the city and the surrounding volcanoes. Finish your visit with a culinary experience at Gusto, listed in the official list of Latin America's 50 Best Restaurants.
Hotels in La Paz
Scenic destinations in Bolivia
Salar de Uyuni – top things to do in Bolivia
The Uyuni salt flat is one of the largest salt flats in the world and one of the most spectacular places to visit in Bolivia. This immense white salt flat, together with the beautiful clear blue sky, is a view that you will never forget. The salt flat, called Salar de Uyuni, is best explored by jeep, where you drive on the salt flats for hours, visit special rock formations, with ancient cacti and learn about local salt production in small villages.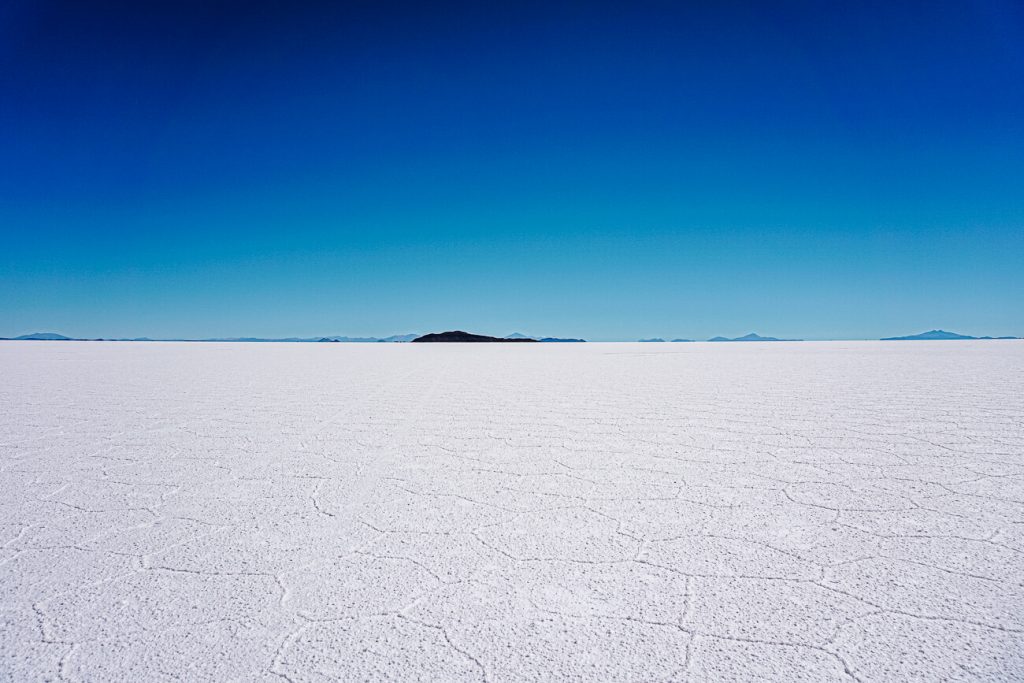 Salar de Uyuni is the only place in the world where you can spend the night in a salt hotel. A truly unique experience! You can also opt for a multi-day trip, where you visit the salt lagoons, flamingos and geysers and sleep in small villages along the road. The town of Uyuni is the gateway to the salt flat and lagoons. Read more about El Salar de Uyuni of Bolivia here.
Hotels in Uyuni
Salthotels in Uyuni
Lagoons, flamengos and geysers
This tour is almost surreal and one of the best things to do in Bolivia. The beauty and power of nature, that you find here are indescribable. A multi-day jeep tour, takes you to natural wonders such as Valle de Las Rocas, Laguna Verde, Laguna Blanca and Laguna Colorado, with many flamengos and geysers. You drive across the high plains of Bolivia for hours. On the way you sleep in small villages at local people's homes. These tours can be booked from the town of Uyuni and can be combined with a tour of the Uyuni salt flat.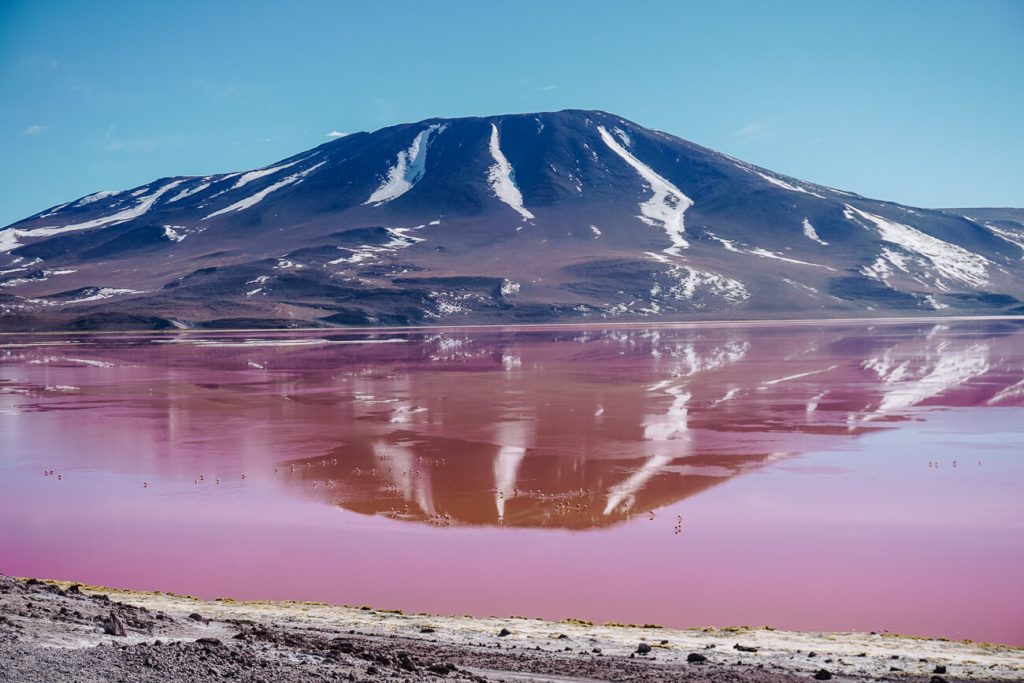 It is also possible to finish your tour in San Pedro de Atacama, Chile. I highly recommend this if you are planning to visit Chile. It is important to travel with a reliable company that puts safety and comfort first. And bring lots of warm clothes. It can take be extremely cold during the nights.
Titicaca lake & Isla del Sol
Lake Titicaca is located at an altitude of 3900 m above sea level. The lake is part of both Bolivia and Peru and covers an area of ​​almost 9000 km². The light and colors are incredibly beautiful. And one of the top things to do in Bolivia is to take a boat trip on the Titicaca lake. There are a number of islands on Lake Titicaca, giving you the feeling of traveling back in time. Most people live from agriculture and fishing. And it is one of the best places to visit in Bolivia, to escape from the busy street life.
The Titicaca lake is the highest navigable lake in the world.
From the Bolivian side it is worth traveling to Isla del Sol, the island of the sun. Here you can take nice walks with a 360 degree view of Lake Titicaca and the snowy Andes mountain peaks. There are also small remains of Inca ruins to admire.
Hotels Isla del Sol
How to get to Isla del Sol from Copacabana
You can choose to take a day trip from Copacabana, but if you have more time, I recommend to spend the night in one of the villages on the island, such as Yumani. Guesthouses on Isla del Sol are simple but the environment makes up for it. Don't forget to try the Aymara apthapi meal, small dishes with local ingredients such as alpaca meat, potatoes, chicken, eggs, cheese, vegetables and trucha, the trout from the lake. Isla del Sol is a 1.5 hours trip by boat from the Bolivian city of Copacabana. Read more about a visit to Copacabana in Bolivia here.
Hotels Copacabana
A roadtrip on the Altiplano – the high plains of Bolivia
This is one of the most impressive places to visit in Bolivia. The altiplano is the high plateau of Bolivia, with altitudes around 4000 meters above sea level. It is barren and bleak, but the views of the vast plains and snowy peaks are fascinating. Along the way you will encounter herds of llamas, alpacas and vicuñas, the llama's little sister. Despite the clear blue sky and bright sun, it is still often cold here, so it is recommended to bring warm clothes. One of the most beautiful road trips across the high plains is the trip from Potosí to Uyuni. You can take this trip with a local bus or book private transportation. Traveling this road by private transportation is one of the best things to do in Bolivia, if you want to get off and take pictures along the way.
Adventurous things to do in Bolivia
Death road by bike
"Experience the most dangerous road in the world", "Cycle the Death Road": You will see it at every travel agency in La Paz. In Bolivia you can take a mountain bike tour on one of the most dangerous roads in the world. And that's because of the crazy steep cliffs you find here. But actually, it is the amazing landscape and view that make it one of the best things to do in Bolivia. You start early in the morning in the snow and arrive into a tropical environment in the afternoon. Very unique to experience so many different climates and landscapes in one day. The route is only available for bikers nowadays. This is different to many years ago, when this trail was an important freight route, where cars and trucks regularly crashed into the ravines.
At the end of the day you can choose to travel back by bus to La Paz or stay overnight in Coroico village. It is important to set out with a reliable organization, so that you are sure of the right bikes and professional guides. Also, it is important to take your time and be safe during this trip. It is possible to extend your tour with a zipline experience, flying above the mountains. This tour is one of the best things to do in Bolivia if you are ready for some adventure.
The Bolivian Inca trail
Peru is known for its Inca trail to Machu Picchu. But Bolivia also has an Inca trail. In Bolivia it is possible to make a day trip. You walk on the ancient Inca trail and it is one of the best places to visit in Bolivia, to enjoy breathtaking views of the Andes mountains. The Chataquila – Chaunaca section is 5.5km and completely downhill. Depending on your pace, it will take you 2 to 3 hours. In the following article you can read everything you want to know about hiking the Bolivian Inca trail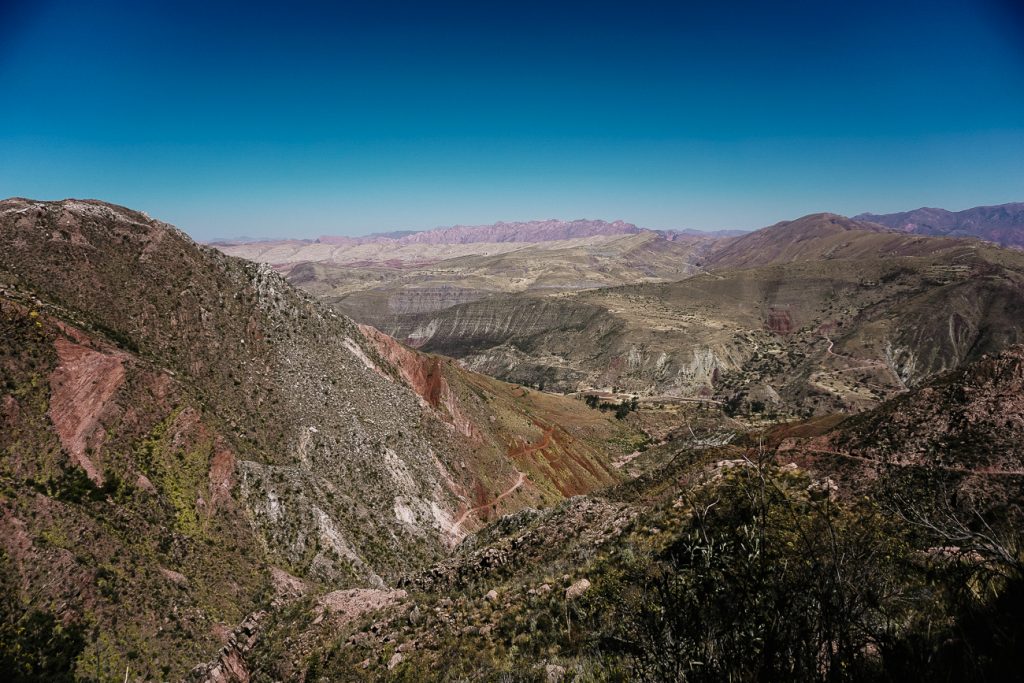 Fact: The famous Inca network of roads is almost 30,000 kilometers long and runs through Argentina, Chile, Colombia, Ecuador, Bolivia and Peru
Hike to the top of the Huayna Potosí mountain
Are you a real adventurer and are you in good shape? Then I promise you that a hike to the 6080m top of the Huayna Potosi, is one of the best things to do in Bolivia. It will be your trip of a lifetime! From the top of this mountain, you have an indescribable view of the Andes mountain range, that extends to the Amazon basin and Lake Titicaca. Something you normally only see from the air. Most tours start in La Paz.
The journey
The most accessible route is via the Zongo pass and consists of two parts. On the first day you hike from 4764 m to 5200 m (the Campo Argentino) in a few hours. This is where you spend the night, in a tent or refugio. Between 01 AM and 3 AM, you will leave for the top of the mountain. This is the hardest part, because it is dark and the trail consists of ice and snow only. With crampons and pickaxe you slowly pull yourself forward and climb a 45 degree steep ice wall. It is a very tough journey of between 4 and 6 hours. Therefore the view at the top will be the most rewarding ever. Afterwards you descend, via the Campo Argentino back, all the way down to the first base camp, from where you return exhausted but satisfied to La Paz.
Tour options
You can choose from a two or three day hike. A three day hike is recommended, if you have no climbing experience. There will be a training afternoon included, wich is highly recommended to get the most out of your trip and actually reach the top. It is also important to get used to the altitude in La Paz, for a few days, before you even start this tour. The best time to make this trip is between May and September, when the days are generally sunny. However, it can snow at any time of the year. Make sure you make this tour with a professional tour operator, offering you the right equipment and guides.
Keep in mind: This tour is definitely not for everyone. Many hikers do not even make it to the top.
Cultural things to do in Bolivia
Learn about the indigenous people: their beliefs, religion and traditions.
Bolivia has a high percentage of indigenous people. There are different groups, such as the Quechua (descendants of the Incas), Aymara (from the highlands) and the Guaraní (from the lowlands), each with their own language, religion and traditions. And learning more about these cultures is one of the best things to do in Bolivia. Countless people in Bolivia proudly wear traditional costumes, with wide colored skirts, embroidered ponchos and bowler hats. It's beautiful to observe this in daily street-life. The patterns, color combinations and type of hat can be used to recognize the region a person is coming from.
Traditions & religion
Indigenous peoples of the Bolivian highlands have their own beliefs and live closely with nature. The Inti (the sun) and Pachamana (Mother Earth) play an important role in daily life and are honored by ceremonies, rituals and sacrifices. There are also many superstitions and ceremonies, performed by the shamans and yatiris. They are known for their medicinal knowledge and are able to be in contact with the gods. Rituals, such as offering lama fetuses and reading coca leaves, can help you cleanse your mind or predict the future. In la Paz and el Alto there are famous witch markets, where you will encounter many of these shamans, traditional doctors and offerings.
he first sip of alcohol is always thrown on the ground to keep Mother Earth happy.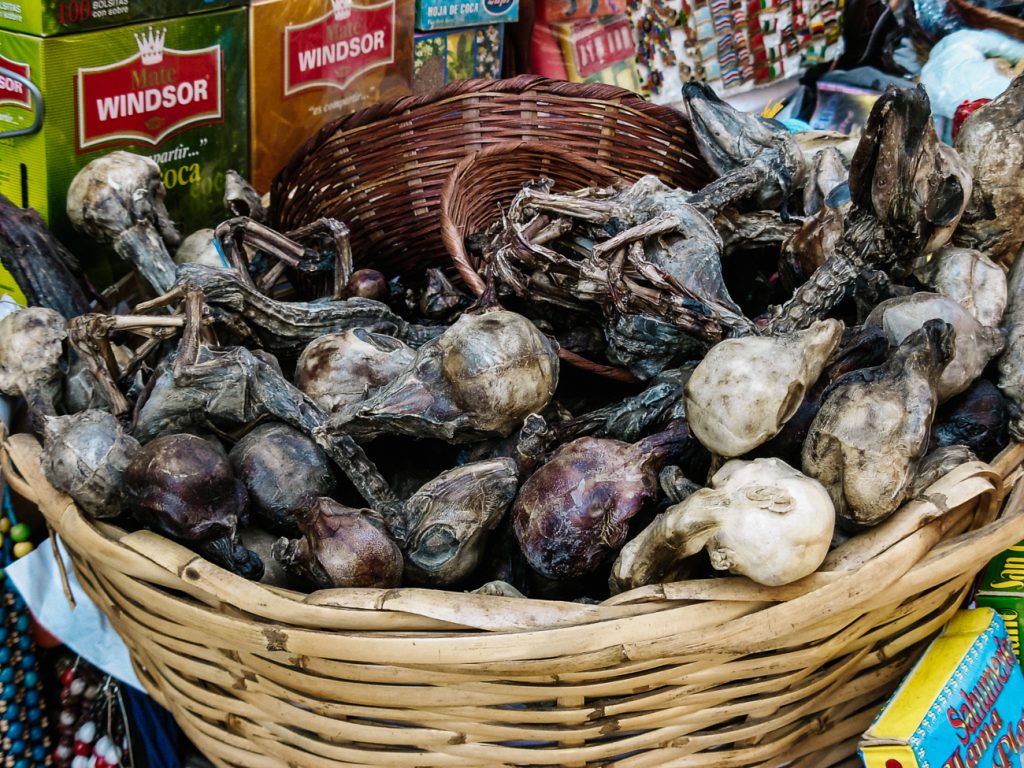 It is interesting to see how these indigenous beliefs have merged with Christianity, what was introduced during the Spanish empire, also known as syncretism. In many churches, you often see the Pachamama (Mother Earth) depicted together with the Virgin Mary, a guinea pig in a painting of "the last supper", or Christian statues in the shape of a volcano (typical for the Andes culture). This way, the Indian population has found a way to honor both beliefs together.
Tarabuco market
The village of Tarabuco is famous for its beautiful weaving techniques and art, the Tarabuco style. Every Sunday, this small mountain village is dominated by a colorful market. Local people come from far to sell their goods here. You find electronics, vegetables, fruit, cattle, sportswear, souvenirs and coca leaves. The best place for shopping Bolivian souvenirs, such as bags, alpaca/lama sweaters and ponchos, is the main square. But the real reason for visiting this market is to observe local life and stroll through the pretty village.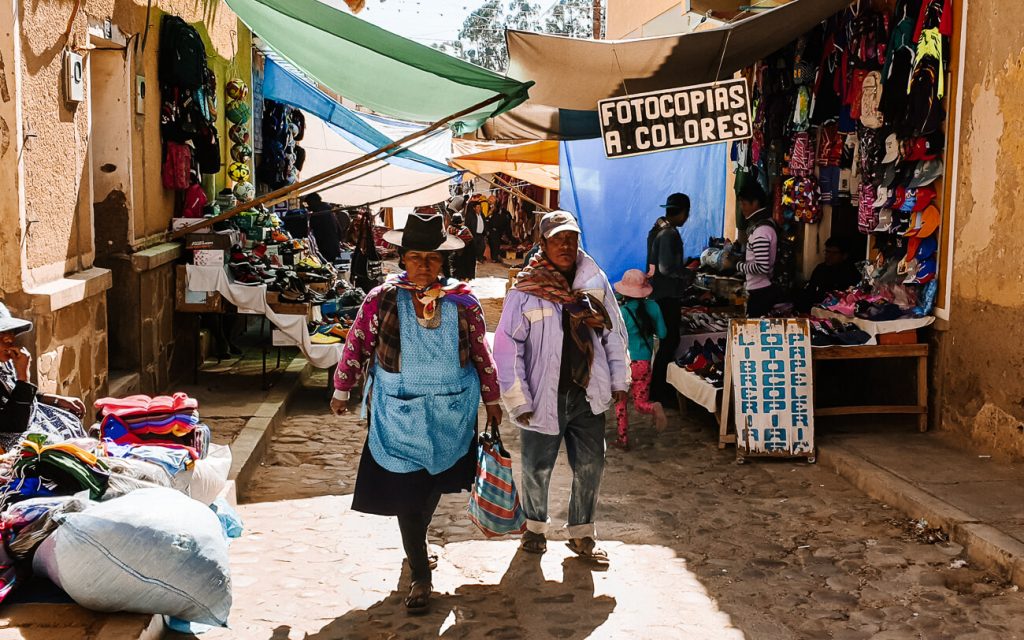 Some men wear black helmet-like headpieces with decorations, including striped ponchos and women wear wide colorful skirts, the typical Tarabuco traditional clothing. At the very back of the village you will find the fruit, vegetable and animals market. Animals come and go, people negotiate or just get together to have breakfast or lunch. There is so much going on and it's very interesting to walk around. Tarabuco is a 1.5 hour drive from Sucre and makes a nice sunday trip.
Historical things to do in Bolivia
Tiwanaku
If you are interested in history and archaeology, a visit to the archaeological site of Tiwanaku is one of the best places to visit in Bolivia. Tiwanaku, also known as Tiahuanaco, is located in the southern area of ​​Lake Titicaca. It was the capital of the Tiwanaku Empire, covering Peru, Bolivia, Northern Argentina and part of Chile.
Fact: The Tiwanaku empire existed for more than 3000 years: The longest-lasting culture, after the Egyptians. The Incas only ruled for a couple of 100 years.
Today you can visit the archaeological remains of this former capital. Although there is little left of the city, a visit will make you understand more about this powerful empire. You will observe the ancient sun gate, the impressive monoliths and the temple with the 175 carved heads. Tiwanaku is a 1.5 to 2 hour drive from La Paz. In the following article you can read more about the Tiwanaku culture and a visit to this archaeological site.
Amazon of Bolivia
Rurrenabaque – Amazon
Rurrenabaque is located on the edge of the Parque Nacional Madidi, north of La Paz. It is one of the top places to visit in Bolivia for trips to the Amazon and pampas. A visit to Rurrenabaque requires several days, as most tours last at least 3 days. A tour through the pampas takes you to the tropical Savannah, where you will encounter caimans, anacondas, monkeys and tropical birds. You sail by boat through the area and spend the night in jungle lodges. A jungle adventure leads through the Parque Nacional Madidi, the home of the jaguar. During a tour you will learn about medicinal plants, fishing, make jungle hikes and visit local villages.
Looking for places to stay in Rurrenabaque? This is an overview.
What to do in Southern Bolivia
The Wild West of Tupiza
Tupiza shows a completely different side of the country. Tupiza is located in the south of Bolivia, at an altitude of 2950 m above sea level. You will find yourself in a desert area, surrounded by cactuses. It is one of the best places to visit in Bolivia if you want to go horseback riding. A nice day trip is the triathlon, where you go for a horseback ride, hike and bicycle tour, in one day. It is also possible to go on a multi-day horseback riding tour and spend the night in small villages.
Tupiza is known for Wild West heroes, Butch Cassidy and Sundance Kid, who spend the last days of their life here.
Looking for places to stay in Tupiza? This is an overview.
In the footsteps of Che Guevara
Did you know that Che Guevara spent his last days in Bolivia? Che Guevara came to Bolivia to further spread the revolution in 1966. In 1967, he was shot by the Bolivian army in La Higuera. That's why La Higuera and Camiri have become small places of pilgrimage, for those interested in Che Guevara. Today you can visit these remote villages and explore some important places of Che Guevara's life. The place where he lived, got arrested and shot are the most important sights. The village is tiny and apart from the historical events that took place, there is not much do. I recommend to only travel to this area if you have a lot of time. It is for sure one of the things to do in Bolivia, if you are interested in Che Guevara
What to do in Bolivia – February
Carnival in Oruro
What to do in Bolivia in February? Oruro is a large industrial city in Bolivia and there is not much to do during the year. Only once a year, in February, this city is the most popular of the country with around half a million visitors and you won't find any hotel room. And that is because of El Carnaval de Oruro, the largest carnival after Brazil.
UNESCO has declared this carnival a Cultural Heritage, because of the special mix between the ancient Andean traditions and Spanish colonial religions.
Ten days are filled with parades, musicians, dancers and amazing costumes. The Pilgrimage to the Socavón Sanctuary is the main parade and the central day of carnival. During a 20-hour procession, including 20,000 dancers, 150 bands and 10,000 musicians, different stories about Bolivia's history are shown. Including the famous La Diablada, a dance battle between the good and bad. Joining this Carnival is definitely one of the top things to do in Bolivia.
Mini travel guide Bolivia
Best time to visit Bolivia
Bolivia is also known as 'the Tibet of South America' and that is for a reason. The temperatures are much lower than you might think. The best time to visit Bolivia is from May to October. Read more about the climate and best time to visit Bolivia in the next article.
Altitude sickness
Altitude sickness is something very common to experience in Bolivia or any other Andes countries. You will be traveling at altitudes between 2500 and 4000 meters and your body might not be used to this. Due to the lower oxygen in the air, headaches, nausea, dizziness and shortness of breath are common complaints.
Although I have been at altitudes many times, I am always experiencing it during the first few days. I usually have a headache at the end of the day, what comes together with a strange oppressive feeling. Also I am always short of breath, during the slightest effort. I always have to force myself to take it easy, pay attention to my breath and drink plenty of water.
Usually the complaints disappear after a few days, because your body gets used to it. In some cases the symptoms can get worse and it is recommended to see a doctor. There is not much you can do avoid altitude sickness. However there are some things to keep in mind. There are my recommendations to prevent altitude sickness, as much as possible.
Some quick tips & tricks to avoid altitude sickness
try to plan your trip in a way that your body can get used to the different altitudes. Do not arrive in La Paz (located at 3700 m) in one go. For example, start your trip in Sucre, (2800 m), and travel further up from here.
don't eat too heavy food (your body needs to work already a lot)
drinks plenty of water
drink the local tea with coca leaves or chew coca leaves
don't drink alcohol (or less), during your first day of visiting. At least until you know how your body reacts.
take it easy and make sure your body gets used to the altitude
don't go on any hikes, before your body is used to the altitude (at least 2 or 3 days)
don't panic, when you feel short of breath (this is normal)
go and see a doctor if you don't feel well
Safety in Bolivia
Bolivia is a country in South America, with a great contrast between rich and poor. A large percentage of the population, lives below the poverty line. It is important to watch your belongings, especially in big cities and crowded areas. With the necessary precautions, Bolivia is a wonderful country to travel through without any problems. Read more tips for a safe trip through Bolivia here.
Pin "Best things to do in Bolivia" for later
More about Bolivia
Do you want to read more about what to do in Bolivia? Have a look in the Bolivia library with many articles about this beautiful country. Such as a guide for Copacabana, the best things to do in Sucre, a tour on the Bolivian salt flats, the Bolivian Inca trail, the best time to visit Bolivia, information about safety, a visit to the Potosí mines, a tour to the Tiwanaku ruins, shopping in La Paz and how to use the cable car in La Paz.
This article may contain affiliate links. If you purchase something using one of our links, we may receive a commission at no extra cost to you, which helps us keep this blog alive. Thank you for your support! Please see our disclosures for more information.