Do you love unique places in nature and are you looking for a true paradise? Then you should stay at One Santuario Natural, also known as One Love hotel, near Palomino in Colombia. This eco resort is located along the Palomino River and is a place you will not easily forget. At One Love you experience nature in its purest form. The beautiful jungle surroundings, the flowers, the sound of the river, the delicious food and the sounds of the birds will make you relax and completely disconnect from the outside world. In this article you will read all about my stay at One Santuario Natural and I will give you tips about what to do in the surroundings: The Sierra Nevada.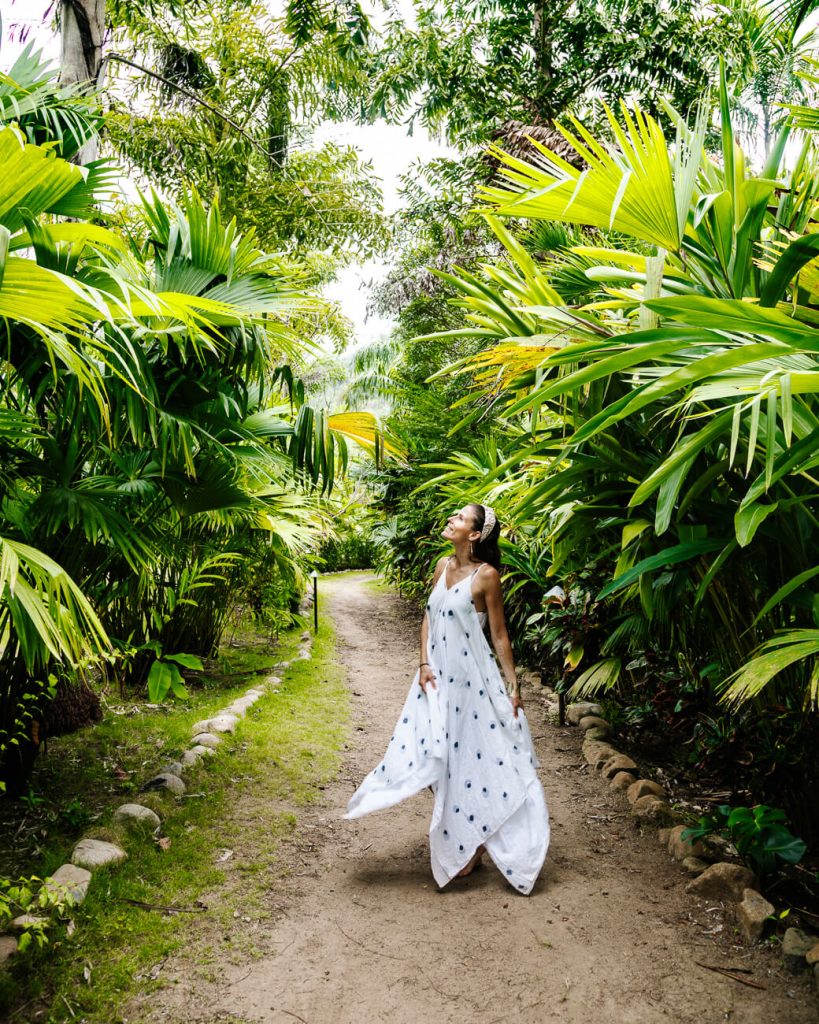 Welcome to One Santuario Natural in Colombia
One Santuario Natural is located in a natural reserve, next to the Palomino river. You will find yourself in a jungle environment with tall trees, many shades of green and countless flowers. The complex consists of 80 acres, and with only 6 bungalows you will enjoy ultimate privacy. There are hiking trails that connect the bungalows with the rest of the complex. You can walk to the river and take a refreshing dip, observe the birds, eat in the fine restaurant, make beautiful trips and book one of the special treatments in the spa.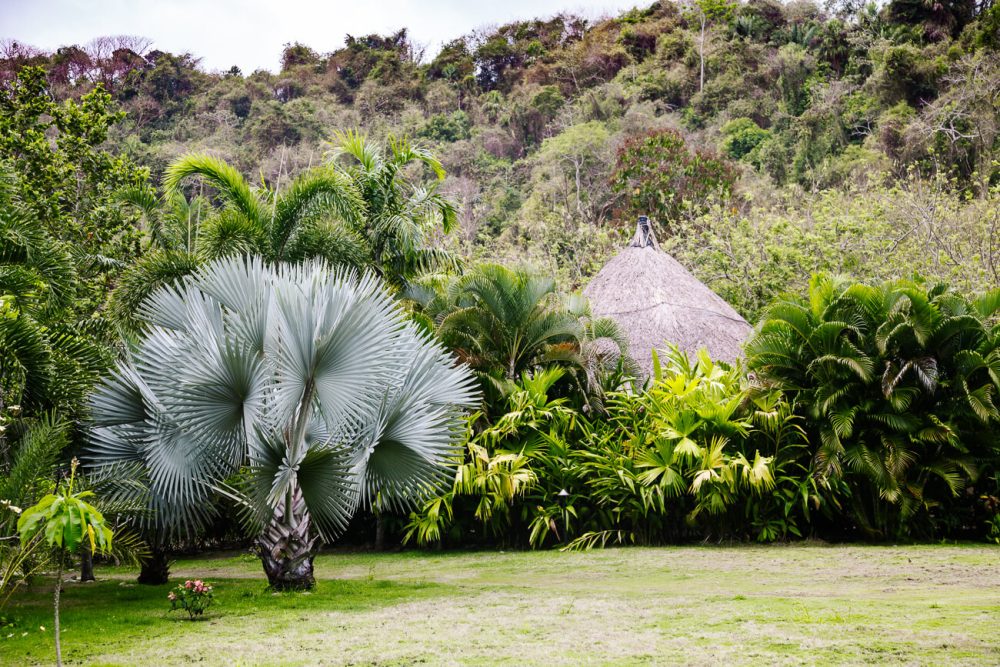 Surroundings of One Santuario Natural
One Love hotel Palomino lies at the foot of the magical Sierra Nevada mountains, the habitat of several indigenous communities, who live here at one with nature, often completely isolated from the modern world. For indigenous people, the Sierra Nevada is the heart of the world, where some groups still live according to traditions hundreds of years old. The Sierra Nevada mountain range covers the provinces of Cesar, La Guajira and Magdalena and is the only mountain range by the sea with peaks of 7730 meters (the Pico Colón) and 4978 meters (Pico Bolívar). As many as 35 rivers rise and flow into the sea, of which the Palomino River is one.
Interested in staying at One Santuario Natural – One Love Colombia? Check the availability and latest rates here.
The rooms
One Love hotel Palomino has 6 bungalows: 3 with a twin queen size bed and 3 with a king size bed. Because the bungalows are far apart, you almost forget that you are in a hotel. You enter your own little world in the middle of nature.
Through a narrow path with numerous flowers, you reach your bungalow, which consists of two houses. One house with a bedroom and one house with a spacious bathroom and outdoor shower. The houses are round and made of natural calming materials.
Outside you can relax in the hammock or sit on one of the lounge chairs and gaze out over the river. But one of the highlights is your own little jacuzzi. It is truly enjoyable to sit here with a cocktail in your hands and enjoy the surroundings. If you send the One Santuario Natural staff an app from your own whatsapp channel, they will pepare the jacuzzi for you.
Nice to know: Being quite remote, you don't have to lock your bungalow. You also have a water filter at your disposal so you can drink water from the tap. Luxury in Colombia!
Facilities at One Santuario Natural in Colombia
The river
The river is an attraction in itself. You can sit on the beach and take in the jungle surroundings, take a dip or walk to one of the sandy beaches in the river. The Palomino rises in the Sierra Nevada mountains and continues down to the Caribbean coast in the village of Palomino. It is a magically beautiful place.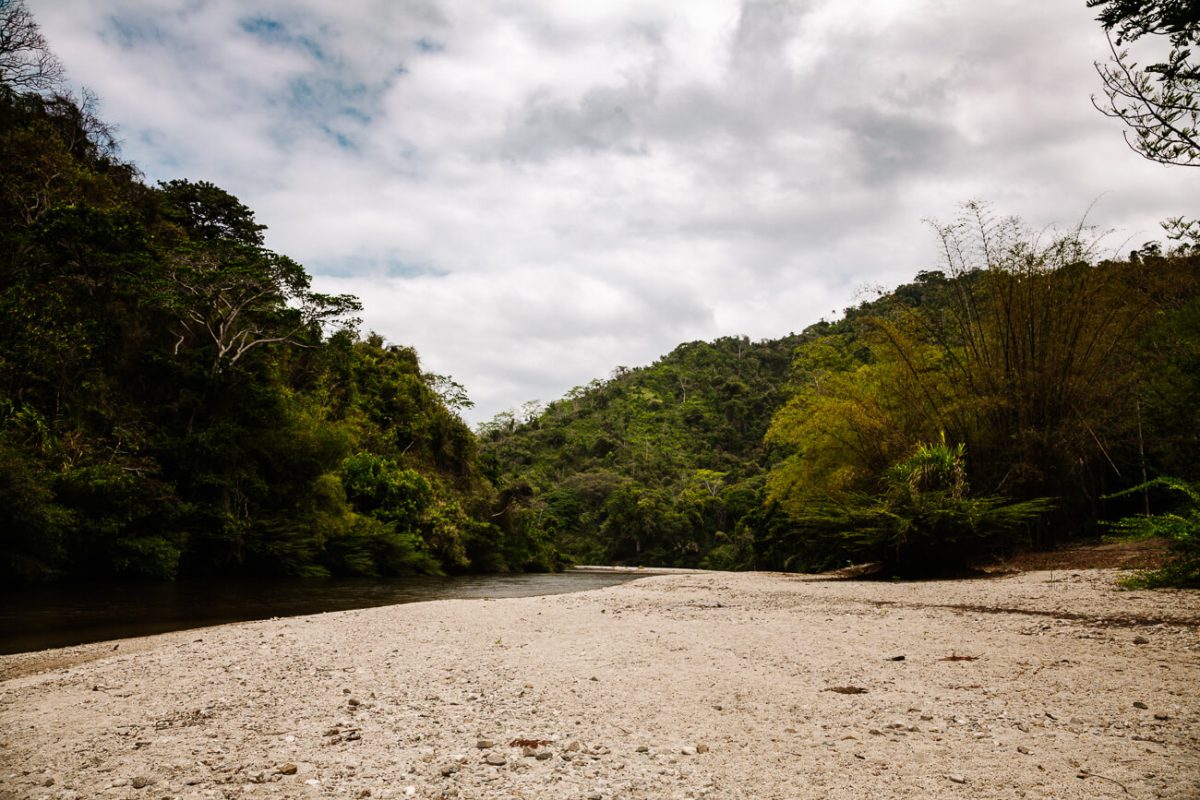 Restaurant
With most bookings, all meals are included. The fine restaurant serves a three-course breakfast, lunch and dinner daily. And the team does everything possible to make this a special experience.
The chefs play with unique flavor combinations and each dish is a surprise. What about a fruit ceviche made of pineapple, tomato and strawberry ice cream, fish with yucca in a sauce of cheese, fresh fish dishes (robalo) with vegetables and croquettes with banana, shrimp and jaiba (a kind of crab)? And everything looks so pretty! Eating at One Love is an experience. You are completely pampered here. Moreover, everything is fresh and coming from their own garden.
Temazcal
One Santuario Natural has its own temazcal, which you can book a few hours in advance. A temazcal is a traditional sauna, which was already used by pre-Columbian cultures hundreds of years ago as a ceremonial cleansing of the body. A delicious herbal blend of cannabis, lime and mint is used. The temazcal is located by the river and after each session you can cool down here.
Herb Garden
Be sure to take a look at La Huerta of One Love hotel Palomino. One Love's proud gardener will give you a tour of all the different herbs and vegetables that grow there. And you will find them all on your plate during your stay. In addition, One Santuario Natural makes different products, such as mosquito repellent and massage oils with products from their own garden.
Tours around One Santuario Natural
One Santuario Natural offers several excursions and you want to do them all. Since I stayed here for 2 days I tried to find a nice mix of activities. These are my personal suggestions if you want to experience the area the fulles. But still in a relaxed way.
Go for a combined tour – nature & culture
A nice half-day trip is the mindful walking tour combined with tubing. Through a path, which connects several indigenous villages, you walk a nice trail with a local guide. Along the way you have a nice view of the Palomino River. The guide will share information about the environment and medicinal plants and you will meet several local people. The route is relatively easy, a bit ascending and descending but doable.
In most cases it is possible to combine this trip with a visit to an indigenous Kogui community: Sewiaka. During my stay, the people from the village had left for a wedding and there was no point in visiting here. Although I found this very unfortunate, I am happy to notice that local people decide for themselves, whether they want to receive tourists or not.
Tubing
After about 1.5 hours you arrive at the highest point of the river and your next adventure starts: Tubing. The ultimate way to experience the Palomino River. Very slowly you tube over the Palomino River and observe the numerous monkeys and birds around you. It is so serene. Chances are high that you will even spot some boa constructors, sleeping in the trees. When it is hot, many animals seek coolness at the river. The guide helps you during the rapids and all you have to do is float. After about 1.5 hours you arrive back at the small river beach of the hotel. I could really do this every day.
It is also possible to tube up to Palomino village. One Love will then arrange for a motor cab to pick you up in Palomino and bring you back to the hotel.
Hike around One Love Palomino
Depending on your interest and fitness level, there are numerous hikes you can do from One Santuario Natural in the Sierra Nevada mountains. Check in with one of the guides and a customized tour will be created for you
Curious about the lost city of the Tayrona Indians? In Colombia you can go on a 4-day hike to la ciudad perdida. A tough but unforgettable hike where you spend three nights in the Sierra Nevada. Read everything you want to know about la ciudad perdida trek in Colombia here.
Enjoy a cocoa spa ceremonie
One of the activities you should not miss during your stay at One Santuario Natural is a cocoa ceremony. During a 1.5 hour session you will get to experience the power of this cacoa fruit and enjoy one of the most special spa treatments.
Upon entering the spa, you will first smell the cocoa. This will smell different than you might expect. Much spicier, since it is not yet chocolate. Followed by a relaxing massage with cocoa oil.
Tip: You can also book this treatment accompanied by indigenous live music. Recommended!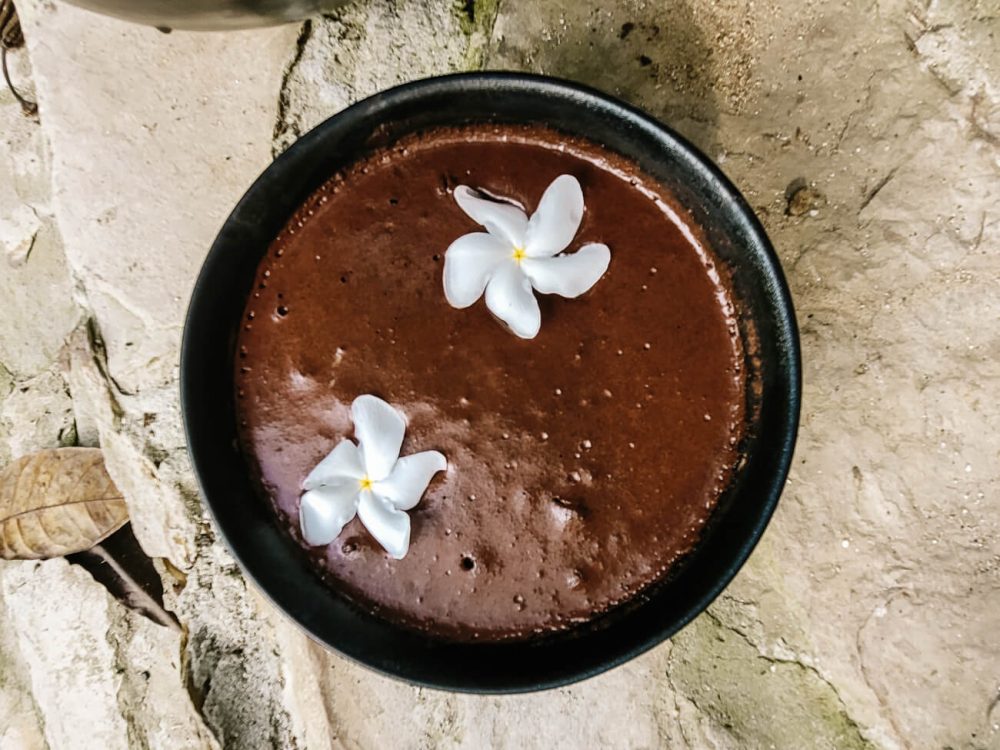 After the massage you walk to the river and take a seat on a chair, looking out over the river. Your body is now completely rubbed with a scrub consisting of cocoa, coffee and aloe vera. The cocoa has a nourishing effect, the coffee exfoliates and the aloe vera nurtures.
Unique location at the river
Especially the location at the magical Palomino River makes this treatment so special. After the cocoa is absorbed, a ceremonial bath follows. Here you get a number of times a jar with warm water poured over you. This water contains seven medicinal plants and makes the scrub slowly slide off your skin. The last jug contains cold water and is a bit of a shock. But it makes sure you are ready to go into the river and wash off the last remnants. My skin has never felt so soft afterwards and I am an intensely happy person.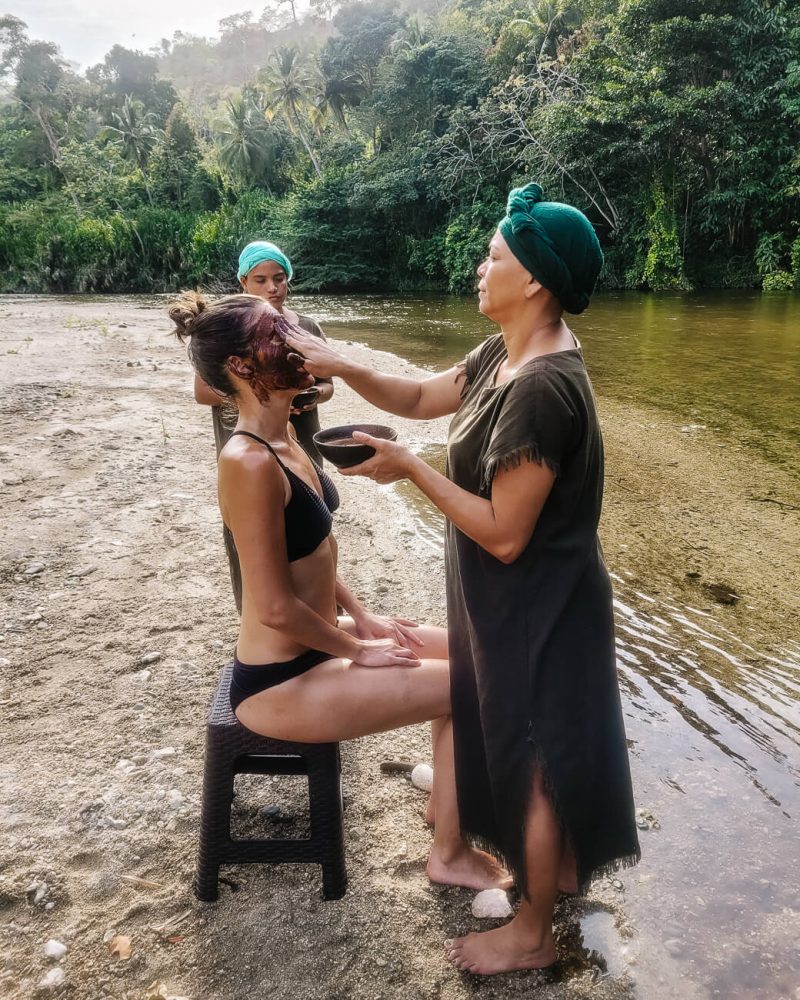 One Love hotel Palomino in Colombia offers numerous treatments and ceremonies, including massages with coffee, native herbs, ayurveda a sound healings.
Go birdwatching
Around One Love you will find more than 50 different bird species. During a 2-hour tour accompanied by a local guide, you will observe different species. You have to get up early (the tour leaves at 5.30), but that is when the birds are most active. It is also recommended to do this tour with an indigenous guide. The focus then is not only on spotting the birds but on the songs and the corresponding spiritual meaning for the indigenous people.
Visit the sacred springs and waterfalls
You can also visit a number of pozos (springs) and waterfalls., where you swim in the crystal clear water, climb over rocks and learn more about these sacred places. Something I would love to come back for again.
How long do you want to stay at One Santuario Natural
Actually, you want to stay here as long as possible. One Love is a place where you can really relax and completely disconnect from the outside world. Because of its beautiful location on the river in a natural reserve, surrounded by indigenous villages, there are countless things to do in the area. Make sure you stay here for at least 3 nights so you have two full days to enjoy it to the max.
Interested in staying at One Santuario Natural – One Love Colombia? Check the availability and latest rates here.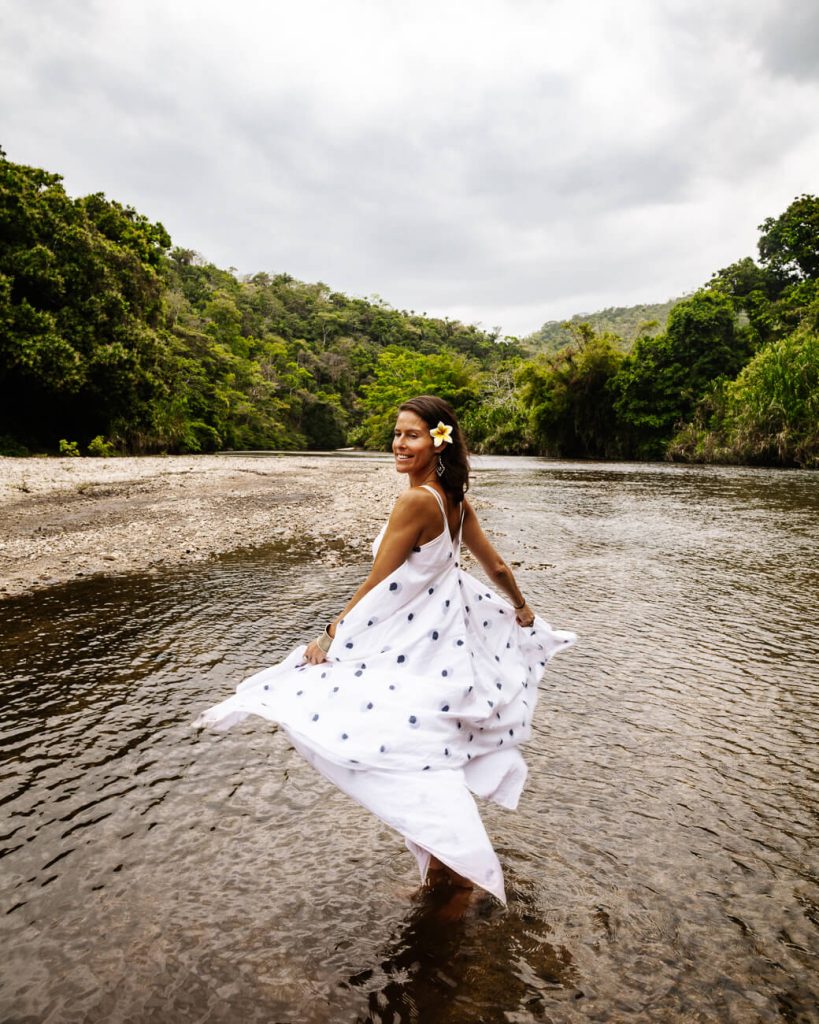 How to reach One Love in Colombia
One Love hotel is located on the Palomino River near the village of Palomino in Colombia. One Love is best reached by car if you have luggage. A bumpy road along the river takes you within 10 minutes to the entrance of the complex. On the way you pass villages and get a nice impression of local life. If you want to visit Palomino village and beach during your stay at One Santuario Natural, you can walk there within 45 minutes. A nice walk! Although you will probably not want to leave One Love and the beautiful surroundings.
More information about One Santuario Natural
One Santuario Natural is an organization dedicated to the social and environmental development of the indigenous communities and inhabitants of the Sierra Nevada de Santa Marta. By connecting artists, cultural leaders and the local population, knowledge and experiences are shared, which provide important developments in the social, economic and cultural fields. If you want more information about One Santuario Natural – One Love Colombia, be sure to check out their website. You can also follow them on Instagram and facebook. If you want to know more about prices and availability, click here.
If you want to know more about prices and availability, click here.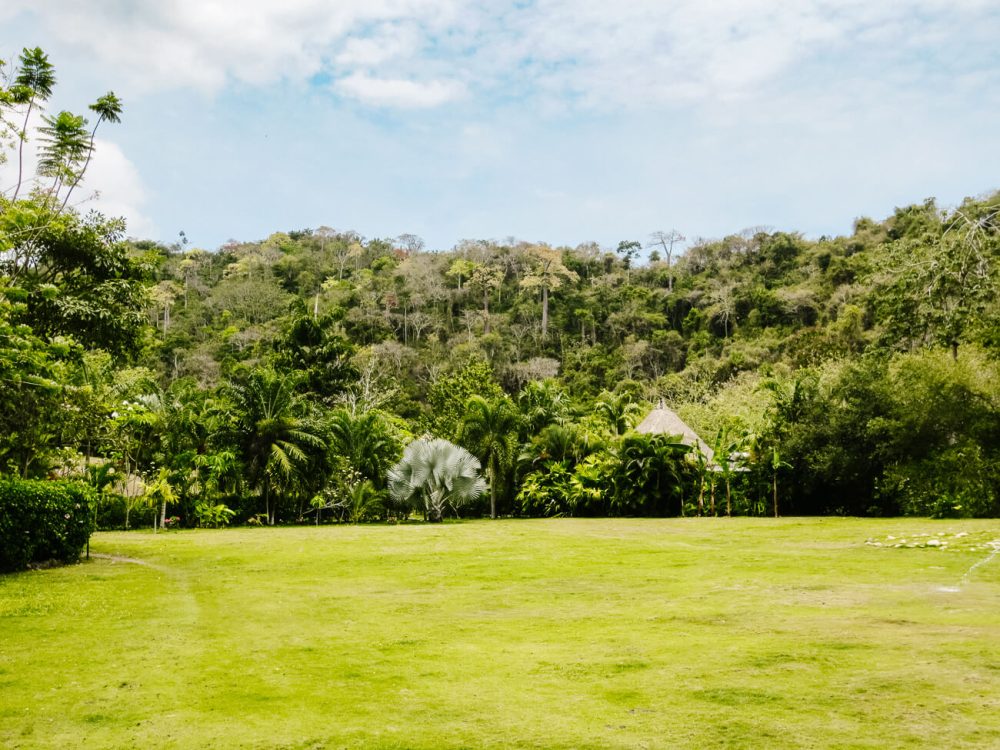 More about Colombia
Intererested in reading more about Colombia? This is an article with the most beautiful places to visit in Colombia, including the best time to visit. Or check out the Colombia blog page with city guides and things to do in Bogotá, Medellín and Santa Marta. Tips for lovely towns such as Salento, Mompox and Villa de Leyva. But also the Tatacoa desert and Valle de Cocora. Interested in archaeology? Read more about the mysterious San Agustín statues
Disclaimer: I was invited to stay at One Santuario Natural – One Love hotel Palomino in Colombia but this review is based on my personal view and is independent from the invitation.
This article may contain affiliate links. If you purchase something using one of our links, we may receive a commission at no extra cost to you, which helps us keep this blog alive. Thank you for your support! Please see our disclosures for more information.