Salento is a bohemian village in Colombia, known for its bright-colored houses and great coffee. One of my favourite spots for a stopover. Salento is also the perfect base for a trip through the nearby Valle de Cocora, where you can walk along the tallest palm trees in the world. What to do in Salento? In this article you'll find an overview with the best things to do in Salento, the cutest town of Colombia.
Welcome to Salento Colombia
Salento is situated at an altitude of 1900 m, in the province of Quindio, which is part of the famous Colombian coffee triangle. As the name suggests, here you will find numerous amounts of coffee, banana and tropical fruit plantations. Around 10,000 people live in Salento and the atmosphere is friendly. You'll encounter local men wearing their sombreros, streets and houses beautifully decorated with flowers and fresh fruit, fruit juices and lots of coffee everywhere you go! Read more about what to do in Salento.
Things to do in Salento Colombia
Discover the area, go shopping and take lots of pictures
Salento has a lot to offer: lovely architecture, many art galleries, restaurants, and cute cafes where you can get a cup of coffee and delicious pastries. The main street, Calle Real, is where you'll want to take a photo of each house. It's also the best shopping street for handmade ponchos and sweaters, jewelry, handicrafts and nice coffee products. Do walk into the shops, you might accidentally stumble upon a lovely courtyard with terraces, and you will be surprised by the most beautiful views.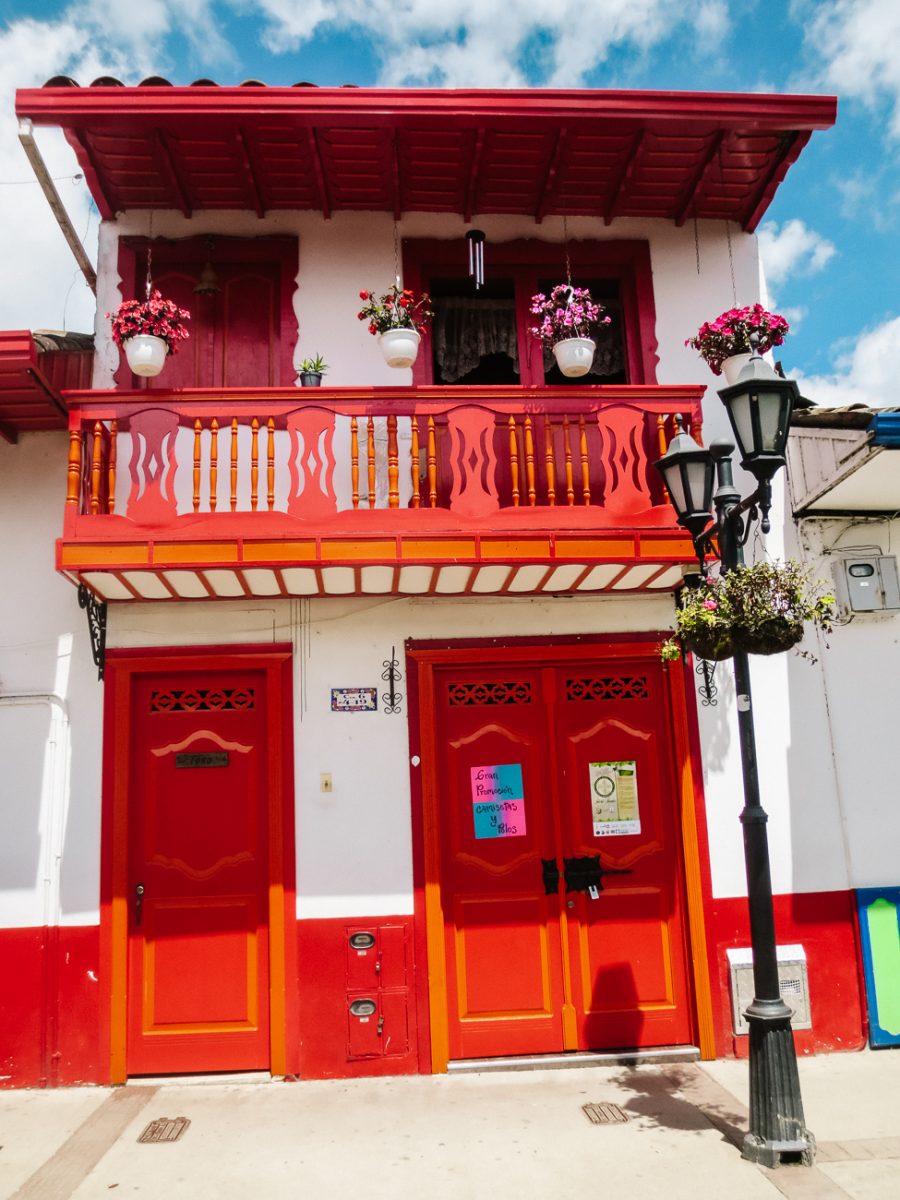 Walk to the viewpoint | What to do in Salento
At the end of the Calle Real you'll find a number of stairs leading to the viewpoint "Alto de la Cruz". It's a bit of a climb, but you'll be there in no time! Halfway up the stairs, you'll come across a number of terraces where you can sit down for a drink and some food. But once you reach the top, you'll have the best view over Salento and its surroundings.
Enjoy coffee & pastries
In Salento you'll find plenty of nice coffee, tea and pastry shops. These are some of my favorite shops:
Cafe Jesuz Martin is coffee place with a lovely vibe and offers the very best coffee in the town. Even if you're not a coffee lover, you can still go in for a cup of tea, or some hot chocolate. This place is the best!
Hidden behind one of the doors on the main street you'll find Tertulia, a nice coffee place located on a courtyard.
For delicious pastries and other sweets treats, you should visit la Postré. Head to the back of this shop to check out the breathtakingly beautiful view on the valley.
Another great coffee place is Cafe Quindio. located on the plaza. They also sell coffee beans at their little shop.
Visit Valle de Cocora | What to do in Salento
From Plaza central you can take a Willy's jeep, which will take you to the Valle de Cocora within half an hour. In Valle de Cocora you'll find the Palma de Cera de Quindío (the wax palm), the tallest palm trees in the world. You vcan go for beautiful hikes or explore the area by horse.
Curious about the highest palm trees in the world? In the next article you'll find everything you want to know about a visit to the Valle de Cocora.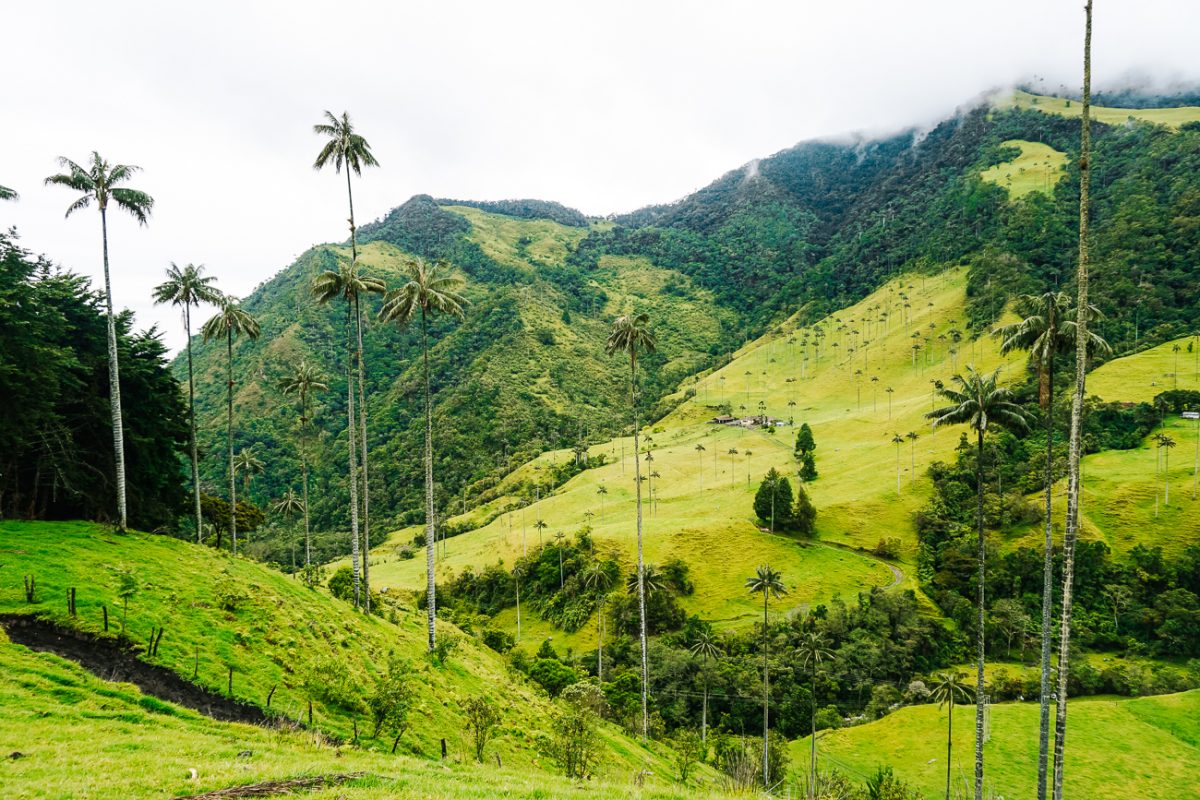 Spend the night at Lumbre Glamping
Are you looking for a unique place to stay around Salento? Then make sure you book a night at Lumbre Glamping. You'll stay in the middle of nature and be surrounded by the tallest palms in the world. From your suite you walk to waterfalls and viewpoints and you are only ten minutes away from Salento and the famous Cocora Valley.
Interested in staying at Lumbre Glamping? Check the availability and latest rates here.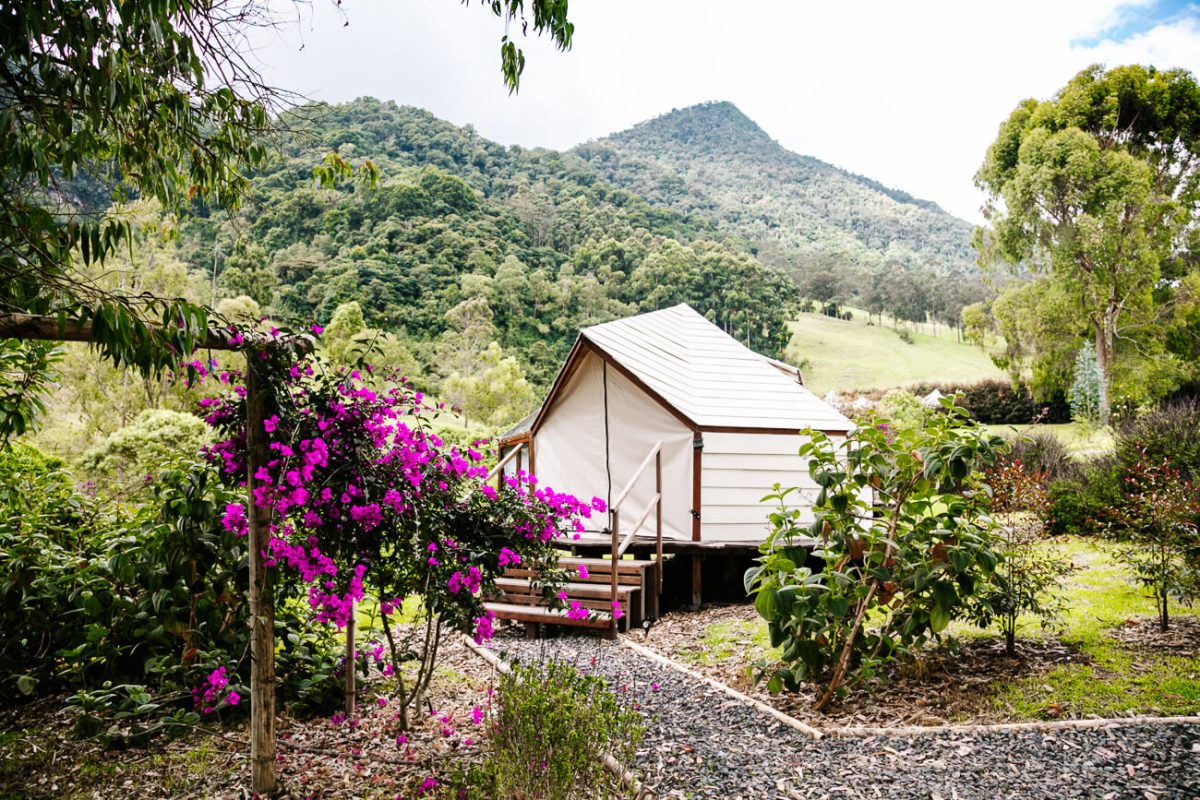 Lumbre Glamping has 10 luxury tents, that are comfortably furnished. The beds are lovely and the room is fully equipped, including furniture, electricity and hot water. In addition, all tents have a small terrace, overlooking the beautiful surroundings. But the highlight here is the glass wall and glass roof, which cover a large part of the tent dome. From your bed and seating area you can enjoy the views and in the evening look at the beautiful starry sky.
Want to know more about this hotel inear Salento in Colombia? In this article you will find a review and everything you want to know about Lumbre Glamping.
More about Colombia
Did you enjoy reading this article with best things to do in Salento Colombia. Want to read more about Colombia? Check out the next articles with lots of inspiration and tips.
This article may contain affiliate links. If you purchase something using one of our links, we may receive a commission at no extra cost to you, which helps us keep this blog alive. Thank you for your support! Please see our disclosures for more information.