Are you near Barranquila in Colombia and looking for an off the beaten track destination? Then set off in the countryside of the province of Atlántico. Here you will find yourself in a completely different Caribbean world, with small villages, fertile valleys and farms. Ankua Eco Hotel is located in a natural environment near the village of Usiacuri, a wonderful place where you can completely relax and immerse yourself in everyday Colombian life. In this article I will tell you more about my stay at Ankua Eco Hotel Usiacuri in Colombia.
Sometimes you end up in a place and wonder why you haven't been there before. This happened to me during my almost twentieth visit to Colombia. I set out in Atlantico, a province I drove through several times, but apart from a visit to the port city of Barranquila, never really spent time. I was invited by Ankua Eco Hotel to experience the countryside of Colombia. An area with small villages, farms, friendly people and many fertile valleys. And the nice thing, there are hardly any tourists to be seen. In this article you can read more about Ankua Eco Hotel Usiacuri and what you can expect from a stay.
Welcome to Ankua Eco hotel Usiacuri Colombia
Ankua Eco Hotel is one of the first sustainable hotels in the province of Atlántico Colombia. The hotel is surrounded by 20 hectares of fertile land with numerous fruit and vegetable plantations, lakes and a farm. Nature plays a central role here. And you can immediately see that this place has a great attraction for people from Barranquila, who escape the busy city for a weekend and come here to relax. And also as a foreign visitor it is a nice place to include in your your travels from Cartagena to the provinces of Magdalena (capital Santa Marta) and La Guajira.
Curious about a stay at Ankua Eco Hotel? Check out the latest prices and availability here.
The rooms of Ankua Eco Hotel
When you arrive you have no idea what to expect. The rooms are spread over a gigantic complex and it is quite a walk from the reception. Four bungalows are located on a mountain and have the most beautiful views, including sunset (atardecer) or sunrise (amanecer). The houses are made of beautiful materials and have a terrace with a hammock in the extension, where you can relax with pillows and blankets.
Inside it is spacious and the king-size bed is not only mega but also wonderful. From your bed you look straight into the valley through the windows. There is an outdoor shower on the terrace, which is also connected to the bathroom.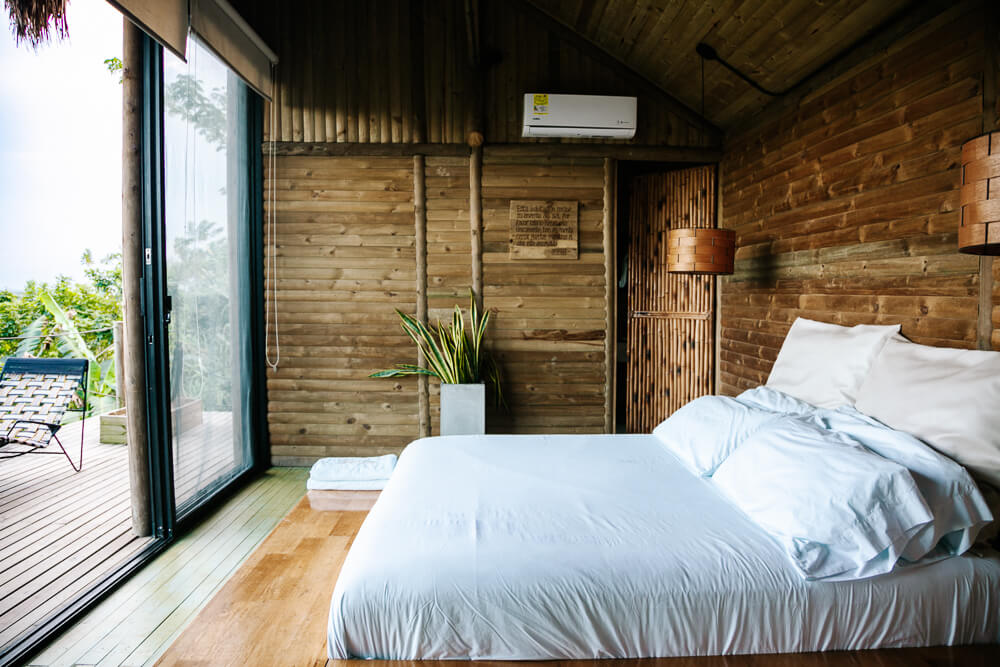 There are also two suites: The mountain suite and the treehouse suite. I myself stayed one night in the sunrise bungalow and one night in the tree house. The special thing about this treehouse suite is the terrace with jacuzzi. Great for cooling off during the day.
Keep in mind that there is only natural cold water at Ankua Eco Hotel. But because it is very hot during the day, this is not a problem at all. Moreover, the first rays are actually warm due to the heat of the day.
Do you also want to stay at Ankua Eco Hotel? Check out the latest prices and availability here.
Bag with useful items
On arrival you get your own ice cooler bag that you can fill with ice and drinks from the bar, so you don't have to walk back and forth. (it is a 10 minute walk – up and downhill to the bar). You will also get a flashlight (handy), corkscrew and speaker on arrival. Ankua Ecohotel has even its own spotify list.
The restaurant
Ankua Eco Hotel Usiacuri has a restaurant where you can eat simple but delicious dishes three times a day. And all meals are included. The dishes consist of seasonal products and 80% of what is on your plate comes directly from the surrounding land. In the morning and afternoon typical Colombian dishes are served with patacones, meat, beans and rice. In the evening, the wood oven comes to life and Neapolitan pizzas and pastas are served. It is nice that in addition to an indoor dining room, there are also several places outside where you can sit. From the bungalows it is a ten-minute walk past banana plantations, small waterfalls and pools to the restaurant.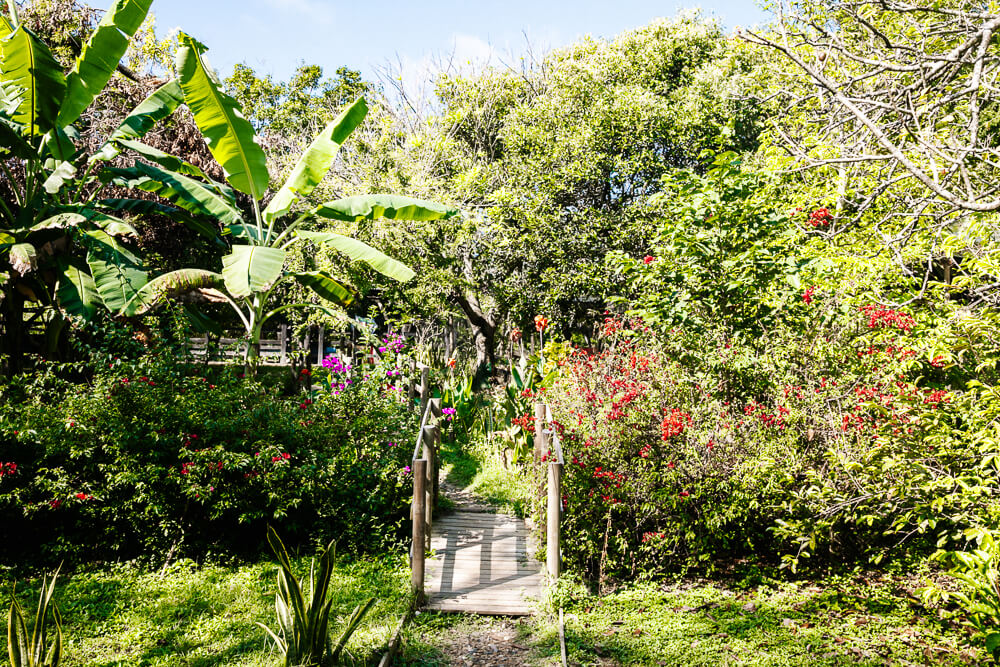 Curious about more hotels in Colombia? Check out the next article with my favorite places to stay in Colombia.
Activities around Ankua Eco Hotel Usiacuri Colombia
Ankua Eco lodge introduces you to the rural life of Colombia. Everything revolves around water, animals and fertile soil. You can learn about ecosystems, farming techniques and life on the farm. In the area you can go hiking, horseback riding or visit Usiacuri.
Hiking & horseback riding
Ankua Eco Lodge consists of 20 hectares, with 3 kilometers of hiking trails. Accompanied by a guide or on your own, you can walk through banana plantations, along small lakes, plantations with citrus fruits, yucca, herbs and flowers. From the small triangle house "El Triangulo" you have a view over the fertile valley. You can also take longer walks in the area. The lovely staff is happy to map out a nice route for you. The area is also suitable for cycling and horseback riding.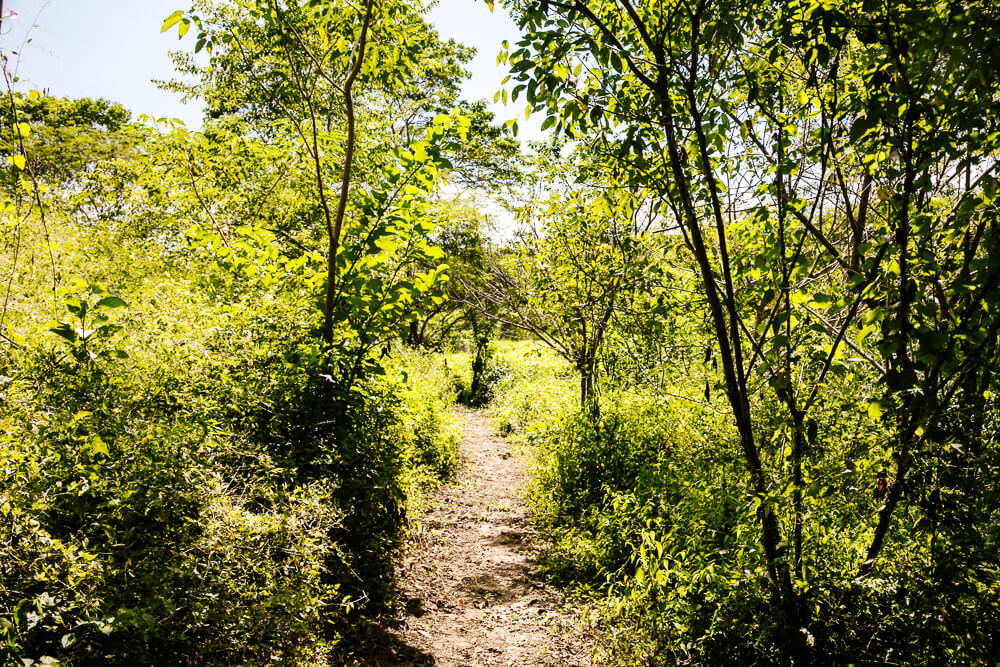 Learn from a Colombian farmer
Curious about the Colombian farmer life? In the early morning you can start the day with the milking of the cows together with a local farmer. A nice experience! Afterwards you will help with feeding and caring for the pigs, birds, fish and horses.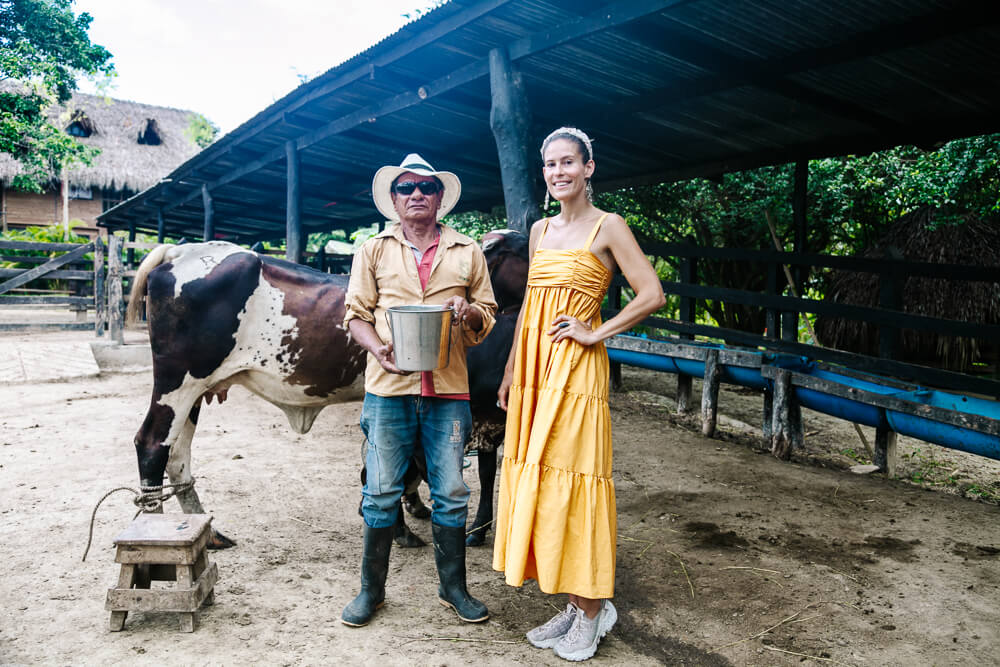 Take a seat by the campfire
A campfire is lit every night after dinner. End the day with a drink and don' forget to roast marshmallows.
Cool off in a waterfall
Ankua Eco Hotel is located in a warm region of Colombia. Maybe better say a hot area. And there is nothing better than to cool off during the day. The complex has a number of small waterfalls, with natural pools. Recommended!
Relax in the nature spa
You can book a massage at Ankua Eco Hotel in Colombia. No luxurious indoor spa, but a lovely bed, located in the middle of the banana fields.
Visit Usiacuri
It is nice to visit Usiacuri, located in the hills of Colombia, which has not yet been discovered by tourists. Usiacuri is known for its thermal baths, used by people who made a stopover here during long journeys. Usiacuri is also the place where Colombian poet Julio Floréz lived for many years. It is a small village without major attractions. But a place where you feel that it could become a tourist hotspot because of the lovely atmosphere. You can take a look at Santo Domingo De Guzman church, stroll through the lovely streets and look for products from the Iraca palm. Many baskets, dreamcatchers and hats are sold here, all made from the fibers of the Iraca palm.
Carnival tip
One of the best places to visit in Colombia in February is Barranquila. During four days, this Caribbean city is completely turned upside down with dance, music, fire breathers and colorful floats because of the annual Carnival de Barranquila. The festivities start on Saturday before Ash Wednesday with the six-hour La Batalla de Flores (The Battle of the Flowers), followed by masquerade parades the next day with dance groups, music and visitors.
Barranquilla's Carnival slogan is: Quien lo vive, es quien lo goza, (Those who live it are those who enjoy it). Attending this festival is a once in a lifetime experience and one of the best things to do in Colombia. Unesco even declared it one of the Masterpieces of the Oral and Intangible Heritage of Humanity in 2003.
How long to stay at Ankua Eco Hotel Usiacuri
Depending on your time and interests, I would recommend staying at least two nights. Ankua Eco Hotel is a place to relax and immerse yourself in the rural life of Caribbean Colombia. Do you have less time but want to break the journey from Cartagena to Santa Marta? Then Ankua Eco Hotel is also a nice destination to stay for a night.
How to reach Ankua Eco Hotel Usiacuri in Colombia
Ankua Eco Hotel is located west of the village of Usiacuri, 50 kilometers from the capital Barranquila in Colombia. You are there within one hour and 15 minutes. Are you coming from Cartagena? Then you drive a nice route through the countryside and you reach Ankua Eco Hotel within 2 hours.
Santa Marta is three and a half hours away and this route is also easy to do. Because Ankua Eco Hotel is not on the tourist trail, it is best to rent a car. Moreover, you are free to stop wherever you want along the way. Make sure you have enough change for paying tolls and download the Waze app. There are many speed traps along the way.
Car rental
Use Rental Cars to search and compare your car rental options. A quick and easy tool and no need to have up multiple tabs trying to figure out which company is the most affordable. They also have great discounts and cancellation policies
More about Ankua Eco Hotel Usiacuri in Colombia
Do you want more information about Ankua Eco Hotel Usiacuri in Colombia? Check the website.You can also follow Ankua Eco Hotel on instagram and facebook. Curious about a stay at Ankua Eco Hotel? Here you will find the latest prices and availability.
More hotels in Colombia
Like any other country, Colombia has so many beautiful hotels. For both work and personal trips, I visited Colombia dozens of times. When I travel by myself, I always look out smaller scale hotels with beautiful interiors, a nice atmosphere and a convenient location. In this article I will tell you more about my favorite places to stay in Colombia: The best boutique hotels, sorted by city and region in Colombia.
More about Colombia
Intererested in reading more about Colombia? This is an article with the most beautiful places to visit in Colombia, including the best time to visit. Or check out the Colombia blog page with city guides and things to do in Bogotá, Medellín and Santa Marta. Tips for lovely towns such as Salento, Mompox and Villa de Leyva. But also the Tatacoa desert and Valle de Cocora. Interested in archaeology? Read more about the mysterious San Agustín statues.
Disclaimer: I was invited to stay at Ankua Eco Hotel Usiacuri Colombia but this review is based on my personal view and is independent from the invitation.
This article may contain affiliate links. If you purchase something using one of our links, we may receive a commission at no extra cost to you, which helps us keep this blog alive. Thank you for your support! Please see our disclosures for more information.