San Cristóbal de las Casas in Mexico is a typical colonial town with colored houses, beautiful facades and atmospheric streets. The city is located at an altitude of 2100 meters in the Chiapas state, a mountainous environment with jungle and rainforest. San Cristóbal is a place where you can walk around for hours and enjoy the nice atmosphere but it is also the perfect base to explore the beautiful surroundings. In this article you will find the best things to do in San Cristobal de las Casas in Mexico, including tips for tours, villages, restaurants and hotels.
Welcome in San Cristóbal de las Casas
San Cristobal de las Casas is the former capital of the Chiapas state in Mexico. Chiapas is inhabited by different indigenous groups, descended from the Maya, who still live according to their own traditions. It is therefore the state with the highest amount of indigenous people. And this is something beautiful to obsere, as many people are still dressed in colorful and traditional costumes. From the patterns, style and colors of their clothing, you can see to which group they belong.
The town is being visited more and more, and nice restaurants, hotels and shops keep on opening. Discover my tips for the best things to do in San Cristobal de las Casas in Mexico in this article.
Things to do in San Cristobal de las Casas Mexico
Explore the colonial center
The Zócalo is the central place, where you will find the yellow cathedral that is depicted in almost all travel guides. Make sure to take a look at the Santo Domingo church and the monastery. In the square in front of the church you will find hundreds of market stalls. A good place if you want to buy Mexican souvenirs. Real de Guadaloupe and the Andador Turistica are two important main streets with many shops, coffee shops, restaurants and Mexican delights.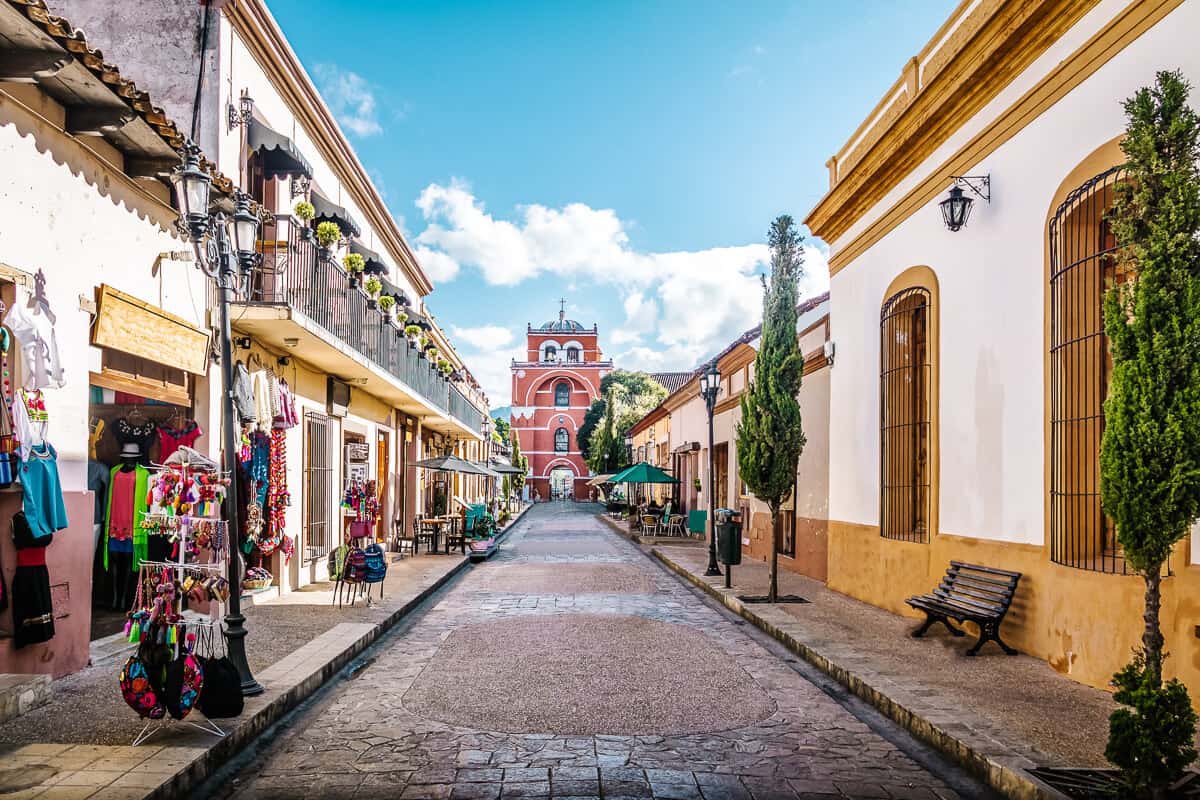 Viewpoints in San Cristobal
One of the things to do in San Cristobal de las Casas in Mexico is to visit the viewpoints: Cerro de Guadalupe and Cerro San Cristóbal. A long staircase leads you up to the little church on the top, from where you have a view of the city.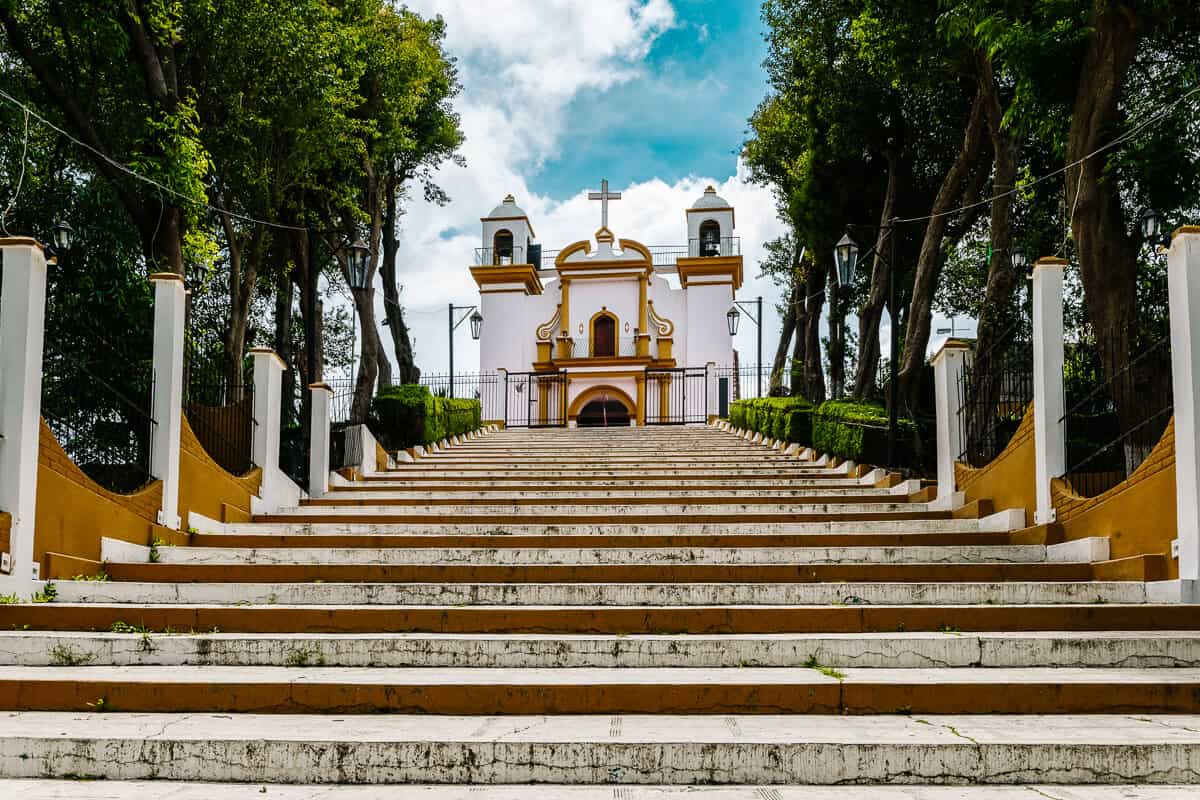 Learn about the Zapatistas
Photographs and souvenirs of armed men with facemasks, including slogans such as "Ya Basta" are things that you see a lot around San Cristóbal de las Casas: in shops or on murals. Something that does not necessarily make you happy. Yet it is important to pause for a moment. The state of Chiapas, and San Cristóbal de las Casas in particular, has a grim history. In the 90s it escalated enormously in the area and streets were dominated by armed soldiers, paramilitaries and police.
Who were the Zapatistas
In the 90s, a movement called the Zapatistas, occupied different buildings and squares to draw attention to the rights of the Indians. The indigenous population in the region was exploited, humiliated and had little rights, something that needed to change according to the Zapatistas. The occupation by the Zapatistas and violence between the involved parties hit hard and caused a grim atmosphere in the cities and countryside for years.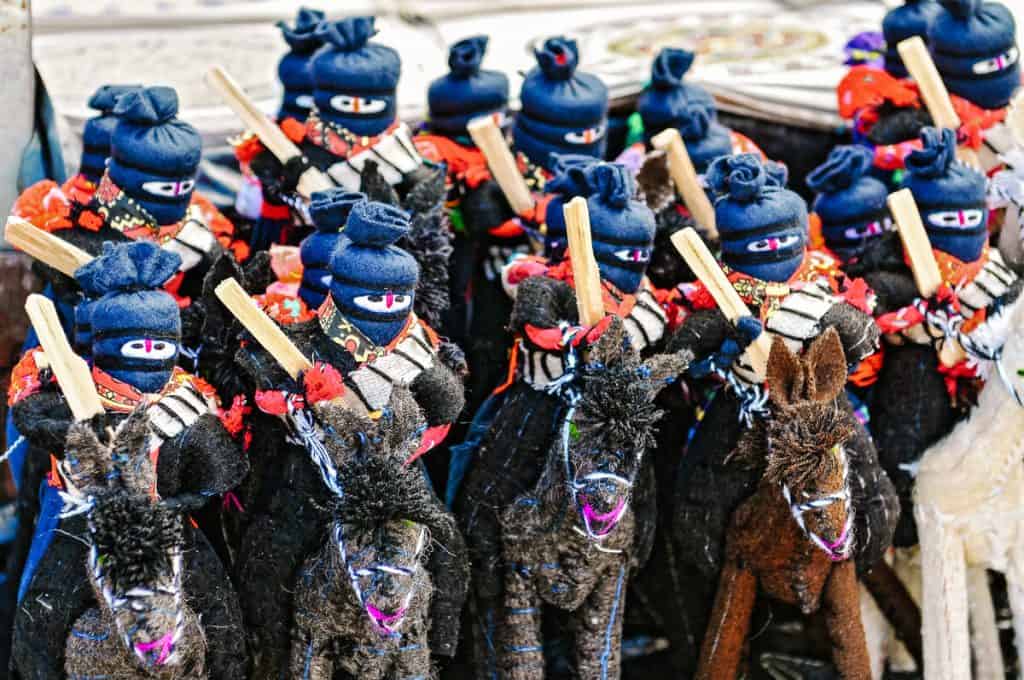 Different shops and art galleries started to exhibit and sell art, inspired by the Zapatistas movement. Personally I am very interested in these social and political issues and art is a great way to learn and understand more about this.
Visit Casa Na Bolom | cultural things to do in San Cristobal de las Casas
One of the best things to do in San Cristobal de las Casas, if you want to learn more about the history of Chiapas state in Mexico, is to visit Casa Na Bolom. This is an interesting museum and research center, founded by an anthropologist and photographer. They spent years researching different cultures, including the Maya, and created an interesting photo exhibition. The museum is located, slightly outside the center, but is easily accessible by bus or taxi.
Evenings in San Cristóbal
In the evening, people from the surrounding villages come together on the main square to sell their products such as typical huipiles, embroidered blouses, scarves, clothes and souvenirs. The square turns into a real night market. Many times, local people gather for some dancing under the columns of the town hall. Seats are placed, a sound system is switched on and people know how to find each other on the dance floor. What a vibe and energy!
Things to do in and around San Cristobal de Las Casas Mexico
El Canyon del Sumidero
A few hours away from San Cristobal de las Casas, near the village of Chiapa de Corzo, you will find El Canyon del Sumidero. With a length of 15 km and walls of 1000 meters high, this is one of the deepest canyons in the world. During a boat trip of about 2 hours you'll have the chance to observe crocodiles, iguanas, monkeys and birds. You can sail to "Arbol de Navidad", the Christmas tree, named like that, because of the mossy green shape on the rock, or continue to the dam and afterwards sail the same way back
One of my travel tips for experiencing Canyon del Sumidero in San Cristobal de las Casas in Mexico is to book your boat trip in advance, so you don't have to make a line. Especially on weekends, as it can get very crowded. This is an overview with tours that you can book in advance. Also bring something warm, you'll be in the shade most of the time.
Visit local villages
One of the interesting things to do in the surroundings of San Cristobal de las Casas in Mexico is to visit indigenous villages, such as Zinacantán and San Juan Chamula, inhabited by the Tzotzil.
San Juan Chamula
The village of San Juan Chamula is located about 5 km away from San Cristobal, known for its weekly colorful market. But the real reason to visit this village is because of Iglesia de San Juan. This little white church, located in the middle of the square, shows a unique mix of catholic and indigenous beliefs.
Countless people find their way to the church only a daily base, to make sacrifices, perform rituals and to worship their saints. It is dark in the church, the niches contain saints, surrounded by mirrors and the floor is covered with pine needles. Families take their seat on the ground, burn their candles, drink pure alcohol, shout at their saints while turning the necks around their chickens. A visit to this church can be an intense experience and is therefore not recommended for everyone. It is absolutely not done to take photos inside.
Zinacantán
Zinacantán is famous for its flowers and handcraft. You can visit the flower church on the square and a local family to learn more about weaving techniques. Of course this visit is a bit commercial but if you are able to let this feeling go and interested in meeting the locals, Zinacantán will be an interesting visit. Walk around, explore the town and have a chat with local people, inviting you to their art gallery.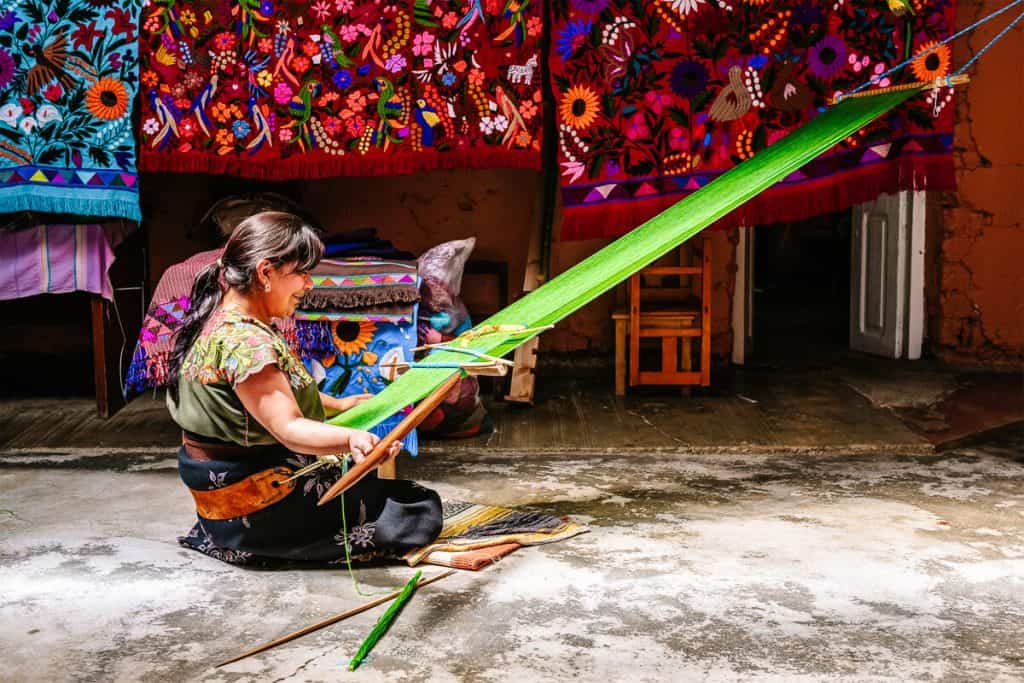 Do you also want to vist the villages Zinacantán and San Juan Chamula? You can check prices and availability here.
Mini travel guide San Cristobal de las Casas in Mexico
Restaurants
San Cristóbal in Mexico has many nice restaurants and cafes to go for drinks, a great lunch or dinner. Here are a few of my favorite places.
La Casa del Pan is a nice place where you can eat delicious vegetarian food. On the street side there are a few small tables, where you have a view of the main street. Inside there is a covered patio, where you can easily open your laptop and do some work.
Cafeología won several awards and is still one of the best places for coffee. It is a small cafe where you can sit down or order a "to-go".
Oh la la, is one of the very best French bakeries in San Cristóbal de las Casas. The shop windows are full with the most delicious rolls, croissants, pies, macarons and other sweets. It is usually very busy so be patient if you want to get a table.
For a good breakfast, head to Frontera Artisan Food and Coffee.
Ready for some tapas and wine? Then make sure to reserve a table at La Vina de Bacco.
A tip for the vegetarians: Bek and Semilla De Vida.
For a fine dining experience with a local cuisine, book a table at Tierra y Cielo Restaurante.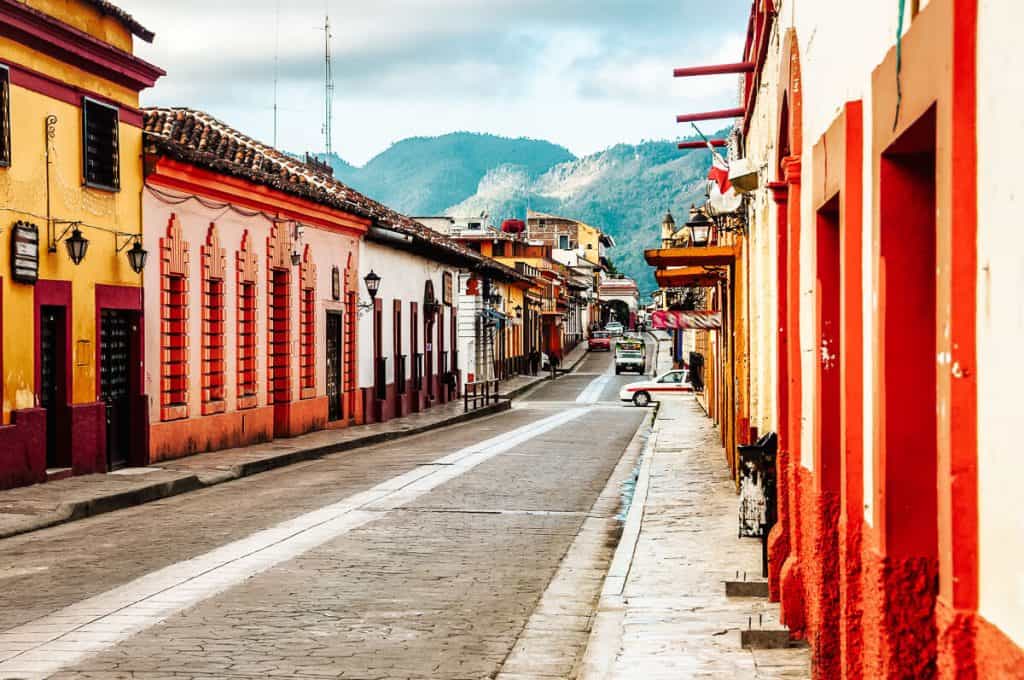 Hotels San Cristobal de las Casas Mexico
I always look out for beautiful and unique places to stay, especially boutique hotels. These are some of my recmmendations for hotels in San Cristóbal de las Casas in Chiapas Mexico.
Tours in San Cristobal de las Casas
Curious about tours and other things to do in San Cristobal de las Casas Mexico? This is an overview of tours:
Weather in San Cristobal de las Casas Mexico
San Cristobal de las Casas in Mexico is located at an altitude of 2100 meters. During the day it is often sunny, but in the evening it can cool down. The best time to visit San Cristóbal de las Casas in Mexico is from January to April and the months of November and December. In this period the temperatures are pleasant and there is not too much rain.
Mexico itinerary
Do you want to know how to include San Cristobal de las Casas in your trip to Mexico? Check out my Mexico itinerary for 3 weeks, bringing you from Mexico City all the way to the Yucatán peninsula. I will show you beautiful cities, places in nature, archaeological sights, activities and cultural highlights to include in your trip. Enjoy and get inspired to visit Mexico!
More about Mexico
Did you enjoy reading this guide with tips for the best things to do in San Cristobal de las Casas in Mexico. Looking for more tips and inspiration? In the next articles you can discover more about beautiful Mexico:
Interested in art, culture and archaeology? Read my articles about:
This article may contain affiliate links. If you purchase something using one of our links, we may receive a commission at no extra cost to you, which helps us keep this blog alive. Thank you for your support! Please see our disclosures for more information.