What to do in Valladolid in Mexico? Valladolid is a typical Mexican city! A large square with a beautiful cathedral, a friendly atmosphere, a monastery, colonial buildings with countless colors and a cenote that lies in the center of the city. Valladolid is a great city to include in your trip to Mexico and use as a base for a visit to the Mayan ruins of Chichén Itzá and the impressive nearby cenotes. In this article you will find the best things to do in Valladolid in Mexico and surroundings, including tips for the cenotes, hotels and restaurants.
What to do in Valladolid in Mexico | 25 tips
Stroll around Calle de los Frailes
One of the best things to do in Valladolid in Mexico is to stroll around Calle de los Frailes, the most beautiful street of the city. Every building here is worth a picture, due to the countless colors and beautiful flowers and plants. You'll find boutique hotels, small restaurants and beautiful stores. A street you want to keep coming back to!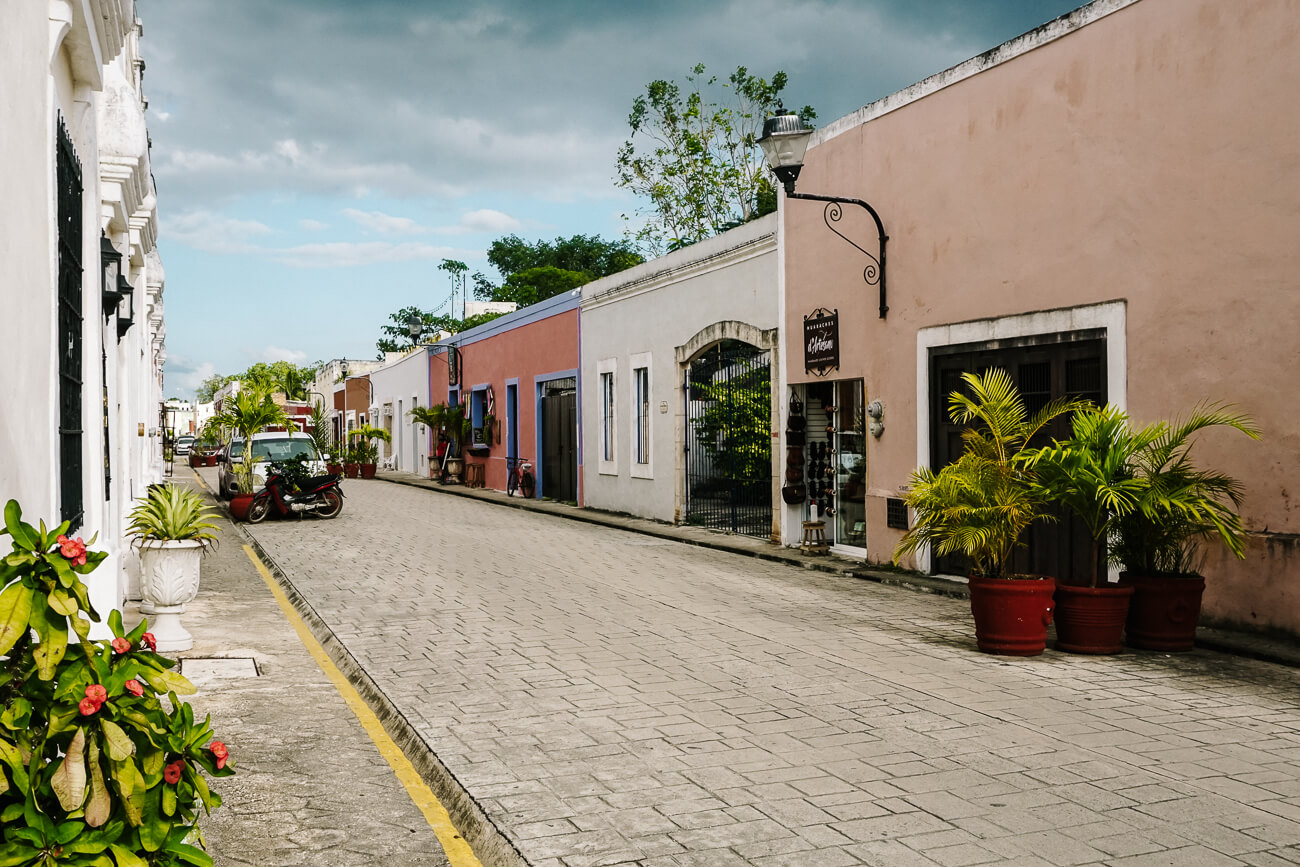 Take pictures of the colored houses
Also in the city center you will find colored houses everywhere. One supermarket is red, the pharmacy is yellow, a clothing store is pink and one street over it is completely different. It is a feast for the eyes and one of the most amazing things to do in Valladolid if you want to take many pictures.
Settle down in the plaza and visit the cathedral of Valladolid in Mexico
Valladolid has a large plaza with a cathedral, the San Gervasio Cathedral. It is a typical Mexican plaza, in the middle of the city that, like many other Mexican cities, was built in the shape of a chessboard pattern. It is the place where the locals gather for a snack, drink and chat at the end of the day or in weekends.
Also, during the sunset hundreds of starlings gather here, a beautiful sight! If you are interested in art, one of the things to do is to take a look at the Palacio Muncipal (the town hall) in Valladolid Mexico. Here you can find interesting paintings.
What to do in Valladolid in Mexico | Visit Convento San Bernardino di Siena
At the end of the calle de los Frailes you will find the Convento San Bernardino di Siena, located on a large square. This convent was built in the 16th century as a religious center and defense fortress. It is possible to visit the monastery (it is sober inside) or observe it from the outside. In fact, in front of the monastery you will also find the "famous" Valladolid letter sign, a photo spot for those who love it. In the evening there are regular light and music shows, something to keep an eye on!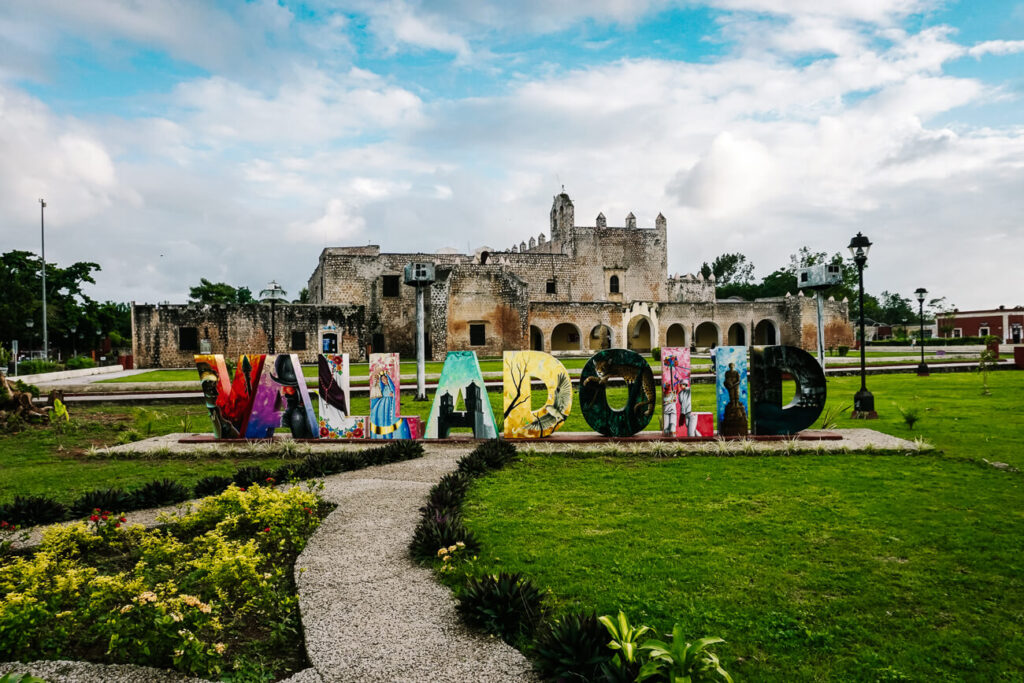 Shop in stylish boutiques in Valladolid in Mexico
Calle de los Frailes is home to a number of beautiful stores that focus on crafts and design. You'll find jewellery, interior items and clothing made from natural materials. It is recommended to have a look, or if you have room in your suitcase, maybe make a few unique purchases. Take a look especially at La Troupe, Folks Valladolid, Auras and Caravana.
Enter the Coqui Coqui Farmacia Perfumeria
One of the best things to do in Valladolid Mexico is to visit the Coqui Coqui Farmacia. Literally translated it means the Coqui Coqui pharmacy but actually it is a large perfume store, with all kinds of fragrances, presented in an authentic pharmacy setting. You can also stay overnight in one of the fantastic luxurious suites. Coqui Coqui is a concept by duo Nicolás Malleville and Francesca Bonato, who were inspired by the lifestyle, scents and colors of Yucatan in Mexico and French Polynesia. Entering a Coqui Coqui store or hotel is a true design dream. There are branches in Cobá, Mérida, Izamal and Valladolid.
What to do in Valladolid in Mexico | Jump in the Zaci Cenote
One of the special things to do in Valladolid in Mexico is to visit the cenote located in the center of the city, the Zaci cenote. This cenote lies only a few hundred meters from the central plaza and is surrounded by market stalls. It is the place for local people to cool off in.
I personally did not swim in it but found it a fun place to observe local life. And if you don't have time to visit other Valladolid mexico cenotes, this is the perfect way to still be able to swim in one. Because the locals visit it a lot, the entrance fee is also much more affordable.
Go book shopping in the Dante Libreria
Are you looking for great books about Mexico? Then walk into the Dante bookstore. Located in the central plaza of Valladolid, it has an extensive selection of books on the art, culture, sights and history of Mexico.
Restaurants in Valladolid in Mexico
What to do in Valladolid in Mexico | lunch in TresvanBien
TresvanBien, (three go well), I immediately liked the name and when I heard it was an Argentine restaurant, I had to go there. In this lovely place you can taste the perfect Argentine empanadas (filled dough rolls with whatever you desire), crepes and fresh juices. Take a seat in the courtyard garden or in the nicely decorated cafeteria. Try to get a spot by the open door between the plants, so you have a nice view of the street.
Yerbabuena de Sisal
Another nice place is Yerbabuena de Sisal located on the plaza opposite the Convento San Bernardino di Siena. In the fine courtyard there are several wooden tables with colored chairs and ditto tablecloths. The menu consists of Mexican dishes with many vegetarian options and healthy juices. And everything is super fresh!
Restaurante El Atrio del Mayab
To the left of the cathedral, on the plaza, you will find el Atrio del Mayab. At first it looks like a true tourist hotspot but during my visit, there were only locals. If you walk all the way to the back you come to an idyllic courtyard garden overlooking the cathedral. Mexican cuisine takes center stage here and the dishes are, in a word, delicious. Tortillas are made before your eyes by the lady of the house and romantic Mexican music plays in the background. Highly recommended!
Meson del Marques Valladolid Mexico
This restaurant is part of the plaza-side hotel Meson de Marques.You dine in style in a large colonial courtyard, with both Mexican and international dishes. Delicious!
Valladolid Mexico Hotels
What to do in Valldolid in Mexico when you are looking for a place to stay? Valladolid has numerous great places to stay, around the plaza or in calle de Los Frailes. This is a list with my favorite Valladolid Mexico hotels.
Casa Tia Micha – Valladolid Mexico hotels
Casa Tia Micha is a nice place in the center of Valladolid. It is a beautiful colonial building with a large courtyard garden. The rooms are spacious, with high ceilings and decorated in colonial style. Very comfortable and affordable. Moreover, the staff is truly nice and does everything to make your stay as pleasant as possible. Opposite and to the right of the hotel you can park for free. This place is highly recommended!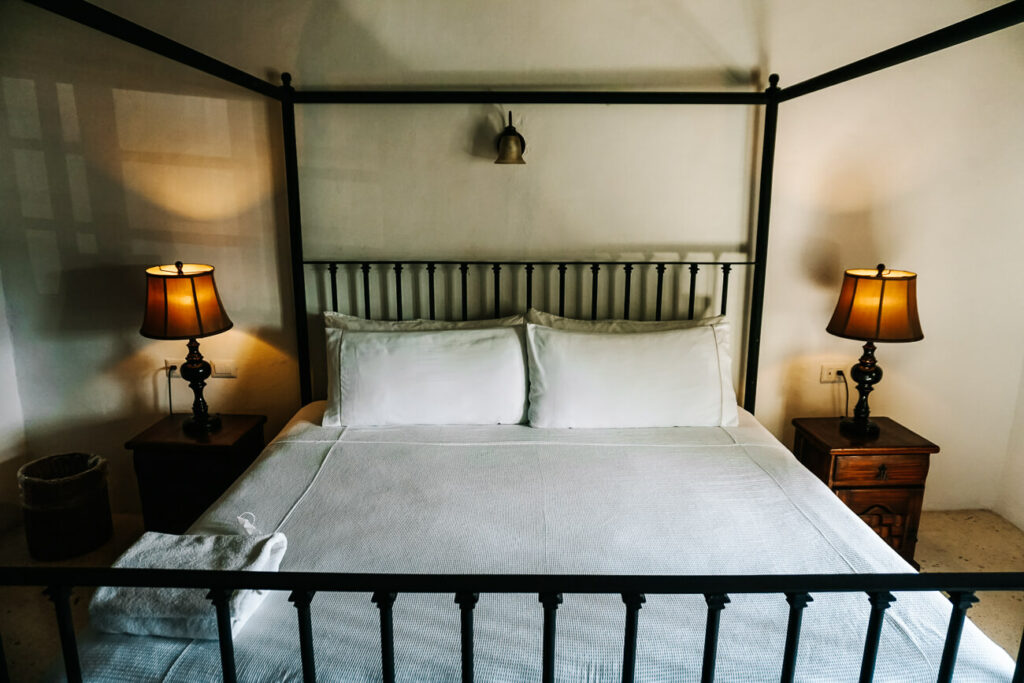 Learn more about the latest prices and availability for Casa Tia Micha in Valladolid.
Le Muuch Boutique Hotel
Are you looking for a bit more luxury? Then take a look at Le Muuch Boutique Hotel, a small-scale boutique hotel in the center of Valladolid. There are 21 rooms in different categories, surrounded by lots of greenery, a nice outdoor swimming pool and a restaurant. And everything is so beautifully decorated in Mexican style. Highly recommended!
Learn more about the latest prices and availability for Le Muuch Boutique Hotel in Valladolid.
Coqui Coqui Meson de Malleville – Valladolid Mexico hotels
Do you want to spend the night in a unique, stylish and luxurious place? Then Coqui Coqui Meson de Malleville or la Perfumeria is going to be your dream destination in Valladolid. The latter is located in the same colonial building as the Coqui Coqui Farmacia. An indescribably beautiful place, for wich you maybe need to save some money for. But believe me, you won't regret it. It is important to book in time. There is only 1 room available.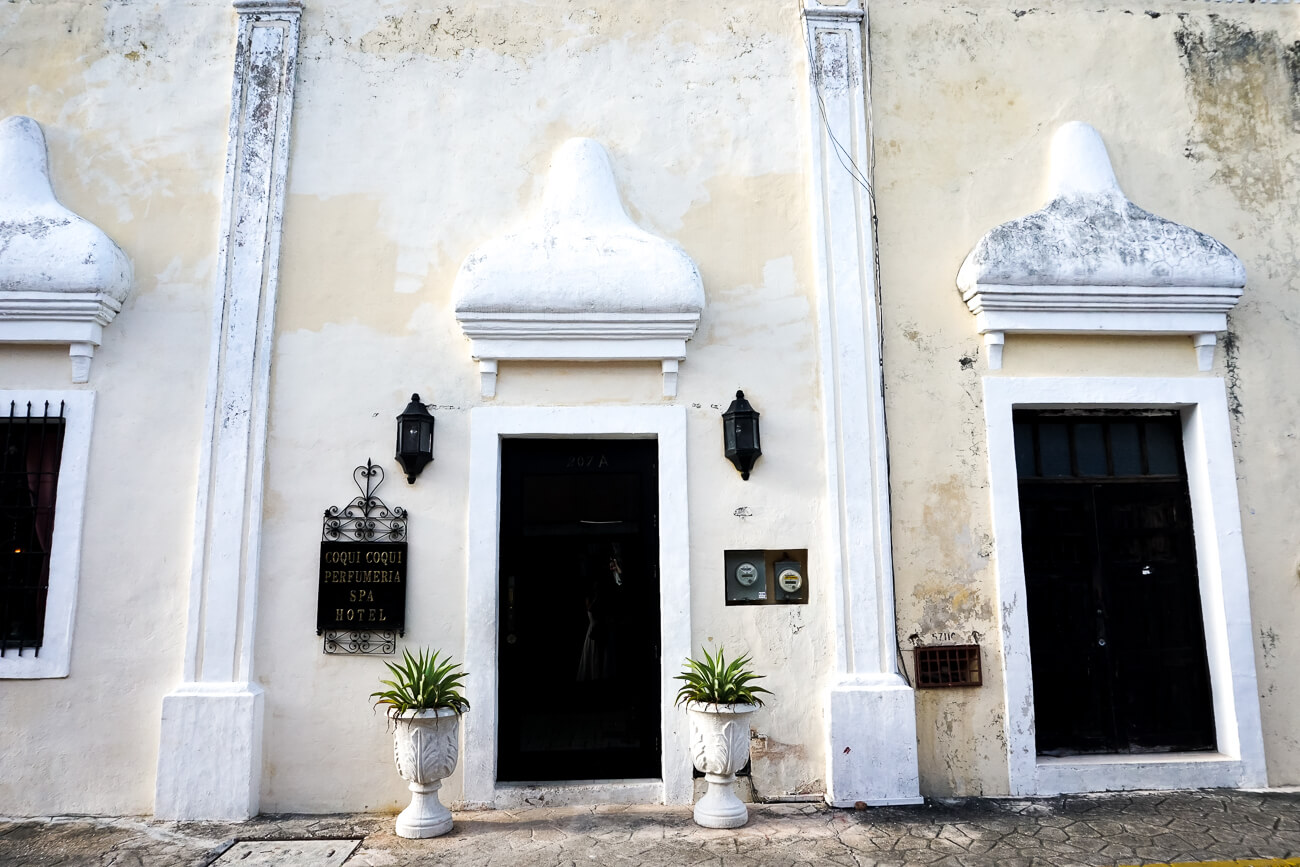 Looking for a nice place to stay in Valladolid? Learn more about Valladolid Mexico hotels here.
How to get around in Valladolid in Mexico
In Valladolid, all the sights are within walking distance. Do you want to explore the surroundings of Valladolid in Mexico? Then it's best to rent a car or book an organised tour.
Cenotes around Valladolid in Mexico
The peninsula Yucatán is known for its cenotes. These are water-filled caves or hollows that played an important role in Mayan times. The Mayas saw these caves as the gateway to the underworld and organized their ceremonies there. Nowadays you can visit these cenotes to swim, dive or just enjoy the beautiful atmosphere. Here are some of the most beautiful Valladolid Mexico cenotes.
Cenote Ik Kil | Valladolid Mexico Cenotes
This is perhaps one of the most beautiful Valladolid Mexico cenotes. Cenote Ik Kil is completely open at the top, allowing the sun to shine in. The beautiful light and green lianas coming down from the cenote create a heavenly picture. This cenote is visited by all tour buses because it is around the corner from Chichén Itzá. Make sure that you are here as early as possible so that you are ahead of the groups. If you can't, my recommendation would be to not stop here. You don't want to be swimming in a cenote with hundreds of people at once.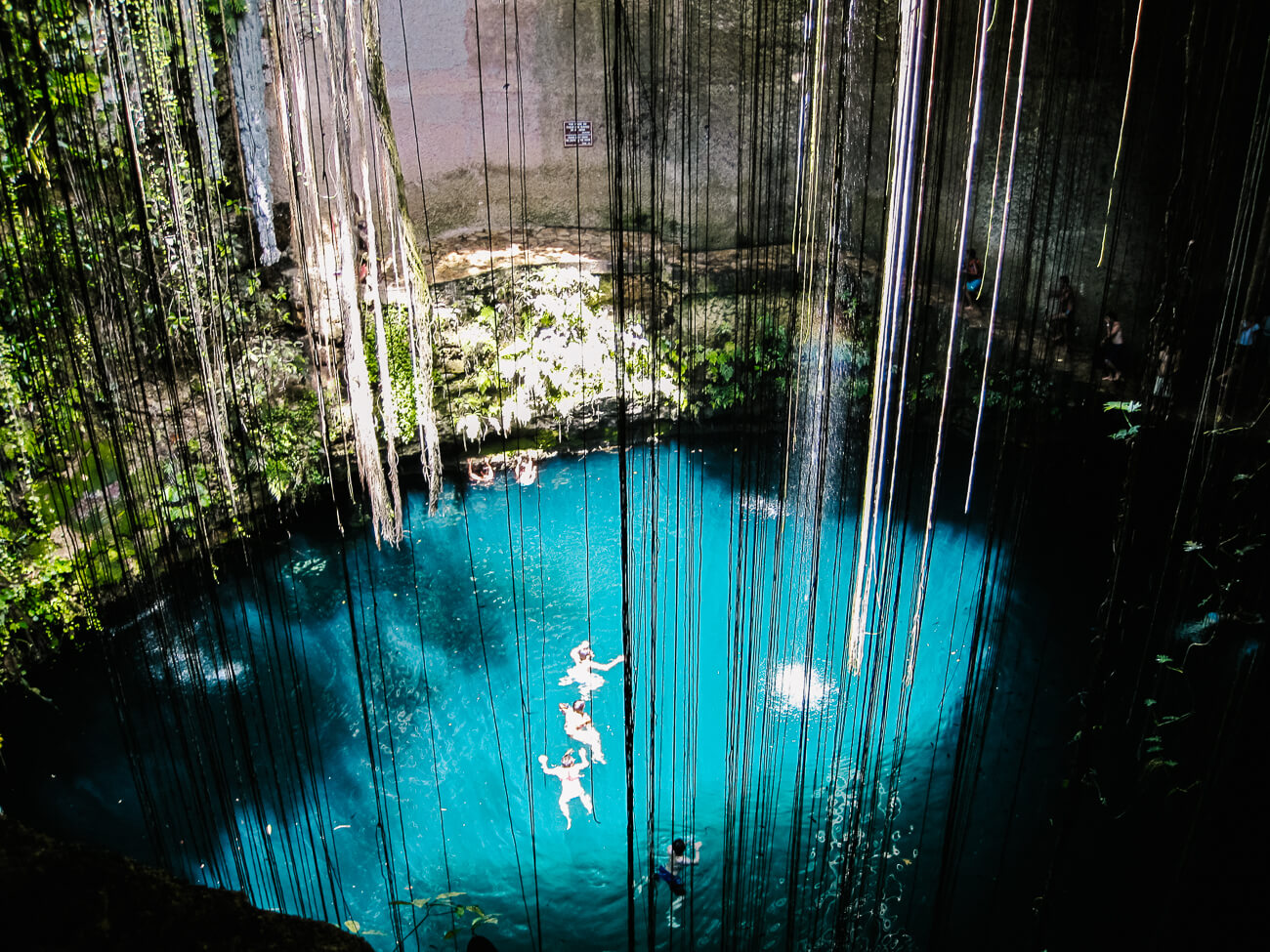 Keep in mind that it is not allowed to wear sunscreen and makeup when you enter the cenote, as you will pollute the ecosystem. Beforehand you must shower and leave your belongings in a locker. Bring a waterproof bag if you plan to photograph. Depending on the water level, you will soon be walking up to your upper body through the water to reach the cenote.
Cenote Suytun | Valladolid Mexico Cenotes
One of my favorite Valladolid Mexico cenotes is Suytun, because of its mysterious atmosphere. This cenote is closed at the top so it actually looks more like a cave. Suytun is known for its platform. In the past, you could walk across the platform halfway into the water. Nowadays the platform is under water and you can only swim across it. During my visit, the water on the platform was up to 3 meters high. Via a slippery staircase (make sure to wear good shoes!) you walk down. You can take your belongings with you and put them on a bench. Life jackets are mandatory, which is not bad because it keeps you floating on the water.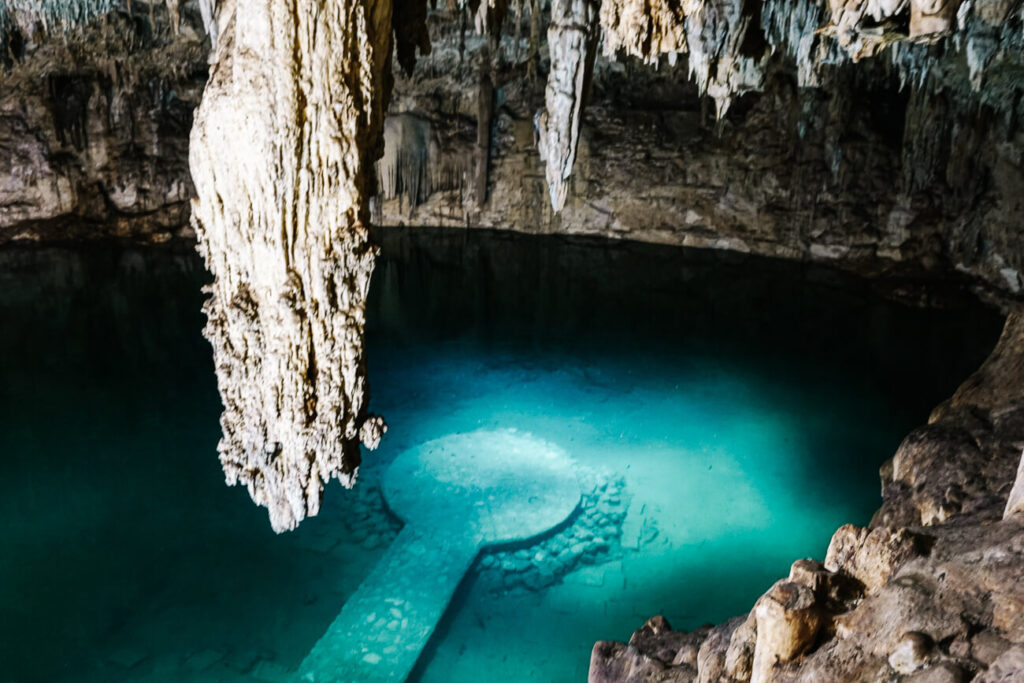 Other cenotes around Valladolid in Mexico that are worth visiting are Cenote Oxman/ Hacienda San Lorenzo and Cenote Xkeken.
What to do around Valladolid in Mexico
Valladolid is the perfect base for some impressive surrounding sights. Read more about what to do around Valladolid Mexico for a day trip. Or your next destination during your itinerary through Mexico.
Travel from Valladolid to Chichén Itzá
One of the best things to do in Valladolid, Mexico, is to visit the archaeological site of Chichén Itzá. Chichén Itzá is an ancient Maya city and currently listed as one of the wonders of the world.
The temple of Kukulchan (El Castillo) is probably one of the most photographed buildings in the region. It is a perfect pyramid, consisting of 4 stairs with 91 steps each, which are equal to the number of days of the solstice. Every moment of the day the light is different. You will also be able to observe the largest ball court from the former Mayan empire, an ancient cenote that the Mayans used for their rituals, an area with 1,000 identical columns and an ancient observatory. The city consists of two parts, the old and new city built in different periods. And if you look closely, you can distinguish the architectural styles. For example, in one part you will find a much more minimalist architectural style and in the other part more ornamental architecture.
From Valladolid in Mexico to Chichen Itza it is a 45 minute drive. The best tip I can give you for a visit to Chichén Itzá: Make sure you are at the door at 8 o'clock (when the site opens). Then the market stalls are still building up and you'll be ahead of the tour buses. Between 10 and 10:30, most buses arrive from Cancun and that's when you really want to be gone. Read more about the best ruins to visit in Mexico in the next article.
Take pictures at the church of Uayma
Only twenty minutes' away from Valladolid in Mexico, lies one of the cutest little churches: The church of Uayma, all in pink with numerous decorations. If you're traveling by car towards Mérida or vice versa, make sure to stop here for a picture. After Uayma there are more sleepy villages with small churches in different colors.
Explore Izamal, the yellow city of Mexico
If you are in Valladolid and you have time to travel north, visit Izamal, the yellow city of Mexico! And this name is entirely appropriate, as the center of the city is painted completely yellow. It is unclear what the reasons for the yellow colors are, but for sure it is one of the best things to do around Valladolid in Mexico! Walk through the yellow center, visit the yellow monastery and climb the remains of ancient pyramids. In fact, Izamal was a religious center for the Mayans before the Spaniards arrived. Don't forget to plan a delicious lunch at Kinich.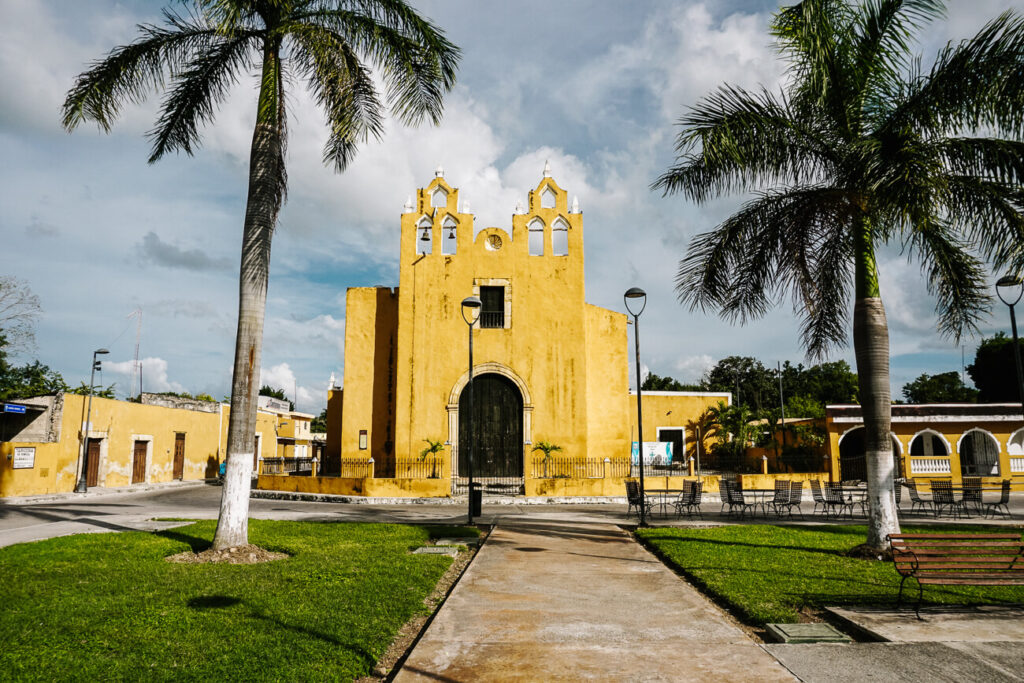 Izamal can be visited within 1.5 hours from Valladolid, Mexico. It is best to visit the yellow city in transit to or from Mérida, Mexico. In the next article you will find 10 tips for what to do in Izamal.
Discover the archaeological site of Coba
Coba is one of the archaeological sites, located in the jungle, on the shores of the lakes Lago Cobá and Lago Macanxoc. During the Mayan era, Coba was an important trading and transportation city. The complex consists of no less than 80 km2 and only a small part has been excavated.
Its location in the jungle makes for an extra beautiful experience. In Cobá you can admire the great pyramid Nohoch-Mu, or Castillo, of more than 42 meters high, the second largest in Yucatan (the largest is located in Chichén Itzá). There is also a ball court, observatory, region with stelea and remnants of murals.
Coba is visited by fewer people than Chichén Itzá. Nevertheless, it is recommended to go as early as possible. Big chance that you will be walking here with only a few other people. The site can be explored on foot but the distances between the archaeological excavations are great (around 1 kilometer). If you don't feel like walking, you can rent a bike or bicycle taxi. In the next article you will read more about the best ruins to visit in Mexico.
Enjoy the cenotes around Cobá
If you still have energy left after your visit to the archaeological site, then also visit the cenotes Tamkach-Ha, Multum-Ha and Choo Ha around Coba. These are somewhat smaller than the famous Valladolid Mexico cenotes, but therefore less crowded.
Cobá is a 45-minute drive from Valladolid and is best visited on your way to Tulum on the Riviera Maya.
Relax at Isla Holbox Mexico
A 2-hour drive from Valladolid, lies the most beautiful beach destination in the country: Isla Holbox. The beautiful blue waters, the snow-white beaches, the pelicans flying over your head, the delicious ceviches and the laid back vibe make it a destination to come back to again and again.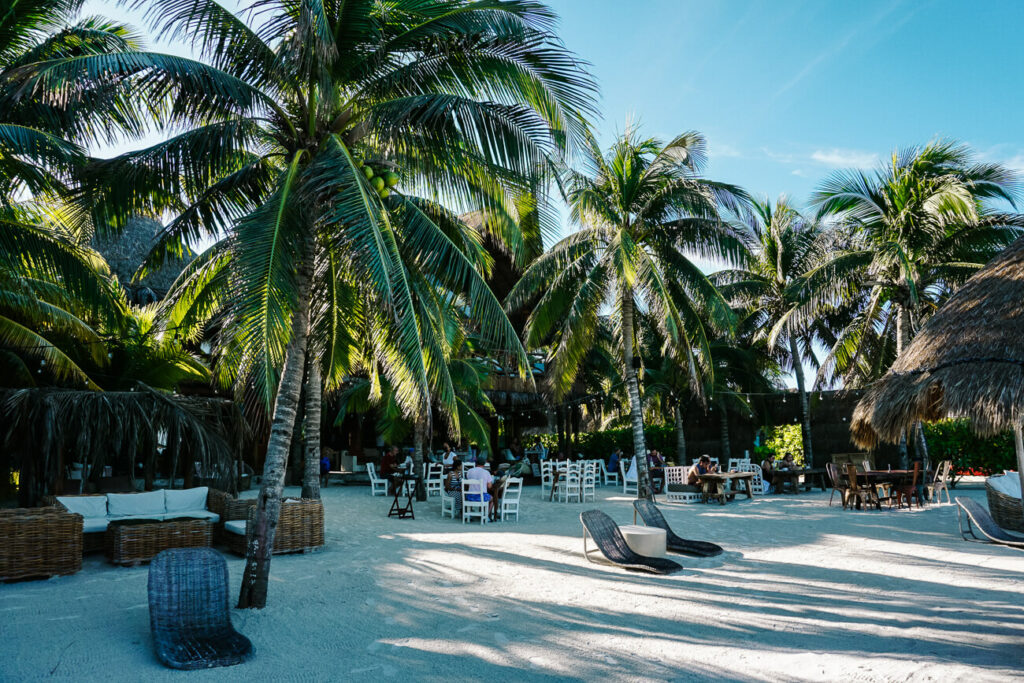 Isla Holbox is a peninsula and also a protected nature reserve, with more than 150 species of birds. You can enjoy the sun, sea and beach but also go for beautiful walks and swim with whale sharks. In the evenings you will be able to observe a natural highlight called, bioluminescence, organisms in the water that emit light. And if you like street art, the small town of Holbox has countless cool painted walls, created by artists from all over the world.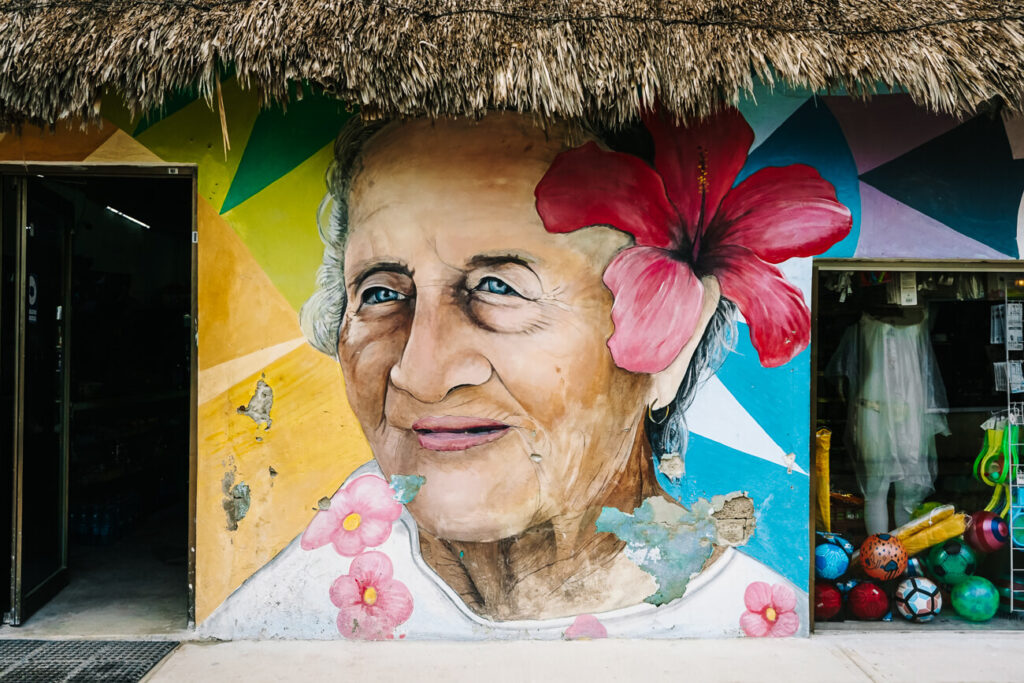 Holbox is a peninsula in the north of Yucatán and only accessible by boat. It is peaceful and less visited than the Riviera Maya, which includes Cancun, Playa del Carmen and Tulum. From Valladolid you drive in 2 hours to the town of Chiquila from where you take the ferry to Holbox. Holbox is car-free so it is best to leave your car in one of the local parking garages around the harbour.
Stroll around the white city Mérida
Mérida is the capital of Yucatán and is a 2-hour drive from Valladolid in Mexico. It is also called the art and culture city of the Yucatan peninsula. The city is therefore bursting with museums, festivals and art projects. In Mérida you can easily spend a couple of days exploring the colonial center with its white-painted houses and the beautiful Paseo de Montejo. Along this boulevard, also known as the Champs-Élysées of Merida there are old mansions that have been transformed into museums or stores. Concepthouse, Casa T'ho with its various boutiques and large courtyard garden is an absolute must. In addition, Merida has numerous nice coffee shops and restaurants like Kuuk and Huniik, which take you on a culinary journey through Mexico.
Discover the Mayan ruins of Ek Balam
Have you visited Chichén Itzá and are you looking for more archaeological attractions around Valladolid? Then visit the ruins of Ek Balam. Ek Balam means black jaguar and it is a 30-minute drive from Valladolid. There are 45 remains of structures, the most impressive being the 32-meter-high Acropolis. It is the tranquility that makes a visit so impressive because you can really soak up the magic of the former Mayan city.
Pin and save "Things to do in Valladolid in Mexico" for later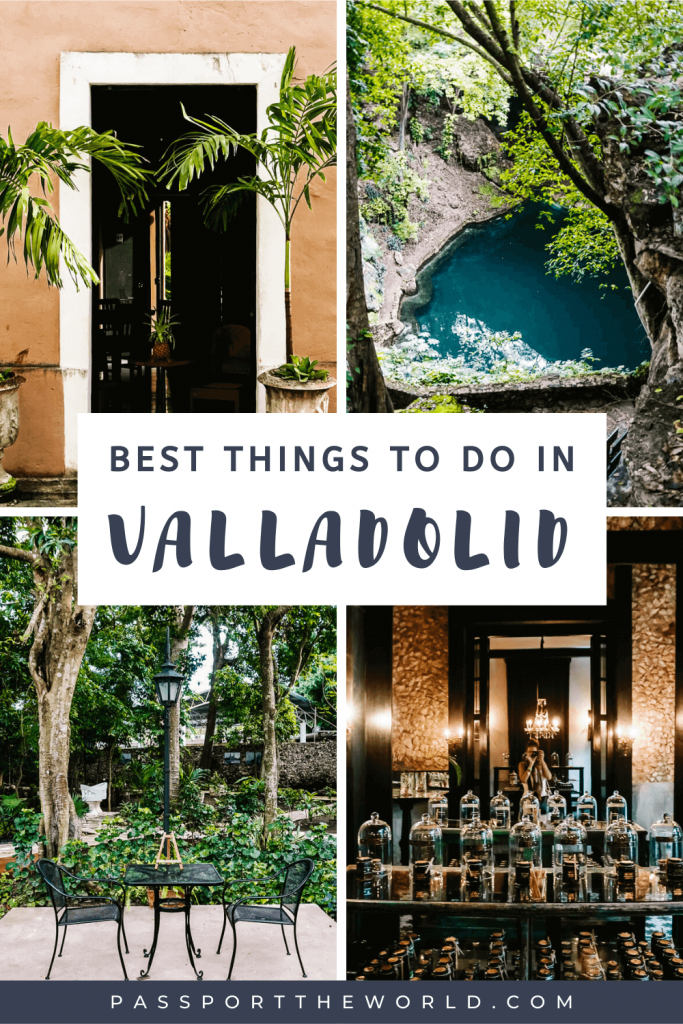 More about Mexico
Mexico is a country that inspires in every sense. Each state in Mexico has its own character, atmosphere and highlights. In the next article you'll find my best travel tips for what to do in Mexico. Discover scenic and cultural destinations, art, beaches, culinary experiences, archaeological highlights and information about safety, best travel time and transportation. Looking for more tips and inspiration? Also check out the Mexico archive for articles about the best things to do in Oaxaca, a guide for the yellow city of Mexico, Izamal, what to do in San Cristobal de Las Casas and tips for a Mexico itinerary 3 weeks. Interested in archaeology? Read more about Yaxchilán, Monte Alban and the best ruins to visit in Mexico in the following articles.