Many people think La Paz is the capital of Bolivia, but that's not the case. The official capital of the country is Sucre. And Sucre is one of the most beautiful cities in Bolivia. You can walk through the colonial center, visit the many churches, monasteries, the white buildings with their inner gardens and museums for hours. And also the beautiful surroundings, traditional markets, villages, and the mighty Andes mountains are worth visiting. Because tourism in Bolivia is still limited compared to Peru, you will have most of the places all to yourself. But what to do in Sucre Bolivia? In this article I'm sharing the best things to do in Sucre and its beautiful surroundings in Bolivia.
Welcome in Sucre Bolivia
Before we go into the list about what to do in Sucre Bolivia, let's dive into a bit of history and background. Sucre was founded by the Spaniards as La Plata in 1538 and was the first official city in the country. Independence was declared in 1825 and the city was named after Antonio José de Sucre, the independence fighter and first president of Bolivia. Contrary to what many think, Sucre is the official capital of Bolivia and not La Paz. La Paz is often seen as the capital because the parliamentary and administrative authorities are located there.
Sucre is also known as la Ciudad Blanca (the white city), because of its many white buildings in the city center. And there are still strict building rules to maintain this appearance. The city is situated at 2,800 m above sea level and has a pleasant climate. Therefore the city is often called city of spring. In the Bolivian winter (our summer months) you will find a clear blue sky with the sun shining the entire day. In the evenings temperatures drop and it can get really cold, sometimes even below zero. So you have to be prepared. Sucre has around 250,000 inhabitants and is a nice city to stay for a few days. Enjoy this list with best things to do in Sucre Bolivia!
Things to do in Sucre Bolivia
Visit Convento de San Felipe Neri | Sucre things to do
One of the best things to do and my favorite place to visit in Sucre Bolivia is the Convento de San Felipe Neri, a 17th century monastery. Nowadays a primary school. The roof is open to the public and offers a beautiful view of the city. One of the best things to do in Sucre is to go there at the end of the day, as the city gets a magic glow. The entrance is a bit difficult to find and because opening times are not always clear, you might have to ring the bell several times a day to be let in.
Museo de Arte Indígena Asur
A museum about handicraft and weaving art may not sound appealing to everyone. However, you should not skip a visit to the Museo de Arte Indígena Asur when you are in Sucre. Especially if you are planning to visit one of the surrounding markets. This museum has managed to exhibit the local weaving art and traditional weaving techniques in a beautiful and fashionable way, by using light, video, music and design.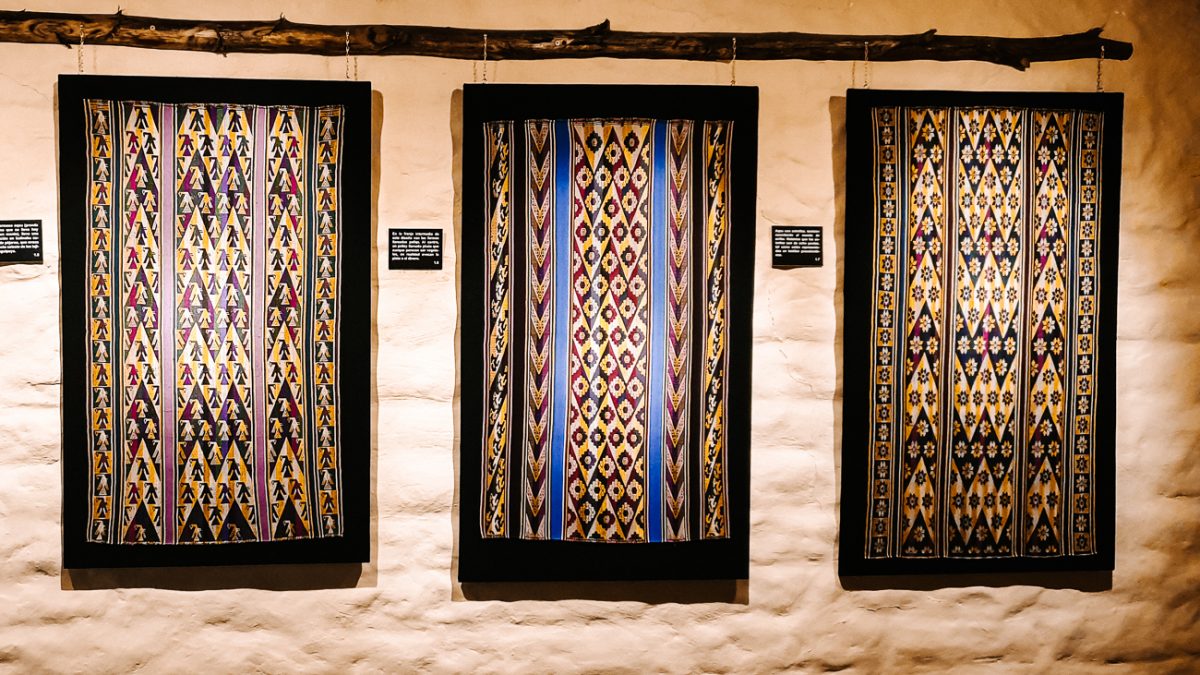 The most beautiful rugs are displayed on the walls, including traditional costumes and musical instruments. Rituals and sacrifices, taking place prior to the weaving process, are clearly depicted and explained. The museum explains, among other things, that patterns, motifs and use of color show in which village or municipality a piece was made. And of course you will learn more about the process, what it takes to produce one piece of cloth.
Enjoy the Orígenes show | cultural things to do in Sucre Bolivia
One of the best cultural things to do in Sucre is to join the Origines show. In an almost 2-hour music and dance program, you will be taken on a journey through Bolivia. The dancers are professionally trained and fantastic. And the costumes are breathtaking! Of course this show attracts tourists, but due to the setting and the large number of Bolivian guests, it remains its local character. You don't have the feeling of entering a big tourist show.
Find a bench and observe local life of Sucre
Of course you want to visit a number of sites but it can be just as nice to stroll around and take a seat on one of the many city benches. For example, Plaza 25 de Mayo is a gathering place for locals all day long. Parque Bolivar is the place for families to picnic on weekends. A great way to observe daily life and get in touch with the locals. If you speak a little Spanish, you will be part of a conversation before you know. Definitely one of the best things to do in Sucre.
Beautiful view points
For a nice view of Sucre and the surrounding area, go to Hotel Kolping. The hotel has a restaurant where you can have lunch and dinner. But the real reason to visit this place is the small roof terrace on the top right, with a few tables and chairs. The perfect spot to enjoy the sun and beautiful view! Another nice place is Cafè Mirador, on the Recoleta plaza. This is a large terrace with a beautiful view of the city.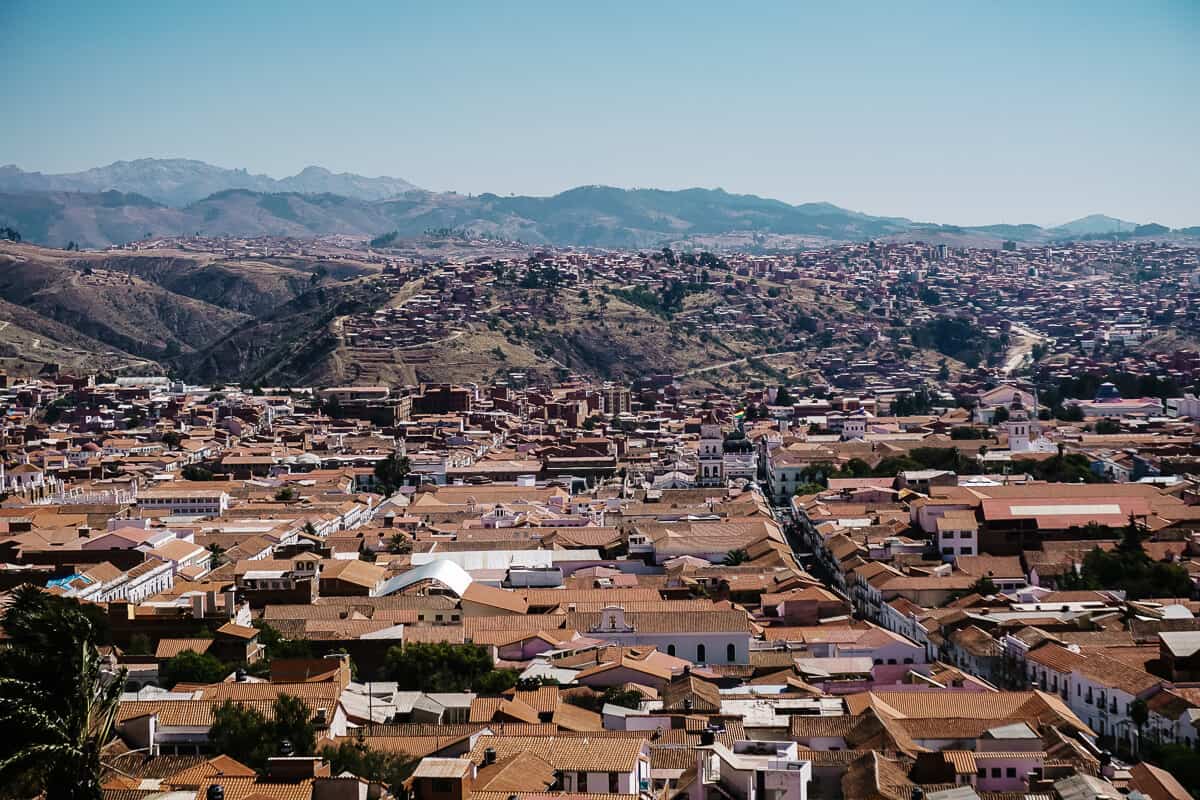 Explore the colonial center | things to do in Sucre
The colonial center of Sucre Bolivia has been on the UNESCO cultural heritage list since 1991. It has numerous colonial squares, patios, beautiful houses, churches and monasteries to explore and discover. Because the city is built in a chessboard pattern you will not get lost easily. Plaza 25 de Mayo, with its palm trees, the cathedral and Casa de la Libertad, is the center of the city, and a good base to start exploring.
You can visit churches such as Santo Domingo, San Lazaro, St. Teresa, St Clara, San Francisco and Merced. At weekends, churches are often used for weddings. Its really nice to enjoy this from a distance. In the morning there is a local market, behind Iglesia San Francisco. A nice place to observe daily life and mingle with the locals. Also, el Cementerio Central, a typical South American cemetery, is worth a visit. At the end of calle Dalence, quite a bit up the mountain, you come across Plaza Recoleta. This is were the old monastery of Recoleta houses. The plaza offers a beautiful view of the city.
Learn about the history of Bolivia in Casa de La Libertad
What to do in Sucre when you are interested in the history of Bolivia? Then you defintely should not miss out on Casa de La Libertad. This is the place where Mariscal Sucre declared independence and founded the republic of Bolivia in 1825. The first constitution was established and many presidents took their oath of office here. Casa de la Libertad consists of different historic rooms, explaining about the road to independence.
Cultural Movie nights in Joy Ride Café
Joy Ride Café hosts movie nights on a regular basis, including viewings of "The Devil's Miner". A heartbreaking and confronting movie about life in the mines of Potosí. If you are planning to visit Potosí, it is definitely recommended watching this movie. You can also have lunch or dinner at the next door Joy Ride Cafè. And in between all the sightseeing and activities exploring the city, it's nice to just hang back and watch a movie for a change.
What to do in Sucre and surroundings | 2x day trips from Sucre
Sucre, located in the Andes mountain range, is famous for its beautiful surroundings. Discover two day trips and things to do around Sucre.
Hike the Bolivian Inca Trail
If you are a hiker and want to enjoy the beautiful Andes mountains, you should definitely hike the Bolivian Inca trail. Unlike the Peruvian Inca trail, this is a day excursion and can be done for anyone with a normal physical condition. The trail is about 5.5 km, going down-hill. Depending on your pace it takes 2 to 3 hours. You be hiking the original Inca trails and enjoy breathtaking views.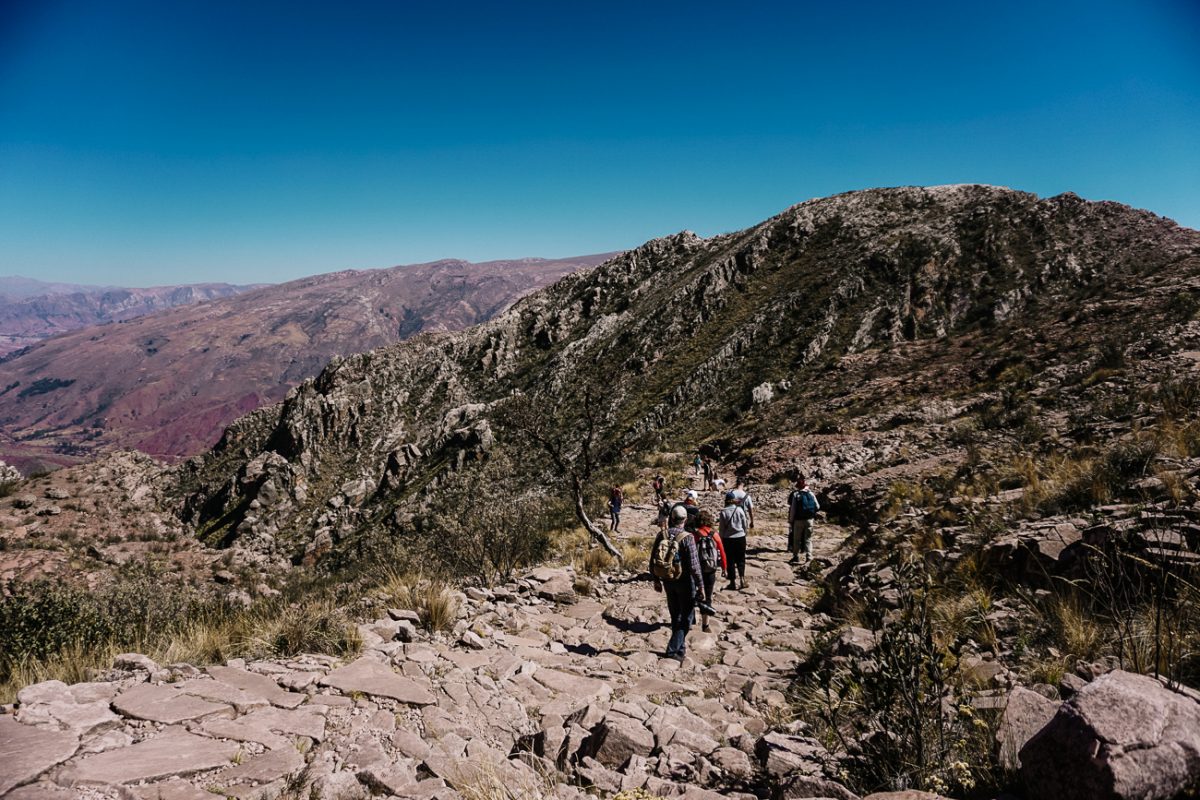 Make sure you are used to the altitude of Sucre, before starting this hike. It is also recommeded tto put on comfortable walking shoes, as the stones on the trail are pretty unregular. Want to read more about about gis beautiful hike? You can read more about the Bolivian Inca trail here.
Tarabuco market | What to do in Sucre and surroundings
One of the top things to do in Sucre Bolivia on a sunday is to visit the market of Tarabuco. Tarabuco is a 1.5-hour drive from Sucre and is one of the most famous markets in Bolivia. Even though the market becama a tourist place, it's still very local, and people come from far to sell their goods.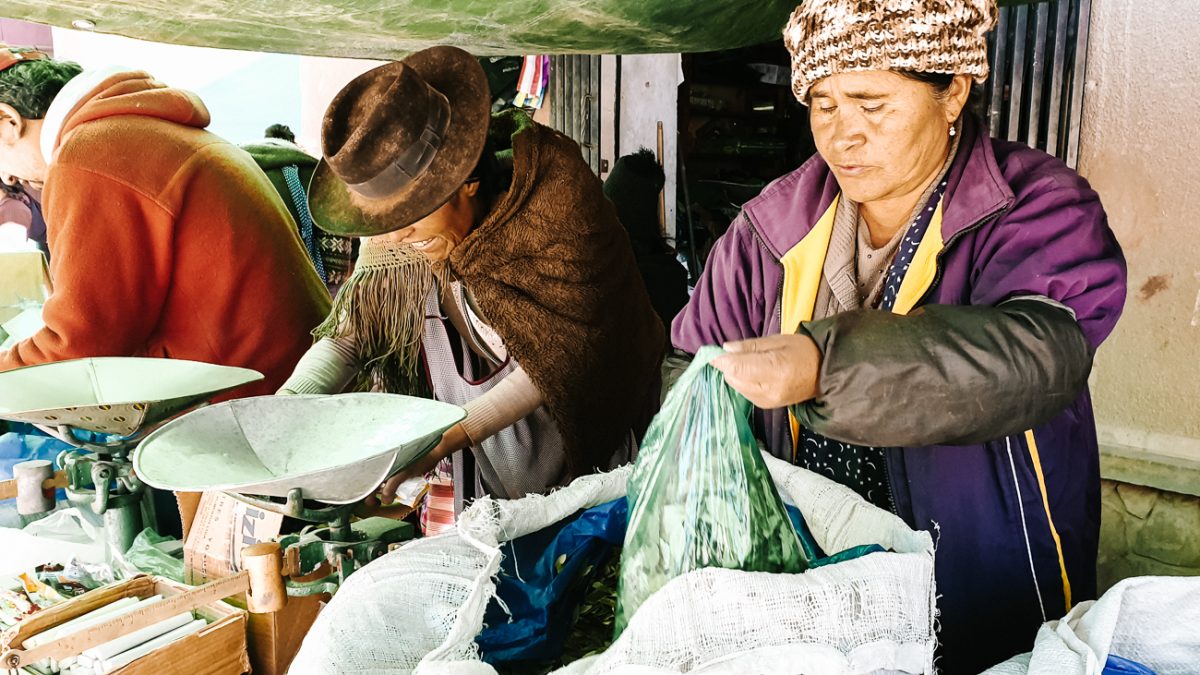 Tarabuco is a small mountain village with houses of brick and red roof tiles. Men in Tarabuco often wear black helmet-like headwear with ornaments, including striped ponchos. Women wear wide skirts. Tarabuco is known for its exceptional weaving techniques, called the Tarabuco style. Examples can also be seen in Sucre's Indigenous Art Museum. You will find everything on the market. From weaving, vegetables, fruit, cattle, souvenirs to electronics and cheap sportswear. Around the Plaza there are many souvenirs. At the very back of the village you will find the area for the local people. A fascinating place to walk around and observe! This should definitely be on your list of best things to do in Sucre, Bolivia.
Pujillay in March
Are you the third Sunday in March in Sucre in Bolivia? Then you have to visit Tarabuco, because of the annual Pujillay. A colorful harvest festival and also the commemoration of the Battle of Jumbate, fought during the Bolivian War of Independence. The celebration begins with a Catholic Mass in Quechua (the indigenous language), followed by parades with more than sixty surrounding Bolivian communities who show their traditional costumes and local dances.
The highlight is the dance around the pukara, a ceremonial tower, covered with fruits, bread, meat and other foods. This tower is an offering to the Pachamama (Mother Earth) to ask for a good harvest. Pujillay is also a harvest festival, as it marks the end of the rainy season in Bolivia. Pujillay is a colorful spectacle that you will not soon forget. Just make sure to book your travels and hotels in advance.
Pujllay commemorates the Battle of Jumbate, fought during the Bolivian War of Independence. On March 12, 1816, villagers from Tarabuco attacked a battalion of Spanish soldiers. It was the liberation of the city that killed all the soldiers. According to legend, the villagers ate the soldiers' still-beating hearts as a sign of victory. A statue in the main square of Tarabuco, of a warrior holding up a dripping heart, is still reminiscent of this.
Mini travel guide Sucre Bolivia
Tours in Sucre Bolivia
Discover interesting tours in Sucre Bolivia.
Best restaurants in Sucre
Looking for a restaurant hotspot in Sucre? My favorite place in Sucre for lunch, dinner, tea and cake is the Condor Cafe. Condor Cafe is a vegetarian restaurant, where local people from the countryside are trained in the hospitality industry. In addition, part of the income find their way to local projects in the area.More about
Hotels in Sucre Bolivia
I always look out for beautiful and unique places to stay, especially boutique hotels. These are some of my recmmendations for hotels in Sucre Bolivia.
More about Bolivia
Do you want to read more about Bolivia? In this article you'll find an overview with what to do in Bolivia, including the most beautiful destinations. Also, have a look in the Bolivia library with many articles about this beautiful country. Such as a city guide for Copacabana, a tour on the Bolivian salt flats, the Bolivian Inca trail, a visit to the Potosí mines, a tour to the Tiwanaku ruins, shopping in La Paz, how to use the cable car in La Paz but also the best time to visit Bolivia and information about safety.
This article may contain affiliate links. If you purchase something using one of our links, we may receive a commission at no extra cost to you, which helps us keep this blog alive. Thank you for your support! Please see our disclosures for more information.