Vientiane is the capital of Laos and is located along the famous and mighty Mekong River. Vientiane is not a busy and bustling city, like Bangkok or Hanoi. It is the smallest capital in Southeast Asia and it feels more like walking around in a busy provincial town. But I love this city, and the Cosmopolitan vibe and atmosphere keep attracting me. Vientiane is a perfect city to include in your Laos itinerary and stay for one or two days. But what to do during your stay in Vientiane? In this article you will find the best things to do in Vientiane in Laos, in terms of art, culture, fashion and history, including highlights and tips for tours, hotels and restaurants.
Welcome to Vientiane in Laos
Vientiane is the capital of Laos. With less than half a million inhabitants, it is largest city and also the commercial and cultural heart of the country. There are large boulevards, modern buildings, international companies, cultural institutions, expensive cars, numerous modern restaurants, shops and many people. People from all over the country settle in the capital for education or work opportunities. The city shows a combination of both influences from the East and West. Vientiane has numerous temples, but the French influences are still clearly visible in certain places. Not as much as in Vietnam, but the colonial architecture and many French bakeries do remind of the French colonialism.
Despite the hustle and bustle, the city is easy to explore. If you want to know what to do in Vientiane, do not expect spectacular highlights, but a number of interesting monuments, museums, temples, markets and lovely restaurants. And the best part is, you'll have the majority of places all to yourself, without having to share it with many other tourists.
Things to do in Vientiane Laos | highlights + tips
Visit the temples
In Vientiane you can visit numerous temples, including the Wat Ong Teu, Wat Si Saket, Wat Phra Keo, Wat Si Muang, Wat Mixai and That Dam. Just visiting temples all day long can be a bit intense. I would therefore recommend to visit two or three temples from the inside and observe the others from the outside. My favorite temple is the Wat Si Saket, the oldest temple in Vientiane. The temple itself is beautiful, but the surrounding cloisters are even more impressive. There are 2,000 Buddha sculptures displayed in a covered walkway around the temple. Truly stunning!
Wat Phra Keo is also worth a visit. It is a former temple turned into a religious museum. I was particularly impressed by the amount of beautiful Buddha statues and highly decorated doors and walls.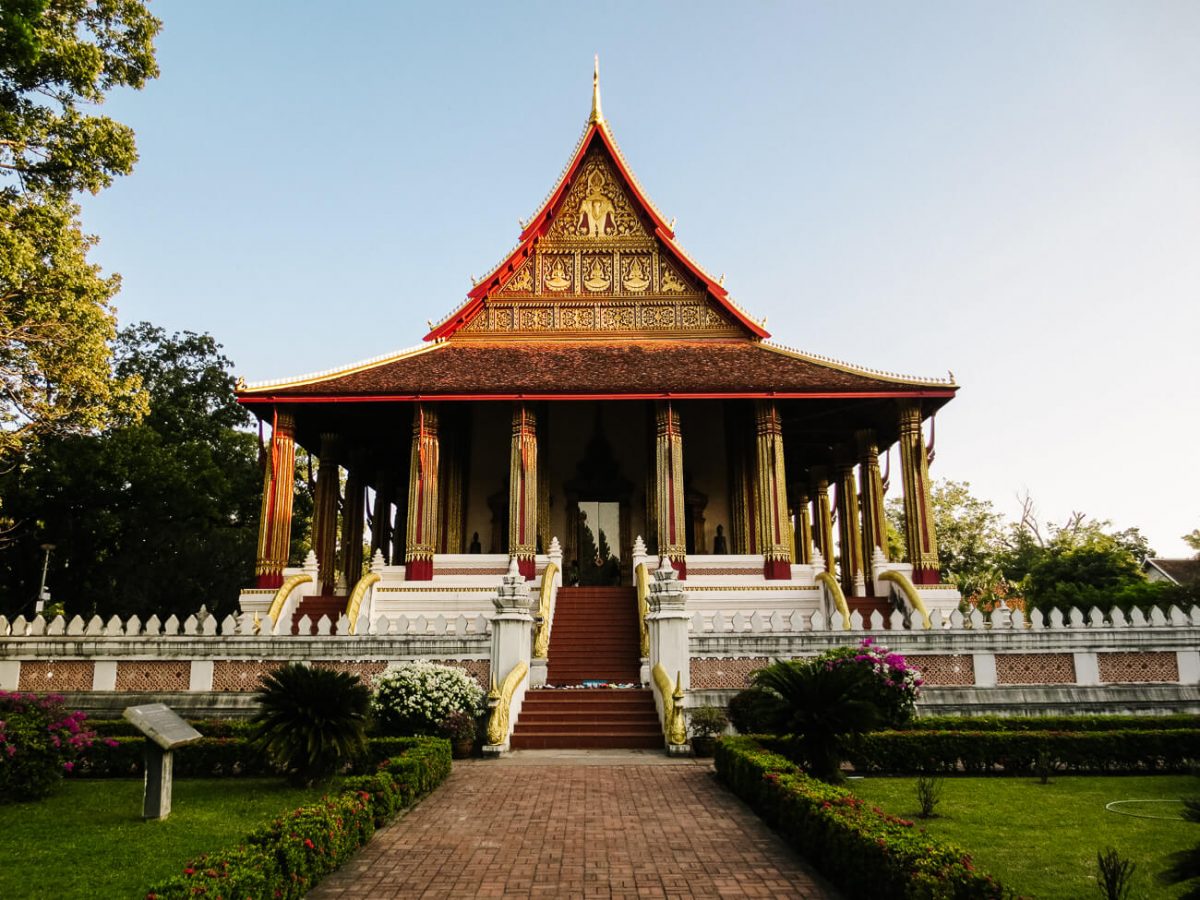 The Haw Phra Kaew, or Ho Pra Keo, was built as a sacred place for the Emerald Buddha in 1650. At the end of the 18th century, the Buddha was taken by the Siamese to Thailand and never came back. Until today, the Buddha can be seen in the Wat Phra Kaew temple in Bangkok.
That Dam, or the black stupa, is one of things to do and see in Vientiane from the outside. It is located in the middle of the city, between the houses and cars. You might even bump into it accidentally and wonder what kind of special monument it is. That Dam was a former temple, covered with gold and built to house the seven-headed snake. This snake is said to protect the inhabitants of Vientiane from disasters.
Pha That Luang – icon of Laos
The Pha That Luang is better known as the great or golden stupa and is the national symbol of Laos. In terms of landmarks it is definitely one of the Vientiane highlights and a visit should not be missed. Even if it is only to take a picture from the outside. Inside, you can walk around the golden building and find information about the city and the stupa. There are two other temples located next to the stupa, including the Wat That Luang Tai. This temple is known for its large reclining golden Buddha. The golden stupa is located 4 km outside the center. It is best to pay a couple of kip and take thetuk tuk.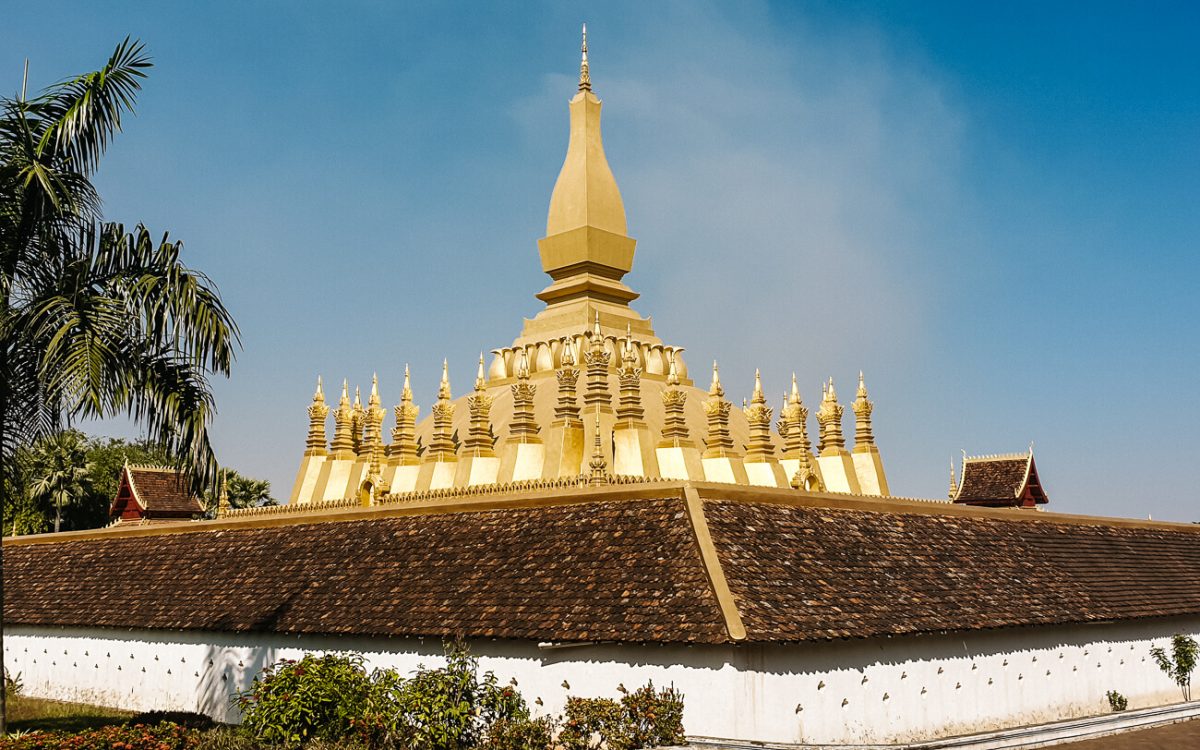 The Pha That Luang is shown, on the Lao currency, both on coins and notes. The local currency is called kip.
Take pictures at the Patuxai
Patuxai, or Victory Gate, is the Laotian version of the Arc de Triomphe. This gate was built during the French rule and is located at the end of Thanon Lane Xang. The building dominated the large boulevard and can be seen from afar. Around the gate is a lovely garden and fountain, with surrounding benches where local people come together to take pictures or go for a walk. Go early morning and you will have the place for yourself. For a few kip you can visit the top floor of the building, offering a nice view of the city.
Look for French colonial buildings
One of the interesting things to do in Vientiane is to look out for beautiful French architecture. The city still has many buildings from the time of the French colony. The Presidential Palace, the French Embassy and the National Museum are best preserved, but you will also find French influences around the French Embassy and Nam Phu Square. I personally think the National Library is a beautiful building. Nowadays this is a grand café, where you can have lunch, both indoors and outdoors in a nice setting.
COPE Visitor Center
Did you know that Laos is the most bombed country in the world? During the Vietnam War, between 1964 and 1973, more than two billion kilos of bombs ended up in Laos. A third of these bombs (UXOs) are still scattered across the country and accidents occur daily. Every day, these bombs (UXOs) explode and people and children become disabled, while working or playing on the land. COPE, the Cooperative Orthotic and Prosthetic Enterprise, is an institute that provides physical rehabilitation services for the victims and runs projects for finding and defusing the bombs.
The institute is a museum to inform visitors about the history and projects. Stories of victims are told through videos and there are countless photos, information boards and bombs on display. The images and stories really touched me. You can also visit a prosthesis workshop to learn how artificial limbs are made. It's an intense experience.
It may not be one of the happiest things to do in Vientiane, but I would say it is an almost mandatory stop to learn and understand more about Laos. Moreover, with your visit you also contribute financially to these important projects. The Cope visitors center should not be missed from this list of highlights in Vientiane.
Things to do in Vientiane Laos by night
The Nightmarket
The Nightmarket is located along the lovely waterfront in the city and it is one of the things you have to do when you are in Vientiane Laos. Where many night markets in Asia, are focused on tourists, this is a market for the local inhabitants of Vientiane. You will not find mainstream souvenirs, but especially a lot of clothing and gadgets from China. Many traders on the market are of Chinese origin, as Vientiane has many Chinese and Vietnamese residents. But there are food market stalls as well, where you can try traditional Lao snacks. It's particularly nice to stroll around the market and observe the local life. You see all kinds of people: From trendy fashion girls, groups of friends to families and older couples.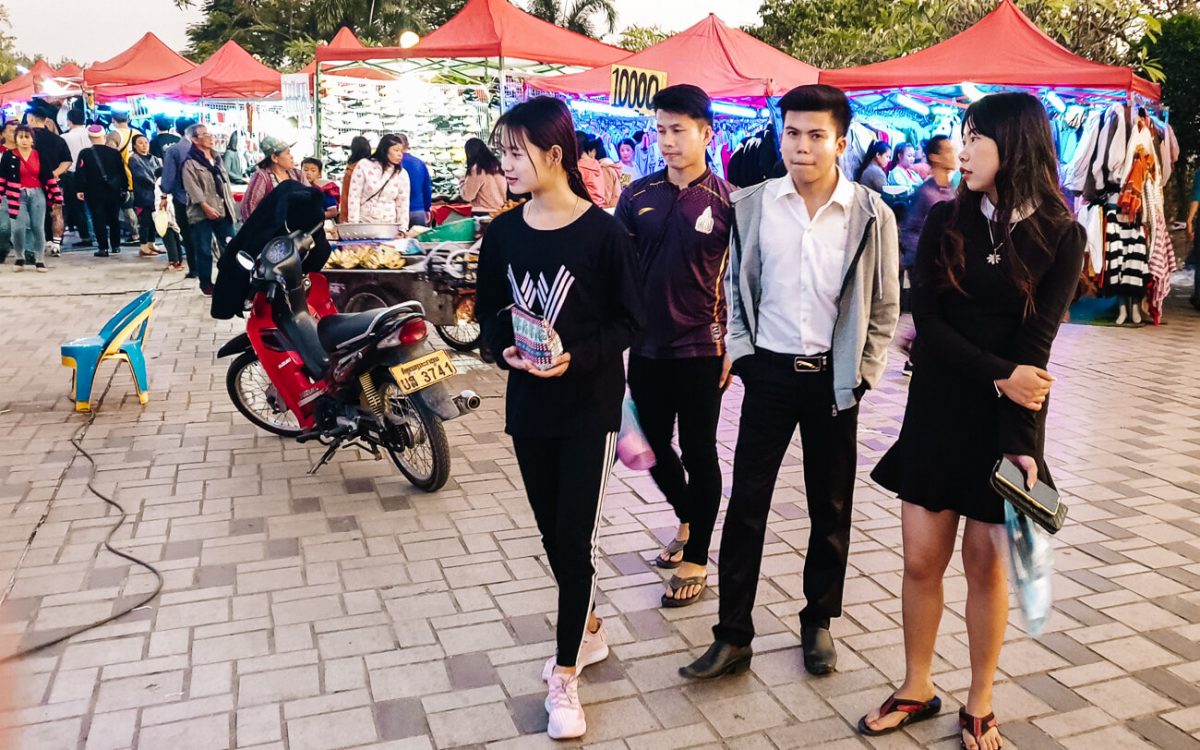 Watch the sunset at the Mekong
At the end of the day, the boulevard surrounding Chao Anouvong Park is the meeting point for the local people of Vientiane. Groups of friends, couples in love and families gather to exercise or have a drink. Moreover, it is a great place to watch the sunset. Because Thailand is located across the Mekong River, you can literally see the sun set behind Thailand. Sitting on the boulevard with a drink in your hands, like the locals do, is therefore something that should not be missed in the list with best things to do in Vientiane Laos.
Have a drink at walking street
Behind the Vientiane New World shopping center, you will find the walking street, or night street. This is a super nice place, consisting of a maze of alleys with food stalls, shops and pop-up bars. It is the place to be Vientiane hipsters and youth. You can drink cocktails until late at night and listen to Asian pop music.
Cultural things to do in Vientiane Laos | 5 tips
Meditate with monks at Wat Sok Pa Luang
The small temple Wat Sok Pa Luang is located 2.5 km outside the center, in a lush environment. It is one of my tips for Saturday in Vientiane. Every week, between 3-5 PM an open Vipassana session takes place, a type of Buddhist meditation given by monks. The exercises are well explained and accessible, even if you don't have any meditation experience. Right before the meditation, there are English conversation classes, where you can help the monks to improve their English language skills. Both activities are super fun and one of the best things to do in Vientiane if you want to get in touch with the locals. You can also enjoy daily traditional massages and a herbal sauna in a building next door. Laos massage involves a lot of stretching into natural positions, while the masseuse uses the body weight to press down on you.
The temple is easy to reach by tuk tuk or bike. You will probably have to search a bit when you visit by bike, because directions are not always clear. Also bring enough anti mosquitospray. The temple is located in a green and lush environment area, full of Laos mosquitoes.
Go shopping in Vientiane's boutique stores
I always like to look out for stores, by local designers and artists. And there are several great boutique shops in Vientiane. She Works is one of my favorite places. She Works is a social enterprise and shop, selling clothes, bags, scarves, hats and interior design. The beauty is that all the pieces are made of traditional materials and designs, but with a modern twist. The Lao owner traveled the country to look for collaborations with ethnic groups for years. Not only to honor the local culture and techniques, but also to support these groups by offering them an income. By buying something here, you don not only have a unique item, but you also support local tribes such as the Akha, Taidam, Lanta and Hmong. And everything is made by women.
I also discovered Birds Follow Spring, a lovely shop with a collection of gold and silver jewelry. The brand has appeared in national and international fashion magazines several times. The designer is often in the store herself, so you can ask her any questions about the pieces. It is not cheap but you do have a unique item. Another nice store is Urban Cotton, where you can buy bags, pillows, clothes and blankets, made of high-quality materials. It is a social enterprise that presents traditional art in a contemporary style.
Visit the Lao Textile museum
Are you interested in fashion and its craft? Then take a look at the Lao Textile museum. Laos is known for its beautiful handicraft and weaving art, playing an important role in daily social life. In this museum you will get an explanation about different materials, designs and techniques used by Lao ethnic groups. In the Kanchana Boutique you can buy beautiful pieces such as scarfs and blankets. The book "Laos, the land of culture" is also highly recommended to buy. In this book you read more about ancient Laos, Buddhism in Laos and local art. It is also possible to take a textile painting class. This museum is one of the best things to do in Vientiane, Laos if you are interested in fashion and design.
Lao National Museum
If you want to learn more about the history of Laos, then head to the Lao National Museum. A national museum is always a good way to get an overall picture of the country's history and culture. In this museum, there are different spaces with images, photos and paintings, divided by period. It is definitely not part of the list with best museums in the world. Nevertheless, it certainly belongs to one of the things to do in Vientiane, for those interested in history.
Meet Kaysone Phomvihane
Are you a true history lover? And have you read already about Laos? Then the name Kaysone Phomvihane, might sound familiar. He was one of the most important communist leaders of Laos (1975-1992). There are two places in Vientiane, that are all about this man. The Kaysone Phomvihane Memorial and the Kaysone Phomvihane Museum. Kaysone Phomvihane Memorial is the former home of Kaysone Phomvihane. The house is located in the old USAID / CIA building, which played an important role during the Vietnam War. The house can only be visited with a guide, from the Communist Lao People's Revolutionary Party (LPRP), making it an interesting experience.
Keep in mind that this is a place for the history lover. If you are not, but still would like to learn something about the history, the National Museum might be a better place to visit.
There is also a special museum, dedicated to Kaysone Phomvihane. In this museum there is information about the "revolution" and the life of Kaysone, of course through the eyes of Laos. The museum is impossible to miss because of the gigantic bronze statue that stands out in front of the building. Both places are best visited with a tuk tuk.
What to do around Vientiane?
Visit the Buddha park
If you have more time to spend in Vientiane, then visit the Buddha park, located 25 km outside of the center. This park contains a large collection of Buddha statues and Hindi gods, made of concrete, in all shapes and sizes. The park was built in the 1960s, by a priest who wanted to merge Buddhism and Hinduism teachings into one religion.
I am not sure if this is going to be one of your highlights in Vientiane but it is a great place to take pictures for sure. Be prepared for a lot of kitschness and enjoy your time. On weekends it is a popular destination and one of the best things to do for local families in Vientiane.
You can reach the buddha park by taxi or tuk tuk. You can also opt for a nice day tour, including transportation, lunch and a skip-the line ticket.
Mini travel guide Vientiane Laos
Restaurants and cafés in Vientiane | tips
These are some of my tips for nice restaurants, bakeries and coffeeshops in Vientiane in Laos.
French bistro's
The center of Vientiane Laos is full of French bistros and bakeries, wich makes me want to have a piece of cake, crepe, quiche and baguette at every single place. I also find Vientiane a perfect city to work remotely, because of the many cute cafés. My favorite restaurants and cafes in Vientiane are Suzette, Coco & Co with vegetarian and vegan meals, Once Upon a Time and Annabelle. They all have a lovely interior design, nice atmosphere and a delicious menu.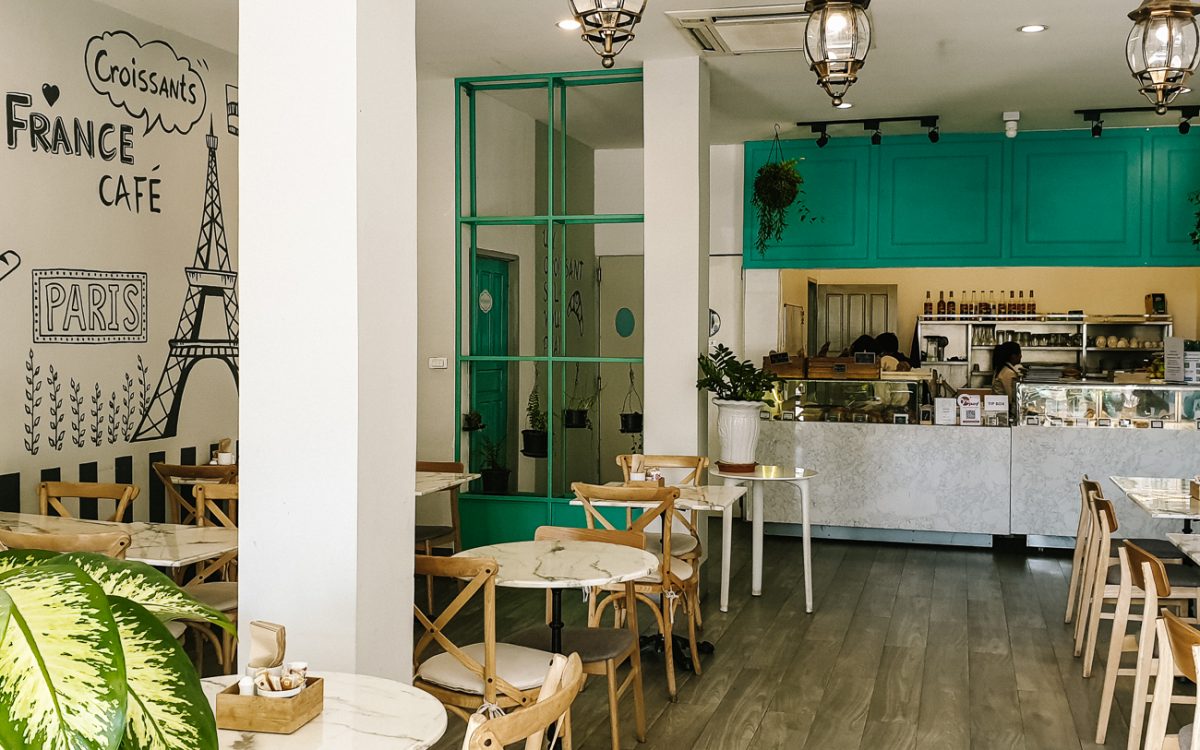 Senglao
Lovely restaurant Senglao is located outside the center, near the great stupa. Senglao is a popular hub for both expats and locals, as it is located in an area with many NGOs and international companies. The interior is super sute and it is all about movies. When the weather is nice, movies are shown in the open-air cinema. The menu includes Asian dishes, but you can also find many pasta and salads options.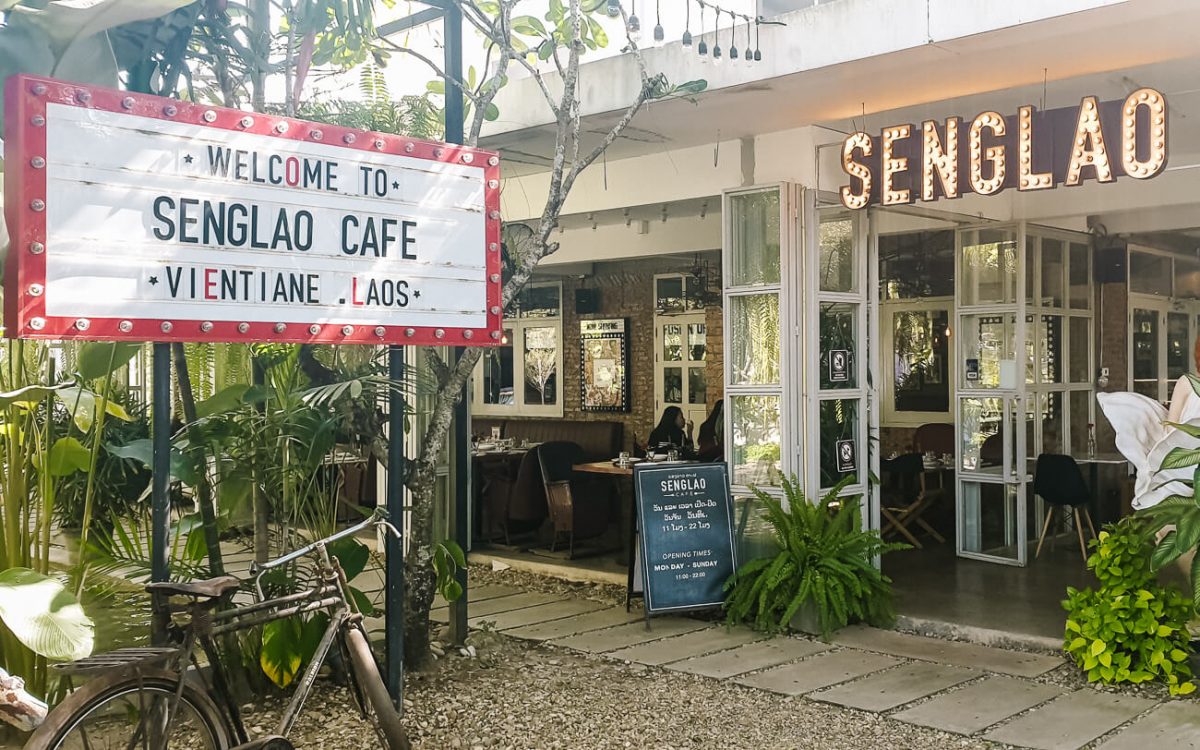 Try traditional food at Lao Kitchen
Looking for typical Lao food? Then Lao kitchen is your best choice. This restaurant offers many Lao traditional dishes but in a very accessible way. It is therefore the perfect place to discover the Lao cuisine and develop your tastebuds. It maybe even becomes one of your highlights in Vientiane. Make sure to try the Larb, a traditional dish with meat, including lots of spices, coriander, and served with sticky rice. There is also a vegetarian option, withh tofu instead of meat.
Enjoy a culinary experience at 3 Merchants
3 Merchants restaurant, located in the Crowne Plaza Vientiane hotel, offers a dinner in a beautiful setting. The decorations are really stylish and pretty. Make sure to order the signature tasting menu, where you will be taken through gastronomic journey around Asia.
Where to stay in Vientiane | Hotel tips
The best place to stay in Vientiane is the area around the boulevard. From here you can reach most Vientiane highlights at a walking distance. It is also easy to rent bicycles and nice restaurants and cafés are just around the corner. These are some of my tips for hotels in Vientiane.
Lao Poet hotel is a funky and nicely decorated hotel. It is centrally located and has a lovely rooftop, with a swimming pool and beautiful views. And it is also very affordable!
Looking for a more contemporary designed hotel? Take a look at La Seine Hotel and S 2 Modern Boutique Hotel.
I also recommend the Salana Boutique hotel, because of the contemporary Lao designs. You definitely want to book the river view suite here.
Check out availability and rates for more hotels in Vientiane here.
Tips for tours in Vientiane
Looking for tours? This is an overview with highlights and tips for tours in Laos Vientiane:
Getting around in Vientiane
Many Vientiane highlights are located around the boulevard and are easy to explore by foot. For a few landmarks, such as the golden stupa, the Buddha Park, the textile museum and Wat Sok Pa Luang, it is best to take a tuk tuk or taxi, as they are located a bit outside the center of Vientiane. Most tuk tuks have fixed prices, which are clearly indicated. But one of the best things to do in Vientiane is to rent a bike and visit the different locations by yourself. Bicycles can be rented in the side streets of the boulevard and around the Nam Phou fountain.
More about Laos
Did you enjoy reading this article with tips and highlights in Vientiane Laos? In the next article you will find can read more about beautiful Laos:
Pin "tips for Vientiane Laos" for later
This article may contain affiliate links. If you purchase something using one of our links, we may receive a commission at no extra cost to you, which helps us keep this blog alive. Thank you for your support! Please see our disclosures for more information.