How I love Mexico! Mexico is such an inspiring country with so many different things to do. Every state in Mexico has its own characteristics, atmosphere and attractions. You could travel around for months. For me, Mexico is the country of colonial cities, colorful markets, inspiring art, stunning natural phenomena, delicious cuisine and beautiful beaches. Mexico has a fascinating history that goes back centuries. During a trip to Mexico you will get to know the Maya, Aztec and other highly developed civilizations. In the cities of Mexico you can stroll around for hours and enjoy a fantastic atmosphere. In this article you'll find my best travel tips for what to do in Mexico. Discover scenic and cultural destinations, art, beaches, culinary experiences, archaeological highlights and information about safety, best travel time and transportation.
Map of Mexico with destinatios and things to do
The map is color coded as follows:
Green: places to visit & things to do
Red: archaelogical sites
Yellow/Orange: hotels
30 sights, attractions and tips for what to do in Mexico
Tips for exploring Mexico City
Mexico City is a metropolis, with millions of inhabitants, where you can enjoy yourself for days. This capital is often the start of a tour through Mexico and has countless attractions. In terms of art, culture, cuisine and other activities. Of course you should take the time to explore the colonial center with the famous Zocalo (the central square), the cathedral, the post office, the markets, and the Palacio de Bellas Artes (fine arts palace). You also should not miss the Museum of Anthropology, located in the city park Bosque de Chapultepec. Let yourself be taken on a wonderful journey through the pre-Columbian history of Mexico.
But one of my biggest travel tips for Mexico city is to also spend time in neighborhoods such like Roma, Polanco, Condesa and Coayacan. Roma and Condesa are quiet neighborhoods with beautiful buildings, cozy squares, restaurants and art galleries. Polanco has its own Champs Élysées with stylish stores, culinary restaurants and the Soumaya museum, an interesting futuristic structure, which houses a museum of modern art. Coayacan is a little further out of the center and is known for its markets, pieceful streets and Casa Azul, the former home of Frida Kahlo. Mexico City is a city I can't get over because of its many cultural attractions.
The floating gardens of Xochimilco
One of my best tips for Mexico City is to visit the floating gardens of Xochimilco. Xochilmilco was built in Aztec times as an immense water transport system, surrounded by chinampas, floating gardens for agriculture. Today it is a popular weekend destination, for locals and tourists alike.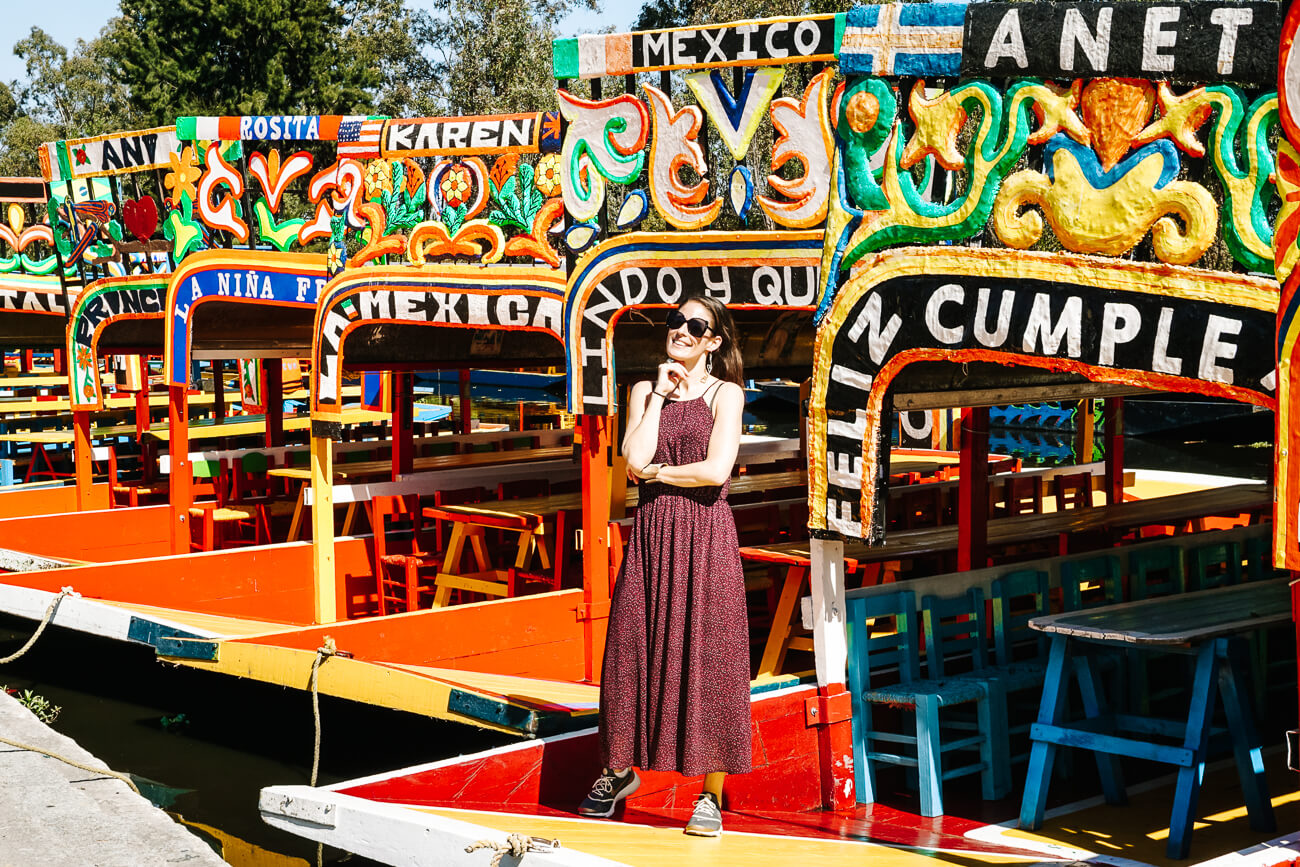 You can rent a great colored gondola and sail through the canals for a few hours. Along the way you'll encounter boats with mariachi bands, who for a few pesos will sing you the typical mariachi songs. Touristy? Certainly! But also for local people in Mexico City it is one of the things to do. Especially on the weekends. The best is to go with a group and to stock up on drinks and snacks. Most boats have a cool box on board, so everything stays nice and cool.
These famous canals are located in the southern part of the city. Xochimilco can best be reached by car within an hour from Mexico City. There are also numerous tours and buses that run in this direction. The last time I visited Xochimilco was during covid. It was unreal to see so many empty boats. Even though I can intensely enjoy a peaceful environment, I missed the busy party atmosphere and the mix between tourists and locals.
Tips for Oaxaca attractions in Mexico
Oaxaca is one of the most beautiful cities and one of the attractions you don't want to miss during your trip to Mexico. Because the city has always attracted many artists, scientists, poets and writers, Oaxaca is often considered the cultural capital. There are plenty of events, exhibitions and festivals taking place. In Oaxaca you can walk through the beautiful center and enjoy museums, squares, art galleries and delicious food in the countless coffee bars and restaurants
Make sure you also visit the nearby archaeological site and former city of the Zapotecs: Monte Albán. A place much less visited than the famous Mayan temples in the country and therefore very peaceful!
Take time for the many markets, where you can feast your eyes on spices and local products. Oaxaca is the City of mezcal – a kind of tequila, but made from a different type of agave plant. You will discover the famous moles – delicious spice sauces that sometimes consist of up to 30 different herbs. Chapulines with lemon, a crunchy grasshopper snack. And come across colorful ceramics and alebrijes everywhere. These are wooden figurines with dots that are used during the annual Día de los Muertos (Day of the Dead).
Oaxaca is the capital of the Oaxaca state. Do you want to know more about Oaxaca city and its attractions in Mexico? Read more tips for what to do in Oaxaca, Mexico in the next article.
Beaches on the Pacific coast
If you like beaches, a laid back vibe and good food, visit the beaches around Oaxaca, on the Pacific coast of Mexico. The coast here is rougher than on the Riviera Maya and less visited. Hotels and restaurants are also much cheaper than in for example Tulum. Puerto Escondido is a surfer's paradise and Mazunte is a smaller town with a lovely bohemian vibe. In addition, the beaches around Mazunte are known for the many sea turtles that frequently gather here to breed.
Looking for a place to stay in Mazunte? This is an overview with hotels in and around Mazunte.
Just like in Oaxaca, you can enjoy the most delicious Zapotekian dishes here. Think of tasty moles (sauces) with corn tortillas and all kinds of creative variations on them.
Puerto Escondido is a 7-hour drive from Oaxaca. If you find this too challenging (the road goes through the mountains and is not the best everywhere), you can also fly with the small planes of Aerotucan. Mazunte is an hour's drive from Huatulco airport, to which you fly from Oaxaca with Aerotucan.
Hierve del Agua
One of my best tips for when it comes to waterfalls in Mexico is Hierve el Agua. Hierve el Agua means the water that boils. Only it has nothing to do with boiling water, it looks more like a frozen waterfall. Water comes down from a hot spring and attaches itself to the rocks, due to its high concentration of calcium. Something that makes for an interesting formation of relief and colors.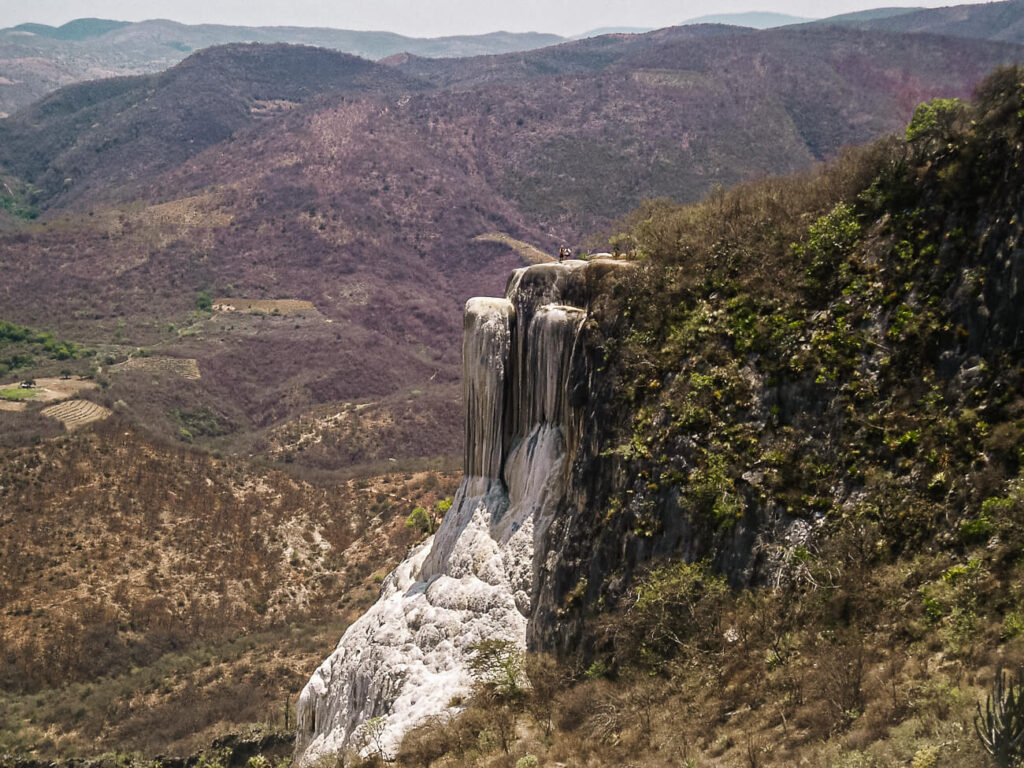 This rock formation consists of three plateaus with pools where the color of the water, has taken on a deep greenish blue color. The first point is often the busiest because you can swim there. The second point, also called the eye is quieter and offers a beautiful view of the surrounding mountains. At the third point, you have a view of the unusual shaped waterfall.
Hierve el Agua is best reached from Oaxaca, about 1.5 hours away. You can book an organized tour, go with a private driver or rent a car yourself. (Note: do take the route over the paved road). If you opt for a private trip, combine your visit with the archaeological site of Mitla and Tule, the widest tree in the world.
San Cristóbal de las Casas
San Cristóbal de las Casas in Mexico is a small town in the mountains of the Chiapas state. Chiapas has the highest percentage of indigenous people in the country. Something that is immediately visible in the street scene of San Cristóbal. Many people walk around in colorful traditional costumes, where you can tell by the style and patterns to which group they belong to. Beautiful to observe!
In San Cristóbal Mexico you will find interesting attractions and sights, such as the anthropological museum Casa Na Bolom but also many colored houses, charming streets, viewpoints and terraces. Don't forget to stroll around one of the markets where you can shop and buy unique handmade products. Every day people from the surrounding villages travel to San Cristóbal to sell their goods. San Cristóbal is also your startingpoint for beautiful trips in the area. Such as a boat tour through the Canyon del Sumidero and a visit to surrounding indigenous villages.
Curious about what to do in San Cristóbal de las Casas Mexico? Read here more tips for what to do in San Cristóbal de las Casas Mexico.
The church of San Juan Chamula
If you are in the state of Chiapas during your trip to Mexico, make sure to visit San Juan Chamula. Not only it is nice to walk through this village of the Tzotzil people and visit the local market, but you will also find one of the most unique attractions of Mexico here: Iglesia de San Juan. This little white church, located in the middle of the square, shows a special mixture of Catholic and indigenous beliefs. Countless people come here daily to make offerings in which they honor their saints through rituals.
Inside the church it is dark, mirrors hang everywhere and pine needles are strewn on the ground. Families sit in a circle, light their candles, drink pure alcohol, shout at their saints and at the same time twist the necks of their brought chickens. Very intriguing to step into a completely different world like this! Because a visit can sometimes be shocking, it is good to think beforehand whether you want to see this. Keep in mind that it is absolutely not done to take pictures inside.
Extra tip for Chiapas in Mexico: You can combine a visit to San Juan Chamula with a visit to the village of Zinacantán in Chiapas Mexico. Here you can visit local families and learn more about their traditional weaving techniques. Both villages are best reached from San Cristóbal de las Casas Mexico.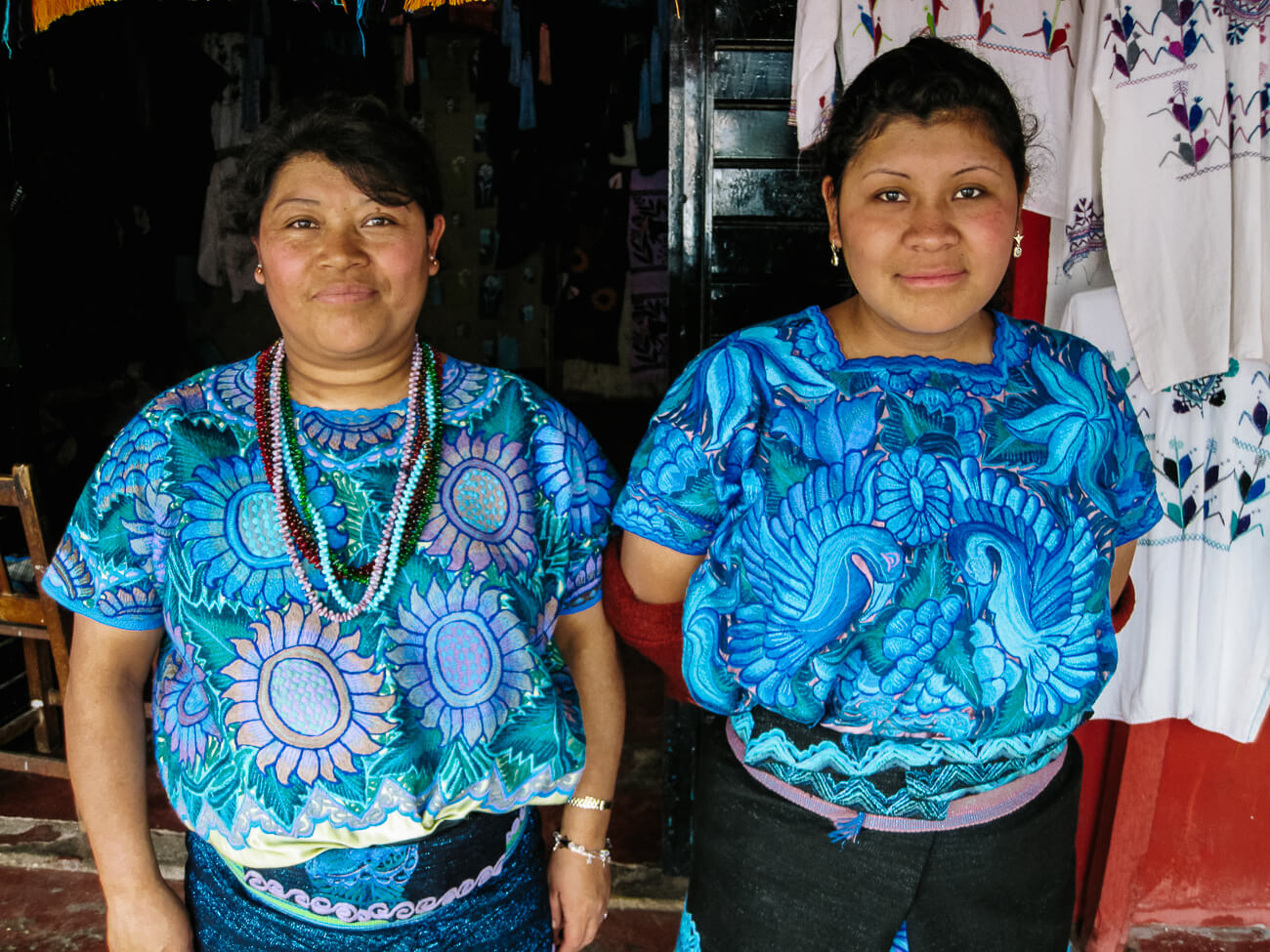 Canyon del Sumidero – deepest canyon in the world
Be sure to make a stop at the Canyon del Sumidero, when you are in Chiapas state. With a length of 15 km and walls of 1000 meters high, this is one of the deepest canyons in the world. During a boat trip of about 2 hours you'll have the chance to observe crocodiles, iguanas, monkeys and birds along the way. Bring something warm, because of the high walls, you'll be in the shade most of the time.
Canyon del Sumidero is near the village of Chiapa de Corzo, and is a good place to visit if you are on your way from Oaxaca to San Cristóbal de las Casas. One of my tips for experiencing Canyon del Sumidero in Mexico the fullest, is to use the embarkation point/ jetty is Cahuare, because it is often less busy here. Avoid weekends anyway, when it's busy with Mexican day-trippers.
Visit the waterfalls, top attractions around Palenque Mexico
One of the most popular attractions around Palenque in Chiapas, Mexico, are the waterfalls. The azure water, the beautiful green jungle surroundings with whistling birds and the mysterious caves, will make your visit truly unforgettable.
The best known waterfalls are Misol – Há, Aqua Azul and Roberto Barrios. And all three are worth a visit. In Aqua Azul and Roberto Barrios there are pools, in which you can swim. Misol Há is a large waterfall of 35 meters high, which is often the setting for film sets. Special about this place is that you can also walk behind the waterfall (watch out for slippery conditions) to the entrance of a cave. The Roberto Barrios waterfalls are closest to Palenque, about 1 hour away. The other two waterfalls are on the road to Ocosingo, a half hour (Misol Há) and an hour and a half (Aqua Azul) drive from Palenque.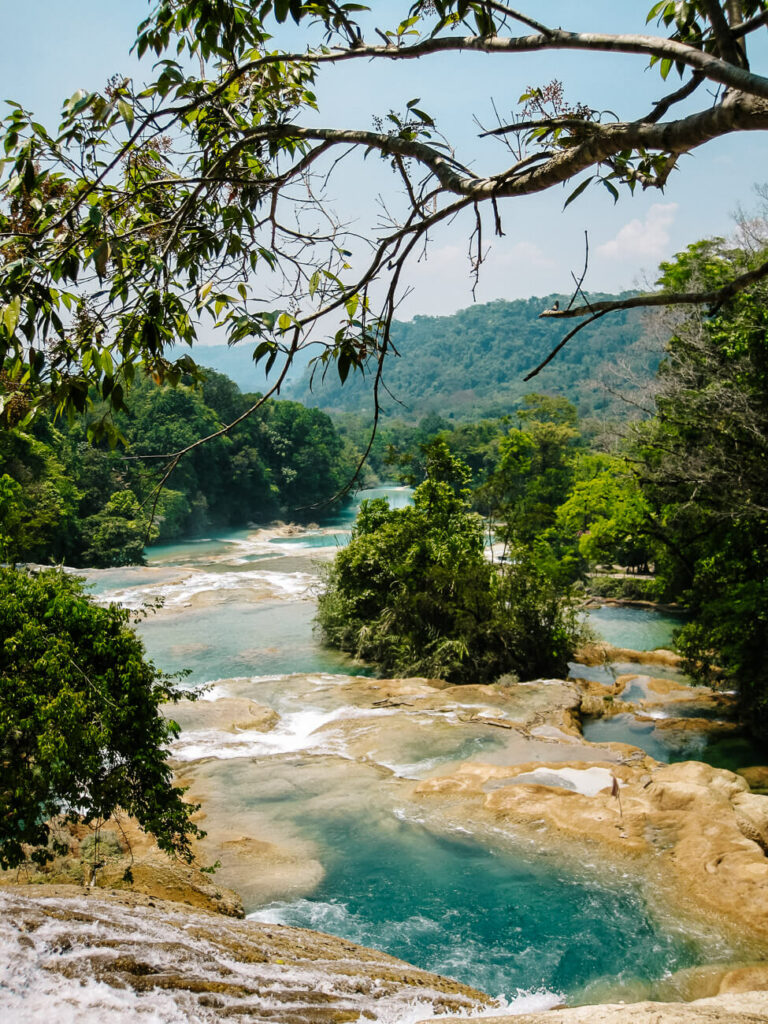 It is important to always check the latest security status in this part of Mexico before you head out. The state of Chiapas had to deal with violent conflicts between the former guerilla (Zapatistas), civilians and authorities. And still every now and then emotions flare up. One of the roads leading to the falls is regularly involved.
Tips for art in Mexico: Meet Frida Kahlo
Frida Kahlo! No doubt you've seen her name or face pass by. Frida Kahlo, became known for her outspoken paintings, infamous relationship with artist Diego Rivera and disability. For years she painted self-portraits from her bed, where her disability and frustration were major themes. Her full eyebrows and distinct clothing style made her world famous. And a cover on Vogue in 1937 even made her a true style icon.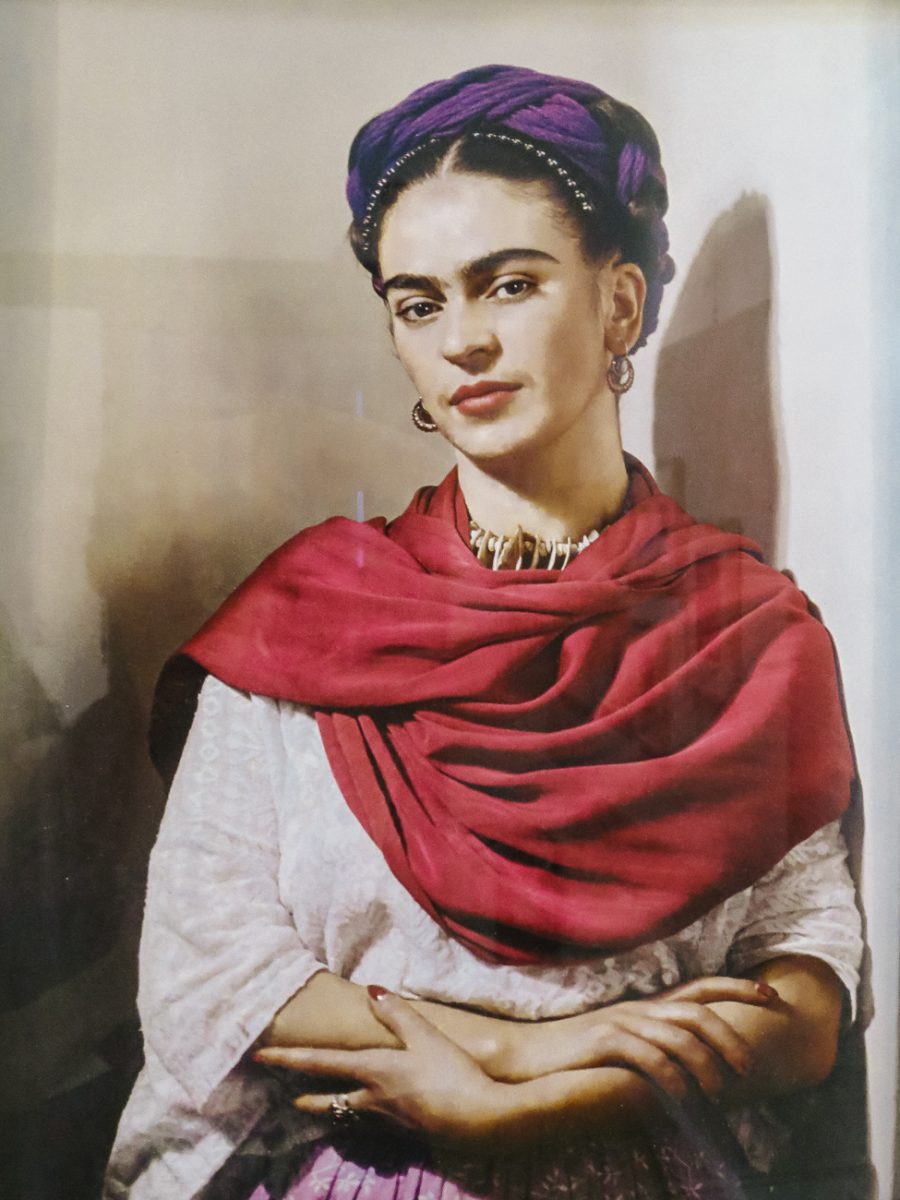 The work of Frida Kahlo can be admired in museums around the world. And also during your trip to Mexico you will encounter her name and work a lot. But in Mexico City there is her famous birthplace La Casa Azul (the blue house), where she lived together with Diego Rivera for years. In several rooms you will find works of art, and photographs on the walls. You will also walk past their former work and living spaces and see the famous bed from which Frida made her paintings. In Playa del Carmen there is also a small museum dedicated to the life and work of Frida Kahlo but not nearly as impressive.
La Casa Azul is one of the top attractions in Mexico City. Read more about visiting Casa Azul, the Frida Kahlo house and museum during your trip to Mexico City here.
Attractions in Puebla Mexico
Puebla de los Angeles (the city of angels) is a city that is often skipped during a trip to Mexico. And that's a shame! Puebla in Mexico has an interesting mix of both historical sites and trendy art galleries, restaurants and stores. It is remarkable that the center of Puebla, despite the nearly 2 million inhabitants, has managed to retain a friendly and charming atmosphere.
Make sure to visit the Templo de Santo Domingo and the chapel of Saint Rosario, which is entirely covered in gold leaf, the central plaza and the Museo Amparo for history and modern art. One of the nicest neighborhoods is the antique district El Cajellón de los Sapos, with colored houses, artists and stores.
Puebla is also famous for its delicious mole poblano, a spicy chili sauce with light chocolate flavor, which you can order in almost any restaurant. In the covered Plaza Victoria market and in the surrounding stores you can find typical sweets. And at the many markets like Los Sapos, El Parian and Mercado de Artistas you can get to know the colored Puebla ceramics and other beautiful items.
Tips for what to do in Yucatán in Mexico
Yucatan is the peninsula of Mexico and is located in the eastern part of the country. It consists of the states Campeche, Quintana Roo and Yucatán. Because of its rich Mayan history and culture, it is often called Peninsula Maya (the Mayan Peninsula). In this section you will find my best tips for what to do in Yucatan during your trip to Mexico.
The yellow city of Mexico: Izamal
Izamal is the yellow city of Mexico! And this is completely justified because the center of the city is really painted all yellow. It is unclear what the reason for this is, but in any case it is very photogenic! Izamal is a wonderful destination to include in your tour of Mexico. Walk through the yellow center, visit the yellow monastery and climb the remains of ancient pyramids. Izamal used to be a religious center for the Mayans before the Spaniards arrived.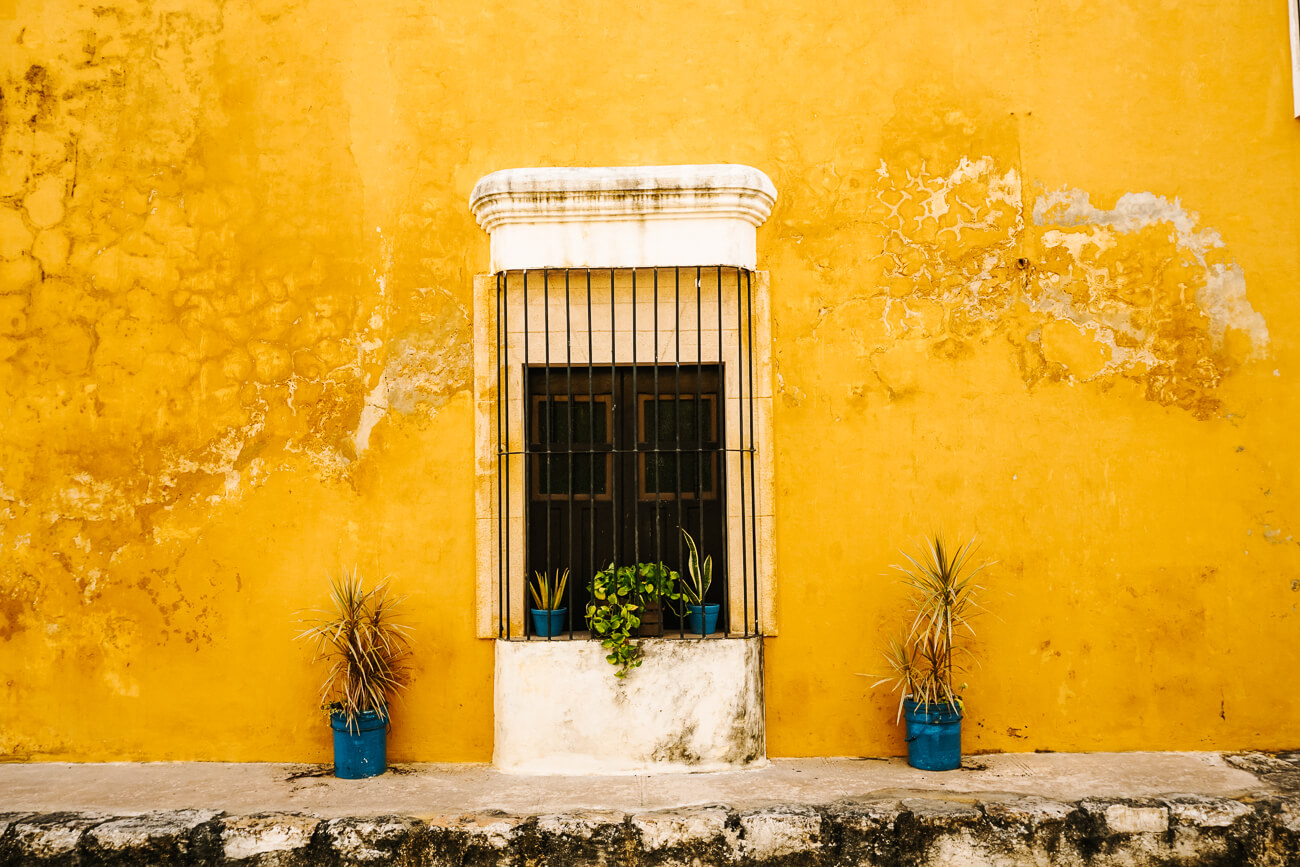 You can easily visit Izamal as a day trip from Mérida. Or make a stop when you are traveling from Merida to Valladolid in Mexico or vice versa. In the next article you will find 10 tips for what to do in Izamal, the yellow city of Mexico.
Valladolid
Valladolid is a typical Mexican city with a lovely relaxed atmosphere. You will find a plaza with a large cathedral, a monastery, colonial buildings with countless colors and even a cenote located in the middle of the city. One of the most beautiful streets in Valladolid is Calle de los Frailes, where almost every building is worth a picture. There are boutique hotels, small restaurants and beautiful stores. Valladolid is a great city to include in Mexico itinirary and also a perfect base for a visit to Chichén Itzá and one of the nearby cenotes.
Curious to visit this lovely city? In the next article you'll find 25 tips for what to do in Valladolid in Mexico.
Cenotes, top attractions in Mexico
The peninsula of Yucatán is known for its cenotes. These are water-filled caves or hollows that played an important role in Mayan times. The Mayas saw these caves as the gateway to the underworld and organized their ceremonies here. Nowadays you can visit these cenotes for swimming, diving or just enjoying the beautiful atmosphere.
The peninsula has more than 3,000 cenotes and around every town you will find at least a few. And believe me, every cenote is completely different. My favorite cenotes are those of Suytun and Ik kil. Suytun because of the unique platform in the water and Ik Kil because of the open top and tropical environment. But also the smaller cenotes around the Cobá are worth visiting. Or the Cenote Azul and Dos Ojos on the Riviera Maya. Because there are so many, it's always best to check the map of where you are, and see if you can fit a visit to cenote into your day trip.
Isla Holbox
Isla Holbox is the most beautiful beach destination and one of my top tips for Mexico! The beautiful blue waters, the snow-white beaches, the pelicans flying over your head, the delicious ceviches and the laid back vibe make it a destination to come back to over and over again.
Isla Holbox is a peninsula and also a protected nature reserve, with more than 150 species of birds. You can enjoy the sun, sea and beach but also go for beautiful walks and swim with whale sharks. In the evenings you will be able to observe a natural highlight called, bioluminescence, organisms in the water that emit light. And if you like street art, the small town of Holbox has countless cool painted walls, created by artists from all over the world.
Holbox is a peninsula in the north of Yucatán and only accessible by boat. It is peaceful there, and less visited than the Riviera Maya, which includes Cancún, Playa del Carmen and Tulum
Campeche
Campeche is a colonial town in the state of Campeche, located on the Gulf of Mexico. This port town is known for its ancient city walls, pastel-colored houses and infamous history. Campeche was built by the Spaniards on a former Mayan settlement and, because of its location, quickly grew into an important port city. Because wealthy Campeche attracted numerous pirates and was sacked several times, the Spanish began building a large city wall. Campeche became one of the best defended cities of the Spanish empire.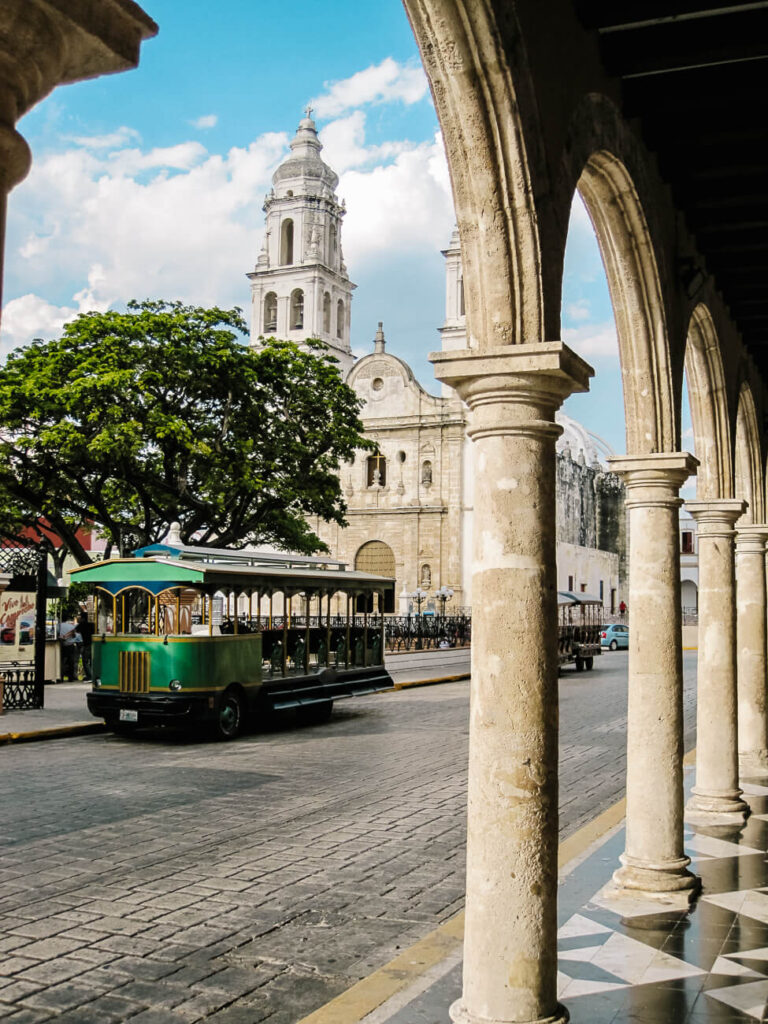 Today, Campeche's walled city center is on the Unesco World Heritage list. You can stroll through the city's colonial streets, look for street art and learn more about its history. Calle 59 is the most beautiful street for pictures, because of the colored houses and fine terraces. Stroll along the Malecón to get some fresh air. Moreover, at the end of the day it is the perfect place for a stunning sunset.
Mérida Mexico
Mérida is the capital of Yucatán and the cultural city of the peninsula. Because of the museums, design stores, high end restaurants, numerous festivals and art projects that take place here. Despite the size of the city, it has the friendly atmosphere of a provincial town. You can walk through the beautiful colonial center and discover the Paseo de Montejo, also known as the Champs-Élysées of Mérida. This is a long boulevard with old mansions that have been transformed into museums, stores or restaurants.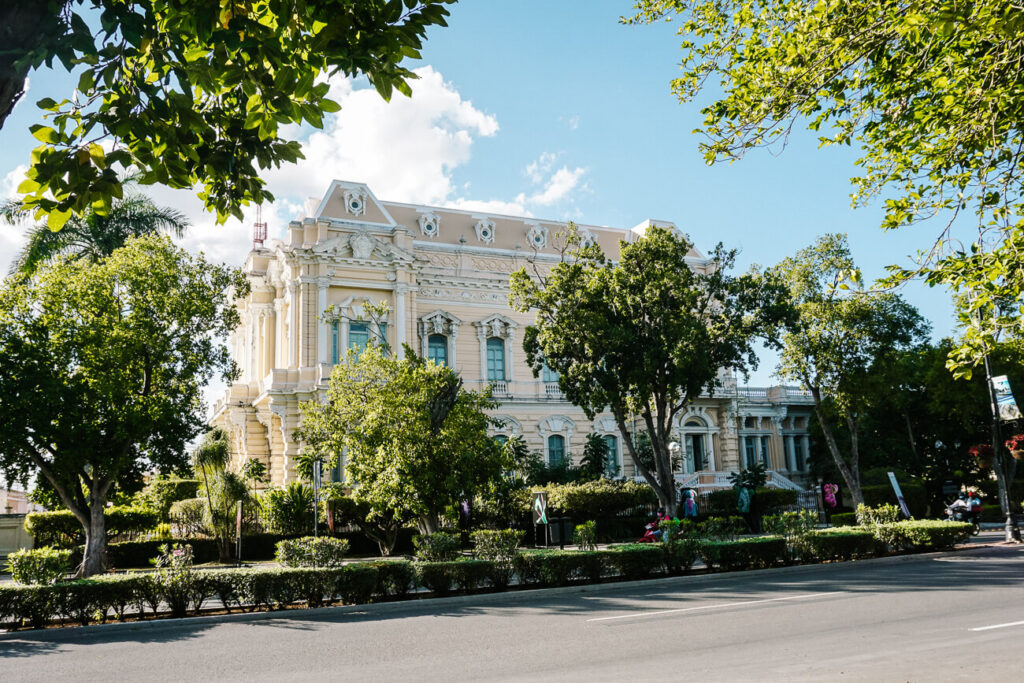 One of my top tips for Mérida in Mexico is to visit restaurants Hunnik, where you can enjoy a culinary experience.
The flamingos of Celestun
Between November and March, the National Park around Celestún is one of the highlights of Mexico, because you can observe large numbers of flamingos up close. The protected nature reserve consists of mangrove forests and is the habitat of crocodiles, sea turtles and more than 200 bird species. You can explore the area by taking a 1 or 2 hour boat trip and truly admire hundreds of flamingos. Most trips end with a delicious seafood meal at one of Celestún's beachfront restaurants. Celestun is best visited from Mérida.
Laguna de Bacalar
Laguna de Bacalar is also called the lake of the 7 colors. And that is because of the different shades of blue you will encounter here. The sun and wind ensure that the lake looks different every moment of the day. It is so beautiful! You can go on boat trips, visit cenotes, rent a kayak, ride a bike or just relax and enjoy the views. Around the lake there are several perfect boutique hotels where you can stay.
Bacalar is located in the state of Quintana Roo on the Yucatan peninsula. It is one of the sights to include in your trip to Mexico, if you are on your way to Belize or Guatemala via the city of Chetumal. Check out availability and latest prices of hotels in Bacalar here.
Tips for beaches at the Riviera Maya Mexico
Tulum
There's no way you've not heard of the Bohemian paradise Tulum. The Ibiza of Mexico, with the most beautiful beaches, set in a mysterious jungle setting and Mayan ruins just around the corner. Everything in Tulum is beautiful and instagrammable but prices have become extremely high.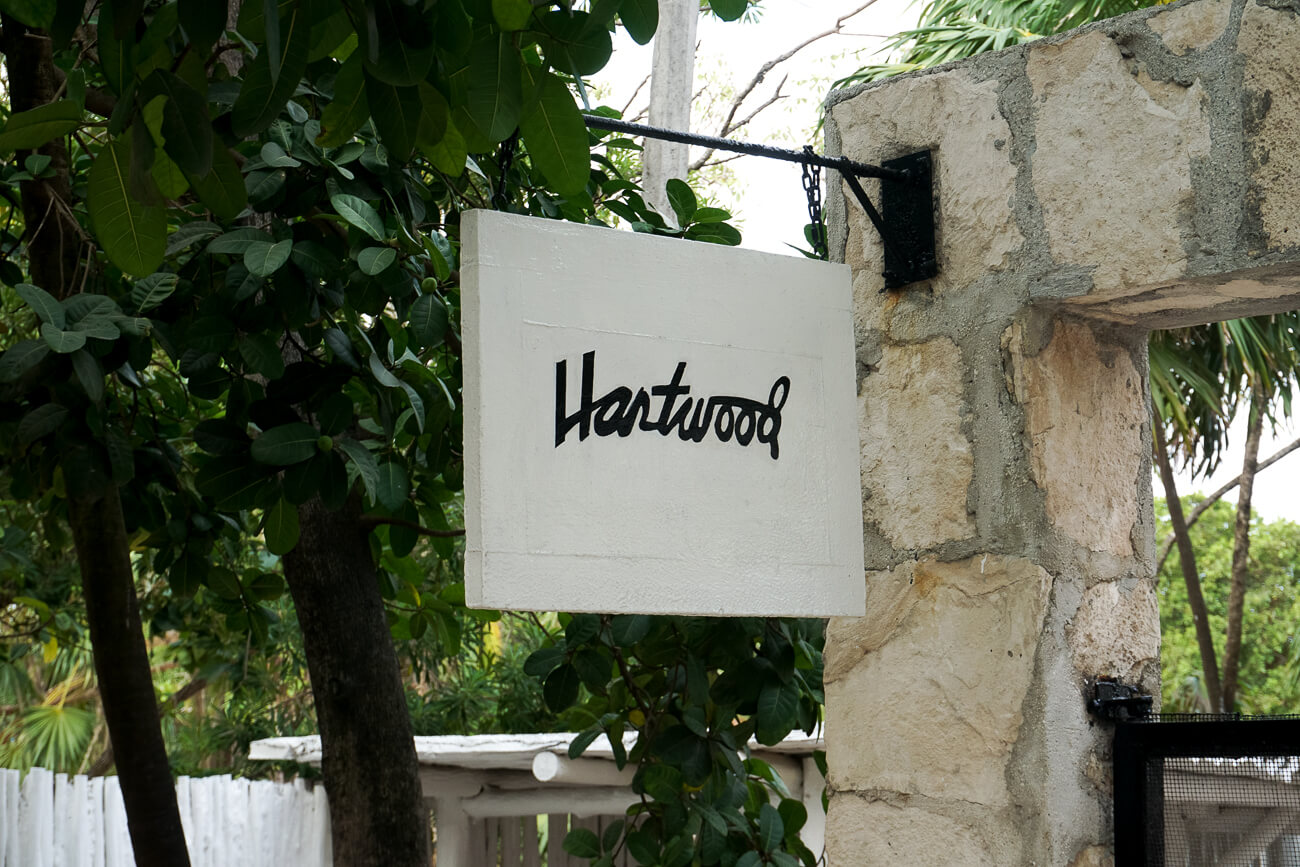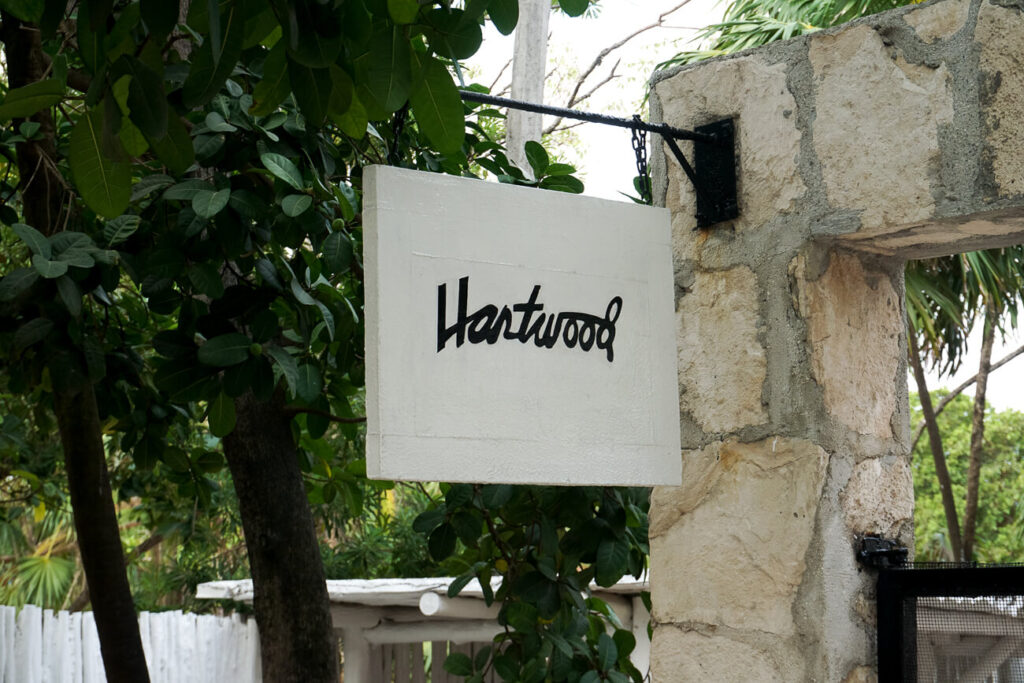 I still think Tulum is a wonderful place to stay but it is good to be mentally prepared for the commercialism and high prices. One of my best travel tips for Mexico if you are looking for good value for money is to book a hotel in Tulum town, like Villas Geminis Boutique Condohotel. Often you get a bike with it and you are on the beach within half an hour. Or if you have a serious amout of money to spend, go full force for one of the very best places on the beach, like Casa Malca, Nomade, Hotelito Azul, Papaya Playa project or BeTulum. The same goes for restaurants! An absolute must is Hartwoord (book well in advance) and Nu Tulum on the Tulum boulevard. But a better price quality ratio you will find Tulum Pueblo. And then Camello is the best place for fish.
This is an overview with availability and latest prices of hotels in Tulum.
Mahahual
Mahahual is the hidden gem of the Riviera Maya. The beaches are beautiful and it is less visited than Tulum. It is a long drive to the south, towards the border with Belize and the selection of nice hotels and restaurants is more limited. But if you fancy the beach and have the time to make your way south, it is highly recommended! One of the most beautiful hotels is 40 Cañones.
This is an overview with availability and latest prices of hotels in Mahahual.
More about sightseeing in Yucatan Mexico?
Do you want to make a trip to Yucatán in Mexico? In the following article you will find more highlights, attractions and travel tips for Yucatán in Mexico such as, Uxmal, Coba, the salt lakes, swimming with sea turtles and tips for staying at beautiful haciendas.
Tips for archaeological attractions in Mexico
World wonder Chichén Itzá
The Temple of Kukulchan (El Castillo), at the Chichén Itzá archaeological site, is probably the most photographed building in Mexico. It is a perfect pyramid, wich consists of 4 staircases with 91 steps each, equal to the number of days of the solstice. Chichén Itzá is an ancient city of the Mayans and is currently listed as one of the wonders of the world. It is therefore one of the most famous sights in Mexico.
The city was built over a period of 600 years and consists of two parts, the old city and the new city with corresponding architectural styles. In Chichén Itzá you can admire the largest ball court from the Mayan Empire, an ancient cenote, a section with 1000 identical columns and the old observatory.
Chichén Itzá is best visited from Valladolid. One of my best travel tips for Mexico is to make sure you're at the door at 8 am (when the site opens). Then you will be ahead of the tour buses. Between 10 and 10:30, most buses arrive from Cancún and that's when you really want to be gone. Read more tips for the most beautiful Mayan temples and best ruins in Mexico in the next article.
Tulum Mexico ruins
The ruins of Tulum are less than 10 minutes from Tulum town. Not much remains of the ancient Mayan city itself. But what makes this archaeological site special is its unique location on the Caribbean Sea. It is the only Mayan city that was built on the coast. Because the site is easily accessible from several coastal towns, it is also a busy destination. Make sure you go early in the morning. It is also a great excursion to combine with an afternoon on the beach.
One of my travel tiips for Tulum in Mexico: From the beach at Tulum you can already see the ruins in the distance. It is also possible to take a boat trip and admire the ruins.
Palenque
With more than 100 archaeological sites, the state of Chiapas, is the heart of Mayan culture. However, only a portion of these ancient cities have been excavated. Palenque is one of the archaeological highlights in Mexico because of its location in the jungle. The Mayan temples that rise above the jungle and the mysterious mist that hangs over the ruins make a visit so worthwhile!
The construction of Palenque began in 100 BC and the place grew into an important Mayan city. Characteristic structures that you can admire are the Temple of the Inscriptions, built as a mausoleum for King Pakal, the large temple complex, consisting of several buildings, corridors and plazas, the Temple of the Sun and the Temple of the Cross. But one of the best things to do is to walk around the jungle and visit the smaller temples here.
The ruins of Palenque are a 30-minute drive from the city of Palenque in Mexico. Go early in the morning to avoid the crowds. Or at the end of the day to watch the sunset from one of the Mayan temples. Want to discover more Mayan temples? Read more about the most beautiful Mayan temples and best ruins in Mexico in the next article.
The pyramids of Teotihuacán
Almost everyone knows the famous Mayan temples in Mexico. But Mexico has many other pre-Columbian cultures, such as the Mixtecs, Aztecs and the Zapotecs. One of the top archaeological sites around Mexico City is Teotihuacán. The great pyramids of the sun and moon are just impressive! Via countless steep steps you walk all the way to the top. And here you are rewarded with a panoramic view of the surroundings. Teotihuacán was built by the Toltecs and later used as an important ceremonial center by the Aztecs. Between 300-700 AD, the city, with 200,000 inhabitants, was the same size as Rome. Something that was incredibly large at the time!
Teotihuacán can be reached within 1.5/2 hours from Mexico City, either by private transport or by an organized tour.
Yaxchilán
One of the most beautiful archaeological sites in Mexico, I think, is Yaxchilán. And that is because of its special location. Deep in the Lacandón jungle, on the border of Mexico and Guatemala. This former Maya city is only accessible by boat. It is therefore also called the most remote Maya complex in Mexico. A 45-minute journey along the Usumacinta River will take you from Corozal to the entrance of Yaxchilán. where you will be surrounded by rainforest, a mysterious mist, monkeys, toucans and impressive Ceiba trees.
Yaxchilán belonged to one of the most important Maya cities of the region in the 7th and 8th centuries AD. But, like many other Maya cities, it was abandoned in the 9th century, for reasons that are unclear. Today the complex is open to visitors. You can take a nice walk along the Gran Plaza, Great Acropolis and Little Acropolis. There are also iteresting decorations, ornaments and hieroglyphics to be observed.
Yaxhilan is one of my top tips for Mexico if you are interested in history and archaeology. Want to know how to include Yaxchilán in a trip to Mexico? Discover the Yaxchilán ruins in the next article.
La Venta
One of the least visited archaeological sites in Mexico is La Venta, the former site of the Olmeken culture in the state of Tabasco. The first time I visited this place I was deeply impressed, something that no doubt has to do with my interest in archaeology. Here you will find tons of heavy stones in the form of mysterious heads, of which it is unclear how they were made.
According to scientists, the Olmecs belong to one of the oldest pre-Columbian cultures in the region (+/-1200 BC). They would have laid the foundation for all cultures that followed, of which the Maya and Aztec are the best known. Consider the development of symbolic writing, the famous ball game, and imposing sculpture. The heads have been found throughout the state and displayed in La Venta.
La Venta can be visited from the city of Villahermosa, the capital of the state of Tabasco. If you are in Tabasco during your trip to Mexico, be sure to visit. And take plenty of anti-mosquito spray with you because you will get attacked here.
Top travel tips for Mexico | Día de los Muertos
Safety tips for Mexico
Mexico is often related to drug crime and violence. And this is certainly something that is going on in Mexico, but plays out a lot in the area around the border with the United States. Mexico is big and even though the violence has moved further across the country in recent years, these settlements and violence are not targeted at tourism. However, it is always important to get informed and follow official travel advice prior to your trip to Mexico.
That said, Mexico is a great country to visit. Of course, as in other Latin American countries, you need to be careful with your belongings. Especially at bus stations, markets and other crowded places. In big cities and in places you don't know, always take a cab at night and get informed about the latest security situation before you head out.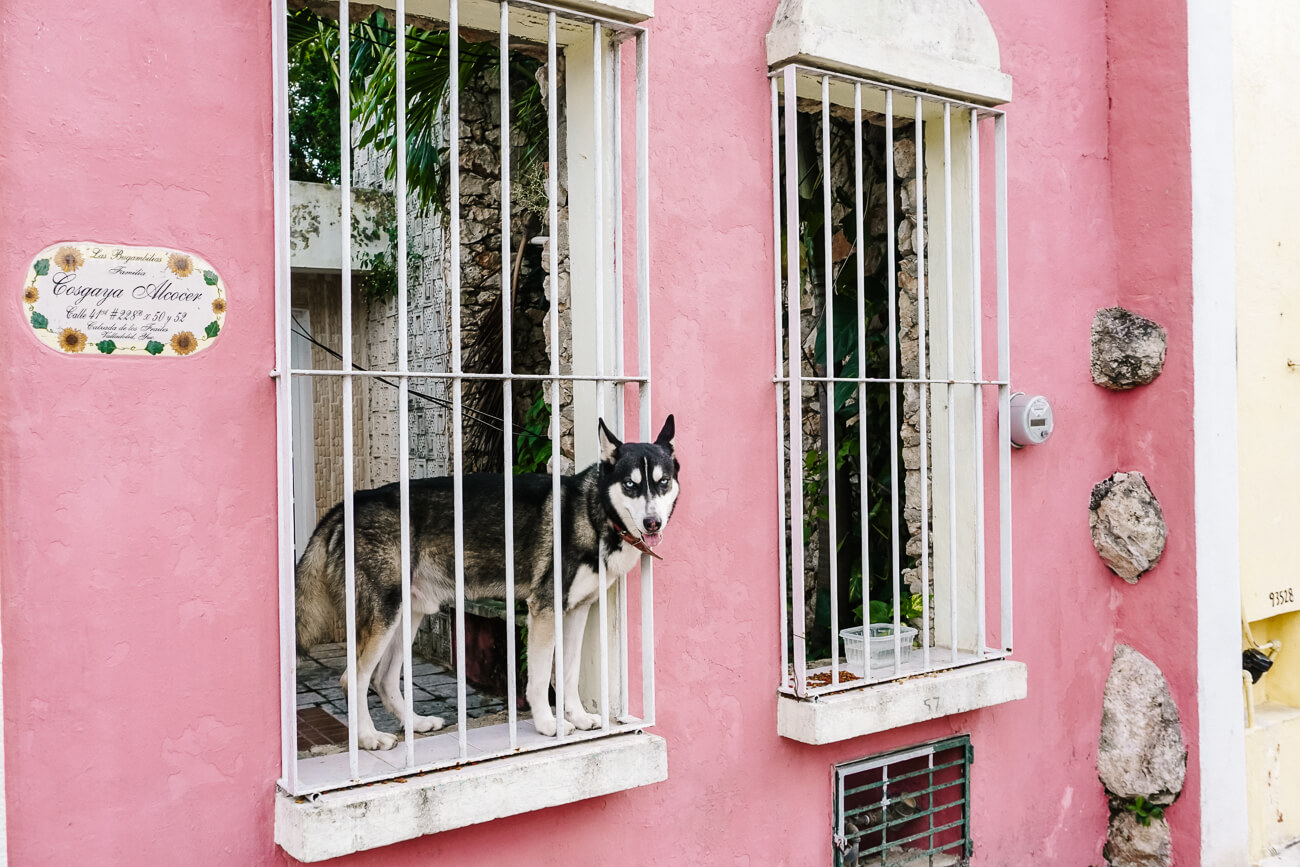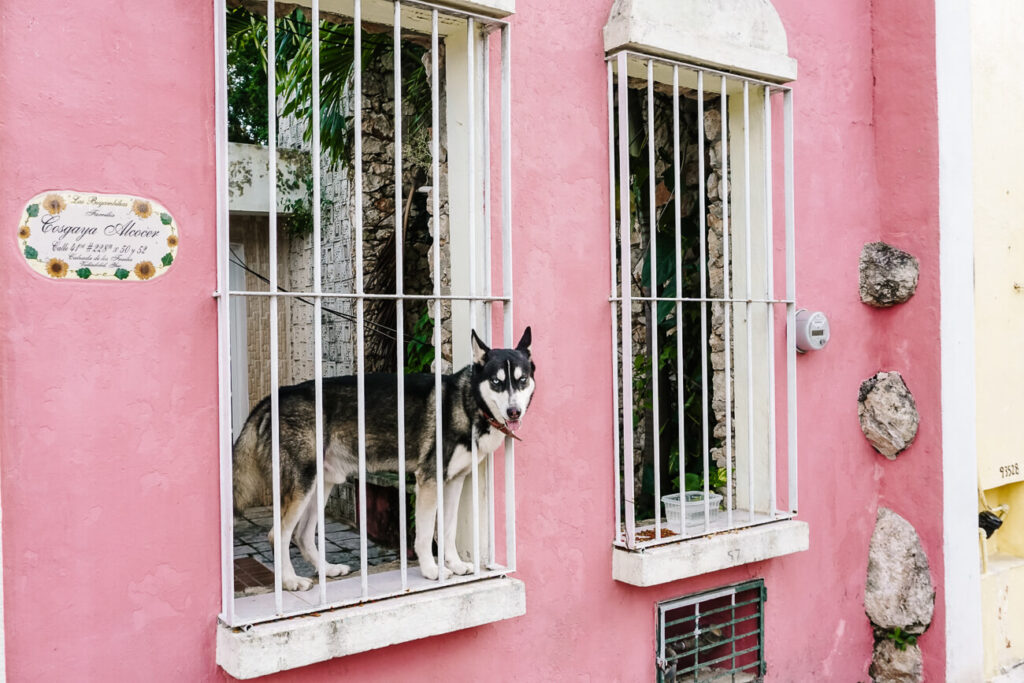 The state of Chiapas does not have a very good reputation because of its notorious past with rebellions and violence between the local population, guerillas (Zapatistas) and authorities. Once in a while, tempers can run high here. It is therefore important to check the security situation before you travel by car in this state. It may be better to take a different route and postpone a visit to the falls.
Tips for traveling around Mexico
The distances in Mexico are long. If you have time, it is best to take a road trip through Mexico. That way you see a lot of the surroundings and you can make stops along the way. Public transportation in Mexico is well organized. There are good bus connections between all Mexican cities and the buses are very comfortable. There is an on-board toilet, seats can be reclined far back (depending on the class you book, they can even be reclined) and movies are often played. The ADO bus is best known and runs all over the country. And the great thing is that they are very affordable and generally run on time as well.
Should you have less time, the best way to cover longer distances between cities and attractions during a trip to Mexico is to travel by plane. The latest prices and availability can be found via Skyscanner where Aeromexico and Volaris operate many domestic flights. I find it easy to rent a car and travel around attractions in Mexico that way. But I can imagine that not everyone is comfortable with that. If you go for this option, it is important to be well informed about the safety on certain routes. Rentalcars is a great place to find cheap cars. But remember to be well insured.
Looking for flights to and in Mexico? Check out availability and prices for flights here.
Mexico Itinerary
What if you have three weeks in Mexico and want to get the most out of your travels? What should you see and include in your three weeks in Mexico? This is my Mexico itinerary for 3 weeks, bringing you from Mexico city all the way to the peninsula Yucatan. I will show you beautiful cities, places in nature, archaeological sights, activities and cultural highlights to include in your trip.
Tips for transportation within the Mexico cities
In many cities you can easily explore the center by foot. In Mexico City it is easy and quick to use the extensive metro system. For longer distances, an uber or cab is recommended. The prices are quite affordable.
Save and pin "What to do in Mexico" for later
More about Mexico
Did you enjoy reading this article with tips for Mexico? In the next articles you can read more about Mexico:
Things to do in Izamal, the yellow city of Mexico
What to do in San Cristóbal de Las Casas
Interested in art, culture and archaeology? Read my articles about:
Yaxchilán, the remote Maya site in Mexico
Monte Albán, the ruines near Oaxaca
The best ruins to visit in Mexico