Izamal is better known as the yellow city of Mexico. When I first heard about this city I thought, oh that must be a city with just some yellow houses. But nothing is less true.  All the houses in the colonial center of this city are painted completely yellow. And in different shades! The reason why the city is yellow is unfortunately unknown. But Izamal is a wonderful destination to include in your Mexico itinerary. In this article you will find the 10 best things to do in Izamal Mexico, including one of the most beautiful hotels and Izamal restaurants.
A little bit of history | Izamal Mexico
Izamal means dew that falls from the heavens. The city was founded by the Mayans two thousand years ago and is probably named after the Mayan god Itzamná. For a long time, Izamal was a ceremonial center, where temples stood to honor important gods. Until the city was conquered by the Spaniards in the 16th century and completely destroyed. The stones from the temples were used, as in many places during the Spanish conquest, to build churches and monasteries. To this day, Izamal is a place of pilgrimage. Izamal is one of the "Pueblos Mágicos" (magical cities) of Mexico. A program developed by the government to preserve and promote the cultural significance of the city.
Discover the best things to do in Izamal Mexico
Walk around and take pictures in the yellow city of Mexico
It may not surprise you when I say that one of the best things to do in Izamal is to walk around the yellow streets and take lots of pictures. Many houses are decorated with flowers and plants, which makes for great pictures. Don't forget to visit the Parque de los Remedios to have a look at the little church Capilla de los Remedios. I also couldn't stop taking pictures of the little yellow chapel San Idelfonso, located at the outskirts of the town. Both churches are super cute and photogenic!
You can also choose to take a ride in a carriage. It is a bit touristy but believe me, in Izamal it can be quite a nice little trip.
Visit the famous Convento de San Antonio de Padua
The most famous building in Izamal is the Convento de San Antonio de Padua. And you will often see pass a picture of this yellow convent by when you read about Izamal. In the time of the Mayans, this was the place of the Papp-Hol-Chac temple. The Spaniards used the stones of the temple to build the first Franciscan monastery in Yucatan in 1533. According to reports, it was even one of the first monasteries in the Western Hemisphere. You can take great photos in the plaza of the monastery, walk around the arches and enjoy a fantastic view of the square of Izamal. Are you interested in the history of Izamal? Then one of the best things to do is to visit the interiors of the Izamal monastery, which is nowadays a museum.
Discover c | Things to do in Izamal mexico
In Mayan times, the temples in Izamal were used to honor gods such as Itzamna and sun god Kinich-Kakmo. Three of the twelve temples have been partially restored and some of them can be visited today. I am fascinated by the history of the Mayans and other pre-columbian cultures. Walking through a city where you suddenly see remnants of Mayan temples still dazzles me. Pyramids to visit in Izamal include Itzamatul, el Conejo, Chaltún Há and Kinich-Kakmóen, the archaeological zone of Izamal. Kinich-Kakmo was the temple of the sun god, with a base of 8000 square meters and 34 meters high. You can climb the pyramid for a view of the city. All pyramids are free to visit.
Mexico is known for its many archaeological sites. Each complex has its own characteristics and stories. You can stroll through the ancient cities, climb temples, admire ornaments and learn more about the fascinating history. This is a list with the best ruins to visit in Mexico.
Shop regional products
In the center of the city you can find a number of small boutiques, like Raices Maya, where you can buy beautiful handmade products made from sisal. Sisal is a tropical fiber and it's extracted from leaves of Agave plants. The Mayans already used this material for their clothing. Nowadays in Izamal and surroundings you can buy beautiful products like bags, hats and decorations for your home.
Visit the at Coqui Coqui Perfumeria – Casa de los Santos
Coqui Coqui is a designer perfume store where really everything is beautiful. There are branches in Valladolid, Cobá, Merida and Izamal. At Casa de Los Santos in Izamal, you'll find blue and pink frescoes, antique tapestries, ornate floor tiles and everywhere rich scents and candles that Coqui Coqui is so famous for. Coqui Coqui is a concept by duo Nicolás Malleville and Francesca Bonato, who were inspired by the lifestyle, scents and colors of Yucatan in Mexico and French Polynesia. In almost every place you can stay overnight in one of the fantastic luxury suites.
Note: Coqui Coqui in Izamal is only open when guests are staying, so if you find it closed, you may have to try again the next day.v
Izamal hotels
Spend the night at Hacienda Sacnicte
Many people visit Izamal as a day trip from Merida or in transit to a larger city in the area. Something that is perfectly doable. But what if I tell you that 10 minutes' drive from Izamal you can find one of the most beautiful haciendas of the region? Hacienda Sacnicte has incredible rooms for an affordable price. I initially booked 1 night here but ended up staying a week. Defintely one of the secret things to do in Izamal Mexico.
Hacienda Sacnicte is a former hacienda transformed into a luxury boutique hotel. The colonial rooms are situated around a beautiful pool with numerous iguanas that have made their dens here. Each room is unique and stylishly decorated. Even the bathrooms have been thought about extensively and are so beautiful. The master suites and presidential suites are located in the main building and the largest rooms. On the veranda of the former mansion you can enjoy the Mexican slow vibe while delicious food and drinks are served. Highly recommended to include in your itinerary, even if you have little time!
Check availability and current rates for Hacienda Sacnicte here.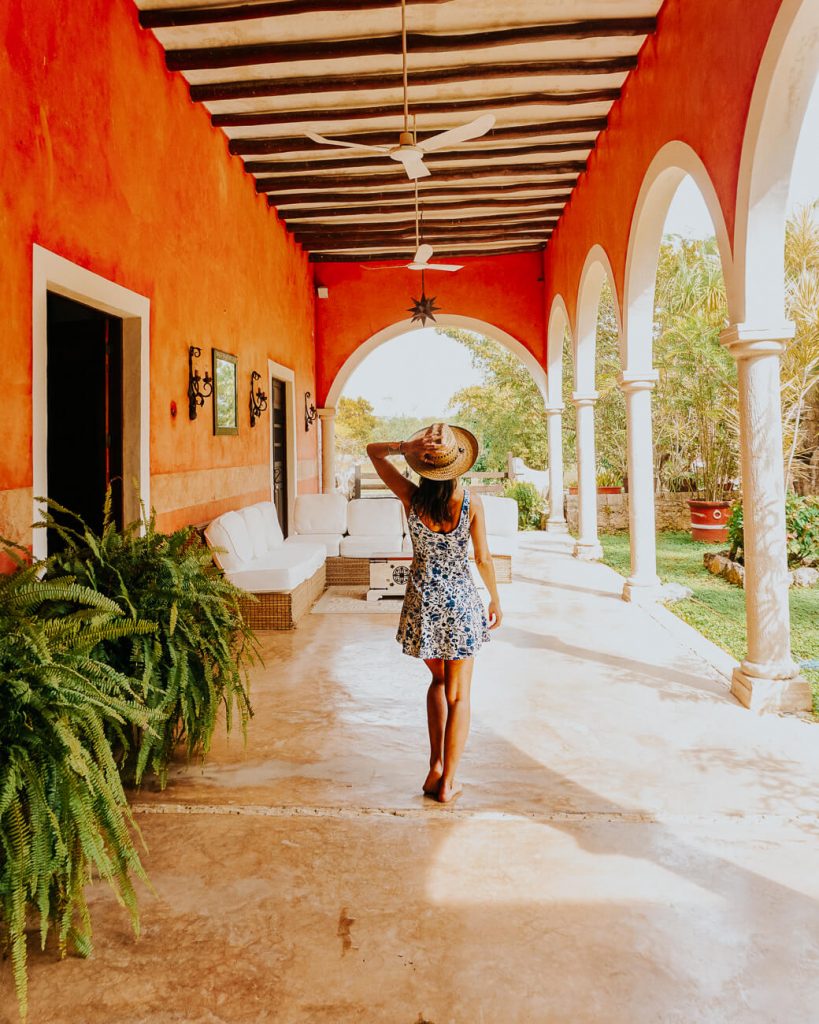 Izamal restaurants
Enjoy local cuisine at the best and most enjoyable Izamal restaurants in the yellow city of Mexico with these tips.
Kinich | Izamal restaurants
Kinich is without a doubt one of the best Izamal restaurants. It is a popular spot for tourists but also among locals. In an open and beautiful colonial setting, several tables and chairs are set up. The menu consists of typical Yucatan dishes like papadzules. Be sure to also take a look at the small boutique store at the front. You'll find beautiful local products here.
Zamna | Izamal restaurants
Another restaurant in the yellow city of Mexico, where you can enjoy delicious local dishes, is Restaurante Zamna.
How to reach Izamal in Mexico
The best way to reach Izamal is by car. Driving by car around Mexico is easy and it gives you full independence. Moreover, you can park for free in Izamal. Keep in mind that there is one way traffic everywhere so a good navigation is recommended (download in advance). Izamal is best visited on the way from Valladolid to Merida. From Merida it is a one hour drive, depending on traffic, and from Valladolid 1 hour and 45 minutes. Of course you can also opt to go to Izamal with an organized tour and guide. Or travel by public transportation such as the ADO bus.
On the road in the yellow city in Mexico
In Izamal you can do everything on foot. Park your car at the monastery or Kinich restaurant and continue on foot from there.
Best things to do around Izamal Mexico
The church of Uayma
If you drive from Izamal to Valladolid in Mexico or vice versa, make sure you stop on the way at the church of Uayma, all in pink with numerous decorations. In the village itself there is not much to do but the church is definitely worth a picture. Around Uayma there are more sleepy villages with small churches in different colors. It is definitely one of the best things to do when you are in Izamal Mexico.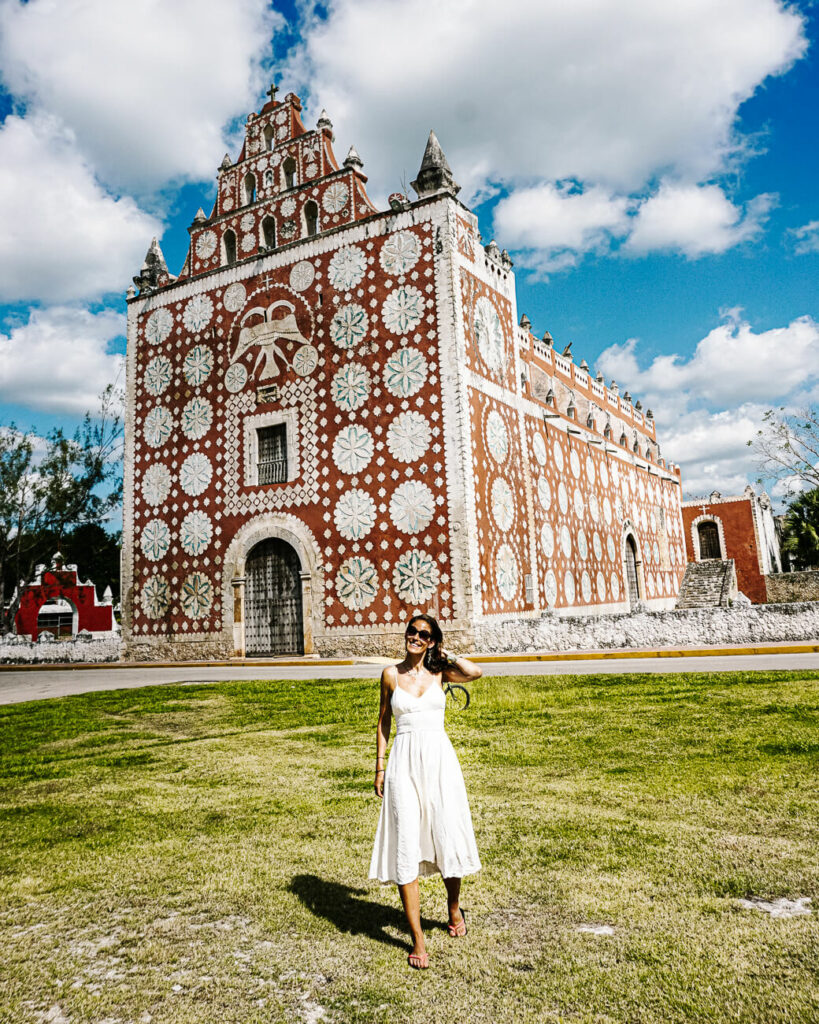 Valladolid & Chichen Itza
A 1.5 hour drive from Izamal, to the east lies Valladolid. This is a typical Mexican city with a lovely relaxed atmosphere. Moreover, it is the ideal base for a visit to Chichén Itzá and the surrounding cenotes. Both are among the top sights in Mexico and are well worth a visit.
Valladolid in Mexico has a large plaza with a cathedral, a monastery, colonial buildings with countless colors and even a cenote located in the middle of the city. One of the most beautiful streets in Valladolid is Calle de los Frailes, where almost every building is worth a picture. There are boutique hotels, small restaurants and beautiful stores.
Want to know more about Valladolid in Mexico? Read all my tips for the best things to do and most beautiful sights in Valladolid and its surroundings here.
Mérida
Merida is the capital of Yucatán and is also called the art and culture city of the peninsula. Because of the museums, beautiful stores, good restaurants, numerous festivals and art projects that take place there. Despite the size of the city, it has the friendly atmosphere of a provincial town. You can walk through the beautiful colonial center and discover the Paseo de Montejo, also known as the Champs-Élysées of Merida. This is a long boulevard with old mansions that have been transformed into museums, stores or restaurants. Merida is a nice city to include in your Mexico itinerary and is a 1-hour drive west of Izamal.
Pin and save "Things to do in Izamal Mexico" for later
More about Mexico
Mexico is a country that inspires in every sense. Each state in Mexico has its own character, atmosphere and highlights. In the next article you'll find my best travel tips for what to do in Mexico. Discover scenic and cultural destinations, art, beaches, culinary experiences, archaeological highlights and information about safety, best travel time and transportation. Looking for more tips and inspiration? Also check out the Mexico archive for articles about what to do in Valladolid in Mexico, the best things to do in Oaxaca, what to do in San Cristobal de Las Casas, 10 best things to do in the yellow city in Mexico, Izamal and tips for a Mexico itinerary 3 weeks. Interested in archaeology? Read more about Yaxchilán, Monte Alban and the best ruins to visit in Mexico in the following articles.