As long as I've known the name of the Mexican painter Frida Kahlo, I have been impressed. Impressed about her outspoken appearance, her life, her art and her unique style. She has always attracted and interested me. Many people see Frida Kahlo as a victim because of her physical limitations and the way her husband Diego Rivera treated her. In my eyes Frida stands for independence, perseverance, inspiration and daring to be unique. I love seeing her work and pictures in museums and exhibitions around the Latin American continent. In Mexico City you can visit her former home: La Casa Azul. Read more about this interesting place in the following article.
A visit to the Casa Azul, the former home of Frida Kahlo
Casa Azul, the birthplace of Frida Kahlo, is a place you can't miss when you are in Mexico City. Casa Azul or "blue house", was transformed into a beautiful and interesting museum about her life and work. Frida Kahlo lived in the Casa Azul, together with her husband and famous artist Diego Rivera, for years. She died there in 1954.
In Casa Azul you can walk through the former house. Each space showcases pictures and paintings, including works by Diego Rivera, as well as art from their private collection.
On the walls you will find some of the quotes that made Frida Kahlo famous, mainly about her life and relationship with Diego. These quotes are showing her positivity and independency. It is said that they were a daily inspiration to herself.
You can observe the old kitchen, the working and living areas. A special place is the "famous" bed from where Frida was forced to create many of her paintings, due to her handicap. A mirror was attached above this bed to make sure she could see herself while painting.
The gardens, fountains and dark blue walls, with pre-columbian artifacts, part of their private collection, make the outside area a wonderful to walk around. You can settle down on one of the benches and think about the life they must have lived here.
Frida Kahlo in Mexico City, a fashion icon and inspiration
Also worth visiting, is the special exhibition space, showcasing Frida Kahlo's characteristic style and her influence at the fashion world. Different brands and fashion designers have used Frida Kahlo as an inspiration for their own work. Including Givenchy, Comme des Garçons and Jean Paul Gaultier. The cover on Vogue in 1937, made her real icon.
Frida Kahlo's style could be described as Mexican traditional but with European influences, because of the different blouses she used to wear. Her signature dress was the beautiful Tehuana dress from Oaxaca, combining lots of color, silk, lace, shawls and skirts.
Museum shop & Frida Kahlo gadgets
Museum shops always make me happy, I can wonder around for hours admiring the beautiful books. In this little shop you can buy books, post-cards and other Frida Kahlo gadgets. Keep in mind that you can also buy Frida Kahlo items in the neighborhood. From tourist souvenirs to unique items, for less money.
Curious about art and artists coming from Central & South America? Read the article get inspired by work from Latin American painters!
How to reach the Casa Azul?
Casa Azul is located in the Coyoacán district, the former neighborhood for the rich, wealthy and bohemian artists. It is still a nice and quiet neighborhood, completely unlike the busy city center. Casa Azul is within walking distance of the Plaza Hidalgo and El Jardin del Centenario. These are two large central squares where you can sit on a bench or enjoy one of the many terraces.
By taxi or uber, depending on traffic, you will reach Coyoacán within 20 minutes. You can also take the subway. Get off at the Coayacán stop and walk to the Frida Kahlo Museum in about 20 minutes.
Buy your tickets in advance!
It's recommended to buy your ticket on the website in advance. Select your day and timeslot and bring your ticket with you. There is a special line for online tickets and you will be sure to enter at your pre-reserved timeslot. If you don't have a ticket, you have to make another line and wait for an available timeslot. Something that could take a long time because Caza Azul became a popular spot to visit.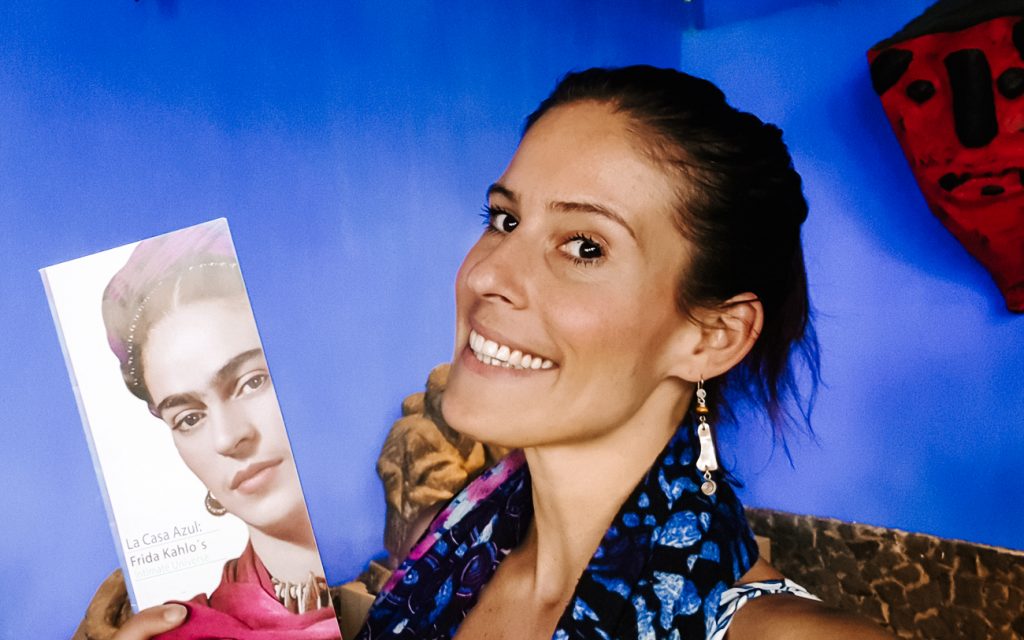 ---
Interested in learning more about Mexico? Discover what to do in San Cristobal de las Casas and the best things to do in Oaxaca in the next articles. Interested in learning more about archaeology? This is an overview of the best ruins to visit in Mexico. Or explore the archaeological site of Yaxchilan and Monte Alban.
---