Lots of people have heard about the Maya and the Aztecs. But there are many more ancient civilizations in Mexico, such as the Mixtecs and the Zapotecs. It is said that the Zapotecs were the first people, inhabiting the central valley and mountains of the Oaxaca state around 500 BC. One of their most important cities is Monte Albán, located near the current city of Oaxaca in Mexico. Monte Albán used to be the political, cultural and religious center of the Zapotecs for more than 2000 years. Nowadays it is a beautiful and interesting archaeological site that you can visit. In this article I'm taking you on a a tour to Monte Alban and telling you more about this former city of the Zapotecs.
Monte Albán – the ruins in Oaxaca
Monte Albán is the famous archaeological site near Oaxaca in Mexico. The location of Monte Albán is truly beautiful. The temples and pyramids are almost part of the landscape, making for a mysterious atmosphere. If you look out over the complex you want to go back in time and know how it must have been to live here. Are you ready for a tour to the Monte Alban ruins?
History of Monte Albán
The Zapotecs built their cities and ceremonial centers as early as 500 BC. As with many pre-Columbian cultures, it is not sure where they came from and what their origin was. It is said, that the Zapotecs were related to the Olmecs, one of the oldest Mexican civilizations.
The construction of Monte Albán in Mexico probably started around 200 BC. The Zapotecs chose central and fertile locations for their ceremonial centers. In the case of Monte Albán, a strategic place on a mountain where three different valleys come together. The city became the religious, political and economic center of the Zapotec empire that lasted for more than 2000 years. Even though power was divided between different settlements, most influence wa exerted from this area.
The city flourished between 300 to 700 A.D, when most of the building were constructed. According to research, around 30,000 people would have lived here around that time. When the city was left behind, for unclear reasons, the Mixtecs took over. They rebuilt the city, added new ornaments and decorations and started to use the city as a burial site for their elite. When the Spaniards arrived in the 16th century, the city was already abandoned. What is left of the city today, is therefore a mix of styles from different periods.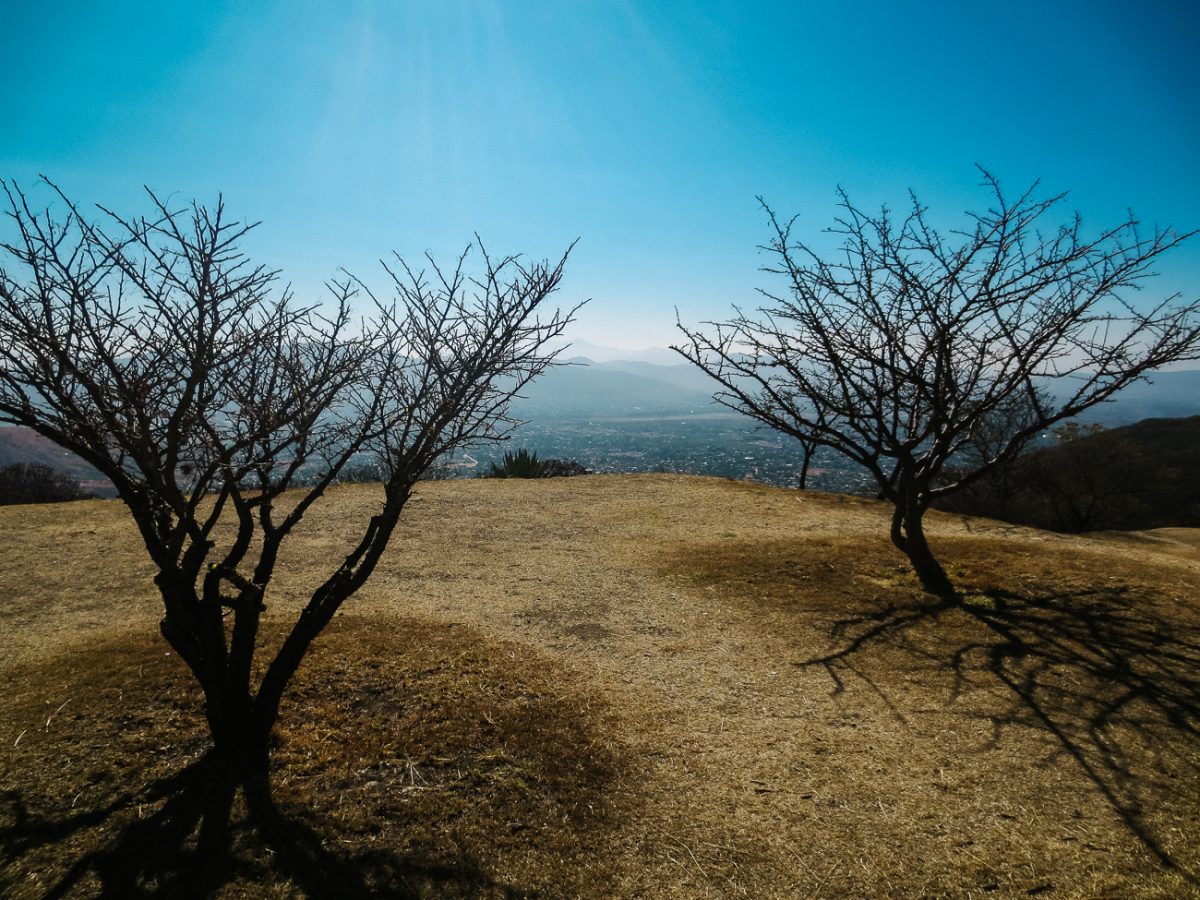 White mountain
Monte Albán's original name has been lost and there are several theories about the current name of the city. Monte Albán means white mountain, referring to the Cazahuate, an indigenous tree, which has numerous white flowers in winter. The Spaniards named the place white mountain, because of the many white flowers they found here. Other names include "Holy Mountain", "Green hill" and "Hill of the Jaguar".
Monte Alban tour in Oaxaca
Monte Albán, along with the city of Oaxaca in Mexico, is part of the UNESCO World Heritage site list. Visiting Monte Albán is a different experience than other ruins in Mexico, because it is less crowded and so much more peaceful. When you go early in the morning, there is a big chance of having the place for yourself. Do you want to visit Monte Alban with a tour from Oaxaca? This is an overview of different tours where you can also check availability and prices.
The northern platform
The northern platform is the place where you will find the most important buildings, directly connected with the ceremonial squares, where the priests and officials lived. Broad staircases, connecting the upper part with the lower part, were a clear way of dividing the different classes of people. Monte Albán contains several buildings, including courtyards, usually sunken, that were used for sacred ceremonies. The niches are said to have contained the sacrifices that went with the dead to the gods in the upper world. In a number of buildings you can still find old frescoes, depicting these rituals.
The northern platform offers a beautiful view of the site, including the central plaza. At the backside of the northern platform you will find some benches where you can overlook the valley and enjoy the birds of prey flying around.
The central plaza
In the middle of the central plaza you will see an observatory and altar, probably used for ceremonies and sacrifices. The surrounding buildings were used for public purposes and lower administrators. Common people, including farmers and craftsmen, are said to have lived on the slopes surrounding the complex.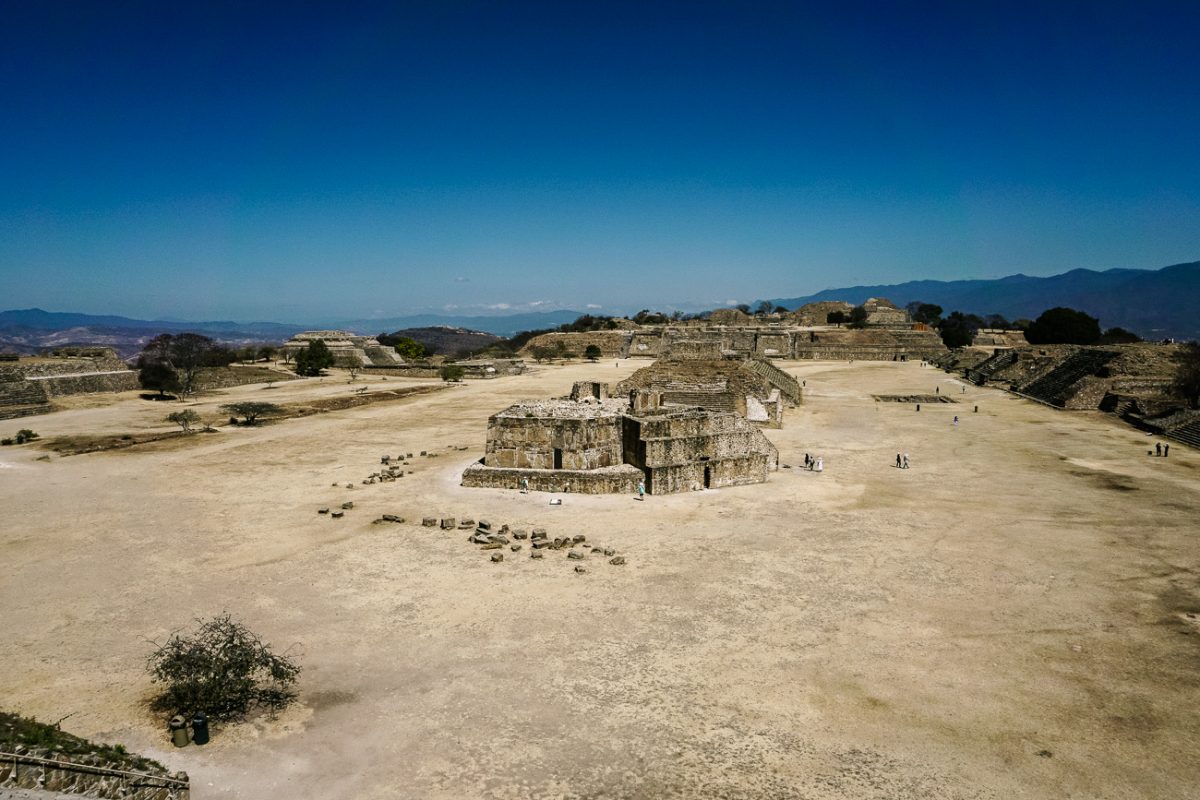 Los Danzantes
Los Danzantes is probably my favorite part to observe, during a Monte Alban tour. It is a series of reliefs with special images, representing naked people in twisted positions, created between 500 to 100 BC. There are several theories and ongoing researches on this. Are these figures maybe dancers? Is it perhaps a story about medical procedures? Or do the figures represent sacrificial victims? Something that would explain the morbid characteristics of the figures.
According to latest researches, these monuments represent tortured and sacrificed war prisoners, leaders of competing villages that were captured by Monte Albán. Over 300 Danzantes stones have been found and some of them can be observed at the site's museum.
Ballcourt
The ballcourt located, that played an important role in pre-Columbian times is located on the edge of the square. There are still so many questions about the way they played these games, including the goal of this ball game. Did people use their elbows, their hips or only hands while playing? Where exactly did the ball go through? Were the losers immediately after the game sacrificed? So many questions still to be answered.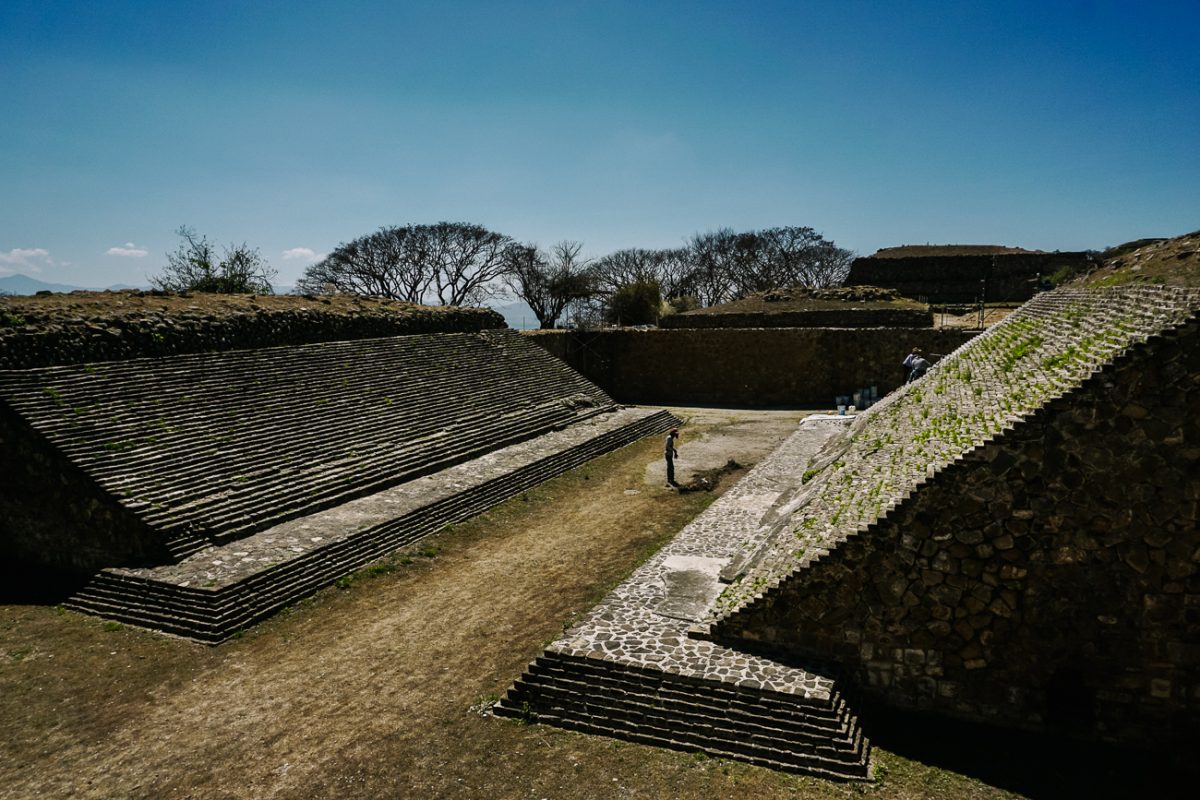 Tumba 7 and museum
Around the entrance, there are several tombs. Tumba 7 is one of the most important ones because of the amount of treasures that have been found here. Some of them can now be observed in the museum of Oaxaca. The archaeological site itself also has a small museum, displaying objects that were discovered in the tombs and surrounding buildings.
Mini travel guide to Monte Albán in Oaxaca
Monte Alban tour
Do you want to learn more about the history of Monte Albán in Mexico? Then I recommend going with a guide on a Monte Alban tour. You will experience the ruins in a different way, as the stones come to life and you'll get a better idea of how people must have lived in those days. Moreover, your transportation is included. This is an overview of different tours where you can also check availability and prices.
Transportation
Do you want to visit Monte Albán from Oaxaca by yourself? Monte Albán is only half an hour's drive from Oaxaca city.
Car rental
Need a rental car for your trip to Mexico? Use Rental Cars to search and compare your car rental options. A quick and easy tool and no need to have up multiple tabs trying to figure out which company is the most affordable. They also have great discounts and cancellation policies.
More ruins in Mexico
Interested in reading more about ruins in Mexico? Mexico is the country of ancient temples and pyramids, each of them located in a different part of the country. In the jungle, the savanna, on a hilltop, in the rainforest and at the beach. This is a list with the best ruins you want to visit during your trip through Mexico.
More about Oaxaca
Oaxaca is one of the most beautiful cities to visit in Mexico. This city is pieceful and has a nice bohemian atmosphere. While walking through Oaxaca city center, you'll will pass museums, markets, art galleries and countless coffeeshops and restaurants. You can stroll around for hours and enjoy squares, churches, colonial buildings, botanical gardens and colorful street art. In this article you'll discover the best things to do in Oaxaca city in Mexico.
More about Mexico
Did you enjoy reading this guide about a Monta Alban tour in Mexico? Looking for more tips and inspiration? In the next articles you can discover more about beautiful Mexico.
Interested in art, culture and archaeology? Read my articles about:
Important note: for many archaeological sites, there are different theories and interpretations, as reaserch is still being done. Most of the information has never been officially confirmed and is still subject to speculation. The information in this article is based on my own visits, experiences, conversations with researchers and guides. However, there will be different interpretations and data available. Do want to read more about Monte Albán in Mexico? I also recommend taking a look at the website of Unesco.
This article may contain affiliate links. If you purchase something using one of our links, we may receive a commission at no extra cost to you, which helps us keep this blog alive. Thank you for your support! Please see our disclosures for more information.