Most people visit the famous Maya city of Tikal in Guatemala. And rightly so! But the smaller and less visited Yaxha is a place you really shouldn't skip while visiting the province of Peten in Guatemala. Yaxha is located on a large lake, also called the crocodile lake. And from Temple 216 you can enjoy beautiful views during the sunset. Even though more and more tourists find the ancient Maya city, the big tourist crowds stay away and that is what makes a visit so special. In this article you will read everything you want to know about the Yaxha Mayan ruins in Guatemala, a tour including the highlights and useful tips for your visit.
Our guide Erdozain from the organization Tikal Go picks us up from our hotel in El Remate around noon (check out my hotel tips below). Because we want to see the sunset from the famous temple 216 in Yaxha, we decide to go for an afternoon tour. The nice thing about Yaxha is that you never find the same amount of crowds as in Maya city Tikal. Here I would always recommend you to go as early as possible. But that's not necessary for a visit to the Yaxha Mayan ruins in Guatemala.
It is a short hour drive from El Remate. In the car the guide is already telling plenty about the history of Yaxha. Something I really enjoy, because that way you can already prepare yourself a little for your visit.
Introduction to the Maya city of Yaxha Guatemala
Yaxha, together with the archaeological sites of Nakum, Naranjo and Topoxté, is part of the Parque Nacional Yaxhá-Nakum-Naranjo Guatemala, which together covers 370 square kilometers. Yaxha is the largest site and the fourth largest Maya complex in Guatemala. After El Mirador and Tikal. Yaxha was built around 600 BC, a few hundred years later than Tikal. Yaxha reached its peak in the 8th century AD with over 500 structures consisting of temples, palaces and residential areas. Around 20,000 people must have lived there by then.
By comparison, Maya city Tikal was one of the largest cities in the Mayan empire between 200 and 900 AD, with a population of around 100,000 people at its peak. Tikal contains more than 3,000 structures. Would you like to read more about Tikal? In the following article you can read all about visiting Tikal, with numerous tips.
Yaxha means blue-green water, which refers to its lakeside location. Today it is two lakes, Lago Yaxha and Lago Sacnab. The Austrian explorer Maler (re)discovered Yaxha in 1904. Before that, the complex was known only to indigenous peoples. The first excavations began in 1970 and gradually the complex began to attract visitors
A tour of Yaxha Guatemala
Unfortunately, the weather has not been great the last few days (lots of rain) so it is exciting what the day will bring. This is something general to take into account when visiting the province of Peten in Guatemala. After all, you are in the rainforest and the environment is so green for a reason.
In the visitor center, where you also buy your entrance ticket, we are getting an introduction to Yaxha by Erdozain. There are also several explanatory boards that explain you more about the history of Yaxha Guatemala, the location at the lake and the Maya calendar. An interesting start!
From here we drive a little further by car up the mountain, where our exploration of the Maya city really begins. Howler monkeys already seem to greet us from a distance. What a deafening sound these animals produce. Immediately I notice how beautiful the surroundings are. Like Tikal the largest part of the former Maya city lies under vegetation and is overgrown with jungle. Something that creates a mysterious atmosphere. It is incredible when you imagine that this must have been a bustling city of a highly developed civilization, so many years ago
The highlights during a Yaxha tour
You definitely need a morning or afternoon to explore Yaxha. The best way to see it is to walk around with a guide to take in the buildings and atmosphere. You will walk on ancient Mayan roads past the astronomical center, the ball court, pyramids covered by jungle and the different plazas. These are some highlights that you should not miss during your Yaxha tour.
The northern Acropolis
The northern Acropolis consists of several buildings and is a typical plaza, as you often see in ancient Maya cities. You can climb the various temples for beautiful views of the Acropolis and its surroundings. From the highest peak you have a view of Temple 216, which rises just above the treetops. This is the famous temple where everyone gathers to watch the sunset at the end of the day.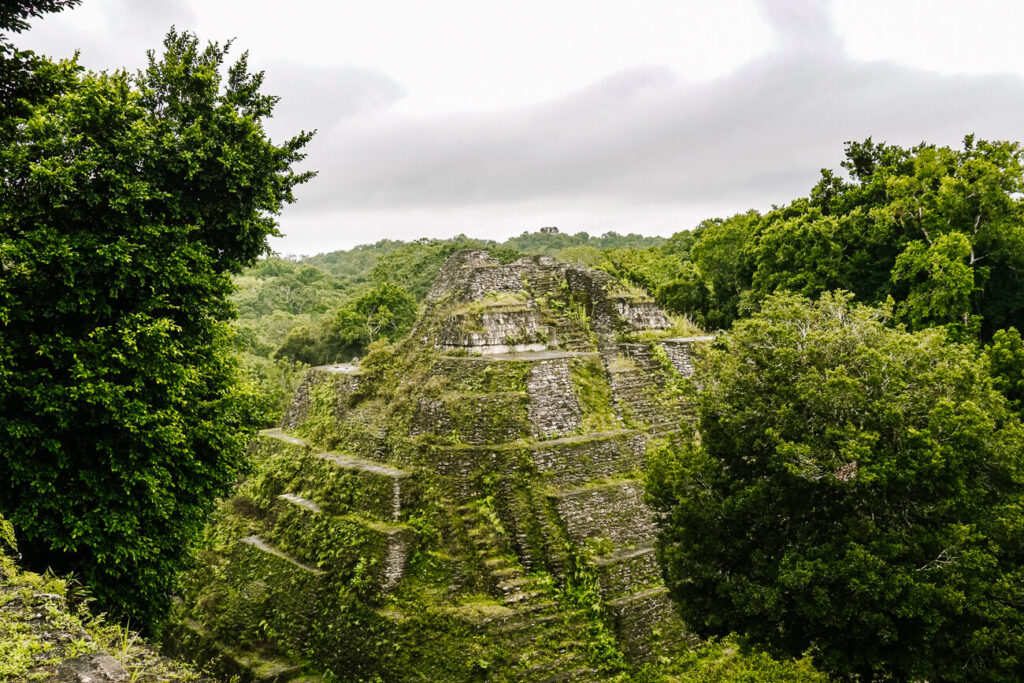 Calzada del Lago
Along the Calzada del Lago you walk along the southern Acropolis towards the lake. Nice to do because the lakeside location is what makes the Yaxha Mayan ruins in Guatemala so special. The lakes used to be part of an important trade route between the Maya cities.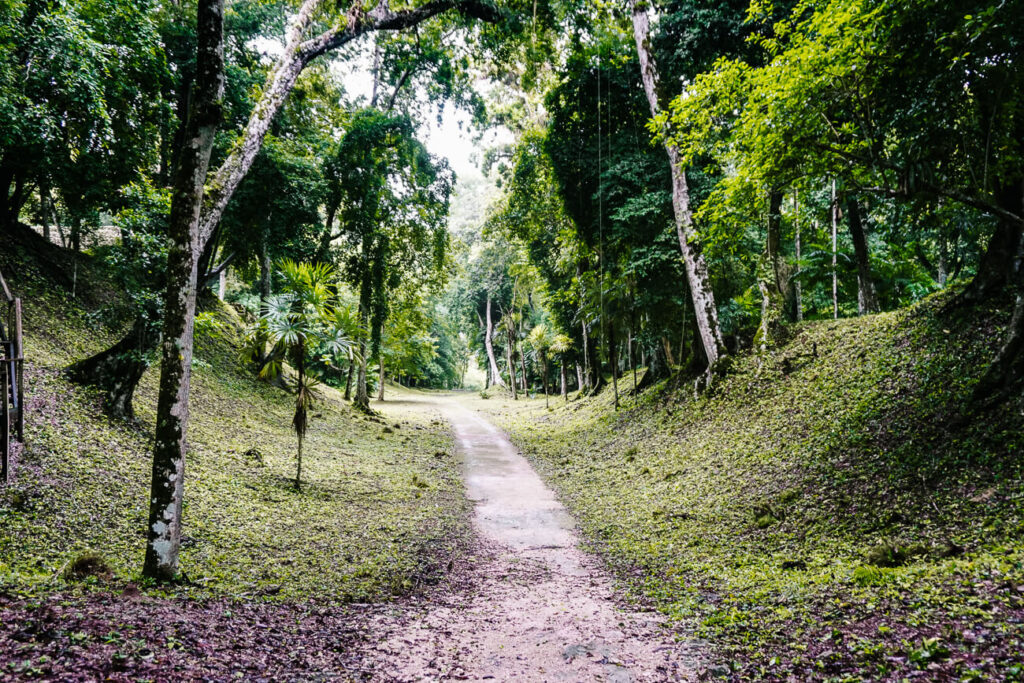 Along the way you can stop at one of the houses of the southern Acropolis. Our guide shows us the architectural style on the inside because of the rain. It is one of the few houses that you can see the inside in that way and therefore worthwhile! Today it has become a living space for many bat families.
Tip: At the end of the Calzado del Lago there is a jetty where you can take a boat and visit the island in the lake. Here lies another temple complex, which is also one of the oldest Maya cities: Topoxté. The ruins are less impressive but it is the location and boat ride leading to it that make a visit very interesting.
Temple 216
One of the highlights during a Yaxha tour in Guatemala is temple number 216. At 30 meters high, this is the tallest temple in the complex and offers a 360 degree panoramic view of the entire area. The temple is also called the temple of the red hands, because of the red handprints found here. This is the place where you want to be during sunset. During my visit it was too rainy but the colors you see here on a clear day are breathtakingly beautiful.
Tip: Want to see even more of Yaxha National Park in Guatemala? It is also possible to visit the temple complexes of Nakum (18 km from Yaxha) and El Naranjo (22 km from Yaxha). These places can be reached by jeep in the dry season, between March and June. The rest of the year you can only get there by foot or horse during a multi-day trip.
Mini travel guide Yaxha Mayan ruins in Guatemala
How to visit the ruins
Yaxha is located about 70 kilometers from Flores and 50 kilometers from El Remate, between Tikal and the Belize border. You can visit the Yaxha Mayan ruins in Guatemala in several ways: on your own or organized. Because Yaxha, is located 10 kilometers away on a dirt road from the main road, it is more difficult to reach it by public transportation (Meaning: You are dropped off at the junction and have to look for transportation to the temples from here). Also, this last part of the road is not always passable. My recommendation is therefore to plan your visit in an organized way, so you don't have to depend on public transport.
On the road with Tikal Go
Personally I find it a great advantage to go on a guided tour because that way the history comes to life. However, I do not like to travel in large groups. That's why I try to find smaller-scale tour companies, such as Tikal Go, where you'll find customized packages. Tikal Go is a boutique agency specializing in travel and tours in the province of Peten. They arrange transportation, tickets and send you out with an expert guide. The nice thing is that almost all the guides have something extra. They work on research in Maya cities, specialize in birds, have traveled extensively or are affiliated with specific organizations in the field of culture and nature.
Why you should head out with a private guide
Yaxha is not a complex where you quickly get lost like in Tikal. Still, it is worthwhile to go on a guided tour.
You see so much more than on your own. Think of the numerous hidden birds, plants and animals that you would probably just pass by, when you are on your own.
You really feel as if you are in another world because you are taken on a journey through the history of the Maya city.
The stones and buildings of the Maya cities really come to life through the stories.
You can ask all your questions and have a conversation about the theories and research, including other Maya cities you may have visited.
It is an efficient way of exploring the site. You get a good impression of all the places in a short time. Later you can walk back to one of the temples to see them again. But usually you have enough time during a private tour.
The advantage of a private guide is that you do not have to take into account other people and wishes.
Transportation is arranged. so you only have to concentrate on the beautiful stories and surroundings.
Entrance to Yaxha National Park Guatemala
A ticket for Yaxha National Park Guatemala costs 80 quetzales and allows access between 8am and 6pm. There is no need to buy a special ticket for sunrise or sunset like in Tikal. Tickets for Yaxha can be purchased at the entrance. Of course, if you travel with Tikal Go, this will all be arranged for your Yaxha tour.
Packing list for a Yaxha tour in Guatemala
Comfortable shoes for climbing temples and walking on swampy paths
Poncho/rain suit (when it rains, it can get pretty heavy)
Mosquito Spray
Sunscreen/sunglasses/hat
Light clothing, it is generally hot and humid there
A flashlight, if you plan to do a sunset
Enough money for your entrance ticket, there is no ATM machine
Enough water and maybe something small to eat. Nothing is available in the park.
A notebook to take notes. Use discount code traveltheworld and receive 10% off all Miss Wood products.
Tikal versus Yaxha Mayan ruins in Guatemala
Tikal is impressive and should definitely not be missed during a trip through Guatemala. But Yaxha is an absolute must if you have more time or just want to do something else than the popular Guatemalan sights. You'll find far fewer tourists here and entrance fees are also less expensive (80 quetzals versus 150). It is also easy that you do not have to buy your tickets in advance and no extra tickets are needed for a sunset moment. However, Yaxha is smaller than Tikal and you cannot admire a sunrise there.
Culture, art, nature and adventure: Guatemala has it all! Guatemala is a country you will fall in love with. In the following article you will find a comprehensive list of what to do in Guatemala, places of interest, and lots of insider tips. Get ready for not only the well-known highlights but also off-the-beaten track destinations, beautiful hotels, and tips for culinary and cultural experiences.
Hotels around the Mayan city of Yaxha in Guatemala
Flores en El Remate
Surrounding Lago Peten Itzá, there are small towns such as Flores and El Remate, with numerous lodging options, that you can use as a base for visiting Yaxha. Flores is 70 kilometers away from the Yaxha Mayan ruins in Guatemala and El Remate is 50 kilometers away.
Check out a list of hotels in Flores and hotels in El Remate.
Staying in a jungle lodge at the lake
Personally, I like to stay along the lake in one of the beautiful jungle lodges. El Gringo Perdido is a fantastic option if you're looking for a laid-back vibe. You'll find several jetties with nice seating areas, hammocks and a nice restaurant with simple but tasty dishes. There are different types of rooms: from bunk beds to private rooms with outdoor jacuzzi. You can also use the kayaks and sup boards free of charge. Looking for a luxury place to stay? Then check out Las Lagunas Boutique hotel. You have to spend quite a bit of money but you get a beautiful setting and top service in return.
Check availability and current rates for El Gringo Perdido and Las Lagunas boutique hotel.
La Lancha
Looking for another unique place to stay? Then be sure to check out La Lancha, director Francis Ford Coppola's jungle lodge. A paradise in a tropical setting on Lago Peten Itzá, near the village of El Remate. Read more about my stay at La Lancha here.
Check here for availability and current prices of La Lancha in Guatemala.
Places to stay in Yaxha National Park Guatemala
Looking for an overnight location next to Yaxha? Ecolodge El Sombrero is located on Lake Yaxha, in the National Park itself, a few minutes away from the temples. That way, after the sunset moment at temple 216, you can reminisce about all the beautiful impressions in the park.
How to reach Yaxha in Guatemala
Tikal and the Yaxha Mayan ruins are located in the north of Guatemala, in the province of Petén. From Guatemala City you fly with Tag airlines already within 40 minutes to Mundo Maya International Airport in Santa Elena / Flores. From here you can travel by cab to Flores, El Remate or one of the lodges around the lake. And if you travel with Tikal Go, you'll be wonderfully picked up at the airport by one of the nice drivers, like Alex. If you want to travel by land, you can take a bus directly from Guatemala City. Something I do not recommend, because of the long distance. A better option then is to travel from Guatemala City or Antigua via Lanquin and/or Rio Dulce to Flores.
More information about Tikal Go
Do you also want to travel through the province of Peten in Guatemala and visit the beautiful Mayan cities? Tikal Go can help you plan your trip and arrange excursions such as a Yaxha tour, where you will go out with specialized guides. All packages are tailor-made, based on your wishes and travel style. More information can be found on the Tikal Go website.
Best travel time to visit the Yaxha Mayan ruins in Guatemala
The Yaxha Mayan ruins in Guatemala can be visited all year round. The dry period is from November to April. But because the former Maya cities are located in the tropical rainforest, it can rain all year round. On weekends and holidays it is crowded with local people. It is therefore better to pick a weekday for your Yaxha tour. The nice thing about visiting Yaxha is that it is less crowded than Tikal and at archaeological Maya cities in Mexico.
You can read more about the best time to travel to Guatemala in the next article.
More archaeological Maya sites
Tikal
Tikal is perhaps one of the most visited destinations in Guatemala and for good reason. Due to its mysterious atmosphere and amazing location in the dense jungle, it is one of the most impressive archaeological Maya sites. Tikal used to be the largest Maya city in the region, with more than 3000 buildings. A visit to Tikal National Park is an unforgettable experience where you will learn more about the Maya history and enjoy the jungle environment around you with countless monkeys, coatis, butterflies and species of birds. Read more about a trip to Tikal, including useful tips for a day tour, how to visit and where to stay.
El Mirador
Are you looking for some real adventure? Then you should defintely visit El Mirador, a former Mayan city, located deep in the jungle. El Mirador is less visited and knows in comparison to Tikal and Yaxha, because of its difficult accessibility. You can only reach El Mirador by helicopter or by a multi-day hike, where you spend the nights in a tent in the jungle. El Mirador is known for the La Danta temple. With a height of 72 meters and a size of (2,800,000 cubic meters), it is according to scientists the largest pyramid in the world.
Pin and save for later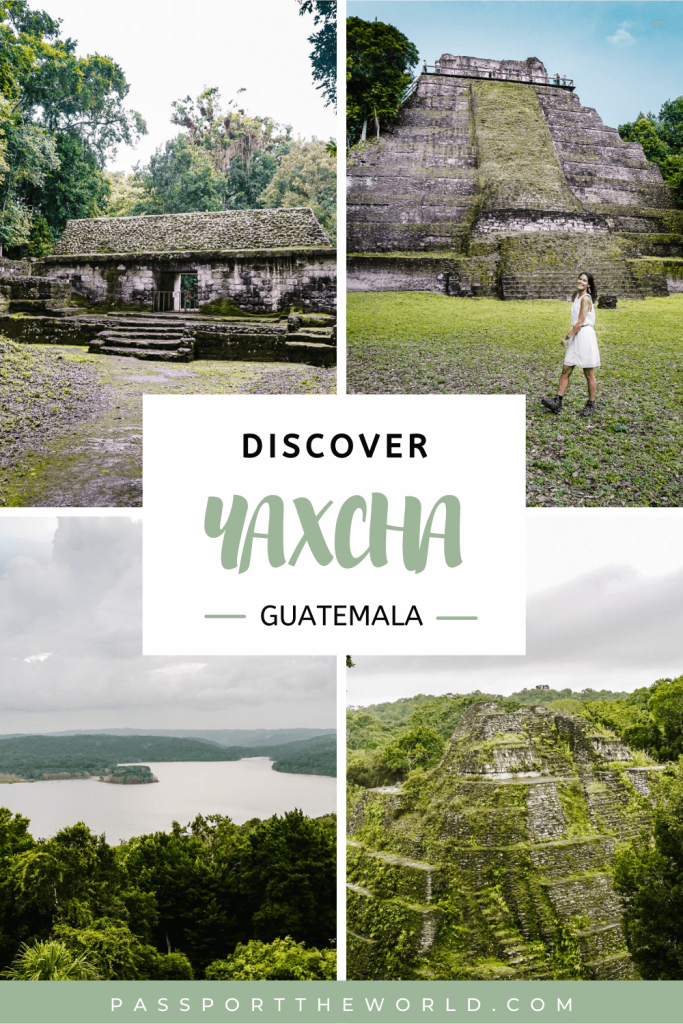 More about Guatemala
Would you like to read more about Guatemala? In this article you'll find the 20 best things to do in Guatemala, including off the beaten path destinations, best time to travel, travel itineraries and information about safety. Have a look in the Guatemala archive for a cityguide for Antigua and travel guides about Lake Atitlan, Lanquin, the famous market of Chichicastenango, the Acatenango volcano hike, a boat trip on the Rio Dulce to Caribbean Livingston and a Guatemala hotel guide. Interested in archaeology? In this article I'm taking take you to the impressive city of Tikal and Quiriguá, a smaller and less visited archaeological site with beautiful Mayan steles.
This article contains affiliate links. Read more in the disclaimer!