For years, Medellín was one of the most dangerous cities in the world. But after the death of Pablo Escobar, the city has gone through a huge transformation. Nowadays Medellin is known as a bustling and Cosmopolitan metropolis: A pleasant city where you easily can spend days and enjoy yourself. I have visited Medellin countless times and I always love coming back to discover new things. In this article you will find the best things to do in Medellin Colombia, including tips for nice neighborhoods, day trips, hotels, transportation and restaurants. Hopefully you will start to like this city as much as I do.
Background information Medellin
Medellin is wedged between mountains and is often called "The city of eternal spring" because of the pleasant climate all year round. Average temperatures are around 26 to 28 degrees celsius. Medellin in Colombia was known as one of the most dangerous cities in the world. More than 55,000 people were reported to have been murdered between 1990 and 2002. The Medellin cartel, led by Pablo Escobar dominated daily life in every respect. Certain parts of the city, including the city center, were no-go zones for the average citizen. Tourism was something nobody didn't even think of.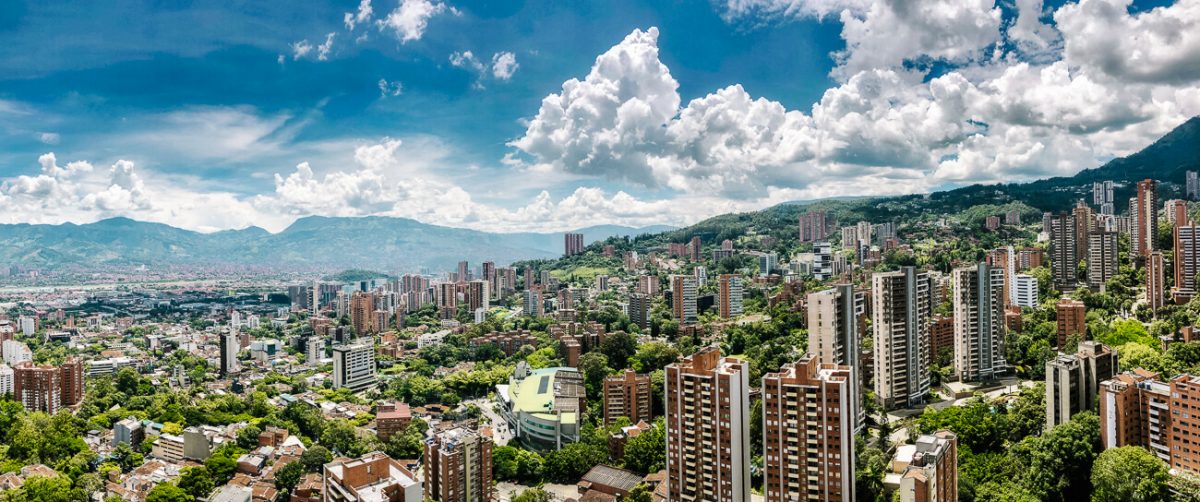 When Escobar died and the cartel fell apart, Medellín in Colombia slowly started to transform. The city started to invest in safety, health care and many art and cultural projects. Also a large metro system was built to connect the different parts of the city. This made it easier for people in remote and poorer neighborhoods to move around, without being dependent on gangs / cartels, that controlled the roads.
Medellin Colombia today
Medellín now attracts visitors from all over the world. Many foreigners and international companies settle in the city. Numerous events take place and sustainability & innovation play a major role. Even though the opinions about safety and gang problems are divided, local people are proud of their "new" Medellin and they are right! The city has so much to offer! This is a list with best things to do in Medellin Colombia and its surroundings, including tips for hotels, restaurants and day tours.
Things to do in Medellin Colombia
Taka pictures on Plaza de las Sculpturas
Fernando Botero, one of Colombia's most important artists, donated 23 of his characteristic sculptures, to his hometown Medellín. What used to be a no-go area in the past, became one of the most visited places in the city. The work of Botero is controversial, weird and funny, at the same time. As I'm a big fan of Botero's work, I can't resist taking pictures everytime I am in the city. The scupltures are located at the Plaza Botero and one of the best things to do in Medellin Colombia.
Did you know that Paisas are the way local people from Medellín call themselves?
Admire graffity in Comuna 13 – top things to do in Medellin
Comuna 13 used to be one of the most dangerous neighborhoods of Medellín, because of the war on drugs. When the army moved into the district, after Escobar's death, and the city invested in the construction of a cable car system to connect Comuna 13 with the rest of the city, the district transformed enormously. Nowadays this neighbourhood is one of the main places to visit in Medellín, because of its history, cool street-art and many social projects.
It is recommended to visit the neighborhood with a local guide, to learn more about the history. Sometimes it's even possible to visit one of the social projects, such as a women's center or project, where children are motivated to learn and go to school, by taking football, music and English classes.
Do you want to visit Comuna 13 in Medellín? You can book your tour here.
Visit Comuna 8
While the focus in a tour through Comuna 13 is mostly on street art and cultural aspects, a visit to Comuna 8 is more about the history and stories of the local people. Comuna 8, also known as La Sierra, was one of the poorest and most violent neighborhoods of Medellín. The district was completely isolated for years, until a cable car system was built and people could move more easily. La Sierra is an organization that offers tours through this comuna. You will meet local people and learn a lot about the past and current daily life. A visit to this comuna is a special experience and one of the best things to do in Medellin Colombia, if you want to see a different side of a slum.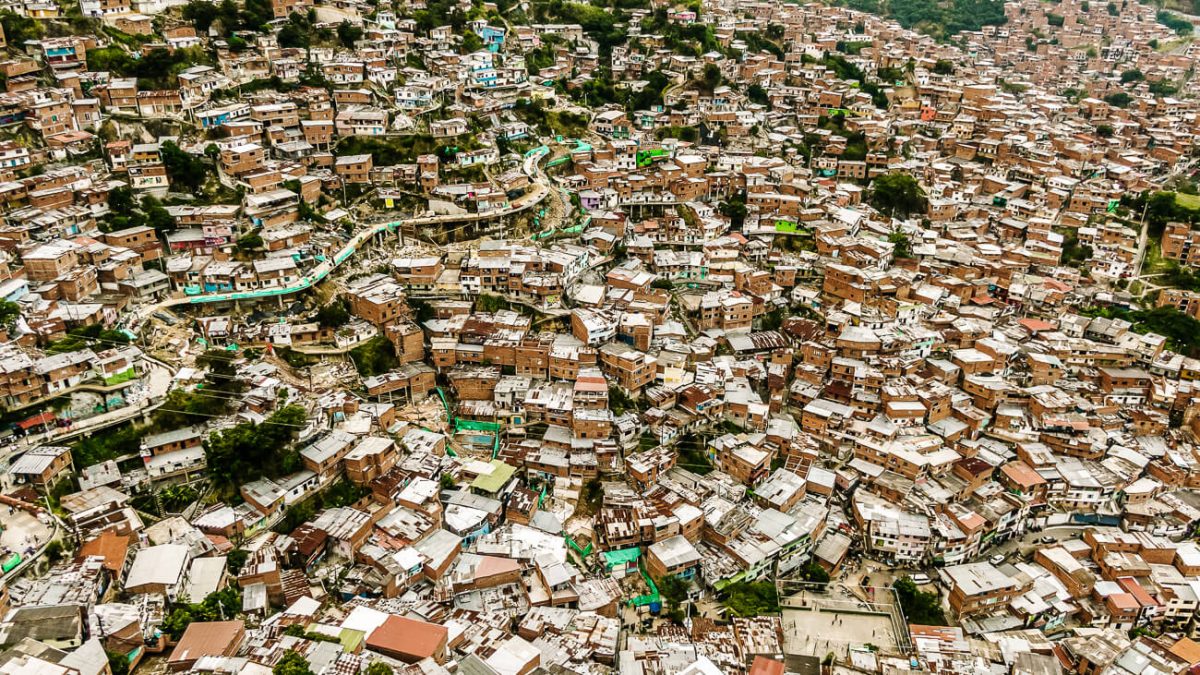 Take the cable car
The metro system in Medellin Colombia is not only an easy way to get yourself around the city but also perfect to enjoy some wonderful views. It is therefore one of the most fun things to do in Medellin Colombia. There are cableways that take you from a to b on certain routes. One of the best routes is the San Javier MetroCable. Take the orange metro line from the San Antonio station (in the city center), to San Javier station. Change here to the cable car line (yellow line). This cable car brings you over the slums to the Aurora station. During this ride you have a great view of the city. It is best to make a round trip and get off back at San Javier station. Another nice ride is the one to Parque Arvi (see below)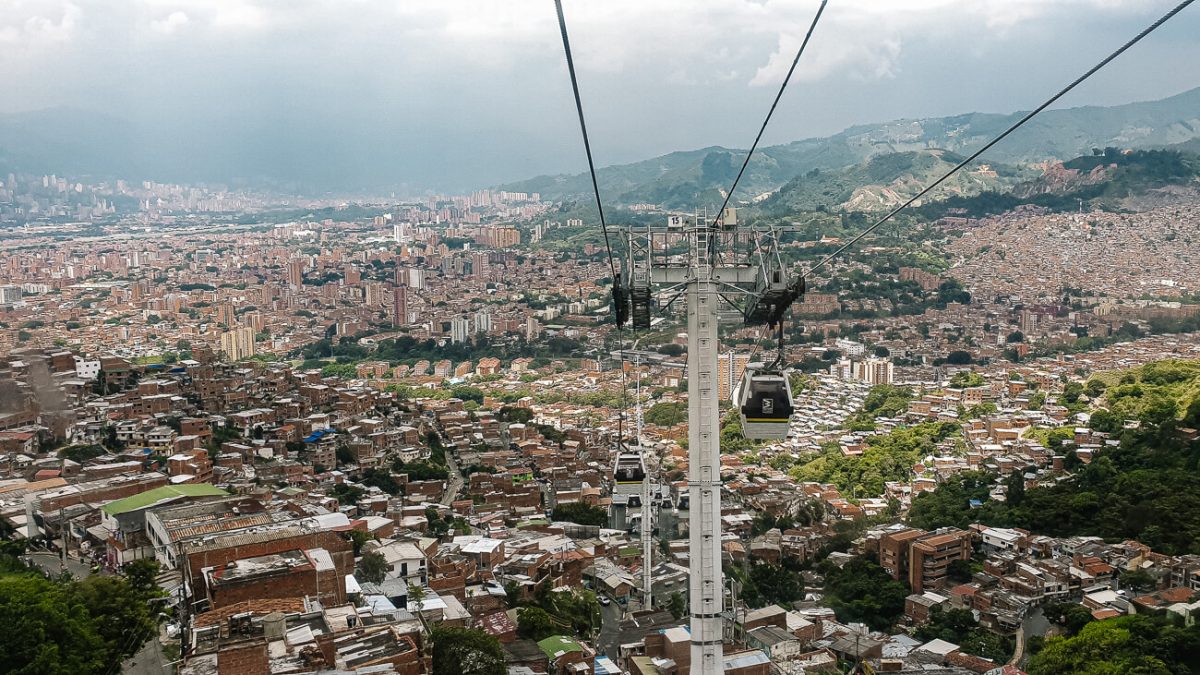 Enjoy views in Parque Arví – top things to do in Medellin
Parque Arví is an ecological nature preserve in the mountains of Medellín and worth visiting. A cable car takes you to the top, where you have a nice view of the city. In Parque Arví you can walk around, go for a picnic, horseback riding, sail on one of the lagoons and enjoy the sunset. On the weekends it is a popular destination for the local paisas and a perfect place to mingle with the locals.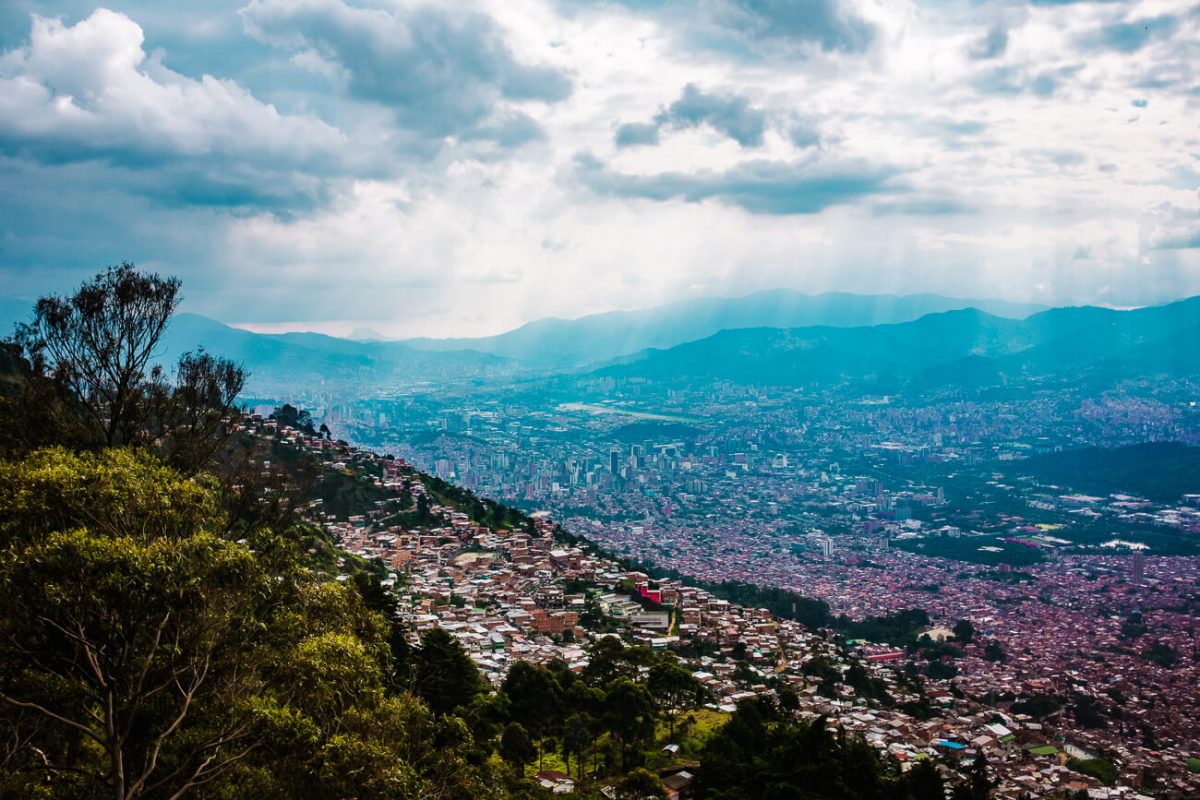 How to get there? From the Acevedo Station, take the metro (Line K) to Santo Domingo Station and change to the cable car, line L to Arví. The funicular ride takes about 15 minutes and you will be enjoying beautiful views along the way. Interested in going on a tour and visit Parque Arví and the waterfalls? Check out prices and availability and book your tour here.
The botanical garden in Medellin
If you want to leave the busy city behind, there is no better place to visit than the botanical garden: Jardín Botánico de Medellín Colombia. The area consists of almost 14 hectares with a total of 4,500 flowers and 139 bird species. You walk from tropical rainforest through desert to other ecosystems. There are gardens with medicinal plants, cacti and butterflies. One of my favorite places is the "Orchidorama", where you find a large collection of special orchids. You can walk around or sit on a bench, to take in the surroundings. I think it is one of the most beautiful botanical gardens in Colombia and therefore a place that should not be missed in this list with things to do in Medellin Colombia.
Do you want to visit the botanical garden and learn more about the nature of Colombia? Check out prices and availability and book your tour here.
El Poblado neighbourhood
El Poblado is one of my favorite neighborhoods in Medellin. Medellin is known as the fashion capital of Colombia and this can be seen in the streets around Parque Lleras. Many designers have their little boutique and pop-up stores here. You will find plenty of nice restaurants, cocktail bars and coffee-shops (find more tips below). And in the night you can go dancing in one of the many bars or enjoy a drink on the streets. Try to book your hotel in this area (you will find many tips below). And if you are not planning to stay here, make sure to include El Poblado in your itinerary, to stroll around, have lunch or go for a lovely dinner.
Explore the food markets
Medellín has different markets, but two of them in particular are worth visiting. Plaza Minorista Farmers market is one of the oldest markets of Medellín. It is a large market hall, consisting of two floors with hundreds of small stalls. The majority of the products are fruit and vegetables, but nowadays you will also find household items and clothing. It is cheap and a great way to get acquainted with exotic fruits such as Arazá, Granadilla, Carambolo (star fruit), Cherimoya, Corozo, Guava, Guanabana, Gulupa, Lulo, Tomate de arból, Papaya, Zapote, Uchuva, Pitaya. Go early in the morning or early afternoon, many stalls close by mid-day.
Mercado del Rio is one of the nicest food halls in Medellin. In this old warehouse you will find more than 50 different pop-up restaurants and bars. From Peruvian and Colombian food, burgers, Italian dishes, sushi to sandwiches and deserts. On the first floor there are high tables and the food is more finger food style. Several sit-down restaurants can be found on the second floor. It is a super nice place to walk around, eat, drink and meet people.
Museo El Castillo
One of the surprising things to do in Medellin Colombia is to visit the Museo El Castillo, due to its European character. This castle is located on a hill on the edge of the El Poblado district and is built in Gothic style. In the castle itself you can visit the old rooms and observe art collections. But the gardens are particularly worth seeing. There is a French garden with fountains, a Japanese and a contemporary garden and a large forest. It is a wonderful place for a lovely picnic, while enjoying a view of the city.
Tip: the castle serves several picnicboxes, including a picnic basket, cutlery, wine, glasses, fresh juices and wine. It is recommended to book a few days in advance.
Things to do in Medellin downtown
Do you want to explore the center of Medellín? These are the best things to do in Medellin Colombia downtown.
There are 300 metal masts on the Parque de las Luces o Plaza Cisneros square, that light up in the evening. Exhibitions and demonstrations often take place here.
Walk along the administrative center of La Alpujarra with the Monumento de la Raza, an artwork by Rodrigo Arenas Betancourt that include two gigantic bronze statues of murdered politicians, and a memorial to all journalists who have been killed by violence over the years.
Around Plaza Mayor you will find parks and walking boulevards, where it's all about sustainability. You can also visit the Museo de Aqua, where you'll learn more about the worldwide importance of water.
Observe the giant mural by artist Pedro Nel Gómez under the metro station Berrío. This large mural shows the industrial development of the province of Antioquia.
Walk through the busy commercial center, through the shopping street Junín and the Parque Bolivar with the cathedral.
Near Parque Berrio you will find the oldest church in Medellin: Basilica de la Candelaria Medellin.
City tours
You can easily explore the center and things to do in Medellin on your own. But you can also opt for a tour. The interesting thing is that local guides really take you on a journey through their city through personal stories. An overview of tours in Medellin Colombia can be found here.
Cultural things to do in Medellin Colombia
Medellin is known as the cultural capital of Colombia. There are many events, exhibitions, museums, concerts and performances. Here is an overview of things to do in Medellin Colombia in terms of art and culture.
Get inspired by modern art in the Museo de Antioquia
Museo de Antioquia includes a large collection, with work of the Colombian artist Fernando Botero. The third floor is entirely dedicated to his art with countless paintings and sculptures, including his important work, showing the death of Pablo Escobar. But you will also find works by other well-known Latin American artists, such as the Cuban Wilfredo Lam, the Colombian Pedro Nel Gómez, the Chilean Roberto Matta and the Mexican Rufino Tamayo.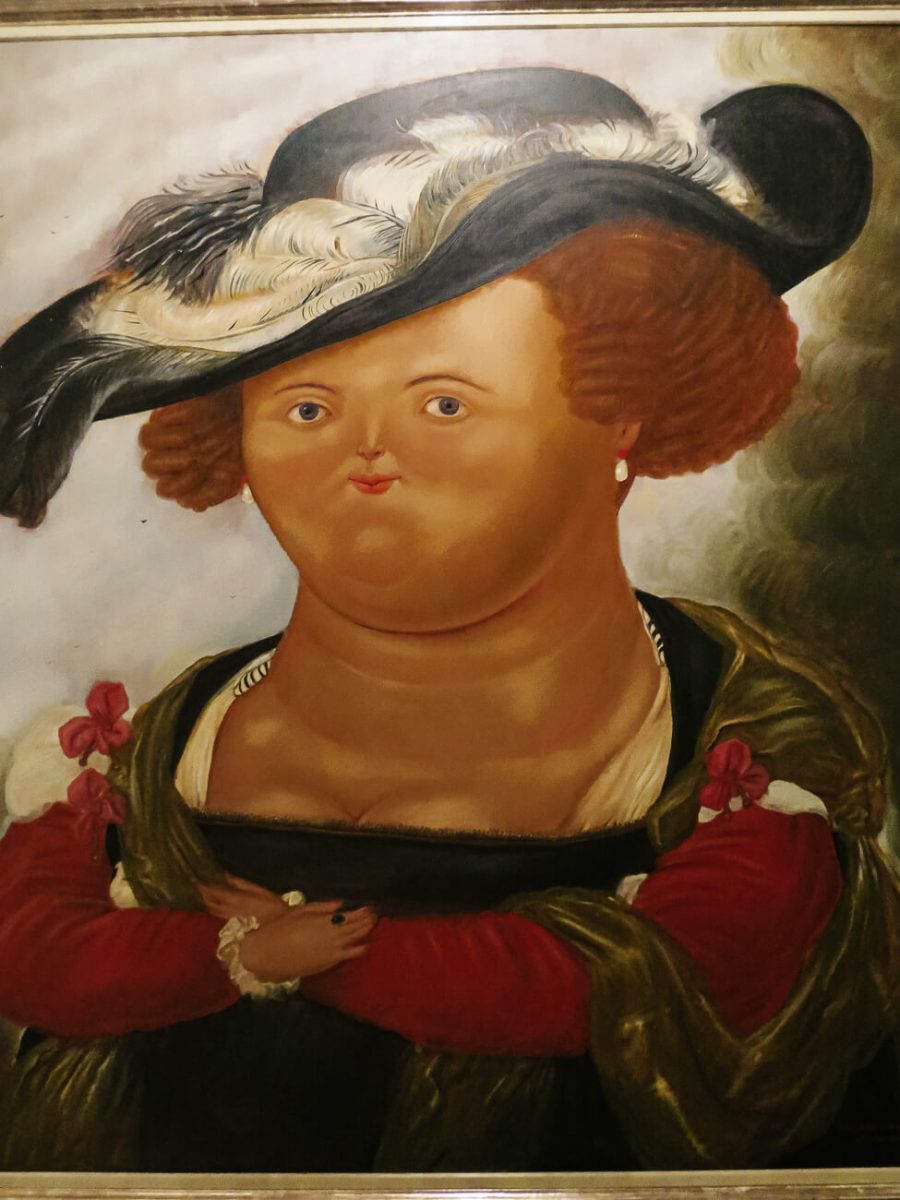 Do you want to vist this museum but not stand in line? You can buy your tickets here.
Museo de Arte Moderno de Medellin
If you like modern art, a visit to the MAMM, The Museum of Modern Art, should not be missed. It is a small museum with permanent and temporary exhibitions, of less known Colombian and Latin American artists. Since Colombia has a large art scene, you will often be surprised by cool exhibitions, including paintings, sculptures and installations. This museum is one of the things to do in Medellin Colombia, if you are an art lover.
Meet Pedro Nel Gómez
Pedro Nel Gómez (1899-1984) is one of Colombia's best-known artists. He was part of Mexican muralism, along with Diego Rivera and José Clemente. You will encounter his work in many public spaces and museums in South America. In Medellín, you can find his former home, which is a museum nowadays: Casa Museu Pedro Nel Gómez. There is a large collection of his work, including temporary changing exhibitions. If you are interested in art from Latin America, a visit is well worth it and one of the best things to do in Medellín.
Biblioteca España
Curious about a piece of unique architecture? High above the slums, three large buildings rise above the city like granite rocks. This is the national library of Medellín, designed by Giancarlo Mazanti. The library is illuminated in the evening.
Dance the salsa
Even though Cali is the salsa capital of Colombia, Dance Free is thé place-to-be for dance classes in Medellín! They offer private and group classes, including salsa and bachata. I would definitely recommend taking private classes, to make sure you book progress. Have a look at their schedule, as there are many events with live music, where you can practise your moves after class. It's definitely one of the fun things to do in Medellin Colombia.
Colombian Football match
Football is a big thing in South America and also in Colombia. During competitions, the city gets crazy. For many people, football is an important way to escape from daily life. Attending a football match at the Estadio Atanasio Girardot, especially when local teams such as Independientes de Medellin or Atlético Nacional play, is one of the top things to do in Medellin Colombia and an unforgettable experience. You can find more information about the matches and buy your tickets here.
Casa de la Memoria
Do you want to learm more about the tragic history of Medellín? Then you should definitely visit the Casa de la Memoria. It is an impressive museum, created to commemorate the many victims from the past. Information about La Violencia, the guerilla and the drug war can be found in the dark rooms. In the light rooms, the peace process is discussed. It is a place that actually can not be missed in the list of things to do in Medellin Colombia.
Things to do around Medellin Colombia
The surrounding area of ​​Medellín is green, fertile, mountainous and has countless things to do. Highlights include the granite rock El Peñol de Guatapé and the colonial towns of Santa Fé de Antioquia and El Jardín. You can choose to visit these places on a day tour or stay overnight. Spending a night in the countryside area, is something I definitely recommend doing, if you have more time in Colombia.
Peñol de Guatape
When you read about Colombia and Medellín, you often see the granite rock of Guatapé. El Peñol de Guatapé is a 200meters high rock, near the town of Guatape. You can get to the top of this rock by taking more than 700 steps on a climbable staircase. And yes, it is a pretty tough hike up. But the view is more than rewarding! Once you've made it to the top, you have a 360degree view of the lake and lush environment. A visit to this rock, can be combined with a boat trip, where you sail across the lake and enjoy views of the rock. Finish your trip with a delicious fish meal in one of the many restaurants along the water.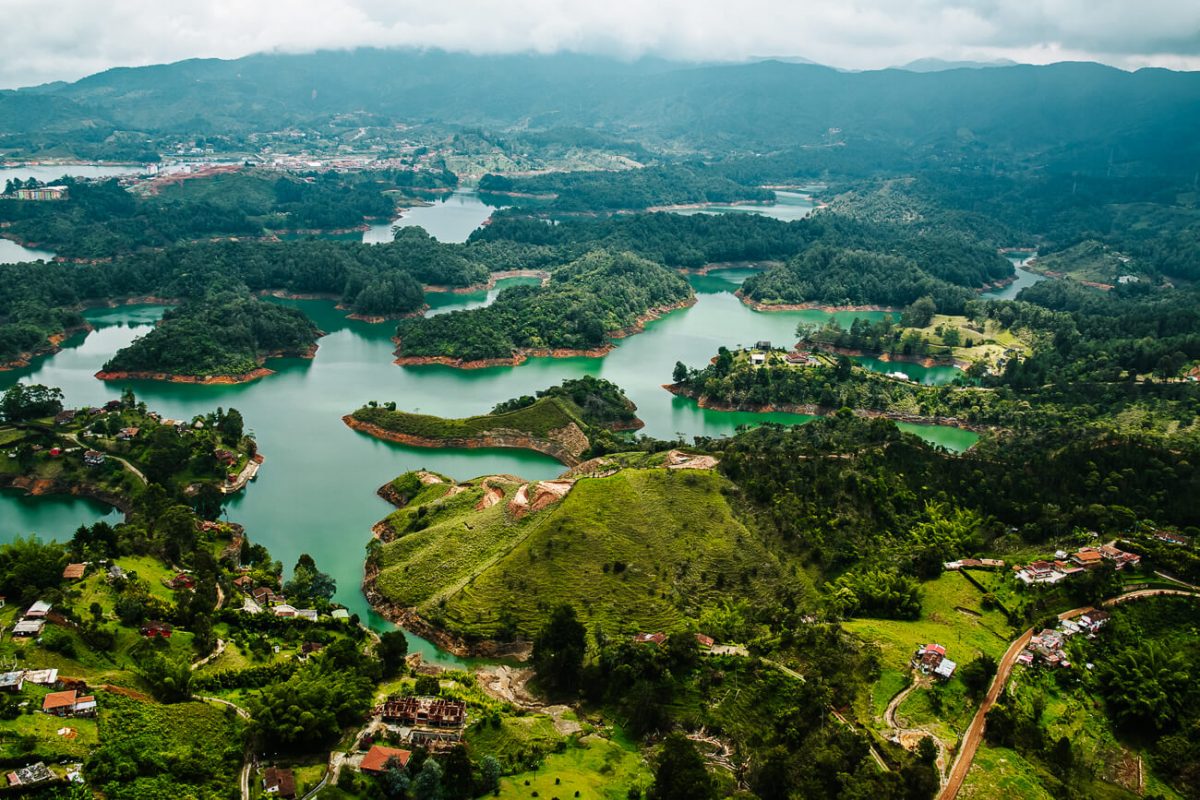 Guatapé town
Make sure to also spend some time in the nice town of Guatapé. Guatapé is famous for its steep streets, coffee bars, art shops and many colorful houses. Every house is a true piece of art, as residents paint their houses in bright colors, and decorate the bottom with fresco like panels called zocalos. You'll find decorations such as sunflowers, sheep, horses and musical instruments. Some of them even tell an entire story. It's incredibly photogenic and you could walk around for hours.
You can visit Guatapé with a day tour from Medellín. If you have more time, you can travel to Guatapé by yourself from the Terminal de Transporte Norte and stay overnight. There are many lovely hotels in Guatapé and it gives you the chance to leave early morning to the Guatapé rock, by local tuk tuk or foot, and enjoy the rock with less people.
Hotel tips Guatapé
Santa Fé de Antioquia
Santa Fé de Antioquia is a colonial town in the surroundings of Medellin. It was the first capital of the state of Antioquia and is one of the oldest cities in the region. Today it is on the World Heritage List of UNESCO. The city has countless historic churches, beautiful squares and cobbled stone streets. There is also one of the the oldest and longest suspension bridges in Latin America: Puente del Occidente. It is a lovely town to walk around and enjoy the pieceful environment.
You can go on a day trip from Medellin. If you have more time it is recommended to spend one or two nights in Santa Fé de Antioquia. Looking for nice place to stay? You can find an overview of hotels here.
El Jardín
El Jardín is one of the most beautiful villages in Antioquia and less visited than Guatapé. The amount of painted houses and balconies, with countless flowers, will make you speechless. You want to visit this town for the unique atmosphere and the many friendly local people. You can also spot the pretty birds, visit a coffee plantation and use the cable cars, offering views of the surroundings. If you have a couple of days to spend, take a nice walk to the waterfall "La Cascada La Escalera" or go horseback riding in the surroundings.
El Jardín is 130 km away from Medellin. You can visit El Jardín with a tour or travel by yourself and spend the night in a lovely hotel, such as Hotel Plantación. Looking for more hotels in El Jardín? This is an overview with hotels.
Mini travel guide Medellin Colombia
Medellin in August
What to do in Medellin Colombia in August? In the first week of August, Medellín is all about flowers during the yearly Festival of the flowers, as the region is famous for its many flowers. The festival takes place to celebrate the independency on the state of Antioquia. Everywhere in the city you will find pieces of art, made of flowers in all shapes and sizes. In the streets, parks, in shops, on houses. In addition, many events take place, such as the yearly opening concert with famous Latino artists, such as Marc Anthony, Shakira, Carlos Vives and Maluma. But also The Classic Car Parade (Desfile de Autos Clasicos), a parade in which many Colombians participate with their old classic cars.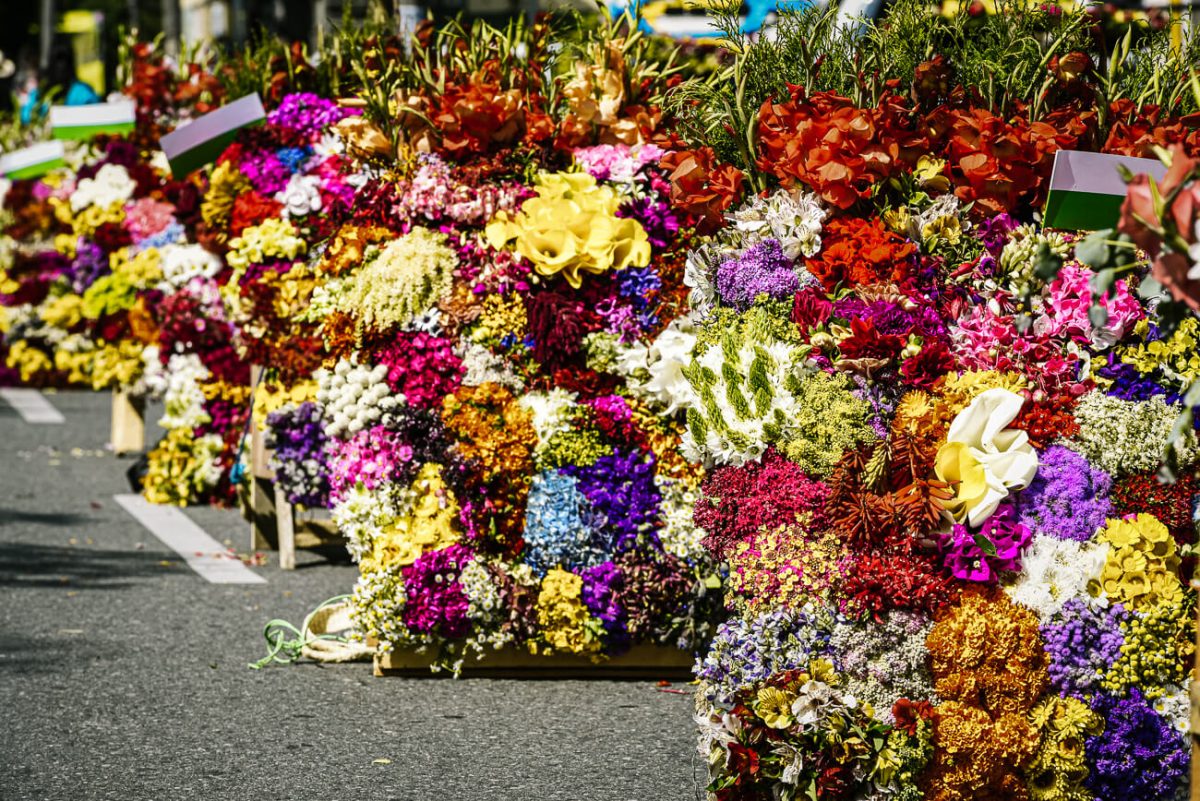 The flower parade
But the highlight of the festival is the Desfile de Silleteros, the flower parade. This is a parade in which hundreds of Paisa's, of all ages, walk for hours with the most beautiful flower constructions (the silletas) on their back, through the streets of Medellin. The amount of colors and flowers you see here, is amazing. You keep taking pictures and it is one of the unique things to do in Medellin Colombia. Various stands are set up along the route, where you can take a ticket, to watch the parade.
Tip: If you are in Colombia around this time of the year, make sure to book your stay in advance, because hotel rooms fill up quickly. Tickets for the stands are also going fast, so make sure you get your ticket in time.
Flower culture in Medellín
Do you want to learn more about the flower culture of Medellín? Then visit a traditional organic flower farm in Santa Elena. Don Aristides' finca is one of the most renowned finca in the world for making silleteros (flower displays). You walk along the beautiful flower fields and learn how the silleteros are made in the run-up to the festival.
Getting around Medellin Colombia
The metro is one of the best ways to get around the city. It is safe, fast and cheap. When you get out of the metro, you can continue by foot in most cases. In the evening and at night, always take a taxi or uber, and make sure you are well informed about the safety situation in the area where you are staying. If you are staying in Medellín for a longer period of time, it is worth buying a personalized metro card.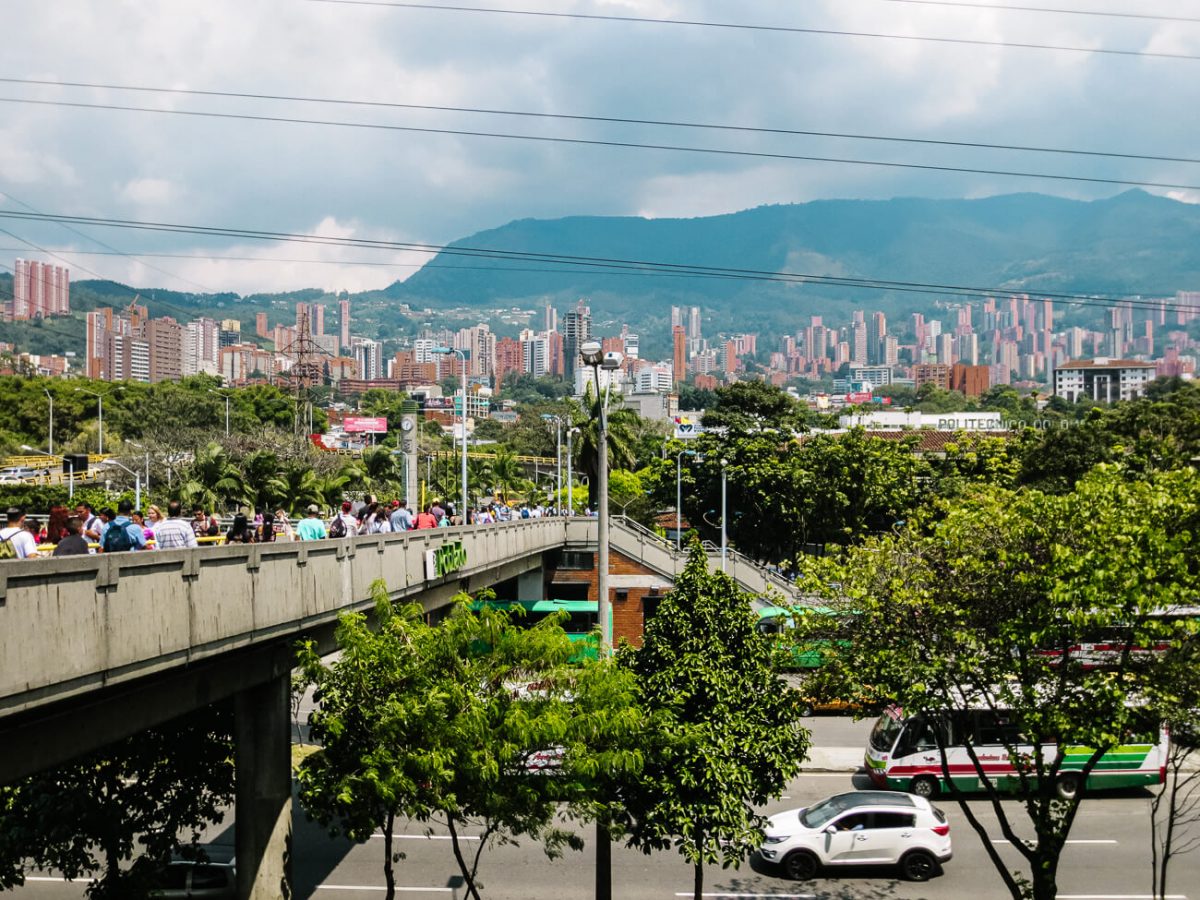 Hotels in Medellin Colombia
My favorite neighborhood in Medellín is El Poblado. There are nice hotels, parks, many restaurants and nice shops. Enough for finding every day different hotspots. The atmosphere is relaxed and the El Poblado metro station is within walking distance. From here you can quickly and easily move to the many Medellin landmarks and other areas.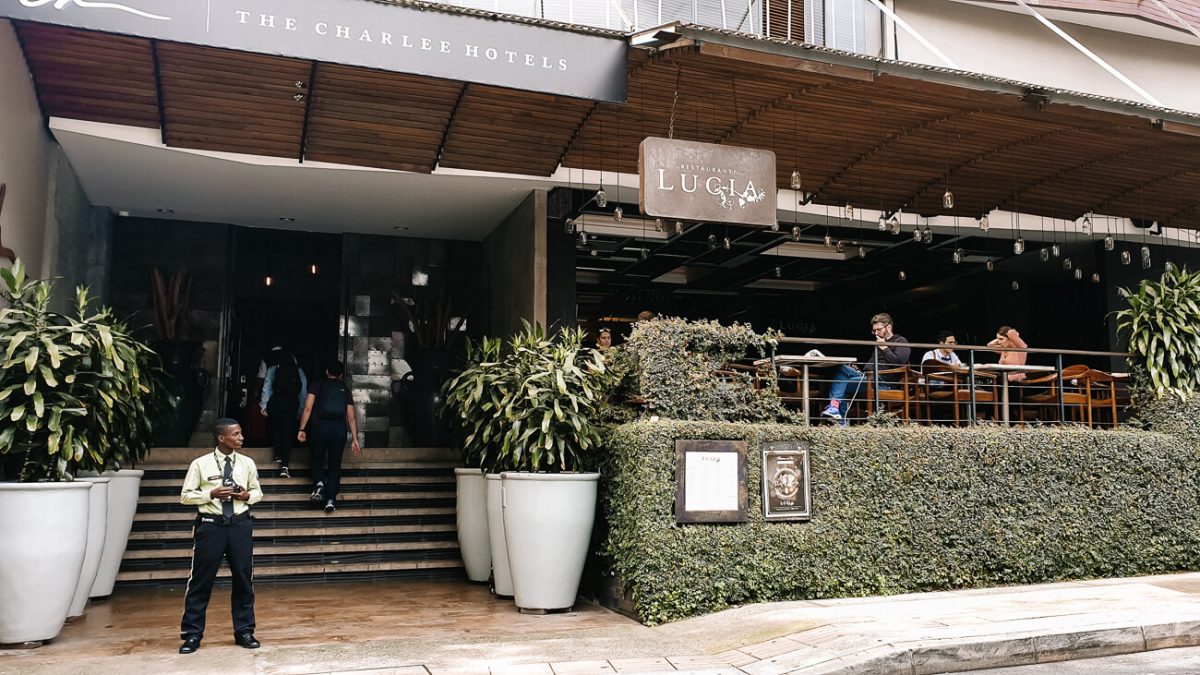 If you're looking for a more quiet area, the Laureles district is a great place to stay. Around the Parque de Laureles and the Segundo Parque de Laureles, you will find several restaurants, cafes and hotels.
My favorite places to stay are the Celestino boutique hotel, The Marquee and The Charlee. The rooms in Celestino are very pretty and the atmosphere is wonderful. And also The Marquee and The Charlee are great options, including lovely restaurants.
Click Cack hotel in El Poblado is also a good option. The whole hotel is nicely decorated and the rooms are comfortable. Here you will also find a rooftop with swimming pool.
Are you looking for privacy and company at the same time? One of my favorite high end hostel chains in Latin America is Selina. You can book stylish private rooms and also use the coworking spaces. There are also events on a regular base.
Check out availability and rates for hotels in Medellin here.
Restaurants in Medellin Colombia
Alambique is a charming rooftop bar and restaurant with great food and amazing cocktails. The wooden interior, including different chairs and decoration give it a cozy atmosphere. The menu includes a selection of Latin American dishes. It is located above an art gallery in the Poblado district. It can be a bit hard to find. Look for the smaller double doors, painted light blue. There is a staircase leading up to the art gallery and Alambique.
Cafe Velvet is a great place for coffee, tea and cake.
Pergamino is your best choice for coffee, lunch and cake. And if you are looking for a workplace as a digital nomad, there is no reason to look any further.
For a serious local meal, including the famous local dish Bandeja Paisa (meat, potatoes, beans, avocado, egg, chicken), make sure to visit la Hacienda, on the Strada.
Enjoy a culinary experience from the modern Colombian kitchen
For a trendy dinner and a true culinary experience, don't miss El Cielo and Carmen. Of course you will find prices being considerably higher, but compared to the rest of the world it is still affordable. El Cielo, founded by Colombian chef Juan Manuel Barrientos Valencia, has three restaurants, in Miami, Medellín and Bogotá. The restaurant in Medellín has been included in the list of Latin America's 50 best restaurants for years. El Carmen is a nice trendy restaurant with a branch in Cartagena and Medellín. The tasting menu, where you are getting an introduction into the modern Colombian fusion cuisine is highly recommended!
Tips for tours in Medellin Colombia
Safety Medellin Colombia
Even though Medellín is a safe city, compared to years ago, you still have to be careful, like in any other big city. Do not take valuables with you, when you go out and make sure to be informed about the latest safety situation, before you go out. In the evening / night, take taxis as much as possible and never just walk into a slum (unless you know where to go and are aware of current safety situations).
More about Colombia
Did you enjoy reading this article with best things to do in Medellin Colombia? Want to read more about Colombia? Check out the next articles with lots of inspiration and tips.
This article may contain affiliate links. If you purchase something using one of our links, we may receive a commission at no extra cost to you, which helps us keep this blog alive. Thank you for your support! Please see our disclosures for more information.
Pin and save for later