Curious about the ultimate Lima highlights? Let me show you the best side of this metropolis! Like many South American cities, Lima Peru is a city of contrasts. From slums and a chaotic center with endless traffic jams, to luxurious business areas, beaches, beautiful museums, exhibitions and Michelin starred restaurants. Opinions about Lima are divided and most travelers stay here no longer than a day. That's a real pity because the city has so much to offer. In this article I'll tell you the top 10 best things to do in Lima Peru in terms of art, culture, neighbourhoods, restaurants and shopping. With these tips in your pocket, you will experience the city the best way!
What to do in Lima Peru? Discover the best things to do
Background & historical facts about Lima
Let's start with a little bit of background and history, before we dive into the list of the best things to do in Lima Peru. Lima is the capital of Peru, and has over 10 million inhabitants. That is almost a third of the entire Peruvian population. This mega-city is located on the Pacific Ocean, in a desert landscape that starts in Ecuador and continues as far as Chile. The city was founded by the Spanish conqueror Francisco de Pizarro in 1535 and has long been the capital of the Spanish colony. This was due to its favorable location by the sea and the Rimac River, connecting the city with the interior of the country.
Lima nowadays
After the Second World War, Lima began to grow explosively. And the city still keeps growing. People from all over the country settle in- or on the outskirts of the city, looking for jobs and hoping for a better life. Upon arrival in Lima you immediately realize that you are in a South American metropolis. Countless cars, traffic jams, people and it will take you hours, going through the different neighborhoods. A minor culture shock upon arrival.
Lima Peru is built against the cliffs of the Pacific Ocean. It has a long coastline with beaches, piers, highways and boulevards, directly along the sea or on top of the cliffs. The city consists of different neighbourhoods with all its own characteristics. I've compiled a list of best things to do in Lima Peru for an unforgettable experience of this mega-city and its inhabitants.
Fact: Even though it almost never rains in Lima, sun rays are rare because of the garua, the sea fog, that covers the city most of the year. This together with the air pollution, ensures an almost permanent gray sky. This may not sound very appealing, but temperatures are pleasant and the city has a lot to offer.
10 best things to do in Lima Peru
Stay in bohemian district Barranco | Lima highlights
Planning your stay in Lima? I recommend you to get a hotel or guesthouse in Barranco, by far my favorite neighborhood in Lima Peru. Barranco is the most beautiful area of Lima and very different from the busy city centre. Barranco is home to many Peruvian artists, photographers, writers, which gives it its relaxed and bohemian atmosphere. In the evening this neighborhood is an important entertainment hotspot for the Limeños, due to the various trendy bars and restaurants Barranco holds.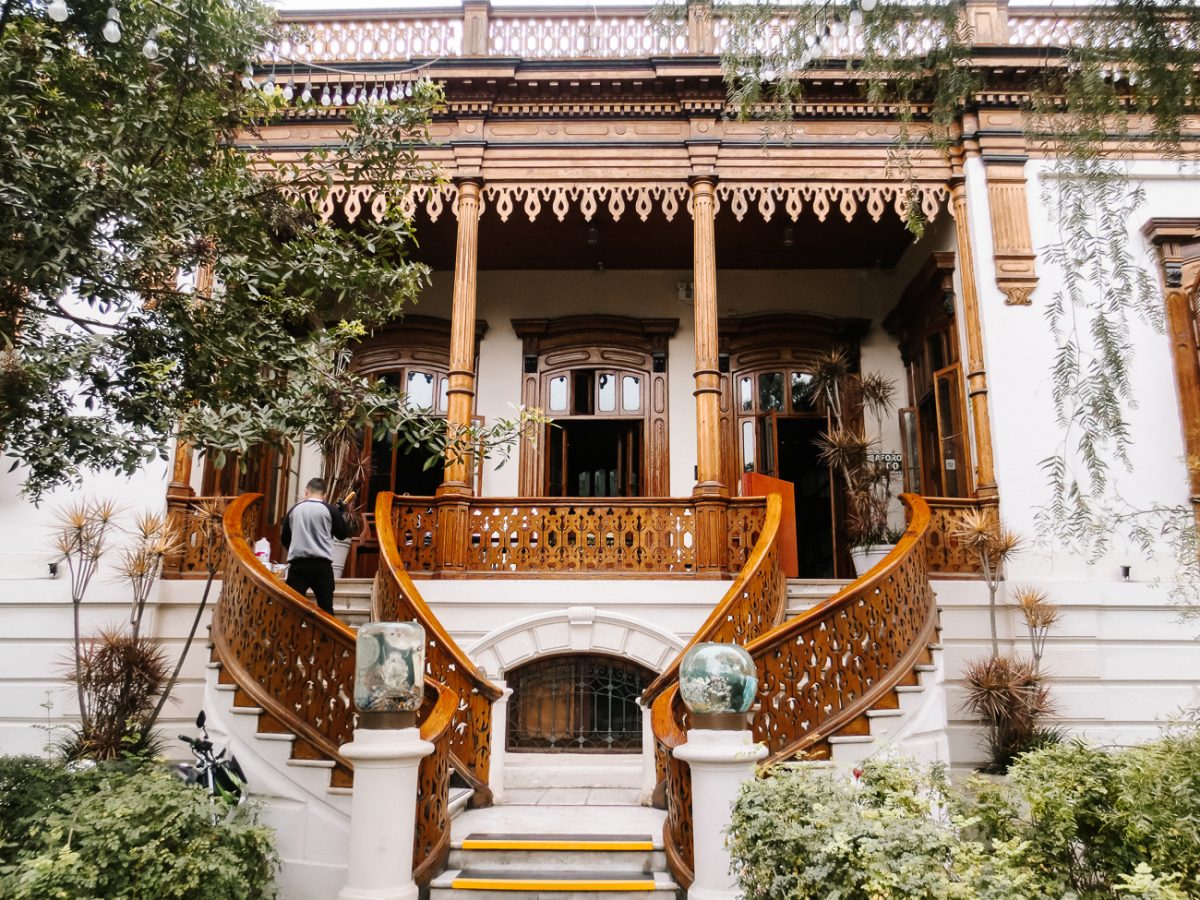 The central point of the Barranco neighborhood is the Plaza Barranco and Iglesia Ermita. Puente de Suspiros, or the Bridge of Sighs, is a good starting point for a walk, as it connects the Barranco district with Lima's beach. At the bottom of the bridge you will find a number of restaurants. If you look into the side streets, you will find small theaters and colorful street art. At the end of the gorge you have a beautiful view of the city's coastline. From here it is easy to walk to the beaches.
Extra tips for Barranco
1. Have a look at hip design store Dedalo and concept store Puna to find special items.
2. For the most amazing cocktails, in a beautiful place, you have to be at Ayahuasca.
Eat and drink at stylish beach club Cala | Best restaurants in Lima
Cala is a beautiful stylish lounge restaurant and beach club, near the Barranco neighborhood, with great views of the ocean. It is on the surf beaches so usually there are a lot of people in the water. During the day you can easily open your laptop with a cup of tea or a glass of good wine. In the evening the place changes into a hip hang-out for cocktails, the high-end Peruvian fusion cuisine and a dance floor with international DJs.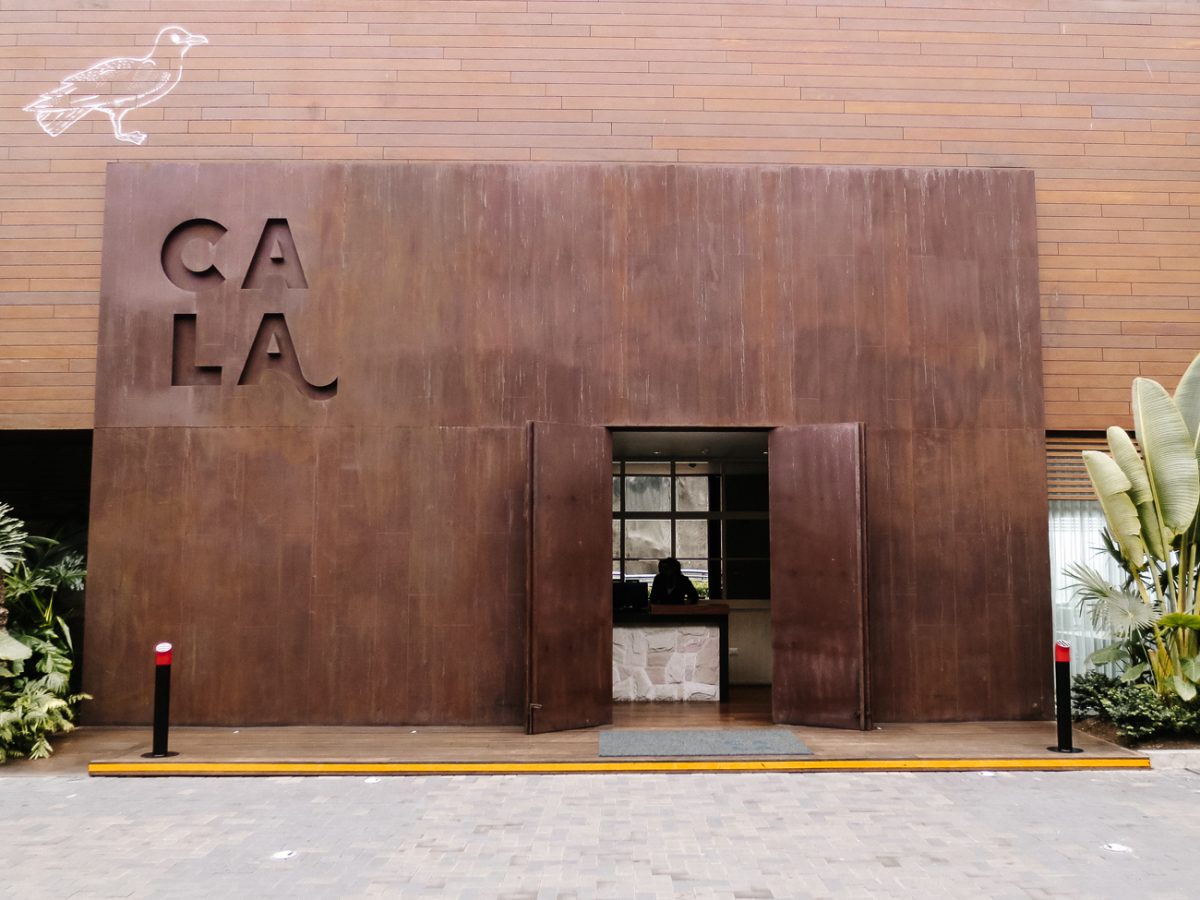 Admire the work of fashion photographer Mario Testino | Best museums in Lima
Lima has a great amount of museums. But if you are interested in fashion and photography, one of the best things to do is to visit the MATE in Lima, a museum exhibiting the works of fashion photographer Mario Testino. This world-renowned photographer is, contrary to what many people think, of Peruvian descent. And that's why you can find his museum in a beautiful mansion, located in the Barranco district. Of course you can find famous photographs of Naomi Campell, Kate Moss, Demi More and Angelina Jolie in the museum. But his most impressive works to me, are the ones of traditional Peruvian outfits and costumes.
Explore Lima's colonial center | Lima highlights
If you're visiting Lima for the first time, it is worth exploring the colonial center. The center is very busy and chaotic, but gives a good impression of daily life. The colonial center is built in a typical chessboard pattern that was designed by the Spanish, with the Plaza de Armas as a central point. This makes Lima city center very easy to navigate and discover! What to do in Lima Peru city center?
Lima's city center is on the UNESCO World Heritage list, because of its beautiful colonial buildings. Pay attention to the old mansions and wooden balconies! Calle Jirón de la Unión is the shopping street of Lima that connects the Plaza San Martín with the Plaza de Armas. Here you will find the cathedral and the presidential palace, where former president Fujimori resigned as president in 2000 and fled the country. You can also visit the old post office and the San Francisco convent with its underground catacombs. Here you walk openly between the skulls and bones. The chaotic Chinatown in Lima is also worth a visit. After the abolition of slavery, many Chinese guest workers came to Peru, creating a unique Chinese Peruvian fusion culture.
Admire Pre-Columbian art in Museo Larco | Things to do in Lima Peru
As you know, I'm a big history buff. I love learning everything about ancient cultures of the places I visit. So one of my favorite museums in Lima Peru is the Rafael Larco Herrera Museum, displaying pre-Columbian cultures and 3000 years of history in Peru. Museo Larco is a privately held museum and has a wonderful way of displaying its archaeological finds. You will be amazed by all the pieces and information about different civilizations, who ruled the continent for hundreds of years.
Read more about the best museums of Lima in the following article.
Walk along the Pacific Ocean
What to do in Lima Peru after a long flight or roadtrip through Peru? there is nothing better than getting a bit of fresh air along the coast. And Lima Peru's coast line is breathtakingly beautiful and divers. The Miraflores district has several walking boulevards and parks, including Parque de los Novios, at the top of the cliffs. Along the way you come across small kiosks with tables and chairs to eat and drink something, and to quietly enjoy the beautiful coastal views.
Go shopping at Larcomar | Shopping in Lima Peru
Normally, I wouldn't recommend a type of shopping center anywhere. But I'll make an exception for Larcomar, as Larcomar is something different because of the beautiful views of the ocean! Located at the top of a cliff, you will find different restaurants and shops of Latin American and South American brands. As well as funny pop-up stores, including Pieta, with clothing and bags made by prisoners from Peru's notorious prisons. Mango's is an absolute must-visit for a drink, especially in the summer when the terrace is open! So no Western chains, but authentic local brands and products for the best shopping in Lima Peru.
Enjoy the best ceviches at Pescados Capitales | Best restaurants in Lima
Ceviche is a typical South American seafood dish, where raw fish is marinated in a lemon or lime juice mixture, and the reaction of the citrus juices cures the fish protein and causes it to become opaque and firm while absorbing flavor. The origins of the dish is a bit unclear, but it's suspected that the first plate of ceviche was served around 2000 years ago in Peru. So you can't leave Lima without having a delicious ceviche. The city has many high-end ceviche restaurants, but my personal favorite for years has been Pescados Capitales. Pescados Capitales is located on Avenida del Mar, is stylish and nicely decorated, and serves the most delicious ceviche. Enjoy!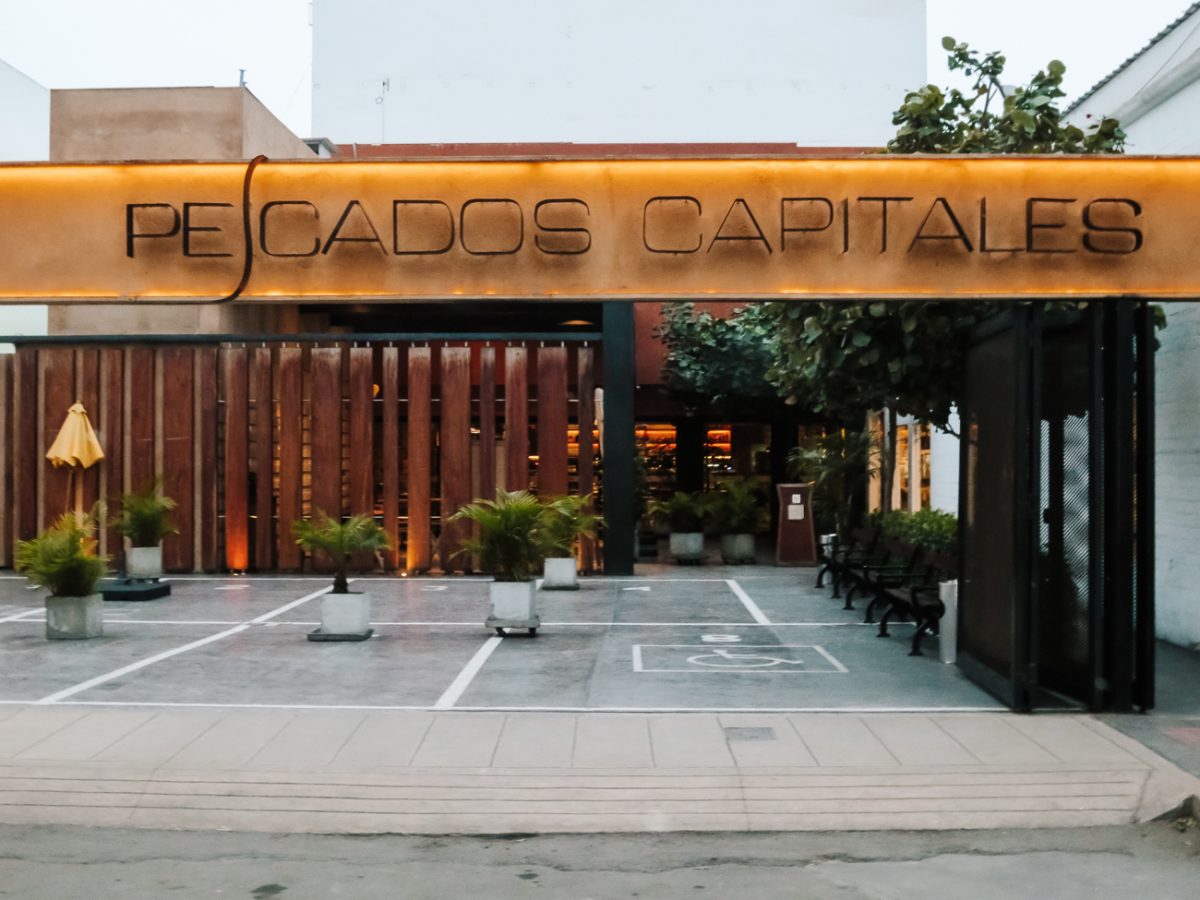 Culinary experience at one of Lima's star restaurants
Peru has become a one of the world's best culinary destinations, and Lima highlights some of the country's best restaurants. In particular the Nikkei cuisine is very popular nowadays. This is a fusion between the Japanese and Peruvian cuisine, an incredible culinary experience you will never forget! Astrid & Gaston, Central and Maido belong to the absolute top restaurants Lima has to offer. Please note that you have to book your table Months in advance and prices are high. But if you do manage to get a table, I assure you it will be an unforgettable dining experience!
Enjoy and experience a show of fountains | Lima highlights
What to do in Lima Peru by night? One of the newest places the city of Lima is very proud of, is the Circuito Mágico del Agua. From Tuesday to Sunday, you can visit the Parque de la Reserva, a city-park where 13 fountains are part of an awe-inspiring light, sound and lasershow. It's a really nice evening out in the open-air. Even though this place has been discovered by tourists as well, the majority of visitors is still local, which makes it an extra fun and authentic Lima experience.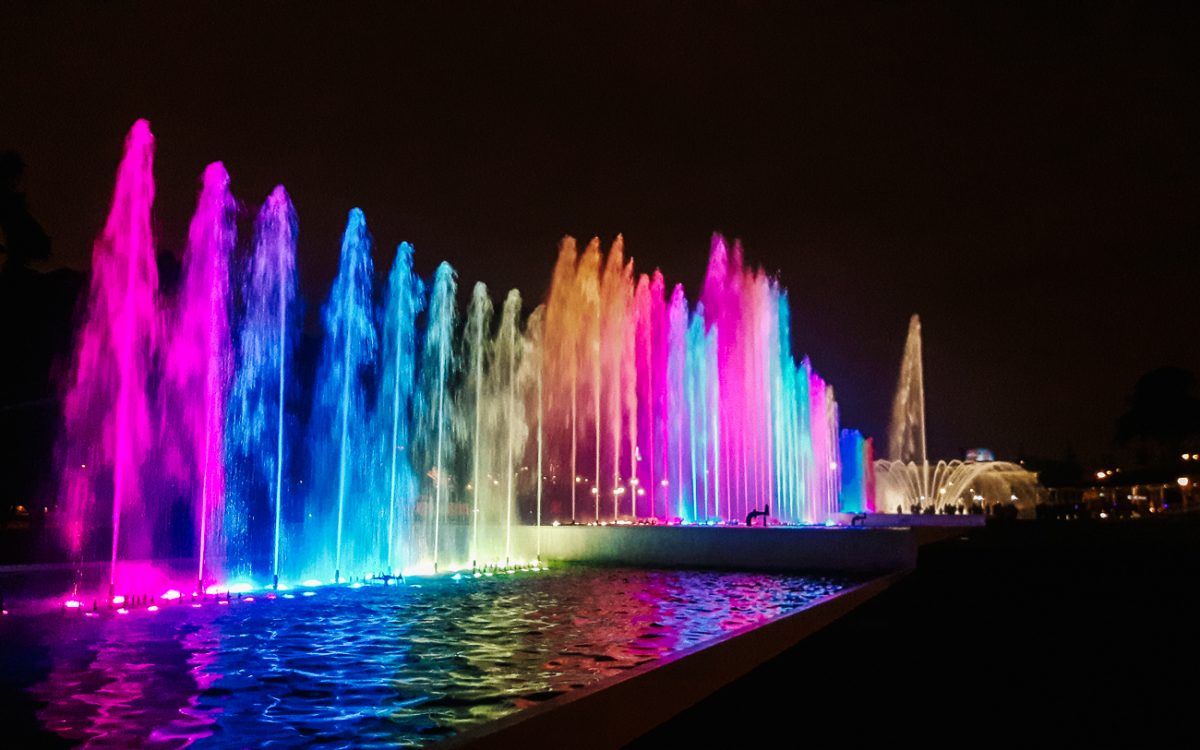 More about Peru
Do you want to explore Lima? Read more in 10 things to do in Lima and experience the city the best way! Are you planning to visit Cusco? Don't forget to check out the best restaurants & cafes in Cusco and Cusco's coolest places to shop. For all articles about Peru, check out the Peru archive.
This article may contain affiliate links. If you purchase something using one of our links, we may receive a commission at no extra cost to you, which helps us keep this blog alive. Thank you for your support! Please see our disclosures for more information.
Pin for later