Rainforest Expeditions has three luxury lodges, that are located deep in the jungle around the Tambopata River in Peru. Posada Amazonas is located in the heart of the Ese Eja Native Community and on the edge of the Tambopata National Reserve. A place where luxury and nature come together in a beautiful way, including great attention to detail and service. You go out several times a day to experience the jungle in its purest form: You go for walks, sail on the Tambopata River, discover plants and trees, look for animals, birds and insects and become familiar with countless jungle sounds. The professional guides show you all corners of the Amazon rainforest in Peru. In this article I will take you to Posada Amazonas jungle lodge and tell you more about Rainforest Expeditions, the activities, and what you can expect from life in the jungle in Peru.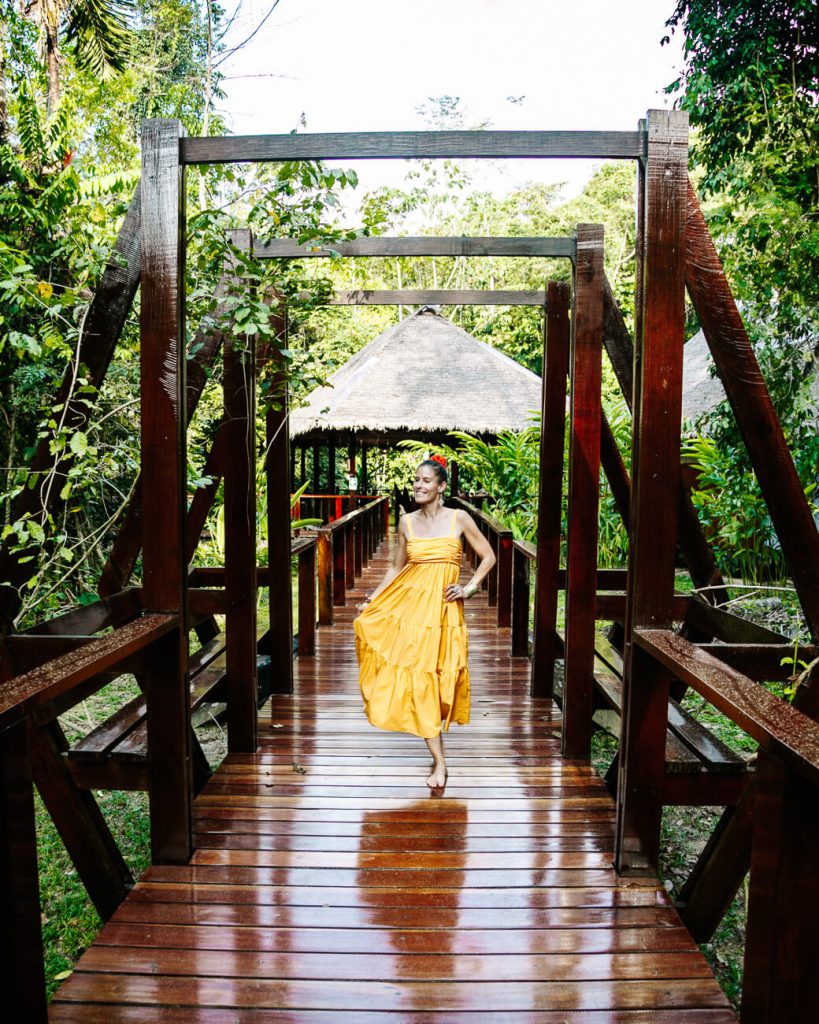 The Tambopata National Reserve is located in the province of Tambopata in southeastern Peru and consists of 274,690 hectares of nature. Because Tambopata is a remote and protected area, you will find a very large biodiversity here. Many consider Tambopata to be one of the most biodiverse places on Earth! Numerous plants and animals have been recorded, including 1,200 species of butterflies, 600 species of birds, 100 species of mammals, 180 species of fish, 100 species of reptiles and more than 1,200 trees and plants. It is incredibly special to spend time here! The city of Puerto Maldonado is the gateway to an adventure in the jungle of Peru, about which more at the bottom of this article.
The journey to Posada Amazonas jungle lodge in Peru
From the Rainforest Expeditions headquarters in the jungle city of Puerto Maldonado, you will travel by bus to the small community of Infierno in less than an hour. Here you get on a boat and sail to Posada Amazonas jungle lodge Peru. The trip takes about 45 minutes, but since you probably spot your first caimans, monkeys, turtles, capybaras and birds on the way, you will stop several times to take pictures and get a first impression of the beauty of the Amazon rainforest in Tambopata Peru. And I can tell you, that is a great welcome.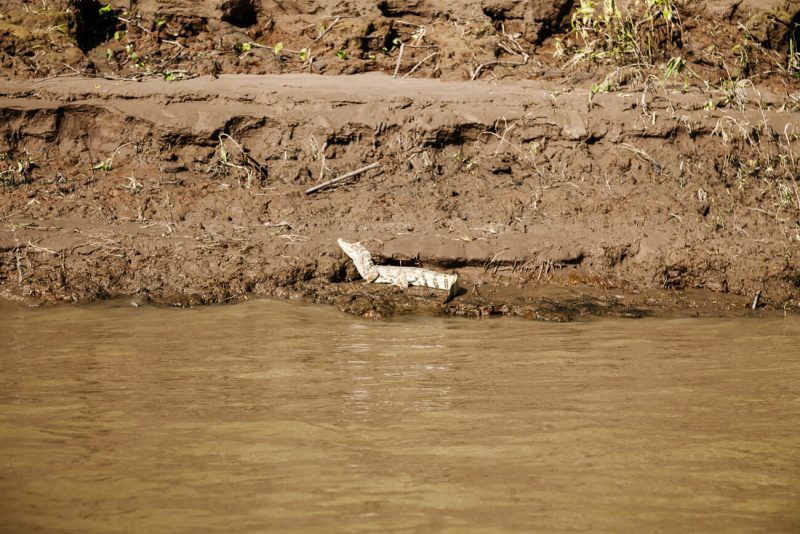 Posada Amazonas jungle lodge
It is always exciting where you end up after a boat ride in the jungle. From the Tambopata River, a staircase leads up into a junglepath and then another staircase. It is quite a walk to the Posada Amazonas lodge, which makes you realize even more that you are in the Amazon rainforest of Peru. The good things is that you really only have to walk and enjoy: The trails are easy and your luggage will be carried for you.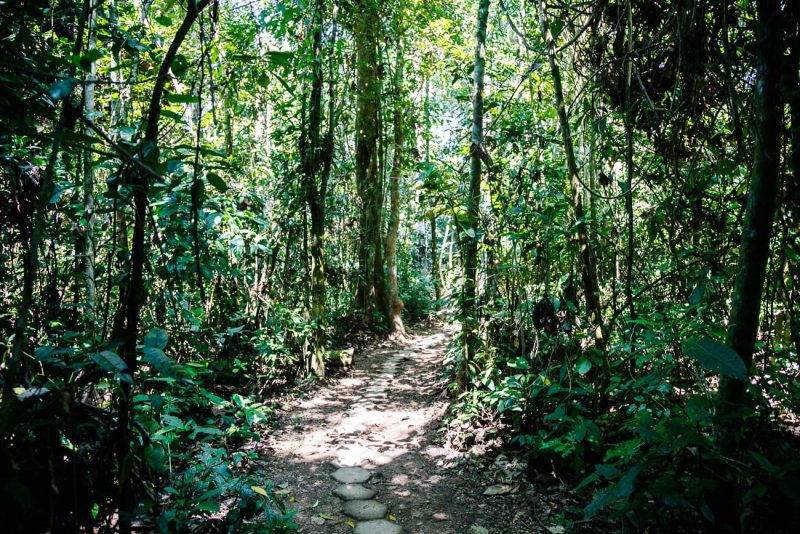 And then suddenly out of nowhere Posada Amazonas appears. This jungle lodge is made entirely of wood and is beautifully situated.
Introduction Posada Amazonas
Upon arrival, after a welcome drink, a first briefing follows. We understand that all rooms are open to the outside. This is to experience nature in its purest form. Ah, I didn't quite realize this. But they tell us to not worry. Animals don't come in, except for a frog maybe. At least, if you don't leave food in the room. Otherwise there is a big chance of encountering a opossums, something you don't want to happen, according the staff. You therefore have to put all your possible food in a specially developed safe. Besides that, there is also a mosquito net to keep the insects at an appropriate distance.
Posada Amazonas is a successful collaboration between Rainforest Expeditions and the Infierno Ese Eja indigenous community. 80% of the staff comes from this community. In addition, 75% of the profits directly benefit the community. Your visit therefore has a direct impact on the local indigenous population.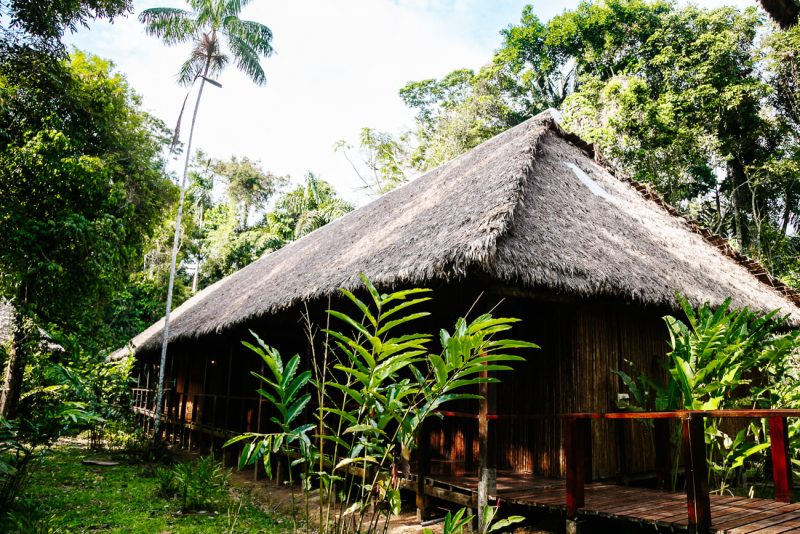 Since nature and sustainability play an important role for Rainforest Expeditions, energy is used efficiently and economically. So there are specific hours with power. Hot water is available 24 hours a day though. Electricity, internet, hot water: I can't believe the amount of luxury in the jungle.
Curious about a stay in the Amazon rainforest in Tambopata Peru? Check out the availability and latest rates of Posada Amazonas jungle lodge Peru here.
The rooms– Posada Amazonas jungle lodge
Posada Amazonas has several rooms, connected by long walkways. The entire complex is located a few meters above the jungle because of the water that gets high in the rainy season. The rooms at Posadas Amazonas are spacious and unique because of the open sides. Quite a bit exciting, but after one night you are used to it and appreciate it even more.
The beds are large and just wonderful. The bathroom is also spacious with a nice shower, including hot water and bathrobes. In addition, a number of rooms have a sitting area and a lovely hammock. It is special that you can spend the night in such a luxurious way in nature.
Tip: Make sure to use your mosquito net. At the end of the day, you will observe insects that you have never seen before. But don't worry, not in a scary way.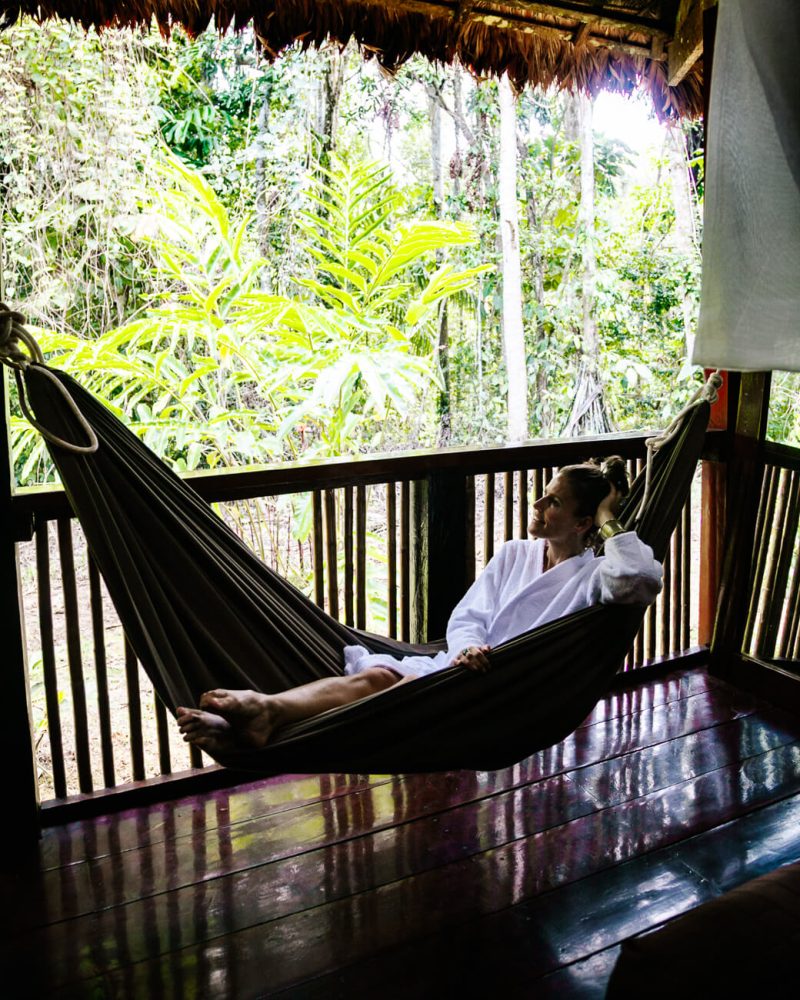 Food & beverages
Every morning, afternoon and evening there is an extensive buffet in the restaurant of Posada Amazonas. Fresh and local products are used and everything is taken care of. Also, many typical Peruvian ingredients such as yucca, potatoes, quinoa and tropical fruits are part of the menu. I really like that the choice of dishes is just enough. Personally, I don't need a buffet tens of meters long, where you don't eat everything and there is probably a lot left over. Lunch and dinner are served at set times. Breakfast time is something you discuss with your guide and is different every day, depending on your schedule. Yes, also at 5 am in the morning.
There is coffee and tea available 24 hours and a jar of Brazilian nuts, which grow in the area. Including an extensive fruit buffet, where you can always grab fruit for on the road. In addition, there are fresh juices and cake ready for you after every morning activity.
Activities at Posada Amazonas jungle lodge
All activities are included during your stay. And every day you discuss your program for the next day with your guide. Programs are fully customized and only in small groups. Sometimes you go out with several groups, but you always have your own guide with you. There is a morning program, which starts early, sometimes at 5 am, sometimes at 8 am. After lunch there is time for a short siesta (and yes, you really want to take this one), followed by an afternoon program. And in the evening you definitely want to go for a night walk. Keep in mind that programs are intense but trust me, you don't want to miss anything here. This is an overview with the most beautiful excursions at Posada Amazonas.
Curious about a stay in the Amazon rainforest in Tambopata Peru? Check out the availability and latest rates of Posada Amazonas jungle lodge Peru here.
Rainforest canopy tower
From Posada Amazonas it is a short 10-minute walk to El Mirador, the canopy tower. And often a visit is planned immediately upon arrival on day 1. El Mirador is a high tower of 42 meters, located in the middle of the Amazon rainforest in Tambopata Peru. And from the top you enjoy an amazing view. You look out over the treetops of the vast jungle and the beautiful Tambopata River, which meanders through it.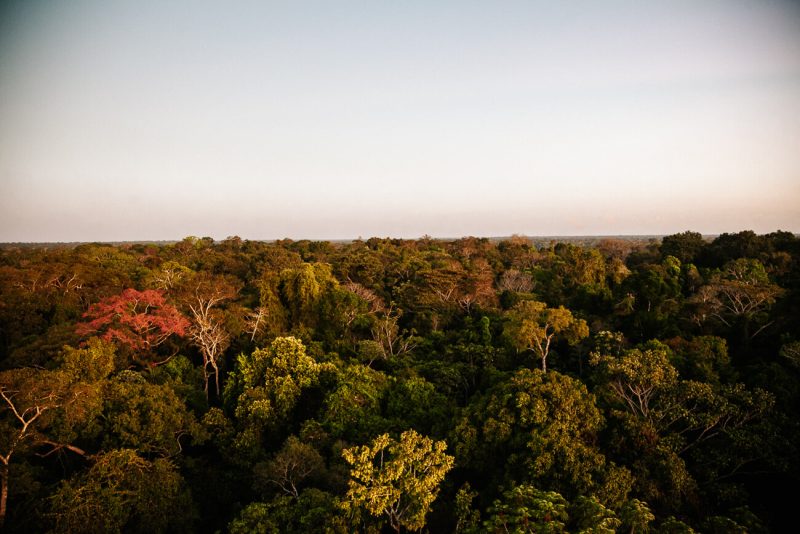 Everywhere you look, you see birds in the treetops and with the guide's telephoto lens you can even observe the most beautiful toucans and parrots up close. At the end of the day, the colors become magical. And the jungle sounds, which change from day to night, are also unforgettable. Take your time because you can be here for hours.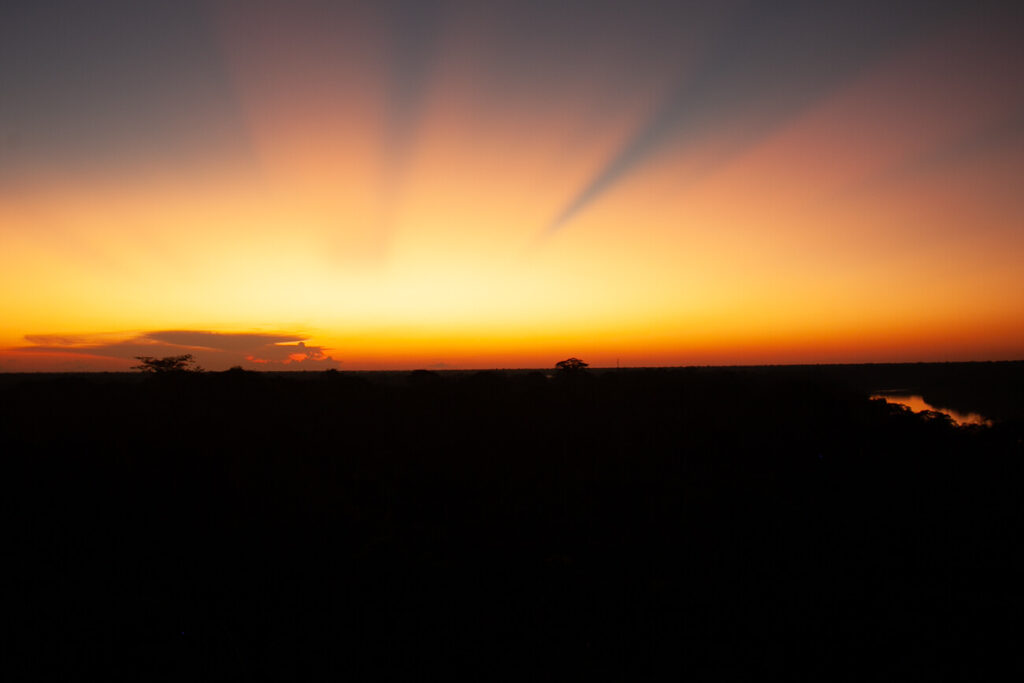 Nice to know: Upon arrival you immediately notice that there are two towers, a modern one and an old one. From below, it looks like people are standing there as well, but halfway it appears that the tower has been completely taken over by monkeys. So beautiful to observ, like a stage performance, where each monkey wants to show something different of itself.
Oxbow Lake
On the second day you want to go to Oxbow Lake. This lake is known for the giant otter that lives here. And who doesn't want to see this incredible animal? But you don't just visit Oxbow Lake for the otters. Because part of the Tambopata River in Peru, found a different route over the years and a lake with its own unique ecosystem was created. Due to the calm current and the high acidity, Oxbow Lake became a paradise for birds.
Very early in the morning, around 5 am, we walk through the jungle to the boat that drops us at the place where we walk for half an hour to the catamaran. Along the way we get to see several caimans and a capybara family.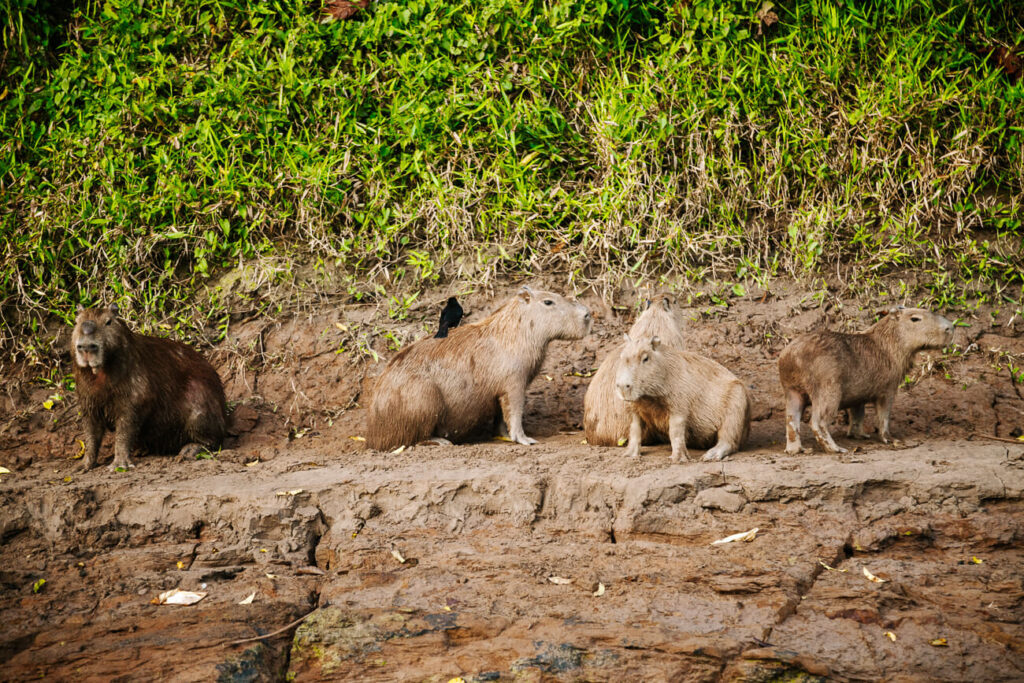 The catamaran tour is fantastic. This consists of two wooden boats with a deck, chairs and benches. In order to not to disturb and pollute nature, there is no engine and the skipper manually uses all his forces to transport us. And the fact that we don't have to be bothered by the sound of an engine makes our visit even more beautiful. The pastel morning colors together with the sound of the birds flying around or perched on a floating tree are so relaxing.
We see the black caiman, countless birds including the kingfisher, heron, macaw, toucan and many more birds that I all want to study one day, bats that are attached to a tree trunk and in the distance a number of otters. These river seals, as they are also called, can grow up to 2 meters in length. I couldn't be more happy.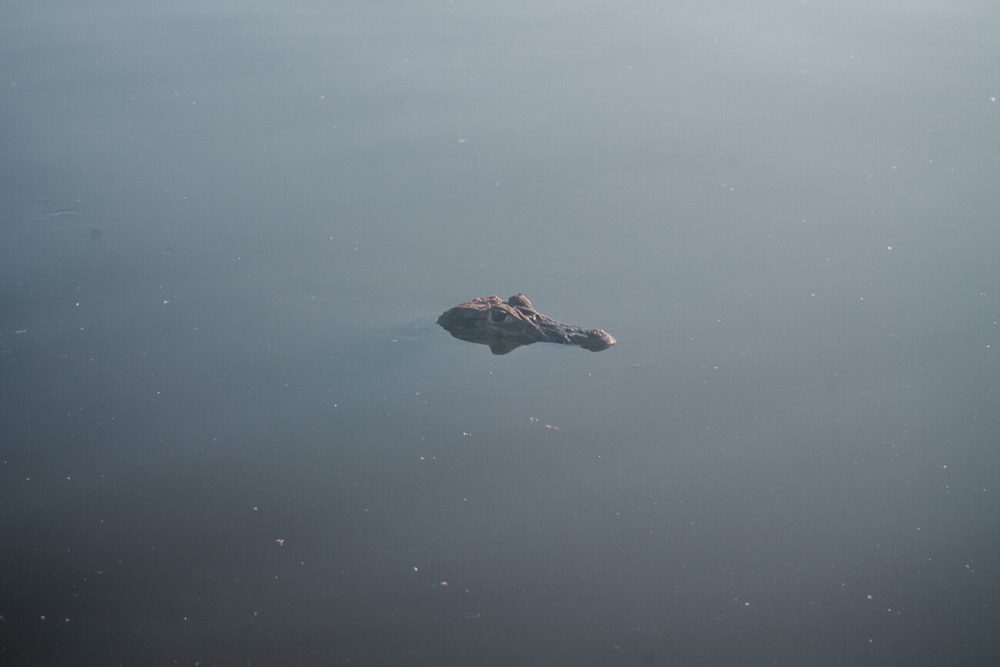 Our visit ends with piranha fishing, after which we gradually return to Posadas Amazonas via the same route.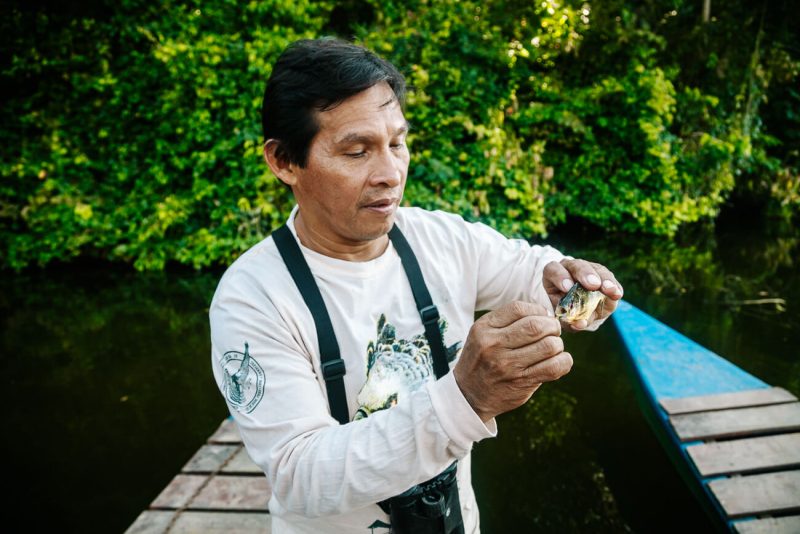 Clay Lick
Ever heard of a clay lick? This is a place where countless parrots gather to lick clay. They do this because of the minerals in the clay and the social aspect: Looking for a new partner. Posada Amazonas has a clay lick less than a 20 minute walk away. We were lucky enough to observe some parrots already on day 1 from the boat. But anyway, it is worth walking here one or even more times with your guide. From a constructed little shelter you have a view of the wall through the holes and there is a good chance that a big amount of parrots will appear here.
The best chance of observing the birds is in the morning, but our fantastic guide Luis managed to spot a number of macaws during all of our visits. During our afternoon walk we had a view of the animals high in the trees through the telephoto lens. So beautiful!
Near Refugios Amazonas and Tambopata Research Center, the other Rainforest Expeditions lodges in Peru, you'll find one of the largest clay licks in the region. A visit should therefore not be missed. In the following articles you can read more about Refugio Amazonas jungle lodge and Tambopata Research Center, in Peru and how to best visit this clay lick.
Walk and enjoy the Amazon rainforest of Peru
Each activity from Posada Amazonas is worth it, because you never know what you will encounter along the way. Are you looking for a macaw? Then you suddenly see a sloth in the tree. Are you going to a place to learn more about medicinal plants? Then you suddenly come face to face with a tapir.
Hiking through the Amazon rainforest of Peru is something you can't do often enough. To enjoy the beautiful surroundings, absorb the jungle sounds or encounter a colony of monkeys. And it is moments like these that makes you realize what the value of a good guide is. The Rainforest Expeditions guides have the very best eyes and knowledge. Make sure you join all the opportunities and get the maximum out of your stay.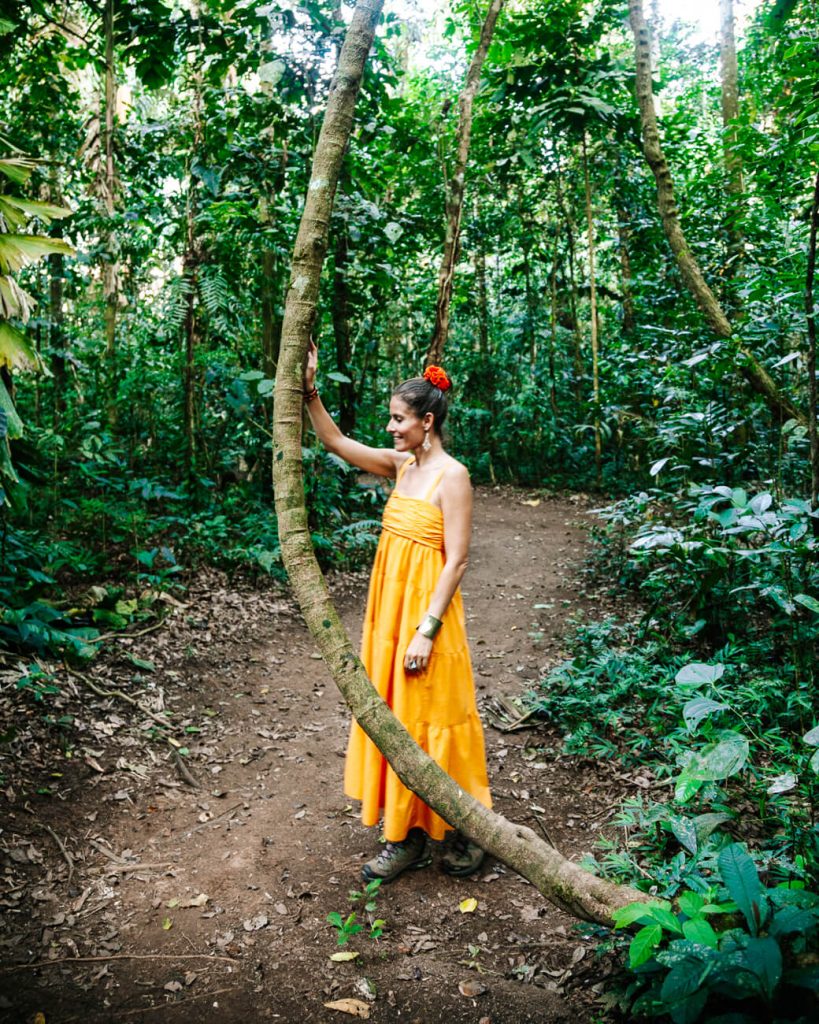 Night walk through the Amazon rainforest Peru
In the jungle you should never touch a plant or tree. But after a night walk, you don't even dare to do this anymore. In the evening you see the most fascinating, yet somewhat scary insects on trees, underneath leaves and on twigs. You wonder where these creatures stay during the day. From Posada Amazonas, you go out in the evening almost every day. And really, it is special every single time.
We were able to observe countless spiders, stick insects, scorpions and insects of which I do not know the name. And one evening we even discovered eyes: An opossum and a whole family of wild boars. Unbelievable how these animals are immediately aware of you and observe you from a distance. We crawled on the ground with the guide to catch a glimpse of the animals.
Do you want to relax after all the activities? Posada Amazonas jungle lodge Peru offers different massages. There is nothing nicer that taking some time to relax after all the impressions of the day.
Botanical garden
This garden is located near small jungle community Infierno. Here you can go for a short walk along different medicinal plants and learn about the local people and traditions. The guide explains you all about the hallucinatory effect of the ayahuasca and chacruna tree, the para para and its aphrodisiac effect and the role of the local shaman in the Amazon rainforest of Tambopata Peru.
The guides will also introduce you to plants and twigs that work against mosquitoes, inflammation (the cordoncillo with a light pepper flavour) or provide a temporary natural anaesthetic. I am always impressed by everything what nature all has to offer us for free.
Tapir alert
On the way by boat to the medicinal plants, one of my dreams comes true: Seeing a tapir. From the boat we see this amazing animal drinking water at the river. Unfortunately, a bird that attacks the tapir for eating its ticks, chases the tapir away. But when we are halfway through our walk afterwards, we can observe the tapir from very close. As mentioned before, at the moments when you least expect it, the most beautiful things happen.
Rainforest Expeditions Guides
It will not surprise you when I tell you that a good and professional guide is important when you are in the Amazon rainforest of Peru. And over the years, I have been on the road with many great and mediocre guides. But at Rainforest Expeditions you really realize what a great guide means.
At Posadas Amazonas I was lucky enough to go on an adventure with Luis, and the eyes of this man are just exceptional. Spiders, scorpions, monkeys, sloths, birds of prey, otters, toucans: Luis really showed us everything. And when we had to look three more times ourselves before understanding what we were looking at, the telephoto lens was already in the right direction for a close shot. And even though, I think Luis is a very special person, the other guides here are also very professional and experts. The Rainforest Expeditions guides show you all corners of the jungle in Tambopata Peru, and more than that.
How long do you want to stay at Posada Amazonas jungle lodge
Depending on your budget and time, I would recommend staying at Posada Amazonas for a minimum of 2 and ideally 3 nights. On the first day, you leave around 2 pm from Puerto Maldonado to Posada Amazonas jungle lodge Peru. You get a simple but tasty lunch on the boat and on arrival you immediately set out for a first introductory walk and sunset moment.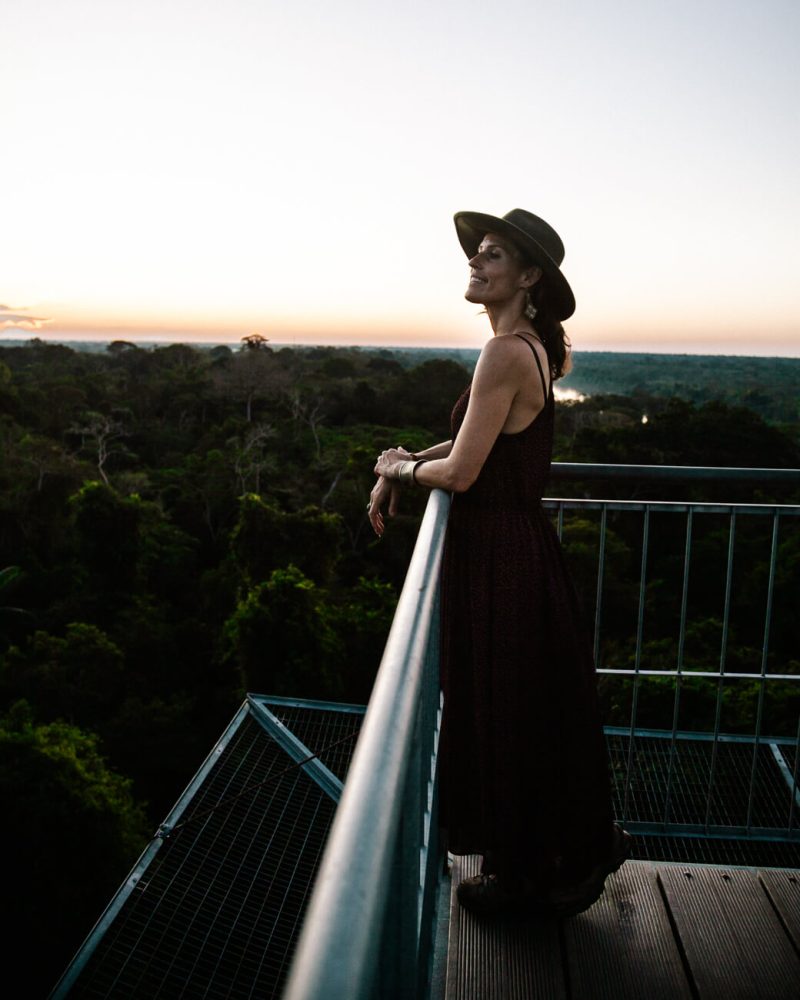 On day 1 and 2 you have plenty of time to discover the Amazon rainforest in Peru by going on different activities. On the last day, you can opt for an early morning excursion before returning to Puerto Maldonado. To catch your flight or continue your overland adventures.
Luggage
It is recommended to leave your large luggage at the Rainforest Expeditions office and only travel with small luggage. Do you want to know what to take with you during an Amazon rainforest trip in Peru? In the next article you will find an extensive packing list. It is good to know that you also have a small shop at the Rainforest Expeditions office for your last purchases.
Are you planning to visit the Amazon in Colombia as well? Then you want to spend the night at Calanoa Amazonas jungle lodge. This boutique hotel is on the Condé Nast list of the most beautiful hotels and that is for a good reason. In the next article I will tell you more about my experiences at Calanoa Amazonas jungle lodge and give you tips for your visit to the Amazon of Colombia.
How to reach Posada Amazonas
From the Rainforest Expeditions headquarters in Puerto Maldonado, you will travel by bus to the small community of Infierno in less than an hour. Here you get on the boat and sail in an hour to Posada Amazonas jungle lodge Peru. Puerto Maldonado is the capital of the Madre de Dios department. There are daily flights from Lima and Cuzco to Puerto Maldonado.
Puerto Maldonado can also be reached by land from Cuzco, but this is a long road with a lot of bumps. So the question is whether you want to go for this option.
More about Rainforest Expeditions
Rainforest Expeditions is a Peruvian travel company, committed to sustainable tourism. The conservation of the tropical rainforest plays a leading role. In addition, local communities are involved in their protection and care. Rainforest Expeditions has three lodges in and around the Tambopata National Park, each with its own atmosphere and character. Refugio Amazonas and Tambopata Research Center, also serve as a major research institute, Wired Amazon, where scientists and researchers are active in the field of wildlife. With your visit you contribute to the projects and researches of Rainforest Expeditions and this has a direct impact on the local indigenous population.
Want to read more about Rainforest Expeditions? Have a look at the website and follow them on instagram and facebook. Curious about a stay at Posada Amazonas jungle lodge Peru? You can find the availability and latest rates here. Make sure to also read my reviews about jungle lodge Refugio Amazonas and Tambopata Research Center, which is located deep in the Tambopata National Park. So you can choose your perfect jungle adventure.
Are you looking for useful tips for your stay in the Amazon rainforest of Tambopata Peru? In the next article you will find everything you want to know.
More about Peru
Do you want to discover more of peru? Check out my city guide with the things to do in Lima and experience the city the best way! Are you planning to visit Cusco? Don't forget to check out the best restaurants & cafes in Cusco and Cusco's coolest places to shop. For all articles about Peru, have a look in the Peru archive.
Disclaimer: I was invited to stay at Posada Amazonas jungle lodge Peru but this review is based on my personal view and is independent from the invitation.
This article may contain affiliate links. If you purchase something using one of our links, we may receive a commission at no extra cost to you, which helps us keep this blog alive. Thank you for your support! Please see our disclosures for more information.