If you're looking for a nice weekend away from the busy capital of Bogotá, you should follow the Bogotanos and visit beautiful Villa de Leyva. This mountain village is located in the province of Boyacá (only a few hours away), at an altitude of 2100 meters. But what to do in Villa de Leyva Colombia? In this article you'll find the best things to do in Villa de Leyva and surroundings in Colombia, including tips for hotels and tours.
Things to do in Villa de Leyva in Colombia
Villa de Leyva was founded in the 16th century by the Spaniards and became a popular spa and wellness destination for the elite. In 1954, the city was even declared a National Monument. You'll quickly fall in love with Villa de Leyva. Its cobblestone streets, white houses with terracotta tiles, balconies with flowers, idyllic courtyards, churches, squares and mountain views make it one of Colombia's prettiest destinations.
Small shops and restaurants make for a nice atmosphere. Although there are only 4000 residents in this town, it has become a popular weekend destination for Colombians, so expect a vibrant atmosphere on Saturdays and Sundays. If you're looking for a little more peace and quiet in a town that, I'd recommend paying this town a visit on a weekday. Enjoy this article with my tips for things to do in Villa de Leyva.
Walk around and enjoy the vibe
The best thing to do in Villa de Leyva is to just walk around, soak in the atmosphere, take many pictures and drink teas and coffees with delicious cakes. The squares and streets are so picturesque, you'll find yourself wanting to walk around for hours and take pictures. Don't forget to take a couple of pictures at the end of the day, during the golden hour.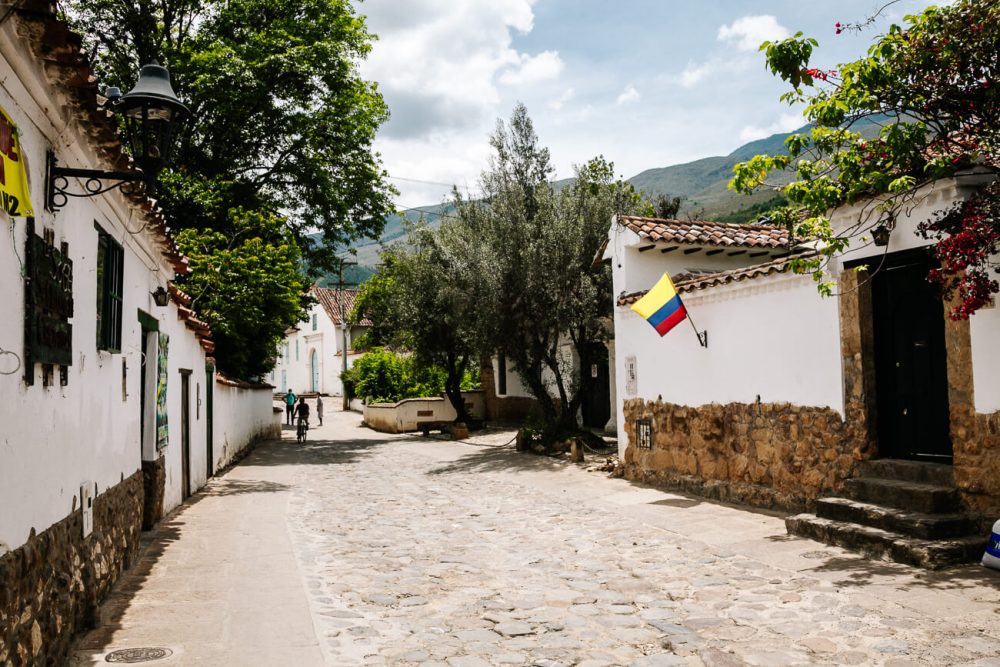 Take a picture at Plaza Mayor
Villa de Leyva is where you'll find the largest square in all of Latin America. The Plaza Mayor covers 14,200 square meters, including streets of 120 x 120 meters. On the Plaza Mayor there are a number of buildings worth paying a visit, such as the Iglesia Nuestra Senora de Rosario, the town hall and the former home of artist Luis Alberto Acuna Tapado.
Meet Luis Alberto Acuna Tapado – cultural things to do in Villa de Leyva
Luis Alberto Acuña Tapado is a Colombian artists, known for his frescoes: indigenous art inspired by realism and the Renaissance. In Villa de Leyva you will find his former home. It has been turned into a small museum, where you can find his paintings and sculptures, as well as works from his private art collection. I find the courtyard garden particularly interesting. Here, you can find various sculptures, masks and murals, depicting the stories and myths related to the indigenous Muisca civilization.
Colombia has a lot of great artists, including painters and writers. I'm always curious and love to get inspired by art around the world. It's a great way to understand a country and its culture. In this article I'm listing some of the most remarkable and famous artists, coming from Colombia. And especially where you can find their work. Curious to get to know artists and modern art, coming from Central and South America? This is an extensive overview.
Learn about Colombia's history – Historical things to do in Villa de Leyva
If you are interested in Colombian history, you should check out the birthplace of Ricaurte and Antonio Narino, two important and historical figures in Colombia. Ricaurte played an important role in the independence of Colombia and Antonio Narino was an important fighter for independence and human rights. You can visit their old houses, located at the Parque Ricaurte and Parque Antonio Narino. In both parks, you'll find many cute little benches to sit on and relax.
Museo del Carmen | Things to do in Villa de Leyva
Museo del Carmen, is an old Carmelite monastery which has been turned into a museum of religious art. If you're a fan of this type of art, you could check out the exhibition. Otherwise it is nice to just have a look at the monastery from the outside and beautiful garden.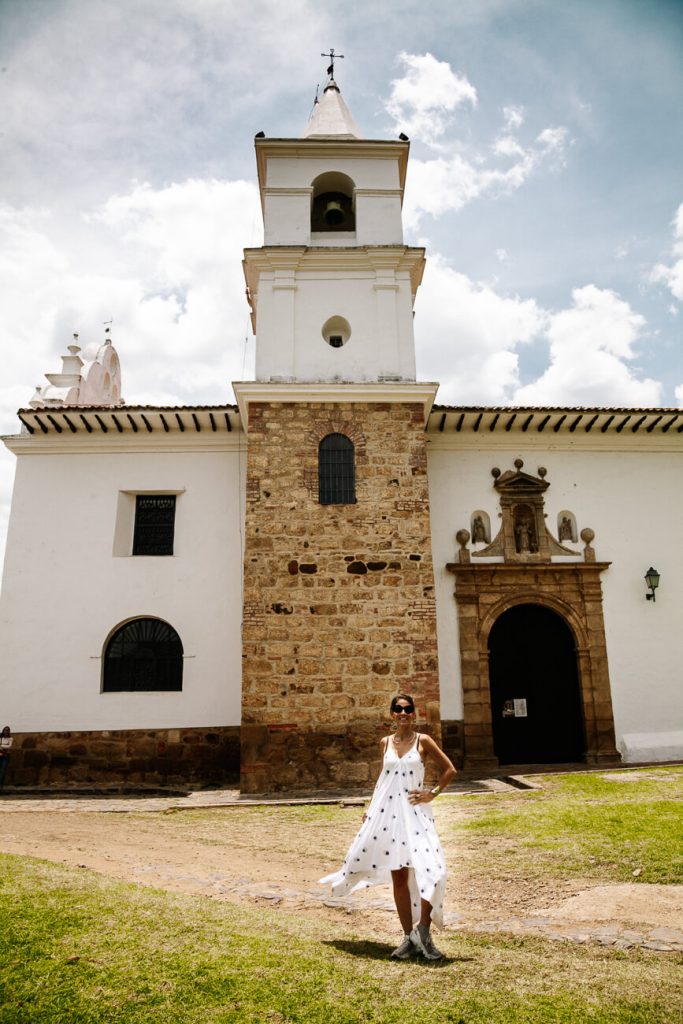 Go on a guided tour
Villa de Leyva is small and easy to explore on your own. If you want to add something extra to your experience. Then go on a tour with guide Angela. Angela will tell you more about Villa de Leyva, life in the region, its history and places of interest. Moreover, she knows how to find the most beautiful photo spots for you. The best way to contact Angela is through instagram.
What to do around Villa de Leyva in Colombia
Will you be in Villa de Leyva in Colombia for a longer time? Then it is worthwhile to explore the surrounding area. Here are several tips for scenic and cultural things to do in the surroundings of Villa de Leyva in Colombia.
Go hiking in Reserva Natural y Cascada Los Tucanes
One of the biggest surprises around Villa de Leyva is Reserva Natural y Cascada Los Tucanes. This protected natural reserve is about a one-hour drive on a dirt road from Villa de Leyva and has an incredible waterfall. And the special thing is that there are almost no tourists.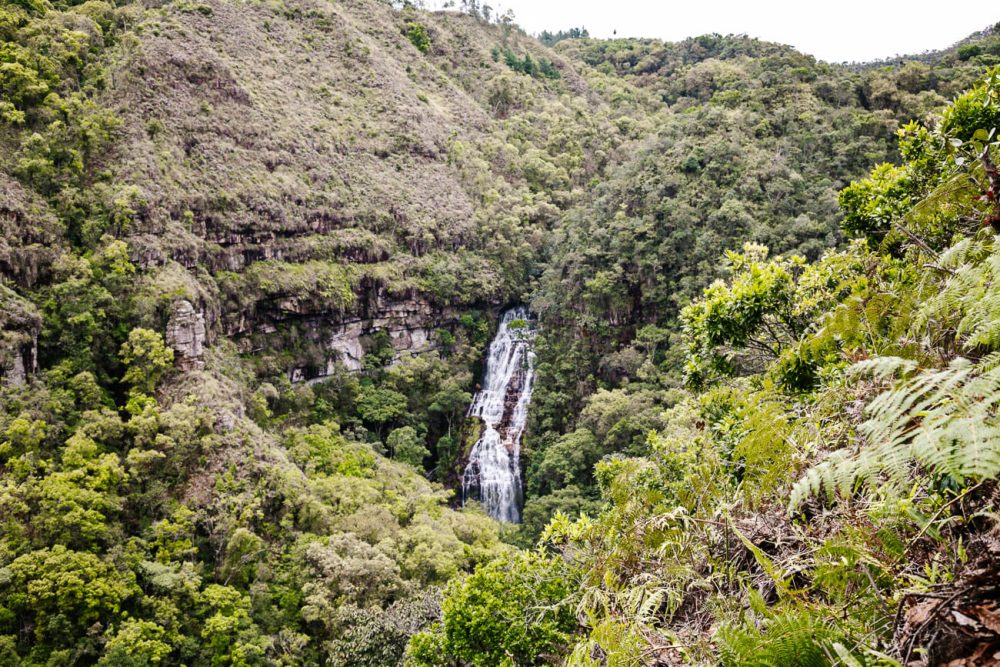 You can walk towards the waterfall and the river. You first see it from a distance, which provides a good overall view. Next, you descend, passing flowers and butterflies and admiring the waterfall from below. A little further down and you'll be walking a route along the river before walking back up to the starting point.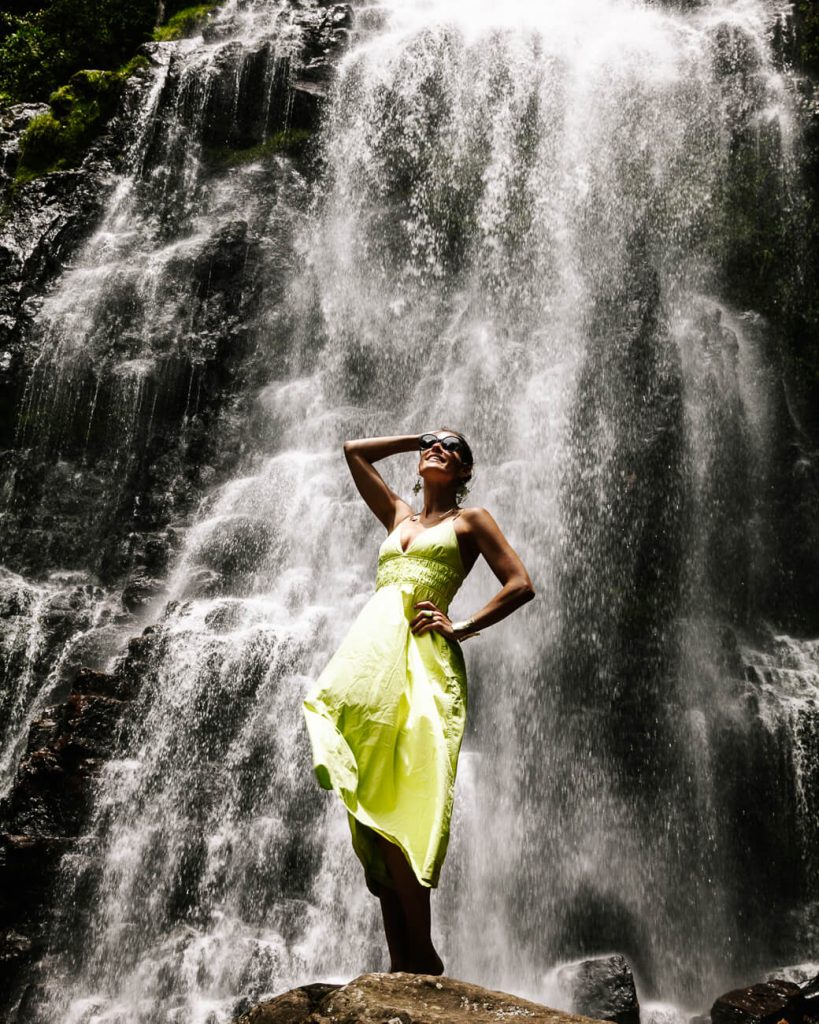 You can take as much time as you want for the hike, something I definitely recommend! If you do it without stopping, it will take yiou 45 minutes to an hours. Do bring good shoes, some parts can be slippery. This place is definitely recommended!
The owners bought the land and made it a protected natural reserve. This is because surrounding companies and factories are preying on this environment and several parties are trying to make money from it. With your visit and small contribution you ensure that the owners can protect the area and keep it responsibly accessible for visitors.
Visit Molino de la Primavera
In the vicinity of Villa de Leyva you can find numerous old water mills. And one of the prettiest is the Molino de la Primavera. This former mill was built in the 17th century and worked for over 300 years grinding wheat and corn grains.
Today it is a small museum that you can visit. The former water mill consists of two floors where you find old machines and background information about the processes and the area. But the real reason for your visit is the idyllic location, situated in a green valley called Valle Escondido, with beautiful views. You feel like you are far away from civilization and you want nothing more than to stay here for the rest of your life.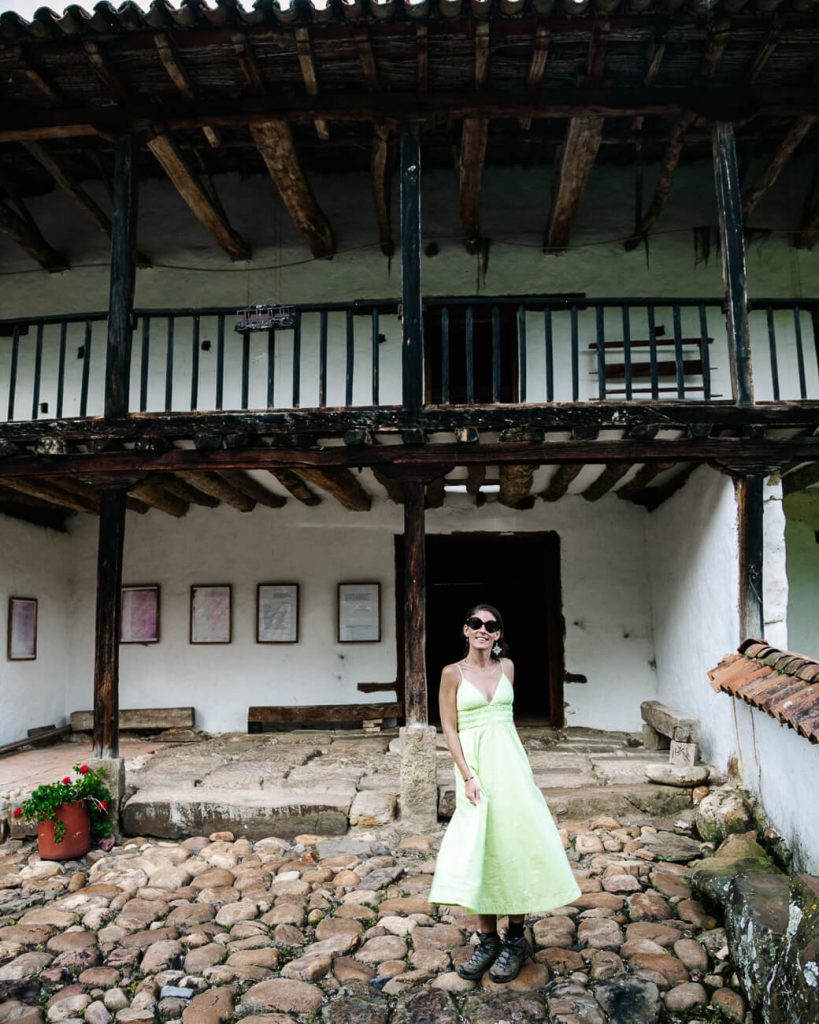 Molino de la Primavera is located, in the Valle Escondido between Gachantivá and Villa de Leyva, 10 km from the city center via Santa Sofia.
Learn more about yourself in the labyrinth of FIBAS Jardín de Desierto
Villa de Leyva is a place where many people gather because of its positive energy. As such, there are a number of yoga and meditation centers. During my visit I was invited at FIBAS Desert Garden (Jardín de Desierto), an ecological spa, dedicated to wellness and personal development. This place, run by the lovely Monica and her husband, is located in a natural area with numerous cacti and astronomical calendars.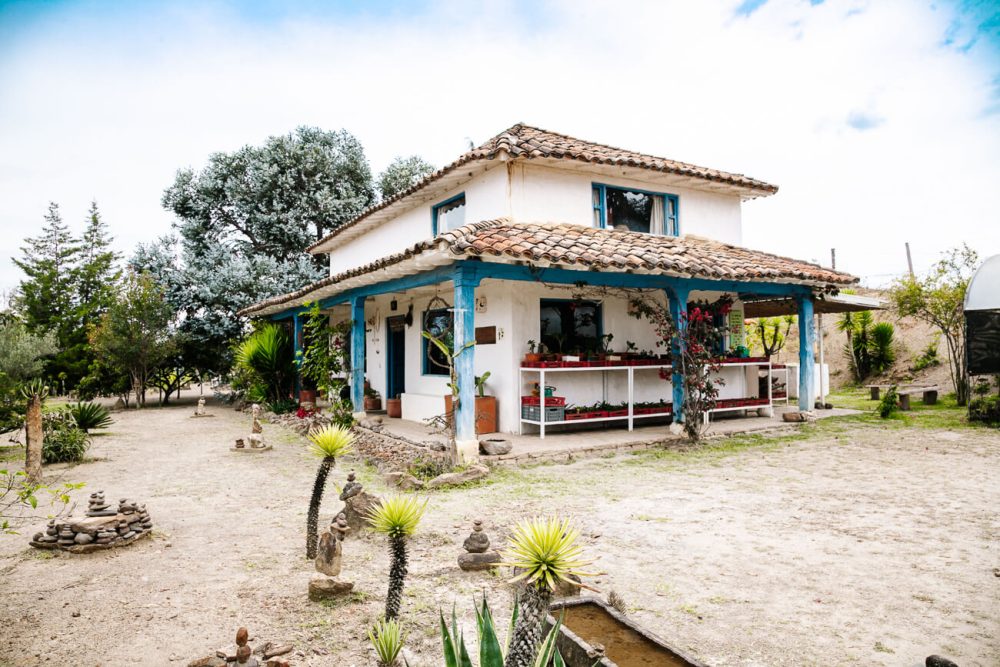 Nice is it fact that you can learn more about a labyrinth here. What is a labyrinth? That's a long story and something you really need to experience. Monica gives an extensive introduction to the Labyrinth concept and tells you what it does to you if you are open to it. Then you may enter the labyrinth and make your own journey in it.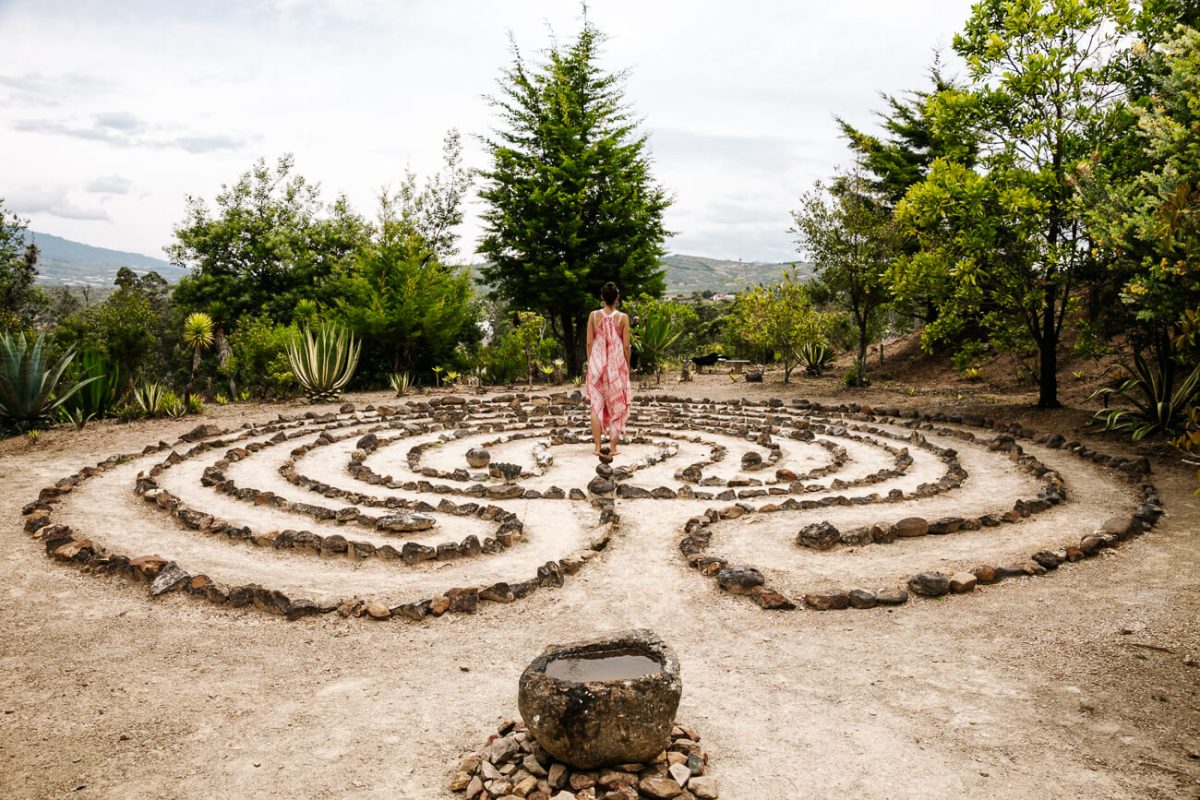 Whether you are spiritually inclined or not, it is an experience that fits in with your visit to Villa de Leyva, if you are interested in nature and can open yourself up to these special atmospheres. In addition, it is a popular place for hip young people who do their wedding or love ceremony here. Moreover, you can buy beautiful cactus plants there.
Admire fossils at the Museo el Fosil
The area around Villa de Leyva is known for its archaeological treasures and fossils. Villa de Leyva is said to have been part of a large inland sea (before the formation of the Andes Mountains). Countless fossils were found here over the years. A visit to the fossil museum should therefore not be missed during your visit to Villa de Leyva. To learn more about the history and to be amazed by all these finds!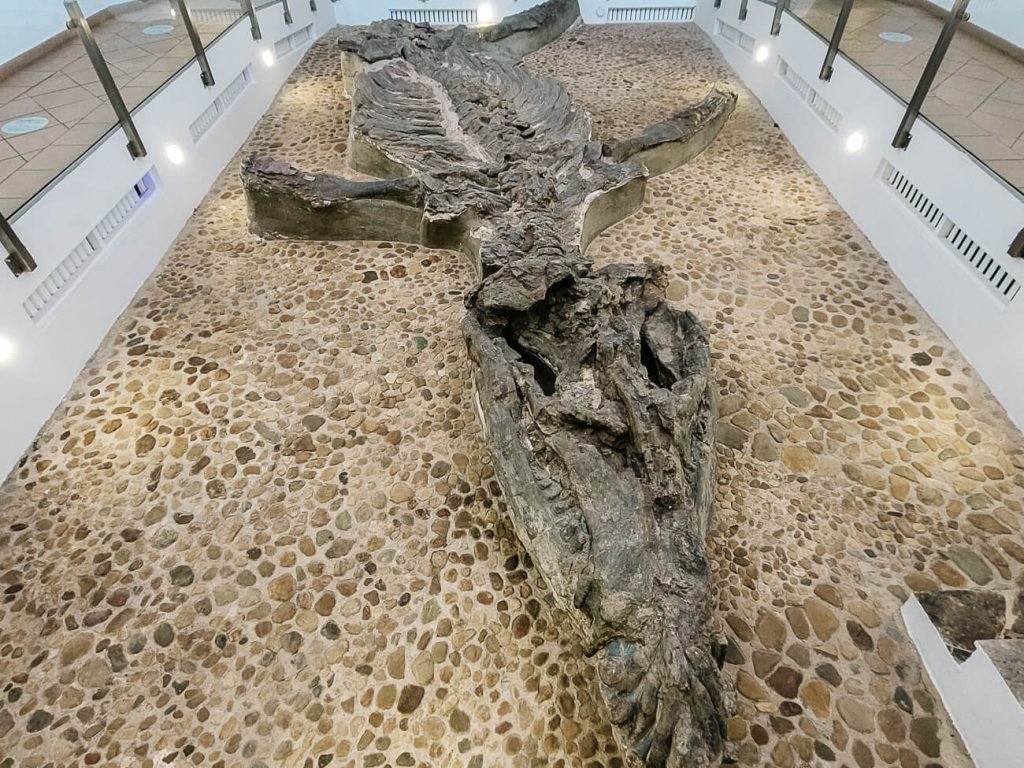 What is special is that this museum is an initiative of the local people themselves. For years fossils were stolen, sold illegally and taken abroad. The locals wanted to change this by collecting, managing and exhibiting the finds themselves.
Are you specifically interested in archaeology and fossils? Then you can also visit the Museo Paleontologico.
Mini travel guide Villa de Leyva
Hotels in Villa de Leyva Colombia
Are you looking for a special place to stay? Then you'll want to book a stay at Hichatana & Zuetana. This gigantic mansion is a 30-minute walk and 10-minute drive from Villa de Leyva. You'll be in the middle of a natural area, but have Villa de Leyva just around the corner.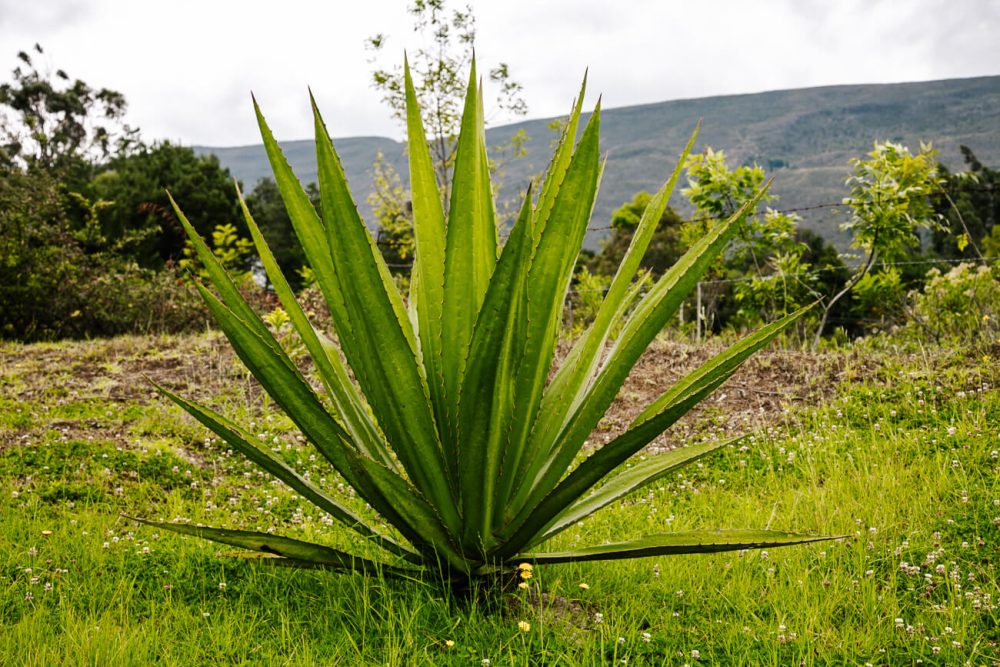 Hichatana & Zuetana consists of two houses located in a quiet neighborhood surrounded by greenery. The houses consist of a living room, several bedrooms with accompanying bathrooms, a kitchen and a mega garden with views over Villa de Leyva and the green surroundings. I highly recommend renting this with a group of people, so you can spend time together but still have your own peace and privacy.
Want to know more about staying at home and hotel Hichatana & Zuetana in Villa de Leyva? You can read more in the next article. Curious about availability and prices? Then contact them via air bnb. Other nice hotels in Villade Leyva include, Hotel Casa Terra and Selina.
In the morning you wake up to a sea of yellow flowers and the sound of birds. On a clear night, you gaze at countless stars in te evening. In addition, in the houses you will find an extensive selection of fine wines and artesan beers that you can enjoy unlimitedly (for a small fee). Moreover, Hichatana & Zuetana is a good base for visiting the various attractions in the vicinity of Villa de Leyva. Owner Jairo has numerous tips for discovering Villa de Leyva. By bike, car or walking.
How to reach Villa de Leyva
Personally, I love to rent a car and drive around. The easiest way is to rent a car from Bogota, you are within three hours in Villa de Leyva Colombia. Do try to avoid rush hour and holidays. Don't want to rent a car? It is also possible to contract private transportation. More options can be found here.
Car rental
Need a rental car for your trip to Colombia? Use Rental Cars to search and compare your car rental options. A quick and easy tool and no need to have up multiple tabs trying to figure out which company is the most affordable. They also have great discounts and cancellation policies.
Bogota is a city with different faces: A historic center, rich and hip neighborhoods in the north, a large business center, many universities and a vibrant art and culture world. Bogotá has a lot to offer and it is worth spending a few days there. Read my tips for Bogota, the Colombian capital, in the next article.
More about Colombia
Did you enjoy reading this article with best things to do in Villa de Leyva Colombia. Want to read more about Colombia? Check out the next articles with lots of inspiration and tips.
This article may contain affiliate links. If you purchase something using one of our links, we may receive a commission at no extra cost to you, which helps us keep this blog alive. Thank you for your support! Please see our disclosures for more information.