Are you interested in history and archaeological sites? Without too many other visitors around? Then you definitely should visit the Khmer ruins in Laos. Where you will need to share Angkor Wat in Cambodia with thousands of other tourists, in Vat Phou you will only meet a few fellow visitors. Vat Phou, located near the city Champasak in Laos, also known as Wat Phu, was built by the Khmer in the 12th century. It is said that this complex would have been the inspiration for Angkor Wat. Vat Phou in Laos is a must-visit for those interested in art, culture and history. In this article you will find everything you want to know about visiting the Khmer ruins.
Background information Vat Phou in Laos
Vat Phou, is located near the city of Champasak, at the foot of the holy mountain Phu Passak in Laos. It is said that this place already existed in the 6th century. By that time, there would have been a shrine where sacrifices were made to Bhaderesvara, an appearance of Hindu god Shiva. When the region became part of the Khmer Empire in the 9th century, Wat Phu was established. The most important parts were built in the 12th century, under King Suryavarman II, also responsible for the construction of Angkor Wat.
As with many ancient cities and complexes, little is known about the history of this site and much research is still being done. The exact reasons why and how the site was eventually abandoned are unknown to me. At the end of the 19th century the site was discovered by a French explorer who found the ruins by accident, overgrown by the jungle. Wat Phu in Laos has been on the UNESCO World Heritage site List since 2001 and can be visited nowadays.
A visit to the archaeological site Vat Phou Laos
From the parking lot you will be taken to the entrance of the complex with a golf cart. You will be impressed by the beautiful and serene location of the site immediately. It is hot, there are only a few people and the area is surrounded with white frangipani-like trees, also called temple trees. You will pass a gigantic pond with water lilies and you arrive at a platform, that used to be the place for the king during important ceremonies. At the entrance, a long road, the former process, leads to the heart of the complex. This is a a square with a pavilion on each side. The process and stones immediately remind you of Angkor Wat and the Khmer style.
Pavilions of Wat Phu in Laos
The pavilions were used as a shelter for pilgrims, one for men and one for women. Nowadays only the outside walls are still standing. These walls contain numerous decorated windows and beams with beautiful images of Hindu gods Vishnu, Shiva and Parvati.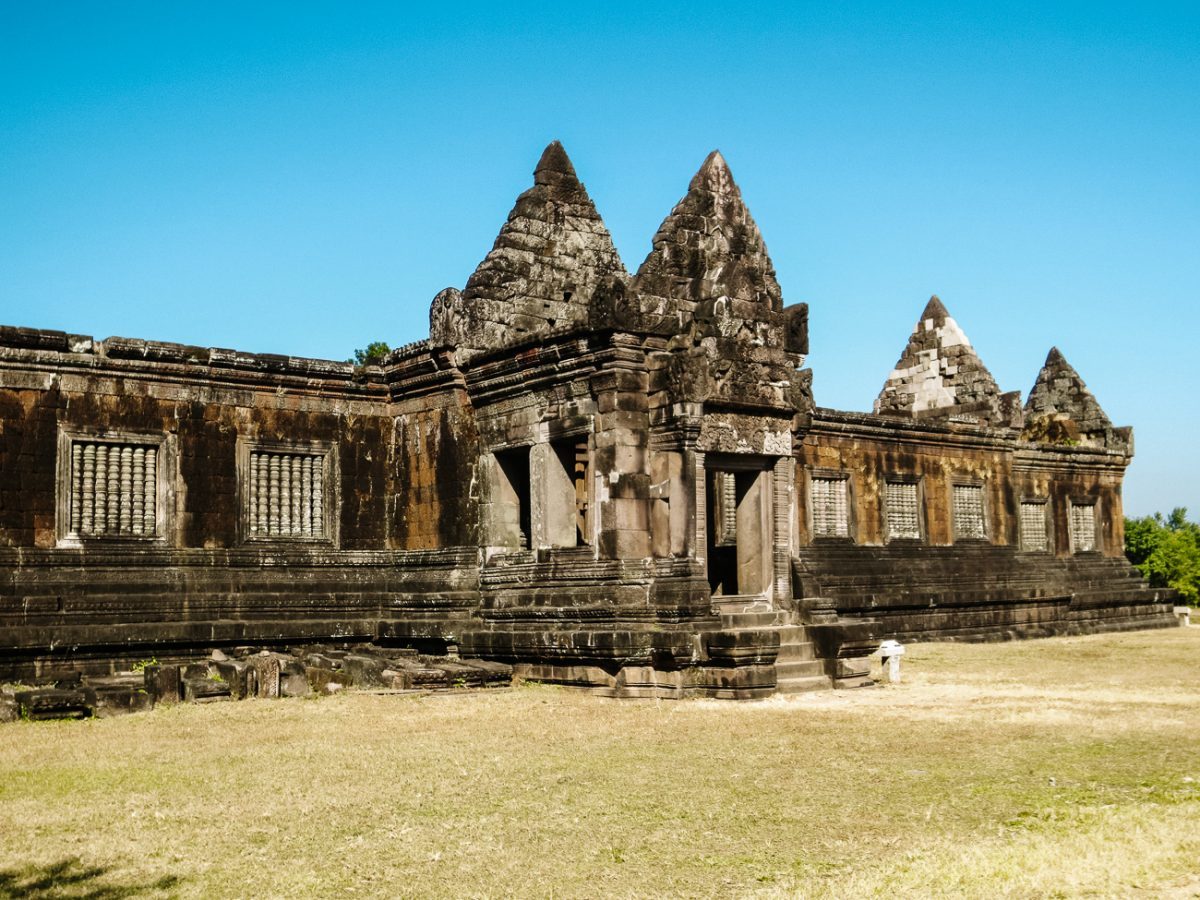 The stairs to the temple of Shiva
Then you reach a long staircase. This staircase leads to the main temple of Vat Phou, dedicated to Shiva. This staircase is not for everyone. The steps are uneven, narrow and the road goes up steeply. There seems to be no end to it. Especially the last part, can be challenging. And the sun will be burning. However, for anyone with a normal physical condition, it is absolutely doable. I would recommend to put on good shoes and bring enough water.
The best view of Wat Phu Laos
Halfway up the stairs you come to a plateau which offers a first view of the lower Wat Phu complex. On this plateau there are foundations of (probably) former temples, but there is not much left of it. Once at the top you can enjoy a beauview of the surrounding area. Personally I can sit here for hours, enjoy the surroundings and think about the history.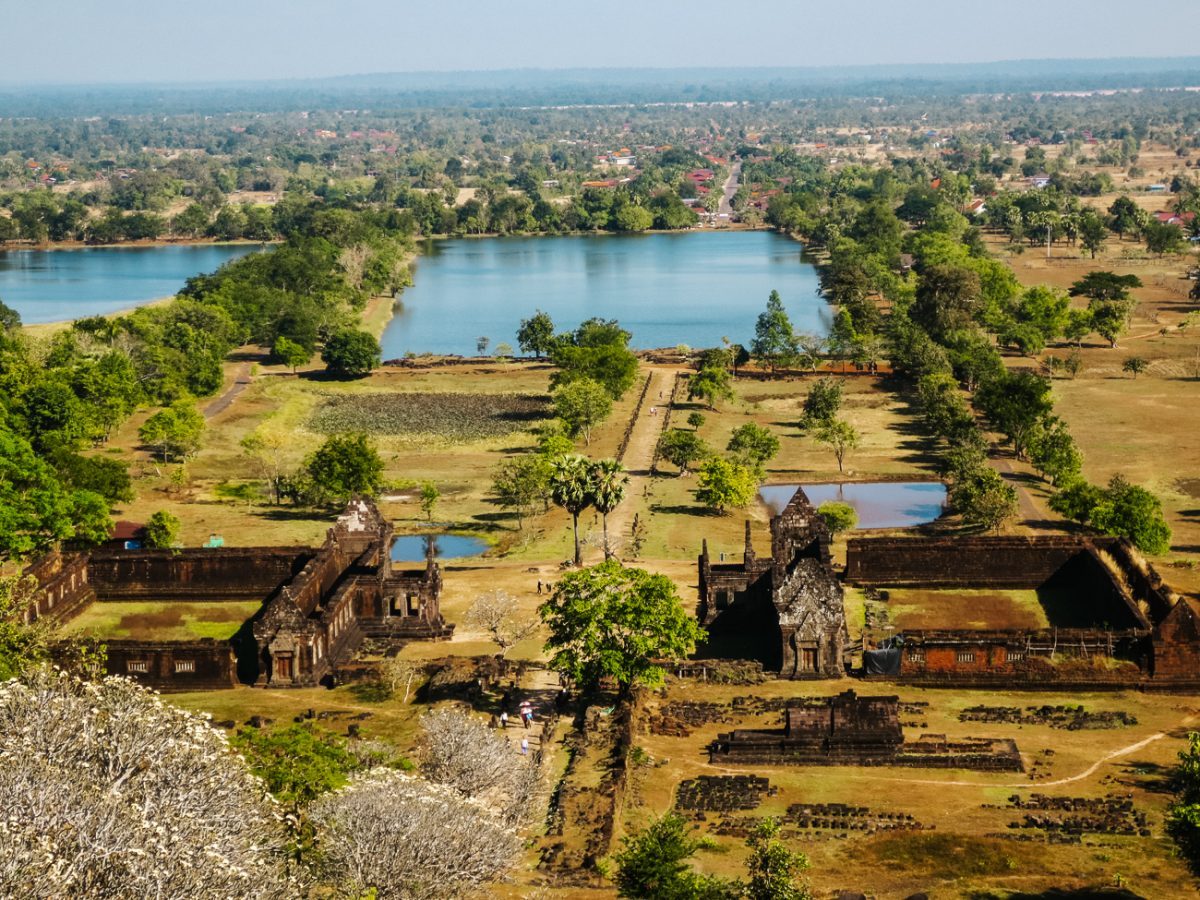 Vat Phou temple of Shiva
The temple of Shiva is a building with beautiful ornaments. Different decorations on the facade above the entrance show stories from the Laotian version of the Ramayana. The Ramayana is the holy book that originated in India and ended up in Southeast Asia. You do not need to know the stories to wonder about the detailed sculpture.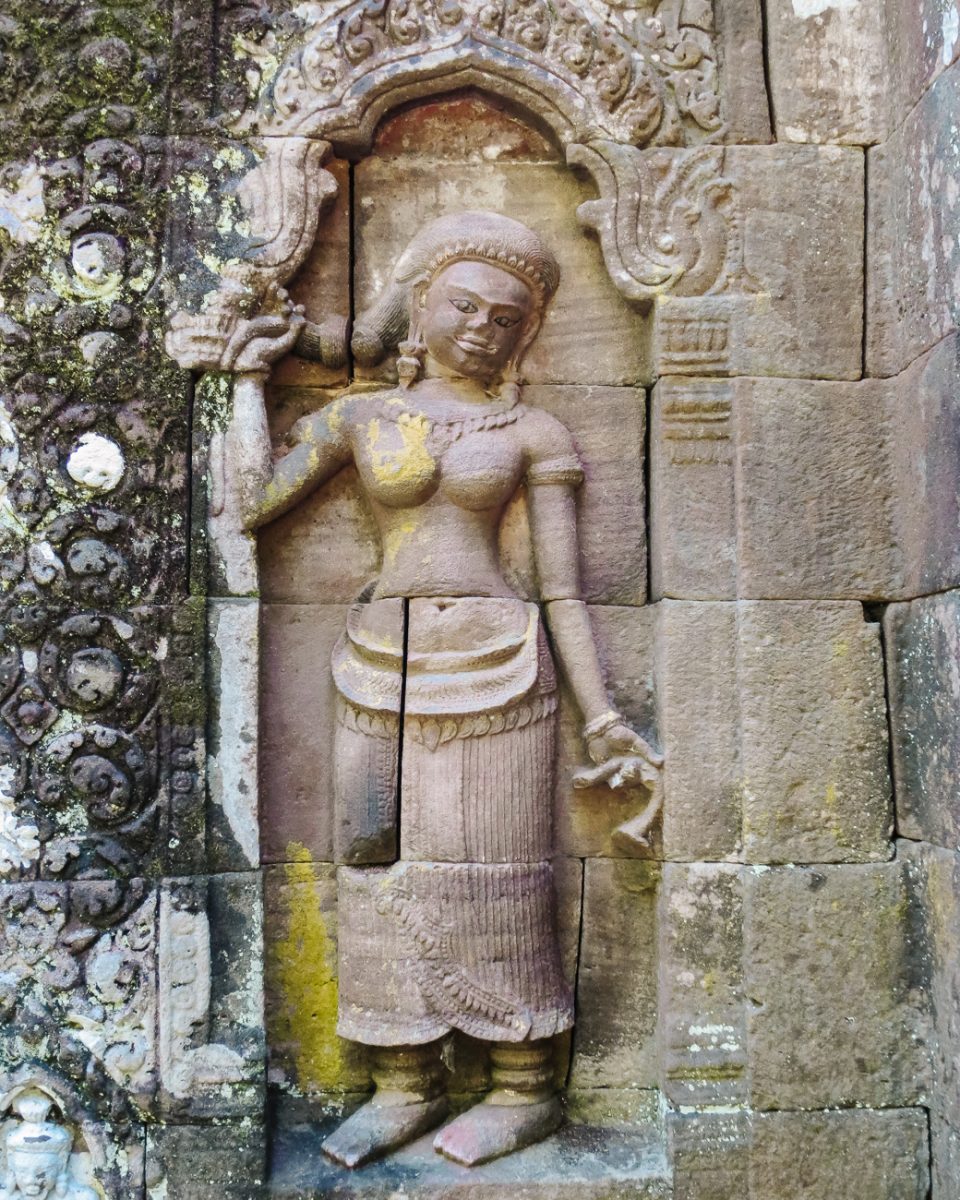 Festival and rituals in Wat Phu Champasak
Once a year, in the month of February, during full moon, countless people from Laos and Cambodia come to Wat Phu for the holy festival Ban Wat Phu. During three days the complex is dedicated to music, dance, boxing competitions, cockfights, boat racing and offering buffalo among other things. I can hardly imagine this quiet complex full of activities and people. But it must be quite an experience.
Mini travel guide
Angkor Wat versus Vat Phou Laos
Angkor Wat in Cambodia is unique and a visit should not be missed. But crowds can sometimes be overwhelming and annoying. Wat Phu is much smaller, less spectacular and therefore more unknown. If you are in Laos, make sure to visit Wat Phu. Do you visit Laos and Cambodia during the same trip? Then try to visit Wat Phu first and then Angkor Wat.
Hotels around Wat Phu
Wat Phu is located near the city of Champasak, in the south of Laos. It is therefore best to book a hotel in Champasak and visit Wat Phu from here. These are some of my hotel tips.
How to visit Vat Phou in Laos
Do you want to visit Wat Phu? You can easily visit the site on your own. But if you want to learn more about the history? Then it is recommended to go with a guide. Because the site is quiet, you really have time to go into depth with a guide and learn more about the Khmer. Here you will find a tour that includes transportation and a guide. Want to read more about Vat Phou? Since Wat Phu is on the UNESCO World Heritage site List, you can find a lot of interesting information on the Unesco website.
Packing list
This is a little packing list for your Wat Phu visit.
sunscreen
good shoes, (for climbing the steps)
a scarf or cap (to protect yourself from the sun)
water (it can be very hot)
money for entrance and a possible guide
rain gear in the rainy season
More about Laos
Did you enjoy reading this article about visiting Vat Phou in Laos? In the next article you will find can read more about beautiful Laos:
This article may contain affiliate links. If you purchase something using one of our links, we may receive a commission at no extra cost to you, which helps us keep this blog alive. Thank you for your support! Please see our disclosures for more information.
Pin "Wat Phu in Laos"