Laos is a beautiful country to visit, with countless lovely places, sights and things to do. The nature is pure and untouched and the atmosphere is still very authentic. It is a country where you can spend weeks to enjoy nature, boat trips and get to know local people in small villages. You marvel at art and culture in the old city of Luang Prabang, but also feel the cosmopolitan atmosphere of Vientiane. In South Laos you visit Khmer temples, caves and enjoy the idyllic setting of the 4000 islands. In this article you'll find an overview of the best places to see and visit in Laos, including the best time to go, the South Laos Highlights and local traditions and customs.
About Laos
For a long time, Laos was one of the most isolated countries in Asia. But nowadays Laos is a destination that you absolutely want to visit. It's one of the least visited destinations in South East Asia, wich makes you feel as if you are going off the beaten track. Enjoy this list with best places to see, including the best time to visit Laos, local traditions and customs to be aware of and South Laos highlights.
Laos places to visit and things to do
The map is color coded as follows:
Blue: places as mentioned below in article
A boat trip on the Mekong river
An absolute highlight in Laos and the best way to absorb the beautiful nature is through a two-day boat trip on the Mekong river, with an overnight stay in the town of Pak Beng. Most boats are slow boats, meaning you will cruise for hours on the river and immerse yourself in the daily life of the Laotians, who live around the river. You sail past plantations, small villages and lots of greenery. On the way you see elephants and people working along in the river. With a guide you can moor at a number of villages and get to know the people. You can also taste the local whiskey Lao Lao, which is still distilled in many villages in the old-fashioned way.
This tour is best made from Huay Xai, located on the border between Laos and Thailand and finishes in Luang Prabang. It's a perfect trip to start your journey through Laos, if you are coming from Thailand (bordercrossing Chiang Khong / Huay Xai). Or if you want to travel to Thailand, coming from Luang Prabang. Read more about the best time to visit Laos later in this article.
Visit local villages and learn about the culture
In Laos you will find countless villages, with tribes such as the Kamu (Kmhmu), Tai Dam, Akha and Hmong. You can visit these villages and meet the local families. It's a great way to support these places and learn more about traditions and customs, culture and life in Laos. In Luang Prabang you will also find an interesting museum called TEAC. In a few rooms, this museum provides very brief information about the lifestyle, traditions and customs of the various tribes from Laos. There are also shops in Luang Prabang and Vientiane, where beautiful Hmong art, such as jewelry and scarves are sold.
Luang Prabang, the most beautiful town in Laos (2)
Located on the Mekong River, Luang Prabang is the most beautiful city in Laos. The French colonial buildings, interspersed with temples and monks dressed in orange, create a special and even magical atmosphere. The city center is listed by Unesco as World Heritage site. In Luang Prabang you can get inspired by art, culture and beautiful nature for days. In the morning you will see the monks collecting their alms and in the afternoon you will hear the gongs of temple ceremonies everywhere.
The city has many temples, viewpoints, markets and lovely terraces and restaurants. At a number of restaurants you can learn to cook Laotian and at the Royal ballet of Laos you can even learn traditional Laotian dance. It is also possible to spend a day exploring the area and visiting the idyllic waterfalls of Kuang Si, the butterfly gardens and the surrounding villages.
Laos places to visit | The Pak Ou caves – 4000 Buddha statues (3)
A visit to the Pak Out caves should not be missed on a trip to Laos. This cave is known for the thousands of Buddha statues that you will find inside, in all shapes and sizes. The cave has been an important Buddhist shrine since the 16th century. And many pilgrims have brought Buddhas here over the years.
The cave is located along the Mekong and is only accessible from the water. It is best to visit the caves during a trip on the Mekong or as a day trip from Luang Prabang. The cave consists of two parts. A lower part which is easy to reach via a short staircase. And a higher cave, for which you have to climb a large staircase. On the way you always have a beautiful view of the river. Bring a flashlight as it is dark in the caves.
Vientiane, the cosmopolitan capital (4)
Vientiane is the capital of Laos and also the commercial and cultural heart of the country. It is a modern city with boulevards, expensive cars, modern buildings and shops. The French influences are still clearly visible in certain places, due to the architecture and the many French bakeries and brasseries. Vientiane has few spectacular sights, but a short visit to the capital is definitely worth it. To visit the iconic buildings, such as the golden stupa and Patuxai, the Laotian version of the Arc de Triomphe. But also just to enjoy the nice cosmopolitan atmosphere in the center, around the boulevard. Here you will find interesting galleries, beautiful shops, temples, restaurants and lots of trendy cafes.
Want to learn more about Vientiane? Vientiane is a perfect city to include in your Laos itinerary and stay for one or two days. Check out the Vientiane cityguide with everything you want to know about this city and the surroundings, the highlights and the best things to do in Vientiane in terms of art, culture, fashion and history.
Delve into the history of Laos | historical places to visit
Laos is one of the most heavily bombed countries in the world. It is said that more than 2 billion kilos of bombs ended up in Laos during the Vietnam war. Unfortunately, there are still unexploded bombs scattered across the country and accidents occur daily. Many local people get injured and disabled because they encounter an unexploded bomb during their daily work on the land. The COPE visitors centre and UXO Visitors Centre in Vientiane and Luang Prabang, are institutes that provide physical rehabilitation services for the victims and also function as a museum. You will find a lot of information about the history, current situation and investigations for finding and defusing the bombs. With your visit you will not only learn something about Laos, but also contribute to these important projects.
South Laos Highlights
Konglor – caves in Laos | South Laos Highlights (5)
One of the South Laos Highlights is the Konglor cave. This is a 7.5 km long cave, which you sail through for 1.5 hours. It is very dark and you only see lights from the different flashlights. The special silence in this gigantic cave, makes the tour unique. On the way you get out to admire the illuminated stalagmites. Sometimes you have to step out and walk a bit through the water, if the water level is too low for the boats. It is a large cave with a size of 90m by 100m at the highest point. I recommend to put on water shoes and clothes that can get wet, and bring a waterproof bag for a camera.
The Konglor cave can be reached from Konglor village, a small village that is entirely dedicated to the cave, with simple guesthouses and small associated restaurants. These caves are also part of the Thakhek loop, a 450 km route that you can travel by scooter or motorbike from the city of Thakhek.
Si Phan don (4000 island) | one of the top South Laos Highlights (6)
Si Phan Don, better knows as the 4000 islands, are located in the South of Laos, close to the border with Cambodia. This place belongs to the South Laos Highlights without a doubt. It's a place to absolutely fall in love with and an absolute highlight if you are exploring South Laos. There is not much to see or do on the islands, but that is exactly the charm and reason to go.
In the annual dry period, thousands of sandboxes and islands form in the side arms of the Mekong River. Hence the name 4000 islands. A number of islands, such as Don Khong and Don Det, are inhabited all year round and are easy to visit. You can sit along the boulevard and gaze at the river views. Or rent a bike and explore the surroundings, passing small communities, temples, rice fields and water buffaloes. It is also possible to go on a boat trip, visit beautiful waterfalls, and observe the irawaddy dolphin, the pink freshwater dolphin. In the evening you can enjoy fish in banana leaf in one of the small restaurants on the boulevard.
The 4000 islands are best visited from the city of Pakse. It is also the a good destination if you are traveling to or from Cambodia. The border Nonghokkhienne (Laos) – T.P.K. (Cambodia) is about a 45 minute drive from Muang Khong, the capital of Don Khong.
Wat Phu, one of the best archaeological places to see in Laos (7)
Are you interested in archaeological sites and temples? Then a visit to Wat Phu, or Vat Phou, should not be missed. It's one of the archaeological South Laos Highlights. Wat Phu was built by the Khmer in the 12th century and would have been the inspiration for Angkor Wat in Cambodia. Where you share the ruins of Angkor Wat with countless tourists, it is likely that you will almost have the Wat Phu archaeological site to yourself. You will find remains of temples with beautiful ornaments. From the temple of Shiva, on top of the mountain, you have a beautiful view of the surroundings. Wat Phu is located near the city of Champassak, in the South of Laos. It is recommended to visit the complex on the way from Pakse to the 4000 islands.
Planning to include Wat Phu in your Laos itinerary? Read everything about my visit to Wat Phu in the next article.
South Laos Highlights | Extra tip – Hang Ing Hang stupa (8)
Are you near Savannakhet? Then the stupa of Hang Ing Hang, the stupa of the hanging tree, is one of the places to see in Laos, because of the interesting story. There used to be another shrine at this place, where Buddha would have rested during his journey, under a hanging tree. That's why this place became sacred. Buddha is also said to have become ill here from eating pork. It is therefore forbidden to consume pork in the vicinity of the stupa. Festivities and ceremonies take place here regularly to honor this holy place.
Other places to see in Laos
The Plain of Jars, is located near the town of Phonsavan. This is a plain with a large amount of mysterious jars and urns of unknown origin. According to archaeologists, the jars are believed to be 2,000 years old. Some jars are up to 3 meters high and the heaviest jug weighs 6 tons. I think it's incredible how they were able to make these things thousands of years ago. It is an area that fascinates me a lot and one of the places to see in Laos, on a next trip.
The Bolaven plateau is located at an altitude of 1000 meters. It is a fertile region with waterfalls, forests, rivers and a lot of agriculture. The area is named after the population of Laven and several tribes still live there. I do not recommend an elephant safari, but taking a beautiful walk and visiting villages seems very worthwhile.
In Northern Laos you will find the Bokeo Nature Reserve, which is known for its spectacular Gibbon Experience. Here you can experience ziplining, spend the night in the world's highest treehouses and wake up surrounded by Gibbons. By visiting this place you are also supporting the National Park and the many communities. Something I would love to experience during a next visit.
Is it worth to visit Vang Vieng?
Depending on your interest and way of traveling, Vang Vieng is worth visiting. Vang Vieng is located in a beautiful karst landscape, which comes straight from a picture book. It is the outdoor sports destination of ​​Laos, where you can go for tubing, rafting and kayaking.
However, Vang Vieng was known as the drug and alcohol paradise of the country for years, with many young people and backpackers enjoying the party life. Since accidents happened regularly, many measures have been taken, making things a bit quieter nowadays. It is still a place for backpackers and nightlife. Nothing wrong with that! However, I would only recommend visiting this place if you plan to go rafting, tubing or kayaking. Or for a short stopover between Luang Prabang and Vientiane if you are traveling by car or bus. You can spend the night along the river and take a nice boat trip at the end of the afternoon, to admire the sunset behind the beautiful landscape.
Laos traditions and customs
This is an important overview with "do's and don'ts", to respect Laos local traditions and customs.
Dress appropriately (covered shoulders and legs) and be respectful when entering a temple or shrine.
It is inappropriate and disrespectful to shout or raise your voice.
There are many shrines in Laos. Never enter without permission and never take anything with you.
You will encounter many monks in Laos. Never touch them and always keep an appropriate distance.
Always ask local people for permission to take a photo, unless it is from a great distance.
Never step over a seated person. Heads are sacred and are "high", while feet are low an used for walking. Never put your feet on a table or a chair.
Best time to visit Laos
What is the beste time to visit Laos? Laos has a tropical climate, with the rainy season, running from June to September. This means there will be showers on a daily base but the landscape is beautifully green. After the rainy season it gets a bit cooler and temperatures are pleasant. October through March is the best time to visit Laos. After February it slowly gets warmer.
Reasons to visit Laos
Laos is less visited in comparison with neighboring countries.
Beautiful cities like Luang Prabang.
Unspoilt and pure nature
An interesting and tragic history
A diverse amount of places to see in Laos
An authentic atmosphere, the opportunity to get in touch with the locals and learn about Laos traditions and customs.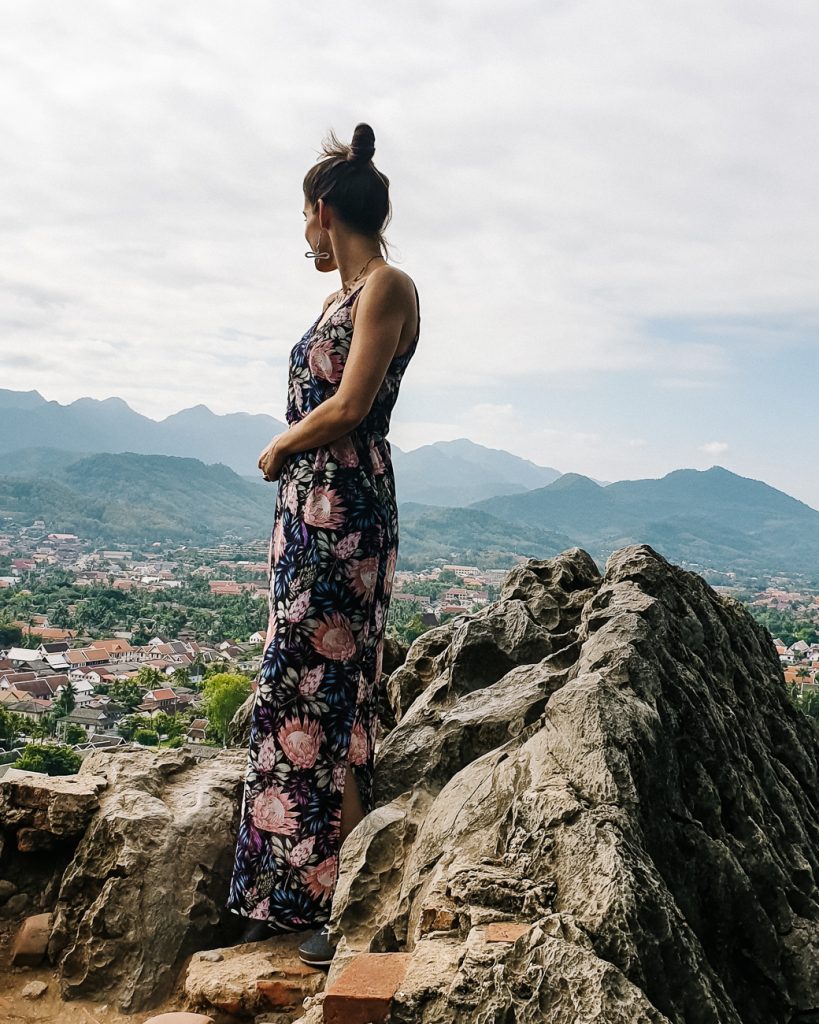 Discover more places to visit in Laos
Want to learn more about Laos? Check out the cityguide of Vientiane, with the best things to do in the city and surroundings. Interested in archaeology? Read more about the beautiful Khmer ruins of Laos in the article Wat Phu.
---
Pin for later | Laos places to visit