Colored ponchos, rugs, scarves, bags and lama and alpaca sweaters are the typical Bolivian souvenirs. And just like in the rest of Bolivia you will find countless shops and stalls in La Paz, offering these souvenirs. La Paz is also famous for its witch market where you can find items for sacrifices such as sweets, lama fetuses (yes indeed!), frogs, coca leaves and herbs. The city has some black markets where you just find everything. And if you look a bit better, you will discover all kind of design stores, with lots of cool items and stylish western clothes with a Bolivian twist. The best thing is to just walk through the busy city center, absorb the chaos and in the meantime look for the coolest items, you will only find in Bolivia. This is a list with my favorite places to shop in La Paz.
The best shopping places in La Paz
1. Calle Sagarnaga & Calle Linares
The street, left of the San Francisco cathedral is called Calle Sagarnaga, full of stalls and shops. You will find stalls with traditional souvenirs, stores with quality clothing made of real alpaca wool and unnamed shops with cool and fun designs. This is a really nice start of your walk through the city center and for your shopping adventure in La Paz.
2. Bolivia's witch market
Calle Linares is home to the famous witch market, or Mercado de las Brujas. This market has a mix of stalls, selling special souvenirs but in the meantime attracting many locals because of its "sacrifices". These are items that ensure love, prosperity, carreer and a succesful future. Bolivians believe and value the Andean faith, in which mother nature "pacha mama" plays an important role. This is accompanied by countless traditions and sacrifices that take place with toys, candies, (fake) money, herbs and llama fetuses, frogs, coca leaves and incense.
Especially the llama fetuses in different shapes are quiet an experience to observe. Already in the time of the Inca's, llamas were sacrificed to honor the sun god in order for the sun to return good crops for the following year. Photos are not always appreciated, but just observing is worth the visit.
3. Mixtura
A very cool store on the Calla Sagarnaga is called Mixtura. A place, where I always succeed when I want to buy something special. My last purchase: a super nice denim jacket with La Diablada on the back, a mask of one of the most important dances of the Bolivian carnival. Mixtura is being listed as one of the World's 50 best concept stores.
The beautiful city of Cusco in Peru, has many cool concept stores. Check them out in the next article.
4. The Black Market
This is something not to miss! The chaos, the people, the smell, the products, it's definitely an experience to walk around this market! You will find tools, clothing, household items, food, electronics and games. Basically everything you can think and not think of, and its all being sold on the streets. I always wonder how people shop here. Do you walk around until you find what you need? Or is there a system and do you know the exact place for what you need? The Mercado Negro is located around calle Max Peredes, Graneros, Tumusla, Isaac Tamayo and Eloy Salmon. Take as little as possible with you, so you can get lost in the maze of alleys and streets without having to worry about your stuff.
5. Munay
If you are looking for cool and fun items, you should definitely go to Munay. Here you will find different t-shirts, caps and jackets with nice prints and Bolivian colors.
6. Earrings along the road
I have been fascinated by earrings for as long as I can remember. I have a couple of hundreds for sure. In Bolivia and especially La Paz, you have the nicest items in the form of coca leaves, traditional hats, cholitas (Bolivian females and males), llamas and stones. In the side streets of Calle Sagarnaga you will find them in all shapes and sizes.
7. Musical instruments
If you like music and want to know more about the typical Andean instruments, it is nice to walk into one of the many instrument stores. The owners are happy to explain you more about the culture and tradition and they will let you play before you even realize.
Do you want to discover La Paz in an unique way? Discover La Paz by cable-car.
8. Bolivian Antique shops
On the Calle Linares at calle Tarija and Rodriquez, you will find a few interesting antique shops. It can be nice to go inside and look for some Bolivian antiques.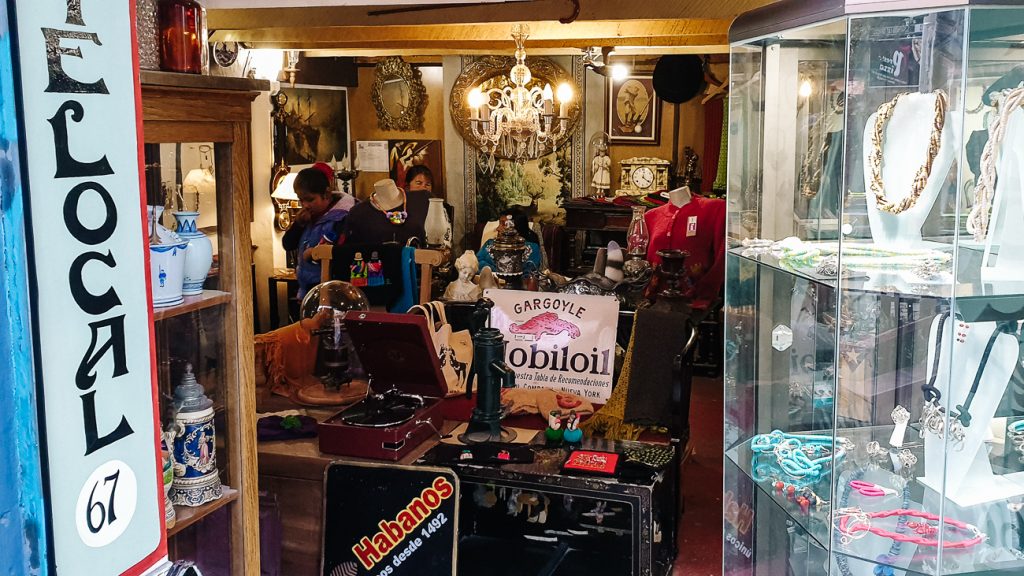 9. Mercado Lanza
Just north of the Plaza San Francisco you will find Mercado Lanza with a local food and flower market. It's always crowded and a nice place to observe daily life in La Paz.
Looking for a coffee or lunch break in La Paz?
Café del Mundo is located at the end of Calle Sagarnaga. The name explains it all, the entire cafe is all about traveling. The walls are decorated with countless inspiring travel pictures and quotes. It looks tiny from the outside but it has several floors with comfortable seating areas to work, go through your traveling pictures or just think over your experiences of the day. The menu consists of salads, sandwiches, coffee and lots of delicious cakes.
Many people think that La Paz is the capital of Bolivia but that's not the case. Sucre is the official capital and a nice city to explore. Read here the best things to see and do.
This post is also available in:
Nederlands (Dutch)