Interested about hiking in Bolivia? Peru is famous for its Inca trail to Machu Picchu, but did you know Bolivia has an Inca trail as well? This famous Inca road system runs through Argentina, Chile, Colombia, Ecuador, and Peru and is almost 30,000 kilometers long. Where the Inca trail in Peru is an absolute highlight but takes 4 days to complete, you can experience the Inca trail in Bolivia in a day. Since this road plays an important role in the history of Latin America and pre-Columbian cultures, I visited this area different times to produce television reports. In this article you wlll find more information about this hike in Bolivia, including some background information and tips for your tour.
Hiking in Bolivia | Discover the Inca trail in Bolivia
Before we go into hiking in Bolivia, let me start by saying: In my younger years, nobody would have thought I would become a hiker. I didn't like walking at all and preferred doing other things. Well the unthinkable happened. Nowadays, I'm the first in line for a beautiful hike, even if it is a multi day hike. Hiking can be fun for everyone, especially when you are traveling and want to experience unique places in nature. In this article I am talking about an easy day hike: The Inca trail in Bolivia.
Background information – Inca road system
The Inca road system, called Qhapaq Ñan in Quechua -the language of the Incas- was built by the Incas and served as an important communication and trading network. Chasquis, or couriers, brought messages from one place to another, using this road. And everything happened according to a well organized relay system. It is said that people knew what had happened at a distance of 300 kilometers within a day. Pretty incredible!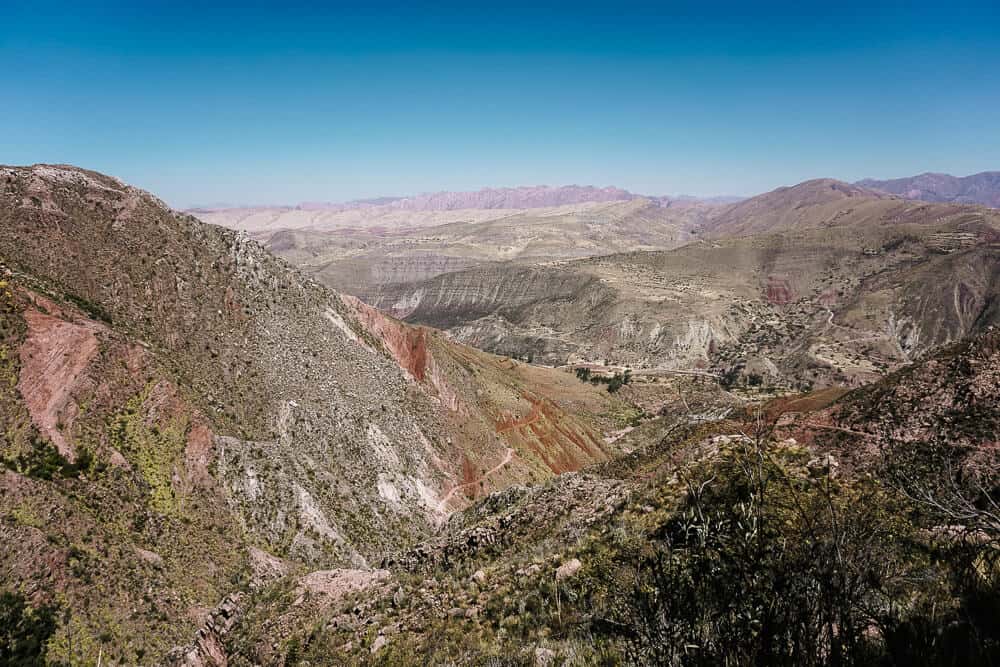 The construction and location of the Inca trail is unique. The trail in Bolivia connects the high peaks of the Andes with the coast and runs through rainforests, valleys and deserts. It is unbelievable to think that this road was built thousands of years ago, with the very limited resources of that time. This ancient Inca road is on UNESCO's World Heritage List, and this listing is special because the different countries worked together for the first time together on a project to get it included.
Royal route to Machu Picchu
Many people know the Inca trail because of the royal route to the city of the Incas: Machu Picchu, wich is located in Peru. This route takes a few days and you'll sleep in tents along the way. The trail takes you along ceremonial centers, old cities and crop circles. Hiking the Inca trail in Bolivia is easier and you will only need a day.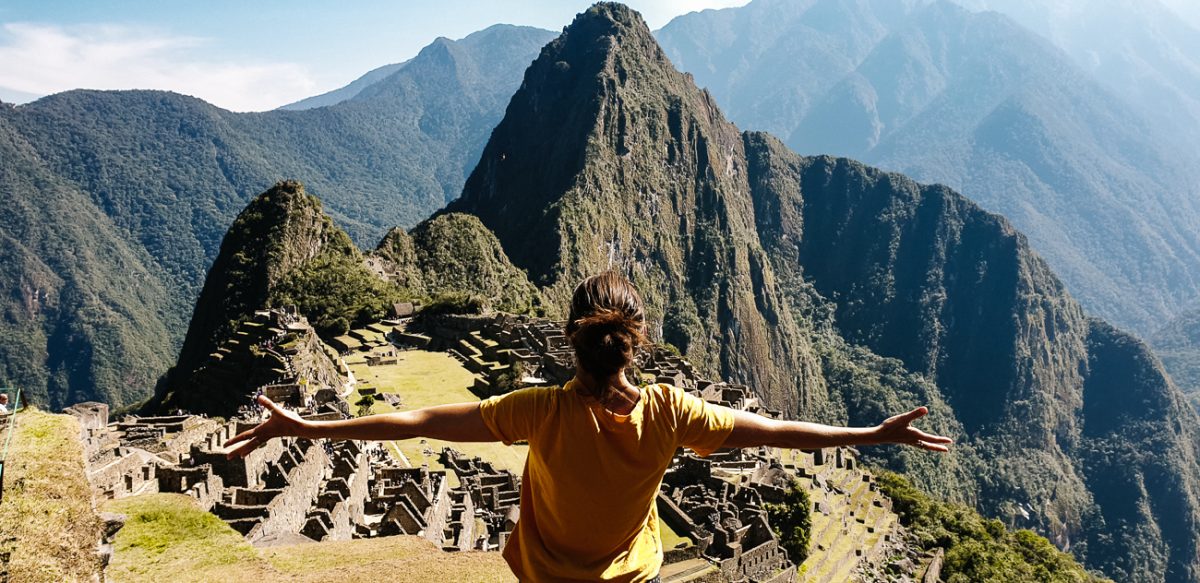 The Inca trail in Bolivia
Most tours start in Sucre and will drive you to the village of Chataquila, where there is also a beautiful church to visit. This is where the hike starts, and the first views are already breathtaking: Overlooking the peaks of the Andes with its different colors brown and green and a deep blue sky in the background. The immense Andes mountain peaks make you realize how overwhelming nature can be.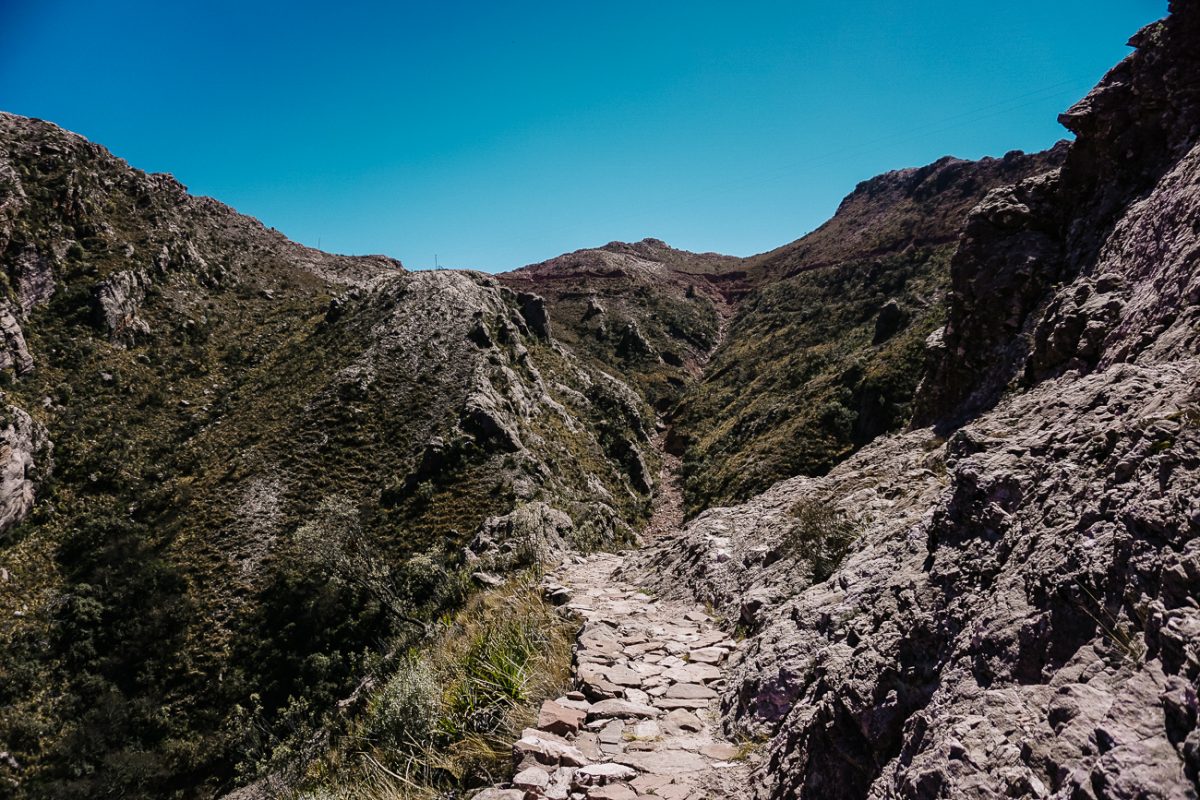 The road consists for the most part of original Inca paths, known for its large boulders and stones. It is 5.5 kilometers from Chataquila to the village of Chaunaca and the road is completely downhill. Where the Inca trail in Peru can be a physical battle with yourself and your endurance is put to the test with altitudes ranging from 3000 to 4200 meters, this Bolivian tour is more relaxed and beautiful.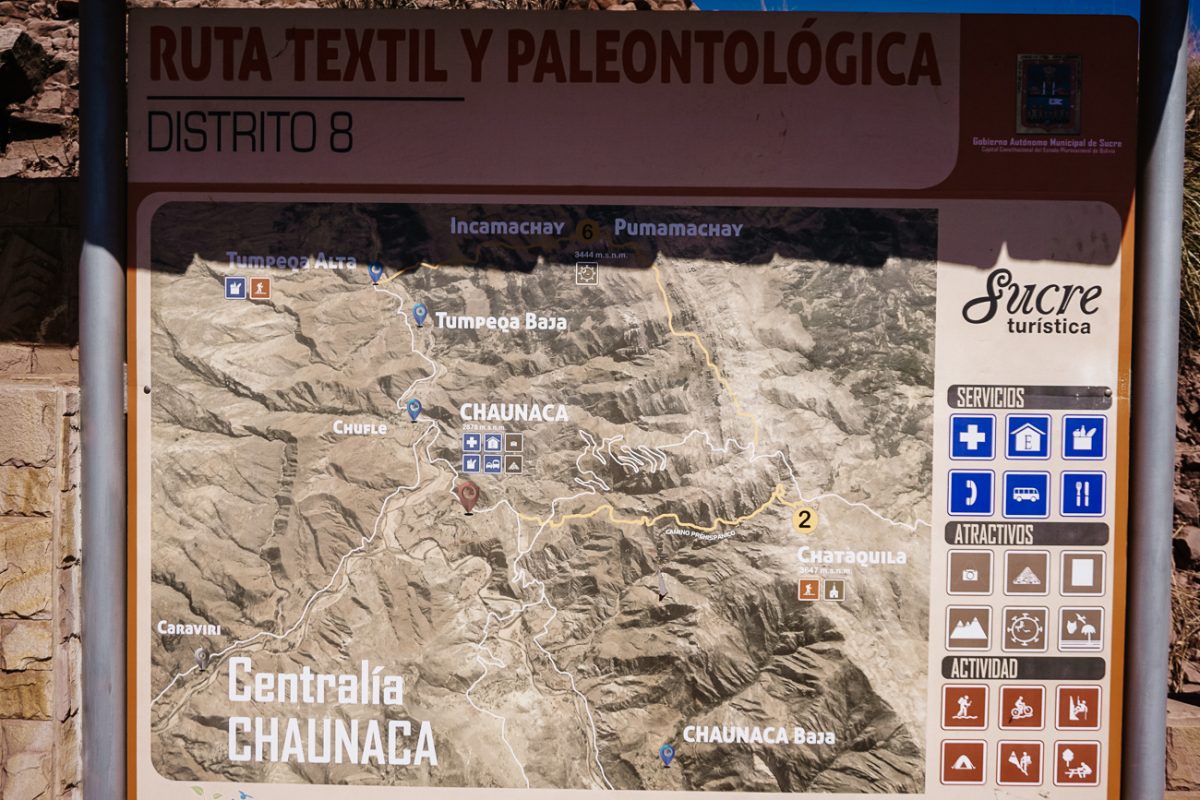 On the way, you won't meet many people, especially compared to the Peruvian part. Besides tourists who walk the trail in Peru, there are many people who live and work along the Inca trail. As a tourist in Bolivia, you will mostly be walking by yourself.
Ready to go hiking in Bolivia?
Excited to go hiking in Bolivia? Herewith I'm telling you more about the right company, hike difficulty and trail and what to bring.
How to hike the Inca trail in Bolivia
There are several tour operators in Sucre who offer this hike. I always work with Skyland Bolivia, a very reliable organization that offers tailor-made tours. You start your trip in Sucre, located at 2800 meters above sea level and drive to the village Chataquila, located at 3600 meters above sea level, in about an hour and a half. Here you visit the small church and get a short explanation about the Virgen Guadalupe, which can be seen everywhere in Sucre and surroundings. It is the best way to get used to the altitude, since the trip goes up a few hundred meters.
Difficulty Inca trail Bolivia
The Inca trail in this area has a distance of 5.5 kilometers and depending on your pace, it will take you 2 to 3 hours. The hike is a relatively easy downhill trail. As it is an old and original Inca path with boulders, it can sometimes be a bit difficult to walk. It is therefore important to wear good shoes. Also keep in mind that the trail runs on a number of places along steep cliffs, so be aware if you are afraid of heights. The route ends in the village of Chaunaca where a bus will be waiting to take you back to Sucre.
If you want to see more of the area, you can choose to extend your trip with a visit to the crater of Maraguay or the murals of Pumamachay (1500 years old) and Incamachay (2500 years old). It is recommended to not go on this trail on the first day of arrival in Sucre. Take some time to get used to the altitude.
What to bring?
What to bring if you want to hike the Inca trail in Bolivia? These are my recommendations.
daypack
solid and good hiking shoes (because of the different boulders and stones on the path)
enough water
lunch
sunscreen, sunglasses, a hat/cap (the sun will be bright in the Andes)
snacks
walking sticks (if you are comfortable using it)
layers of clothes (so you can take it on and off depending on the weather during the day)
rain coat (depending on the season)
In the Andes, it is very cold in the mornings. But as soon as the sun comes through, it becomes beautiful and pleasant. Then very hot, after which at the end of the day, when the sun goes down, it cools down again. In the evening you walk around wearing your gloves and a warm hat. The climate in the Andes is very unique
Looking for a hikers gifs for yourself or someone else? Have a look in the gift for hikers guide.
Map: The Inca road system in South America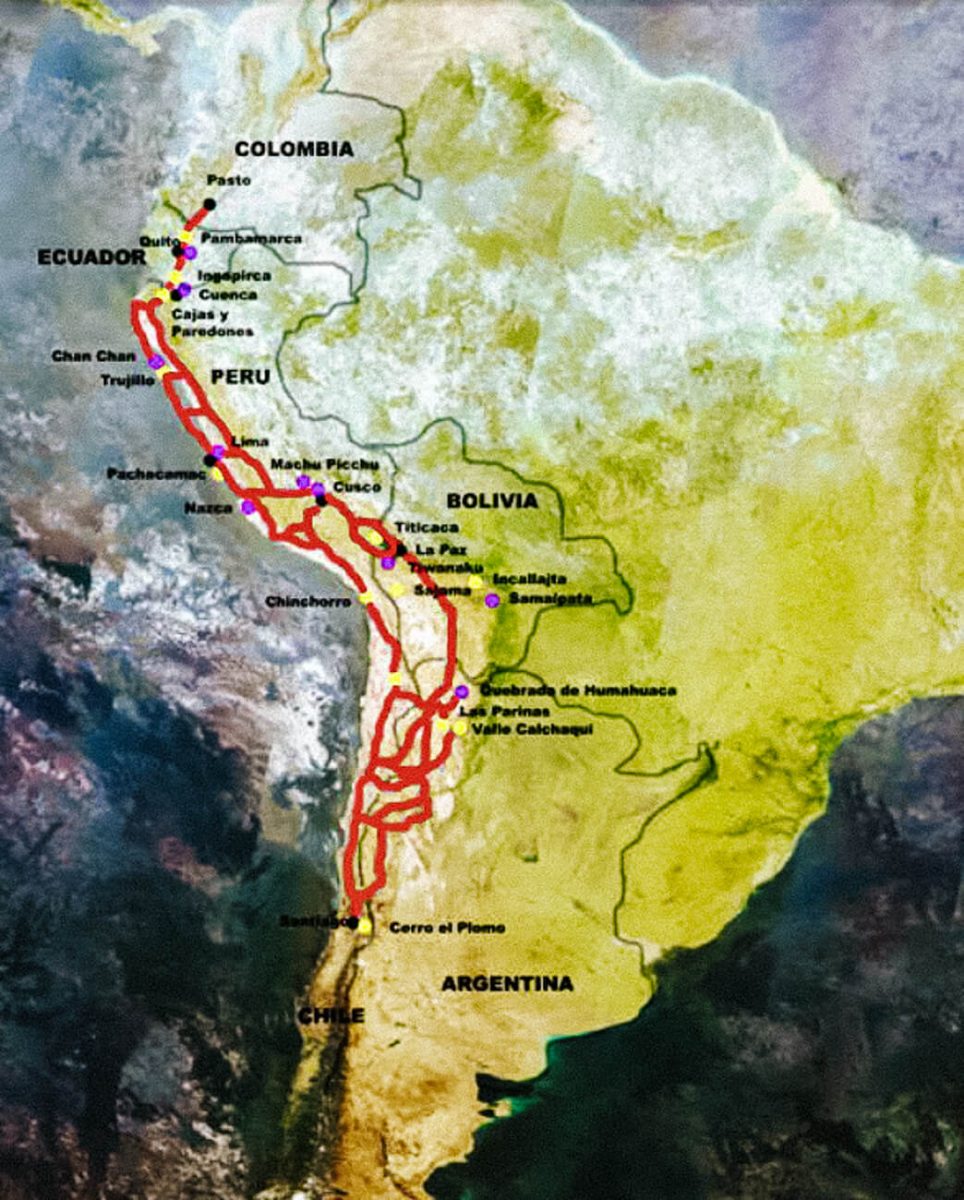 30,000 kilometers of trails
It is my dream to cover the entire 30,000 kilometers. I'm fascinated by the Incas and other Pre-Columbian cultures. These cultures have been widely researched and by now, we already know a lot about them. Yet many things are still a mystery, and that is what makes it so interesting.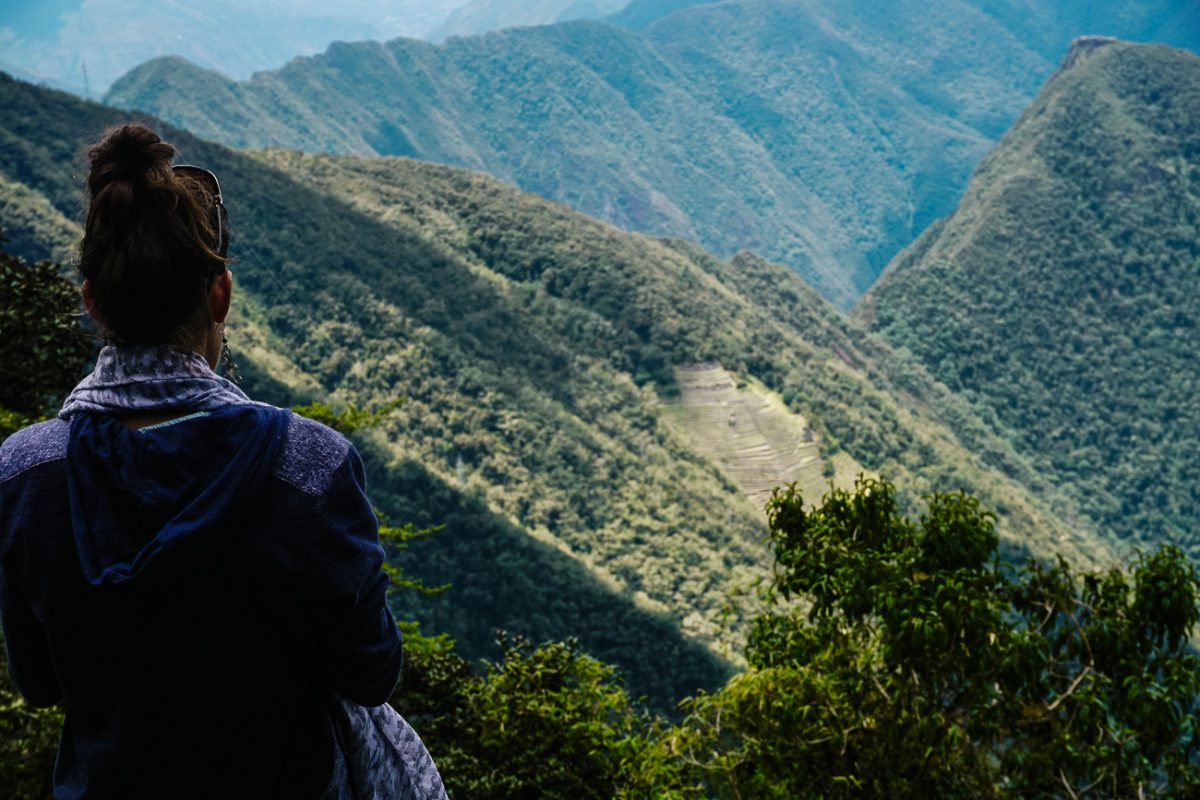 More about Bolivia
Do you want to read more about Bolivia? In this article you'll find an overview with what to do in Bolivia, including the most beautiful destinations. Also, have a look in the Bolivia library with many articles about this beautiful country. Such as a city guide for Sucre, a tour on the Bolivian salt flats, the best time to visit Bolivia, information about safety, a visit to the Potosí mines, a tour to the Tiwanaku ruins, shopping in La Paz and how to use the cable car in La Paz.
This article may contain affiliate links. If you purchase something using one of our links, we may receive a commission at no extra cost to you, which helps us keep this blog alive. Thank you for your support! Please see our disclosures for more information.