The Uyuni salt flat, Salar de Uyuni Bolivia, is one of the largest salt flats in the world and an absolute highlight in Bolivia. This immense white salt flat, together with the beautiful clear blue sky, is a view that will leave you speechless and you will never forget. The salt flat, called Salar de Uyuni is best explored by jeep, where you drive on the salt flats for hours and visit special rock formations, with ancient cacti. The last 8 years I have been visiting this unique area every year. In this article I'll tell you everything you want to know about this natural wonder in Bolivia, the possibilities to visit the area for a Uyuni salt flats day tour, and the best insider tips based on my experiences over the years.
What is the Salar de Uyuni in Bolivia
With a size of more than 10.000 km2, El Salar de Uyuni is one of the largest salt flats in the world. The Bolivia salt flats are located at an elevation of 3,656 meters (above sea level) in the south-west of Bolivia and continues to Chile. Some 40,000 years ago this area would have been part of a giant prehistoric lake, Lago Minchin. As the lake dried up over the years, two lakes and a salt flat, El Salar de Uyuni Bolivia, emerged. In some places the salt flat is up to 20 meters thick.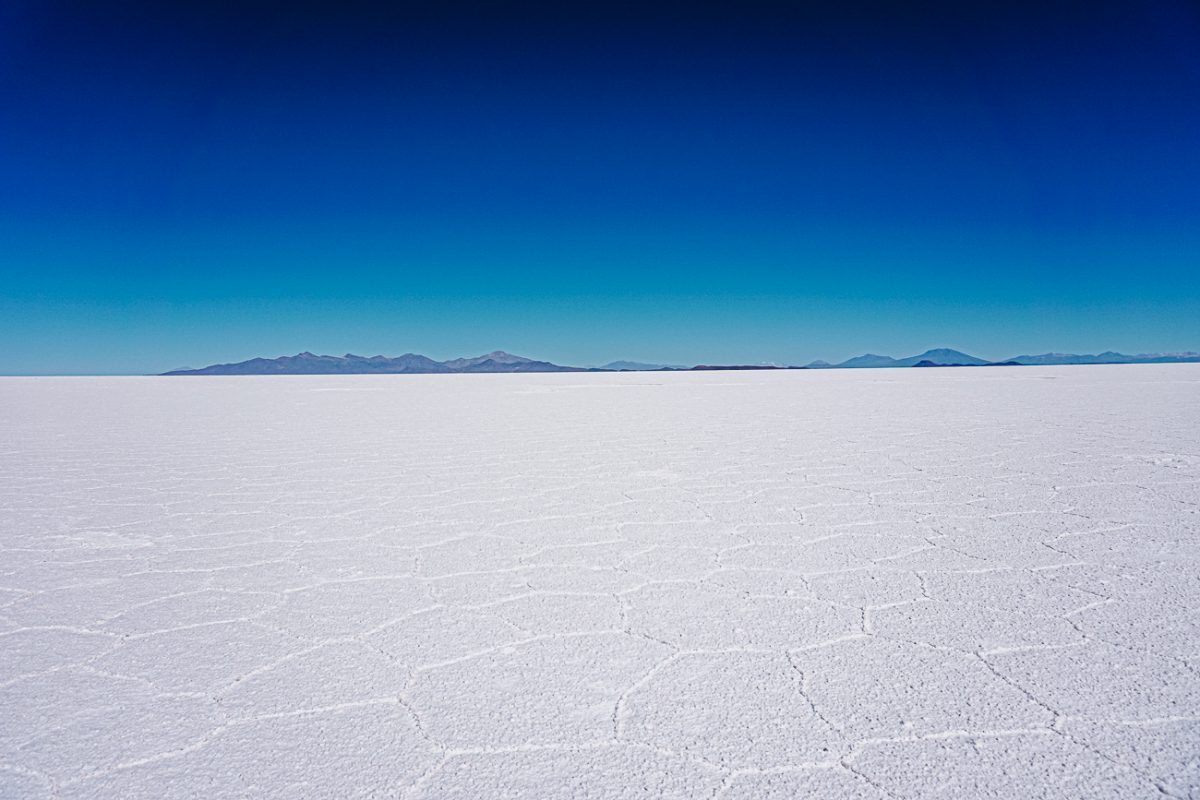 In the rainy season, between November and March, the Salar turns into a lake, where one can paddle and take amazing pictures, as clouds endlessly reflect on the surface of the water.
Uyuni salt flat day tour | El Salar de Uyuni, Bolivia
Most salt flat tours start in Uyuni town. These are all jeep tours, as this is the fastest and safest way to get around the salt flats. There are day trips or multi-day tours, where you spend the night in small villages around the salar. During a tour, you will drive for hours on the white salt, able to enjoy breathtaking views and take beautiful pictures. If you want to be creative, don't forge to play around with different perspective sand create cool pictures.
Do you also want to take a tour of the salt flats in Bolivia? You can check prices and availability here. There are day trips and multi-day tours.
Isla Incahuasi & Isla Pescado | Salar de Uyuni, Bolivia
In the dry season you can visit the islands of Isla Incahuasi and Isla Pescado on Salar de Uyuni Bolivia. These are rocky outcrops, that suddenly rise above the salt flats. Isla Incahuasi means place of the Incas, it is said that the Incas used this as a resting place during their travels. Isla de Pescado (Fishing Island), looks like the shape of a fish when you look at the map, hence the name. On these islands you will find ancient cacti of up to 12 meters high. The cacti grow an average of 1 cm per year, so you don't need a lot of time to understand that these cactuses are centuries old. I prefer to visit Isla Incahuasi because it's perfect for a Salar de Uyuni day tour: the island is only a 2-hour drive from Uyuni.
On Incahuasi you can go for a nice walk of 1.5 hours, along the different cactuses. Along the way you look out over this giant salt flat. The many cacti make this picture even more special: every corner of the island offers another beautiful view. Due to the altitude, this hike can be a bit intense, so take your time. Another option is to stay on the salt flats and walk around the island. Or get to know the local family who live very remote at this island and who run a small cafeteria.
Fact: Have you seen the 2017 Star Wars movie The Last Jedi? Salar de Uyuni Bolivia was used as a location for Planet Crait.
Ojos de Salar | Salar de Uyuni, Bolivia
On the edge of the salt flat, you will find the ojos de salar, the eyes of the salt flat. Here the salt is very thin and you can see the water bubbling from the underground rivers, wich comes along with a heavy sulfur odor. The eyes of the salt flat are the outlets for subterranean rivers flowing under the Uyuni Salt Flat. The waters have particular acidic concentrations and are considered medicinal by the locals.
From 2014, Salar de Uyuni Bolivia was the stage of the Dakar Rally for a few years. The stage that races through Uyuni is one of the most beautiful areas and also one of the most demanding for the drivers due to the altitude.
Salt village Colchani – Salar de Uyuni in Bolivia
There are several villages around the salt flat, living from the salt production, such as the village of Colchani. The Salar de Uyuni Bolivia contains an estimated 10 billion tonnes of salt, with an impressive 25,000 tonnes of it excavated and processed at Colchani annually. This tiny village of just 600 people is home to Bolivia's largest salt-processing cooperative. Colchani is a village that is often visited during a Uyuni salt flats day tour. Almost all of the 25 families, living in this town, have a small traditional salt factory and are happy to show you the process.
Juanito family
I visited the family of Juanito several times and got to know the process pretty well. The salt is taken from the salt flats by trucks. It is then placed on large piles to dry, after which it is put in the oven to dry further. The salt is manually scooped over the oven. Then it is ground in raw form and as a final step iodine is added, a mandatory step in Bolivia. Most of the salt is used for the domestic market and in some cases it is exported to Peru and Brazil. In the rainy season production stops completely. The salt is then too wet to dry in the ovens. Tip: You will find nice handicrafts made of salt and textile art made of llama and alpaca, a very authentic Bolivian souvenirs to bring home.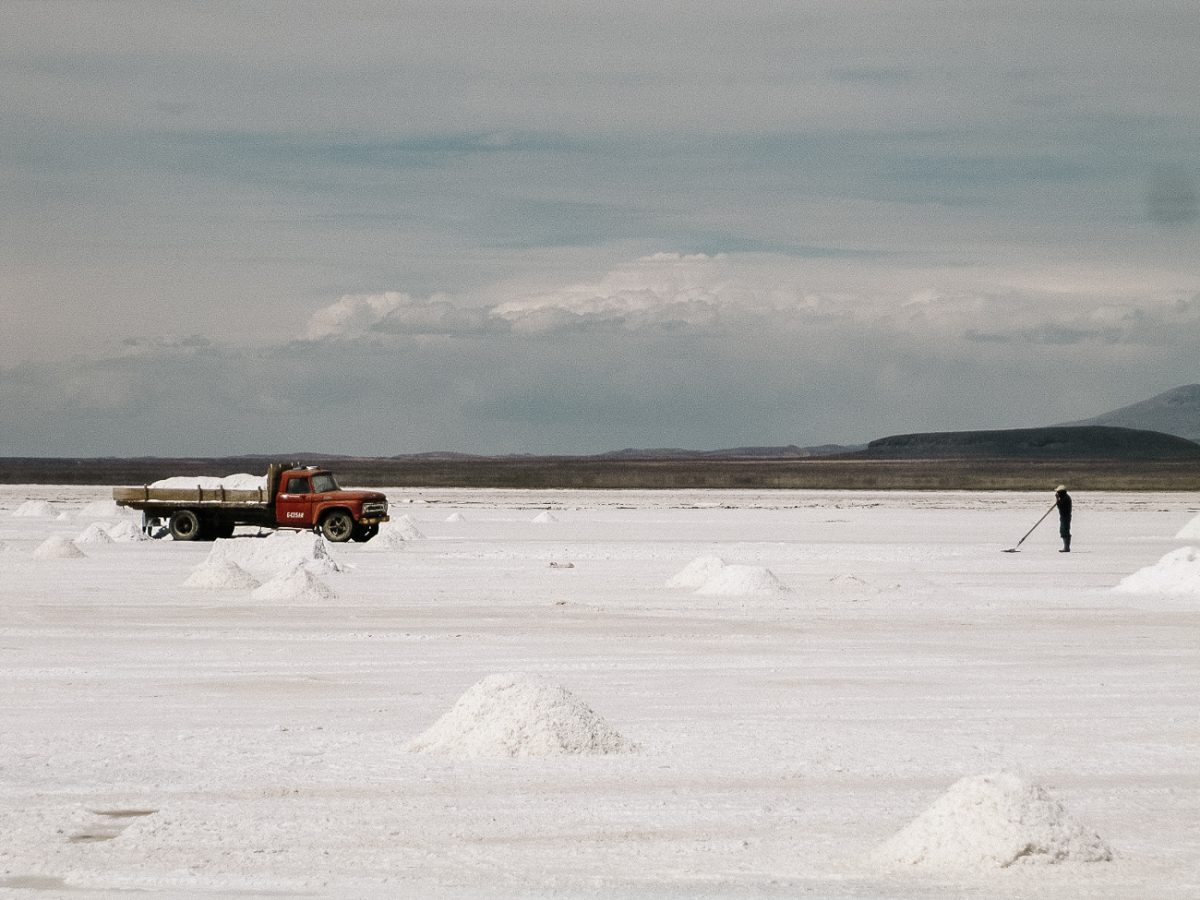 El Salar de Uyuni, Bolivia has a large stock of lithium. Lithium is used in medicines for mental illness and for the manufacture of accumulators and batteries. For years, Chile was number 1 as an exporter of Lithium, but Bolivia has now also become an important player. Bolivia is estimated to have 50% to 70% of global lithium supplies, according to 2019 calculations. Various investments and productions have been finalized.
Myths and Legends of Salar de Uyuni Bolivia
Bolivia is a land full of myths and legends. I had heard many times about the other origin of el Salar de Uyuni. But the story impressed me even more when the two little girls who live on Incahuasi explained this story to me in detail, with drawings included. Aymara, (indigenous people from the Andes) legend tell that the surrounding volcanoes Tunupa, Kusku and Kusina were giant people. Tunupa married Kusku, but Kusku ran off with Kusina. Tunupa started to cry while breastfeeding her son. Her tears mixed with milk are said to have formed the Salar. Tunupa is considered an important deity. For many local people it is therefore Salar de Tunupa instead of Salar de Uyuni. I think it is a beautiful story.
Mini travel guide Uyuni
Uyuni town in Bolivia
The small dusty town of Uyuni is the gateway to the spectacular El Salar de Uyuni Bolivia salt flat. Here you will find various accommodation options, restaurants and tour operators offering excursions. If you travel over land, you can see Uyuni and the salt flat from a distance. Beautiful! People live here from mining, salt production and of course tourism. There is also a large military base.
What to do in Uyuni town
There is not much to do in the town itself, although the atmosphere here is special because it is so remote. The center of Uyuni consists of a main street, a square with a mini tower, which is also called the mini Big Ben, a few messy shops and restaurants, mainly serving pizza. A regular stop for me is a visit to the local market, consisting of a few streets with stalls and people gathering. It's a nice place to stroll around and observe daily life. And a perfect spot to buy some last minute warm stuff if you didn't bring it. Temperatures can drop, below freezing in Uyuni in winter.
Cementerio de trenes
A few kilometers outside the village you will find the Cementerio de Trenes, or train graveyard, with dozens of abandoned steam trains. Uyuni used to be an important town for the transportation of goods and minerals, because of the surrounding mines. When the mining industry declined in the 1940s, the trains were written off and dumped here. It is a surreal place and therefore a favorite spot for photographers to take pictures at sunset. You don't want to walk this dusty road to the train graveyard so better take a taxi.
Most tours include a visit to the cemetery, in a Salar de Uyuni 1 day tour. But I recommend to visit the cemetery by yourself at the end of the day, when the light is at its best to take beatiful pictures. You can reach el cementerio de trenes from Uyuni town within 10 minutes. It is best to take a taxi, as you don't want to walk the dusty road to the train graveyard.
The best restaurants in Uyuni town
In Uyuni, the majority of the restaurant offer pizzas. You will find numerous restaurants on the square around the mini Big Ben. I personally recommend the following restaurants.
Minuteman at the Tonito Hotel has been a favorite for years. There are two reasons to go here. It is wonderfully warm, something you need in a town like Uyuni. And the pizzas, pasta and salads are fantastic. Everything is fresh and once you have been here you want to come back every day.
Lithium is a restaurant with a slightly more extensive menu than just pizzas and here they come from the coal oven. Sometimes you have to ask for a radiant heater, but in general it is also nice and warm here.
Hotels in Uyuni town
Uyuni town has numerous hotels. Most are small and simple. My recommendation is not to save money on a nice hotel in Uyuni, especially if you plan to spend the night around the salt flats afterwards. These accommodations are very simple and often cold. These are my tips for hotels in Uyuni town:
Spend the night in a Salt hotel
Salar de Uyuni Bolivia is the only place in the world where you can spend the night in a salt hotel. These are hotels where the walls and much of the interior are made of crushed salt blocks. Some beautiful hotels around the salt flat are Hotel Cristal Samaña, Hotel Palacio de Sal and Hotel de Sal Luna Salada. Playa Blanca, the first salt hotel ever built, stands on the Bolivia salt flats and is a popular spot for tours to have lunch and take pictures. It is no longer in use as a hotel but you do get a nice impression.
Check out availability and rates for all salt hotels around Uyuni.
One of the most beautiful and unique places to stay is the Kachi Lodge. These luxurious lodges are not made of salt, but are located in the middle of the Bolivia salt flats. A dream hotel in a dream location, where you probably have to save for years to spend one night here.
Best time to go
The Bolivia salt flats can be accessed between April and October. In the rainy season, between November and March, it is not possible to access the Salar and visit the islands. The Salar then turns into a lake, where you can enjoy surreal and almost psychedelic views. In April, it is still possible that you will sink a bit through the salt in some places, because the water has not dried completely. Not a problem, but good to know.
How to book a Uyuni Salt flats tour
It is important to travel with a reliable organization for your Salar de Uyuni tour. Never save on service and quality, your safety is the most important thing. In the high season, which runs from June and September, it is recommended to book a tour in advance. This is an overview with tours in Uyuni, including reviews.
Tips voor tours in Salar de Uyuni Bolivia
Packinglist Uyuni Salt flats day tour
In the dry season, a bright sun shines in Uyuni during the day, but it can cool down considerably in the evening. It is therefore important to prepare well. This is my packing list with recommendations for your visit to El Salar de Uyuni in Bolivia.
Sunglasses. The light is bright and the reflection on the salt flats is almost dazzling.
Suncream. because of the height, the sun is very bright.
A hat against the sun
Water and a lunch to picnic on the salt flats. Or ask your tour operator for a lovely lunch.
Good shoes, no flipflops.
Warm clothing. Because of the altitude and wind, the temperatures are much lower than you think. (thermal clothing if you are cold). It is recommended to put on layers, so you can easily put some clothes on and off.
Money for entrance fees
Tip: Take a shower in the evening. The pipes are often still frozen in the morning. A hot water bag for your bed. The hotels are not always warm.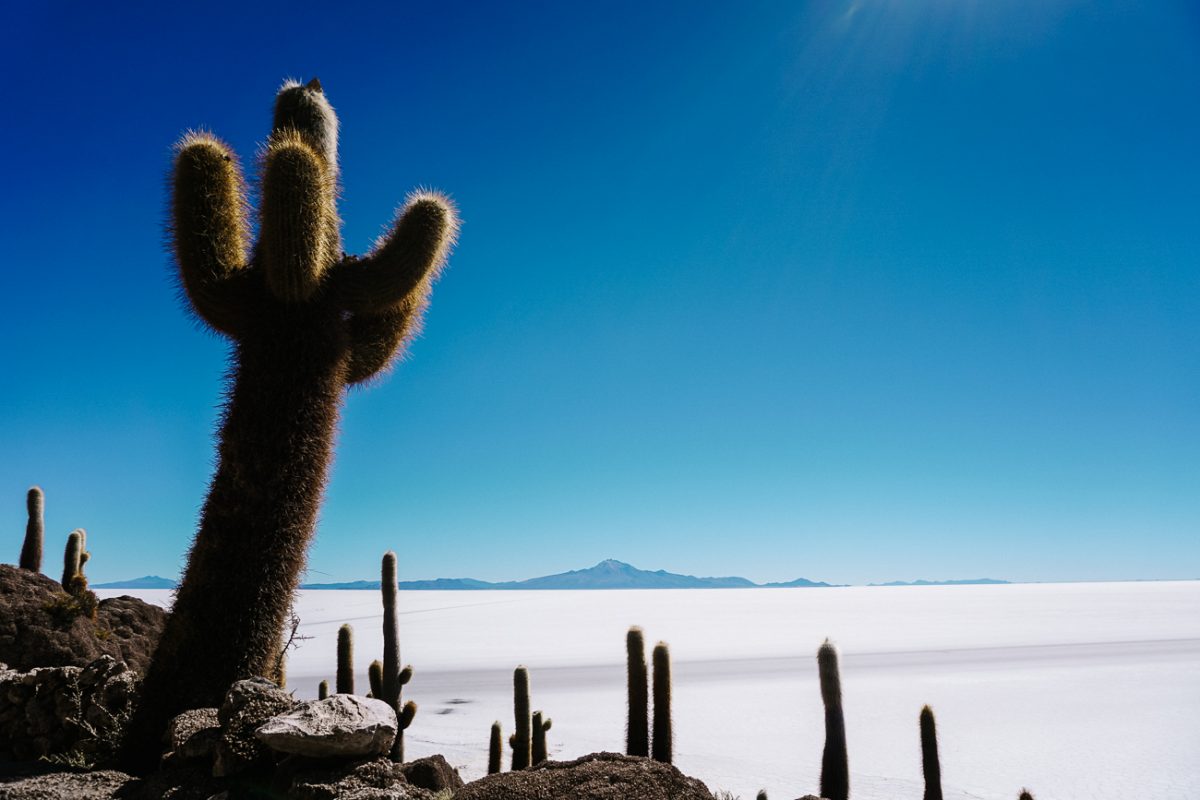 How to visit Salar de Uyuni in Bolivia
Uyuni can be reached from different Bolivian cities by plane or bus. It is best to combine Uyuni with a visit to Potosí and/or La Paz. Uyuni is also easily accessible by land from Tupiza if you plan to visit this city. Uyuni has a small airport, offering daily flights from and to La Paz. You can book a salt flats tours from Tupiza, Uyuni and San Pedro de Atacama in Chile.
From/to Potosí
There are several buses that take you from Potosí to Uyuni and vice versa. Depending on company you are traveling wih, this is a journey of approximately 4 hours. It is one of the most beautiful road trips over the altiplano. It is also possible to book private transportation, so you can stop and take many pictures on the road. That is of course more expensive.
From/to La Paz
There are several ways to reach Uyuni from La Paz. There are comforable nightbuses with seats that can be moved far back and available toilets. The journey takes about 8 hours and there is oftten a dinner included. It is easy to buy a ticket that includes transportation to the bus station. You will then be picked up at your hotel and taken to your new hotel upon arrival. A cheap and easy way of traveling. You can buy your ticket here. Another option is to fly from Uyuni to La Paz or other Bolivian cities.
From/to Tupiza
There are several buses that take you from Tupiza to Uyuni and vice versa. It will take you more or less 4 hours.
From/to Chile
If you opt for a multi-day trip, you will also visit the beautiful salt lakes with its many flamengos and geysers. With this tour you will have the option to finish your tour in San Pedro de Atacama, Chile. A super nice village in the Atacama desert, which is the gateway for visiting a number of other natural wonders: the moon valley, the atacama desert, geysers and the Chilean salt flats and lakes. Read soon about a multi-day trip over the salt flats with the final destination San Pedro de Atacama.
More about Bolivia
Do you want to read more about Bolivia? In this article you'll find an overview with what to do in Bolivia, including the most beautiful destinations. Also, have a look in the Bolivia library with many articles about this beautiful country. Such as a guide for Copacabana, the best things to do in Sucre,  the Bolivian Inca trail, the best time to visit Bolivia, information about safety, a visit to the Potosí mines, a tour to the Tiwanaku ruins, shopping in La Paz and how to use the cable car in La Paz.
This article may contain affiliate links. If you purchase something using one of our links, we may receive a commission at no extra cost to you, which helps us keep this blog alive. Thank you for your support! Please see our disclosures for more information.