The name Copacabana makes you think of an idyllic beach in Rio de Janeiro. But Bolivia also has a Copacabana. Unfortunately less idyllic when it comes to sun, sea and beach. But it is a unique city, because of its beautiful location at the Lake Titicaca and its religious significance. This is a list with the best things to do in Copacabana, Bolivia.
Welcome to Copacabana
Bolivian Copacabana is situated in a bay, wedged between two hills, on the highest navigable lake in the world, Lago Titicaca, at an altitude of almost 3900 m. This city has always been an important place of pilgrimage. Every year thousands of Bolivians and Peruvians go to the city to worship the holy virgin "Virgen de la Guadalupe." For travelers, Copacabana is mainly a transfer place from Bolivia to Peru, as it is 10 minutes from the border. Or the base to one of the Bolivian islands on the Titicaca Lake, where Isla del Sol is located. If you have a transfer in Copacabana, you should absolutely visit these places. These are the things you want to do in Copacabana, Bolivia.
1. Hike to the summit of Cerro Calvario
A steep climb up takes you to Cerro Calvario, the cross mountain. The trail leads you past the 14 Stations of the Cross and a number of chapels to the summit. The mountain is only 150 m high but because of the height, the walk can be tough. At an altitude of 3900 m, every physical activity takes more effort than usual. Moreover, the path is irregular so you have to take big steps. However, you will be rewarded with breathtaking views over Titicaca Lake and its surroundings. Always check the current safety situation before you start your hike.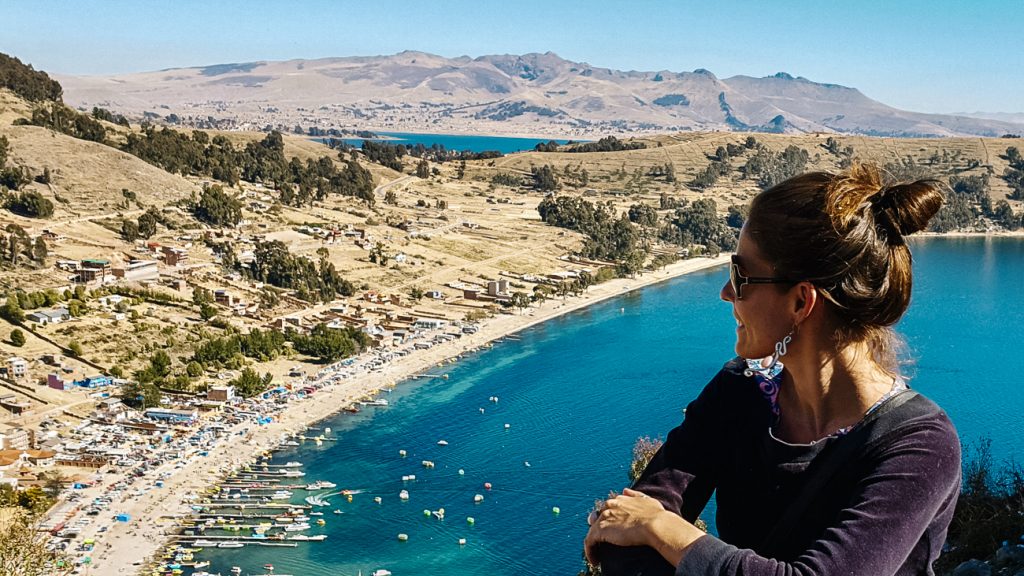 2. Relax and have a meal at La Cupula
The best restaurant of Copacabana is called La Cupula. A short climb up to the top will take you to this dome. Here you will find a lovely restaurant with a beautiful view of the lake. Attention is paid to service and quality, which is a welcome change from the restaurants on the main street. Downstairs you will find a beautiful garden with alpacas. Here you can relax during the day in one of the hammocks and feed the alpacas.
3. Go local on the boulevard and enjoy a boat tour
On the weekends, Copacabana is the weekend destination for Bolivians and the boulevard is the place to stroll around. The local food stalls are the most popular places to get dinner. Car trunks have turned into picnic sites with sound systems. You'll see boats shaped like ducks and swans on the lake. Nothing is more fun than taking a seat on the promenade and having a chat with a local family. Before you know it, you'll be sitting like a real local in a duck boat on the Titicaca Lake.
4. Visit Catedral Virgen de la Candelaria
The icon of Copacabana is the huge white cathedral in Moorish style, where the Virgen de la Candelaria, can be visited. Several miracles have been attributed to this holy virgin. As a result, Copacabana became an important place of pilgrimage. In February, on Good Friday and on Independence Day, countless people come to Copacabana to pay homage to the patron saint of Copacabana. Because of its importance, a short visit to the cathedral is a must. Outside the square, you'll find numerous market stalls with religious souvenirs of La Virgen de la Candelaria.
5. Visit Isla del Sol
When you're in Copacabana, you should visit Isla del Sol, the island of the sun. For sure one of the best things to do when you are traveling to or from Copacabana. The island is about 1.5 hours by boat from Copacabana. Here you can go for amazing walks and enjoy a 360-degree view over the Titicaca Lake and the mighty peaks of the Andes. You can also visit some remains of Inca ruins. You could go on a day trip, but it's more fun to stay overnight. In the village of Yumani you will find budget accommodation. One of my favorite hostels is Puma Punku Ecolodge on the top of the island, the perfect place to stay when you want to explore the island.
Independence Day in Copacabana
My last visit to Copacabana was during Independence Day. What an experience! Hundreds of people climbed Cerro Calvario and stood in line for hours to honor the holy virgin. Shamans were around to provide spiritual cleansings. And countless vendors adorned their stalls with offerings and alasitas, small replicas of houses, cars, and money, hoping that it will manifest in real life. Along the water, cars were blessed using garlands, flags, and decorations. Independence Day in Bolivia takes place on August 6!
Traveling from Bolivia to Peru? or Copacabana to La Paz?
There are different bus companies offering this service. Titicaca Turist Transport is a reliable company, bringing you from Copacabana to Puno, Peru in a couple of hours. Crossing borders between Peru and Bolivia became a smooth process and the company will guide you through the different steps. Just make sure you have your passport. Also make sure you check on visa (depending on your nationality) in advance.
Extra tip: Do you want to go for a picknick around the lake? Or planning a bus trip with border crossing to Peru? Visit Pitstop. This is the best place for take-away food. Pistop is a bakery selling fresh empanada's, quiches, sandwiches and lots of other delicious pastries.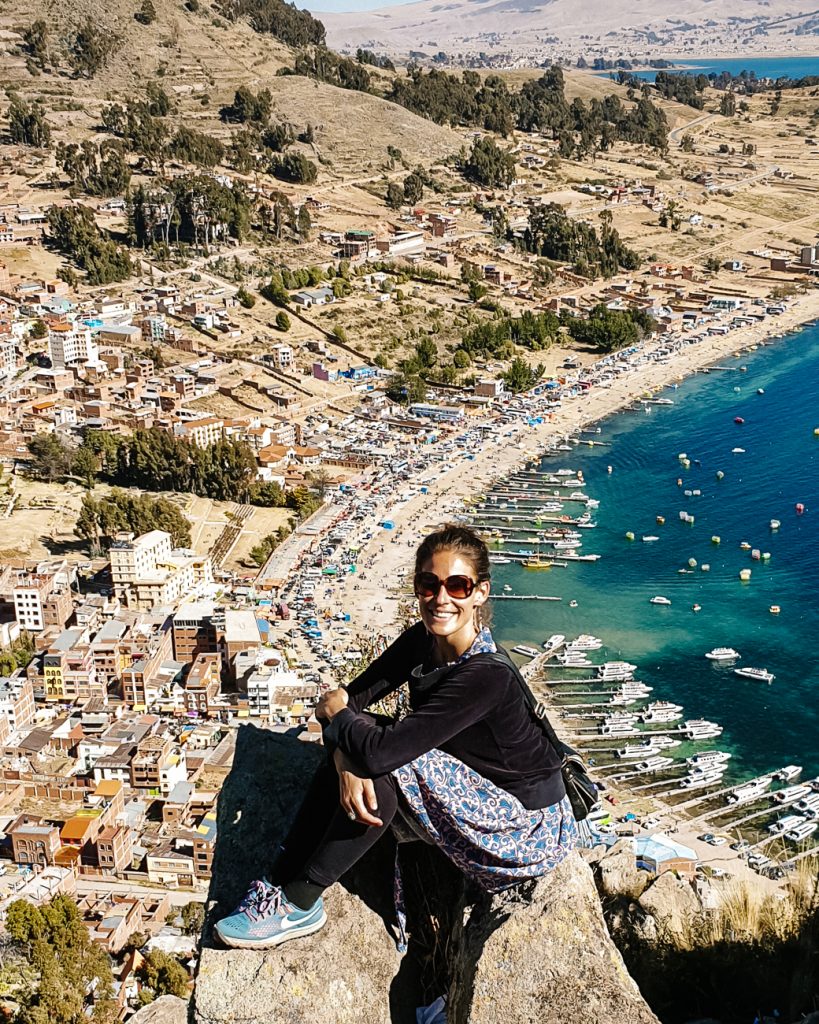 ---
Liked this list with things to do in Copacabana? Check out the article with best things to do in Sucre, the official capital of Bolivia.
---
PIN FOR LATER
This post is also available in:
Nederlands (Dutch)