Guatemala has it all! Colonial cities, where you can stroll around for days. Indigenous villages and markets where people walk around in colorful traditional costumes, but also fascinating Maya cities, located deep in the jungle, breathtaking lakes and many active volcanoes. Guatemala is a country that you can explore for weeks. But what if you only have 10 days in Guatemala? What should you include in your Guatemala itinerary? This is my Guatemala itinerary for 10 days, with some amazing highlights, tips and information about traveling time and transportation. Including a special section if you are coming or continuing your journey to Mexico.  
Guatemala itinerary 10 days
Lake Atitlán – day 1, 2, 3 ( 2 days + 1 traveling day)
Start your journey around Lake Atitlán. This mighty lake is surrounded by three volcanoes and many little villages. Every village has its own vibe and characteristics. And in some of the villages, people still live according to ancient Mayan traditions and customs. The light and view of the lake and surrounding volcanoes are breathtaking, from just every single angle. Make sure you spend at least one day navigating the lake and exploring villages such as Santiago de Atitlán, San Marcos, and San Juan la Laguna. You will learn more about indigenous art and meet local hero Maximón. A wooden statue, with a cigar, where people come and do their offerings, while making a wish. You can also hike from the village of Santa Cruz to Jaibalito, overlooking the lake during the entire trail. And explore the Cerro Tzankujil, a natural reserve near San Marcos.
The second day you should go on a hike, to enjoy the most amazing views of the Lake Atitlan. Climb your way up to the Indian Nose viewpoint (try to do a sunrise!) or hike to the top of the San Pedro Volcano.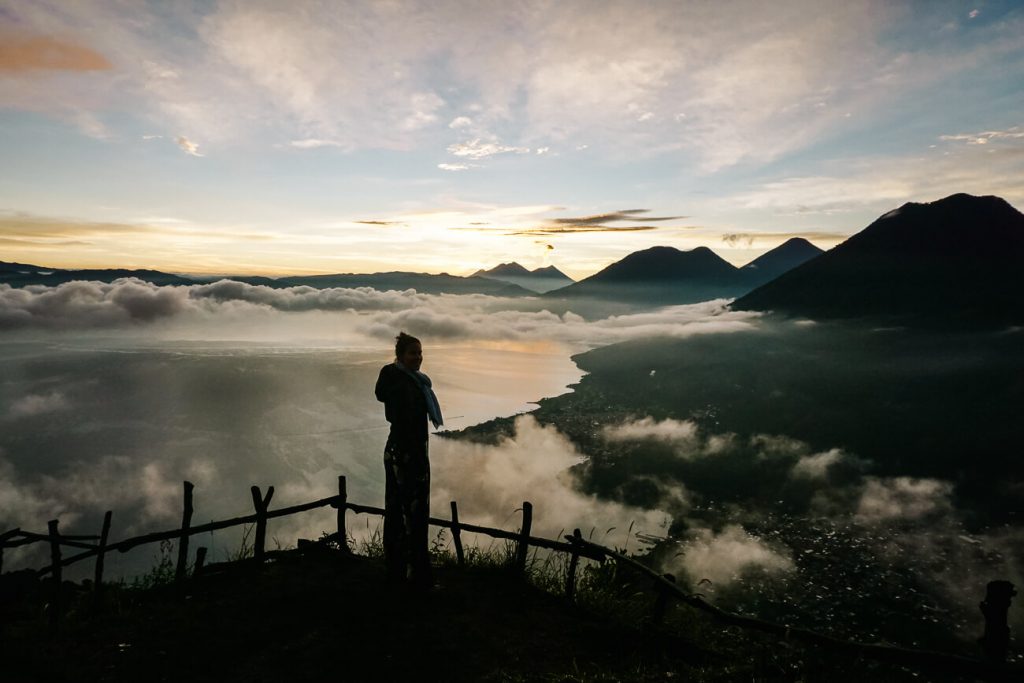 As this is a guide for a 10 days in Guatemala itinerary, I'm focusing on some of the highlights. But you could easily spend a week around Lake Atitlán and sleep in a different village every day. Want to know more about Lake Atitlán and all the different things to do? Have a look in my Lake Atitlán travel guide.
Where to stay?
Panajachel is the main city. It's your starting point for all trips around the lake. You can choose to spend the night in this city, but it's best to find a beautiful hotel around the lake or in one of the villages. Especially if you want to go on a longer hike, as you need to start early morning.
Hotel tips for Lake Atitlán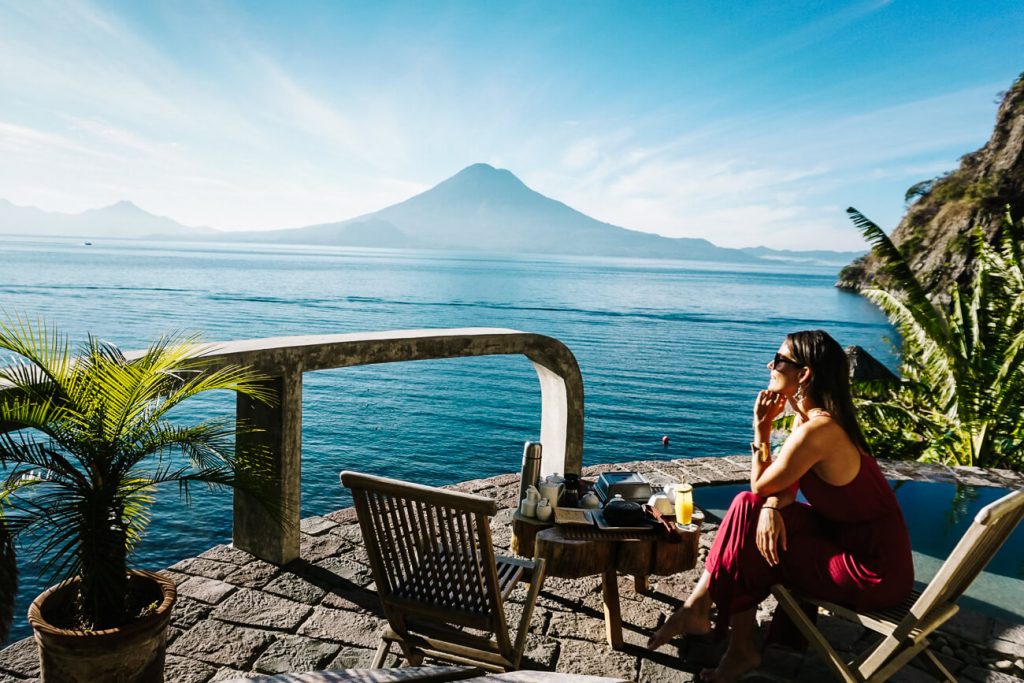 Do you want to visit Lake Atitlán from Antigua? You can book your tour here.
Antigua – day 4, 5, 6, 7 (3 days + 1 traveling day)
From Lake Atitlán, travel to the most famous city of Guatemala: Antigua. Make sure you schedule this journey on a Thursday or Sunday, so you can make a stop at the colorful market of Chichicastenango. Not only a shopping paradise but also a great way to observe local life. You can also visit Chichicastenango for the day from Antigua. You can book your tour here.
Antigua city & volcano hikes
Antigua is the former capital of Guatemala and the most beautiful city in the country. It is a city where you can easily spend days and enjoy the pleasant atmosphere. Stroll through the colonial streets, visit the ruins of former churches and convents and have a look in the many colonial buildings, where a new world opens behind every door. You will also find plenty of nice boutique stores, fancy restaurants and lunchrooms, with amazing views of the surrounding volcanoes. You often see smoke coming out of the volcano and at times you even see the orange and red lava flowing. Pretty incredible! Also, the surrounding area is worth exploring, with coffee plantations, viewpoints and organic farms.
Curious about what to do in Antigua? Check out my ultimate city guide for Antigua and surroundings with many things to do, cultural activities, restaurants, fancy boutique stores and hotels.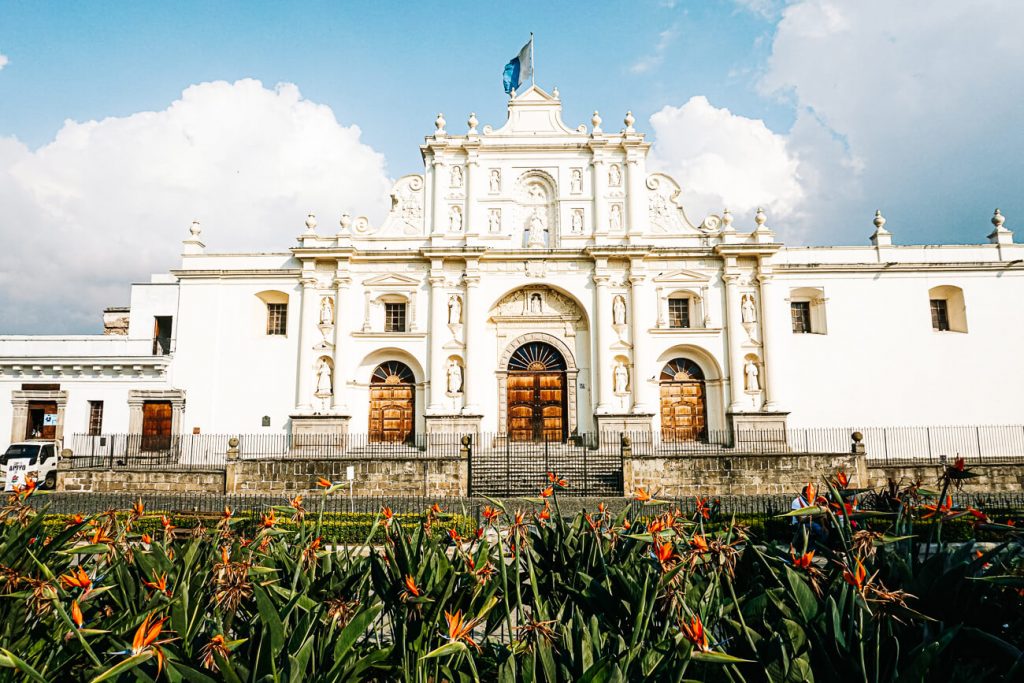 Hotel in Antigua
Volcano hikes
As Antigua is your starting point for one of the most exciting volcano trips such as the Pacaya and the Acatenango volcano. Make sure you include one of these hikes in your Guatemala itinerary for 10 days. Therefore, I would recommend to schedule at least three days in Antigua. One or two days to explore the center, and one or two days to go on a volcano hike, depending on your interest of hiking.
Want to know more about the Acatenango volcano hike, how to prepare and what to bring? Read everything you want to know about hiking the Acatenango volcano in the next article.
The Pacaya hike you can do in one morning or afternoon. The hike to the Acatenango volcano takes two days, as you want to spend the night in a tent, listening and looking at the active Fuego Volcano, right in front of you. Yes, these hikes are challenging but so worth it! Just make sure you are used to the altitude before going on this hike.
Do you want to hike the Acatenango volcano and secure your spot? Check out prices and availability here. You can book a tour to the top to the Pacaya volcano here.
Traveling from Panajachel, Lake Atitlan to Antigua
Travel from Panajachel to Antigua, by uber or shuttle service. It will take around 3 hours. If you travel by private transportation, you are able to visit the market of Chichicastenango and include it in your two weeks in Guatemala itinerary.
Flores – day 8, 9 (1 day + 1 traveling day)
After your time in the Guatemalan highlands, it is time for a different region. The jungle and tropical rainforest in Petén, the northern part of Guatemala. Spend the morning and afternoon in Antigua and try to book a plane from Guatemala City to Flores in the evening.
Flores is your starting point for the mysterious Maya ruins, such as Tikal and Yaxhá, located deep in the jungle. Without a doubt, a highlight during your one week in Guatemala itinerary. I recommend that you travel straight to Tikal this evening, and spend the night in one of the three hotels, located inside the national park. This way you are able to wake up very early the next day and see the sunrise from temple number 4. After your visit, travel to the town of Flores and spend the night there.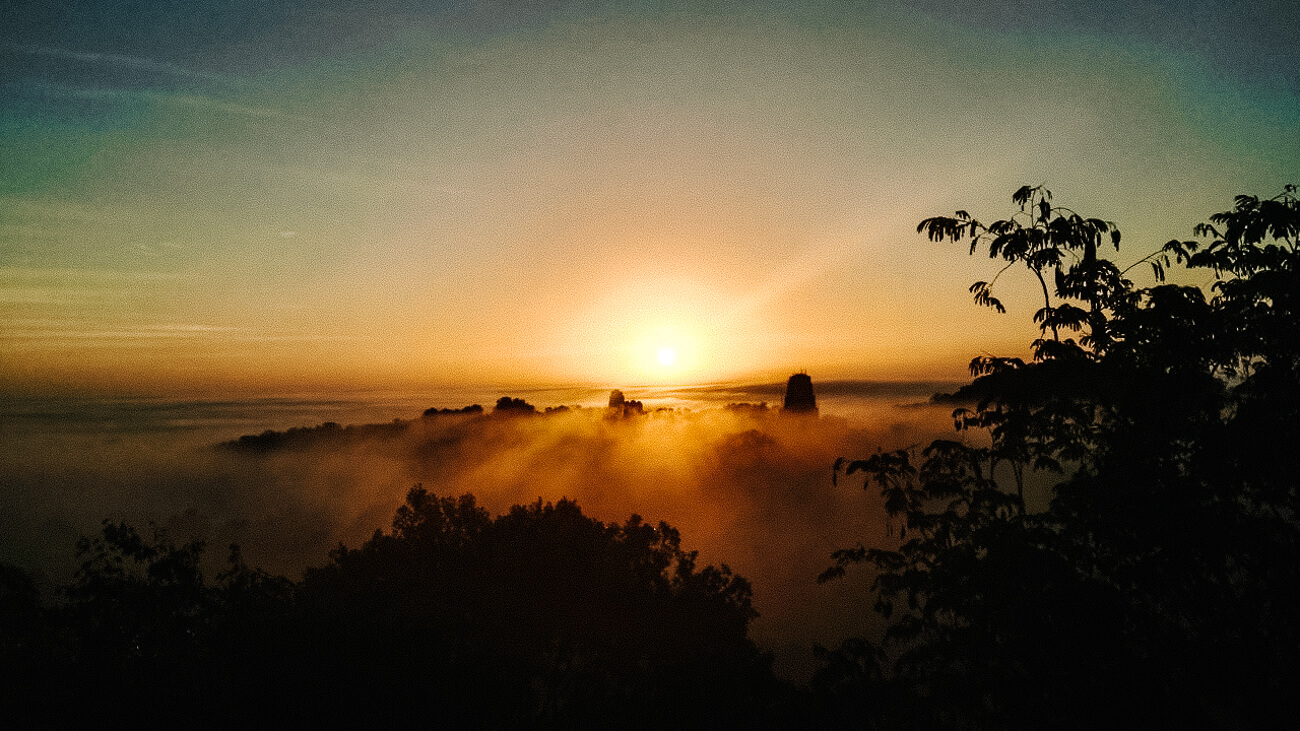 Hotel tips for Tikal national park
Tikal
Tikal is arguably one of the most visited destinations in Guatemala. Because of its mysterious atmosphere, and location in the dense jungle, I think it is one of the most impressive archaeological Maya sites. You'll be able to observe an ancient Maya city, with ruins of pyramids and palaces in a beautiful jungle environment, while being surrounded by countless monkeys, coatis, butterflies and birds. Tikal is best to be explored with a professional guide, making sure you get the maximum out of your trip.
Do you want to visit Tikal? You can book your tour here. Interested in reading more about a day tour to Tikal? Read the full article about Tikal Guatemala here.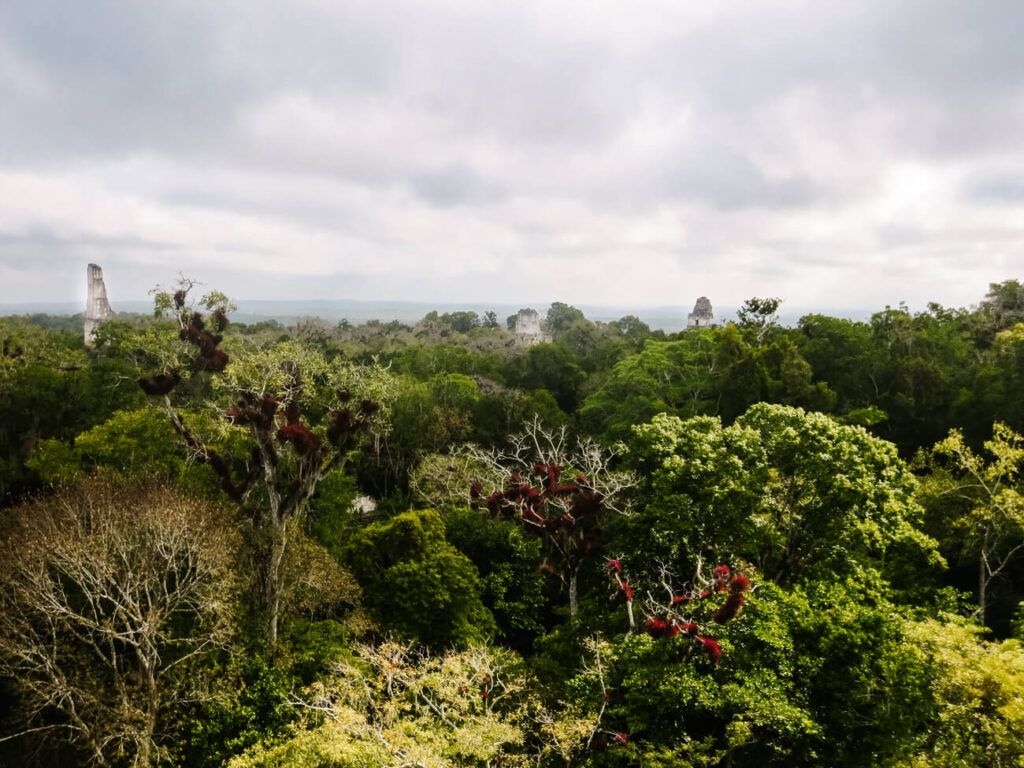 Yaxhá
If you feel like doing something more off the beaten track, skip Tikal and visit Yaxhá instead. Yaxhá is less visited than Tikal but also a beautiful archaeological Maya site, located at the Laguna Yaxhá, in the jungle. It is recommended to watch the sunset here from the 30 meterhigh temple (structure 216 or temple or the hands). In that case, you can spend the first night in Flores and the second night near the Yaxhá national park.
Do you want to visit Yaxha? You can book a nice sunset tour here. Interested in reading more about visiting Yaxhá? Read the full article about Yaxhá here.
Flores
Flores is a small town, located at the Petén Itzá lake, connected to the mainland by a bridge. There are so many colorful houses and doors, what makes it a picture heaven! Flores used to be an old maya city called Tayasal. It was one of the last independent cities during the Spanish conquest but was unfortunately destroyed completely afterwards. Nowadays you can discover the colonial town (built by the spanish on the former Maya city) and enjoy the boulevard with many rooftop restaurants and shops. The history makes your visit even more interesting.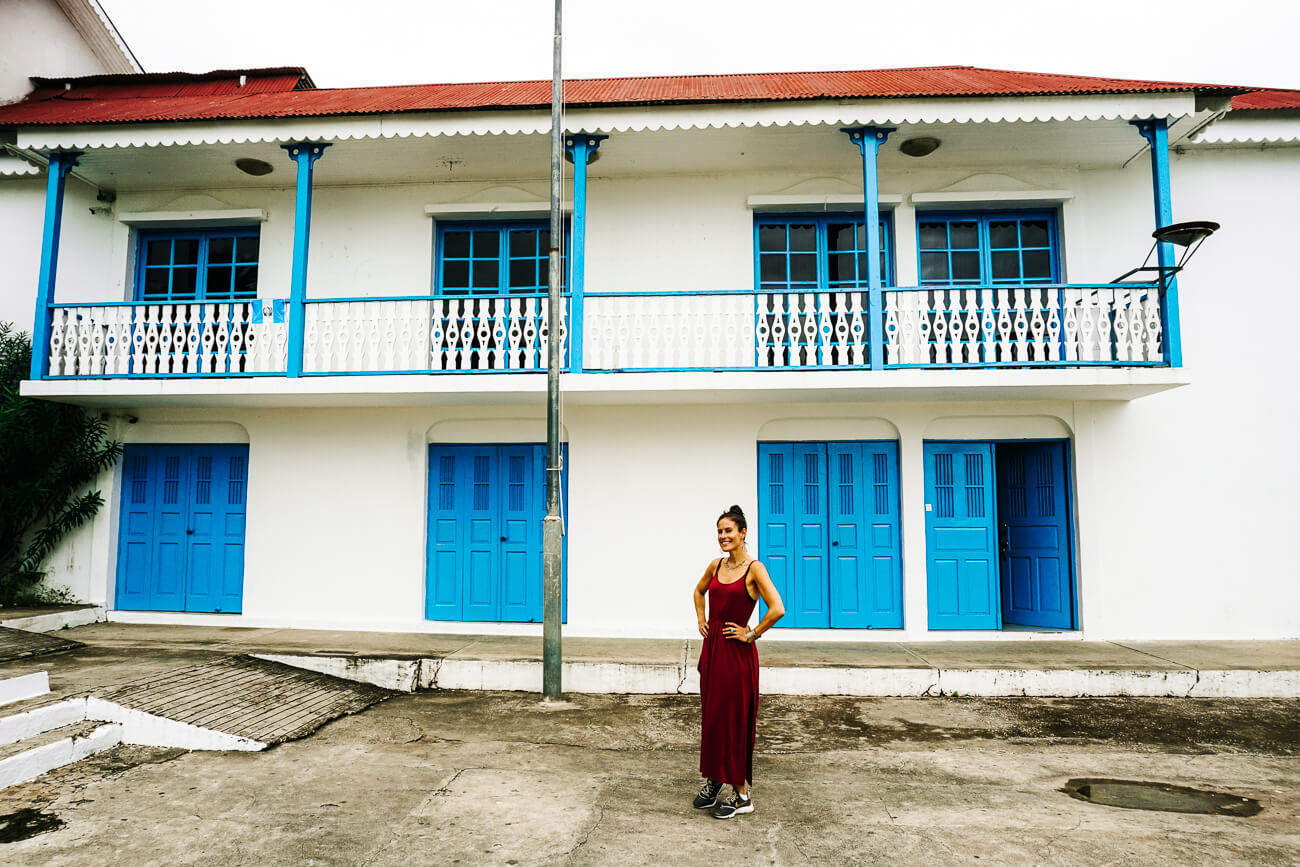 Hotels in Flores and surroundings
Traveling from Antigua to Flores
It is best to take an uber or shuttle service from Antigua center to the airport of Guatemala City. Depending on the time of the day and traffic it will take you between 1 and 2 hours to get there. From here you can fly with Tag airlines to Flores within one hour.
Guatemala City – last day of 10 days in Guatemala itinerary
Hotel tips for Guatemala City
Interested in taking a tour in Guatemala City? You can book a city tour here.
Guatemala itinerary 10 days | traveling to Mexico
If you are planning to continue your journey to Chiapas in Mexico, after your 10 days in Guatemala itinerary. Then it is best to finish your trip in Flores and use the border Frontera Corozal. From Flores, it will take you 4 hours to reach the Guatemalan border town Bethel (it's a bumpy road). Here you'll cross the Usumacinta river by boat to Frontera Corozal in Mexico. Also your gateway to the archaeological site Yaxchilán. Read more about Yaxchilán and how to get there, in the next article.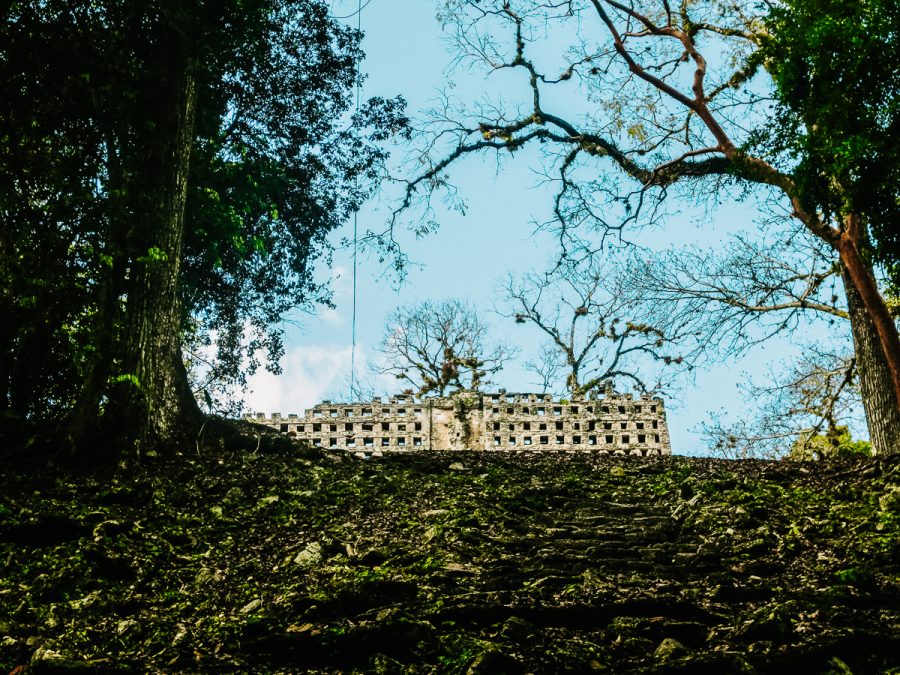 Planning to travel to Yucatán in Mexico? Then it is also best to finish your journey in Flores and travel through Belize to Chetumal. It will take you a full day, as you need to cross two borders!
Coming from Mexico | Guatemala itinerary 10 days
If you are traveling from Mexico to Guatemala, it is best to start your Guatemala 10 day itinerary in Flores. Fly to Guatemala City afterwards and continue your journey to Lake Atitlán and Antigua.
Arrival Flores
Visit Tikal or Yaxhá
Flight to Guatemala City – continue to Lake Atitlán
Lake Atitlán – two days
Lake Atitlán – Chichicastenango – Antigua
Antigua– three days, including a one or two day hike
Travel to Guatemala City – end of two weeks in Guatemala itinerary
Other Guatemala itineraries
Did you enjoy this Guatemala 10 day itinerary? Have a look at the other Guatemala travel itineraries such as:
Or check out things to do in Guatemala | 20 travel tips
Hotels in Guatemala
Where to stay in Guatemala? Like any other country, Guatemala has a large amount of beautiful hotels. For both work and personal trips, I visited Guatemala dozens of times. When I travel by myself, I always look out smaller scale hotels with beautiful interiors, a nice atmosphere and a convenient location. In addition, I like to support the locals and love a sustainable approach around a hotel. I always spend a lot of time researching, before I book my stay. In this article I will tell you more about my favorite places to stay in Guatemala: The best hotels, sorted by city and region in Guatemala.
Tours Guatemala
How to get around in Guatemala
Guatemala is a big country and distances are long. Moreover not all roads are accessible. For some distances it is best to take a plane. But other routes can be easily traveled by bus or shuttle service. Guatego is a reliable and affordable shuttle service offering services throughout the country. You can book your shutle service here.
More about Guatemala
Did you enjoy reading this Guatemala itinerary 10 days? Do you want to discover more? With Passport the World I am taking you on a journey to discover this beautiful country. Make sure to check out my other travel guides about Guatemala such as: