Most travelers visit the fascinating ancient city of the Maya's, Tikal, during their trip through Guatemala. And that is absolutely the right thing to do. But Guatemala has more archaeological sites, which are less frequently visited. Quiriguá is one of them, and known for its beautiful Maya stelae. In a green tropical valley, between banana plantations, you will find monuments with beautiful sculptures and hieroglyphics. In this article I'm guiding you through the Maya stelae of Quiriguá in Guatemala!
Quiriguá
Quiriguá is located in the municipality of Izabal, a few kilometers of the main road between Guatemala City and Río Dulce. If you are traveling through Guatemala, it is worth to include Quiriguá. Especially if you are interested in the history of the country. In Quiriguá you will find beautiful Mayan stelae, with special relief and sculpture. The highest stele reaches up to 10 meters high. As this place is not on the beaten track yet, there is a big chance you will have the site to yourself. The best way to absorb the atmosphere of the mysterious sculptures!
History & background information
The first residents settled in Quiriguá, around 200. For a long time, Quiriguá was depending on Copán, located in current Honduras. When King Cauac Sky, won the battle with Rabbit 18, king of the Copán empire, the city of Quirigua finally became independent. The best scupltors were invited to create the most beautiful pieces of art for more than 38 years. For a long time, Quiriguá was abandoned for unclear reasons and unknown to outsiders. The famous explorers Stephens and Catherwood discovered the city recently in 1840. And it was included in their well-known book: "Incidents of Travel in Central America, Chiapas and Yucatan". (Highly recommended if you are planning a trip to Mexico and Guatemala!). In 1900 the region was sold to the American United Fruit Company and became part of a large banana plantation. Restoration started in the mid-20th century.
Current Quiriguá | Maya stelae in Guatemala
Nowadays the complex is open to visitors. Quiriguá, along with Tikal and Antigua in Guatemala, is included in the world heritage list of UNESCO. The site consists of 15 monuments, including remains of the acropolis (pyramid), a ball court and a number of (religious) buildings that used to belong to the upper class. All statues have a roof to protect them against erosion. The entire complex is about 34 hectares. Its a big area and excavations are still being done, which explains the amount of stones in some places.
The Maya stelae in Guatemala
Stèle E is the largest stela of the complex and also one of the largest ever built. This Stèle has a height of 8 meters, above the ground. Another 3 meters are under the ground. The total weight would be around 60.000 kg. Nearly all stelae have an altar, stones with mythological figures and hieroglyphs. Stelea were located at the foot of a pyramid or in the middle of a square.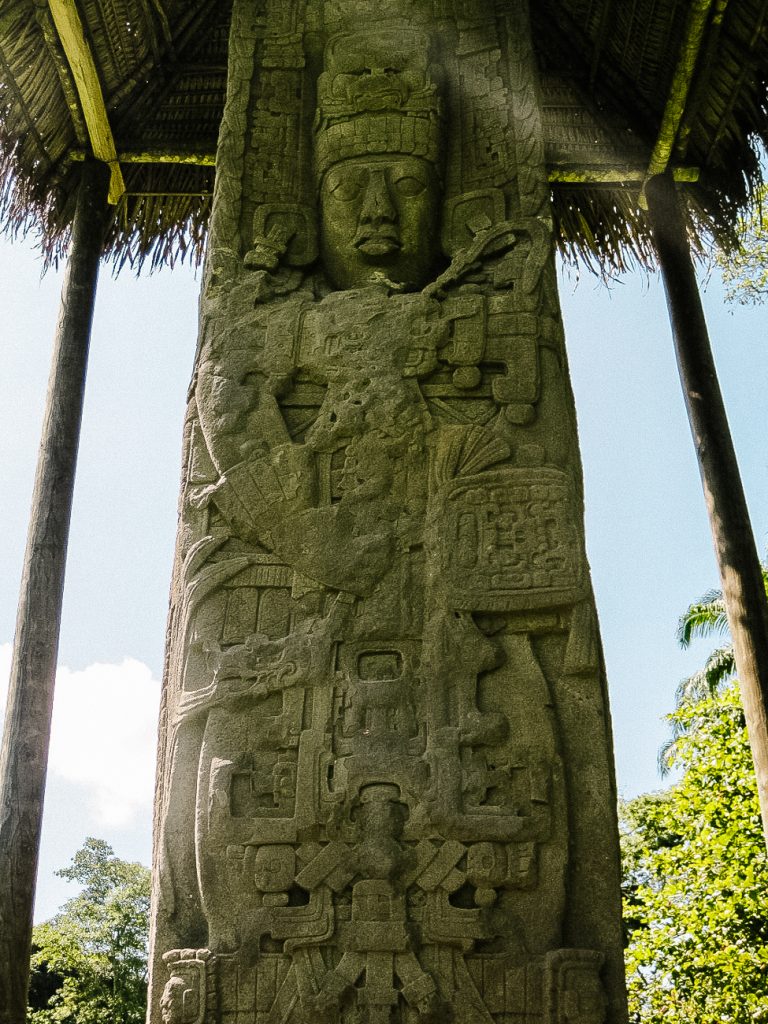 The stories on the stelae are about kings, princesses, gods or important victories. And this often goes together with images of religious symbols and shamans, who were able to communicate with the gods. The stalae are made of sandstone, taken from the Río Matagua.
How to reach Quiriguá? | Maya stelae in Guatemala
Quiriguá is located in the municipality of Izabal, a few kilometers of the main road between Guatemala City and Río Dulce. Its the best to plan you visit while traveling to or from Río Dulce. I mainly visited this site traveling to or from Copán in Honduras wich was very easy and convenient. The distance between Quiriguá and Río Dulce is 70 km, about 1.5 hours. Copán (Honduras) – Quiriguá is about 167 km, 3.5 hours driving (excluding the time you will need at the border). Coming from Antigua, it will take you, depending on traffic, about 5 hours (250 km).
Do you want to learn more about Quiriguá?
Do you want to learn more about this archaeological site? On UNESCO's website you will find a lot of interesting information. Are you as fascinated as me about Pre-columbian civilizations and do you want to read more? Have a look in the archive on the website.
---
Are you planning to visit Antigua in Guatemala? Read my tips and hotspots here.
---
This post is also available in:
Nederlands (Dutch)