Lago de Atitlan is one of the most beautiful destinations in Guatemala. The lake is surrounded by three mighty volcanoes: Tolimán (3100 m), San Pedro (3000 m) and Atitlan (3500). Which makes for breathtaking views! There are many small villages located around the lake, each with its own vibe and characteristics. In some villages you will find an indigenous population that still lives according to ancient Mayan traditions and customs. You can enjoy yourself for days around the lake. By navigating from village to village, learning more about local art, hiking to viewpoints and climbing volcanoes. In this Lake Atitlan travel guide, I will tell you everything you want to know, including tips for the best things to do at Lake Atitlan Guatemala.
Things to do at Lake Atitlan
Lake Atitlan is one of my favorite destinations in Guatemala. Enjoy this list with things to do in the villages, activities, hiking possibilities and tips for nice restaurants and hotels at Lake Atitlan. Including a special section about photography, the best time to visit and how to get to Lake Atitlan from Antigua or Guatemala City.
The map is color coded as follows:
Blue: villlages
Red: activities
Lake Atitlan village guide | discover the villages
San Juan la Laguna (1)
San Juan la Laguna is known for its fine handicrafts and folk paintings. There are many boutique stores, where you can buy this type of local art, including embroidered cloths, bags and scarfs. Also worth seeing are the many murals, showing aspects of indigenous culture. You'll find many pieces of art around the harbor, the cathedral and library. If you want to learn more about traditional weaving techniques, drop by LEMA. This is a weaving cooperative, run by women, who offer different workshops about weaving and dyeing, using natural colors.
Lake Atitlan restaurant tips: El Gato Perdida is a nice place for lunch and Flor de sol, located at the main street, near the harbour has a small roof terrace, offering nice views of the lake.
Santiago de Atitlan (2)
Santiago de Atitlan is probably the most indigenous village of Lake Atitlan. People here still wear colorful traditional costumes and live according to their own indigenous beliefs and customs. It is so nice to walk around and observe daily life. Take the main street up hill, and walk towards the central square. You'll pass a market, where you'll find all type of products and a real local chaos of sellers and buyers. I personally love to mingle and be part of it!
There is also a large church in the main square that you can visit (opening times are not really clear). Inside you will find an interesting mix of Catholic statues and indigenous religious images.
Maximón
One of the unique things to do at Santiago de Lake Atitlan is to visit Maximón. Maximón is a wooden male statue and a spiritual hero to the locals. People visit him on a daily base to offer cigarettes and alcoholic drinks, while making a wish at the same time. Every year, Maximón moves to a new location with a local family that takes care of him. It is best to approach a tuk tuk driver and ask him to bring you there. Keep in mind that you have to pay for your visit as a tourist and even more if you want to take pictures. But it's only a few euros.
Lake Atitlan restaurant tips: El Pescador, with a nice view over Santiago. In the main street, running up the hill from the harbour, you will find several small coffee shops.
San Marcos la Laguna (3)
San Marcos la Laguna is also known as the spiritual village of Lake Atitlan. You will find yoga and meditation schools and many vegetarian restaurants. Those interested can also experiment with healing sessions, medicinal herbs, plants and mushrooms. But the atmosphere of the village in particular is nice. At the main street and along the water, you will find many nice bakeries, jewelry shops and restaurants.
Be sure to visit the Cerro Tzankujil nature reserve, next to San Marcos. You walk up the mountain and have beautiful views of the lake. Along the way you will pass ancient Mayan ceremonial sites and altars that are still used by the locals. There is another lower trail, running along the mountain, taking you past a canoe rental company and the famous cliffs, where you can join the locals and jump off.
San Marcos Lake Atitlan restaurant guide: El Camino, Vida, Tul y Sol,Circles Bakery and Comedor Konojel with tasty pupusas.
Santa Catarina Palopó and San Antonio Palopó (4 & 5)
Santa Catarina Palopó and San Antonio Palopó are less visited but very nice to include in your itinerary. They are best reached by road from Panajachel. Both villages are nice to stroll around, enjoy the colors of the houses, take pictures and experience the lovely atmosphere. Here too, it is possible to practise local crafts. For example, the cultural center Pintando Santa Catarina Palopó offers, in addition to guided tours where you learn about the history of the village, local weaving tours. And my favorite brand Hiptipico opens its doors to their local family suppliers for workshops in Santa Catarina. In San Antonio Palopó you can follow a workshop in making ceramics like the Maya used to do. Here you will find more information about these tours.
Panajachel (6) – Main city around Lake Atitlan
Panajachel is the largest city around Lake Atitlan and often a first encounter with the area. The harbour is your startingpoint to visit the surrounding villages. If you don't have a lot of time, make sure to book a hotel in this town and enjoy a day trip from here. There are many tours, where you navigate the lake and visit some of the villages. Or just rent a boat yourself and make your own schedule.
The main street is called Calle Santander and is full with restaurants and cafes. Along the water there is a boulevard with small market stalls, bars and restaurants. It's the perfect place to enjoy an amazing sunset, while enjoying a drink. At weekends it is busy everywhere with local people and boats departing for trips, with Latino music blasting from the speakers. A great experience to mingle with Guatemalan families! Extra tips: There is a also a small beach, called Jucanya. Just walk all the way to the end of Calle Los Salpores!
Lake Atitlan restaurant tips: Deli Jasmin and Cafe Loco Coffee.
San Pedro la Laguna (7)
San Pedro la Laguna is the small village next to San Juan La Laguna. It has a great amount of restaurants and cheap overnight places to stay for backpackers. Because I'm not into the backpacking that much, this village has not my personal preference. But it is always nice to get out and go for a walk. Besides that, San Pedro is the perfect starting point for a hike to the San Pedro volcano.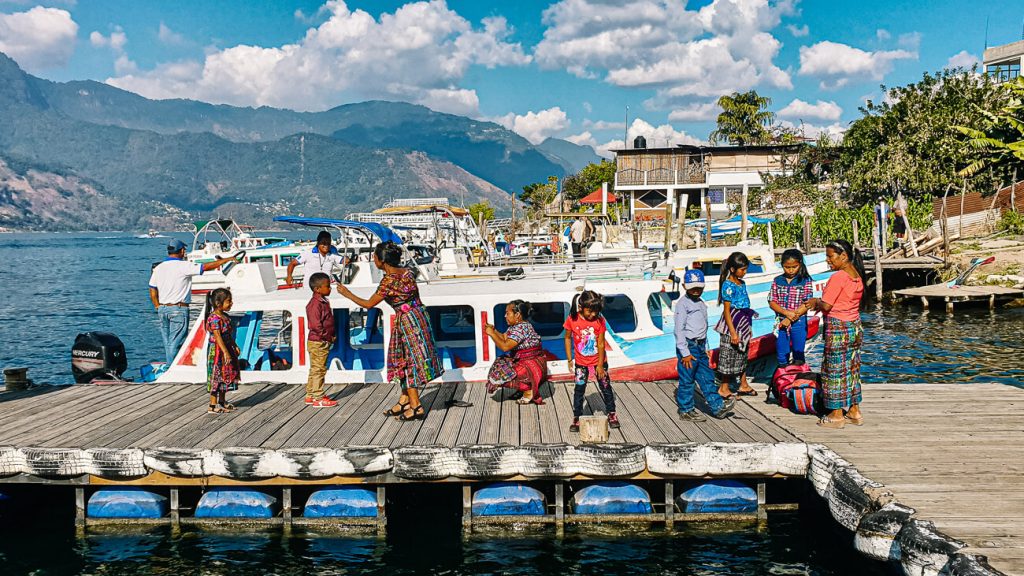 Lake Atitlan travel guide for activities
Walk from Jaibalito to Santa Cruz de Atitlan Guatemala (1, 2)
One of the best things to do by yourself, if you want to go hiking around Lake Atitlan, is the walk from Jaibailito to Santa Cruz. Get off the boat at the port of Jaibalito and walk a short distance up towards the village. Halfway through you turn to the right and follow a path, which takes you to Santa Cruz in half an hour. Along the way you enjoy nice views of the volcanoes and lake. Have a drink or lunch at the Casa del Mundo or Isla Verde, both have a nice terrace with views. In Santa Cruz you can have lunch at Cecap, while looking out over the village. It's quite a climb up so consider a tuk tuk.
Kayaking or paddleboarding – Lake Atitlan
One of the fun things to do at Lake Atitlan is to go kayaking or paddle boarding. A number of hotels, located at the lake, provide kayaks for free. It's amazing to wake up in the morning and paddle around. And SUPPING is another great option! In Santa Cruz and at the Tzankujil reserve (San Marcos) it is possible to rent kayaks and boards.
The most beautiful hike around Lago de Atitlan: Indian Nose (3)
One of the top things to do at Lake Atitlan and something that can't be missed in this Lake Atitlan travel guide, is a hike to the Indian nose. This is an amazing viewpoint, where you look all the way out over 6 volcanoes. The San Pedro, Tolimán and Atitlán, located around Lake Atitlan. But also the Fuego, Agua and Acatenango volcano located around Antigua can be seen from here. It is best to do this very early morning so that you can see the sunrise. It's an unbelievable feeling, being able to look out above the clouds and enjoy the most beautiful colors. And with a bit of luck you can even see the smoke of the always active and erupting Fuego volcano.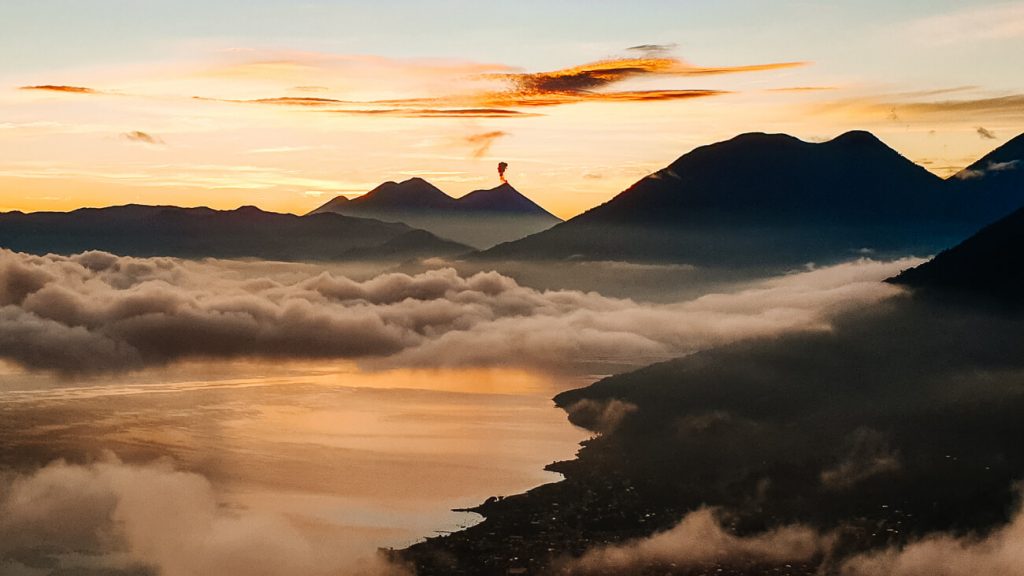 Two options: Hiking to Indian Nose Lake Atitlan
It is best to go on this hike from San Juan or San Pedro la Laguna. There are two options for your hike: a short and a long one. With the short option, you will depart by bus or taxi to Santa Clara, around 4am and walk to the top within 30 minutes. With the long one, you walk from San Juan in about 1.5 / 2 hours to the top. Personally, I don't like walking in the dark, (especially when not necessary), as you don't see anything and it's exhausting. You could opt to do the short version in the morning and walk your way back.
You can only do this hike with a Lake Atitlan travel guide and you will understand why. Many hotels offer tours, but you will also find offers from tour operators in San Juan la Laguna and San Pedro de Atitlan. Tip: It is also possible to stay at the top in a tent.
Climb the San Pedro volcano (4)
Interested in hiking a volcano? San Pedro la Laguna Atitlan is the perfect starting point for a trip to the San Pedro volcano. Even though it is quite a climb up, the trails are good and the views of the 3000 meters high peak are incredible! The walk to the top takes about 3 hours, taking you past coffee and avocado plantations. The altitude in particular is what makes the trip tough, because of the low concentration of oxygen. It is recommended to acclimatize for a few days before you start your hike. It is also important to check the weather conditions in advance.
Even though this tour is easy to do on your own, I always recommend going with a Lake Atitlan travel guide who knows the area and what to do in case of emergencies. Make sure to start your hike early morning. Then you are ahead of the heat and have the best chance of a clear view.
Hiking Lake Atitlan- useful tips
It is dark in the morning, so bring a flashlight.
Put on layers of clothing, so that you can take them on and off when the weather changes during your hike.
Bring a clean t-shirt or sweater. Early morning it can be cold, but when you walk it gets warmer and you will sweat. Once at the top, it is nice to put on something warm, so you can take your time and enjoy.
If it has rained it can be slippery, so wear solid walking shoes.
Bring enough water with you.
Make sure you contract a reliable Lake Atitlan travel guide
Mini travel guide Lake Atitlan
Lake Atitlan photography tips
Keep in mind that not all locals like to be photographed. In many cases, people will turn their heads or put hands in front of their faces. Understandable! because you also wouldn't like it when you are in your own country and tourists try to take a close up of you. It is therefore important to always ask for permission, meaning you will have to pay a few quetzales. When you buy something at the market, people are often more willing to have a picture taken.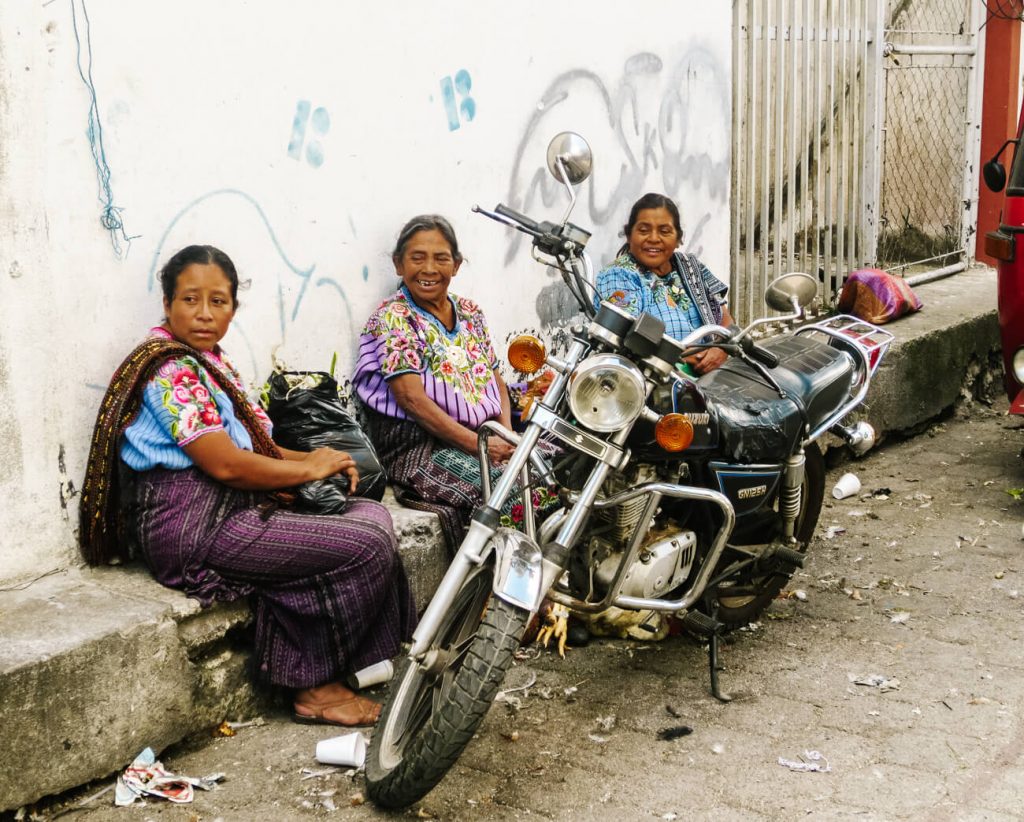 Hotels Lake Atitlan Guatemala
Casa Prana Santa Cruz de Atitlan
Casa Prana is located near the village of Santa Cruz and only only accessible by boat. It is one of the most beautiful places to stay in the area. The property is surrounded 9 acres of beautiful lush gardens, with walking paths, buddha statues and little seating areas all over. Everywhere you look, you see greenery, palm trees, exotic plants and flowers. And the views of the lake and surrounding volcanoes are just breathtaking.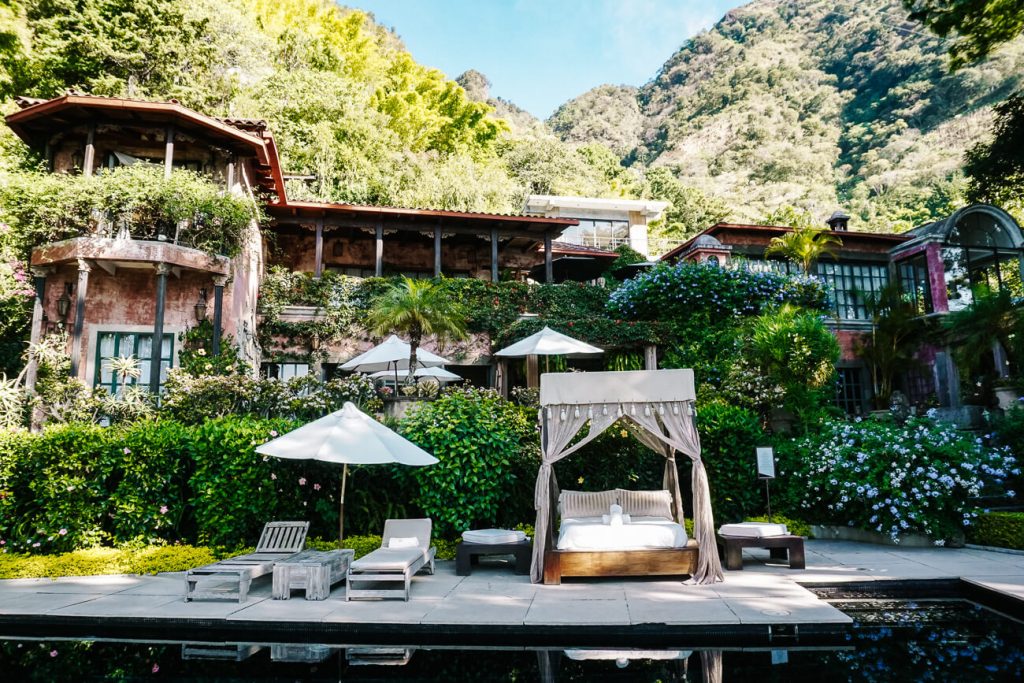 Casa Prana has only 8 suites, wich gives you a very private and luxurious feeling. The suites vary in size and prices but they all have amazingly soft king size beds, nice decorations, en-suite bathrooms and stunning views. Looking for somethjing really unique? Make sure to reserve the luxury suite, featuring an incredible bathtub with view. You will feel like a king and queen during your stay! You can relax at the sunbeds around the swimming pool, work out in the gym, practise yoga, relax in the herbal sauna, walk around the complex or settle down in one of the many seating areas.
Interested in staying at Casa Prana? In the next article you'll read everything you want to know about a stay at Casa Prana. Check the availability and latest rates for Casa Prana here.
La Fortuna Lake Atitlan
La Fortuna is one of the most unique hotels in Guatemala. And that's especially when I'm talking about suite number 5. This is a private two-floor little house, located on the lake with its own infinity pool and terrace. The view from your bed when you wake up in the morning, the view from the bathroom when you shower or take a bath, or when you enjoy a meal on your terrace. It is just breathtaking! But I cannot deny that this amazing place, also comes with a serious price tag (a few hundred euros per night). And you probably really have to save for it. But what you get in return is an absolute dream!
Lush Atitlan – San Marcos La Laguna
If you are looking for a nice place near a village, go to Lush Atitlan. This place is located in San Marcos de Laguna between the main street and Cerro Tzankujil nature reserve. Lush Atitlan is built against the mountain, so the rooms are all different and have different sizes. This lush place, as the name Lush suggests, is set in a green garden and flowers are all around you. The greenery grows up along the buildings and everything is well maintained. Depending on the type of room you choose, you have amazing views of the volcanoes and the lake. Some rooms even have two floors and a private terrace with kitchen and seating area.
Eco-Hotel Mayachik – San Juan La Laguna
San Juan La Laguna has few good hotels. But a surprisingly good place to stay is Eco-Hotel Mayachik. This ecolodge is located on the outskirts of the town, in a beautiful green environment. The houses and rooms are simple but spacious and equipped with everything you need, including hot water. Don't forget to enjoy delicious vegetarian dishes in the restaurant. Eco-Hotel Mayachik is also a perfect starting point for a hike to Indian nose. The staff is the mostfriendly you will find and they can help you organize a tour. They only work with locals.
Panajachel Lago de Atitlan
Selina is my favorite place to stay in Panajachel. You can book different types of rooms with corresponding price categories but all are very affordable. Selina is part of a chain that can be found throughout Latin America.
Santa Cruz & Jaibalito – Lago de Atitlan
Casa del Mundo, is a luxury hotel and beautifully located on a cliff on the lake. Near the village of Jaibailito. Most of the rooms have amazing views. Isla Verde is also located on the lake with nicely decorated and affordable rooms. And the restaurant here is highly recommended! If you are looking for a more budget accommodation, La Iguana Perdida is a good option.
Santa Catarina Palopó en San Antonio Palopó
Terrazas del Lago in San Antonio Palopó is a simple but affordable hotel. A number of rooms have good views. Casa Palopo is a luxurious and more expensive option. But the rooms, decorations and views are just breathtaking.
I love staying in smaller scale hotels with beautiful interiors, a nice atmosphere and convenient location. In addition, I like to support the locals and love a sustainable approach around a hotel. I always spend a lot of time researching, before I book my stay. Curious about my favorite hotels to stay in Guatemala? This is my overview with the most beautiful hotels to stay in Guatemala, sorted by city and region.
Travel around Lake Atitlan
The most important way of transportation is the public boat. Depending on the route, you pay between 15 and 25 quetzales, and usually as a tourist a little more. You can also rent a private boat, where prices range between 15 to 25 dollars for a one-way trip between two villages. A big price difference! However, it can be easy to rent a private boat, when you travel with luggage. Especially if you stay in a lodge along the water, outside one of the villages. Moreover, you can also take advantage and take beautiful photos.
Tuk tuks drive between some villages, but the roads are not always good. And it's not always convenient when you travel with luggage. Some hotel can help you to arrange taxis between villages.
How to get to Lake Atitlan?
From Antigua or Guatemala City you can easily travel with an uber (50 to 60 euros) to Panajachel. It takes 2 to 3 hours to get from Antigua to Panajchel, and from Guatemala City to Panajachel 3 to 4 hours, depending on traffic. Make sure to stop in the chaotic town of Solola and the viewpoint of Lake Atitlan, half way to Panajachel. Of course you can also book a shared shuttle service, running several times during the day.
The Chichicastenango market takes place every Thursday and Sunday. Local people, often dressed in traditional costumes, come from far to sell their goods. It's perfect to shop souvenirs. But it's also the best place to just walk around and observe everyday life. You can visit this colorful market via a small detour on the way to or from Antigua. In the following article you will read more about the Guatemala market Chichicastenango.
Best time to visit Lake Atitlan Guatemala
The dry season in Guatemala runs from November to April. There will be less rain, but the area will be dry and brown. In the rainy season, that runs from May to October, it will be raining in the afternoon for sure. The advantage is that everything is flourishing, lush, green and beautiful.
Also, dry season will offer clear blue skies. Wich is great for picture! But there is also a possibility of haze that cover the volcanoes, something that is not happening in the rainy season. It is therefore difficult to indicate the best travel time. You also have to be a bit lucky. My last visit to Lake Atitlan was around December / January. Everything was still green and lush, from the rainy season but there was no rain anymore. It felt like the perfect time to be there.
Pin "the ultimate Lake Atitlan Travel Guide"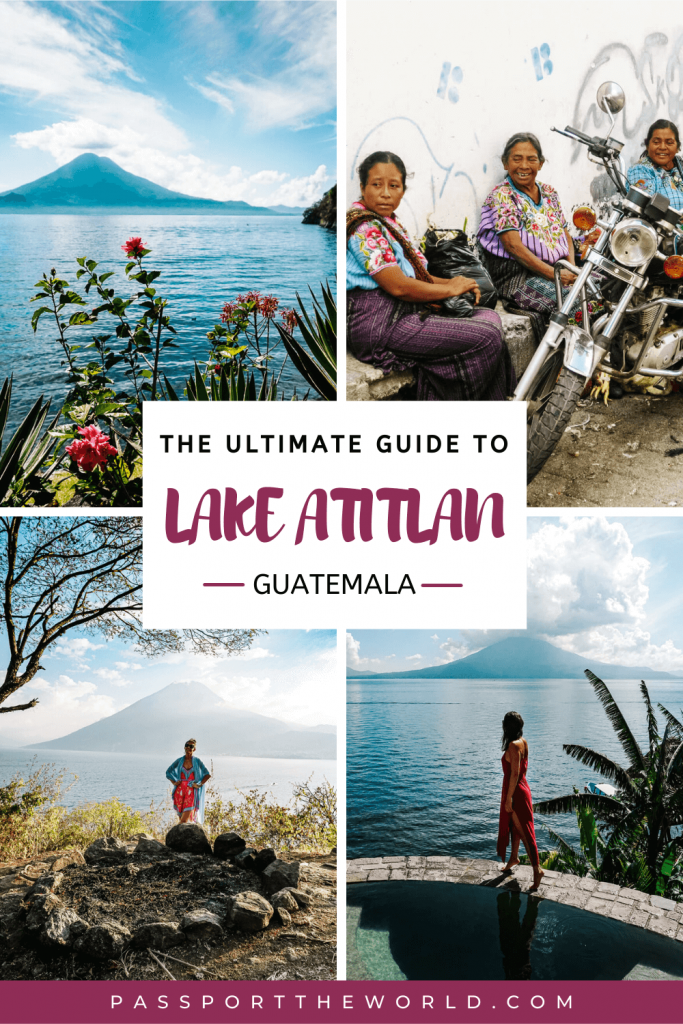 More about Guatemala?
Did you enjoy reading this Lake Atitlan travel guide? Do you want to read more about beautiful Guatemala? In this article you'll find the 20 best things to do in Guatemala, including off the beaten path destinations, best time to travel, travel itineraries and information about safety. Have a look in the Guatemala archive for a cityguide for Antigua, the best things to do at Lake Atitlan, and a travel guide about Lanquin, the famous market of Chichicastenango, the Acatenango volcano hike and a boat trip on the Rio Dulce to Caribbean Livingston. Interested in archaeology? In this article I'm taking you to the Maya ruins of Tikal and Quiriguá, a smaller and less visited Maya site with beautiful Maya stelae. Looking for nice places to stay? Have a look in my Guatemala hotel guide.