Less than an hour's drive from Copenhagen, you find yourself in a completely different world. The South Zealand region and the island of Mon in Denmark are known for their beautiful nature. There are rugged coastlines, fine beaches, high chalk cliffs, castles and small harbor towns. In this article I will take you to the south of Zealand in Denmark and tell you more about things to do, tours, beautiful places in nature, hotels and restaurants. I'm sure this destination will soon find a place on your Europe bucket list.
Discover South Zealand and Mon in Denemark – 15 tips
During my visit to South Zealand and Mon in Denmark, I was able to discover the most beautiful places in nature, things to do, restaurants and hotels. Check out this Passport the World travel guide, with all my tips and experiences.
Experience the cliffs of Møns Klint
One of the best things to do in South Zealand Denmark is to visit Møns Klint. These imposing cliffs, formed 70 million years ago, are located on the east coast of the island of Mon in Denmark. The chalk cliffs rise 128 meters above the turquoise sea, and the views are truly beautiful. You can go for a walk on the beach or cool off in the surrounding forests.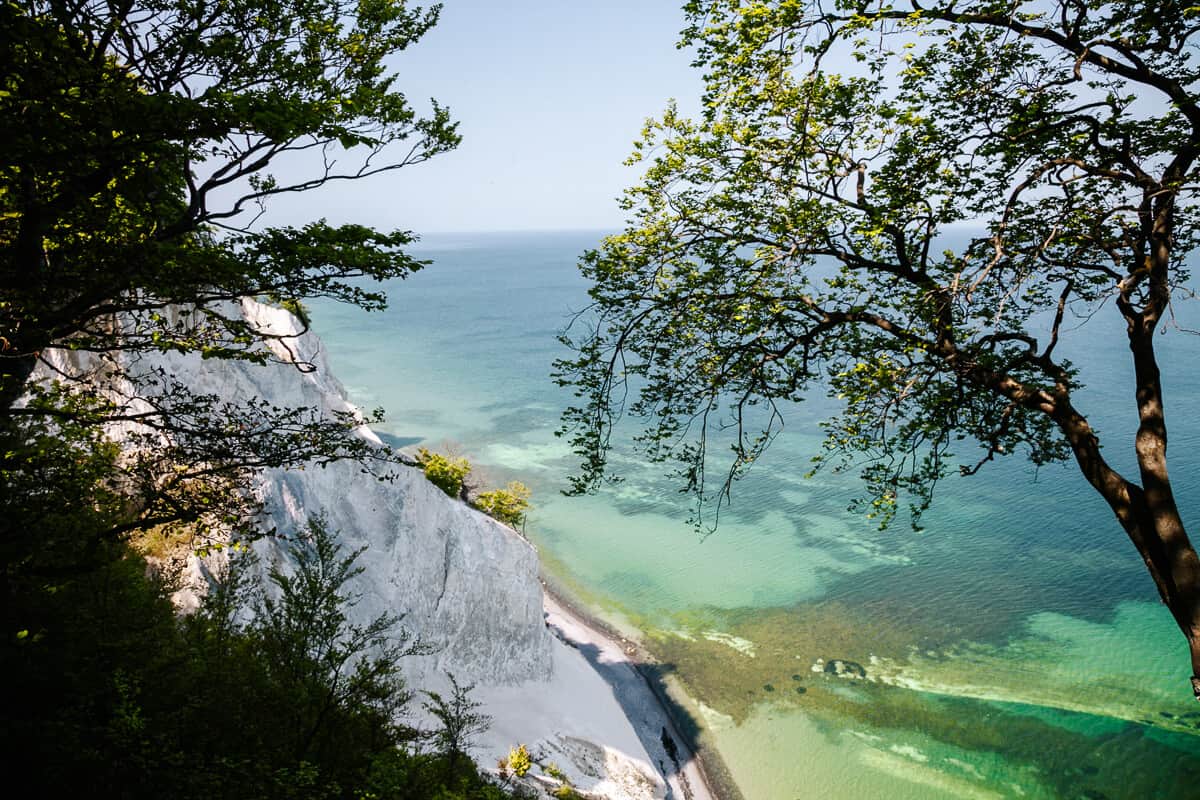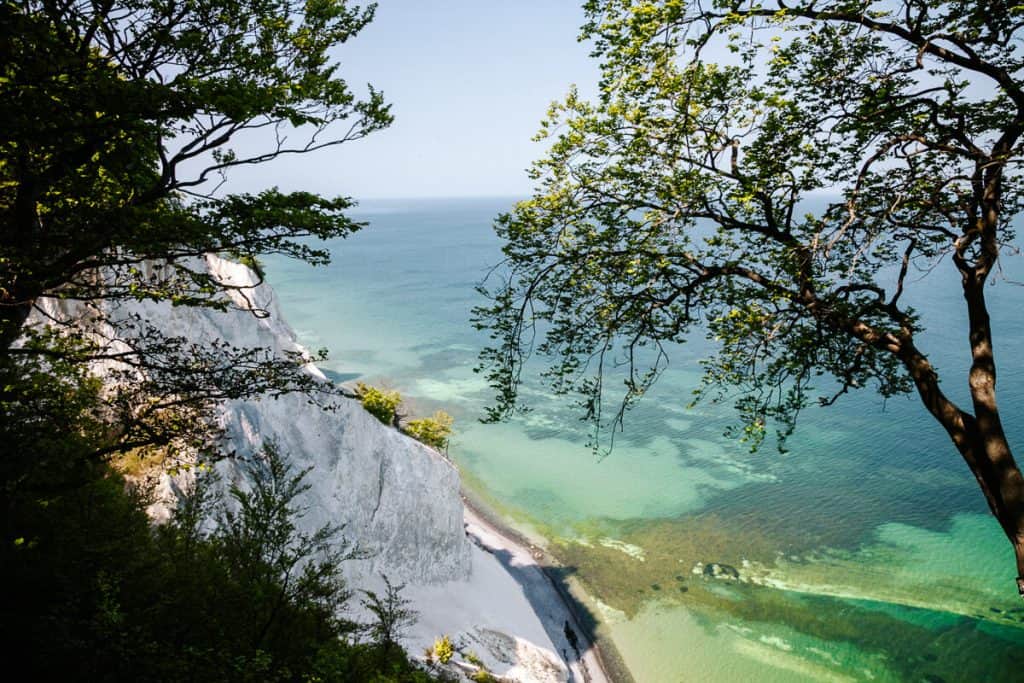 Nine walking trails have been mapped out, allowing you to experience the cliffs in different ways. The trails vary from easy, medium to difficult. Highly recommended is the 14-kilometer long Klintekongens rige, a beautiful route where you walk along the cliffs, over the beach, through hills and meadows.
Don't forget to look for fossils when you're on the beach. There is a good chance that you will find belemnites and other fossils here. Møns Klint is known as one of the best places in the world to find fossils and is even on the UNESCO World Heritage List because of this.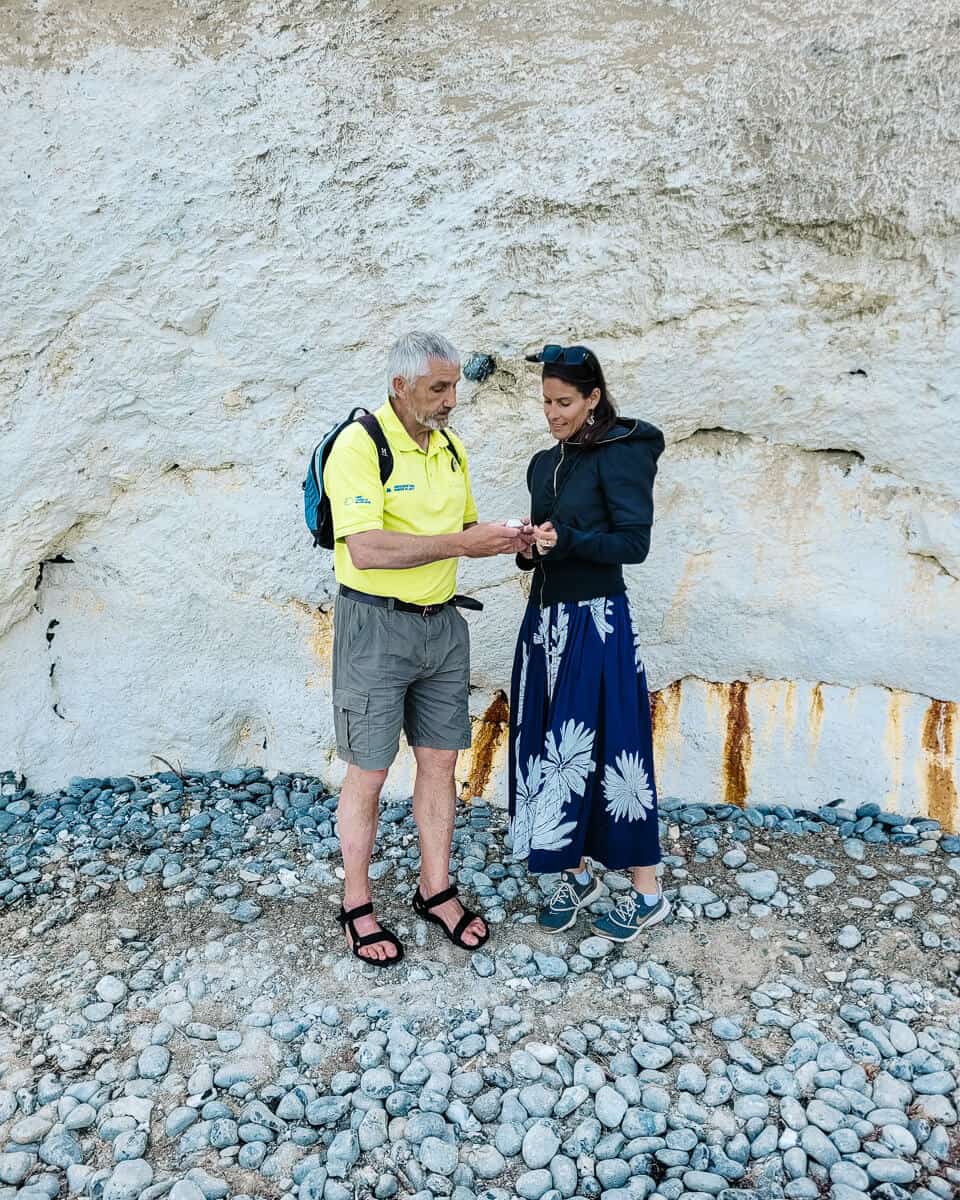 Visit GeoCenter Møns Klint
Do you want to learn more about Møns Klint? The interactive visitor center GeoCenter Møns Klint takes you back in time 70 million years. You will learn about the Tertiary Period, when meteor showers and volcanoes wiped out more than half of all life, about the Quaternary Period, with its gigantic ice glaciers, and the creation of the special nature that we can see today on Mon in Denmark.
Do you want to visit Møns Klint as a day tour from Copenhagen? Check out an interesting tour here, including a visit to Møns Klint and Camp Adventure Rønnede, a 45 meter high tower in the forest of Gisselfeld Kloster.
Take photos at Gavnø Slot
One of the cultural places you can visit in South Zealand Denmark is Gavnø Slot, a rococo castle from the 12th century that immerses you in the history of the former inhabitants. Each room tells its own story through old furniture and pieces of art. It is also recommended to take a walk through the castle gardens. There are colorful flower beds, mighty trees and nice plant collections.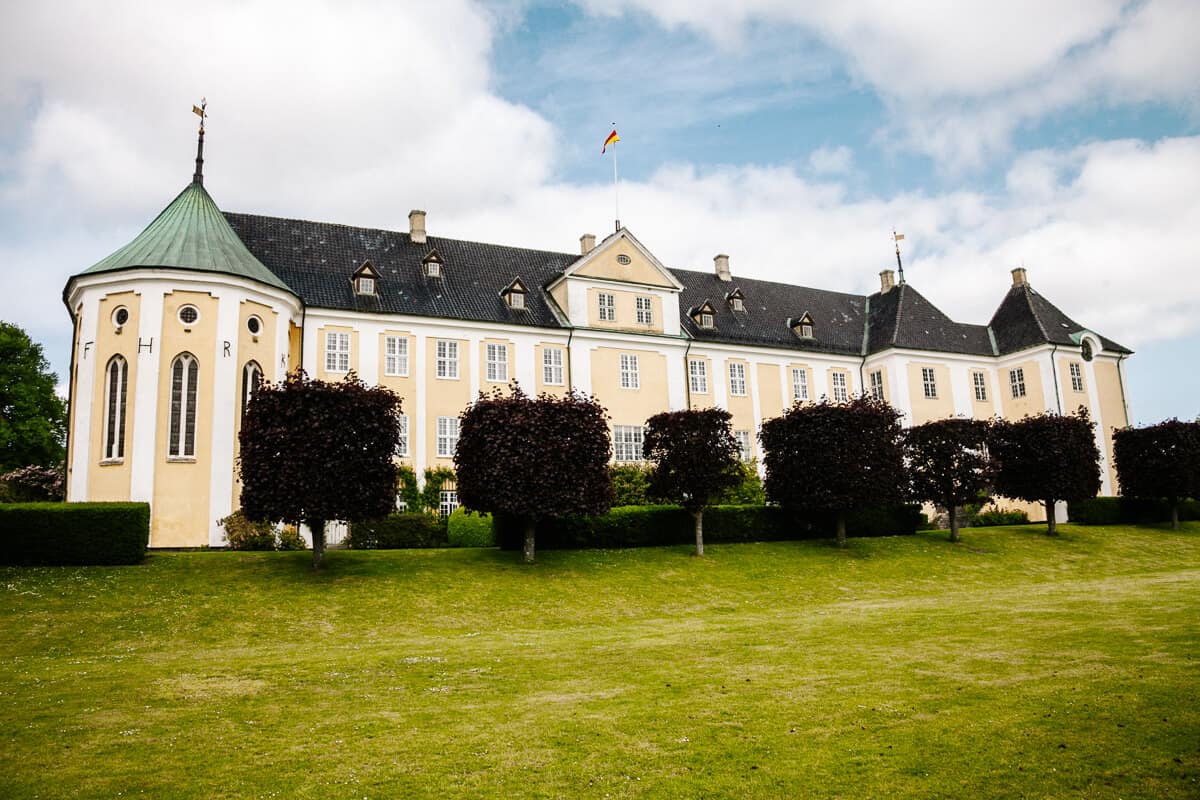 Stevns Klint – Zealand Denmark
Stevns Klint features a magnificent stretch of chalk cliffs, reaching a height of 40 meters. Along this 15-kilometer series of cliffs, you can indulge in beautiful views, from the balcony of the Højerup church or the top of the lighthouse.
However, it is not just the natural beauty that makes this place special. Stevns Klint is renowned for its traces of the meteorite that crashed on earth 65 million years ago, resulting in the extinction of over half of all animal species, including dinosaurs. The cliffs contain a unique fish clay layer, which consists of shells and skeletons of the life that once lived here. Stevns Klint is on the Unesco World Heritage List because of these special finds.
Do you want to learn more about Stevns Klint during your visit? It is recommended to go out with Anne from Klinte Tours and understand even better what kind of unique place you are in. You can book a tour here.
Extra tip: When the weather is nice, make sure to book a picnic at Café Mad&Ro and find a nice spot in the area. Everything is super tasty and fresh. You won't regret it.
Visit Stevns Klint Experience
At the visitor center, you can delve into the intriguing world of the distinctive fish clay layer and its abundance of fossils. An interesting movie is projected on a gigantic limestone block, carved out of the cliff, where the fish clay layer is perfectly visible. Fossils and dinosaur skeletons are also on display.
Stop in harbor town Rødvig – Zealand Denmark
Rødvig is a small coastal town, located on the east coast of Zealand in Denmark. The coastline invites you for a walk and the harbor is a good place for photos or find a spot on the terrace.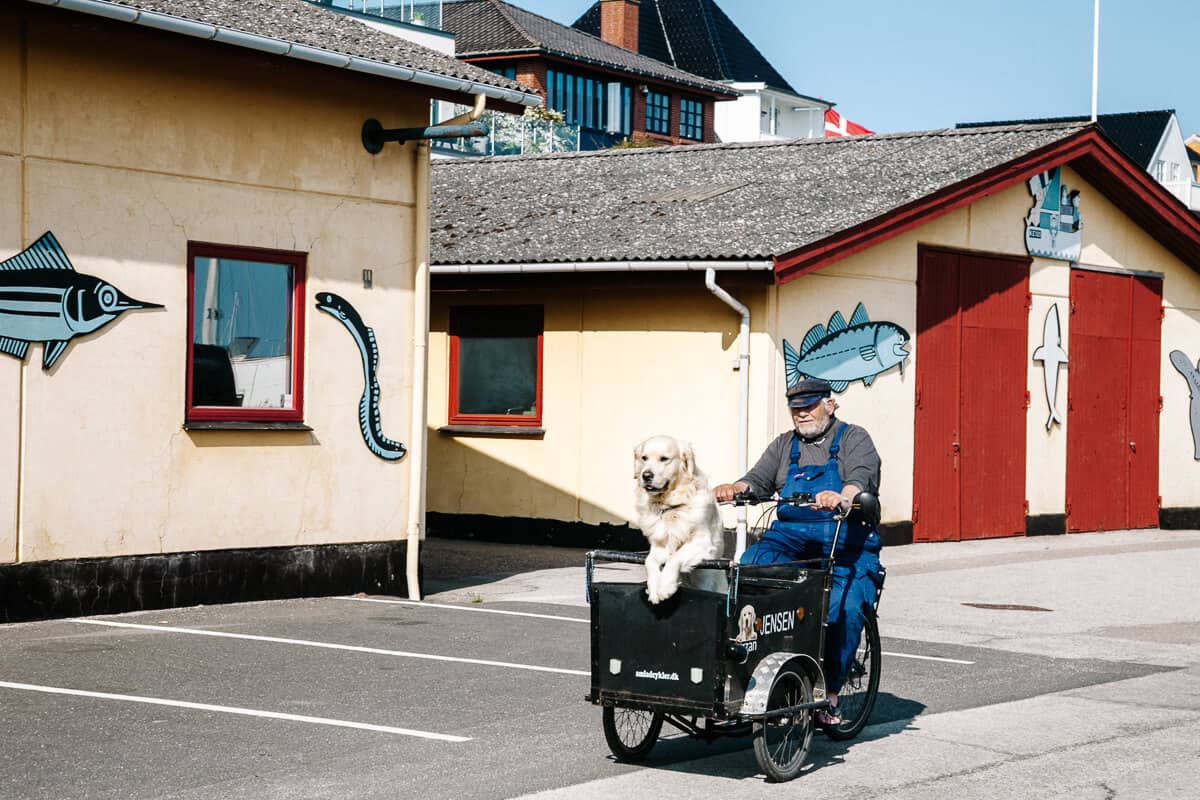 You can also eat delicious fish in one of the restaurants. Are you looking for a culinary experience? Then book a table at Rødvig Kro og Badehotel, to enjoy a tasting menu while overlooking the sea.
Taste local gin
Did you know that Zealand in Denmark produces gin? And this in a sustainable way? Radius Distillery has been working with fallen and surplus apples from the area. These apples are used for the production of apple wines, gin and brandy. During a visit you will get a tour through the factory and learn more about the process. And of course you can taste different gins afterwards. Recommended!
Experience a unique starry sky in Dark Sky Park
Zealand in Denmark is one of the best places in the world for stargazing. Møns Klint is Scandinavia's first Dark Sky Park, along with nearby Nyord. The cliffs provide minimal light pollution, which creates a special darkness. On a clear evening there is a good chance to see the milky way, the moon, planets and shooting stars passing by.
Make sure to go out with a Dark Sky guide by night. It is a great experience where you start the evening around the campfire with wine, followed by a walk towards Møns Klint to look for the most beautiful photo spots.
Facts and figures:
Dark Sky refers to a global effort to reduce light pollution. Most cities produce so much light at any time of the day that it is no longer possible to see stars in the sky. In fact, 80% of the world is affected by light pollution.
There are 44 Dark Sky Parks worldwide, 9 of which are in Europe, including Mon and Nyord in South Zealand Denmark.
The light of a twinkling star is thousands of years old.
The best time to see a beautiful starry sky is between September and March, when the nights are longer. But tours can be done all year round, even when it is cloudy.
Hike the Camøno trail
One of the best hiking trails in Zealand Denmark is the Camøno trail. This 175 kilometer route takes you from the small town of Bogø in the west to Nyord in the east of Mon. You walk along the rugged coastlines for which the area is known, through forests and fields and through small villages. The route consists of several parts to choose from, so you don't have to walk the entire trail. There are also bus stops, giving you the possibility to start and end the trail wherever you want. From hotels, to campsites and bed & breakfasts; Accommodation options are available along the entire walk.
Enjoy a culinary experience at Egn
For a culinary experience, you want to dine at Egn on the island of Mon in Denmark. The team introduces you to local products from the area during a 4-course menu. And believe me, everything here is just delicious. You will be amazed at the combination of flavors. Moreover, the owners proudly tell about their products and ways of preparation. You can also spend the night there.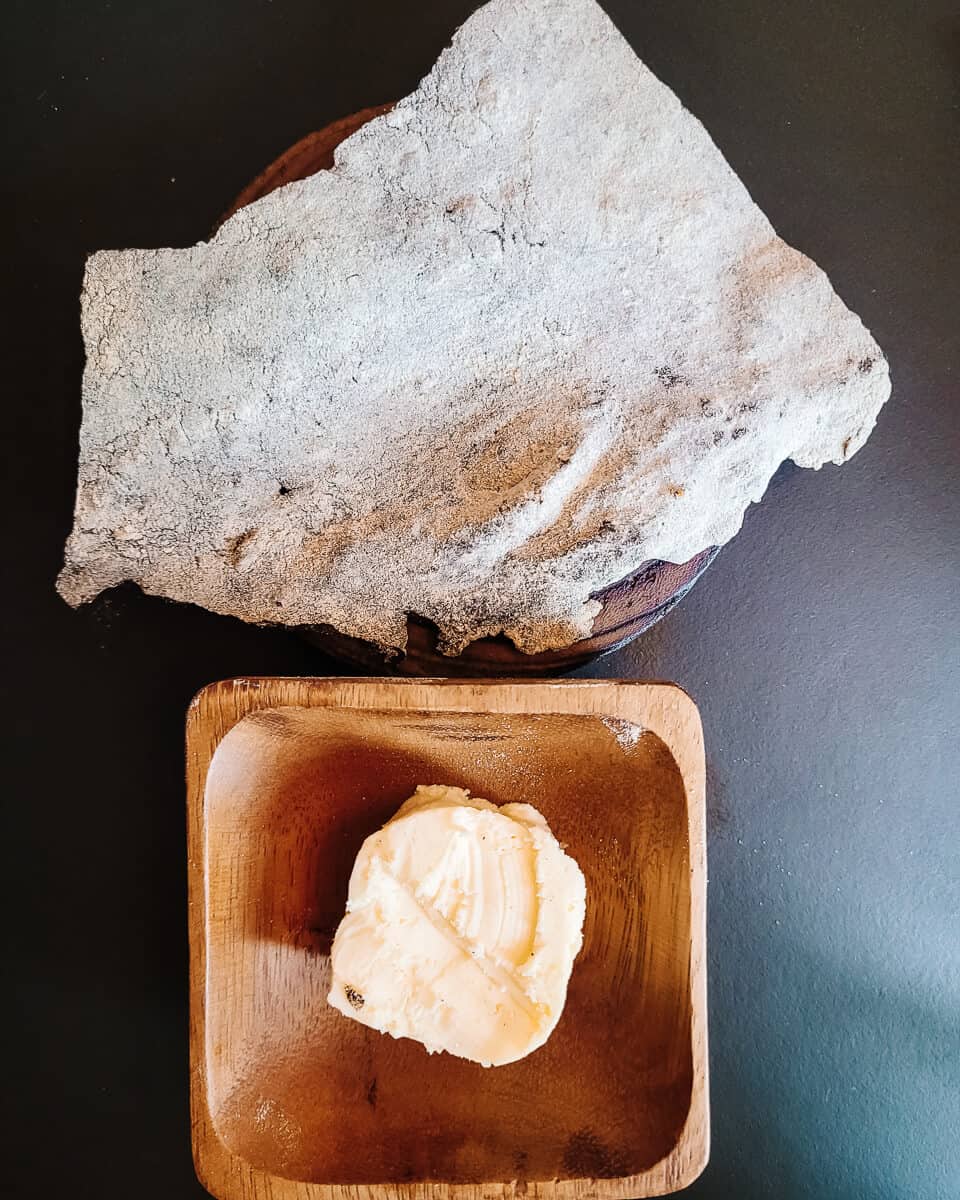 Mini Travel Guide Zealand & Mon in Denmark
Hotels in South Zealand & Mon Denmark
South Zealand & Mon Denmark offer different hotel options. Check out my tips for the best places to stay.
Jungshoved Præstegaard – Zealand Denmark
Looking for an authentic place to stay in a natural setting? Jungshoved Præstegaard is a country house, located in Præstø, in the east of Zealand in Denmark. It is located directly on the sea and surrounded by vast fields, where you can go for walks and escape the hustle and bustle of everyday life. During your stay you will also get to know the Danish wildlife, as the area is home to countless deers, hares and pheasants.
The country house offers different rooms, which are fully equipped. Whether you opt for a suite with a private terrace in the main building, a small gypsy wagon or a shelter, where you spend the night partly in the open air, the owners will do everything they can to make your stay as pleasant as possible. The suite offers a private terrace with views of the fields and the sea. In the morning when you open your window you are greeted by the sounds of countless birds.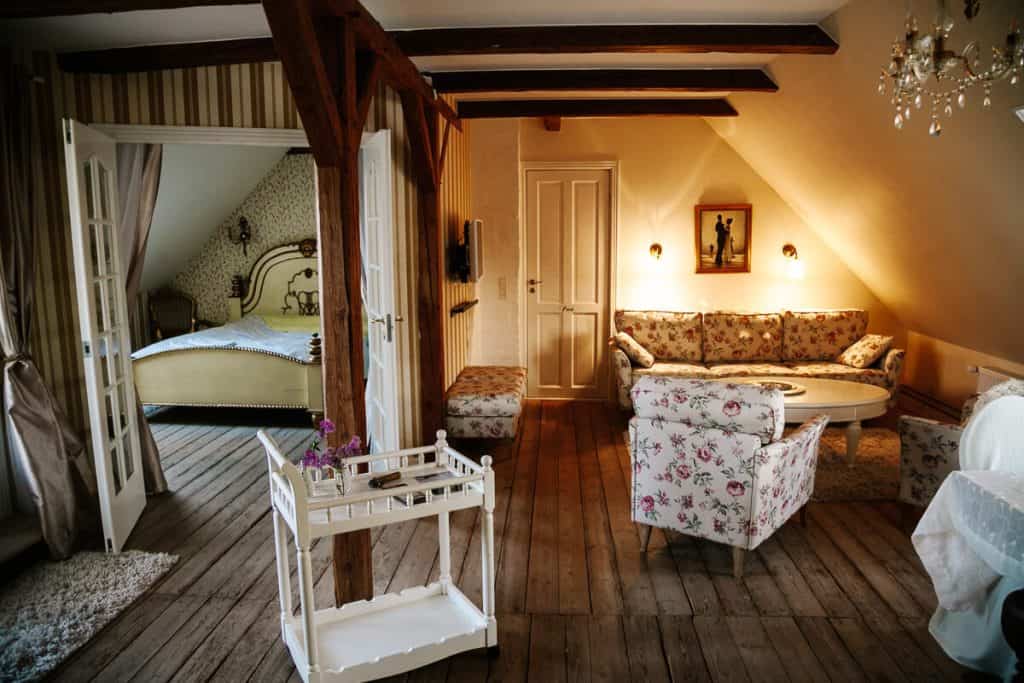 Do you also want to spend the night in this lovely place? Check out the latest prices and availability at Jungshoved Præstegaard here.
Villa Huno – Mon Denmark
Looking for a glamping experience? Then you want to book a spot at Villa Huno, located in Camp Møns Klint in Zealand Denmark. There are a number of tents, situated on Lake Huno, and only a few minutes' walk from the cliffs. The stylishly furnished tents are not only nice to look at, but also comfortable, with wonderfully soft beds and a cozy sitting area. All tents have electricity and a small heater, in case the temperatures drop. In the morning you can enjoy a breakfast on your terrace, which is ready for you in a breakfast box.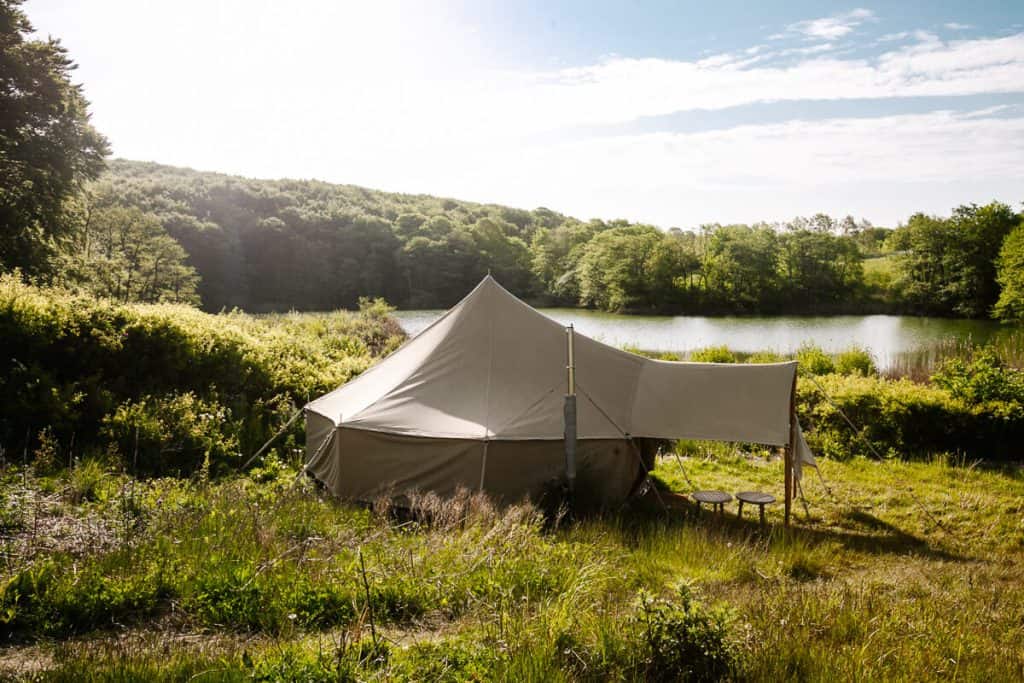 Don't want to camp? It is also possible to book a luxury room in the main building of Villa Huno. Looking for more hotels in Mon in Denmark? This is an overview.
Hotel Kirstine – South Zealand Denmark
Hotel Kirstine is a historic building, located in the heart of Næstved in South Zealand Denmark. It is a typical half-timbered house, making you wanna take many pictures.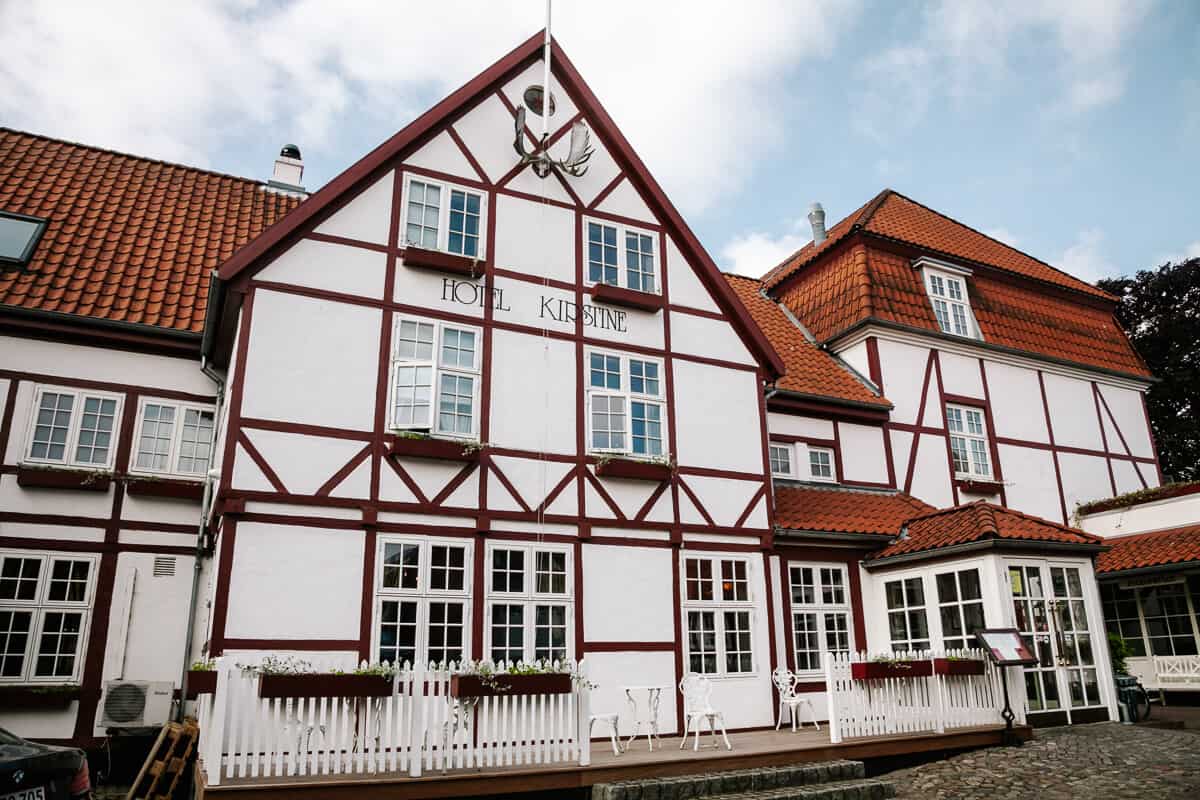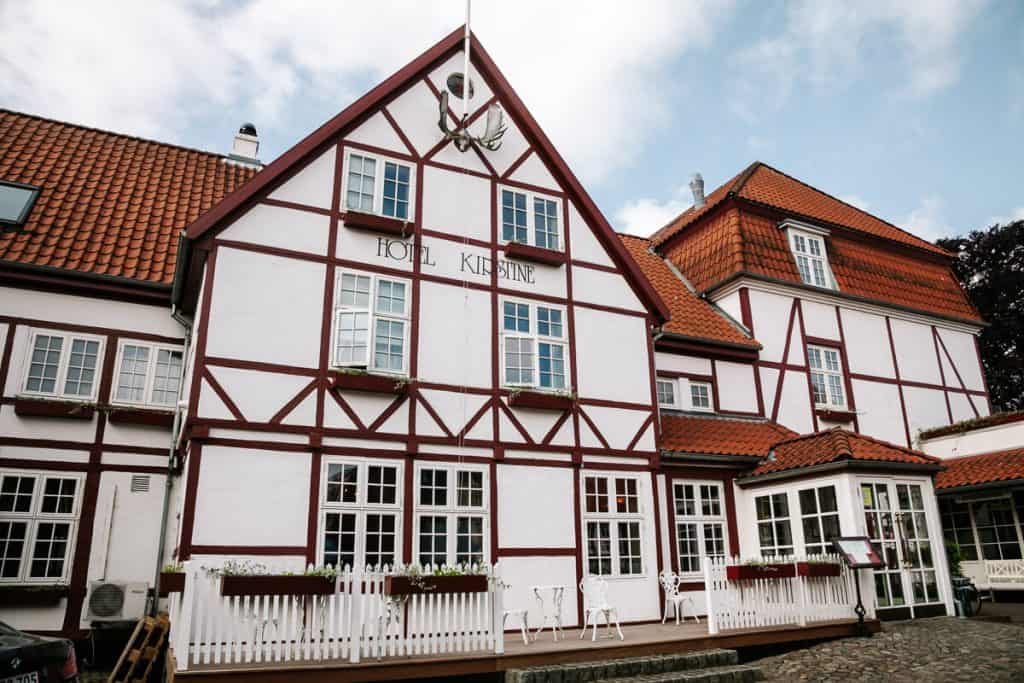 The hotel consists of several comfortable rooms, spread over a number of buildings. The biggest rooms have a private terrace. Hotel Kirstine is a place where you quickly feel at home and don't want to leave anymore. On arrival you can enjoy a high tea and there is also a spa, that you can book all to yourself.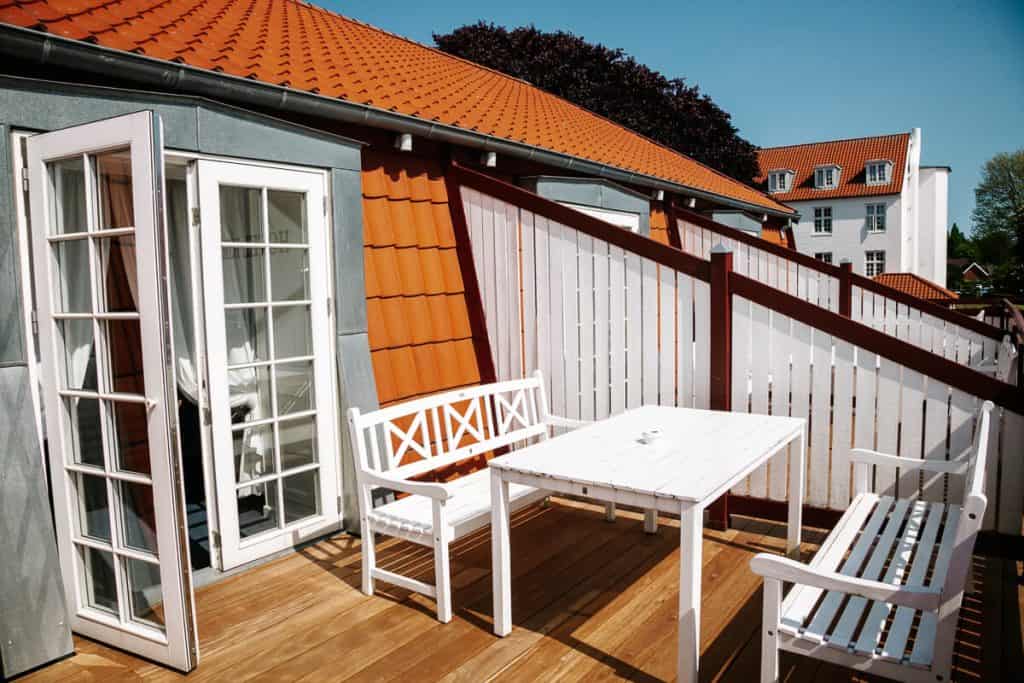 Check the lates prices and availability at Hotel Kirstine here. Looking for more hotels in and around Næstved? This is an overview.
But the highlight is the culinary tasting experience, that Hotel Kirstine is known for. The chefs provide a truly impressive 10-course menu, with matching wines. In addition, the chef often comes to personally explain the menu.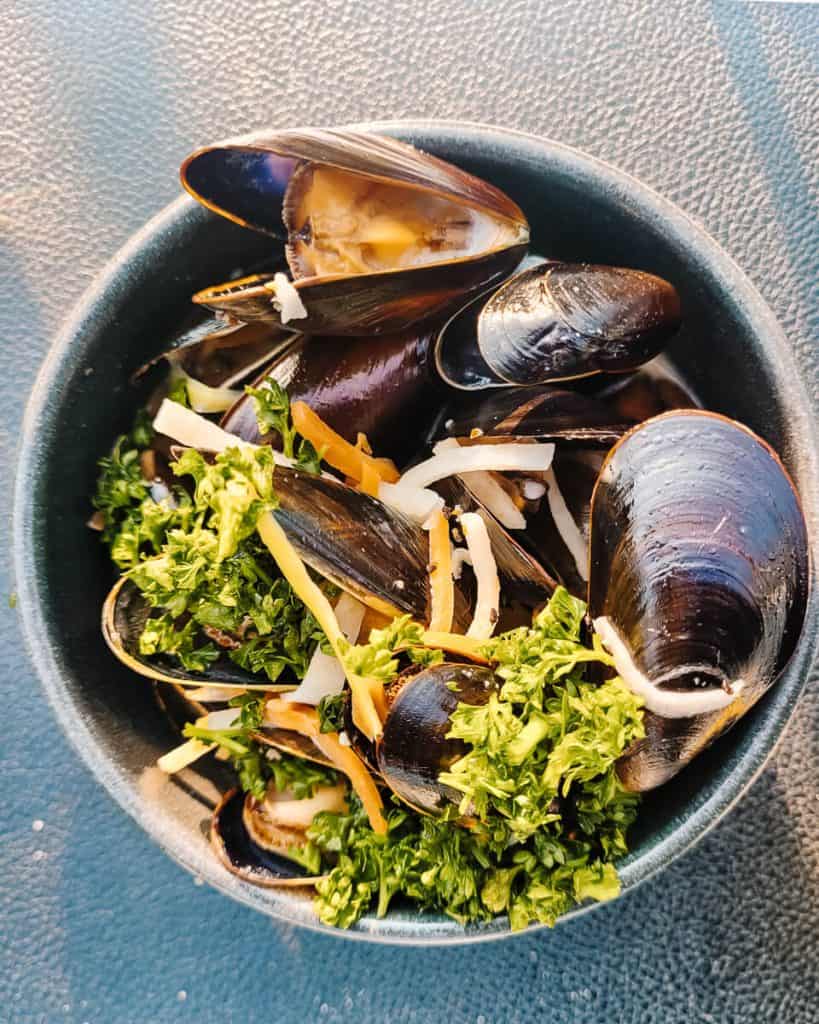 Rødvig Kro og Badehotel
Rødvig Kro og Badehotel is located in the Baltic Sea town of Rødvig. It has been voted one of the best Danish beach hotels. The rooms are sleek, simple but neatly furnished and available with or without a sea view. And of course you want to go for the latter option. The advantage is that you are close to Stevns Klint and many other things to do in Zealand Denmark. Try to have dinner at least one evening in the hotel restaurant and order the surprise menu.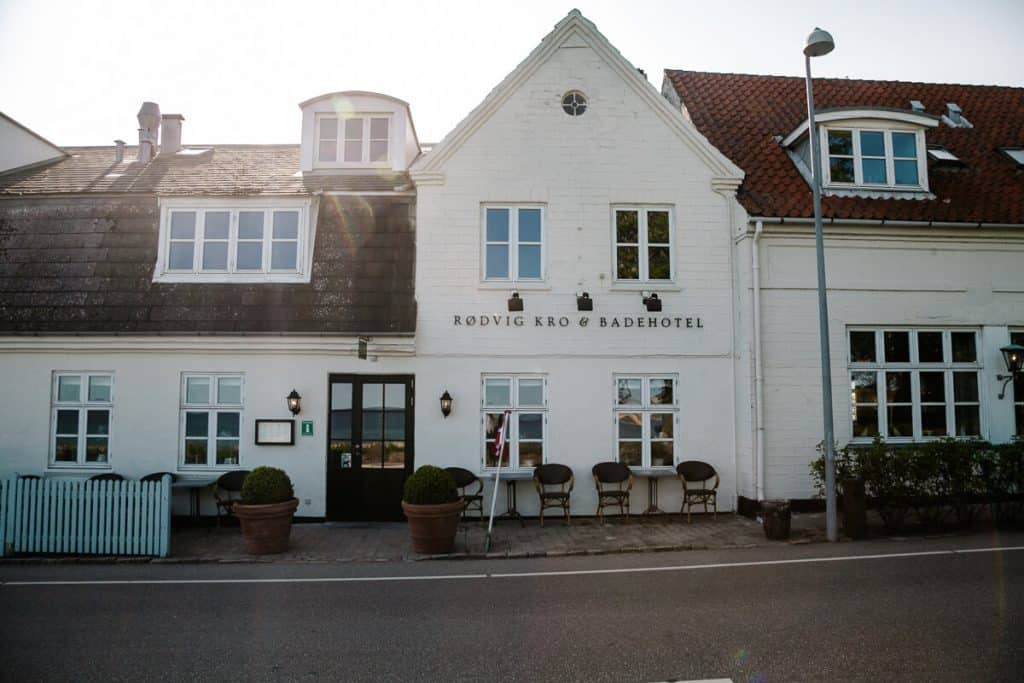 Check the latest prices and availability at Rødvig Kro og Badehotel here. Looking for more hotels in Rodvig? This is an overview.
Egn Bed & Breakfast
At Egn you are not only coming for a great dinner but you can also to spend the night here. The rooms are small but nice. Moreover, Egn Bed & Breakfast is less than 300 meters from the beach and less than half an hour's drive from the beautiful cliffs of Mon.
Check the latest prices and availability at Egn Bed & Breakfast here. Looking for more hotels in Mon in Denmark? This is an overview.
Tours in South Zealand & Mon Denmark
This is an overview of tours and things to do in South Zealand & Mon in Denmark.
How to reach South Zealand & Mon Denmark
Naestved and Stevns Klint can be reached within 1 hour from Copenhagen. The island of Mon is an hour and a half drive from the capital. You can rent a car at Copenhagen airport or in the city center and start your journey through South Zealand here.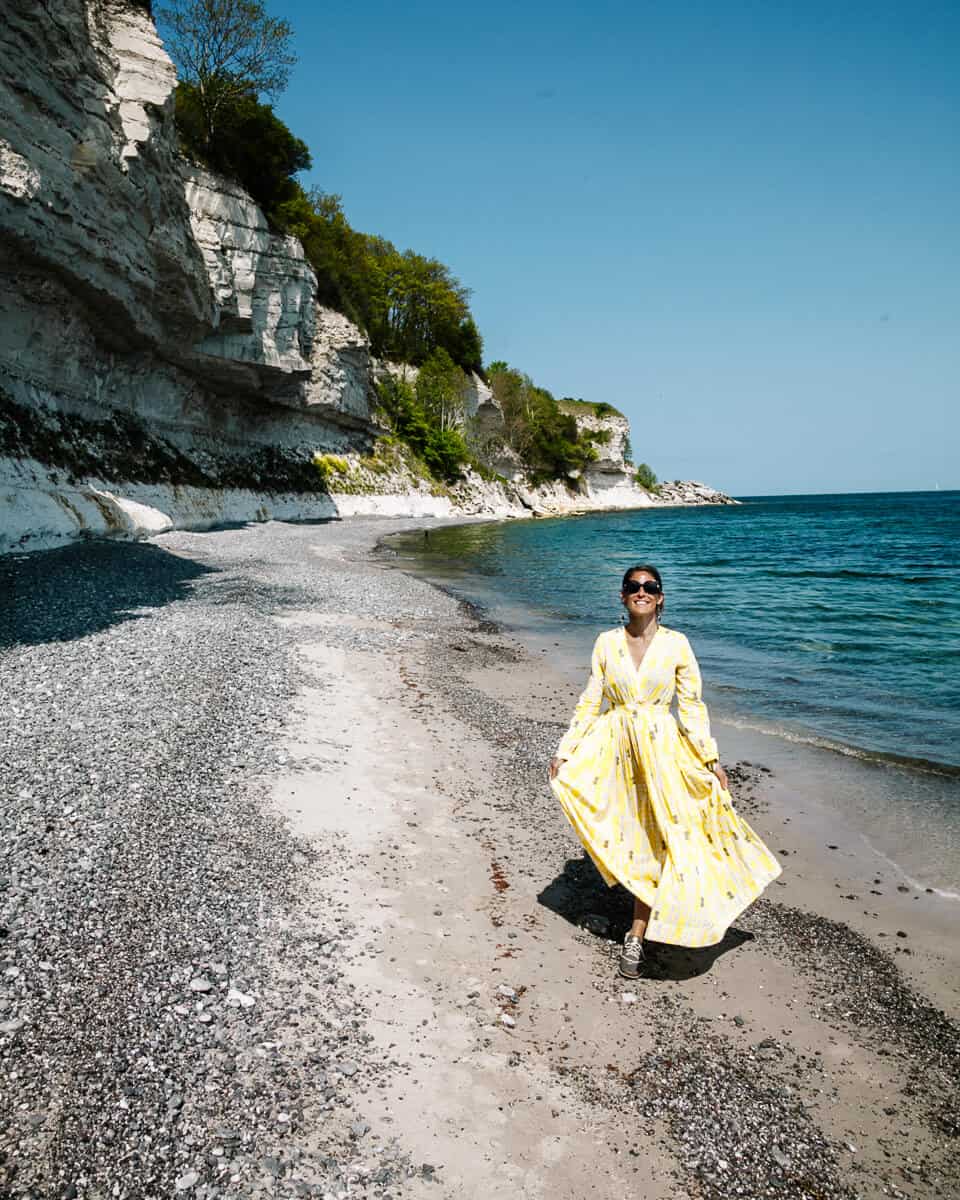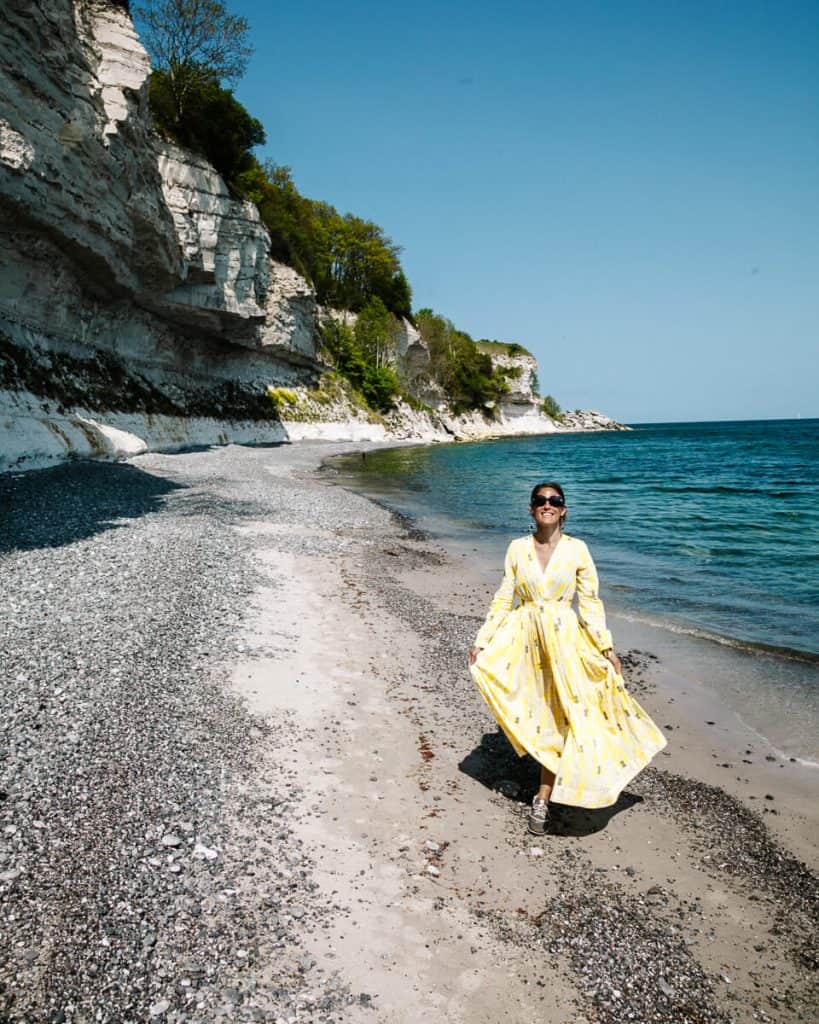 Car rental
Need a rental car for your trip to explore the many things to do in South Zealand and Mon in Denmark? Use Rental Cars to search and compare your car rental options. A quick and easy tool and no need to have up multiple tabs trying to figure out which company is the most affordable. They also have great discounts and cancellation policies.
More hotels in Denmark
Denmark is a wonderful destination with a wide range of accommodations. And everywhere there is attention for comfort, quality and service. From stylish boutique hotels, glampings, to authentic hotels and cottages in nature. It is nice to choose a combination of places to stay during your visit, and gain different experiences. Discover the best and nicest hotels in Denmark, including tips for unique places to stay in a natural setting in the next article.
More about Denmark
Did you enjoy reading this article with tips and things to do in South Zealand and Mon in Denmark and do you want to read more? Check out the website VisitDenmark or follow the region on Instagram. Curious about more Passport the World tips for Denmark? Check out the next articles.
This article may contain affiliate links. If you purchase something using one of our links, we may receive a commission at no extra cost to you, which helps us keep this blog alive. Thank you for your support! Please see our disclosures for more information.