Bergen is Norway's second largest city and is beautifully situated. The city is located between two fjords and is surrounded by another seven fjords and seven mountains. It can call itself the capital of the fjords for a reason. Bergen is a city that you should definitely visit during a visit to Norway, because of the old center with the typical colorful trading houses, the friendly atmosphere and the beautiful nature. In this article you will find the best things to do in Bergen Norway and surroundings, including tips for tours, restaurants and hotels.
Travel guide – Discover the best things to do in Bergen Norway!
The old city Bryggen
The fact that Bergen used to be an important port city in Norway, can be seen in the old center of Bryggen, which is also one of the sights on the Unesco World Heritage List. You will find the typical colored trading houses here, located on the bay of Vågen in the city. The neighborhood behind this consists of a maze of narrow streets, with wooden houses and small art shops. Even though it can be extremely busy with many tourists, a walk through this old center should not be missed. Try to avoid the crowds by going very early in the morning.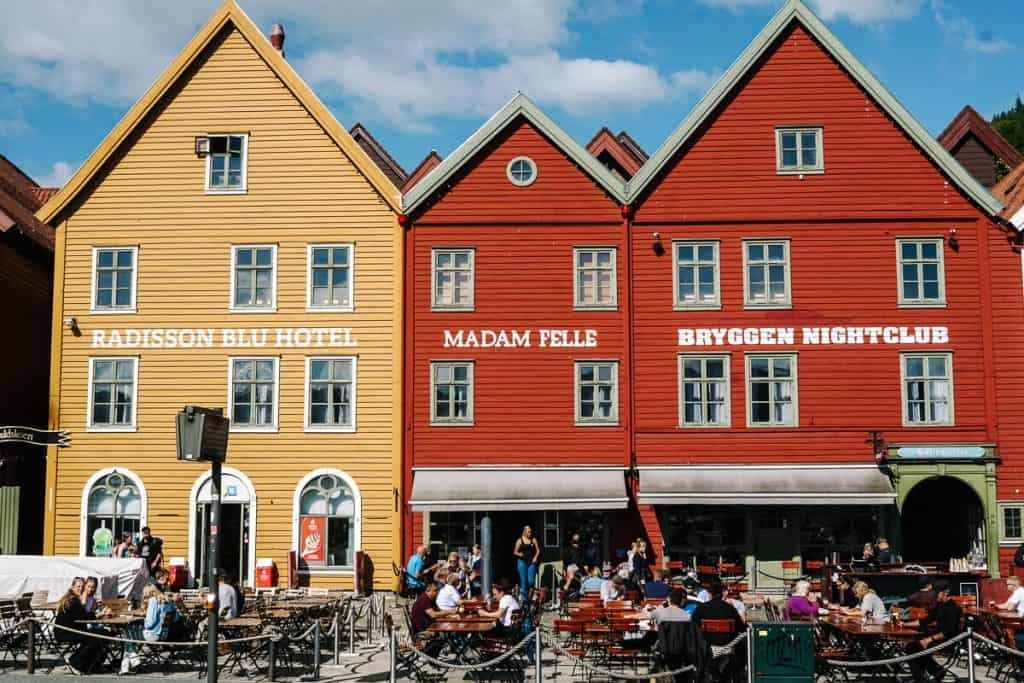 Bergen was part of the Hanseatic League and used to be the capital of Norway. It was even the largest city in Scandinavia until 1830. Because the city was isolated from the rest of the country for a long time, the city acquired its own character that many residents are still proud of. "I'm not from Norway, I'm from Bergen" is a typical statement.
A nice way to discover the city is by boat. You can book your cruise here and explore the many things to do and sights in Bergen Norway from the water.
Up the mountain with the Fløybanen
From the center of the city, a train will take you to the 320-meter high Mount Fløyen within a few minutes. Here you have a beautiful view of Bergen, and the fjords of Norway. After your visit, walk the way back down, a nice trail, that gives you a good overview of Bergen Norway and the surrounding area with numerous photo spots.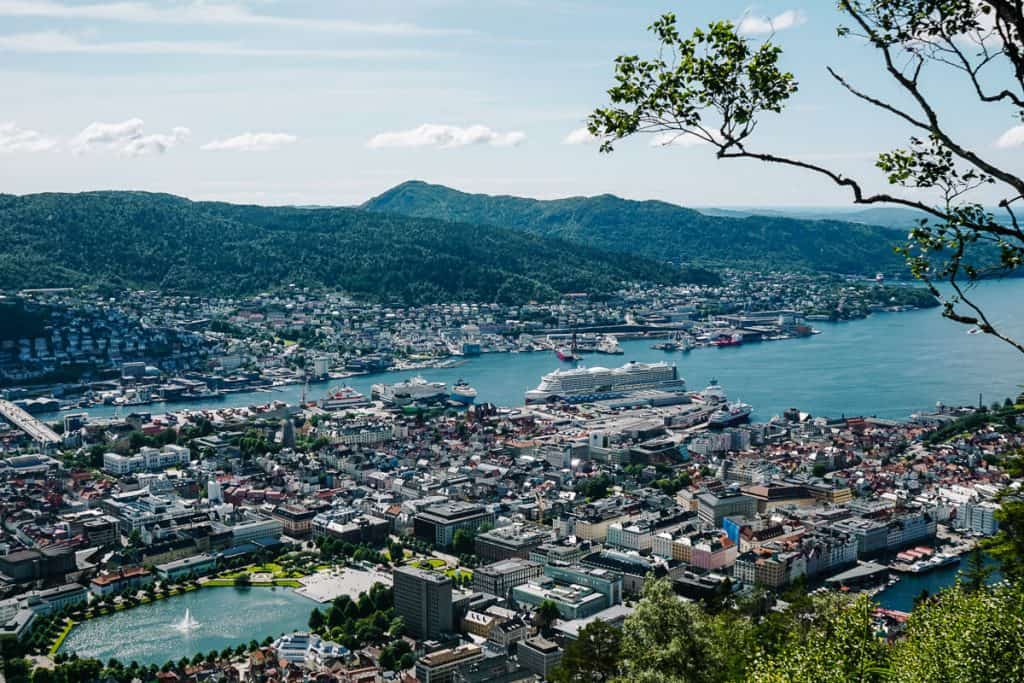 Tip: In the summer months it is long light and you can go up the mountain with the Fløybanen until 11 pm. Visiting Mount Fløyen is one of the best things to do in Bergen Norway for sure.
To the top of Mount Ulriken
Mount Ulriken is located at an altitude of 642 meters and is the highest mountain of the seven mountains that surround the city of Bergen. With the gondola lift you are at the top within a few minutes. And the views here are maybe even more beautiful than on Mount Fløyen.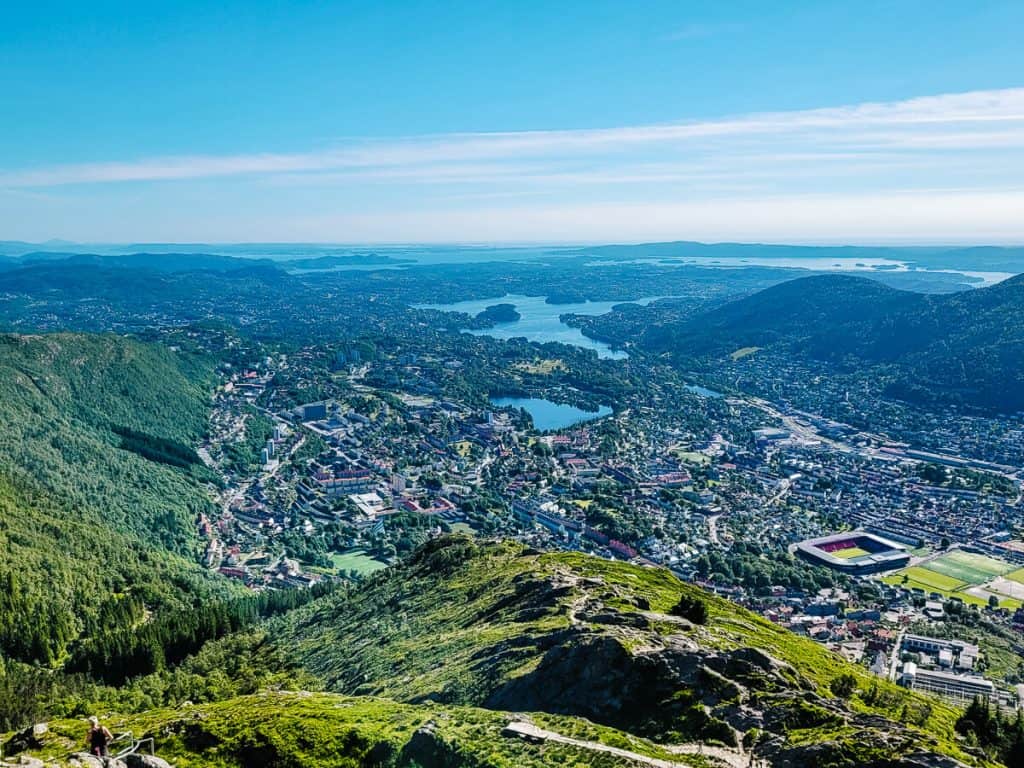 Different walking trails have been mapped out, which allow you to experience the Norwegian landscape. The advantage of this viewpoint is that it is less visited than the Fløybanen in the center. Special buses run from the center to Mount Ulriken.
Are you a hiker? There is a special 30-kilometer route that takes you to all seven peaks of Bergen's mountains, the 7- Fjellturen. A trail that is still on my to do list.
Stroll through the Korskirken district
A nice part of the city to visit is the area around the Korskirken. Here you will find streets with beautiful houses to photograph and nice coffee shops such as Kaffemisjonen. On the Skostredet you can dine in one of the many restaurants.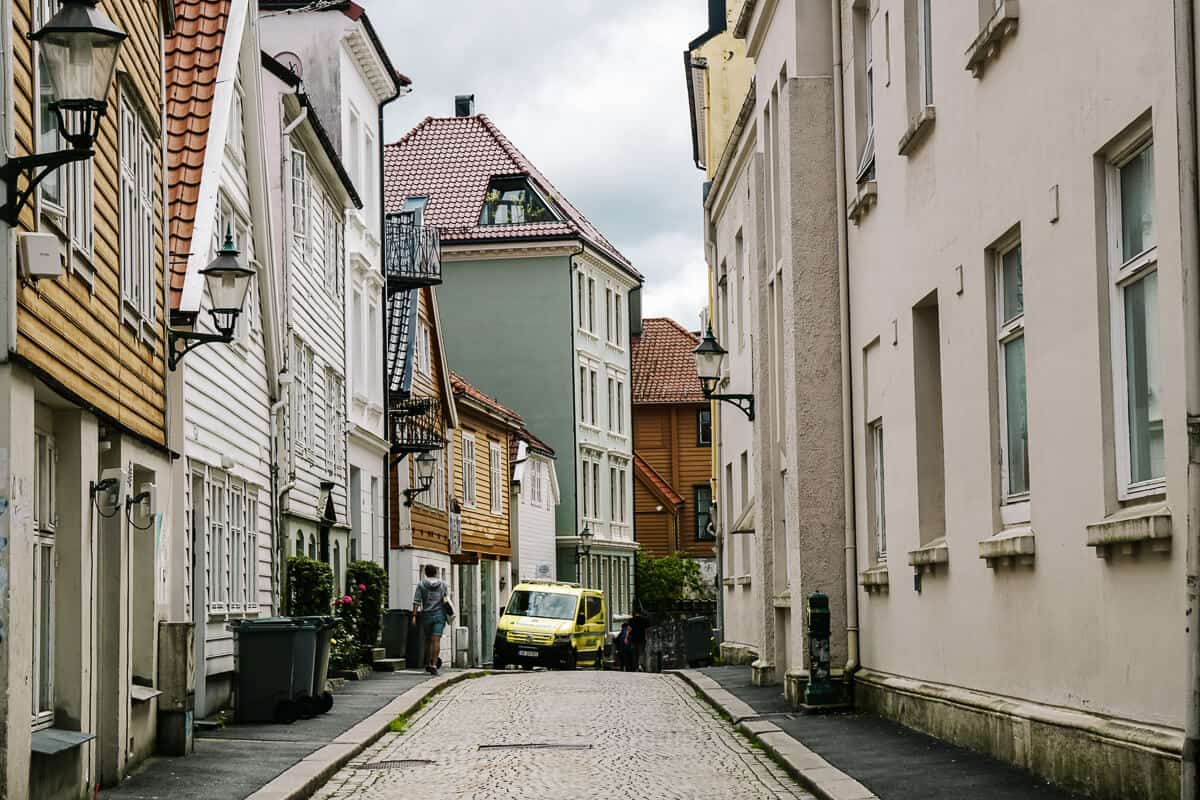 Interested in discovering Bergen with a local guide? Then book an interesting walking tour here.
Visit Edvard Grieg's home
Ever heard of Edvard Grieg? If you are a classical music lover and connoisseur, no doubt. I didn't know him until I started to research Bergen in Norway and its things to do. Edvard Grieg (1843 – 1907) is Norway's most important composer and, despite his relatively small repertoire, he can count himself among the great names of the classical music world. In Bergen you can visit his former home, Troldhaugen. And especially the location makes this place worthwhile. The site consists of a Victorian-style villa and a composer's hut, and is located in the woods on a mountain by Lake Nordåsvatnet.
You can take a small walk, enjoy the views, listen to classical music and learn more about the life of this well-known composer. It is one of the things to do in Bergen Norway, if you are interested in art and culture.
In the summer you can attend classical concerts by national and international musicians in the Troldsalen concert hall. Recommended!
Walk around Bergen Norway's city lake
The green park Byparken is the central hub of Bergen, located on the Lille Lungegårdsvannet lake. From here you walk into the commercial center and towards old Brygge. It is nice to stroll around the lake and take a seat on a bench on a nice day. Moreover it is a good place to observe daily life. From tourists, students to families, you will see countless people walk by.
Visit the National Theater
A beautiful building around the Byparken in Bergen Norway is the national theater. It was the Norwegian violinist Ole Bull who had the theater built in 1850 because he felt there was a lack of theaters with good acoustics. It is one of the oldest theaters in Norway and worth a photo. Concerts and theater performances take place here on a regular base.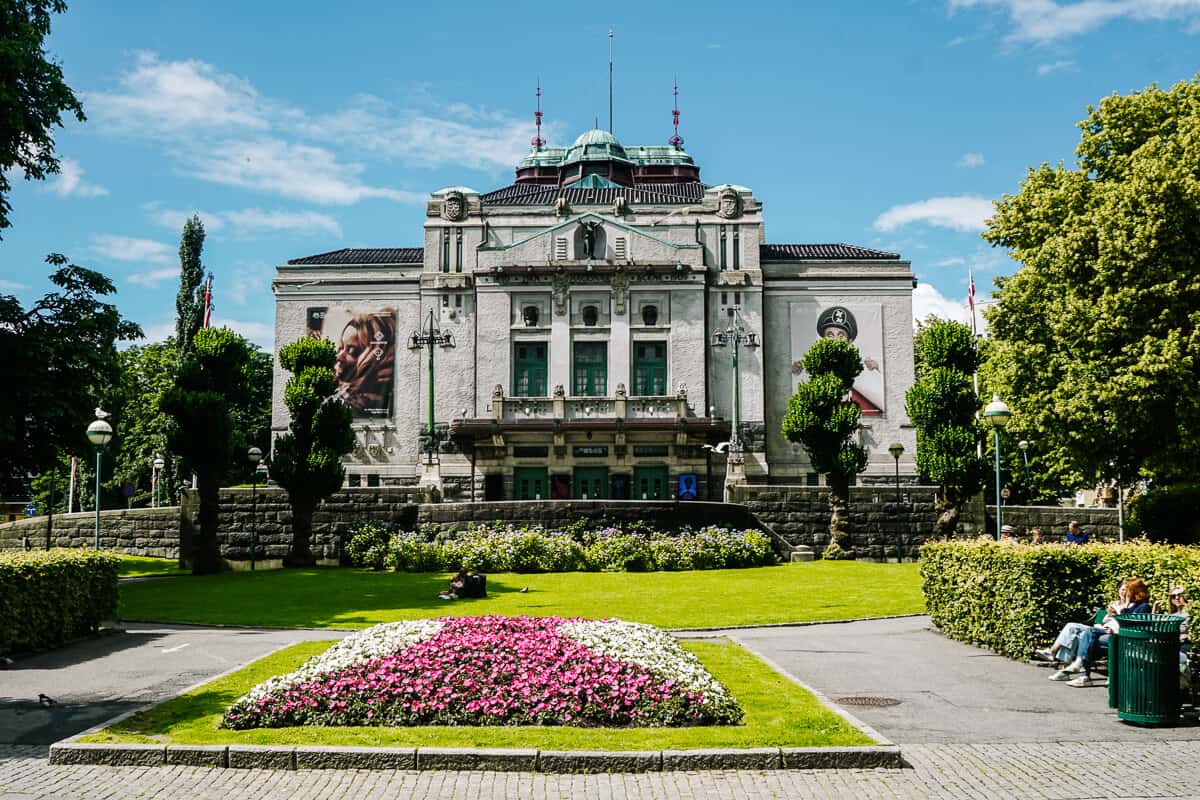 Bergen is also known as the music city of the north. One of the main events is the Bergen International Festival, Northern Europe's largest music and theater festival with over 200 performances across the city. Bergenfest is an annual multi-day music festival, where numerous Norwegian and international artists perform.
The best city viewpoint for pictures
Looking for a good photo spot to take pictures of the old city of Bergen Norway and its things to do? Behind the Holberskaien, on the water, around the parking lot and the Havrommet, there is a quiet area where it is not full with tourists.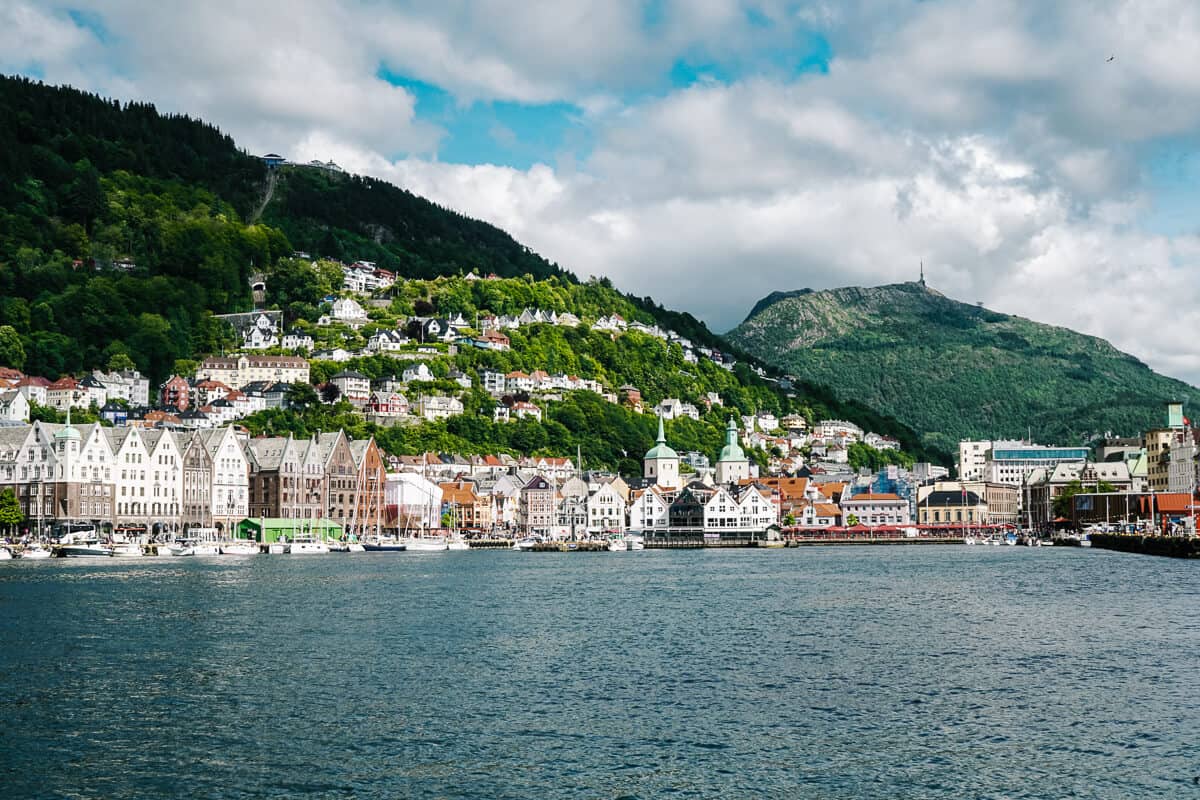 Spot street art
You will find street art throughout the city. The government makes empty buildings available to young artists in order to provide a stage for their work.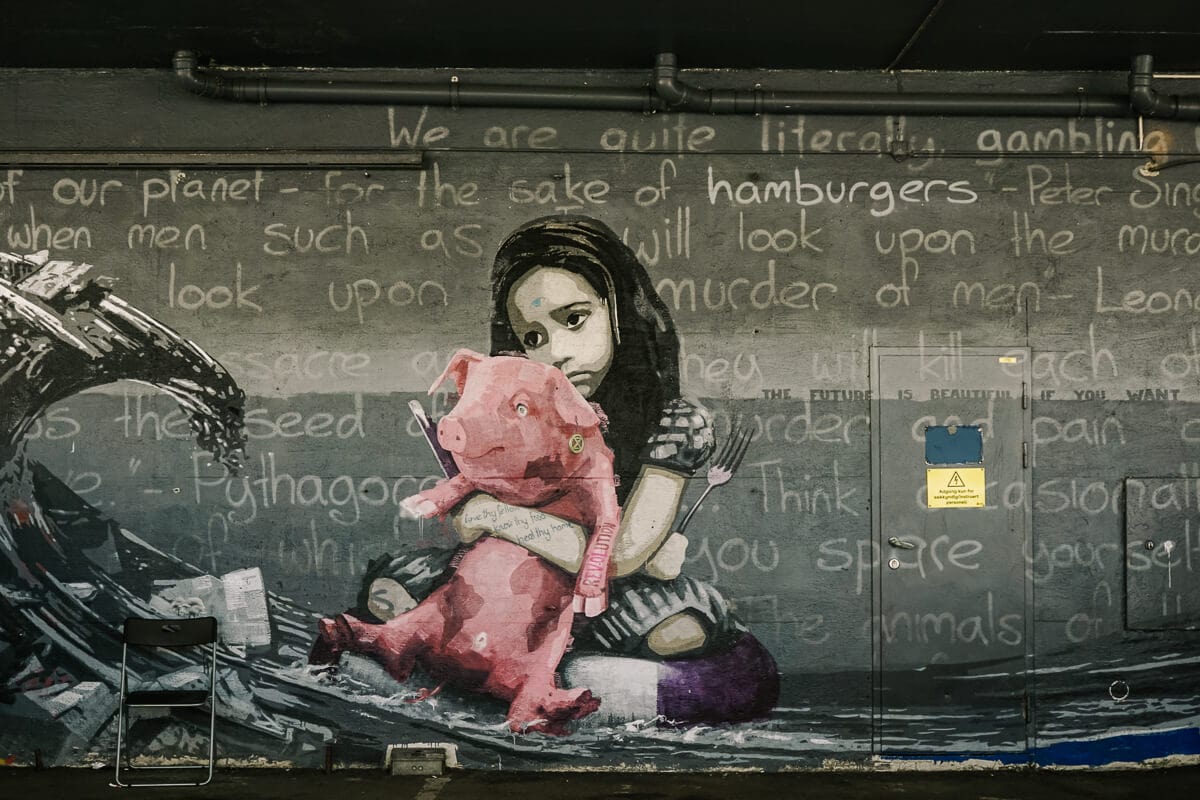 Visit the Fisketorget fish market
Fishing and trade have always played an important role in Bergen. The city became rich because of the trade in dried fish. Nowadays you can visit the fish market, Fisketorget, and eat cheap by Norwegian standards.
Art in Kode
Do you find a rainy day in Bergen? A great chance, for a city with 280 days of rain a year. Then make sure to visit one of the many museums around the Lille Lungegårdsvannet lake. Kode Art Museum is an institution consisting of several buildings with collections of modern art, historical objects, Norwegian art and works by Edvard Munch, one of Norway's foremost artists of modernism.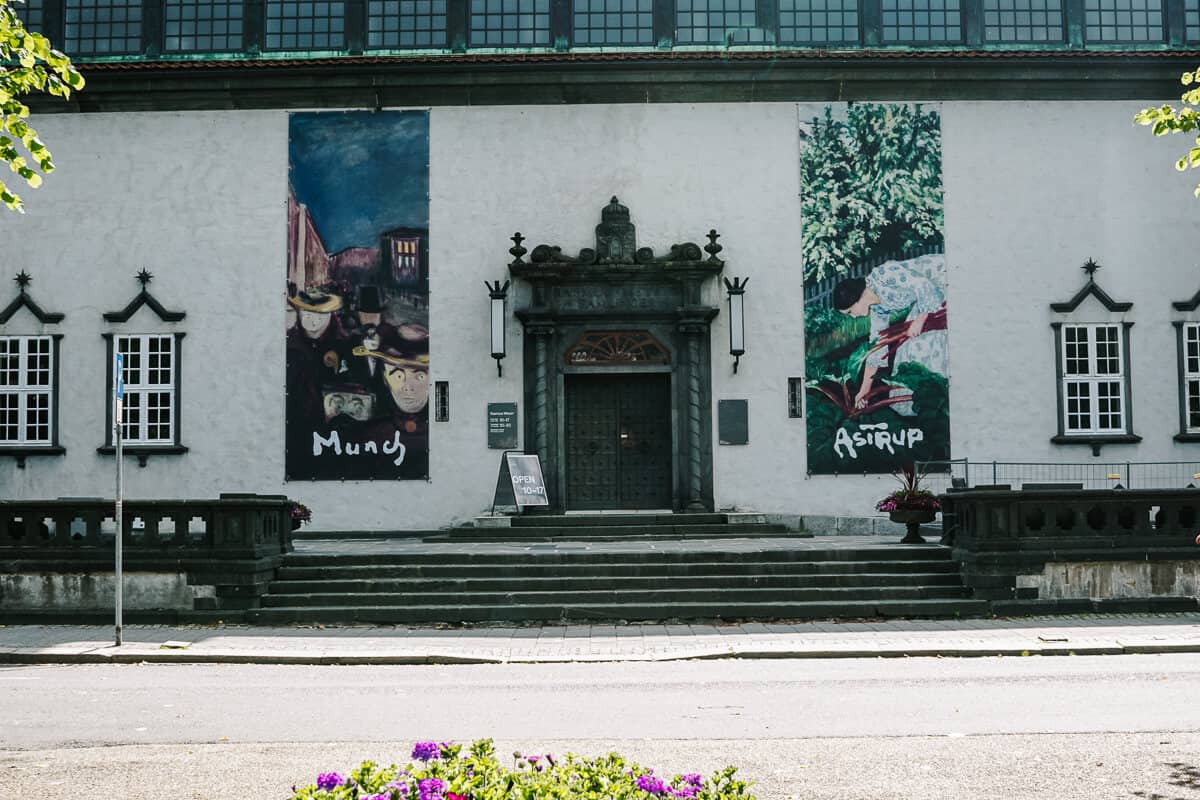 The fortress – Bergenhus
Next to the old center you will find an old fortress, the Bergenhus, built in the mid-13th century. It served as Norway's royal court and acted as the country's administrative and political center. Since 2006 it has the status of a national monument. From the top of the Rozenkrantztårnet you have a good view of the harbor and the cruise ships. You can also walk around the old walls and look out over the harbor. Concerts often take place in summer.
Things to do around Bergen in Norway
Visit the Fantoft Stave Church
One of the things to do around Bergen in Norway is to visit the Fantoft Stave Church. A stave church is a wooden church with a typical architectural style that you only find in Scandinavia, a mix of Christianity and elements from the Viking Age. Something that can be found in the decorations and the detailed carvings. What is special about the Fantoft Stave Church is that it originally stood in a different place and was only moved to Fantoft, in the 19th century, due to a threat of demolition. The Fantoft Stave Church is located in a forest, a twenty-minute drive from Bergen.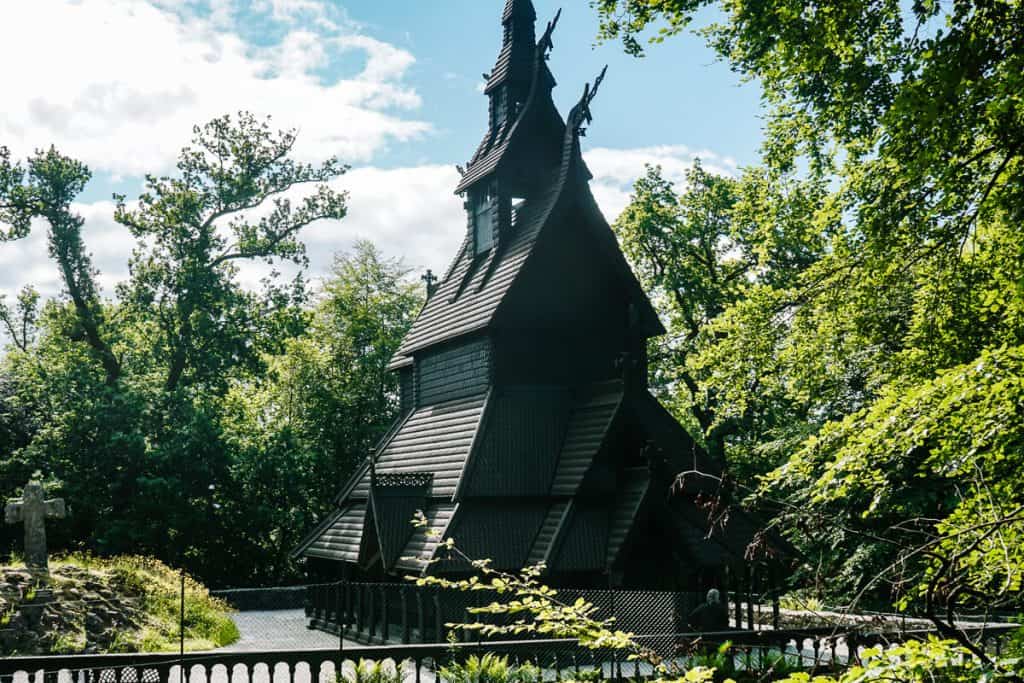 Norway in a Nutshell
Do you have little time and do you want to see as much of Norway as possible? Then the Norway in a Nutshell tour is a great day trip. Within 1 day you'll use the bus, the boat and a number of trains to enjoy the breathtaking surroundings of Bergen in Norway.
You leave early in the morning with the regular train to Voss, where buses are waiting to take you to the port of Gudvangen. In Gudvangen you transfer to a boat that takes you for 2 hours through the Aurlandsfjord and Naeroøfjord of Norway. Beautiful!
In Flam you get off for free time. Then you travel on the famous Flam train to Myrdal, passing mountains, waterfalls and typical Norwegian landscapes. Once in Myrdal, you'll transfer to the regular train back to Bergen.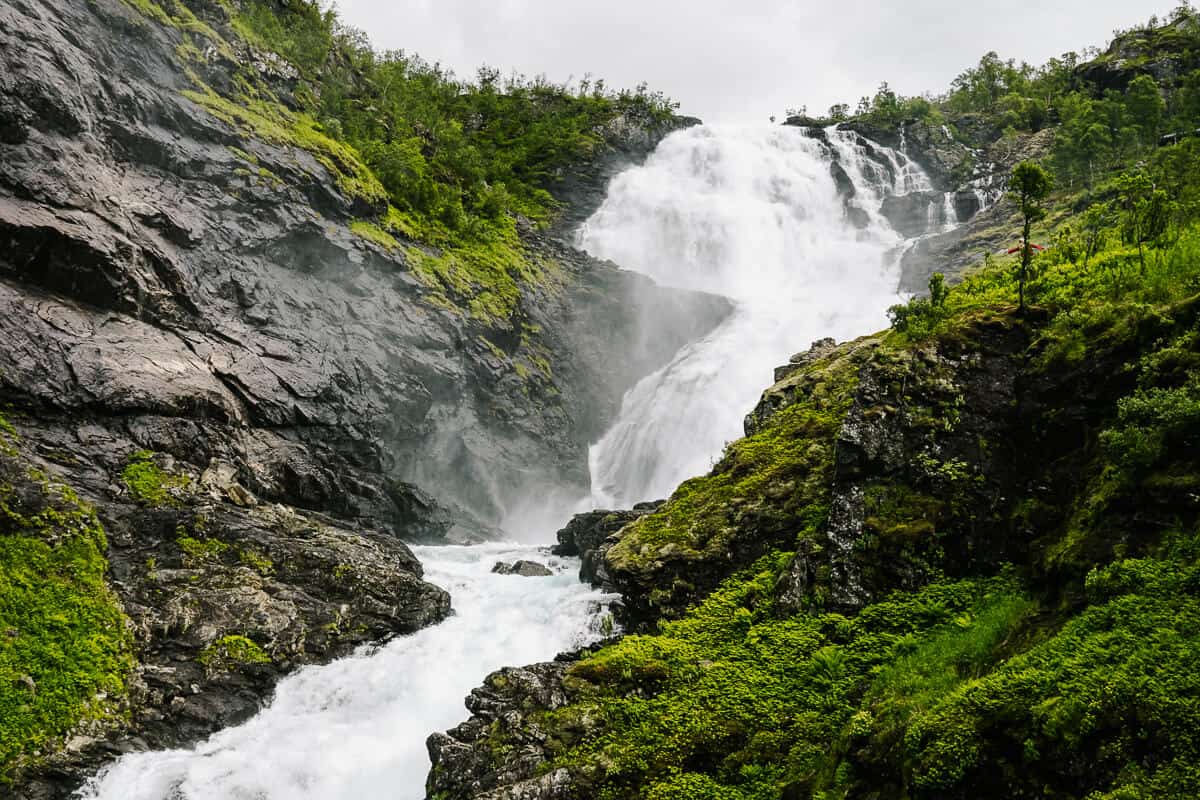 Yes, a long day, but a perfect way to see as a lot of Norway. Do you have more time? Then I recommend to extend his tour and to spend the night somewhere along this route. You can also do the Norway in a nutshell tour the other way around. You then travel by train from Bergen to Myrdal, to Flam, by boat to Gudvangen, and return to Bergen via Voss.
Do you also want to enjoy the beautiful Norway in a Nutshell tour? Especially in Summer months it is important to book your tickets in advance. You can book your tickets here.
Day cruises along the fjords
From Bergen in Norway you can make plenty of cruises in the surrounding area. A nice tour is the one from Bergen to Mostraume, where you sail through the Osterfjord. Another day trip goes to the Hardangerfjord or Sognefjord, with a depth of 200 kilometers the longest fjord in the world.
Do you want to take a cruise through the fjords? Book your tickets in advance via the following links: Bergen to Mostraume, a trip through the Sognefjord and Hardangerfjord.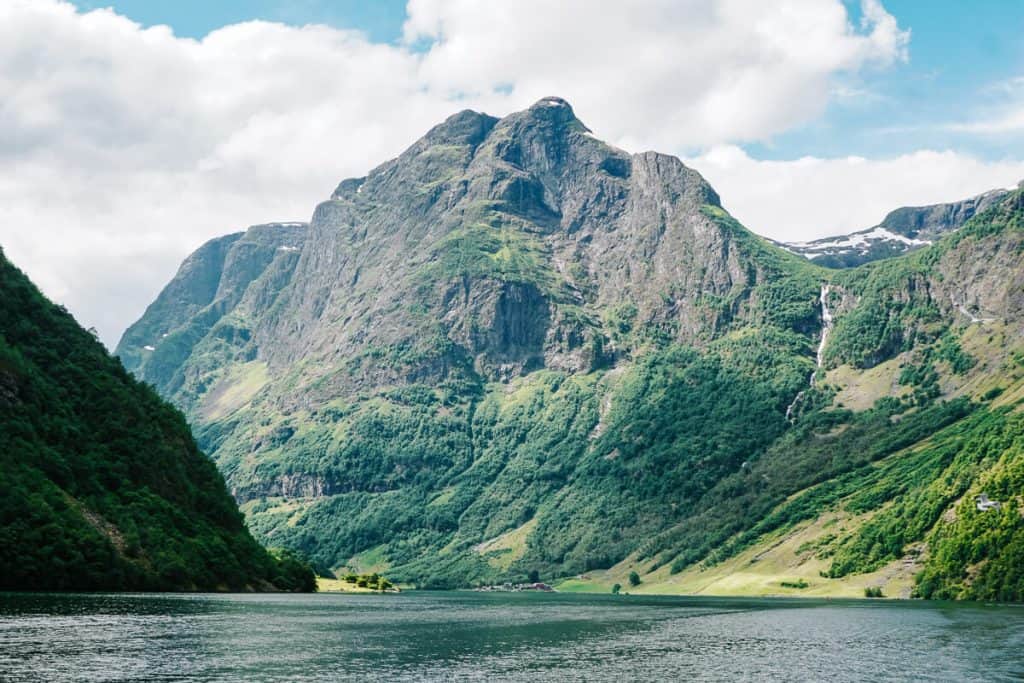 Mini Travel Guide Bergen in Norway
Tips for tours in Bergen Norway
Looking for tours? Here you will find a number of tips for tours and things to do in Bergen Norway.
Hotels in Bergen Norway
Discover my tips for hotels in Bergen in Norway
Looking for more hotels in Bergenn Norway? This is an overview.
Restaurants in Bergen Norway – 8 tips
Bergen in Norway is an important student city. It is therefore bursting with bars and restaurants. And there is nothing better than settling down on a terrace or restaurant after a day of discovering the sights and many things to do in Bergen Norway. These are my tips for restaurants and coffee shops in Bergen Norway.
One of the most impressive buildings for a drink or snack is the Frescohallen. The interior includes murals from 1920 by the Norwegian artist Axel Revold, depicting fishing and Bergen's role in it.
Make sure to try fish at the fish market. There is a market at the harbor with stalls where countless fish is displayed with accompanying terraces to take a seat. The indoor market is also nice to visit where you will find different specialties.
Lysverket offers a 10-course menu and was recently awarded a Michelin star. The focus is on seafood, seasonal vegetables and dry-aged meat specialties.
Literarur Museet is a restaurant where you get to try Nordic cuisine. Recommended!
Do you want to try the Yunnanese cuisine? Then go to Banzha. This hot spot offers dishes influenced by flavors and ingredients from China, Myanmar, Laos and Vietnam. Everything looks beautiful and the interior makes you very happy.
Great places for coffee, tea and sweets are Kaffemisjonen and Bet Lille Kaffekompaniet. In this last place, you can also take place at the terrace.
For wine and snacks, go to Vinbaren and take a seat on the terrace with a view of the lake.
Agave is a stylish Mexican restaurant that serves good dishes.
Looking for a place to have brunch? Kaigaten Deli offers a wide selection, while you sit on the terrace or enjoy a brunch inside.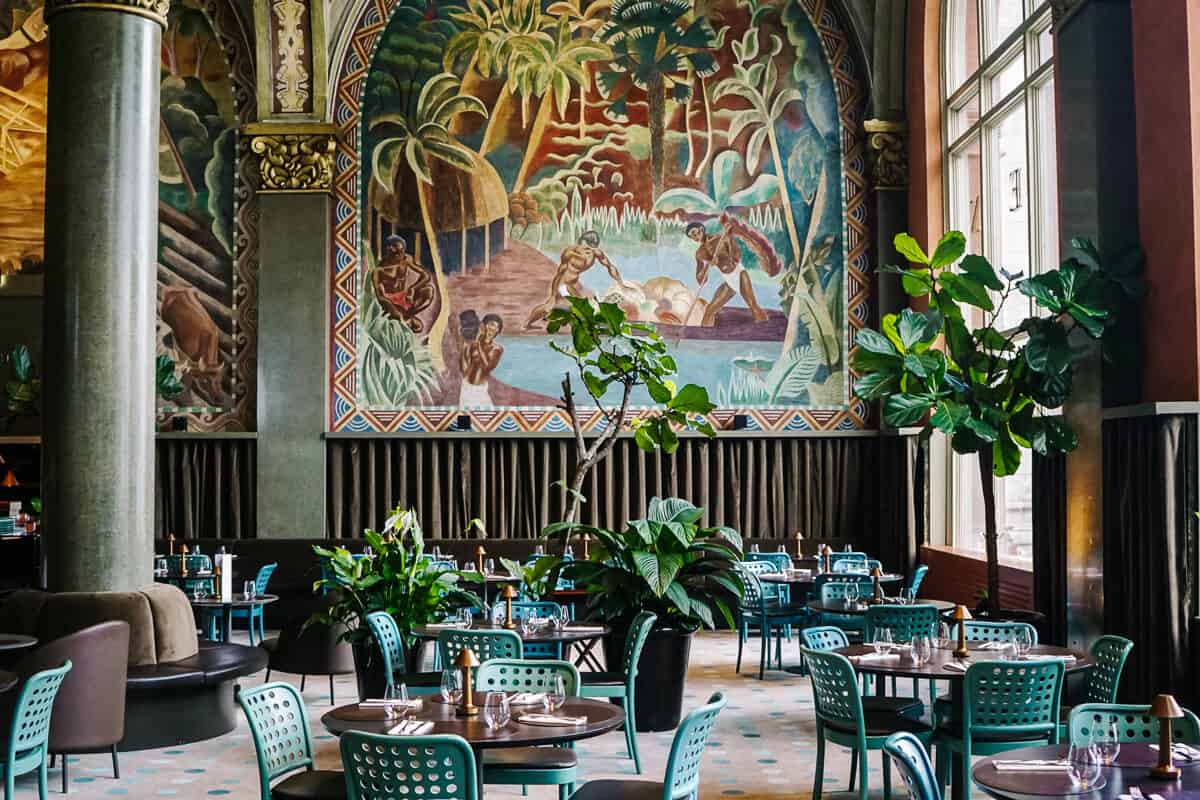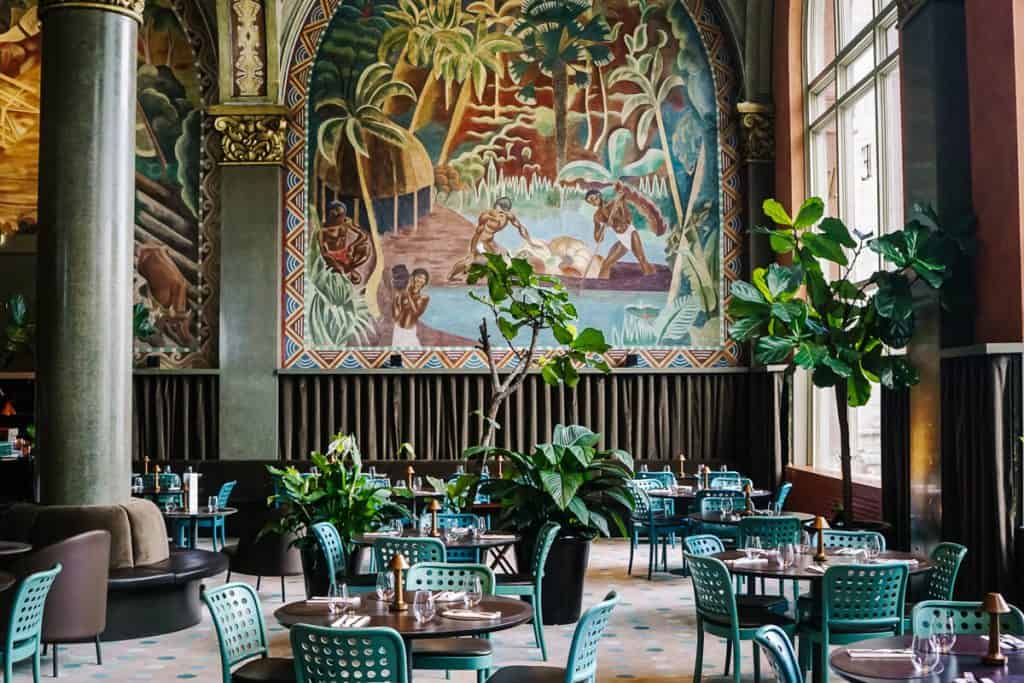 Weather in Bergen Norway
In Bergen it rains 280 days a year. That is what makes the area so incredibly green. Not a nice forecast, if you want to discover the many things to do that Bergen Norway has to offer, right? However, I have to admit that I have been to Bergen a number of times and often experienced good weather. The weather does change quickly. Therefore, make sure you are prepared for different weather conditions. Bring good rain gear and work with layers.
More about Scandinavia
Did you enjoy reading this article with tips for things to do in Bergen Norway? Do you want to discover more in Scandinavia? Check out my articles about Denmark.
This article may contain affiliate links. If you purchase something using one of our links, we may receive a commission at no extra cost to you, which helps us keep this blog alive. Thank you for your support! Please see our disclosures for more information.