When you think of Denmark, Copenhagen is often the first city that comes to mind. And that is quite right. But Denmark has so much more to offer than just the fancy capital. You can take beautiful walks, visit castles, spend the night in nature, explore harbor towns, relax on the beach and enjoy delicious cuisine. In this article I will tell you more about the best things to do in Denmark with lots of tips for sights, tours, activities and beautiful places in nature.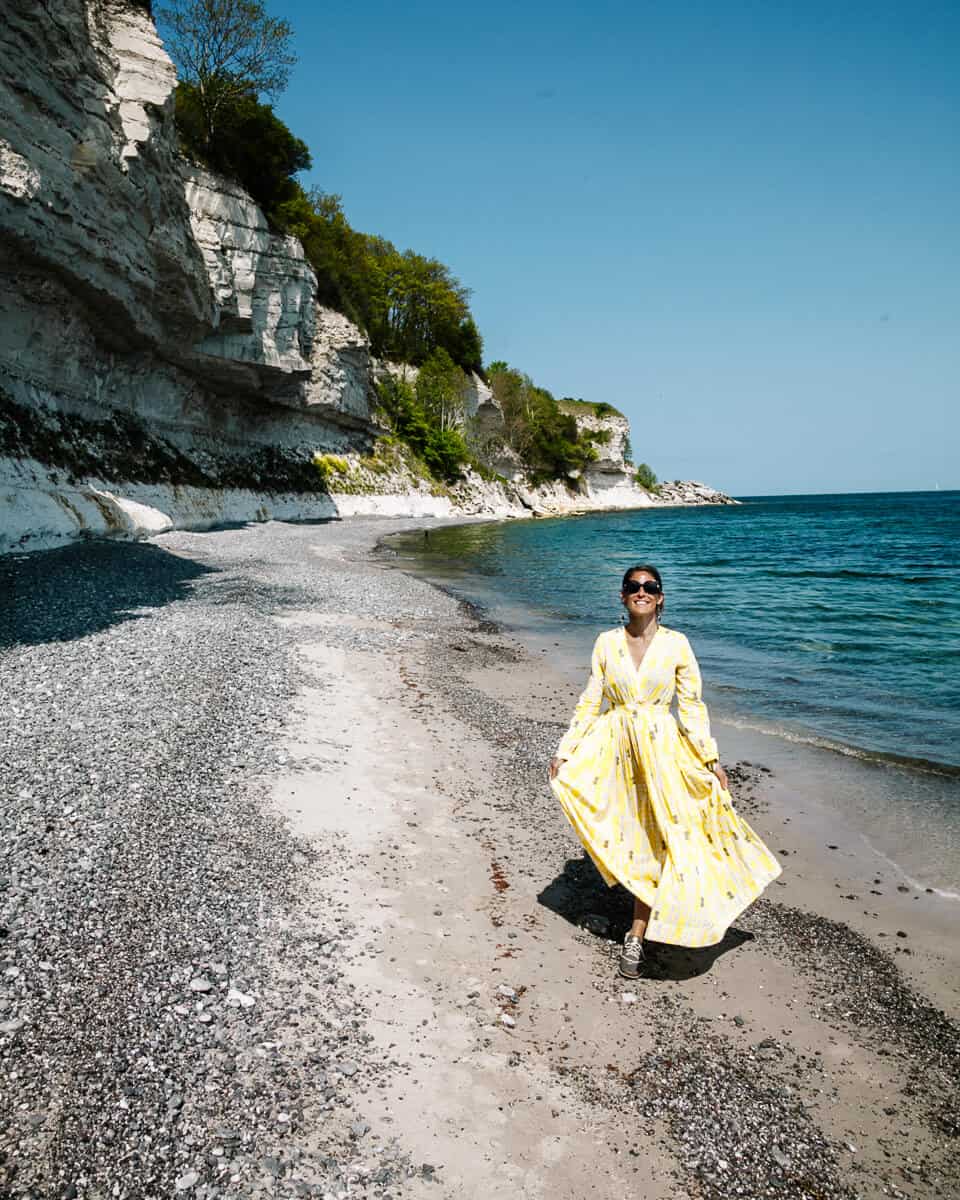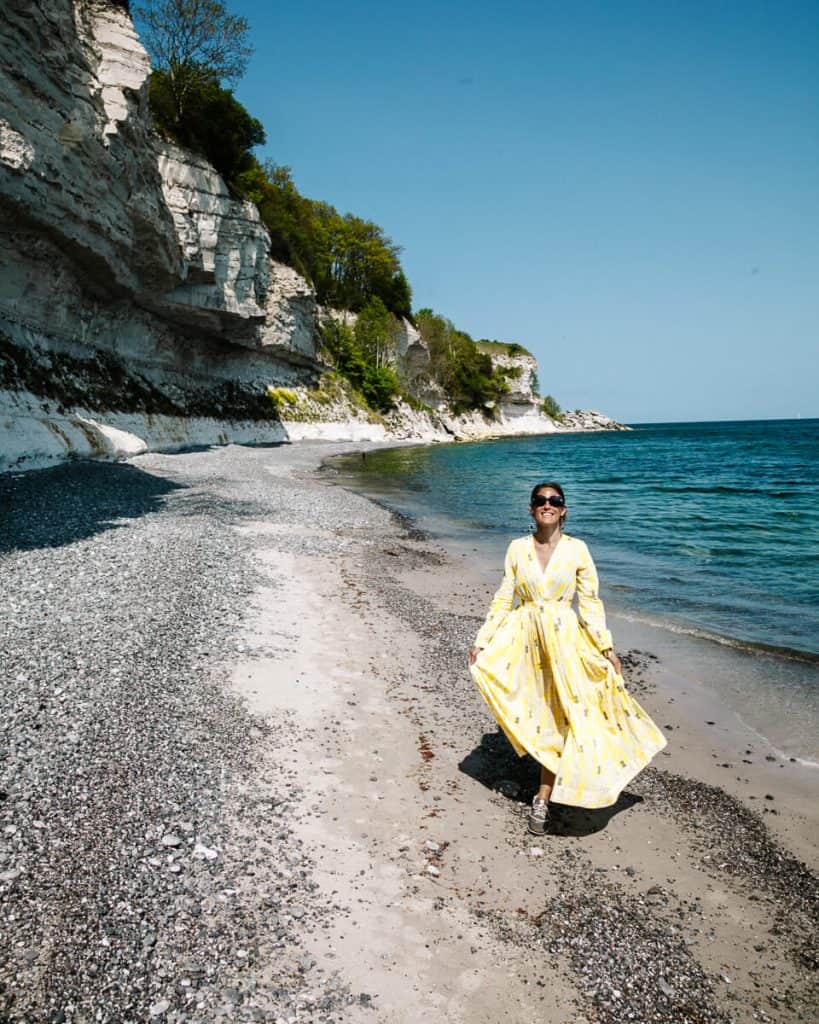 Discover Denmark – things to do and tips
Explore fancy Copenhagen
Copenhagen with its countless things to do is without a doubt the nicest city in Denmark. Copenhagen is cosmopolitan and you can enjoy yourself for days. Visit Nyhavn, the harbor with the colored houses, the royal palaces, walk through the city center, learn more in one of the many museums and discover neighborhoods such as Vesterbro and Nørrebro. Here you will find a large amount of nice coffee spots and good restaurants. Believe me, Copenhagen is a perfect trip for a weekend getaway.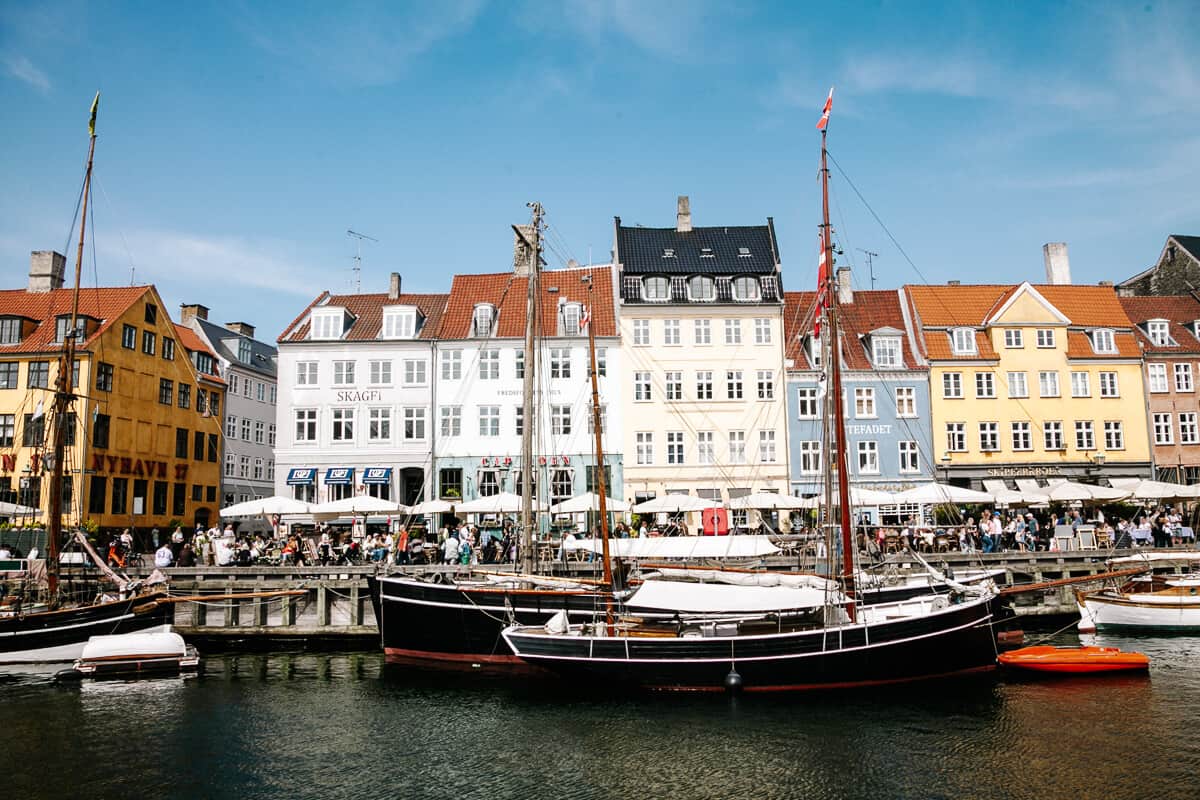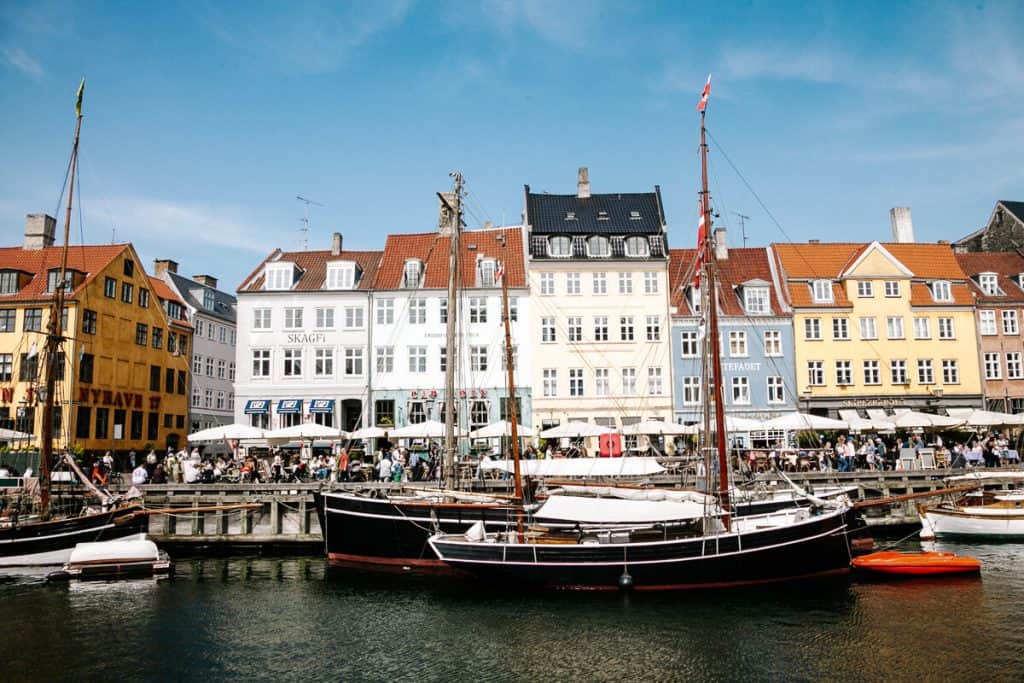 Hotels tips Copenhagen Denmark
One of my favorite places to stay in Denmark is the 25 hours hotel Copenhagen. This hotel is super centrally located in the the city, around the corner from the Rundetaarm, the round tower. The 19th-century building, which once served as a porcelain factory and university building, is now a stylish hotel with around 243 rooms. You will be amazed by the design, an inspiring combination of retro and modern. Room categories range from medium single to large and gigantic. And each room has its own unique style, including comfortable beds, retro art on the walls and nice extras such as a speaker and free minibar. Recommended!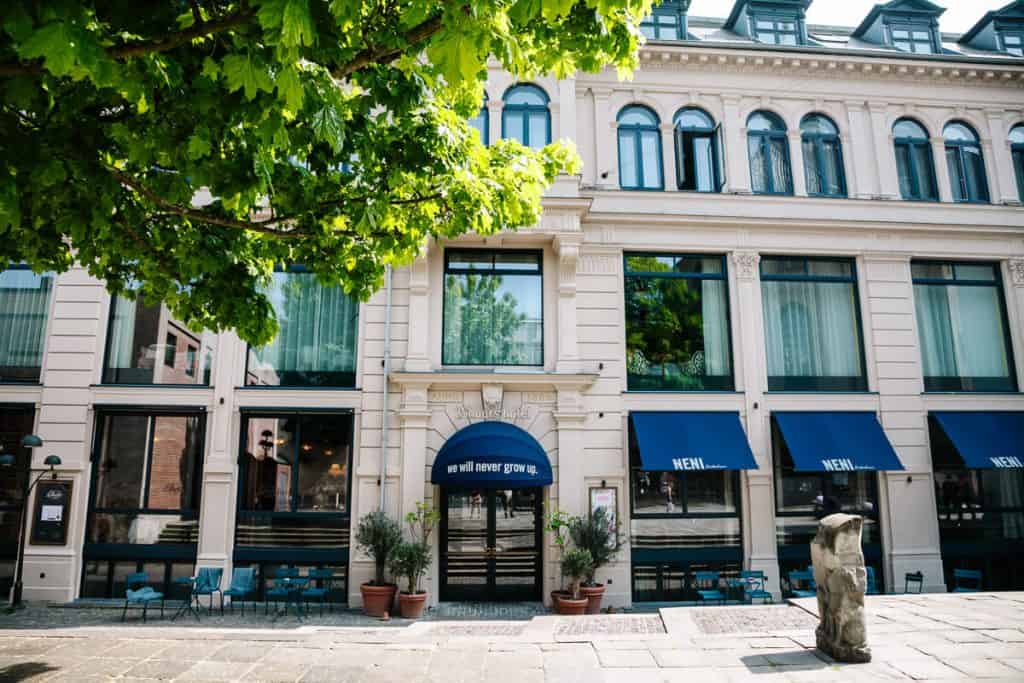 Curious about 25 hours hotel Copenhagen? You can check prices and availability here. No availability? Check out Axel Guldsmeden in Vesterbro and Babette Guldsmeden. You can read more about my favorite places to stay in Denmark in the next article.
Tours in Copenhagen
Experience the cliffs of Møns Klint – top things to do in Denmark
One of the best things to do in Denmark is to visit Møns Klint. These imposing cliffs, formed 70 million years ago, are located on the east coast of the island of Mon in Denmark, 1.5 hours away from Copenhagen. The chalk cliffs rise 128 meters above the turquoise sea, and the views are truly beautiful. You can go for a walk on the beach or cool off in the surrounding forests. Nine walking trails have been mapped out, allowing you to experience the cliffs in different ways. The trails vary from easy, medium to difficult. Highly recommended is the 14-kilometer long Klintekongens rige, a beautiful route where you walk along the cliffs, over the beach, through hills and meadows.
Do not forget to look for fossils when you're on the beach. There is a good chance that you will find belemnites and other fossils here. Møns Klint is on the UNESCO World Heritage List.
Do you want to visit Møns Klint as a day tour from Copenhagen? Check out an interesting tour here, including a visit to Møns Klint and Camp Adventure Rønnede, a 45 meter high tower in the forest of Gisselfeld Kloster.
Hotel tips Møns Klint in Denmark
Stevns Klint – South Zealand Denmark
Stevns Klint features a magnificent stretch of chalk cliffs, reaching a height of 40 meters. Along this 15-kilometer series of cliffs, you can enjoy beautiful views.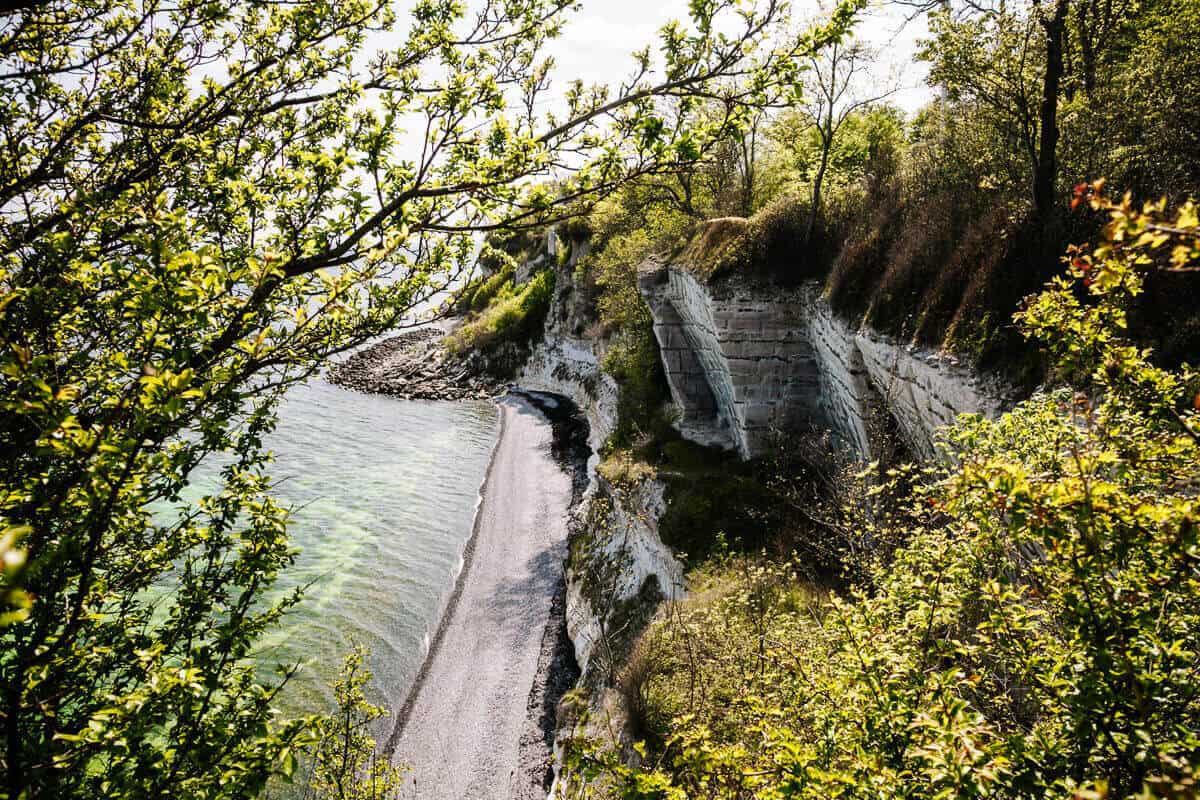 However, it's not just the natural beauty that makes this place special. Stevns Klint is renowned for its traces of the meteorite that crashed on earth 65 million years ago, resulting in the extinction of over half of all animal species, including dinosaurs. The cliffs contain a unique fish clay layer, which consists of shells and skeletons of the life that once lived here. The interactive visitors center will give you a deeper insight.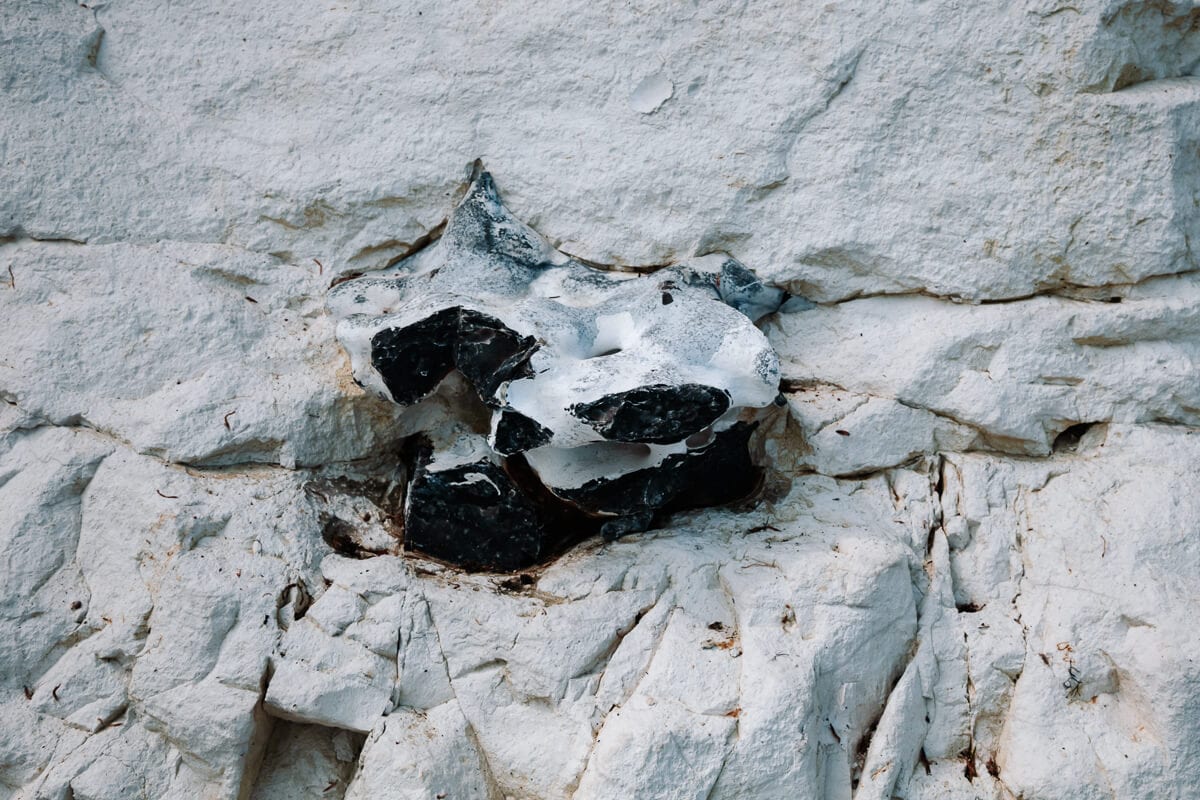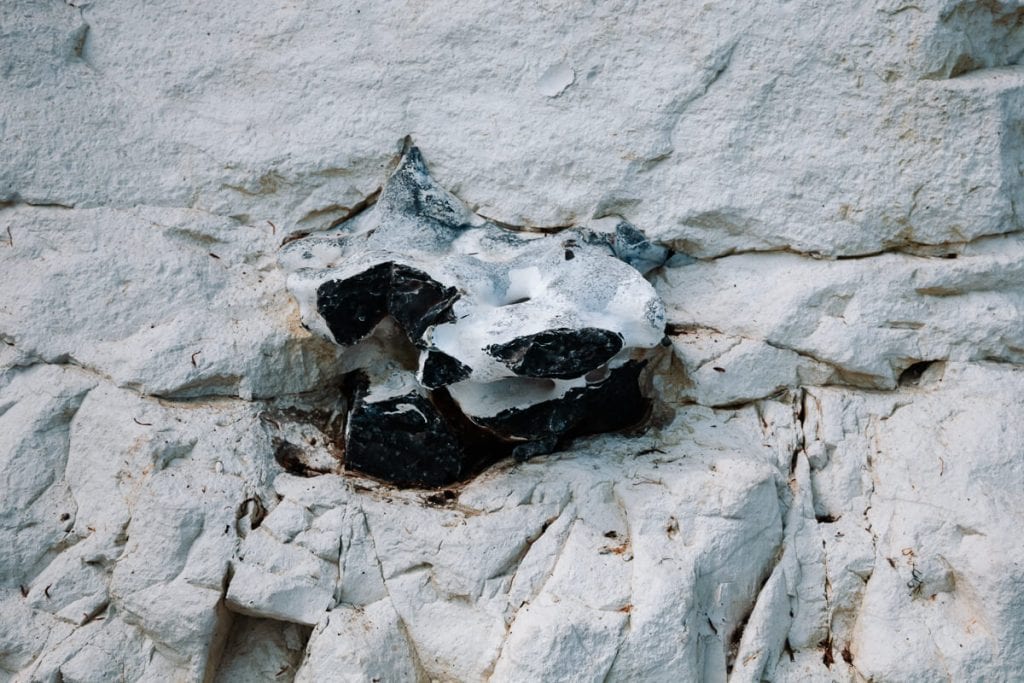 It is recommended to go out with guide Anne from Klinte Tours and understand even better what kind of unique place you are in. You can book a tour here.
Hotel tips for Stevns Klint in Denmark
Spend the night in a shelter
Shelters can be found throughout Denmark but mainly in Fyn. Shelters are simple huts, located in the middle of nature, where you can spend the night for only a few euros. And you will find them in different shapes and sizes, ranging from open-air structures with a roof above your head to quaint wooden cabins complete with a door. Often there is wood available for you to enjoy a cozy campfire and there is a clean toilet within walking distance.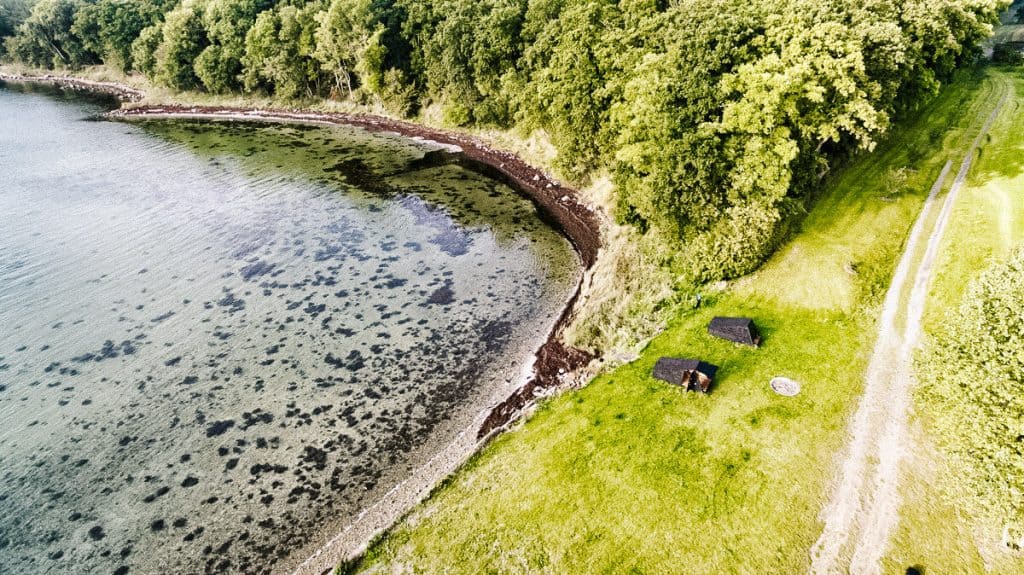 Do you like nature and adventure? Then this is one of the things to do in Denmark. Remember to bring your own sleeping mat, sleeping bag, drinks and food, which can be prepared over your personal campfire. An overview of shelters, facilities and a booking option can be found here.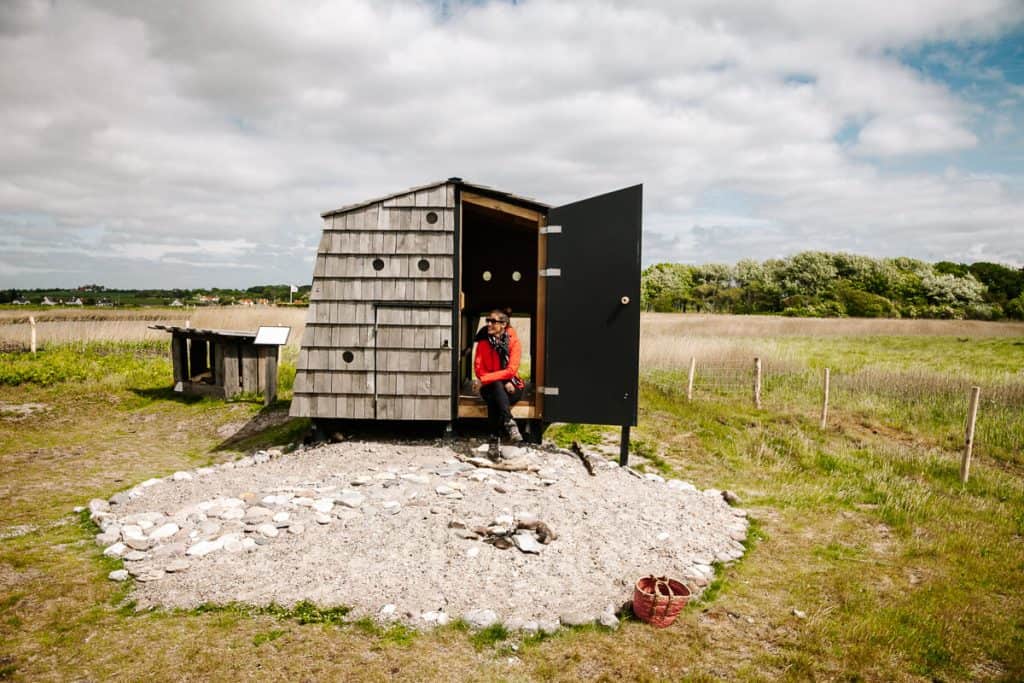 Want to read more about Fyn in Denmark and things to do? Check out my article with tips for Fyn in Denmark.
Meet Danish wildlife
In Denmark you have a chance to see deers, mooses, boars, foxes and many different birds. Dyrehaven is one of the most visited natural areas and things to do in Denmark, because it is close to Copenhagen. More than 2000 deer live here, including the red deer. The best way to explore the area is on foot or by bike. Vildmose is the largest nature reserve in Denmark and the only raised moorland in Western Europe. You will find the largest red deer populations in Denmark here, but also horses, boars and the beautiful moose. Yet you don't necessarily have to go to a nature reserve to see wildlife. There are many beautiful places in nature in Denmark, where you are surrounded by deer, pheasants and hares.
Hotel tips Denmark: Looking for an authentic place in a natural setting? Jungshoved Præstegaard is a country house, located in Præstø, in the east of Zealand in Denmark. It is located directly on the sea and surrounded by vast fields. During your stay you will get to know deer, hedgehogs, hares and pheasants.
Experience a unique starry sky in Dark Sky Park
Did you know that Zealand in Denmark is one of the best places in the world for stargazing? Møns Klint is Scandinavia's first Dark Sky Park, along with nearby Nyord. The cliffs provide minimal light pollution, which creates a special darkness. On a clear evening there is a good chance to see the Milky Way, the moon, planets and shooting stars passing by.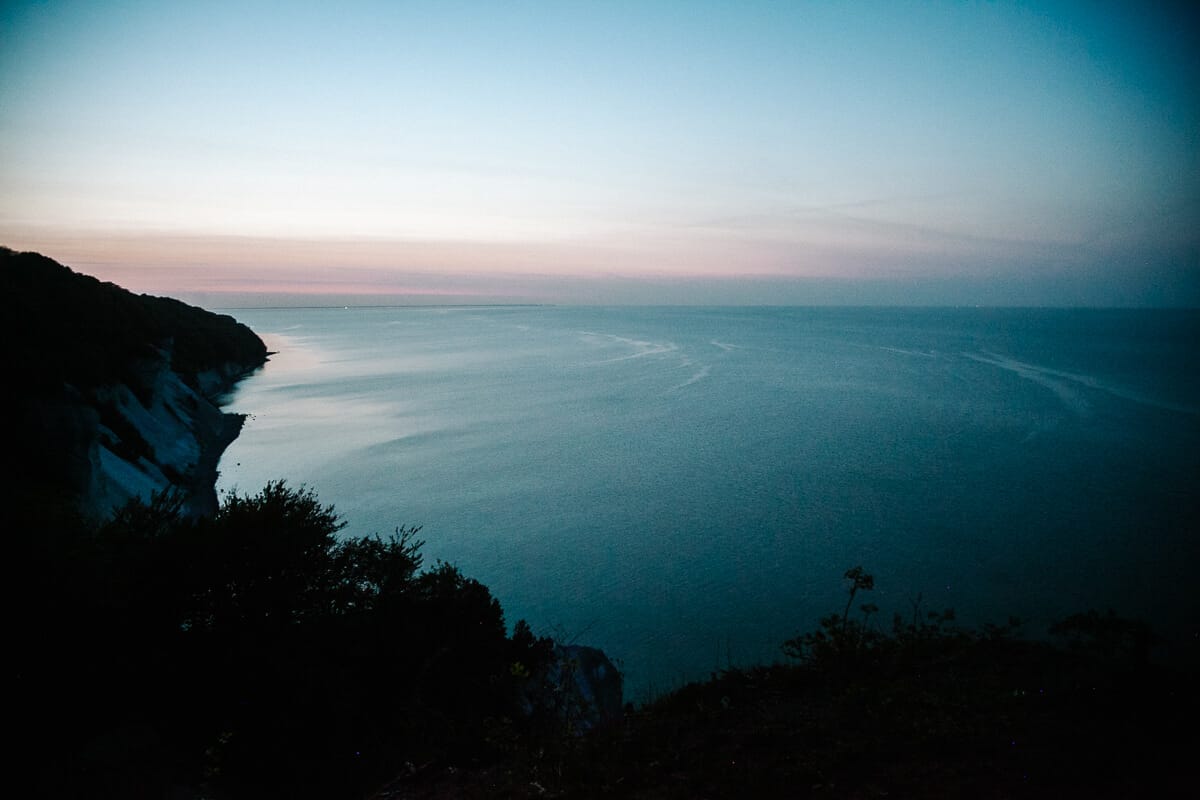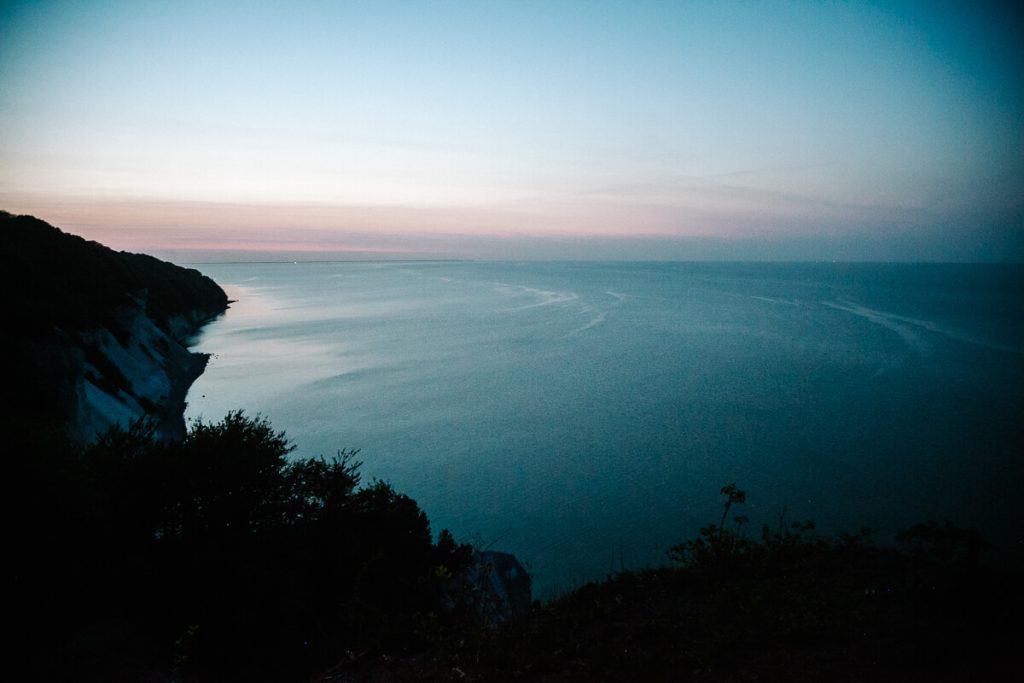 Book a stay in Møns Klint camp or head out with a Dark Sky guide by night, showing you the photo spots. The best time to see a beautiful starry sky is between September and March, when the nights are longer. But tours can be done all year round, even when it is cloudy.
There are 44 Dark Sky Parks worldwide, 9 of which are in Europe, including Mon and Nyord in South Zealand Denmark.
Go whale watching
Lillebaelt Nature Reserve on Fyn island is one of the most densely populated whale-watching areas in the world. And there is a good chance that you will spot the porpoise here, one of the smallest whale species. The animals can be seen between April and September but are most common in the summer months. This is because of the large quantities of fish that can be found here in the waters and along the coast.
Good observation points for whales are the harbors of Middelfart and Fredericia. You can also make a special whale safari from Middelfart and try to spot the animals from the water. Be sure to visit the whale listening station in Middelfart, where you listen to the sounds of the whales through an underwater microphone.
Hiking in Denmark
It probably won't surprise you when I tell you that Denmark is a great country to go hiking. Going on a nice trail is therefore one of the best things to do in Denmark, if you want to enjoy the surroundings and completely unwind from daily life.
Walk part of Archipelago trail
The Øhavstien, or the Archipelago trail is with 220 kilometers of trails, the longest hiking trail in Denmark. The entire route runs along the South Fyn archipelago through Langeland, Siø, Tåsinge and South Fyn, from Falsled in the west to Lundeborg in the east and also across Ærø. But of course you don't have to walk the entire 220 kilometers. I made a hike myself from Falsled to Faaborg, wich is about 25 kilometers and easy doable in one day.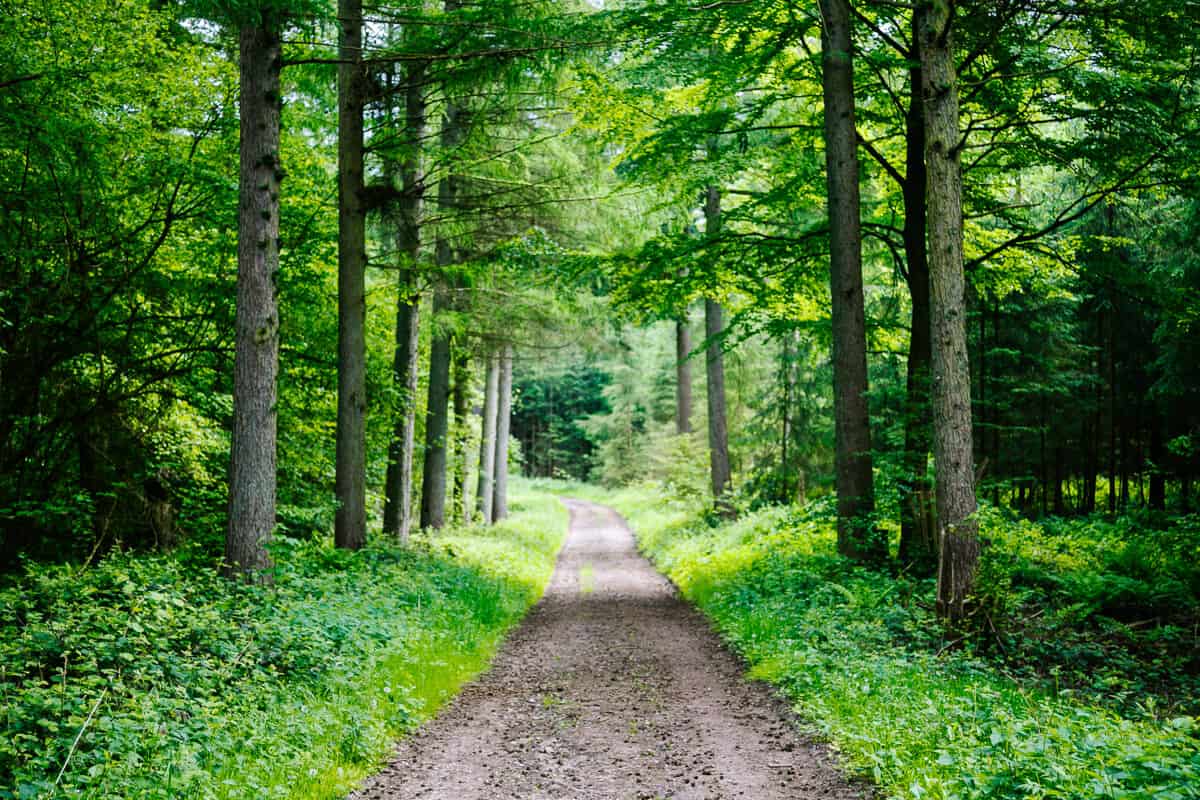 You walk through forests, across grain fields filled with yellow flowers and past charming farms with thatched roofs. There are some slight ascents but most of the trail is flat. We walked the route in 6 hours, including stops. Do bring enough food and drinks with you. There is nothing available along the way.
Hike te Camøno trail
One of the known hiking trails in the south of Denmark is the Camøno trail. This 175 kilometer route takes you from the small town of Bogø in the west to Nyord in the east of Mon. You walk along the rugged coastlines for which the area is known, through forests and fields and through small villages. The route consists of several parts to choose from, so you don't have to walk the entire trail. There are bus stops and places to stay along the trail:. From hotels, to campsites and bed & breakfasts.
Walk across a 60-meter high bridge
Are you looking for a bit of adventure? Then one of the things to do for you in Denmark is bridgewalking. You walk here at a height of 60-meters on top of the Old Little Belt Bridge, which connects the island of Fyn with Jutland. You are chained to the edge with a harness, while you move along the railings. Once at the top you look far out over the Danish islands, villages and sea. Along the way, the guides tell you about the area and the things to in Denmark an interesting way.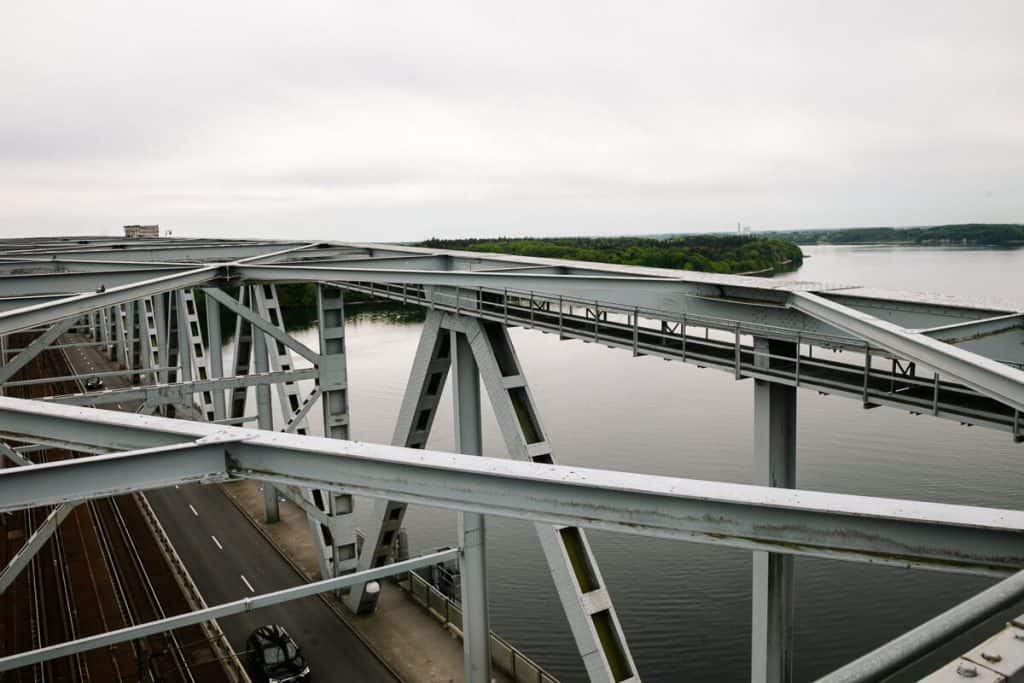 The walk takes 2 hours and along the way, the guides tell you about the area and the many things to in Denmark in interesting way.
Taste Danish wine
Did you know that Denmark produces wine? Since 2000, Denmark has been officially recognized by the EU as a wine-growing country and there are even several wine regions. This makes it the northernmost wine-growing area in Europe. You can follow special wine routes that take you past vineyards and wineries. Well-known regions are Jutland, Fyn, Zealand and Bornholm. Recommended!
Enjoy the Danish cuisine
I had high expectations about culinary delights in Denmark, especially with renowned restaurants like Noma, known as one of the best in the world. However, I was surprised to discover that great dining experiences can be found everywhere. Numerous restaurants boast their own vegetable gardens and greenhouses, emphasizing their commitment to working with fresh, local ingredients. Moreover, there is as abundance of fish options on the menu.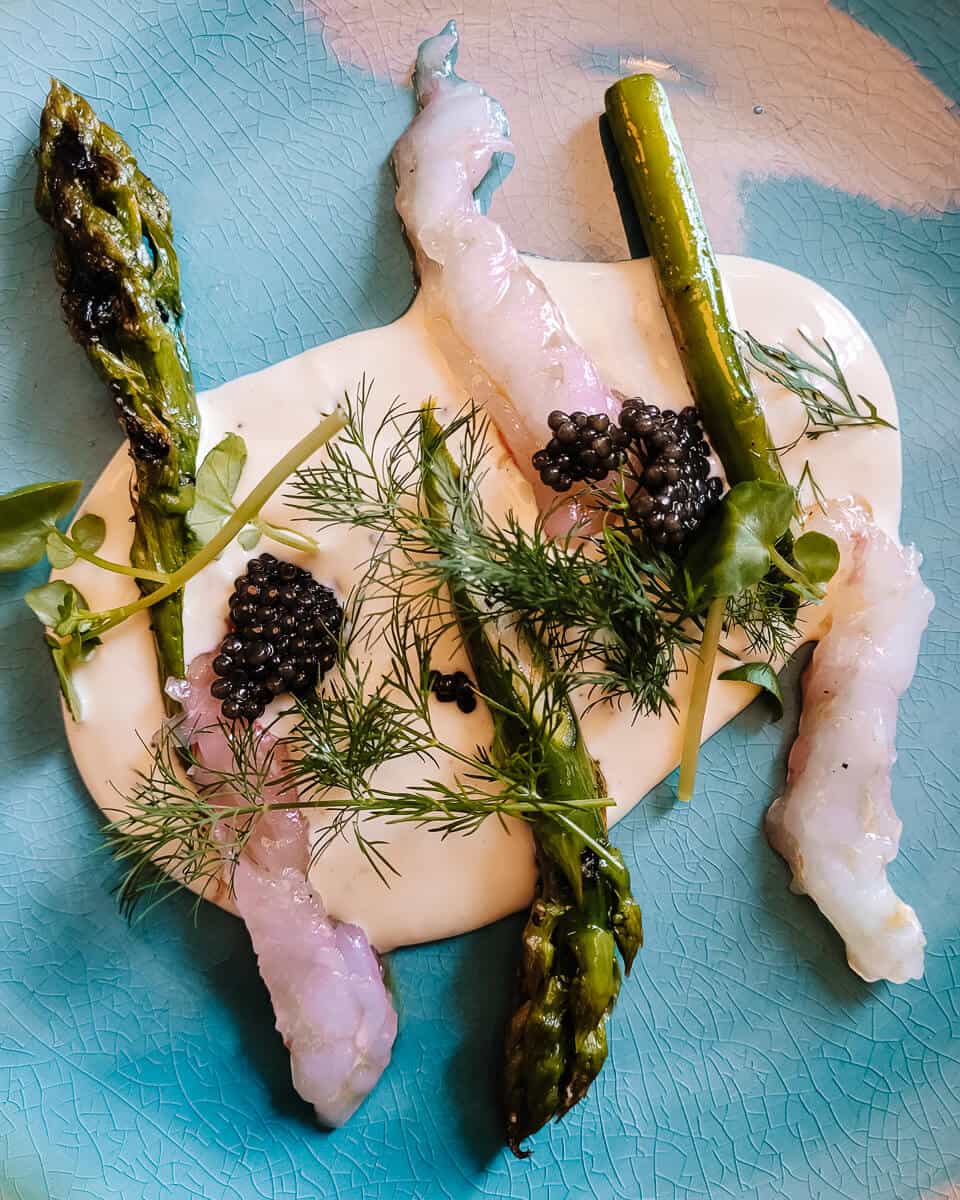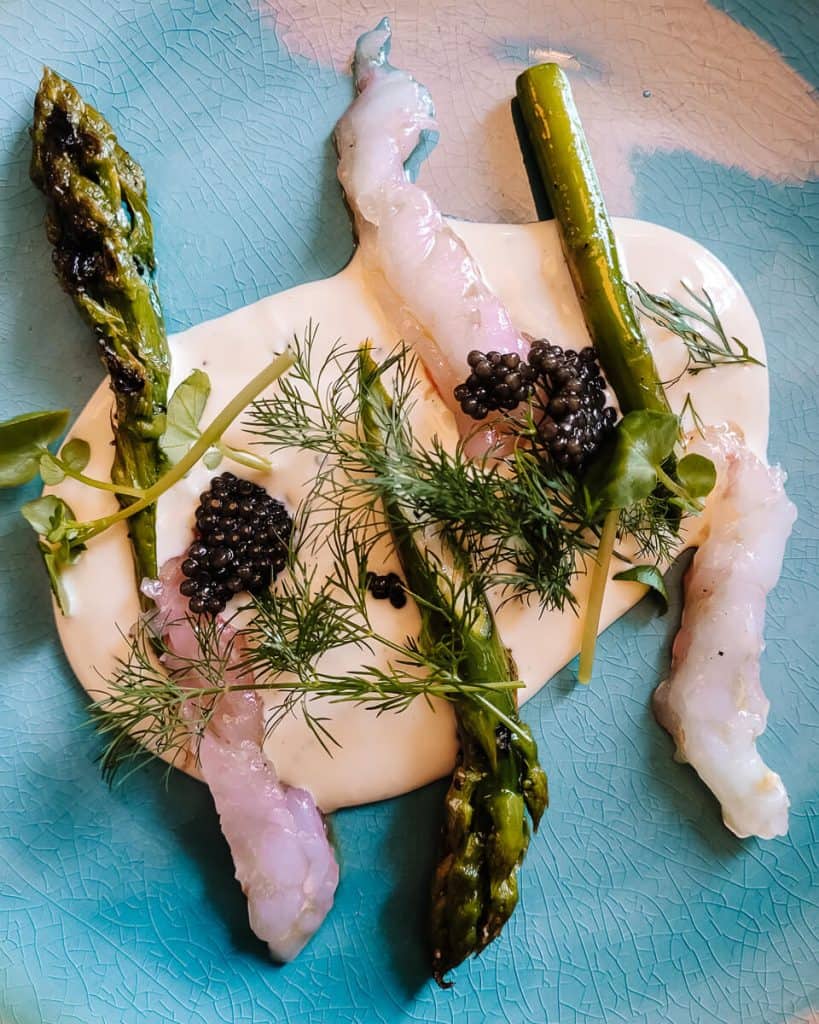 On Fyn in Denmark you can go on a beach safari, where you'll embark on a journey along the beach, searching for edible plants and herbs together with an outdoor guide. After your tour, you will witness your hand-picked plants and herbs come to life on your plate, while enjoying a delicious meal around the campfire. And you can of course assist in the preparations. Read more tips for Fyn Denmark in the next article.
Cultural things to do in Denmark
Visit harbour and other villages
There are many nice towns in Denmark that you can visit. Make a stop in towns such as Faaborg and Svendborg on Funen, walk around the narrow streets, past old merchant houses, visit a local museum and take a seat on one of the nice terraces. But the small harbor of Rødvig in South Zealand is also worth a visit. Are you in North Zealand? Then visit the historic center of Elsinore, known for Hamlet's Kronburg castle, which is bursting with restaurants and cafes. In the photogenic Dragør, just outside Copenhagen, you can watch fishermen in the harbour, dive into the history of Denmark and take lovely photos.
Meet Hans Christian Andersen
I am sure you have heard about the stories of the Danish writer Hans Christian Andersen, known for Disney successes such as The Little Mermaid and Frozen. In Copenhagen you will find the famous Den lille Havfrue, the little Mermaid statue, situated on the water, one of the sights and things to do in Denmark that you should not miss.
In Odense, the birthplace of the Danish writer, you can visit the H.C. Andersen Hus, an innovative interactive museum that is partly underground and takes you on a journey through his fairy tales, through installations with light and sound. In Faaborg you can walk a special route where you explore the city through its stories. The BaggaardTeatret App can be downloaded via google play or in the app store.
Hygge in Denmark
Have you ever heard of Hygge? It is a Danish expression and custom that embodies the concept of coziness and creating a nice moment for oneself. Hygge is in the little things, a cozy get-together with friends, a picnic, a terrace or cosiness in your room or apartment. In small-scale hotels such as Falsled Strand Camping, you can book a hygge experience, where you enjoy a foot bath with fresh herbs from the area and a bottle of wine! The best way to get familiar with the Danish hygge.
Visit castles – top things to do in Denmark
One of the best things to do in Denmark is to visit castles and you will find many throughout the country. These are my tips for impressive castles in Denmark
Frederiksborg – Hillerød
One of the top sights and things to do in Denmark if you like castles, is to visit Frederiksborg. Frederiksborg Castle is located in Hillerød and was built in the early 17th century as a royal residence for King Christian IV of Denmark-Norway. It would become the largest Renaissance residence in Scandinavia. Today the castle houses the Museum of National History, where you learn more about 500 years of Danish history. The highlight of your visit may well be the baroque castle gardens, which are laid out in perfect symmetry.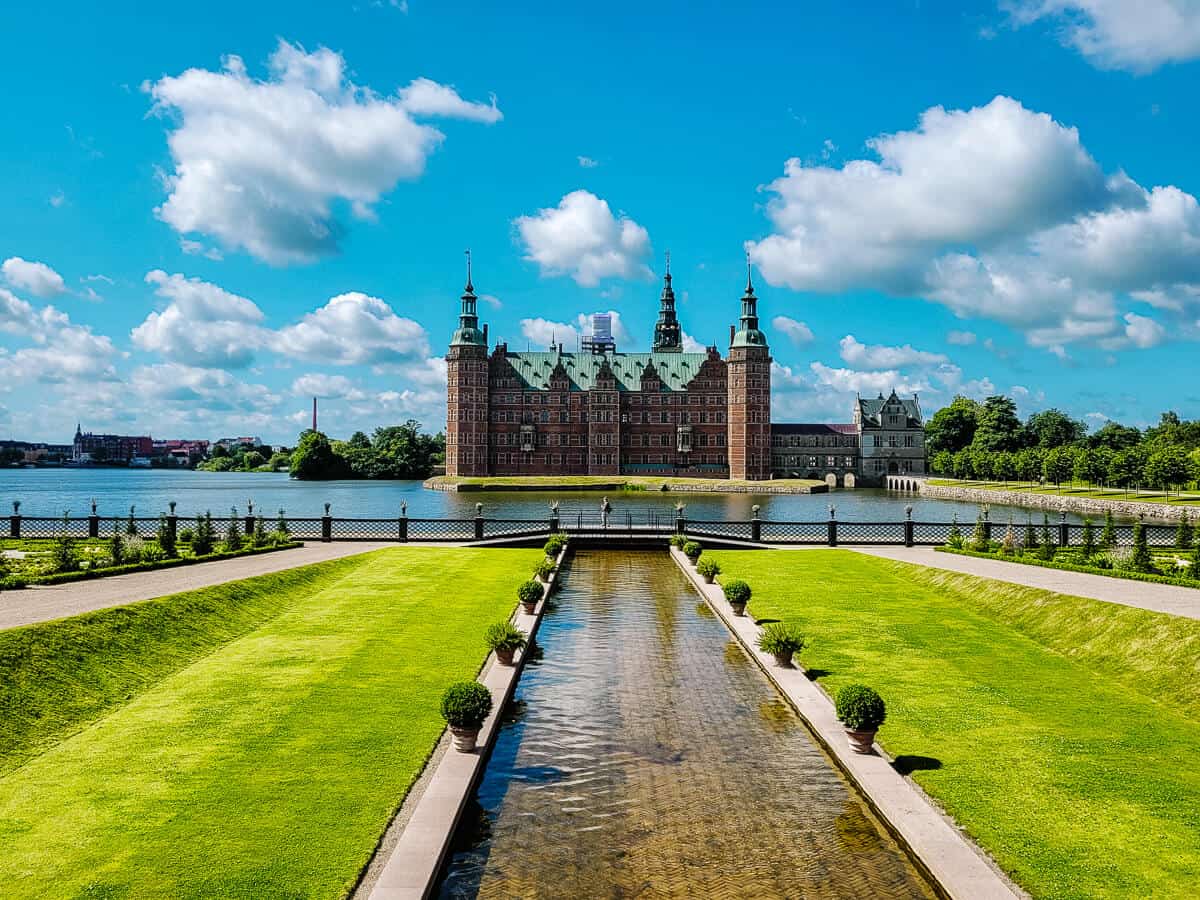 Do you want to visit Frederiksborg Castle as a day tour from Copenhagen? This is a nice tour, where you visit several castles, including Roskilde.
Gavnø Slot – South Zealand Denmark
One of the things you can do in South Zealand Denmark is to visit Gavnø Slot, a beautiful rococo castle from the 12th century that immerses you in the history of the former inhabitants. Each room tells its own story through old furniture and works of art. It is also recommended to taking a walk through the castle gardens. There are colorful flower beds, mighty trees and beautiful plant collections.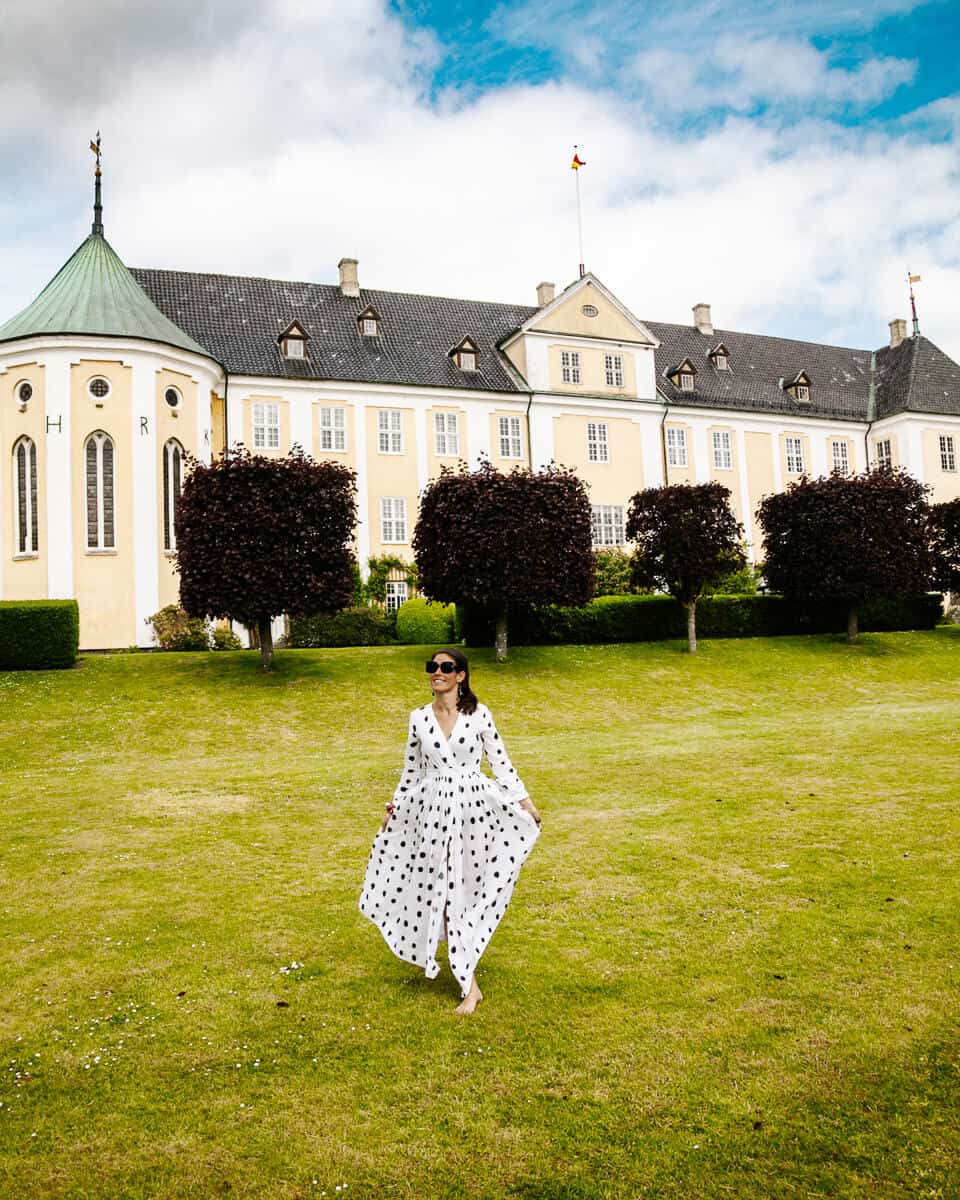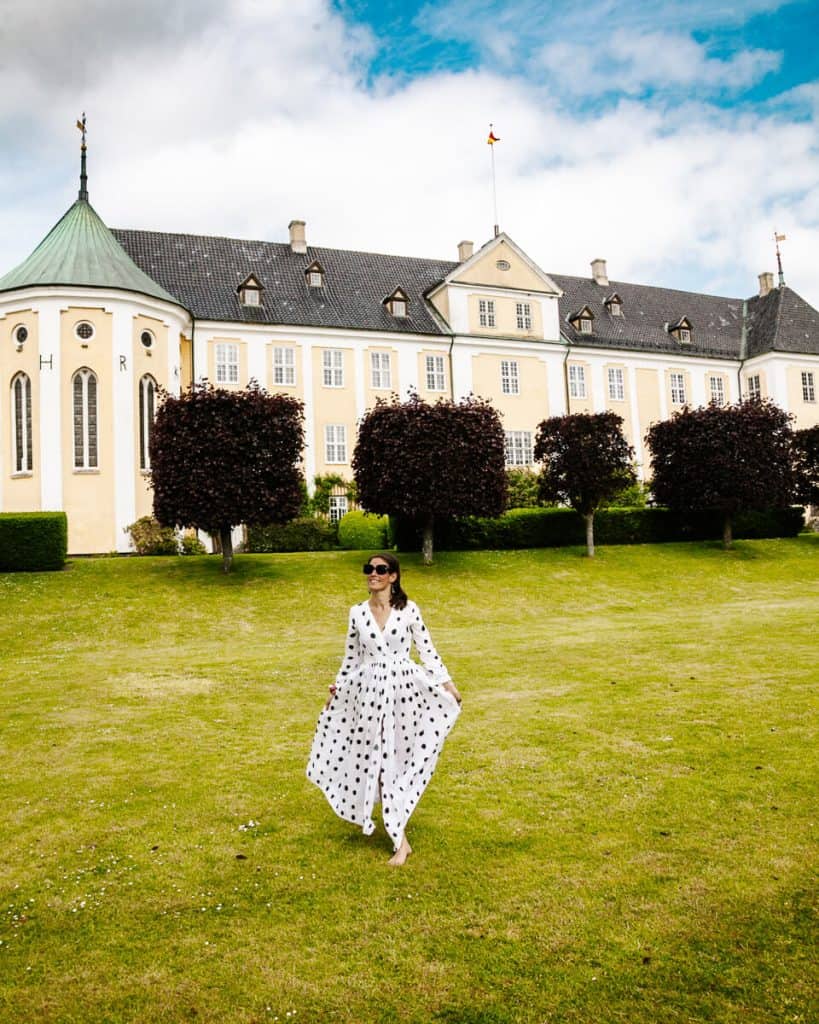 Hotel tips Denmark:
Kasteel Egeskov – Fyn
The island Fyn in Denmark is home to 123 castles, including Egeskov Slot, said to be one of the best-preserved Renaissance castles in Europe. This old moated castle is located 35 kilometers from Odense and it is one of the interesting things to do in in Denmark. Even if it is because of the castle gardens, which have won several international prizes. It is also possible to visit the castle and its palace halls itself. The castle is is open to visitors on a daily base.
Kasteel Kronborg – Elsinore
Kronborg Castle in Elsinore, overlooking Sweden is the site of Shakespeare's Hamlet. And while it's uncertain whether Shakespeare himself ever visited, it's a picture-perfect Renaissance castle and one of the things to do when you're in Elsinor Denmark. Even if it's only for the photo. Of course you can also visit the castle by going on a guided tour. Kronborg is on the UNESCO World Heritage List.
Do you want to visit Kronborg Castle as a day tour from Copenhagen? This is a nice tour, where you visit several castles, including Roskilde.
Mini travel guide Denmark
Tours
Looking for tours? These are my tips for tours and things to do in Denmark.
Transportation
Copenhagen is the capital and has an international airport. At Copenhagen airport or in the center you can easily rent a car to discover the many sights and things to do in Denmark. But Denmark is also easy to reach by car from other destinations in Europe. You drive through Germany overland to Denmark or you can take the Scandlines ferry.
Car rental
Need a rental car for your trip to explore the many things to do in Denmark? Use Rental Cars to search and compare your car rental options. A quick and easy tool and no need to have up multiple tabs trying to figure out which company is the most affordable. They also have great discounts and cancellation policies.
Hotels in Denmark
Denmark is a wonderful destination with a wide range of accommodations. And everywhere there is attention for comfort, quality and service. From stylish boutique hotels, glampings, to authentic hotels and cottages in nature. It is nice to choose a combination of places to stay during your visit, and gain different experiences. Discover the best and nicest hotels in Denmark, including tips for unique places to stay in a natural setting in the next article.
More about Denemark
Did you enjoy reading this article with tips and things to do in Denmark and do you want to read more? Check out the next articles.
This article may contain affiliate links. If you purchase something using one of our links, we may receive a commission at no extra cost to you, which helps us keep this blog alive. Thank you for your support! Please see our disclosures for more information.