Do you like being in nature, go hiking, visit castles and small fishing villages and great food? Then I have the perfect destination in Denmark for you, Fyn, or Funen. Fyn is the country's third largest island, and is located between Zealand, the island of Copenhagen, and Jutland, the mainland. In this article you will the best things to do in Fyn in Denmark, with tips for outdoor experiences, hikes, cultural activities, food and unique places to stay.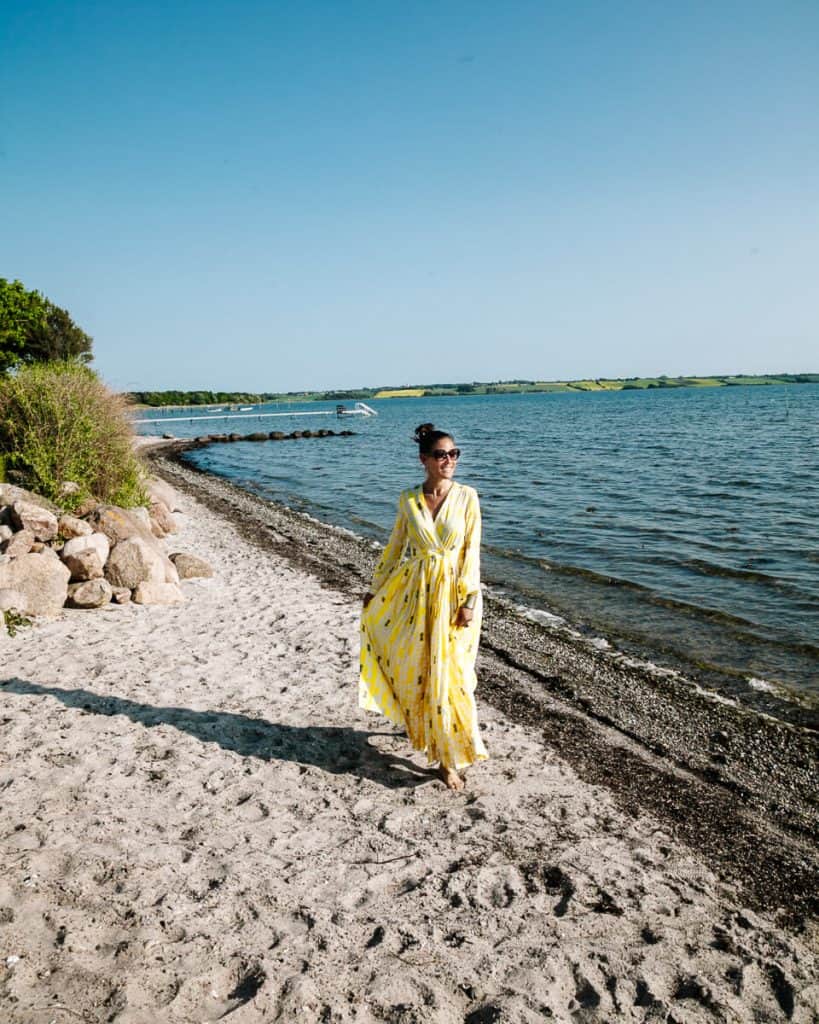 20 tips and things to do in Fyn in Denmark
Walk part of Øhavstien – the Archipelago trail
It probably won't surprise you when I tell you that Denmark is a great country to go hiking. One of the best things to do in Fyn in Denmark is to hike a part of the Øhavstien, or the Archipelago trail. With 220 kilometers of hiking trails, it is the longest hiking trail in Denmark. But of course you don't have to walk the entire 220 kilometers. For example, I made a nice day hike from Falsled to Faaborg wich is about 25 kilometers.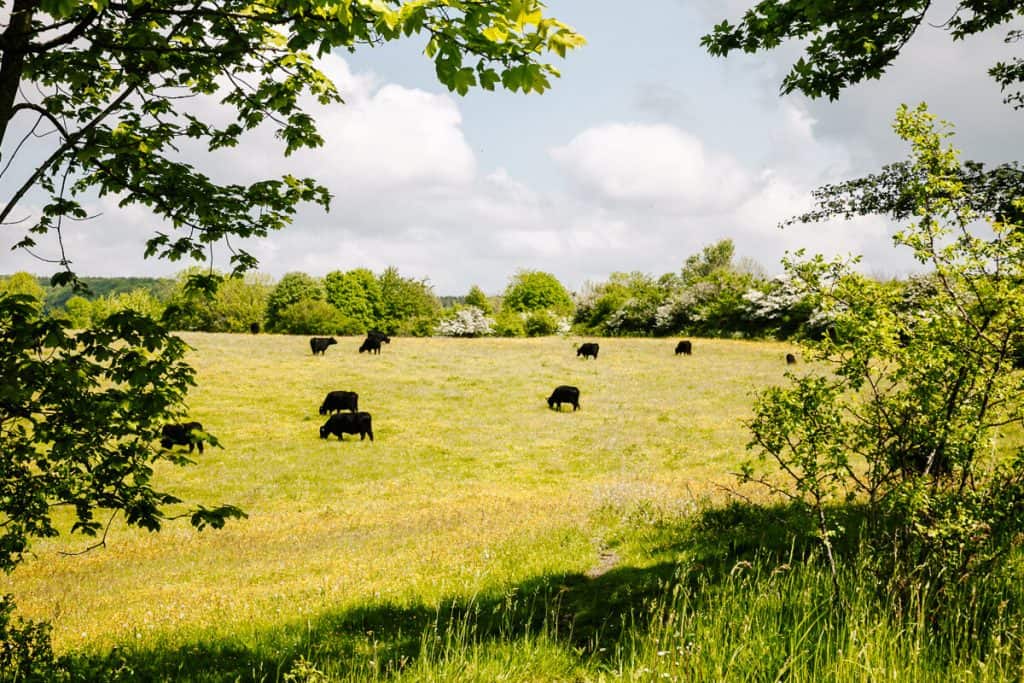 You walk through forests, across fields, past charming farms with thatched roofs. Everything is in bloom in spring, especially the grain fields filled with yellow flowers are so pretty. It is nice that you actually walk through the fields and meet very few people along the way. During this walk you can enjoy the surroundings and completely unwind from daily life. Finish you hike with a drink on one of the terraces in Faaborg.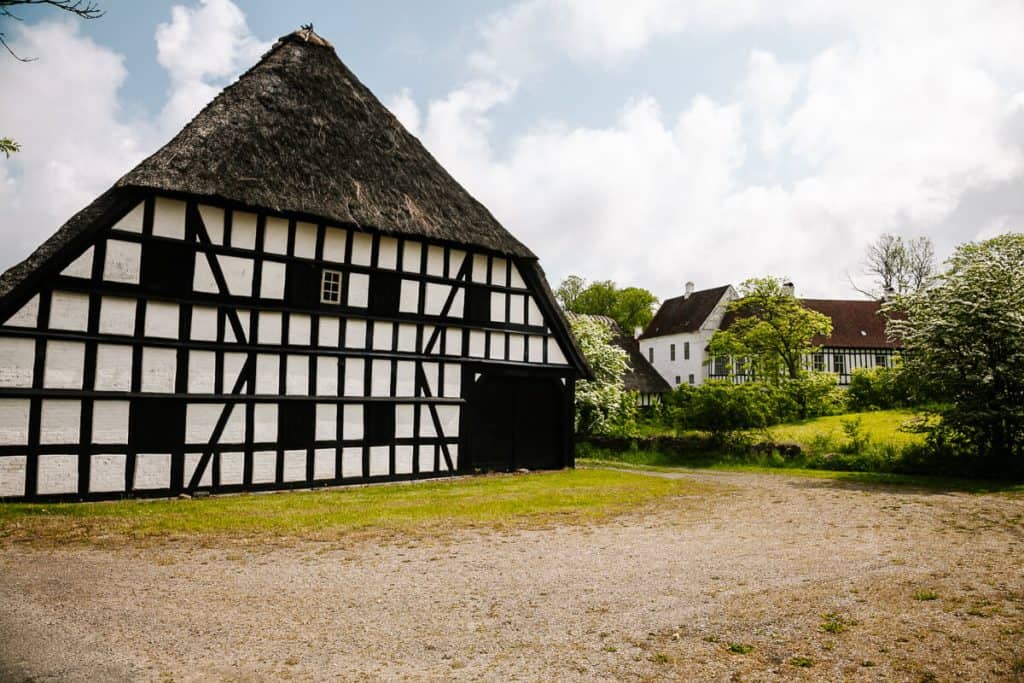 The above route is 25 kilometers long and suitable for anyone who enjoys walking. There are some slight ascents but most of the trail is flat. We walked the route in 6 hours, including stops. There are clear signs all around, so getting lost will be hard. The entire route runs along the South Fyn archipelago through Langeland, Siø, Tåsinge and South Fyn, from Falsled in the west to Lundeborg in the east and also across Ærø. Do bring enough food and drinks with you. There is nothing available along the way.
Go whale watching
I had no idea that you would be able to see whales up close in Fyn in Denmark. Lillebaelt Nature Reserve is one of the most densely populated whale-watching areas in the world. And there is a good chance that you will spot the porpoise here, one of the smallest whale species. The animals can be seen between April and September but are most common in the summer months. This is because of the large quantities of fish that can be found here in the waters and along the coast.
Good observation points for whales are the harbors of Middelfart and Fredericia. You can also make a special whale safari from Middelfart and try to spot the animals from the water. Be sure to visit the whale listening station in Middelfart, where you can listen to the sounds of the whales through an underwater microphone.
Visit Lillebaelt Nature Reserve
Lillebælt, or The Little Belt, is a strait between the island of Fyn and Jutland. This marine reserve consists of 200 km2, 70% of which is sea. 54% of this is a protected nature reserve due to the large population of porpoises that live there. You can go hiking, whale watching and even scuba diving. One of the hikes you can take is the Lillebaeltsti, a 12-kilometer trail along the coast. The walk is flat and easy, offering nice views of the sea and the coastal landscape. Start the walk at the bridge of Lillebælt or the shelter of Sobadet, also a place to spend the night (more about that later0. You then walk around in which you also visit the city of Middelfart.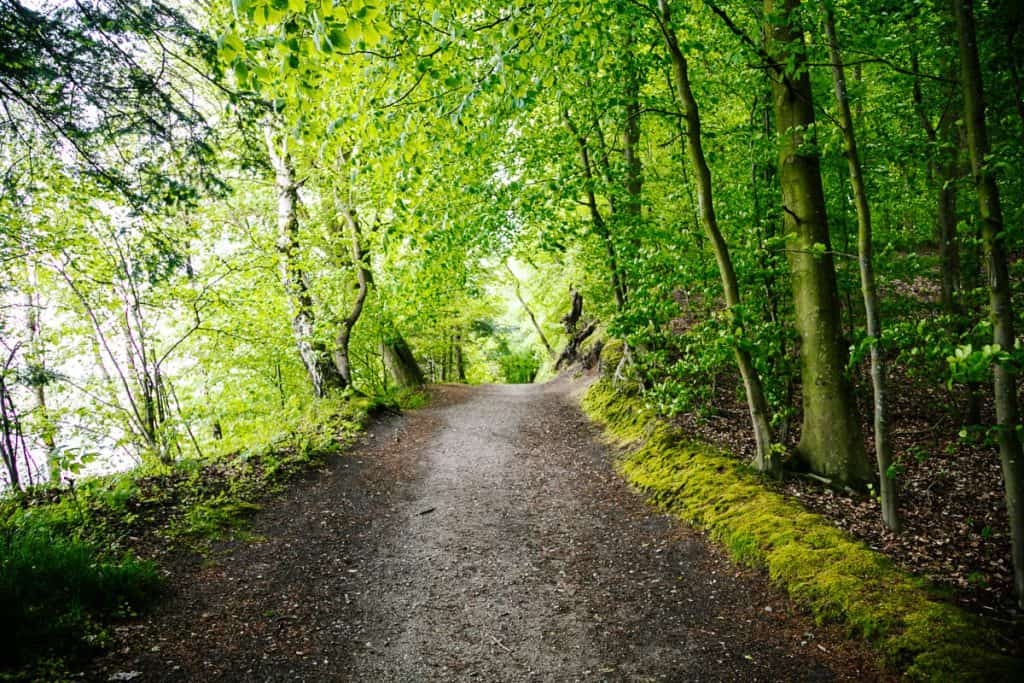 Walk across a 60-meter high bridge
Are you looking for a bit of adventure? Then one of the things to do for you in Fyn Denmark is Bridgewalking. You walk here at a height of 60-meters on top of the Old Little Belt Bridge, which connects the island of Fyn with Jutland. One of the residents from the neighboring village Middelfart decided to introduce Bridgewalking to Fyn in Denmark, after his experience in Australia. It is the only place in Europe where you can do this.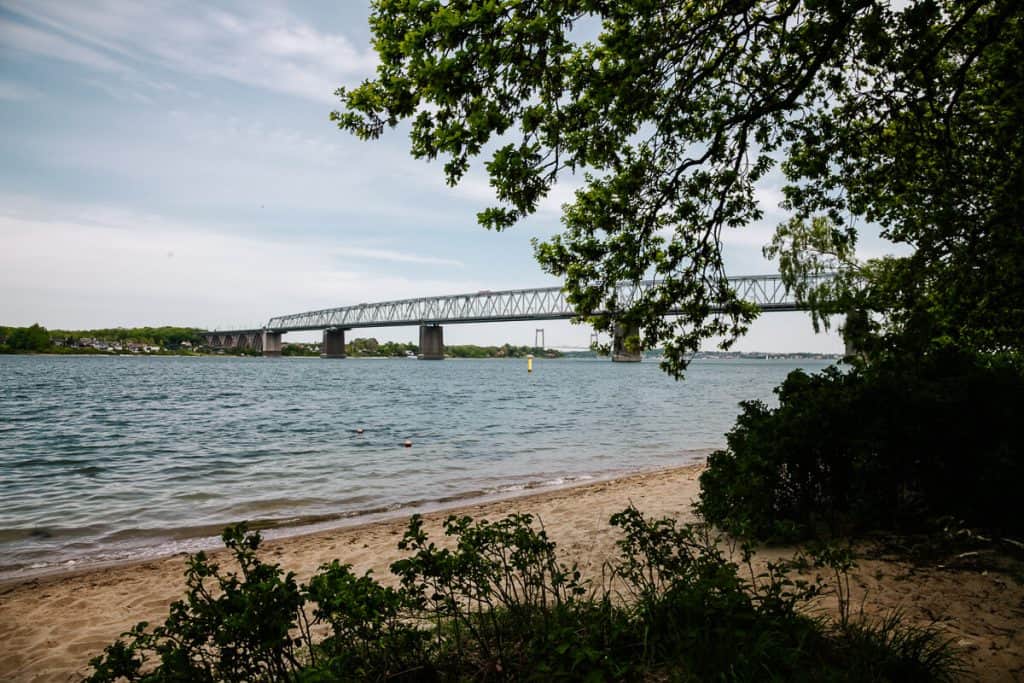 Dressed in gray overalls and signed to the railing, you embark on your adventure. Once at the top you look far out over the Danish islands, villages and sea. And if you are lucky you will also spot the small whales here. You are 20 meters above the passing traffic, which in the case of a train is accompanied by a deafening sound. Along the way, the guides tell you about the area in an interesting way.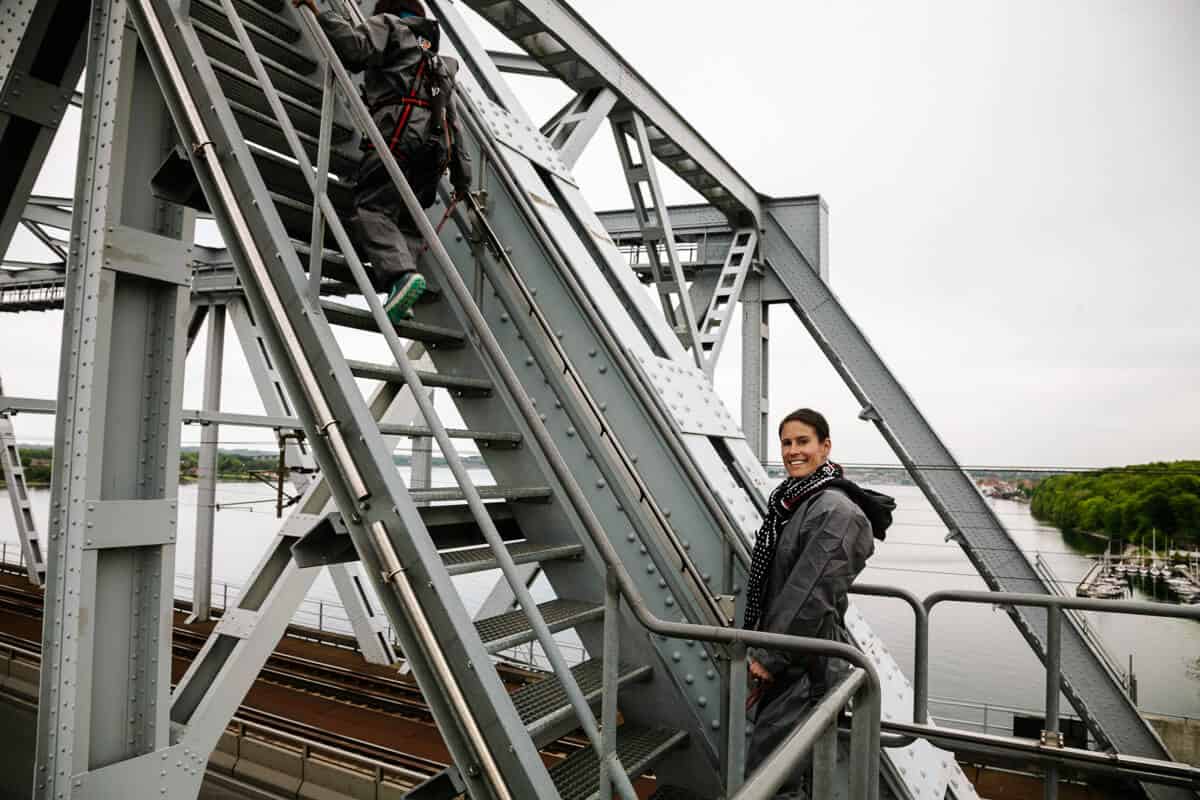 How adventurous is Bridgewalking? It is, because you will find yourself at a great height. But you are very well chained to the edge with a harness, while you move along the railings. The path is wide and the surface stable. The walk takes 2 hours and is one of the fun and adventurous things to do when you are in Fyn Denmark. Just don't do this, if you are afraid of heights.
Spend the night in a shelter on Fyn in Denmark
Shelters can be found throughout Denmark, but most of them are located around Fyn. Booking one of these shelters costs just a few euros per night, making it an affordable option for you to stay. But it is the experience what really makes you want to do this. Shelters are simple huts, located in the middle of nature, where you can spend the night in a lovely setting. You will find them in different shapes and sizes, ranging from open-air structures with a roof above your head to quaint wooden cabins complete with a door. Often there is wood available for you to enjoy a cozy campfire and there is a clean toilet within walking distance.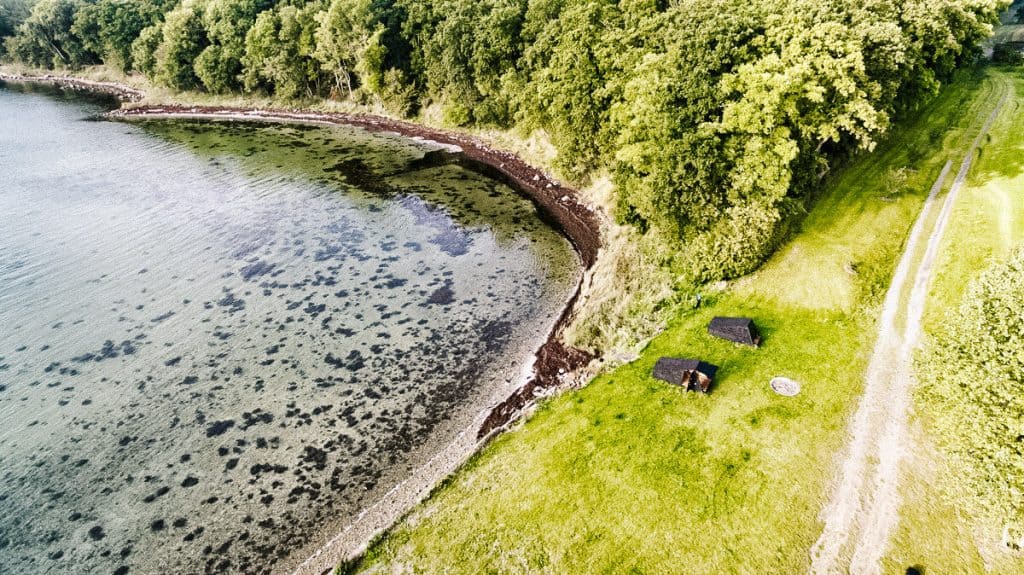 Remember to bring your own sleeping mat, sleeping bag, drinks and food, which can be prepared over your personal campfire. The Book en Shelter website offers useful resources, including recipes that guide you through crafting your very own campfire pizza. Moreover, you'll find tips on identifying mushrooms, plants, and elderberries that you'll find during your hiking.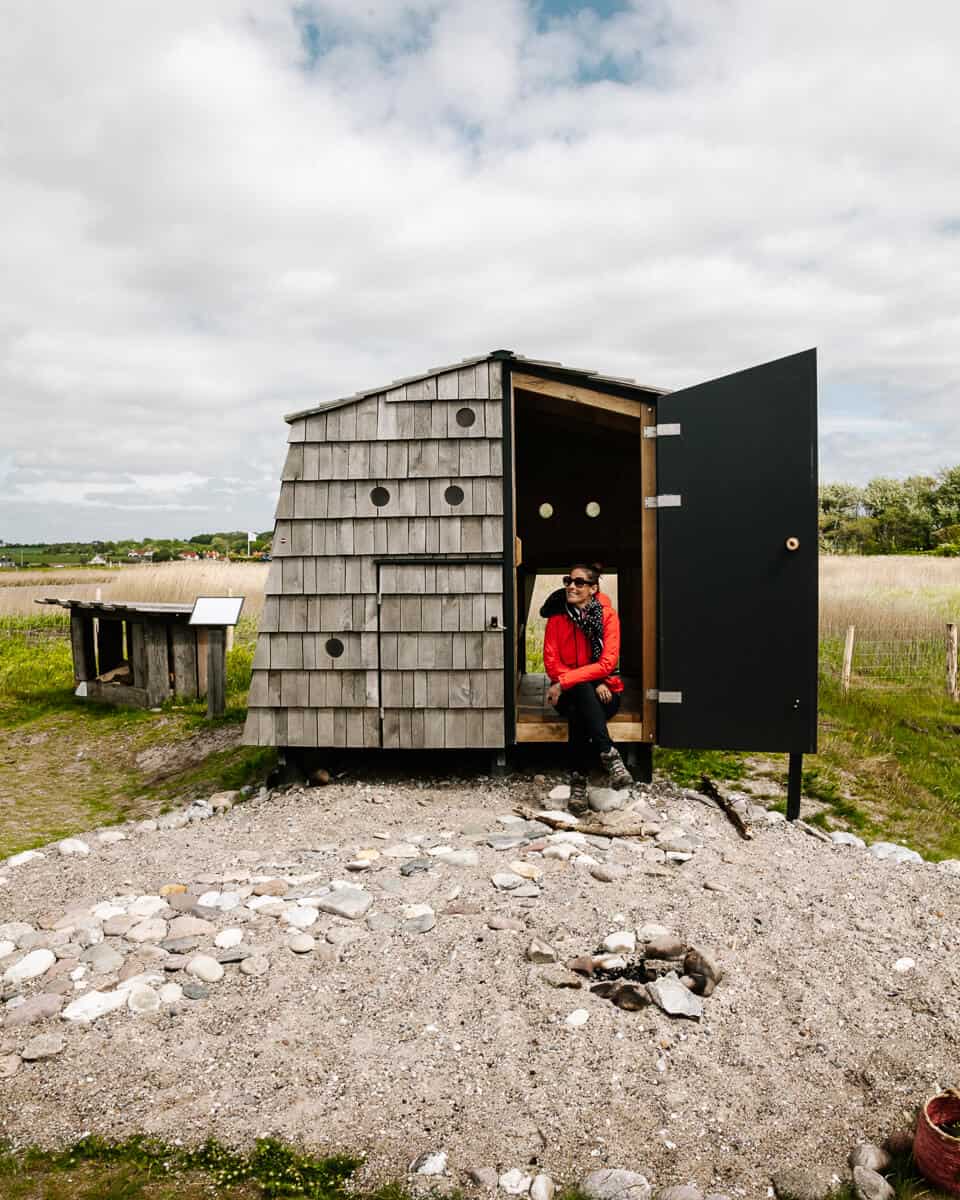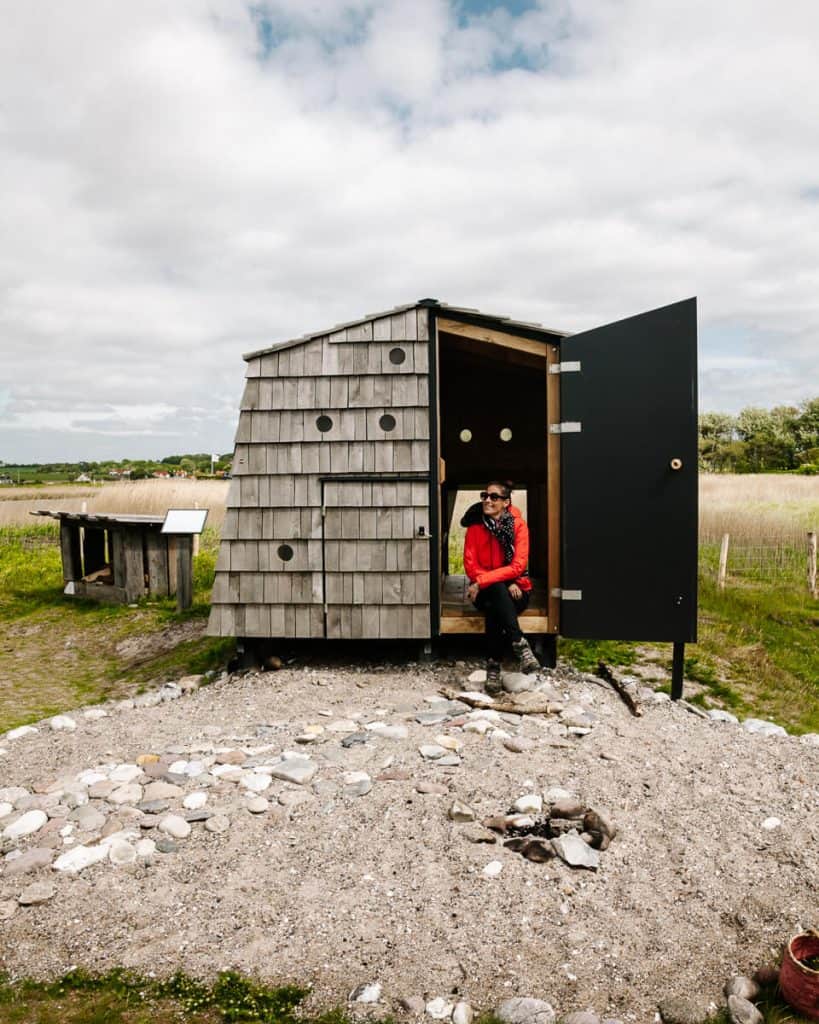 An overview of shelters, facilities and a booking option can be found here.
Look for edible plants and food
If you enjoy the outdoors and good food, then a beach safari on Fyn in Denmark is one of the best things to do. And that is something very different from what you might expect. Accompanied by an expert outdoor guide, you'll embark on a journey along the beach, searching for edible plants and herbs. During the safari, we were introduced to a variety of finds, including a beach cabbage with a distinctive flavor, plants with a taste of crisp cucumbers, and a remarkable leaf that possesses the essence of wasabi, wich has left numerous top chefs astonished. There is also an opportunity to go fishing.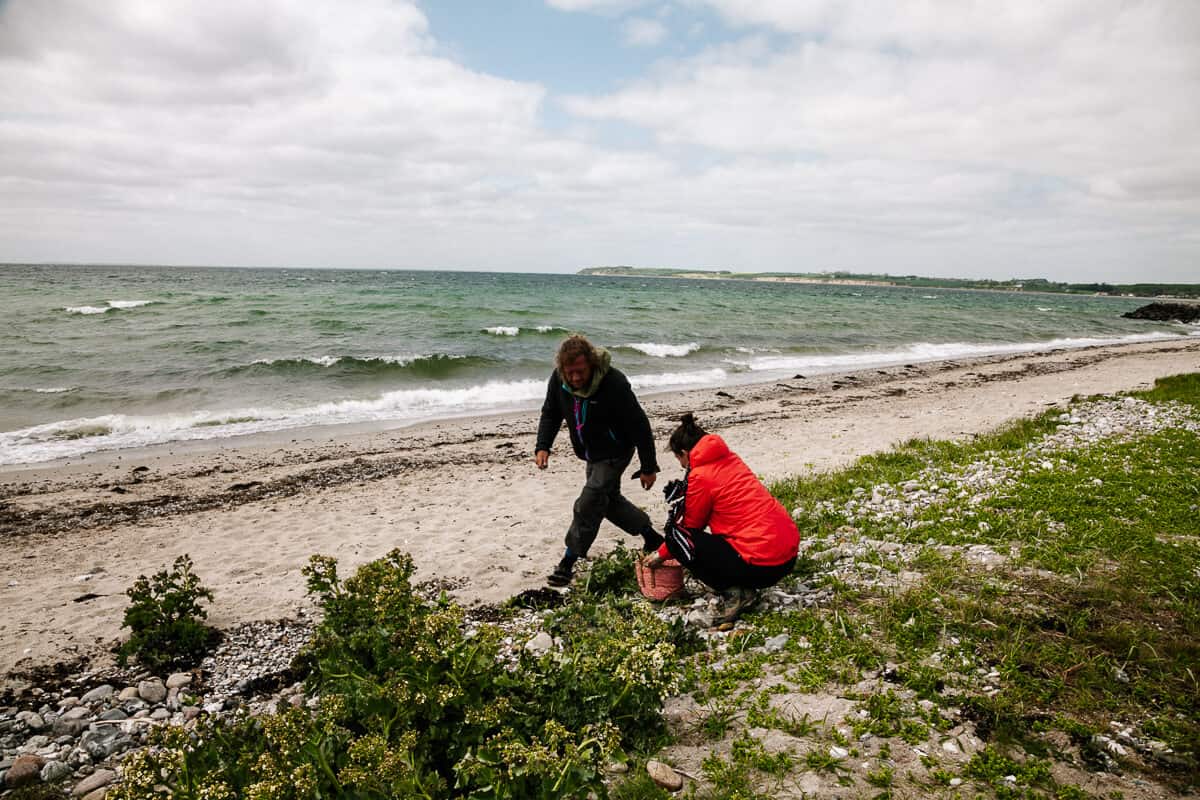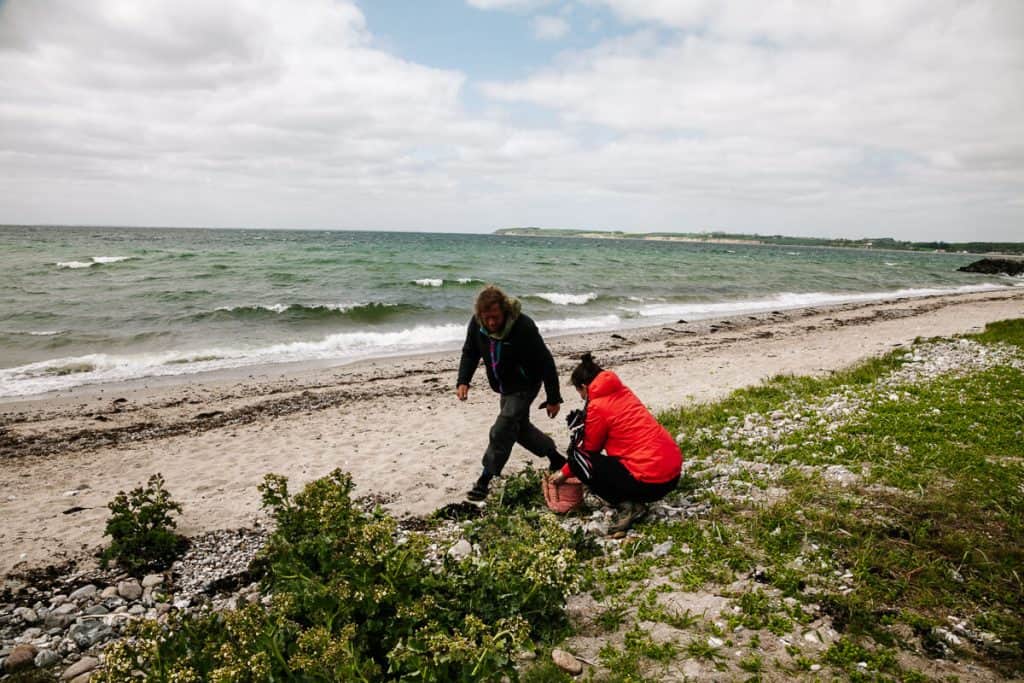 However, the highlight of the beach safari is witnessing your hand-picked plants and herbs come to life on your plate. You will enjoy a delicious meal around the campfire after your tour. And you can of course assist in the preparations.
Interested in going on a beach safari? You can contact outdoor guide Lars Henriksen though lars@oplevkysten.dk or +45 22121646.
Hygge on Fyn in Denmark
Have you ever heard of Hygge? It is a Danish expression and custom that embodies the concept of coziness and creating a nice moment for oneself. Hygge can be found in the simple ways of life, and there are different ways to embrace and enjoy it. However, if you find yourself in Fyn, Denmark, and planning to spend the night at Falsled Strand Camping (about which more later), there's a special hygge experience you can book. Owner Leonarda and team make your room completely hygge ready, including a foot bath with fresh herbs from the area, a bottle of wine and more goodies. The best way to get familiar with the Danish hygge.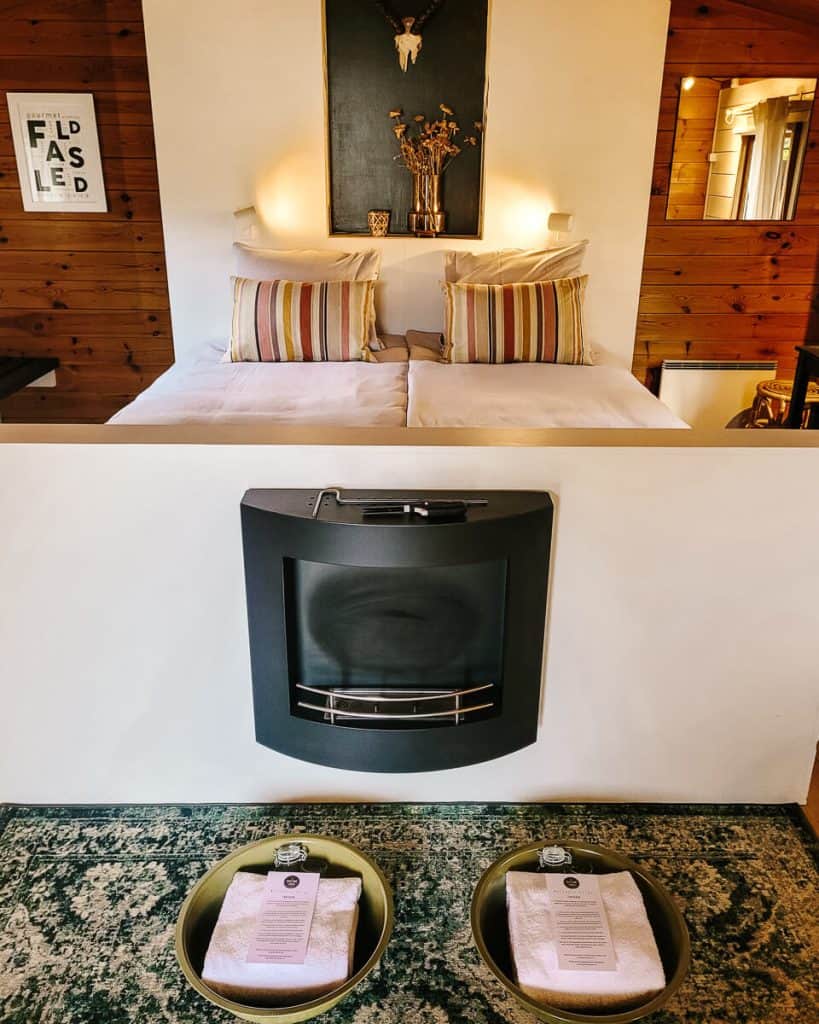 Helnaes Peninsula
On the west coast of Fyn in Denmark, near the town of Assens, you will find the Helnaes peninsula, consisting of a long coastline, meadows and fields. Around Bo Bakker, a hilly area, there are beautiful views to enjoy. The area is also recommended to go for nice walks. More information about the hikes can be found at the tourism office in Assens.
Danish wine
Did you know that Denmark produces wine? Since 2000, Denmark has been officially recognized by the EU as a wine-growing country and there are even several wine regions. This makes it the northernmost wine-growing area in Europe. And Fyn in Denmark can count itself as one of these regions. You can follow special wine routes that take you past vineyards and wineries. I recommend Stokkebye and Skaarupøre. Both produce organic wines and are the main suppliers to star restaurants in both Denmark and France. I myself did a small wine tasting at Falsled Strand Camping where owner Leonarda let us taste different wines from the region.
Get to know Danish cuisine
I had high expectations about culinary delights in Denmark, especially with renowned restaurants like Noma, known as one of the best in the world. However, I was surprised to discover that great dining experiences can be found everywhere. In Fyn, numerous restaurants boast their own vegetable gardens and greenhouses, emphasizing their commitment to working with fresh, local ingredients. Moreover, with an abundance of fish options on the menu, dining in Fyn Denmark becomes even better for a fish lover like myself.
Cultural things to do in Fyn Denmark
Faaborg
Faaborg is one of the oldest and most beautiful market towns in Fyn in Denmark. You can walk around the narrow streets, past old merchant houses, the characteristic clock tower and take a seat on one of the nice terraces. Are you interested in modern art? Then visit the Faaborg museum, one of the things to do in Fyn in Denmark if you are interested in art. Here you will meet a number of important artists from the region.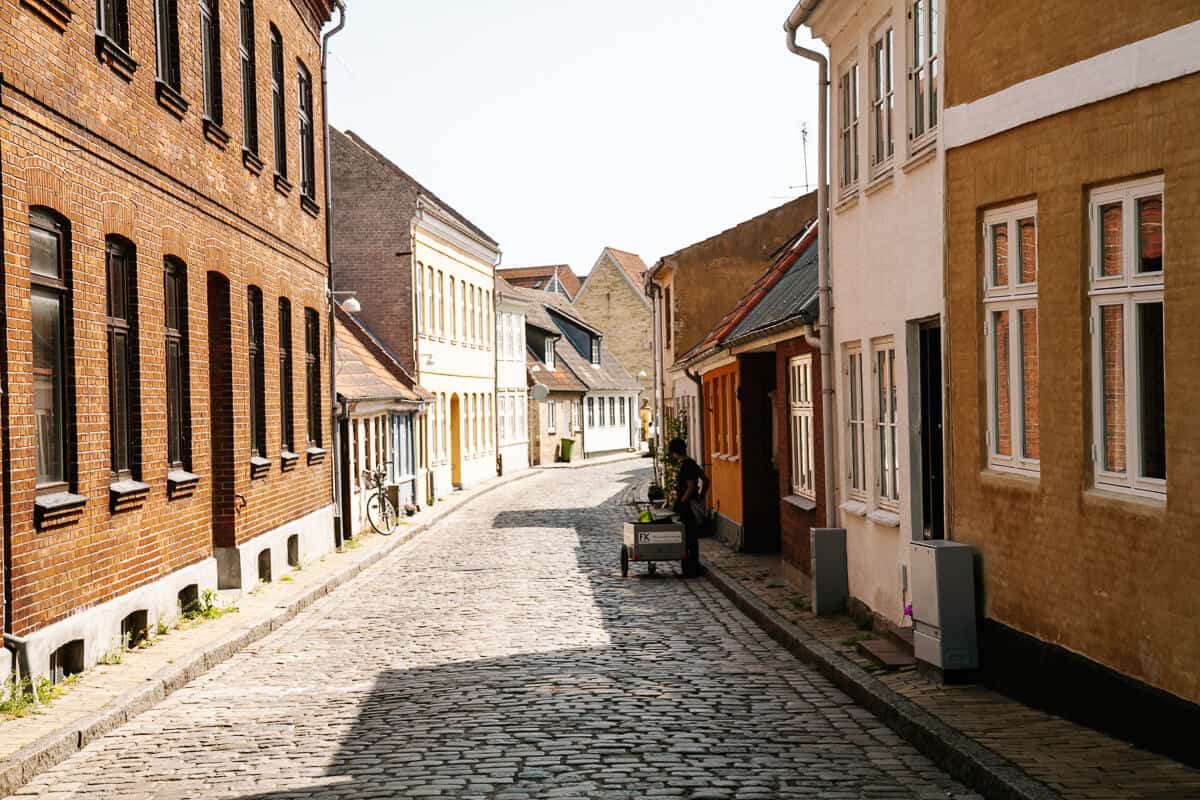 Learn more about yourself and nature
Do you have energy left after one of your walks? In the Øhavsmuseet in Faaborg, you learn how you relate to nature. There are spaces that are dedicated to the forest, the sea, the mountains and the dark, presenting different audio stories. There are also experiments for you to participate, giving you an insight into how you absorb the environment around you. Your senses will be fully stimulated.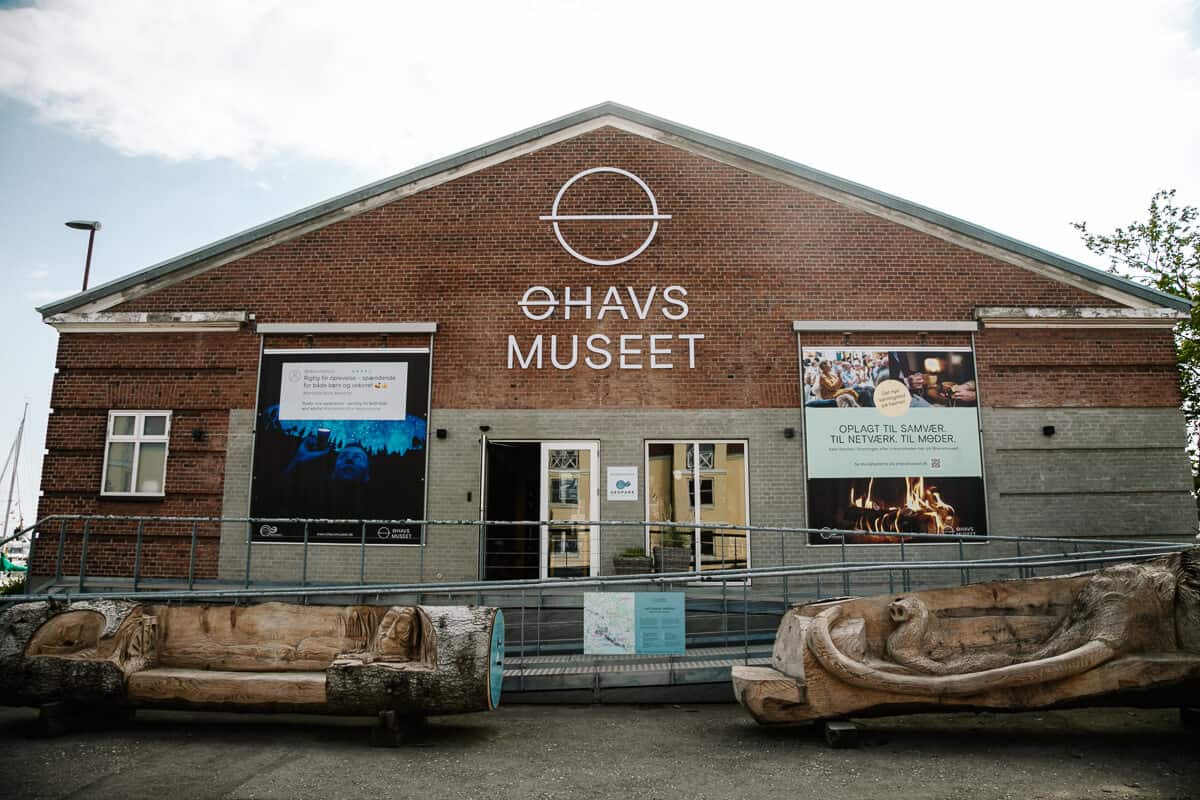 Fish at Faaborg Rogeri Café
If you like fish, a lunch at Rogeri Café in Faaborg should not be missed. This small restaurant is located in the harbor of Faaborg and serves freshly smoked fish from its own smokehouse every day. There are dishes with salmon, shrimps, mackerel or mixed dishes. Simple but oh so tasty.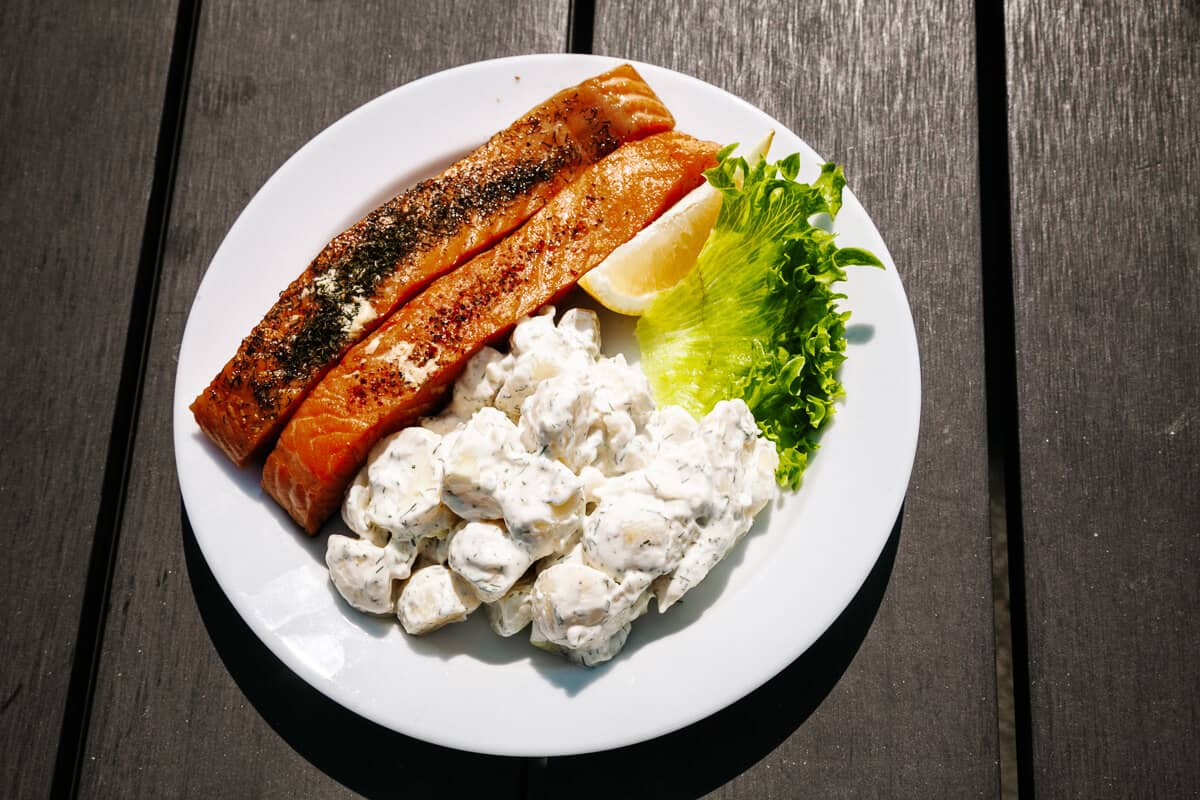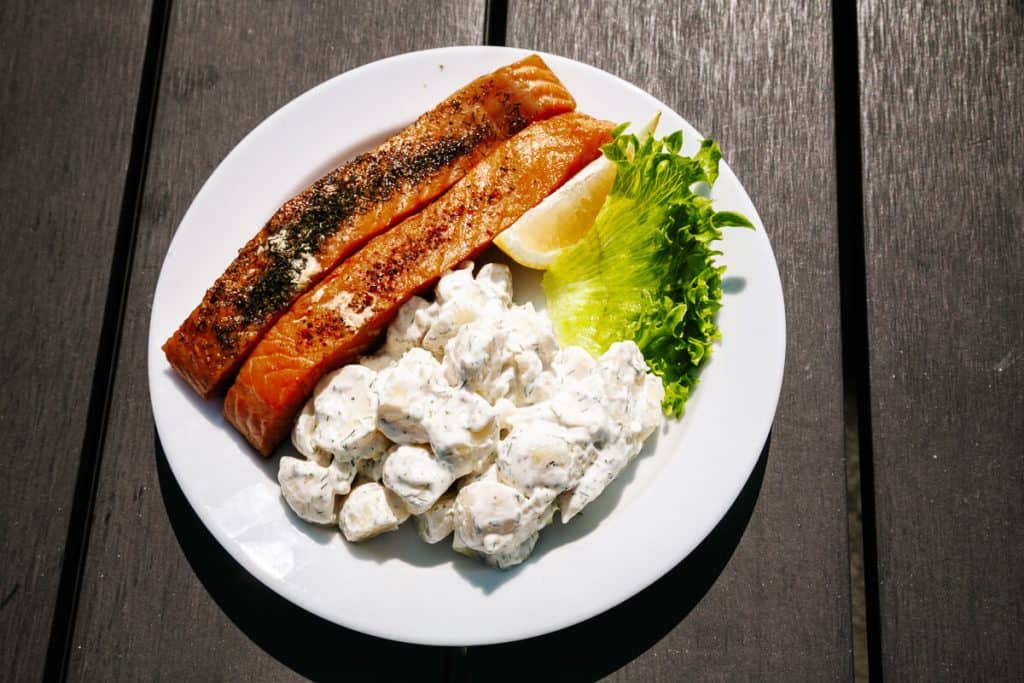 Castle Egeskov
Fyn in Denmark is home to 123 castles, including Egeskov Slot, said to be one of the best-preserved Renaissance castles in Europe. This old moated castle is located 35 kilometers from Odense and it is one of the interesting things to do in Fyn in Denmark. Even if it is because of the castle gardens, which have won several international prizes. It is also possible to visit the castle and its palace halls itself. The castle is still inhabited by Count Ahlefeldt and his family, but is open to visitors on a daily base.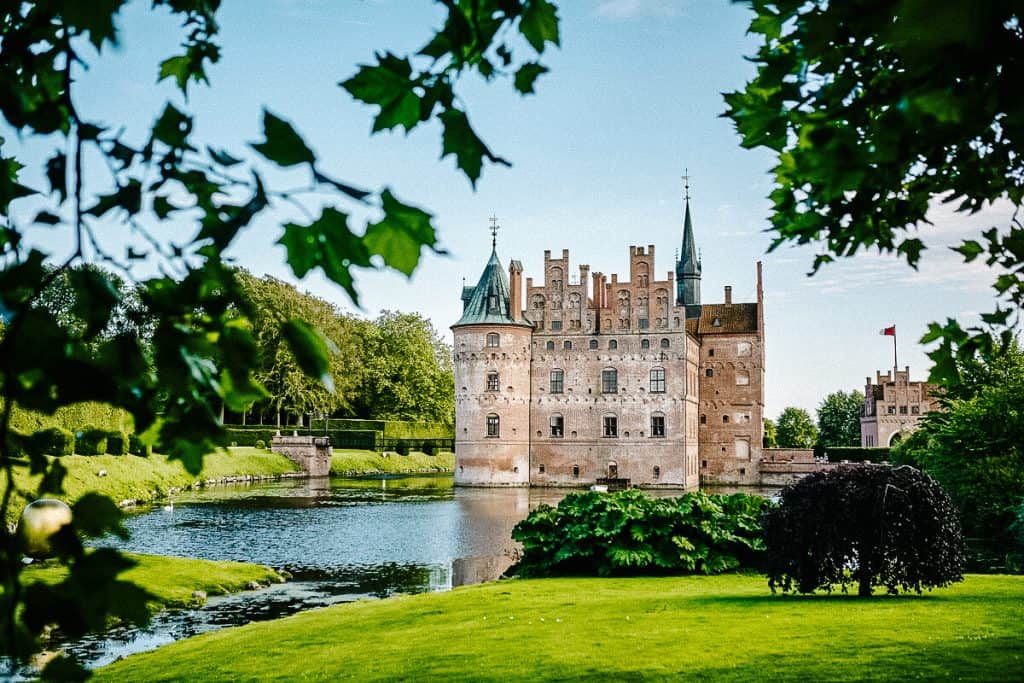 Visit Odense on Fyn in Denmark
Odense is the third largest city in Fyn in Denmark's and is the birthplace of the Danish writer, Hans Christian Andersen, known for Disney successes such as The Little Mermaid, and Frozen. In Odense you can follow in his footsteps and visit his museum. The H.C. Andersen Hus is partly underground and is an innovative interactive museum that takes you on a journey through his fairy tales through installations with light and sound. Moreover it is also nice to stroll through the characteristic old streets in Odense and have a something to eat at the popular street food market, Storms Pakhus.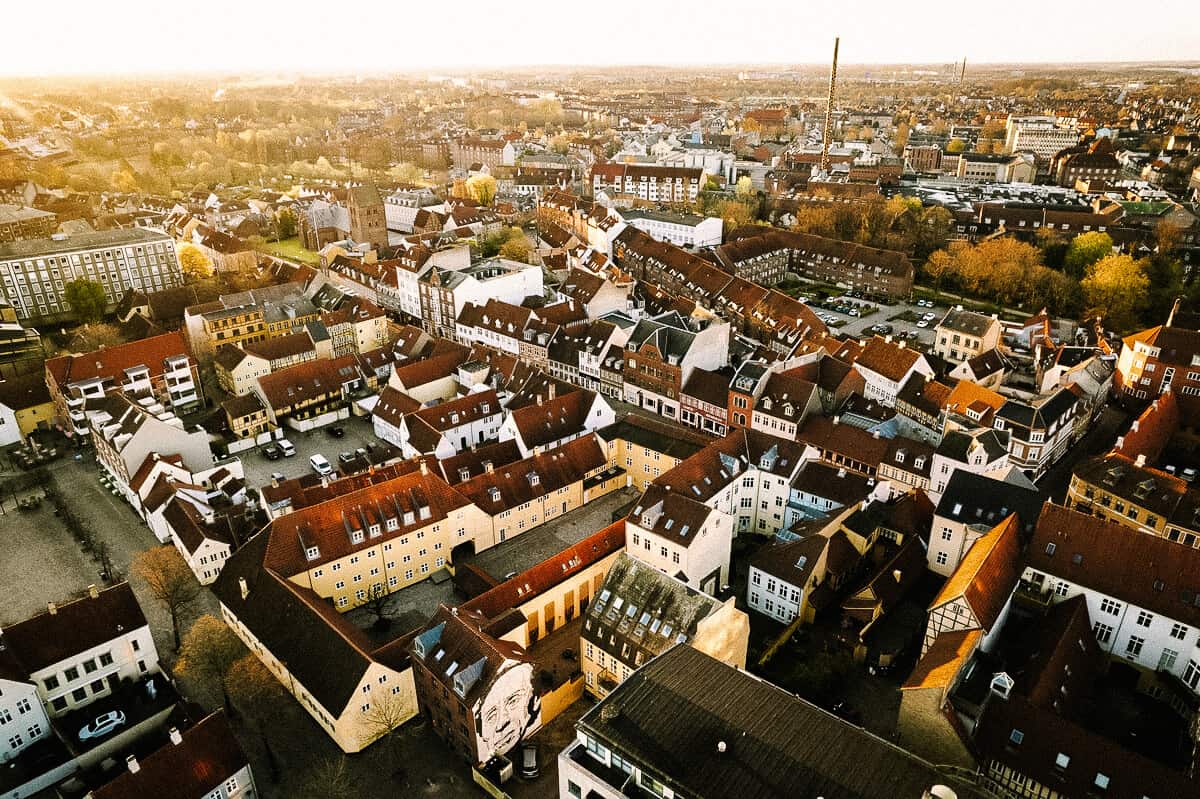 Do you want to learn more about the history of Odense? You can book an interesting walking tour here.
Explore Svendborg with the invisible theater tour
Svenborg in Fyn in Denmark has a small-scale character and a peaceful atmosphere. One of the things to do if you want to learn more about Svendborg is to go on the Invisible Theater tour. With the special tour app, you walk a route and listen to stories from local writers along the way. Personally, I have always found it interesting to delve into the lives and works of local artists when I travel. It provides a deeper understanding of the country and culture.
During the silence of the sounds tour in Svendborg you will listen to poetry and stories by contemporary authors such as Josefine Ottesen, Mikael Josephsen, Jesper Wung-Sung. You also dive into history with Karin Michaëlis, Tom Kristensen and Bertold Brecht. What they have in common is Svendborg, as a current or former place of residence. The walk ends at Bertold Brecht's house where he lived in exile for five years and is said to have written his best pieces.
You can download the BaggaardTeatret App via google play or in the app store. Turn on your GPS so that you can receive notifications about the route. Other routes include the town of Faaburg through stories by Hans Christian Andersen. You can purchase the different tours for a small fee.
Mini Travel Guide Fyn Denmark
Hotels on Fyn in Denemark
Fyn in Denmark offers countless accommodations: From campsites to small authentic hotels and glampings. It is recommended to choose a combination of accommodations during your visit, providing different experiences. Here are some tips.
Falsled Strand Camping
Do you want to go camping in a comfortable way? Then book a stay at Falsled Strand Camping, offering one of the most romantic cabins, less than 100 meters from the beach. The small houses are nicely decorated and fully equipped. There is electricity, a heater, running water, a small sitting area and comfortable beds. Outside you have a covered terrace with a small kitchen. And at night, you can make your own campfire in front of your terrace. You have to walk a short distance for the shower and toilet, but that makes for the camping feeling.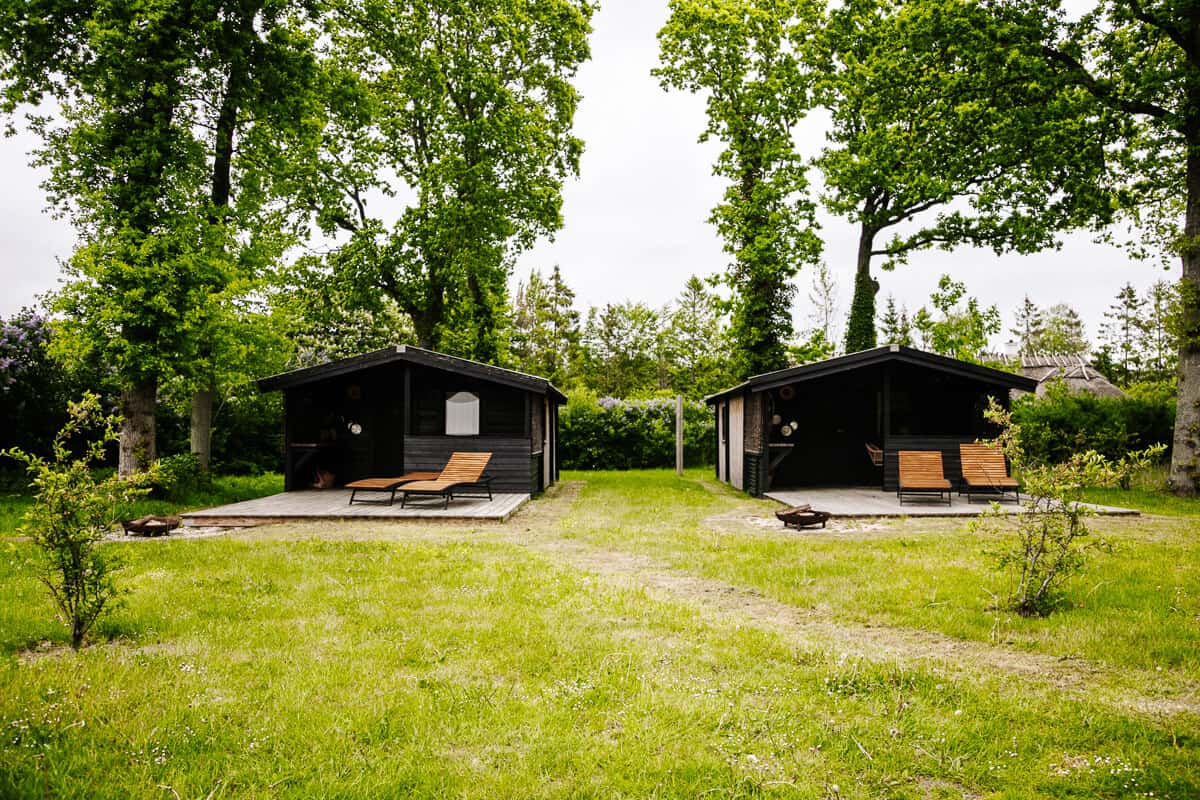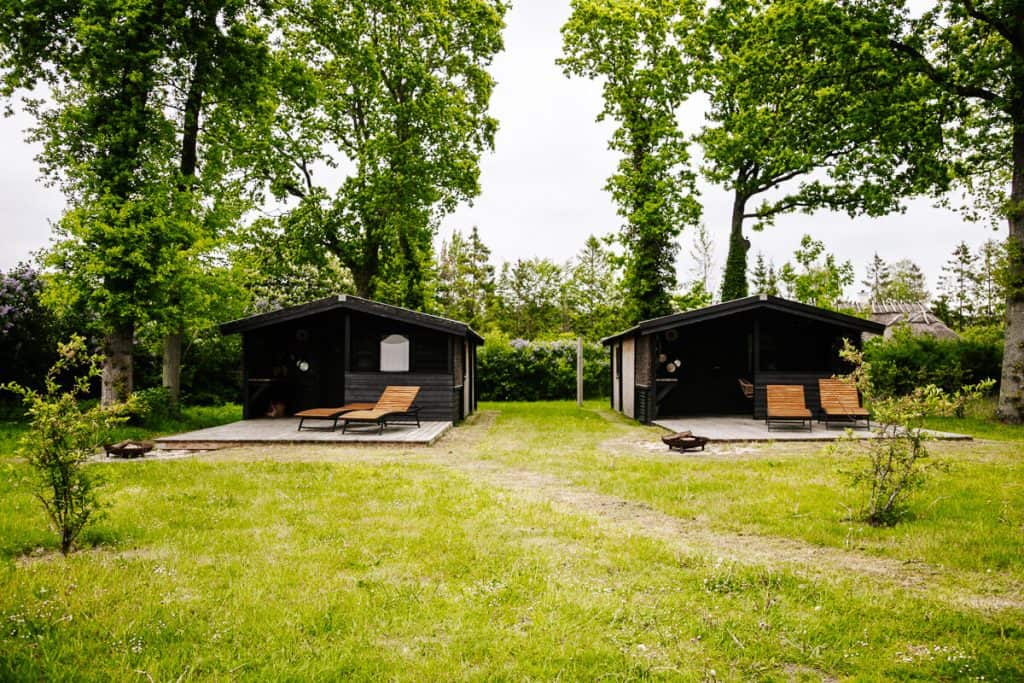 Hotel Ærø
Hotel Ærø is located on the waterfront of Svendborg. It is a small atmospheric hotel that fits perfectly in the atmosphere of the authentic town. The rooms are comfortable and well maintained. On the terrace of the associated restaurant you can enjoy meat and fish dishes, while overlooking the harbor.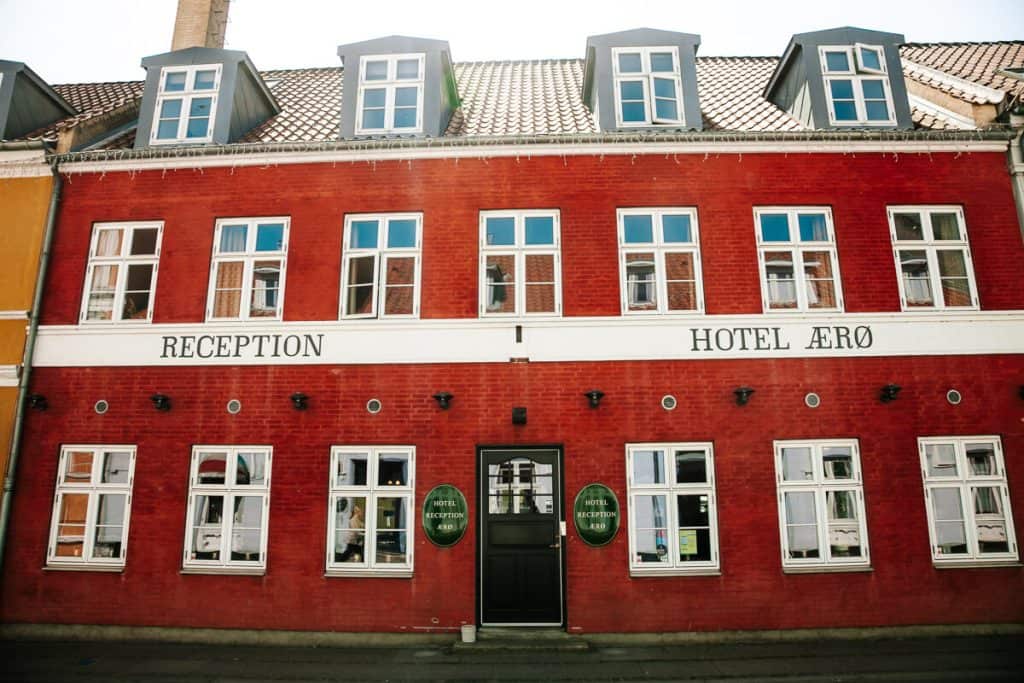 Do you want to spend the night at Hotel Ærø? Check the latest prices and availability here. Looking for more hotels in and around Svendborg? You will find a comprehensive overview here.
Shelter Søbadet
For a real back-to-basic experience in nature, book a shelter. One of the shelters you can book in Lillebaelt Nature Reserve is Søbadet. Here, you sleep on the water's edge, beneath the open sky, in close proximity to the Old Little Belt Bridge. Søbadet comprises four wooden structures for you to lay out your sleeping bag and mat, a picnic table, and a designated spot for a cozy campfire. The shelter provides a rustic setting where you can reconnect with nature. Firewood is provided, giving you the opportunity to prepare your own meals.
Do you also want to spend the night in a shelter? An overview of shelters, facilities and a booking option can be found here.
More hotels in Fyn Denmark
Are you looking for more hotels on Fyn in Denmark? This is an overview of hotels, campsites and other accommodations.
Tours in Fyn Denmark
Looking for more things to do in Fyn in Denmark. Check out the next tours:
How to reach Fyn in Denmark
Are you traveling by plane? Then it is best to fly to the capital Copenhagen. At Copenhagen airport or in the city center you can easily rent a car and start your journey through Denmark. Fyn can be reached from Copenhagen within 1.5 hours, traveling over the Great Belt Bridge.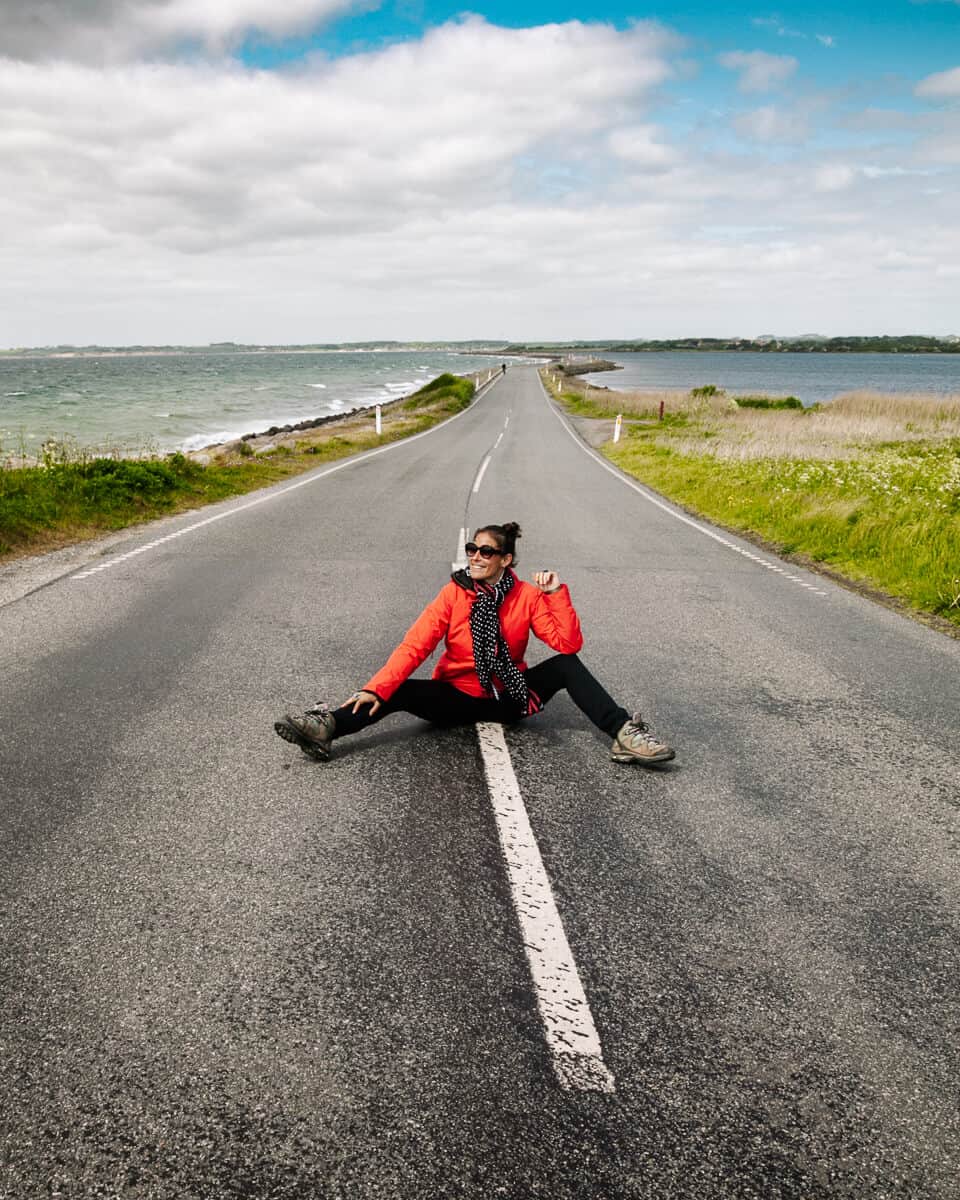 Car rental
Need a rental car for your trip to Denmark? Use Rental Cars to search and compare your car rental options. A quick and easy tool and no need to have up multiple tabs trying to figure out which company is the most affordable. They also have great discounts and cancellation policies.
More hotels in Denmark
Denmark is a wonderful destination with a wide range of accommodations. And everywhere there is attention for comfort, quality and service. From stylish boutique hotels, glampings, to authentic hotels and cottages in nature. It is nice to choose a combination of places to stay during your visit, and gain different experiences. Discover the best and nicest hotels in Denmark, including tips for unique places to stay in a natural setting in the next article.
More about Denmark
Did you enjoy reading this article with tips and things to do in Fyn in Denmark and do you want to read more? Check out the website VisitFyn or follow the region on Instagram. Curious about more Passport the World tips for Denmark? Check out the next articles.
This article may contain affiliate links. If you purchase something using one of our links, we may receive a commission at no extra cost to you, which helps us keep this blog alive. Thank you for your support! Please see our disclosures for more information.