The old Constantinople, the famous Bosphorus River that divides the city into two continents. A busy city with millions of inhabitants. A unique mix of cultures with influences from the east and west; The Christian and Islamic world. Conservative and modern at the same time. Istanbul is an appealing city, attracts many visitors and used to be on my long list of places to visit. This is a list with things to do and see when you are in Istanbul for the first time!
What to do in Istanbul?
An invitation to an anniversary party of a former club, called 2019, was the reason for a visit. And since I had a few days off beforehand, I took the time to dive into this beautiful city and prepare myself a list with places and areas to discover.

Sultanahmet
Sultahnamet, also known as Anatolian Istanbul, with its bazaars and famous monuments, such as the Blue Mosque, Hagia Sophia, Basilica Cistern and the Topkapi Palace, you definitely want to visit. Istanbul was the capital of the Byzantine and Ottoman Empire and walking in this area makes you feel going back into these times, just as in Rome.
Unfortunately as with all tourist attractions, you will not be the only one here. However, you shouldn't miss these places at your first time in Istanbul, even if you only observe them from the outside. Depending on your available you will need to make choices. When I'm short of time, I always choose to visit one or two sites and try to have a look at the other buildings/sites from the outside. With the idea of ​​coming back one day.
Blue Mosque
You do not pay admission to enter the blue mosque. Have a look inside and observe the mosque life. There is a separate entrance for visitors. Of course you have to take off your shoes. But the building from the outside is really stunning.
Hagia Sophia
Hagia Sophia was built as a Byzantine cathedral, later it became a mosque and nowadays it's a museum. It is beautiful to admire this immense structure from both inside and outside. The incredible mosaics can be observed well from the corridors (go upstairs when you are inside). Down in the middle of the church, you realize how big this building actually is.
Basilica Cistern
The basilica cistern was built in the 6th century, during the Byzantine empire. This underground water reservoir has been used as a backdrop for feature films several times, including James Bond's, "From Russia With Love". Once inside, certain pieces are beautifully highlighted. The columns and decoration make it look like a basilica, hence the name. Personally I wasn't blown away by this visit but of course its a unique place and the history in particular is special. It costs a few euros to get in, so you won't be wasting any money to just have a look.
Stunning views
For beautiful pictures and an amazing view, look around for a nice rooftop restaurant, such as the Seven Hills Restaurant. Here you can have a delicious lunch or Turkish tea and enjoy the beautiful view without the tourist crowds.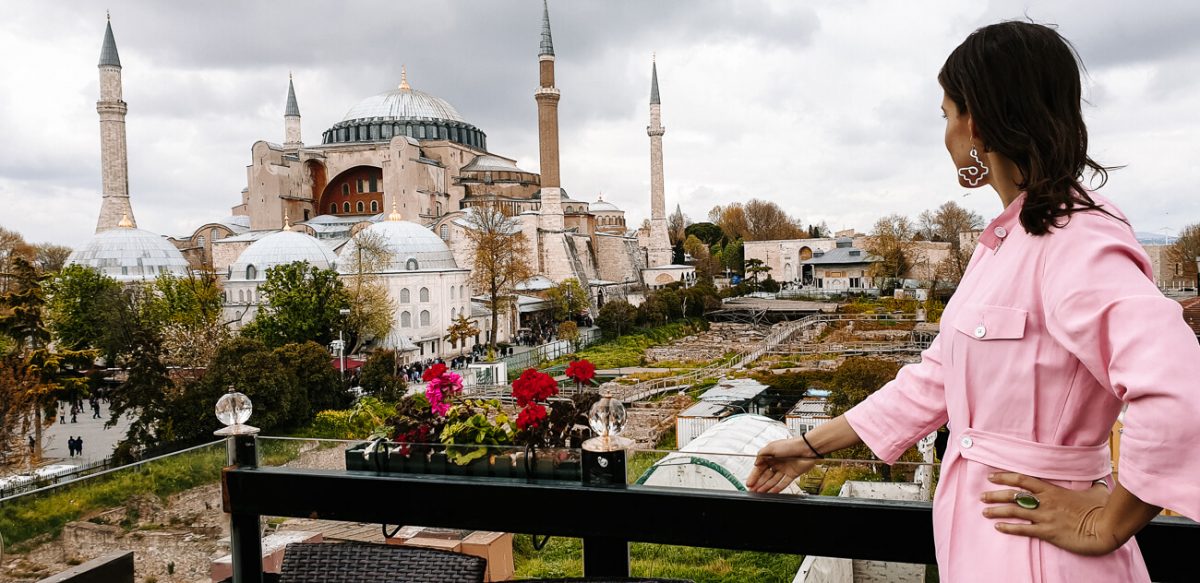 Read more about the nicest restaurants and hotspots in Istanbul.
Bazaar district & secret rooftop
A visit to a Bazaar shouldn't be missed during your stay in Istanbul. Sultahnamet has three large bazaars and a lot has been written about them: The Misir Carsisi, or the Egyptian spice market with countless herbs and spices, the Kapali Carsi or Grand bazaar, a maze of shops, galleries and crafts and the Arasta Bazaar near the Blue Mosque. It's always nice to stroll through a bazaar, do some shopping but especially to observe the local daily life.
One of the highlights is a place called the "secret rooftop" because of its outstanding view. Its called secret rooftop, since it is not an official place, not indicated anywhere and you have to look for it very well.
Do you want to discover this secret rooftop? Find all the information, including a step by step guide with directions, here.
Galata bridge
The Galata bridge is an icon for Istanbul. This bridge connects the European part, Beyoglu with the Anatolian Sultahnamet. On both sides of the bridge you will find a pedestrian zone wich offers beautiful views. Underneath the bridge you will find plenty of fish restaurants, with many waiters inviting you over.
Galata Kulesi
The Galata tower, an important monument for Istanbul and can be seen from almost the entire city. The tower offers a panoramic view of the two continents. However, you have to pay for it and make a long line. The other option is to just have a look at the tower from the outside and find a different viewpoint, with less people, such a the secret rooftop.
Neighbourhoods: Cihangir, Curkucuma & Karaköy
Cihangir is also called the French Quarter, Curkucuma the antique district. These two neighborhoods, both located in the Beyoglu district,merge into each other and consist of small little streets, squares and alleys, often connected by stairs, with beautiful houses and local mosques on the left and right hand side. The neighborhood hasn't lost its local character. In addition to hip little stores, coffeeshops and terraces, there are many local shops where you can buy herbs, spices or drink a local tea Along the way you come across street art. Also, the cutest street-cats are part of daily street life.
Karaköy is the former red-light district and is located between the Kemaralti Caddesi and the water. It's described as the place for hip Istanbul. This area has a lot of cool street art, many shops, nice food and coffeeshops. When the weather is nice, walk along the water or take the boat to Asian Istanbul.
Curious to discover Istanbul's neighborhoods? Read here about the nicest neighborhoods in Istanbul.
Taksim square and Istiklal Caddesi
The Taksim Square and the famous shopping street, Istiklal Caddesi are the center of Beyoglu. And you should definitely visit it. The Taksim square is an important place, that you often see in television programs and newspapers when its about Turkey. Like in every main city, Istanbul also has a main shopping street, called Istiklal Caddesi, with many shops and main stream restaurants. There is also an antique tramway running through the street, the Beyoglu tram. It's especially nice to observe people as all kind of people come together in this area wich makes it an interesting reflection of society. From very modern to very conservative.
More about Istanbul
Do you have more time to spend in Istanbul? Have a look in the Istanbul Modern, the museum of modern art.