Ushuaia is the southernmost city in the world, also called the end of the world. From here the boats leave for Antarctica. Ushuaia is located between the Beagle Channel, glaciers and eternally snow-capped peaks. Ushuaia is a city that you absolutely want to visit during a trip in Argentina. The Ushuaia area lends itself to beautiful hikes in Tierra del Fuego, to glaciers, tours of remote farms and husky dogsledding in winter. But also for boat trips on the famous Beagle channel where you are able to observe penguins, seabirds, seals and with a little luck even whales. Discover the best things to do in this Ushuaia Argentina travel guide, including tips for hikes, tours, my favorite restaurants, best travel time and where to stay.
Ushuaia travel guide | 20 tips and things to do
Ushuaia is a destination that I visited many times, to make television reports and as a tour guide, to guide visitors around the area. And still, after all those years, I love visiting Ushuaia. The idea of being at the end of the world, makes for a special feeling. I hope you will enjoy my travel guide with tips and things to do in Ushuaia.
Sail on the Beagle Channel
One of the top things to do in Ushuaia is a trip on the Beagle Channel. It is a unique feeling to sail at the end of the world, knowing that you are sailing the same route as the ships to Antarctica. With Chile on one side and Argentina on the other, you can enjoy beautiful views of the snow-capped peaks. And if you are lucky, you can even spot whales during the trip.
There are different tours to choose from. The short trip sails past the bird and seal island: Places where you can take great pictures. This tour also includes a picture spot at Les Eclaires, the end of the world lighthouse, that is depicted in many photos.
If you opt for the long tour (about 4 hours), you will also sail to Pinguïnera, Isla Martillo, the island with the penguins where you have a good chance of seeing the King penguin. Make sure to check the penguin population in advance. Early in the season there are sometimes not many penguins and the longer trip might not be worth it, especially if you are also visiting Puerto Madryn and Punta Tombo in Argentina.
Visit Estancia Haberton
Optionally, you can extend the trip on the Beagle Channel with a visit to the historic Estancia Haberton, known for the book, Uttermost Part of the Earth, about the end of the world and its indigenous people by Lucas Bridges. You get off the boat, after penguin island and then enjoy an extensive tour of the old farm. Afterwards you return to Ushuaia by bus.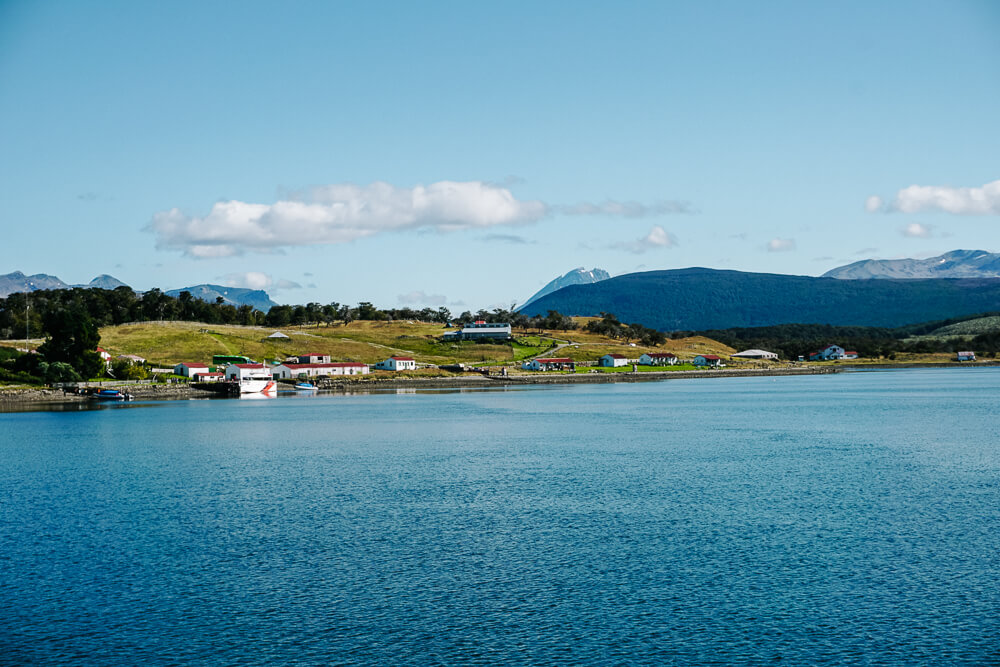 Curious about the book: Uttermost part of the world by Lucas Bridges? You can order it here.
I myself enjoyed the visit a lot but that's because I have read the book. If you don't know about Estancia Haberton, you might want to enjoy other things to do around Ushuaia. If you don't go to penguin island and Estancia Haberton, you can also choose to book a boat trip where you stop at one of the islands and go for a walk.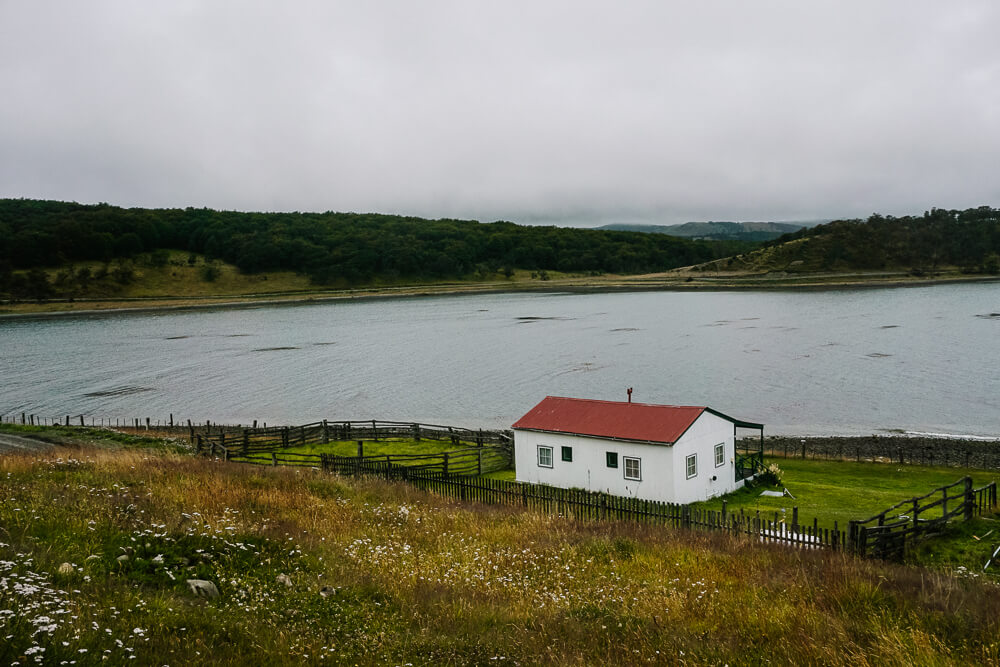 Beagle Channel tours in Ushuaia
Want to book your tour in Ushuaia in advance and secure your spot? Check out prices and availability.
Hike in national park Tierra del Fuego, one of the famous things to do in Ushuaia Argentina
One of the famous things to do in Ushuaia is to visit Tierra del Fuego, the land of fire. The main reason to visit this southernmost national park in Ushuaia is to go for some beautiful hikes. There are several trails, including short distance hikes of 45 minutes or long walks of a few hours.
Do you want to read more about Tierra del Fuego in Argentina? In the next article you will find a comprehensive guide with national parks in Argentina, including what to do, hiking trails and how to best visit the park.
Costera – one of the popular hikes in Ushuaia
The most beautiful walk is the Costera, a trail of about 3 to 4 hours (8 km). You walk partly through the woods but most of the time along the Beagle Channel. All places and corners offer a different view of the canal, because of the trees and the special light. And every minute of the trail is worth it. Along the way you will encounter vegetation consisting of beech forests, marshes and peat. Numerous waterfowl, geese, beavers, birds of prey also live here and if you're lucky, you'll even bump into a red fox.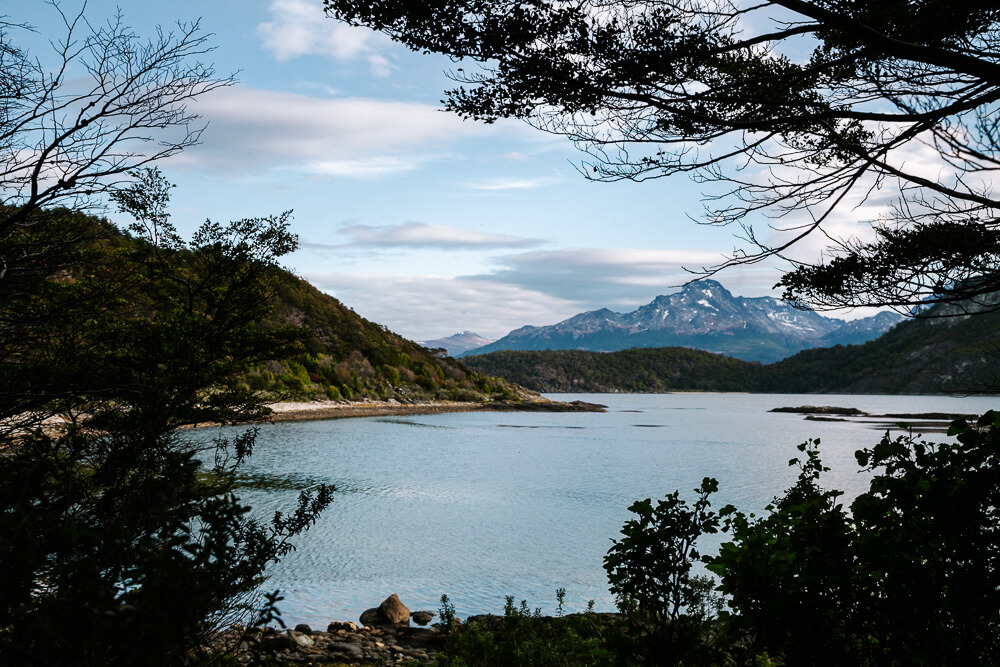 Do you know where the name Tierra del Fuego comes from? When the Europeans first visited this part of the world, they saw many fires from a distance which were lit by the local peoples. At that time it was named Tierra del Fuego.
In this isolated place in Ushuaia you will also find a special post office, "the end of the world post office" where you can send a post-card and have a stamp put in your passport (please note: this is officially not allowed).
Transportation tip: Book a taxi and have him drop you off at different places in the Ushuaia national park, where you can go for short or long hikes. There are fixed rates and you can book transportation at the taxi station. Want to go on a guided tour? Check out prices and availability and book your Tierra del Fuego tour here.
Go on a husky dog sledding tour | best things to do in Ushuaia Argentina in winter
Are you in Ushuaia in winter? Then you want to do one thing for sure and that is to take a dog sledding tour with the husky dogs through the snow. Actually, it is a reason in itself to visit Ushuaia in winter. On a sled thickly wrapped with a blanket over you, you drive through the snow and enjoy the animals and surroundings. Afterwards you drink a cup of hot chocolate. Make sure to dress very warm. As you are not moving, you feel the cold even more.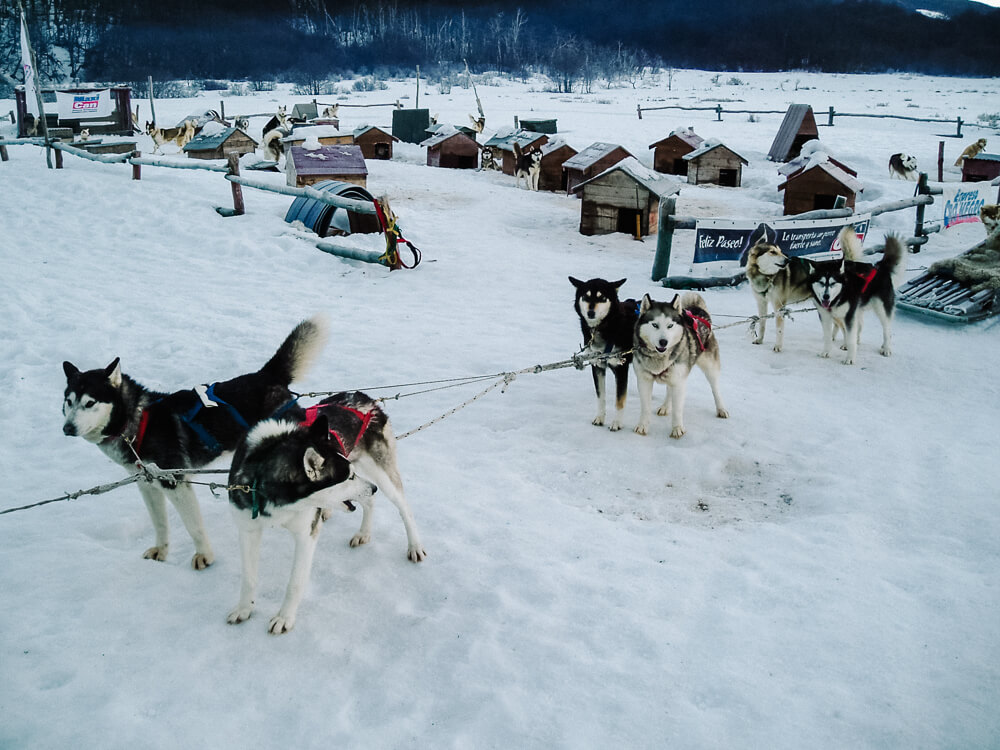 Want to book your tour in advance and secure your spot? Check out prices and availability for a dog sledding tour in Ushuaia here.
Laguna Esmeralda | one of the best hikes in Ushuaia
One of the hikes and things to do in Ushuaia that you can easily do on your own, is the walk to Laguna Esmeralda, a glacier lake surrounded by the Albino Glacier and the peaks of Las Torres and Cordón Toribio.
Have yourself dropped off at the starting point by taxi, along the road in the east of the city. You then walk for 1 hour to 1.5 hours on a trail, leading you through different vegetation zones: Through forests, along beaver dams, peat bogs and moors another valley, until you reach the glacial lake. Some parts are a bit steep but overall this is a fairly easy hike. You can't get lost because you walk the same way back and forward. Do bring warm clothes. It can be very windy and cold, especially at the lake. Make sure to arrange a timeslot with your taxi driver so that he will pick you up when you finish your hike
Do you want to see Ushuaia and Emerald lagoon from above? It is possible to book a helicopter tour, where you get to enjoy spectaculair views.
Walk among the penguins on Isla Martillo
Are you looking for a unique experience? With Piratour you can visit Isla Martillo and walk among the penguins. While everyone has to stay on the boat, you will walk with a few others on the island and have the chance of seeing the penguins up very close. A unique experience. You first drive by bus along the Beagle channel and then board a small boat towards the island. There is only one organization that has the permit for this tour, so you will need to book your tour in advance. Check prices and availability for your Isla Martillo tour in Ushuaia here.
Taste the famous king crab – culinary things to do in Ushuaia Argentina
Everywhere in Ushuaia you will find the famous centolla, the Patagonian king crab. And if you like fish just like me, you just have to taste it. You can find them in all shapes, sizes and flavors. The nicest and best restaurants to try the centolla are Volver, Tia Elvira or Mi Viejo Marinero, one of the oldest restaurants in Ushuaia. Looking for a delicious risotto with centolla? Then you should have diner in Kuar.
The Patagonian king crab can be found in the inland seas of Patagonia, including the Beagle Channel, the Strait of Magellan around Ushuaia, Punta Arenas and Puerto Williams.
Hike to the Martial glacier
One of the other hikes in Ushuaia you can easily do by yourself is the one to El Martial glacier. Let the taxi drop you off at the foot of the former ski slope. From here you walk in about 1.5 hours to 2 hours to a small glacier up the mountain. Keep in mind that this hike is a steep climb because the ski lifts are no longer working.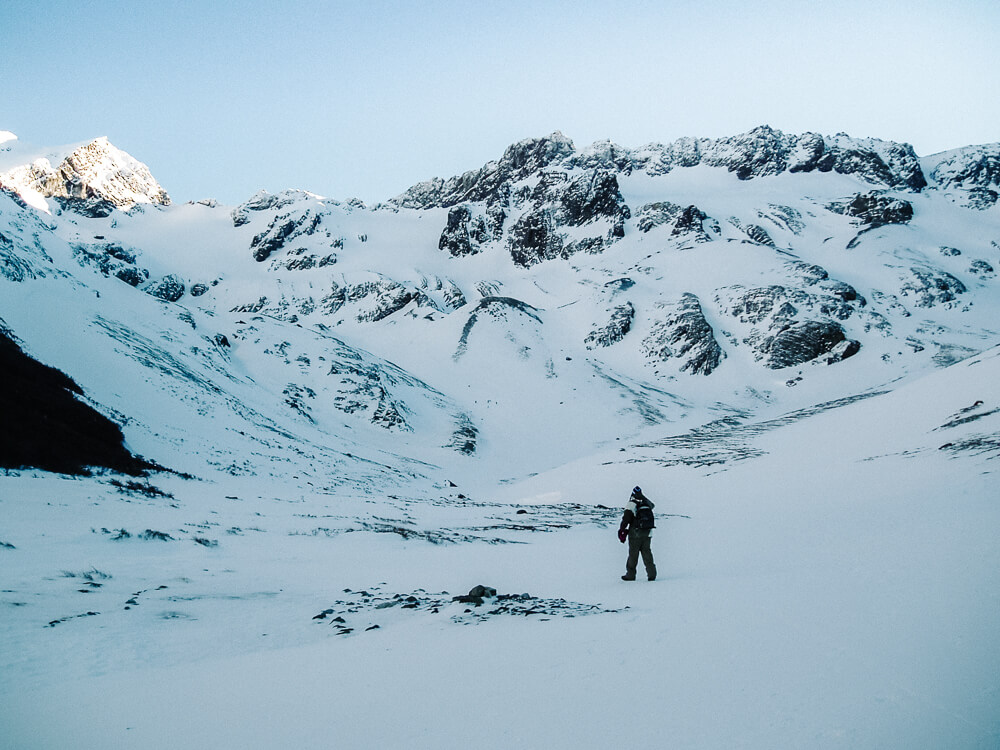 Along the way you can enjoy views of Ushuaia and the mountains. You also pass the tree line, something special to observe as the vegetation changes very quickly. Make sure to arrange a time with the taxi so that he will pick you up again at the end of your hike.
Enjoy a drink at Ramos Generales
Ramos Generales is one of the unique restaurant bars in Ushuaia. You will enter historic Ushuaia and be amazed by the authentic setting. The walls are filled with photos and attributes from maritime shipping. Traditional Argentinian dishes are served: Meat, fish, lots of tasty starters, of course in combination with a good glass of wine. Always a success. This place should therefore not be missed in my Ushuaia travel guide.
Take a picture at "the end of the world" sign
It's a bit touristy but hey, you are only once in Ushuaia, so take a photo at "the end of the world" sign. It's a photo you just want to have and that's why I included it in my Ushuaia travel guide.
Have a look at "end of the world" museum – El fin del mundo
In this museum you will find information about the end of the world, its early indigenous inhabitants and its special flora and fauna. Walk in and have look, it is a small but interesting. The opening hours can be a bit unclear, so sometimes you just have to check several times whether they are open or not.
Visit the old prison – historical things to do in Ushuaia
In the 20th century, Ushuaia was known as the Alcatraz of Argentina. Countless convicts were banished to this far corner of the world. At its peak, more than 800 prisoners would have lived there. Today you can visit the old prison and read stories about the harsh life of the prisoners that lived here at the end of the world. You will read about escape attempts, but also how the prisoners were put to work: They had to build their own prison and railway.
Part of the former prison consists of the Maritime Museum with information about the expeditions in and around Tierra del Fuego. One of the interesting things to do in Ushuaiaon a rainy day.
Get an "end of the world" stamp
At the tourism office in Ushuaia you can have your passport stamped with: Puerta de entrada de Antartida, the gateway to Antarctica. Of course this is not allowed officially, but there are many people who do this. If you do not want to stamp your passport, there is always the option to have it stamped in one of your notebooks or diaries.
Check out the street art
You will come across interesting street art in Ushuaia: From funny penguins to stories about Ushuaia's first inhabitants and prisoners that lived there. Nice to walk around and spot of some of the works.
Go on an expedition to Antarctica – unique things to do in Ushuaia
Several times I was in the harbor waving goodbye to people who were going on this unique journey. One day I hope to go on the Antarctica expedition myself. But this trip should of course not be missed in my list with tips for things to do in Ushuaia Argentina. Ushuaia is the international capital of Antarctic tourism and therefore the Gateway City to Antarctica, which is 100 kilometers away.
Tips: In Ushuaia you will find numerous travel agencies that offer these expedition. Several times I have seen last minute offers. So it could be an option to travel to Ushuaia and see if you can get a last minute deal here. Please note that expeditions only depart between November and April.
Mini travel guide Ushuaia
Restaurant travel guide Ushuaia Argentina | 8 tips
There is nothing better than enjoying a drink and great meal after a day full of activities, hikes and exploring the many things to do in Ushuaia. Here are some of my favorite places in Ushuaia.
One of the best restaurants in Ushuaia is Kuar, for fish, meat, wine and lots of delicacies.
You can eat king crab at Volver, Tia Elvira or Mi Viejo Marinero, one of the oldest restaurants in Ushuaia.
Maria Lola is located a few blocks from the main street and is a good choice if you want something more culinary.
Tanta Sara is a nice place for lunch, coffee and cake or a simple dinner.
At Deli Cafe you can enjoy a tasty quick lunch, coffee, tea and cake.
At Ramos Generales you will enjoy food and drinks in an authentic setting. Not to be missed.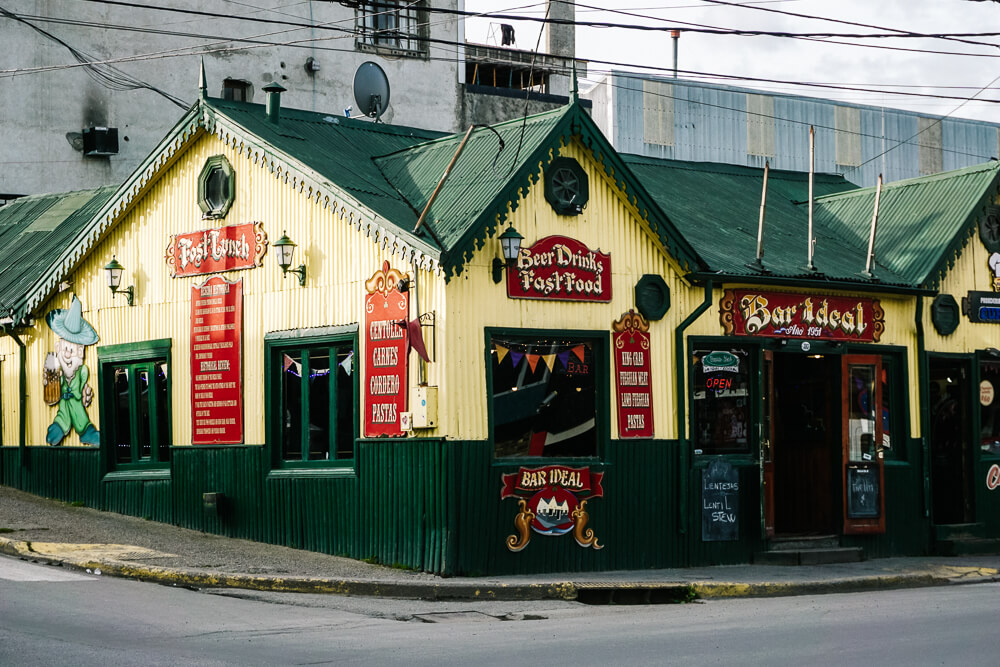 Hotel travel guide Ushuaia Argentina | 3 tips
Are you looking for a place in nature to spend the night? Cumbres Del Martial is a mountain lodge, located 7 kilometers from Ushuaia. There are several bungalows surrounded by woods, with a view over the Beagle channel. Try to book a luxury bungalow, then you will have your own acuzzi. Looking for more luxury? A nice place, located in the Cerro Alarkén Nature Reserve is Arakur Ushuaia Resort & Spa. Located on a private beach is the Los Cauquenes Resort + Spa + Experiences. In both places the rooms are spacious, luxurious and the views spectacular. Moreover, you will be completely pampered.
Check the latest prices and availability for: Cumbres Del Martial and Arakur Ushuaia Resort & Spa and Los Cauquenes Resort + Spa + Experiences. Do you prefer a hotel in the center of Ushuaia? Here you will find a comprehensive overview of hotels in Ushuaia.
Tips for Ushuaia travel itineraries
How much time do you need to visit Ushuaia? I think this is fully depending on your interests and the way you schedule your stay. If you book certain tours, hikes and things to do in Ushuaia in advance, you are able to do more in a short amount of time. Traveling by taxi within the city also gives you more flexibility. Have a look in my Ushuaia travel guide and itineraries and learn how to get the maximum out of your stay.
Best time to visit Ushuaia
The best time to visit Ushuaia is between November and April, the Argentinian spring, summer and autumn. In winter it is cold and slippery and many hiking trails are closed. But keep in mind that even in Summer months it can be really cold. The beauty of visiting Ushuaia in winter is that it will be snowing in many parts and you can go on a husky dogsledding tour.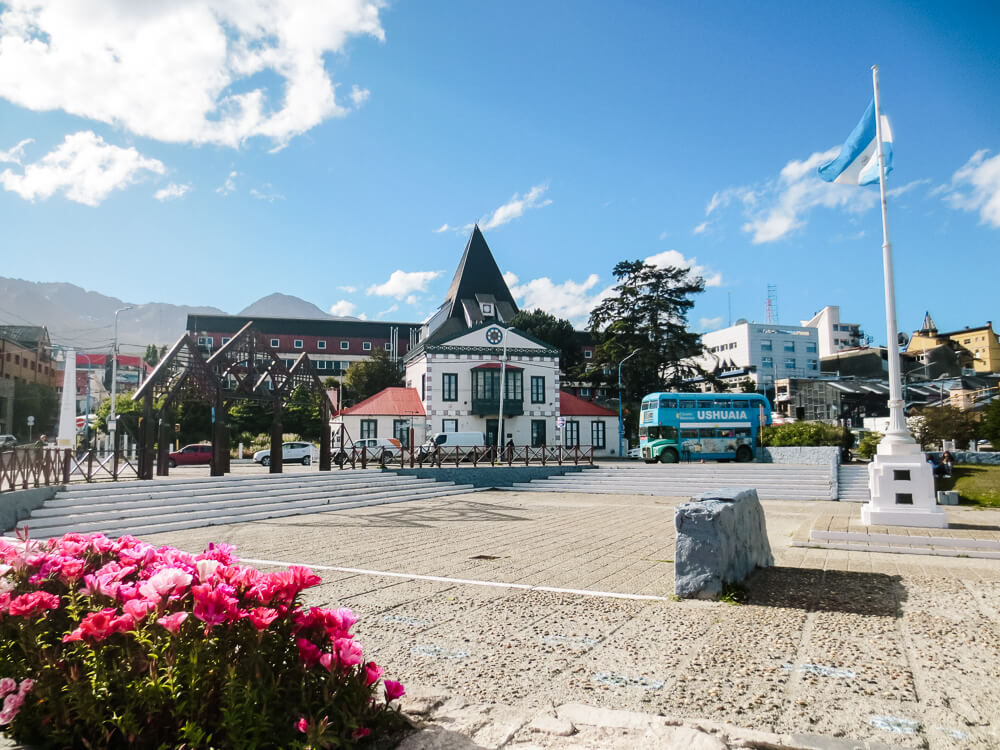 Weather in Ushuaia + packing list
It is said that you are able to experience 4 different climates in Ushuaia in one day. Bring warm clothes, no matter what season you are in. Wear layers, bring rain coats, wind jackets and sun screen at the same time. The weather can change quickly so it is important to be prepared. Check out my handy packinglist.
Good hiking boots
Windbreaker,
Scarf, hat, glovees
Raincoat
Fleece jacket
Daypack
Waterbag and/or bottle
Sunscreen
How to get to Ushuaia in Argentina
Ushuaia is located in the southernmost part of Argentina. There are daily flights with Aerolineas Argentinas, JetSmart en FlyBondi from Buenos Aires (3 hours and 20 minutes), El Calafate (1 hour and 20 minutes) and Bariloche.
Tips for the Ushuaia flight: Make sure you have a window seat, as the views on the snow- capped mountains during the arrival route are truly spectacular.
Best tours and things to do in Ushuaia
Other tours in Ushuaia
Ididn't participate in these tours myself yet, but others did and they are well-reviewed and therefore on my to do list for next time:
Argentina travel itineraries
Argentina is such a beautiful and diverse country that you can explore it for months. But what if you a limited amount of time and still want to get the most out of your travels? What should you see and do? Have a look in my Argentina itineraries, I will give you tips for destinations, hikes, national parks, tours, things to do and restaurants to include in your trip. Enjoy and get inspired to visit Argentina!
More about Argentina
Did you enjoy reading this Ushuaia travel guide with tips and things to do? Do you want to learn more about this beautiful country? With Passport the World I am taking you on a journey to discover Argentina. Discover more in my next articles.
Iguazu falls – everything you want to know
Pin "Ushuaia Argentina travel guide" for later