Argentina is such a beautiful and diverse country, that you can explore it for months. A trip from the north all the way down to the south is almost 2,300 miles long. But what if you have 10 days in Argentina and want to get the most out of your travels? What should you see and do? This is my personal 10 days in Argentina itinerary, where I focus on some of the highlights, showing you Buenos Aires, a bit of Patagonia and the spectaculair Iguazú waterfalls. I will give you tips for destinations, hikes, national parks, tours, things to do and restaurants to include in your trip. Enjoy and get inspired to visit Argentina!
10 days in Argentina itinerary
Argentina is the country of Buenos Aires, football, tango, wine but also fascinating nature such as glaciers, endless steppes, lakes, mountains, penguins, whales and waterfalls. There is so much to see and to discover. Enjoy this article with my personal recommendations for the best 10 days in Argentina itinerary.
Kick off your 10 days in Argentina itinerary in: Buenos Aires (2 days)
Start your 10 days in Argentina itinerary in Buenos Aires, the bustling and cosmopolitan capital of Argentina. It is easy to stay in Buenos Aires for weeks and not get bored. In this 10 days in Argentina itinerary you have two full days to explore the city and its many neighborhoods. Make sure to visit the Plaza de Mayo and famous Casa Rosada, walk around in San Telmo neighborhood and visit La Boca to watch the colorful houses and football stadium, La Bombonera. You also want to go to La Recoleta to feel the Paris vibes and visit the cementery and stroll along the boulevard of Puerto Madero. Moreover the city has many great museums and I am sure there is going to be something you like.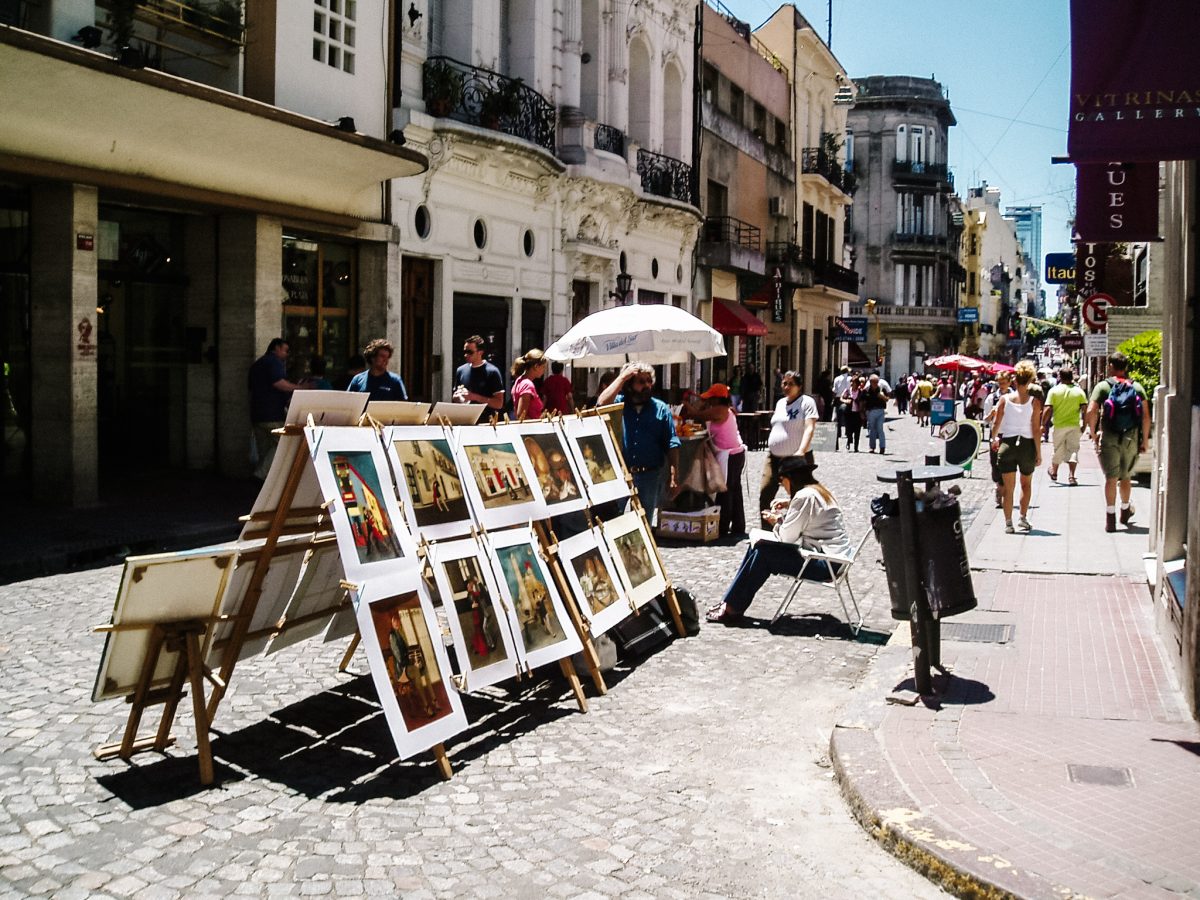 In the evening you can go to trendy Palermo and enjoy amazing food and drinks in fancy restaurants. And if you are into tango, make sure to buy your tickets for El Viejo Almacén.
From here, I am giving you two options, very much depending on the season you are traveling and your own interests. You will find more details below.
Puerto Madryn (3 days) – option 1 of 10 days in Argentina itinerary
It is best to travel to Puerto Madryn by plane (2 hours). Puerto Madryn, located on the east coast of Argentina, is one of the best places in the world to observe penguins, whales and sea lions. It is the gateway to natural reserves such as Peninsula Valdes, Punta Tombo and Punta Ninfas. Numerous animals gather annually, to mate and raise their young here, due to the favorable climatic conditions.
Peninsula Valdes and whale watching
You have one full day in this 10 days in Argentina itinerary, to visit Peninsula Valdes, a natural reserve where animals, such as nandus, a kind of ostrich, armadillos, vicuñas and condors live. Depending on the season, you can observe sea lions, elephant seals, penguins, whales, and if you are lucky even orcas. During a tour you will stop at different viewpoints to observe animals and go for short walks.
Want to book your whale watching and Peninsula Valdes tour in advance and secure your spot? Check out prices and availability and book your tours here.
In the whale season you can combine a visit to Peninsula Valdes with one of the best whale watching tours I've ever experienced. Since the mother whales often swim with their young on the surface, you will actually have a real good chance of seeing them. And believe me, their tail sticking out of the ocean and the sound they make when they spray up the water, are moments that you will never forget your life. The season to see whales is between May and December. In December, when the young are strong enough, the whales return towards the waters of Antarctica.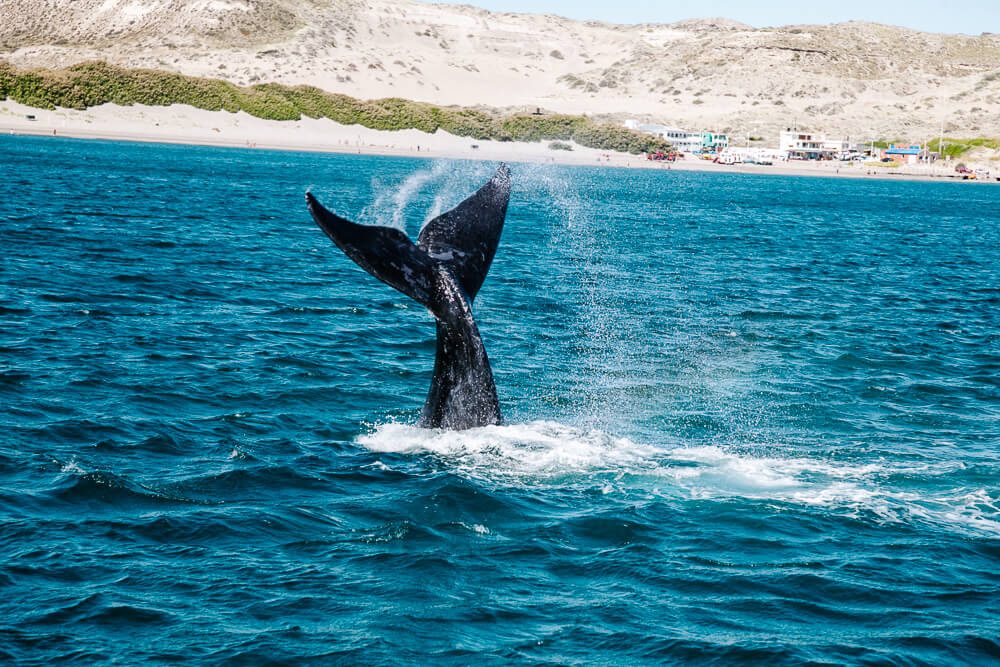 Walk among the penguins
Punta Tombo is a peninsula, located in the Atlantic Ocean. Every year, in Argentine spring, more than one and a half million penguins arrive here to breed! It is the largest Magellanic penguin colony in the continent. Between September and March, you can visit this place to literally walk by their side. Such a unique experience.
Check out prices and availability and book your tour to Punta Tombo here. Do you want to read more about this special place on earth? Discover everything you want to know about Puerto Madryn in my travel guide, including the best things to do, tours, hotels, restaurants, best time to visit and how to get there.
Hotels Puerto Madryn
Bariloche (3 days) – option 2 of 10 days in Argentina itinerary
If you find yourself off season to visit the whales and penguins in Puerto Madryn, there is no need to visit this place. Another great destination during your 10 days in Argentina itinerary is Bariloche, located on Lake Nahuel Huapi. This area is also known as Little Switzerland because of the lakes, forests, mountains and specialities such as chocolate and cheese fondue. In winter, Bariloche is the skiing paradise for the Argentinians and in summer for outdoor activities.
Sail on the Nahuel Huapi Lake – day 1
One of the most popular things to do in Bariloche is to sail on the Nahuel Huapi lake. With a large boat you sail from the port of Puerto Pañuelo in an hour to Puerto Blest. The light and shimmer over the lake with the Andes peaks in the background make for stunning pictures. Once you arrive in Puerto Blest, there are several short hikes you can take easily on your own. This is a full day tour where you will be picked up in the morning and be back in town at the end of the day.
Do you want to book your tour in advance and secure your spot? Check out prices and availability for a Puerto Blest tour here.
In the late afternoon you can stroll around town, visit the Centro Civico, the central square of Bariloche to observe the chalet-like architectural style, have ice cream in one of the many chocolate shops and enjoy a dinner in Suisse style.
Circuito Chico, hikes and viewpoints
Today you have different options. If you are into cycling, rent a bike and cycle the Circuit Chico, a route that gives a nice impression of the surroundings. Viewpoints are interspersed with forests and lakes, where you can stop for a photo or a hike. Stop at the famous Cerro Campanario and take the cable car up, then continue the trail past Laguna El Trebol, Lago Moreno, the Swiss colony of Colonia Suiza, Bahia López and Hotel Llao Llao Bariloche. Click here for the full route.
Another option is to travel by bus or taxi to one of the many ski slopes and take the cable car. Not to ski but to enjoy amazing views. Bariloche offers different ski slope options.
Discover the best things to do in this Bariloche travel guide, including tips for hikes, tours, restaurants, best travel time and where to stay.
In the afternoon you could go for a nice and easy walk. One of my favorite hikes in Bariloche is the one to the Cerro Llao Llao. In about an hour, you walk through a green and fresh forests to a viewpoint where you have an amazing view over the lakes and surroundings. Bring some food and drinks for a picnic and take in the surroundings. You don't want to leave anymore. The trail starts between the Hotel Llao Llao and the port of Puerto Pañuelo. Afterwards have a drink at the Llao Llao hotel and travel back to Bariloche.
Hotels Bariloche
El Calafate (2 days)
Today you can take a plane to El Calafate, a small town that forms the base to one of the most beautiful places that Argentina has to offer: The Perito Moreno glacier, located in the Los Glaciares national park. For sure, one of the highlights in this 10 days in Argentina itinerary. Thousands of people travel to this desolate area every year to admire the beauty of the mighty glacier.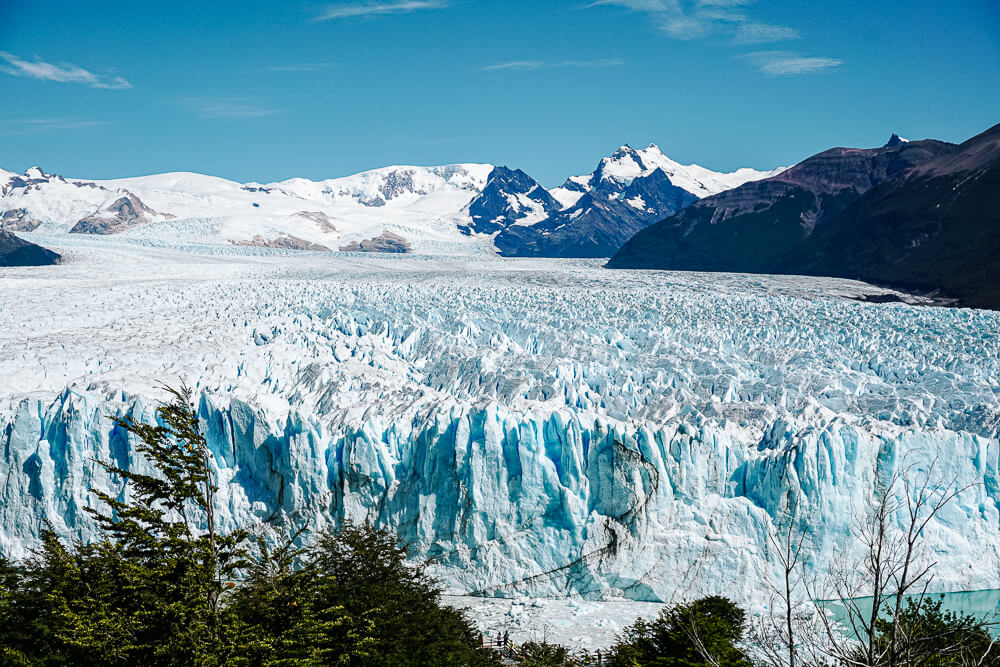 El Calafate surroundings
Depending on your arrival time this first day you can enjoy the afternoon by exploring the Balcones del Calafate tour. During a 2-hour tour by a four-wheel drive, you will discover the rugged mountainous area of ​​El Calafate. From the balconies, high cliffs of about 1000 meters, you look out over the vast and fascinating landscape. Here you can see how blue the surrounding lakes are and how unique the Patagonian vegetation is. Along the way, the guide explains about the whimsical rock formation that formed here millions of years ago and there is a great chance of finding fossils.
If you don't feel like going on a tour, visit the Laguna Nimez Natural Reserve to look for birds. You can walk around the lagoons through the Patagonian steppe and wetlands for approximately one hour. Along the way you will spot several species of water birds, lands birds, birds of prey, passerines and shorebirds. And if you are lucky, you will even see flamingos. There are plenty good restaurants along the boulevard in El Calafate for a great dinner.
El Calafate is a 3-hour and 15-minute flight from Buenos Aires. You might need to stop in Buenos Aires when traveling from Puerto Madryn. There are direct flights from Bariloche (1 hour and 45 minutes). Want to know more about El Calafate? Check out my El Calafate travel guide.
The Perito Moreno glacier
The absolute highlight of this 10 days in Argentina itinerary is the Perito Moreno glacier. And you need a full day to explore. The Perito Moreno is part of the Los Glaciares national park and is Argentina's most famous glacier. What is special is that you can get all the way to the glacier front without too much effort. Footbridges have been constructed and ensure that you can observe the glacier from different sides. There are several short and easy trails and they all are worth exploring.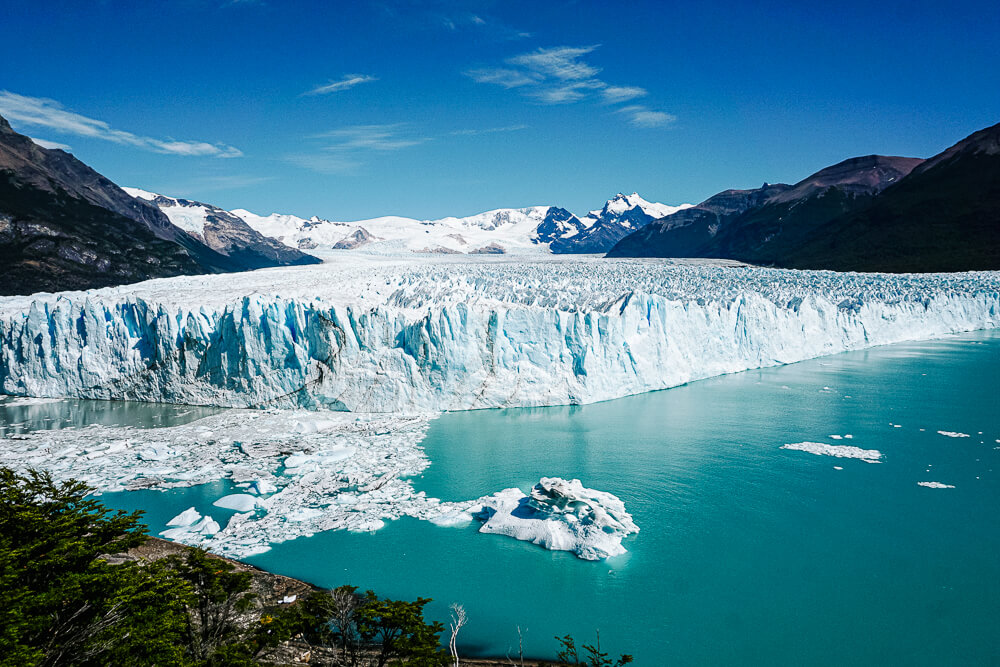 The Perito Moreno glacier is about a 1.5-hour drive from El Calafate. There are several ways to visit the glacier. You can book a tour to the Perito Moreno glacier, go by taxi or rent a car and drive yourself. Don't forget to take a boat tour along the glacier and drink a whisky with ice cubes, coming from the glacier.
Hotels El Calafate
Buenos Aires (1 day)
This is the end of your 10 days in Argentina itinerary in Patagonia. From El Calafate you can fly back to Buenos Aires and enjoy a free afternoon in this incredible city. There are daily flights with Aerolineas Argentinas, JetSmart en FlyBondi from and to Buenos Aires (3 hours and 20 minutes).
Iguazú falls (2 days)
You can continue your 10 days in Argentina itinerary traveling to the northeast, on the border with Brazil. Here you will find the waterfalls of Iguazú. 275 waterfalls, surrounded by a tropical vegetation, are plunging into the Iguazú river. You will encounter bromeliads, orchids and iguanas. Colored butterflies will follow you for minutes while coatis run curiously around in search of food. It is one of those places that can give you a sense of how truly astounding nature can be.
You have one day to visit the Argentinian side of the falls and one day the Brazilian side. Both sides make you experience the falls in a completely different way. On the Argentine side, you can cross several bridges and make a boat trip along the waterfalls. The Brazilian side offers a nice overview, where you'll see the waterfalls from a distance. Here it is also possible to book a helicopter flight and fly over the waterfalls.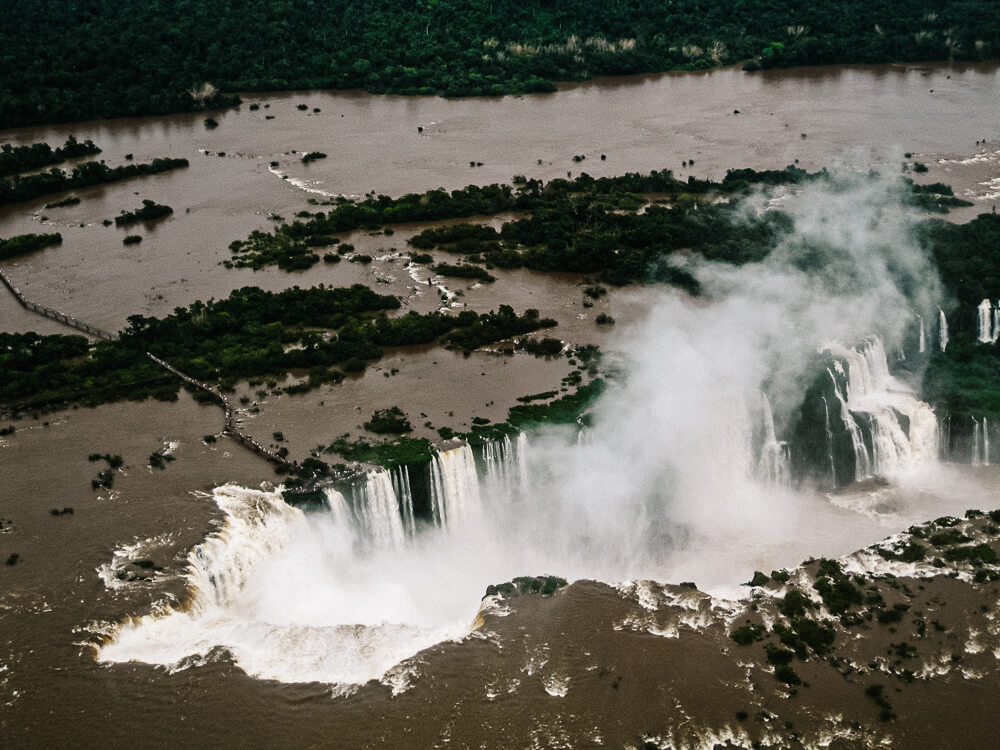 Iguazu is a 1 hour and 50 minutes flight from Buenos Aires. Curious about how to visit Iguazu and what other things to do here? Have a look in my Iguazu travel guide with many tips for your visit and stay.
Hotels in Iguazú
More itineraries in Argentina
Did you enjoy this 10 days in Argentina itinerary? Have a look at the other Argentina travel itineraries such as:
More about Argentina
Do you want to learn more about beautiful Argentina? With Passport the World I am taking you on a journey to discover Argentina. Discover more in my next articles.
This article may contain affiliate links. If you purchase something using one of our links, we may receive a commission at no extra cost to you, which helps us keep this blog alive. Thank you for your support! Please see our disclosures for more information.