Argentina is a country with a great diversity of beautiful national parks. Parks with fascinating glaciers, waterfalls, mountains, deep green forests, beautiful lakes and a unique marine life, with penguins, whales and sea lions. You can hike, go horseback riding, take a boat trip, climb mountains and even glaciers, or just enjoy the breathtaking surroundings. I visited most of these parks many times over the last 15 years and always love coming back. In this article I'm taking you to the best and most beautiful national parks in Argentina, including an overview with things to do and the best time to visit.
Los Glaciares National Park Argentina
Los Glaciares in Argentina is one of the most spectaculair National Parks. This Park is located in Patagonia, the southern part of Argentina. It is one of the most spectacular areas of the country. You will find impressive glaciers, crystal clear glacier lakes, impressive mountain ranges and the rugged and desolate plains that Patagonia is so famous for.
Visit the Perito Moreno glacier
The Perito Moreno glacier is located in Argentinas National Park Los Glaciares and without a doubt Argentina's most famous glacier. The glacier can be visited from the town of El Calafate. You can get all the way to the glacier front, without too much effort. Special walkways have been constructed and allow you to admire this huge ice formation from different sides. The glacier consists of more than 250 square kilometers of ice. If you are lucky you will even see some ice rocks falling into the water, causing a deafening sound. The view of the ice formation, along with the light and blue glow are breathtaking.
Another great thing to do is to go on a boat trip and sail along the glacier for an hour. If you want to experience the glacier in a more adventurous way, there is an option of going on an ice hike on the glacier. This is something you have to arrange, in advance, with a tour agency in El Calafate. It is also possible to visit other glaciers from El Calafate, such as the Upsala glacier.
Level of difficulty?
This is one one of the Argentinna National Parks with the best accessibility and therefore really easy. The walks on the footbridges are doable for everyone. There are even buses that can take you from the starting point of the walk to the end point, in case you don't feel like walking at all. If you opt for an ice hike, you will need to put some extra effort, since you will be hiking over the ice. However, this is subject to a maximum age of 65 years.
How to reach the Argentia National Park with the Perito Moreno glacier?
There are several flights, that fly from the capital Buenos Aires and other major cities, to El Calafate with Aerolineas Argentinas. El Calafate offers many restaurants, hotels, shops and tour operators. You can visit the glacier by private vehicle or go on an organized tour, with a guide, wich might be interesting if you want to learn more about the history and formation of glaciers in Argentina.
Visit hikers paradise El Chaltén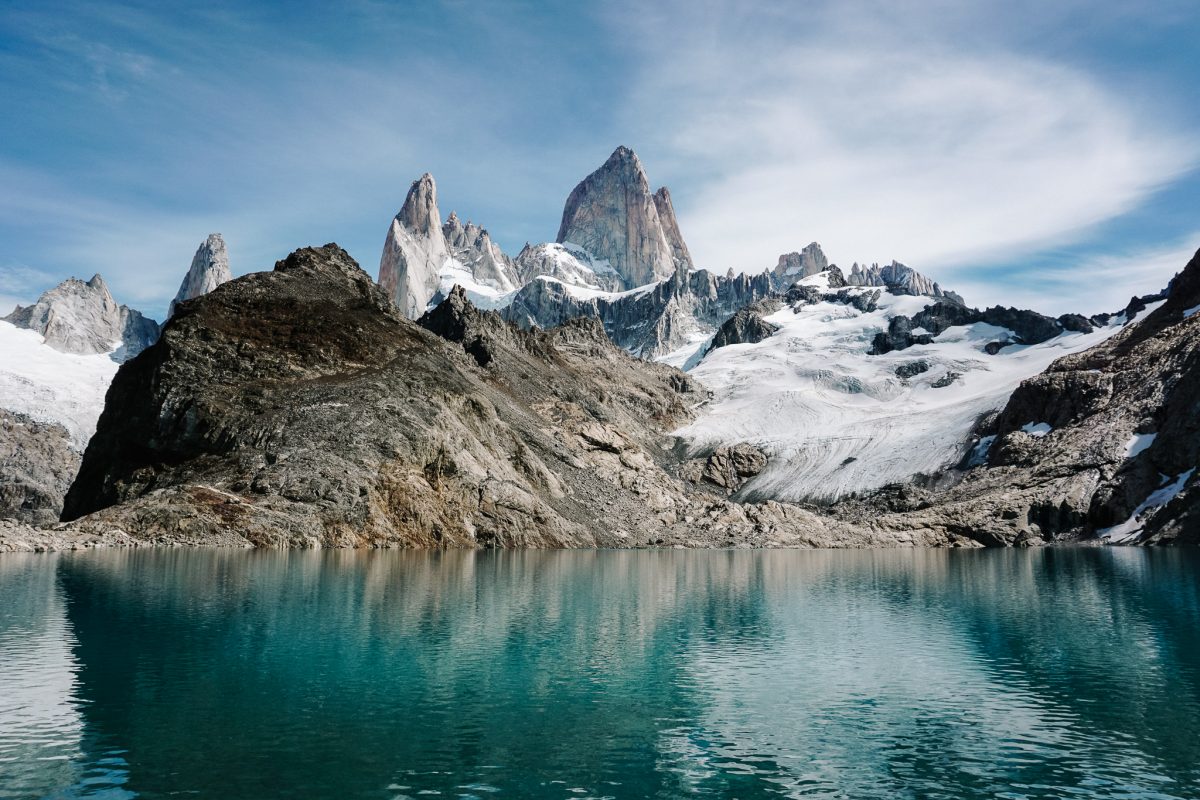 El Chaltén is a village at the foot of the Fitz Roy mountain range and is the base for the most beautiful hikes. From the little town, you can walk straight into the mountains. You can opt for a multi-day trip and sleep in tents along the trail or make a number of day-hikes, with overnight stays in one of the hotels in El Chaltén. There are trails, varying from 2 to 10 hours. If you are a good hiker, don't miss the hike to Laguna de Los Tres and Laguna Torre. Both hikes take between 8 and 10 hours and are unforgettable. The visitor center offers free maps and trails are well marked throughout the area, so no reason to get lost. There are also beautiful horse-riding tours that allow you to explore the area in a different way.
Level of difficulty?
From normal to hard. This is a place you really want to visit, because of the hiking possibilities. Bring solid hiking shoes, wind-jackets and poles (if you are used to them). And be prepared for all kinds of weather situations, as weather changes quickly. Some parts of the trail are really steep and hard but with some perseverance (and no physical complaints), you are good to go. There is always a way to turn back.
How to reach El Chaltén?
El Chaltén can be reached by bus / car from El Calafate, within 3 hours. The road that leads to El Chaltén is a very nice trip. Along the way you can stop and enjoy views of the Lago Viedma and the Fitz Roy mountain.
Best time to visit
Between September and April / May, for both the Perito Moreno glacier and El Chaltén.
Iguazú Falls | Top Argentina National Parks
The waterfalls of Iguazú are located in the northeast, on the border with Brazil. It's a landscape of tropical vegetation and rock formations, including 275 waterfalls plunging into the Iguazú River. It's one of those places that can give you a sense of how truly astounding nature can be. There are two ways of visiting the falls, from the Argentinian side and from the Brazilian side. Both sides make you experience the falls in a completely different way. On the Argentine side of the border, you can cross several bridges along the waterfalls. The Brazilian side offers a nice overview, where you'll see the waterfalls from a distance. Along the way, you will encounter bromeliads, orchids and iguanas. Colored butterflies will follow you for minutes while coatis run curiously around in search of food. It's such a lovely area!
What to do
Walk the different trails. These routes make you experience the falls the best way. One of the highlights is the walk to La Garganta del Diablo, or the Devil's Throat. At the top of this waterfall, surrounded by gigantic water clouds, you'll get the most spectacular view of the crashing water. From the Argentinian side you can see the waterfall from above and on the Brazilian side from below. You get quite wet on both sides, so protect your cameras.
On the Argentine side, you have the possibility to go on a boat trip, that takes you around the falls. Be prepared for some serious shower, something not bad at all, and even refreshing, given the tropical heat. But I recommend bringing a towel and some dry clothes, so you can change afterwards.
In Brazil it is possible to make a helicopter flight. With a maximum of 5 people, you'll fly over the falls for about 10 minutes. That might feel short, but it is certainly enough to enjoy the views. From above, you can clearly see how the falls originated one day, as cracks in the earth. Of course this flight is not cheap, but it is truly an amazing experience.
Level of difficulty
Easy. There are clear and flat walking paths. Little trains, take you from one location to another, as distances between the trails and falls in the Argentinian park are long.
How to reach the Iguazú Falls? | Argentina National Parks
Puerto Iguazú in Argentina is accessible from the Argentinian town of Puerto Iguazú. There are several flights from the capital Buenos Aires and other major cities, with Aerolineas Argentinas. Foz do Iguaçu in Brazil is accessible from the city of Foz do Iguaçu. It is also easy to visit Foz Do Iguaçu from Puerto Iguazú, for a day, or the other way around. The cities have little things to do and see. These are cities you only want to visit, as a base for the falls, to spend the night and have a nice meal. Both cities offer many hotel and restaurant options.
Best time to visit
All year round.
Los Alerces National Park Argentina
Los Alerces (cypresses) is definitely one of my favorite National parks in Argentina. You will find deep green forests and blue lakes, with the Andes mountains in the background. This area makes you realize that there are actually hundreds of colors blue and green. The park is known for its giant trees, including the Patagonian cypresses, hence the name Los Alerces. An average cypress seems to grow up to 50 meters high and 4 diameters wide. You will also encounter cedars, conifers and other cypress species. It is particularly a tourist destination for the Argentines. When you visit the national park outside the Argentine holiday season, you almost have the park to yourself.
What to do
There are numerous walking trails, ranging from 1 hour to 7 hours. One of my favorite trails is the hike at "Las Pasarelas Rio Arrayanes". You cross the river and walk on a flat path for an hour and a half. It is a lovely hike with beautiful views of the lakes and surroundings. Along the way you will get to know the Patagonian trees, that the area is well known for. Optionally, you can extend the hike, with a tough 7-hour hike. I only recommend this trail if you are into a lot of climbing. It is also possible to cycle and fish in the park. But even if you only feel like driving by car, it is worth the visit. You can stop at so many places, sit down and enjoy the view. There are also camping possibilities. Free maps are available in the visitor centre.
Level of difficulty?
It's up to you. You can make it as hard/easy as you wish.
How to reach National Park Los Alerces in Argentina?
Los Alerces is best reached from the city of Esquel. Because the park is large, it is recommended to rent a car and take several walks from here. You can also drive through the park on the way to/from Bariloche. If you don't want to rent a car, you can go on a tour from Esquel or Bariloche.
Best time to visit
The area is wet and windy from April to September. In spring and summer, on the other hand, it is sunny, without it being too hot. However, as in the entire part of Patagonia, the weather can change within a minute. It is important to be prepared for rain, cold and sun at the same time. The Argentine holiday season runs from January to February. It will then be busier than the rest of the year.
Tierra del Fuego National Park Argentina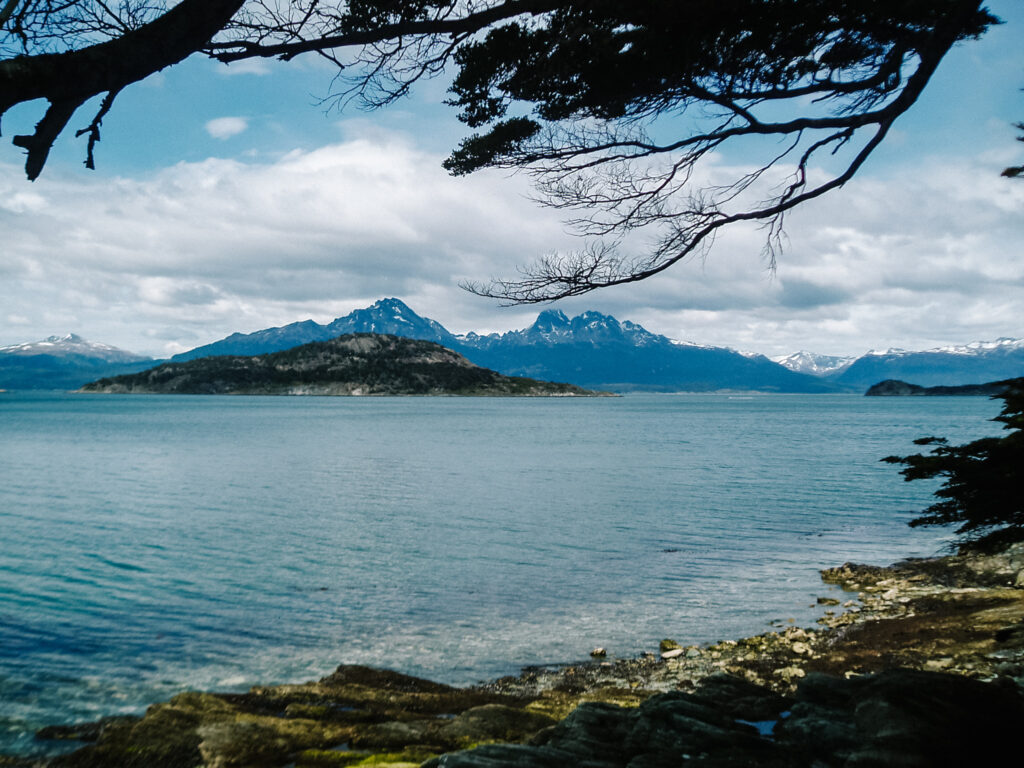 Tierra del Fuego, known as the Land of Fire, is located in the southernmost part of Argentina. The park is situated on the famous Beagle Channel, near the city of Ushuaia. It is called "the end of the world" because it is the last piece of land before you reach Antarctica, via the ocean. The idea of being at the end of the world, makes the destination even more unique.
What to do
The main reason to visit this National park is to enjoy some hikes. There are several trails, including short distances of 45 minutes or long walks of a few hours. I recommend taking the Costera, a trail of about 3 to 4 hours (8 km). You walk partly through the woods but most of the time along the Beagle channel. Every minute of the trail is worth it. All places and corners offer a different view of the canal, because of the different trees and the special light. Along the way you will encounter Patagonian beech forests, swamps and peat. You will have the chance to see many waterfowl, geese, beavers and birds of prey. And if you are lucky you will even bump into a red fox.
Something to pay special attention to are the shell-covered hills. These are the former huts of the Yaghan, the first inhabitants of this area, hundreds of years ago. In this isolated place there is also a special post office, "the end of the world post office", where you can send a post-card and have a stamp put in your passport (please note: this is officially not allowed)
Do you know where the name Tierra del Fuego (Land of Fire) comes from? When the Europeans first visited this part of the world, they saw many fires from a distance, which were lit by the local people. At that time it was named Land of fire (Tierra del Fuego). I liked this nice little fact.
Level of difficulty
Easy/normal/hard and completely up to you. There are different ways to visit the park. Some parts are accessible by bus or car. You can get off at a number of places, take photos and go for a short walk.
If you want to go for a real hike, there are several walking trails, ranging from 2 to 6 hours. A local bus leaves regularly from the center of Ushuaia and stops at different places in National Park. The visitor center offers clear maps, including bus schedules. You can also go on an organized tour from the city of Ushuaia. These tours include a guide, wich can be very interesting if you want to learn more about the flora and fauna.
How to reach Tierra del Fuego Argentina National Park
Ushuaia is located in the Southernmost part of Argentina. There are daily flights from Buenos Aires and other major Argentine cities.
When to visit
The best time to visit this National park in Argentina, is between September and April. In winter it is cold and slippery and many hiking trails are closed. Ushuaia can still be visited in winter times, but more as a skiing and snow destination.
Nahuel Huapi Argentina National Park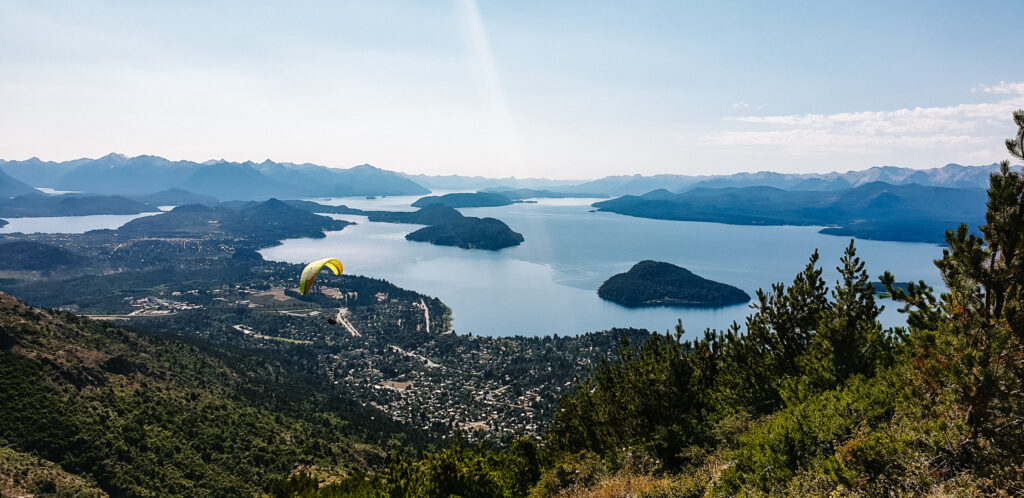 This National Park is located in the lake district of southern Argentina, in the province of Río Negro and Nuequén. The park is 710,000 hectares and consists for the most part of the Nahuel Huapi lake, including its islands and forests. It is often called the Switzerland of Argentina, because of the many mountians and lakes. The views of the shimmering water, the green forests and snowy mountain peaks are truly breathtaking. Bariloche is the main city to access the Nahuel Huapi National park. Both Bariloche, the National Park and the surroundings are a popular holiday destination for the Argentines.
What to do
There are countless options for hiking and boat trips. Each height has its own tree species and in the woods you will be surrounded by impressive trees. A popular destination is a day trip to Puerto Blest, where you can go for a few short hikes. All of them very easy to explore on your own. A boat will bring you from Puerto Pañuelo to Puerto Blest and back.
It is also possible to explore a number of areas by bike or horse. In addition, the area offers some great kayak and rafting tours. In Bariloche you will find many agencies offering these type of trips.
Level of difficulty
Completely up to you. You make it as hard/easy as you wish.
How to reach Nahuel Huapi National Park
The Nahuel Huapi Lake is part of the Lake District and is located on the town of Bariloche. There are daily flights from the capital Buenos Aires and other Argentine cities to Bariloche, with Aerolineas Argentinas. It is also possible to visit other cities in the lake district, such as Villa La Angostura and San Martín de los Andes. I recommend renting a car in Bariloche and explore the area on your own.
When to visit
Bariloche and the Nahuel Huapi lake know two seasons. In spring and summer (September – April) it is an outdoor holiday destination. In winter (June – August), this is Argentina's skiing paradise. You can then go and enjoy yourself at the ski slopes. For boat trips and walks it is best to come in spring, summer and autumn.
Peninsula Valdés Argentina | one of the best National Parks to observe sealife
Peninsula Valdés is a protected nature reserve on the east coast of Argentina, near the town of Puerto Madryn. This National Park in Argentina is one of the best places in the world to see whales, seals and penguins in their natural habitat. Numerous animals gather annually, to mate and raise their young, due to the favorable climatic conditions.
What to do & when to go
From Puerto Pirámides on Peninsula Valdés, daily boats depart for a whale watching trip of a lifetime. Hundreds of humpback whales arrive from Antarctica, off the coast of Argentina, between May and December. Since the whales live close to the shore and mothers often swim with their young on the surface, you will actually have a real good chance to see them. The best time to spot whales is in September and October, when the young are just born.
Between September and March you can visit Punta Tombo and walk among the penguins. A unique experience! Every year, more than one and a half million penguins arrive at this place in order to breed. It is one of the largest Magellanic penguin colonies on the continent.
The protected nature reserve, Peninsula Valdés, can be visited in a day. Animals such as birds, nandus (a kind of ostrich), armadillos and condors live here. Depending on the season, you can also observe seals and elephant seals, penguins, whales, and if you are lucky you can even see killer whales.
Want to learn more about Puerto Madryn and Peninsula Valdes National Park in Argentina? In the best things to do in and around Puerto Madryn you'll find everything you want to know about whale watching, penguins and sea lions, including the best time to visit.
Pin & Save "Argentina National Parks" for later
More about Argentina
Did you enjoy readig this article about Argentina National Parks? Do you want to read more about Argentina? Argentina is the 8th largest country in the world. A trip from the North all the way down to the South is almost 2,300 miles long. This is an article with the most beautiful places and things to do in Argentina and discover the best sea life experiences in Puerto Madryn.