Lake Atitlan in Guatemala is one of the most stunning lakes in the world to me. It is surrounded by three volcanoes and small indigenous villages, each known for its own vibe and characteristics. There are many beautiful places to stay around the lake and it is hard to choose from. But if you are looking for a true paradise, you want to have a look at Casa Prana, with so much eye for nature, design and well-being. I had the opportunity to stay at Casa Prana and I didn't want to leave anymore. In the next article you'll read everything you want to know about one of the most beautiful hotels around Lake Atitlan Guatemala: Casa Prana.
Welcome to Casa Prana | Hotels in Guatemala
Casa Prana is located at the Lake Atitlan in Guatemala, near the village of Santa Cruz and only accessible by boat. From the dock you walk straight into the hotel property. Casa Prana is surrounded by 9 acres of beautiful lush gardens with walking paths, buddha statues and little seating areas all over. Everywhere you look, you see greenery, palm trees, exotic plants and flowers. I couldn't stop exploring and taking pictures! And the views of the lake and surrounding volcanoes are just breathtaking, especially when it is sunny and the sky is so pretty blue!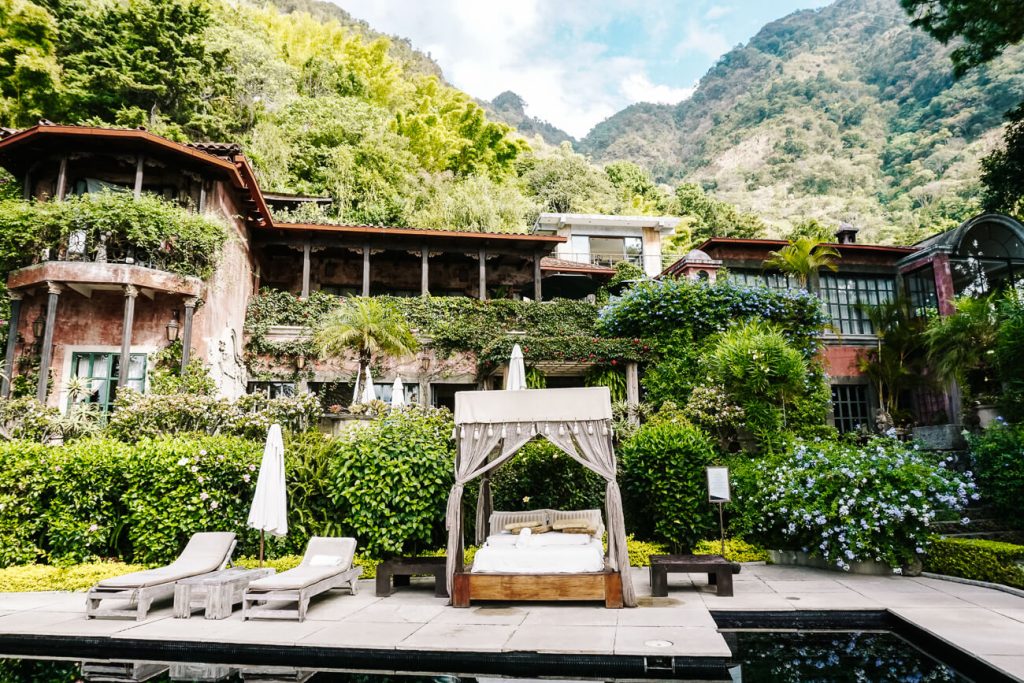 Prana means breath in sanskrit, considered as a life-giving force. And the owners did everything to make you feel aware of your surroundings, being able to fully recharge. You will breath in the fresh air, enjoy the views of the lake, taste the lovely cuisine, smell the many flowers, observe the hummingbirds, feel the sun on your skin and marvel at the design and decorations that you'll find all over the Casa Prana hotel complex.
The Suites of Casa Prana Atitlan
Casa Prana includes more greenery than rooms, wich gives you a very private and luxurious feeling. The property offers 8 suites divided over two buildings. There are two master suites and one Prana suite and one luxury suite, located in the main building, near the pool. One master suite is located on the first floor, including a terrace and the other suites are located on the second floor, including balconies. Rooms at Casa Prana vary in size and prices but they all have amazingly soft king size beds, nice decorations, en-suite bathrooms and stunning views. The 4 junior suites are part of another building more up the mountain, surrounded by gardens and flowers with lovely views as well. These rooms are a bit more spacious than the master suites but include the same amenities.
The luxury Suite
If you are looking for a truly amazing place to stay and willing to spend some extra money, make sure to reserve the luxury suite. This is the most spacious suite with a master bedroom and a huge bathroom, featuring an incredible bathtub. The design and interior of this suite are so beautiful. Believe me, you will feel like a king or queen!
Interested in staying at Casa Prana hotel? Check the availability and latest rates for Casa Prana here.
The facilities of Casa Prana | Hotels in Guatemala
Casa Prana at Lake Atitlan in Guatemala offers everything you need. You can relax at the sunbeds around the swimming pool, play volleyball or table tennis in the court, enjoy lovely food and drinks, walk around the complex or settle down in one of the many seating areas. These are some of the main facilities Casa Prana has to offer.
Outdoor seating areas
There are so different seating areas and corners with beds, hammocks, terraces and chairs, that you will need a full morning or afternoon to discover them all. The nice thing is that you can have your drinks and food served anywhere. You just text your order, together with the picture of the place where you are, and the lovely team will bring it to you. I felt so guilty asking for drinks all the way up the mountain but it always came fast and with a big smile.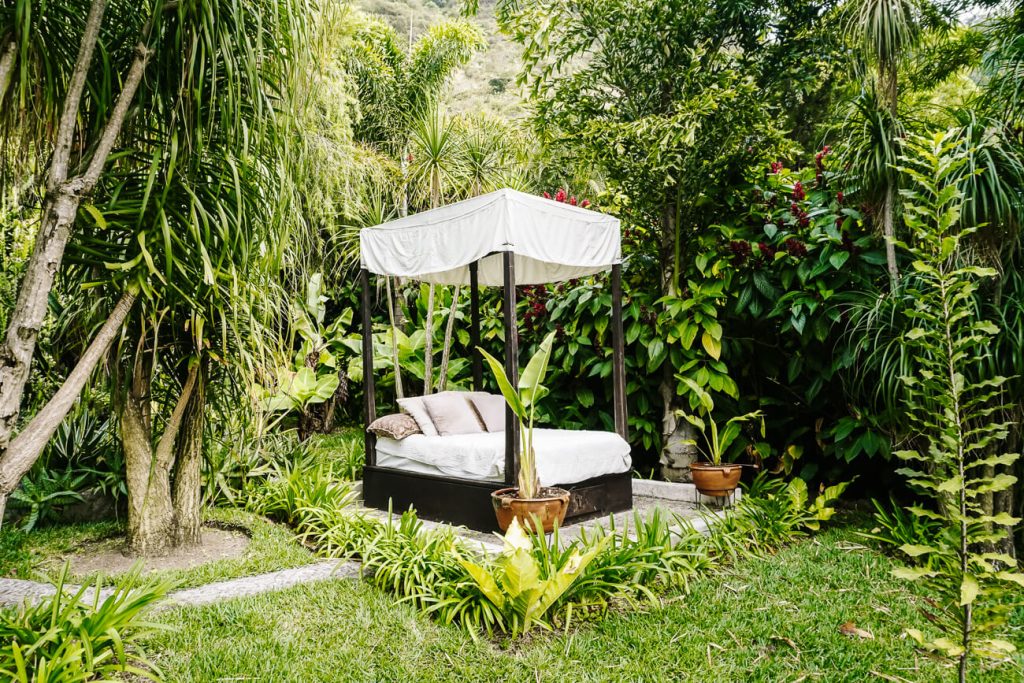 Orchid garden
This little orchid garden is just too perfect! It was my favorite place for breakfast without a doubt. There is a small table that you can use to play chess, enjoy a drink or have breakfast and you are surrounded by many beautiful orchids.
Hiking paths
One of the best things to do in the morning is to walk all the way up the mountain and enjoy the volcano views. There are different walking paths, surrounded by flowers, greenery and birds. Recommended!
Kayak
As long as I have been visiting Lake Atitlan, I love to kayak on the lake. It gives you a feeling of freedom and the views of the volcanoes and mountains from the water are so pretty. Casa Prana offers free kayaks and paddleboards, so make sure you take some time to go out and explore.
Yoga and fitness
The Casa Prana hotel complex houses a small gym where working out will feel much easier cause the views of the Lake Atitlan make you not want to leave anymore. There is also a yoga studio where you can book a yoga session or do your own routine. It is also possible to schedule a massage. In the surrounding seating areas you can enjoy a tea, healthy juice or light meal.
Bonfire (marsh-mellows!)
One of my favorite evening activities at Casa Prana was the bonfire. Not because it was that cold but because of the romantic setting and the possibility to roast marsh-mellows. You can request the bonfire and mash-mellows at any time and it will be ready for you to enjoy. Tip: Try to do this around sunset on a clear day.
Herbal sauna
At the Casa Prana hotel complex you'll find a small herbal steam sauna. Not too hot. But the nice fragrances will make you feel very relaxed. Definitely recommended after a day of exploring Lake Atitlan.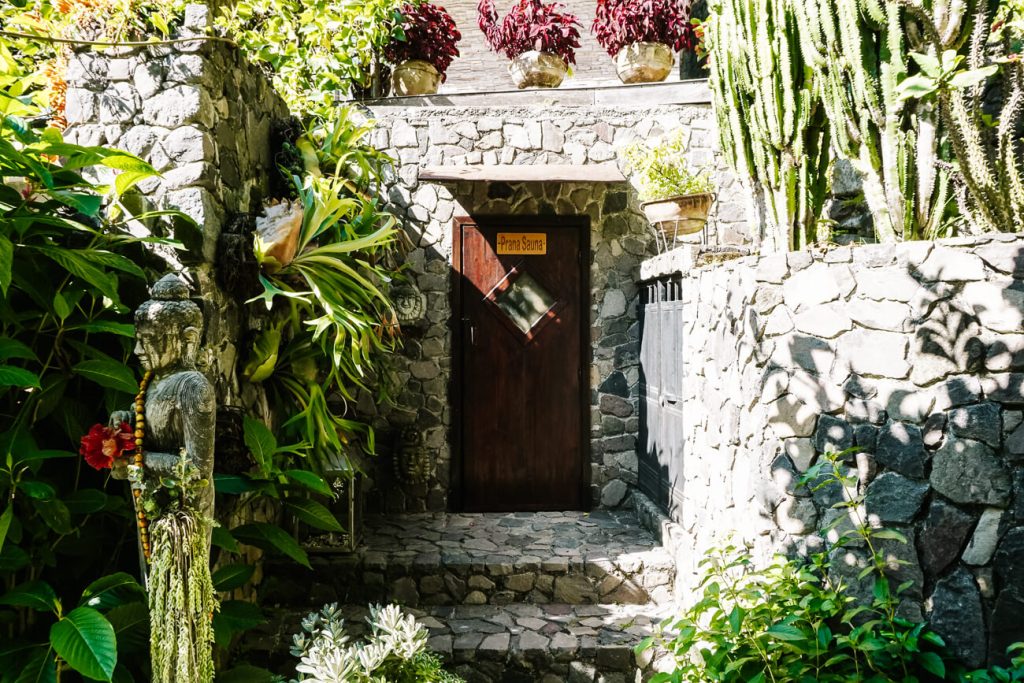 Looking for more tips and things to do around Lake Atitlan in Guatemala? Check out my Lake Atitlan travel guide with 12 tips and things to do in the next article.
Movie nights with popcorn
In the main building of Casa Prana, wich is beautifully decorated and designed, you have the possibility to create your own movie night. There is a TV screen with Netflix in the lounge area and you can order popcorn. A nice thing to do on a rainy day or if you just feel like doing so!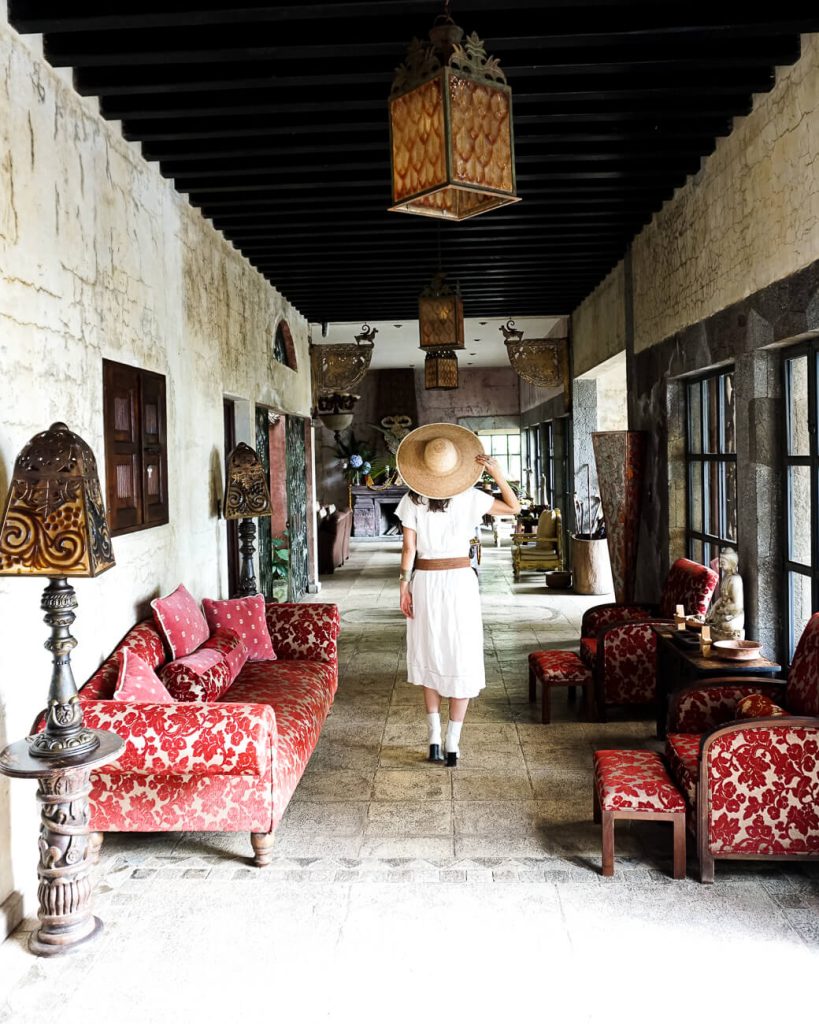 Breakfast, lunch and dining services
Casa Prana has its own garden with vegetables and herbs and many ingredients come straight from here to your plate. The kitchen is only open for hotel guests and you can enjoy your breakfast, lunch and dinner throughout the entire Casa Prana complex. Just choose the most beautiful spot and breakfast, a lunch or dinner, will be served. I loved having breakfast in the orchid garden, lunch around the pool, drinks in the hammock area overlooking the volcanoes and dinner in the romantic buddha garden. The menu is a la carte and available all day long, wich is a great thing. I tried most dishes during my stay and especially enjoyed the different pasta's, risotto's and fish tacos. And all food is nicely presented on your plate.
Casa Prana is one on my favorite hotels in Guatemala. I love staying in smaller scale boutique hotels with beautiful interiors, surrounded by nature and a nice atmosphere. In addition, I like to support the locals and love a sustainable approach around a hotel. I always spend a lot of time researching, before I book my stay. Curious about my favorite hotels to stay in Guatemala? This is my overview with the most beautiful hotels to stay in Guatemala, sorted by city and region.
What do around Casa Prana in Lake Atitlan in Guatemala ?
There are many activities and things to do around lake Atitlan and you can enjoy yourself for days. And even though I visited Lake Atitlan many times, I keep discovering new things. The reception in Casa Prana is able to assist you with many tours and excursions. These are some of my recommendations. Make sure to also have a look in a my full Lake Atitlan guide with many more things to do and tips.
Visit the Lake Atitlan villages
There are many small villages located around the lake, each with its own vibe and characteristics. And it is easy to explore them by public boat, navigating from place to place. San Juan la Laguna is known for its fine handicrafts and folk paintings. Also worth seeing are the murals, showing aspects of indigenous culture. In Santiago de Atitlan people still wear colorful traditional costumes and live according to their own beliefs and customs. It is so nice to walk around and observe local life. You can also visit Maximón and learn more about this wooden male statue and spiritual hero.
San Marcos la Laguna is your place if you are into yoga, meditation and organic food, San Pedro if you want to enjoy the nearby volcano and backpackers vibe and Santa Catarina Palopó and San Antonio are worth visiting if you want to experience local life and handcrafts.
Hiking adventures around Lake Atitlan Guatemala
Indian Nose viewpoint
There are different hiking options around Lake Atitlan. One of the best hikes is the hike to the Indian Nose. This is an amazing viewpoint, where you look all the way out over 6 volcanoes: The San Pedro, Tolimán and Atitlán, located around Lake Atitlan. And if the sky is clear, you'll also see the Fuego, Agua and Acatenango volcano located around Antigua. It is best to do this very early morning so that you can see the sunrise.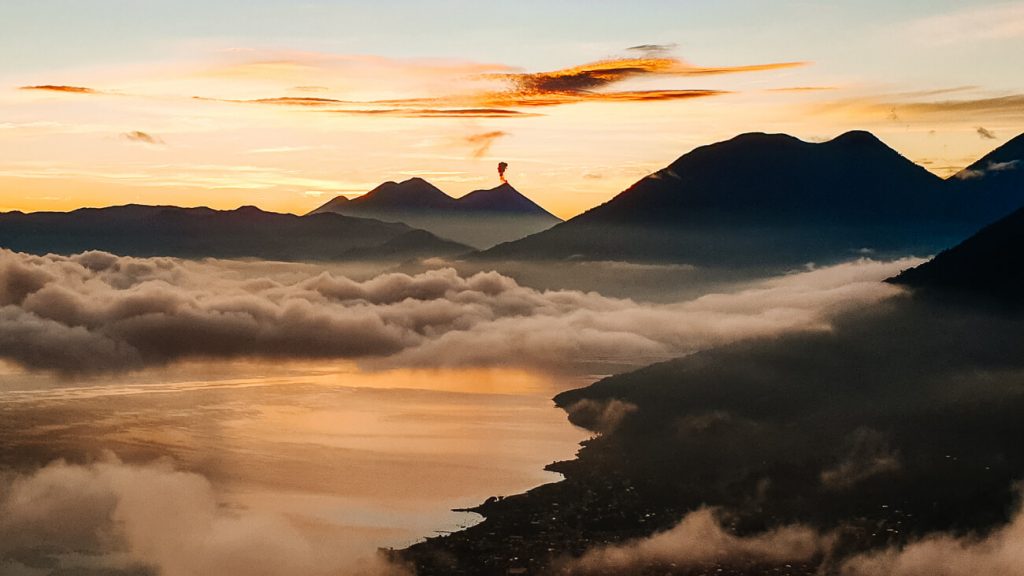 San Pedro volcano
Another great trip is the hike to the top of the San Pedro volcano. Even though it is quite a hike up, the trails are good and the views of the 3000 meters high peak are incredible! The walk to the top takes about 3 hours, taking you past coffee and avocado plantations. The altitude in particular is what makes the trip tough, because of the low concentration of oxygen, but it is so worth it.
Hike from Jaibalito to Santa Cruz
Not into serious hiking? A more easygoing walk is the trail from Jaibailito to Santa Cruz or the other way around. You can walk from Casa Prana to the village of Santa Cruz and start you walk here. Or have the boat drop you off at the port of Jaibalito and walk back towards Casa Prana. From the port of Jaibalito it is a short hike up towards the village. Halfway through you turn to the right and follow a path, which takes you to Santa Cruz in about half an hour. Along the way you will enjoy nice views of the volcanoes and lake and enjoy a drink in one of the seafront hotelcafes.
Looking for more hiking options and things to do around Lake Atitlan? Check out my Lake Atitlan travel guide with many tips for your visit.
How long do you want to stay at Casa Prana | Hotels in Guatemala
Honestly?! The longer the better. Casa Prana is so beautiful that you don't want to leave anymore. But I would suggest to stay a minimum of three nights. This way, you have the opportunity to explore the many things to do around Lake Atitlan but also enjoy the facilities that Casa Prana has to offer.
How to reach Casa Prana | Hotels in Guatemala
Casa Prana hotel Atitlan is located just next to the village of Santa Cruz and can only be reached by boat! Panajachel is the main town around the lake and is your starting-point for your Lake Atitlan discoveries. I always take an uber from Antigua to Panajachel wich takes me about 2 to 3 hours (350 quetzales), depending on traffic. It is most easy to take a private boat when you arrive in Panajachel, as it will go fast and you don't have to struggle with luggage on a public boat. Casa Prana can pick you up in Kayucos Marina in Panajachel and it only takes 10 minutes to get you to Casa Prana.
How to get around around Casa Prana and Lake Atitlan Guatemala
Once you are installed, you can take a public boat to travel around the lake. You just go to the dock and wave to one of the boats passing by. Just make sure you keep the direction in mind: Panajachel or San Pedro, from where you can switch boats to other villages. Most rides cost between 15 and 25 quetzales. But of course you sometimes pay a bit more as a tourist.
Casa Prana is located just next to the village of Santa Cruz, wich makes it easy to visit this village by foot. It is an easy 10 minutes-walk and very recommended, as you'll walk next to the lake and enjoy nice views. From Santa Cruz you can even extend your walk towards the village Jaibailito. One of my favorite hikes as you walk up the mountain and have even better views of the lake.
Information about Casa Prana | Hotels in Guatemala
Yes of course every beautiful place comes with a price tag. But prices in Guatemala are still lower than in Europe or the States. In Casa Prana you pay for quality, exclusivity and service and it is so worth it. On the Casa Prana website you will find more information about Casa Prana and offers. Also, have a look at their social media channels such as instagram and facebook.
Interested in staying at Casa Prana hotel? Check the availability and rates for Casa Prana here.
More about Guatemala
Do you want to read more about beautiful Guatemala? In this article you'll find the 20 best things to do in Guatemala, including off the beaten path destinations, best time to travel, travel itineraries and information about safety. Have a look in the Guatemala archive for a cityguide for Antigua and travel guides about Lake Atitlan, Lanquin, the famous market of Chichicastenango, the Acatenango volcano hike and a boat trip on the Rio Dulce to Caribbean Livingston. Interested in archaeology? In this article I'm taking you to the Maya ruins of Tikal and Quiriguá, a smaller and less visited Maya site with beautiful Maya stelae. Looking for more nice places to stay in Guatemala? Check out my Guatemala hotel guide.
Pin and save for later