Honduras is a country that is not often visited. Not entirely incomprehensible given the poor reputation. Yet it is a shame that this reputation is also overshadowing the beautiful things. The mountain town of Copán, is located in western Honduras, close to the Guatemalan border, and for sure one of the best and most beautiful places in the country. It is a few minutes' drive from the Mayan ruins of the former Copán Empire and worth a visit! Enjoy this list with tips & things to do when you are in town.
Welcome to Copán!
Copán is located at an altitude of 670 m and has a few thousand inhabitants. The little streets, colonial buildings and friendly people give the town its own characteristics and make it super atmospheric. It is for sure one of the best places to visit in Honduras. Because Copán has not yet been discovered by large tourist crowds, it is a nice destination for one or two days, including a visit to the archaeological site of Copán.
1. Soak up the atmosphere in the colonial center
The central point is the atmospheric plaza with a small white cathedral. Take a seat on the plaza and have a chat with the locals. They are happy to tell you about life in Honduras! From the square, there are several narrow cobble-stoned streets in all directions, where you walk out of the town after a few hundred meters. At the edge of the town you have a view of the beautiful green surroundings.
2. Observe stunning birds in Macaw Mountain Bird Sanctuary
Macaw Mountain is a nature reserve and sanctuary for birds, located in a small gorge, 2 km north of Copán. A local tuk tuk takes you there within 10 minutes. You will find a large amount of tropical birds in their natural habitat, such as Tucans, Macaws, Parrots and other typical species living in Honduras. All birds have been rescued from captivity and taken care of. A visit to this reserve is an amazing way to view these birds in a responsible way. I couldn't believe my eyes the first time I visited.
The park is in a tropical setting on a river. There are beautiful hiking trails and it is wonderful to walk around. You walk over bridges, past botanical gardens full of plants, butterflies, squirrels, flowers and hardwood tree species. You can spend a good two hours.
3. Museums about the Mayan ruins of Copán
Just 1 km out of town you will find the mysterious Mayan ruins of Copán, a must-visit when you are in Honduras. Copán used to be one of the most important cities of the ancient Mayan empire. Nowadays you can visit the archaeological site and admire the ancient buildings and decorations. To prepare for a visit to the Copán ruins, there are two small museums:
Museo de Arqueologia Maya. Here you will find information about the ancient Copán empire and the Maya. Some objects and altars can be seen as well. Nowadays you even can buy here a ticket for the ruins. This means, you don't have to stand in line at the ticket counter, when visiting the archaeological site. You walk straight to the entrance the next day.
In the modern Museo Digital de Copan you will find many photos and interactive videos of the excavations.
Read more about the archaeological site of Copán in the following article, the best place to visit in Honduras.
4. Tea & Chocolate place
"No restaurant, no coffee or teahouse, but a place to reconnect with nature, an interactive museum with information about the environment, chocolate processes, tea and sustainable products," a description given by the owners. Just outside the center you will find one of the most beautiful places of Copán. Every day, between 4 and 6 pm, you can enjoy breathtaking views, while enjoying a cup of tea or chocolate. And if you're lucky, a beautiful sunset comes with it.
Do you also think Copán is the best place to visit in Honduras?
4. Cafe Welchez
Cafe Welchez is a nice place for breakfast, lunch and coffee with cakes. On the roof terrace you can sit quietly and have a nice view of the plaza and the cathedral.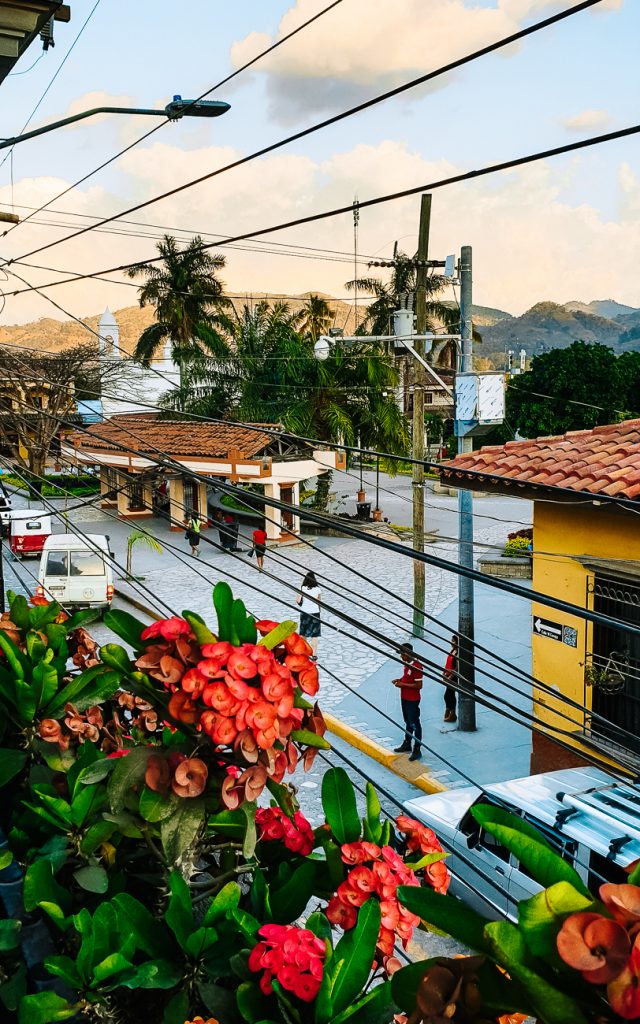 ---
Are you planning to visit the Maya Ruins of Copán? In this article I'm telling you everything you want to know about these ruins.
---
This post is also available in:
Nederlands (Dutch)