Cruising? For a long time I thought that wouldn't be for me. Until I got in touch with Sail Croatia, a boutique organization that offers different cruises from Split to Dubrovnik, in Croatia. From luxury elegance cruises and active explorer cruises to cruises that are all about hiking and cycling. In a small group (maximum 25 pax) you cruise on authentic boats along the beautiful islands along the Dalmatian coast of Croatia. One of the most beautiful areas of the country! But what can you expect from this cruise and how did I experience this? Read everything you want to know about a Sail Croatia one-week explorer cruise, including the itinerary, cruise life, tips for traveling time and a packing list.
Sail Croatia Cruises
Because I like active travel, we soon find out that the Sail Croatia Explorer cruise suits me best. During this Sail Croatia one week cruise you have plenty of time to go out and do activities on your own. My cruise is called the Sail Croatia Almissa and sails in 7 days from Split to Dubrovnik in Croatia. As the date approaches, I notice that I am quite excited. What is cruise life like in Croatia? Would I get seasick? Will it be boring to spend so much time around a cruise? Is it very intense with a small group or just a lot of fun? Read more about my experiences and journey with Sail Croatia along the Dalmatian coast in this article.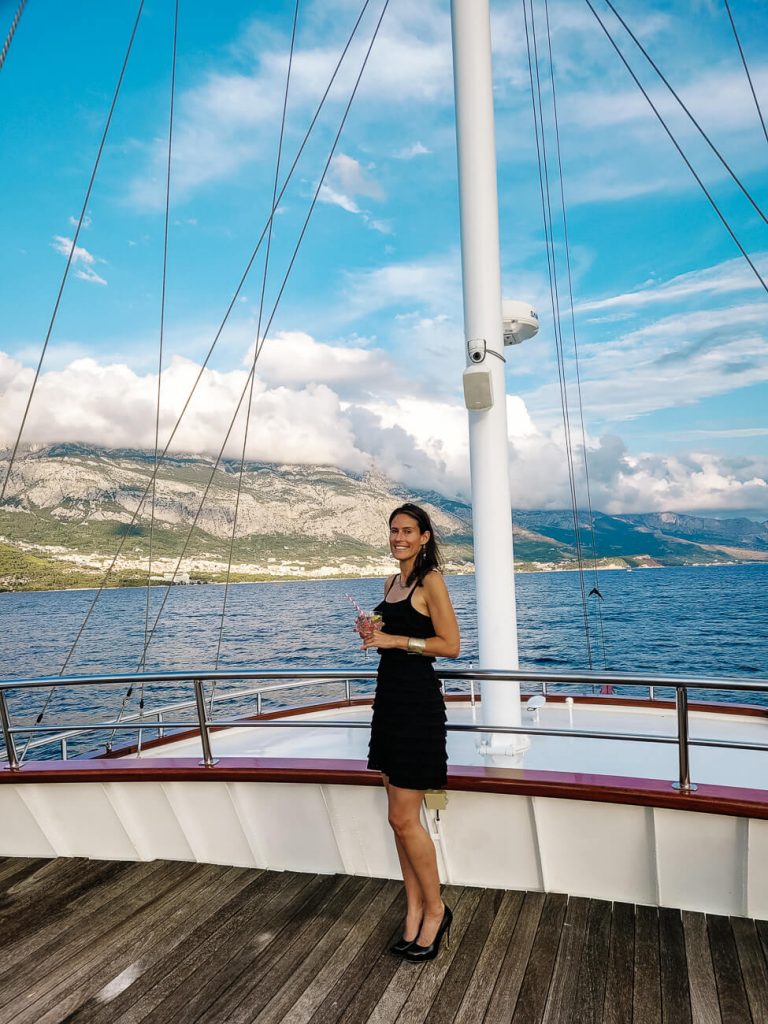 Discover the most beautiful places along the Dalmatian coast
During a Sail croatia one week cruise, everything will be arranged for you and the only thing you have to do is enjoy. My Sail Croatia itinerary starts in Split. I already arrived the day before the start of the cruise to make sure I had time to enjoy the historical center. We check in early morning the next day and the weather doesn't start too well. It's literally pouring. But as soon as we reach our first swimming stop, the sun comes out and we all understand that this trip is going to be amazing. The blue sky, lovely secret beach and the crystal-clear water are really to fall in love with. And it feels like everyday is even more amazing then the day before. I can't believe I haven't visited Croatia before.
The itinerary
Our first stop is Makarska, a pretty town located at the foot of the Biokovo Mountain range. It is part of the Makarska Riviera, a stunning coastline on the mainland of Croatia. Besides beautiful beaches and a pretty city center, the area offers great outdoor activities such a hiking and mountain biking, wich makes it a popular tourist destination. We arrive in the late afternoon and stroll around the city center with its pretty streets, many restaurants and bars .
Islands
The next day, we sail towards the populair Hvar island. And we have the possibility to explore different sides of the island. We start in Stari Grad, the less visited but oh so pretty town of the island and go on an inland tour to a vineyard for a winetasting. Before we head to Hvar town, we have a swim stop at the Pakleni Islands. Hvar town is next and I understand why people love this place. An absolute highlight is the famous fort from where you have a beautiful view of the town and Dalmatian Coast. Also a stop at the fascinating Blue cave is included. Vis is another island with a fort for great views, especially during sunset. Another island that can't be missed during your Sail Croatia cruise itinerary is Korcula, famous for its medieval center.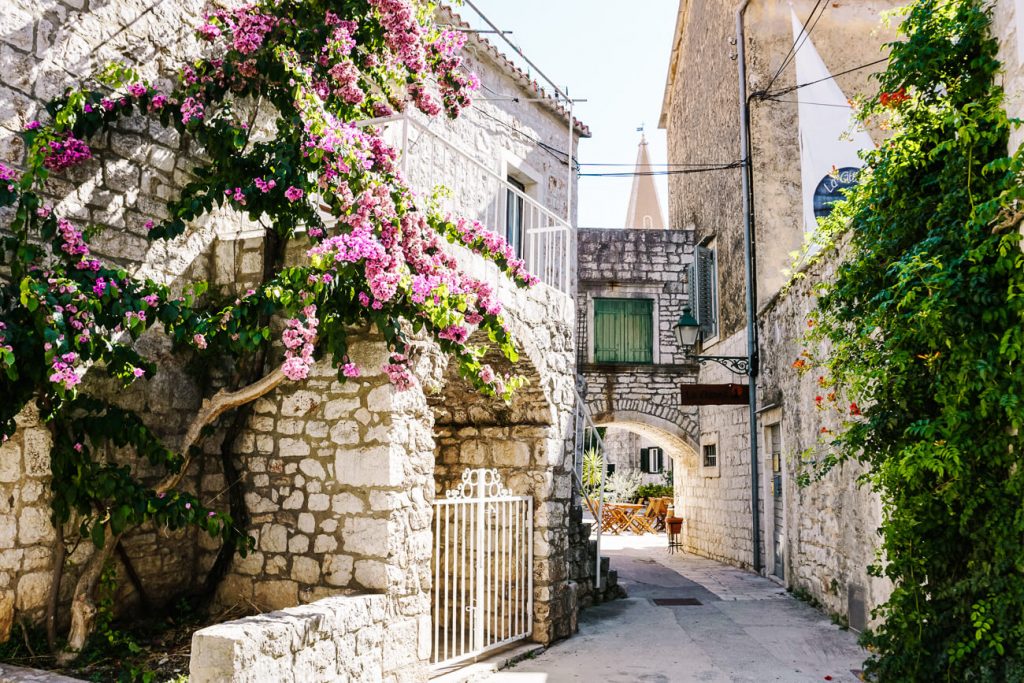 After enjoying so many cultural and historical towns it's time for a completely different setting: Mljet island with its National Park. The amount of colors blue and green you get to see here, are just stunning. There is time to explore the park by bike and foot. Our crew decides to offer us another island for a visit and overnight stay: Sipan, part of the Elafati islands and so pieceful. Dubrovnik is our final destination, a bustling city with so many things to do and see.
Do you want to read my full review about the Sail Croatia one week cruise itinerary? Have a look in the next article where you'll find a detailed breakdown of each day and place. Interested in things to do on the different islands? Have a look in my article about the Croatian islands.
Life on a Sail Croatia Explorer cruise
The Sail Croatia explorer cruise consists of 4 levels, a lower and an upper deck with several cabins, a deck with the restaurant and an upper (sun)deck with sun beds. In the restaurant you will find a bar that is open daily until 11 PM. Breakfast and lunch are also served in this area, which you enjoy with your fellow travelers. In front of the restaurant is a lounge area where you can sit in the shade and socialize with your new friends. There is also a sundeck to enjoy sunsets and relax.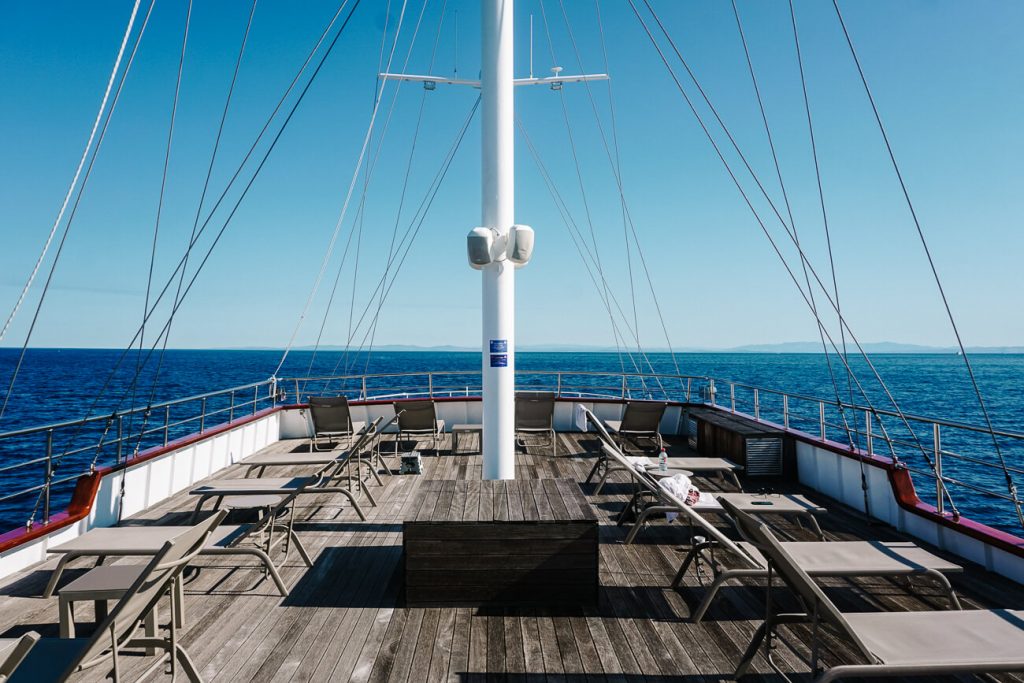 The good thing about the Sail Croatia cruise is that there is enough space. Therefore the hours you spend on the boat are really enjoyable. Every day at the end of the afternoon, you arrive at a town and you can go out by yourself or with the group.
Daily swim stops along the Dalmatian coast of Croatia
These became my favorite moments of the day. Every day you stop in the most beautiful bays along the Dalmatian coast for an hour or more, to swim around the boat, to a beach or cave. From the boat you dive right into the water and enjoy the surroundings around you. Moreover, these are the bays that you don't get to so quickly by car. For me this was the ultimate cruise feeling.
Sleeping on a Sail Croatia cruise
This I found quite exciting prior but is a fantastic experience! It is so much fun to take your room with you to a new destination each time. Where you normally move from hotel to hotel, your room now moves with you from place to place. At night you always sleep in a harbor and when the Sail Croatia cruise starts sailing early in the morning, you hardly notice it.
The cabins
The cabins are simple but fully equipped. There are 1, 2 or 3person rooms consisting of one large bed or two twin beds. And the beds are nice! You have your own shower and toilet and there is hot water. However, the cabins are small so make sure you take this into account, in terms of carrying luggage. If you travel as a couple you can both take a suitcase but that's about it. The good thing is that you do not need much during your cruise!
Meals on the Sail Croatia explorer cruise
Depending on the type of Sail Croatia cruise you book, meals are offered. On the Explorer Cruise, breakfast and lunch are included. Therefore, the chef prepares an extensive three-course menu for you every day, consisting of soup, fish, salad, fish, risotto (and meat/chicken for the lovers). It was a surprise every day. You can also participate in a captain's dinner, where the crew prepares a large BBQ or other festive meal.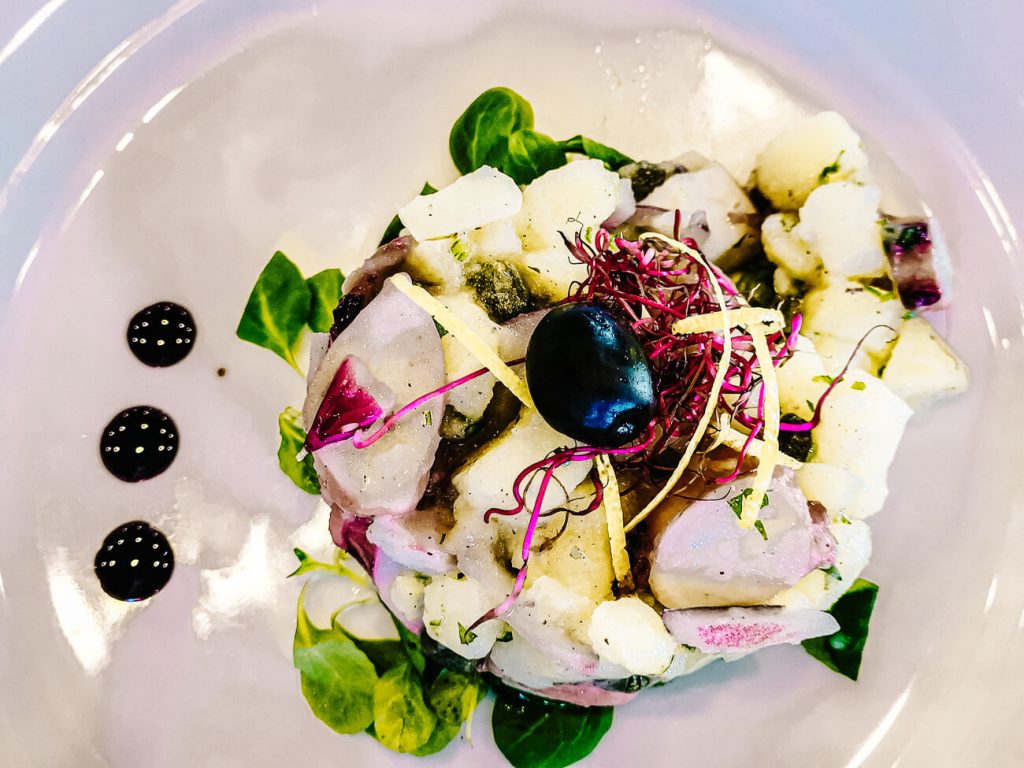 The Sail Croatia crew
We had a 6-man crew and they were all adorable: a captain, two assistants, a chef taking care of the meals, a cool bar girl and a tour guide, who takes care of everything. Giving you information about things to do, organizing tours and helping you with reservations.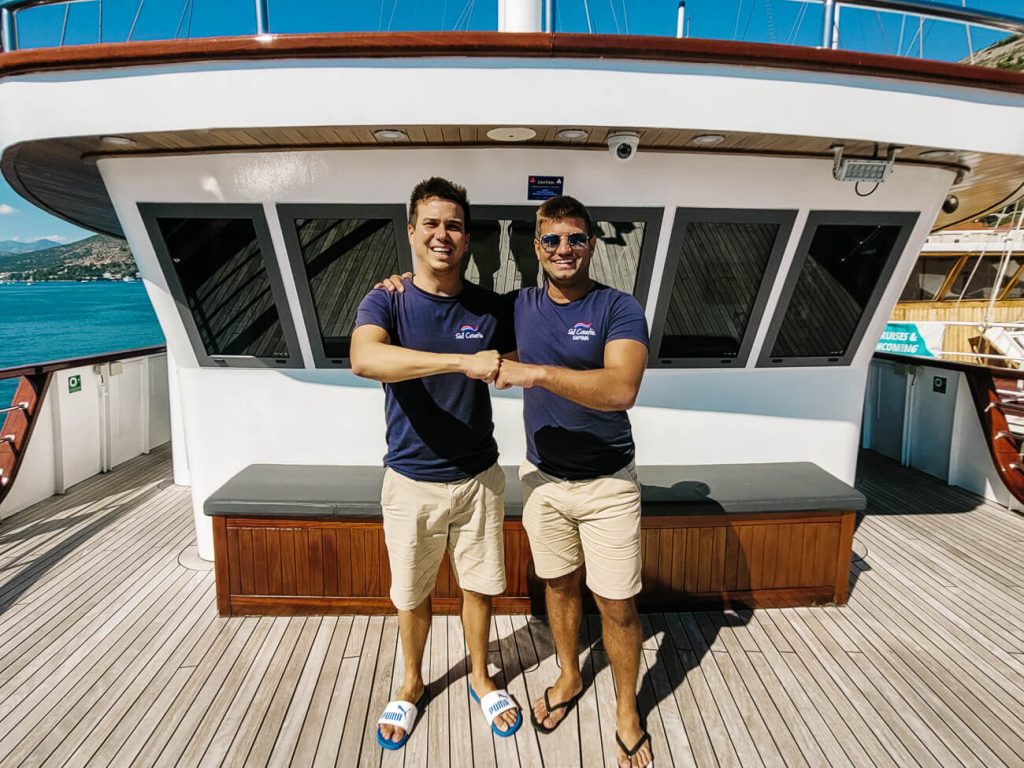 Fellow travelers
This of course depends on your tour but the boat can host around 25 travelers, a nice group of people from different countries. A nice mix of nationalities and ages. The good thing about a Sail Croatia cruise is that there is a good combination between socializing and finding your privacy. You can hang out with your fellow travelers but there is enough space to be by yourself as well. You can head out with a group and explore a town or go on an excursion. But if you want some time to yourself, you are totally free to do that too.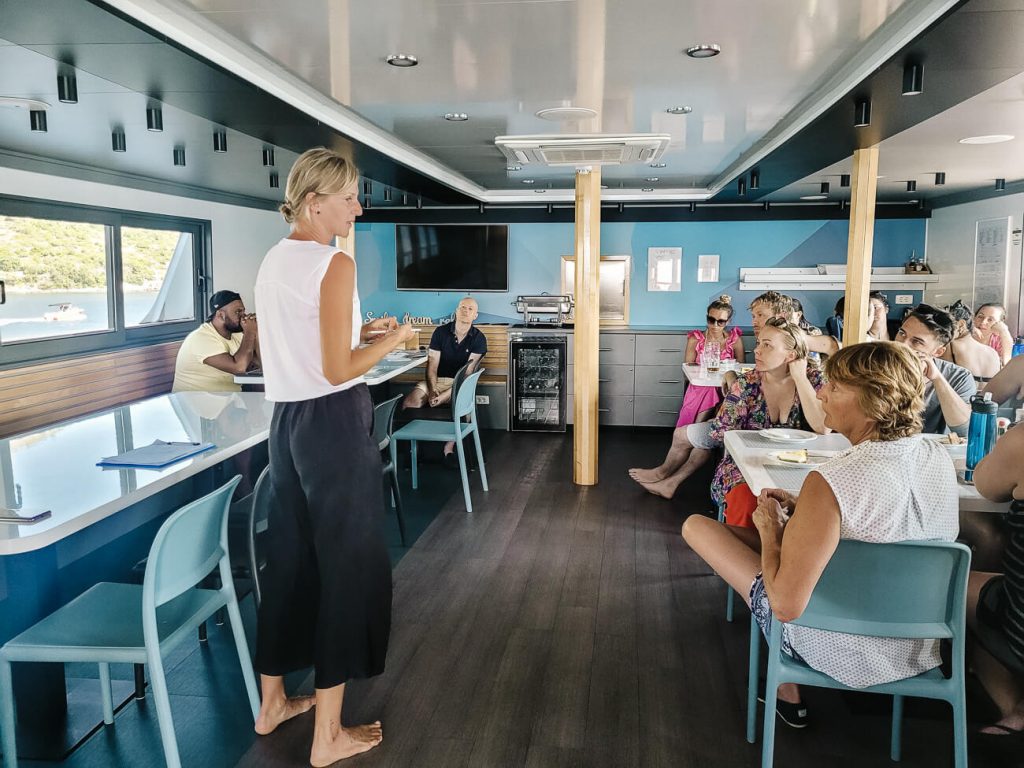 Which Sail Croatia one week cruise suits you best?
This depends entirely on your own interests and way of traveling. Sail Croatia offers 5 types of cruises of 7 days along the Dalmatian coast of Croatia. With the hike cruise, the most beautiful hikes are on the program, with the bike cruise you go out on your bike every day. The elegance cruise is all about luxury and with the navigator cruise the focus is on party. The Sail Croatia explorer cruise offers a nice combination of activities and comfort and fits best with my way of traveling and interests.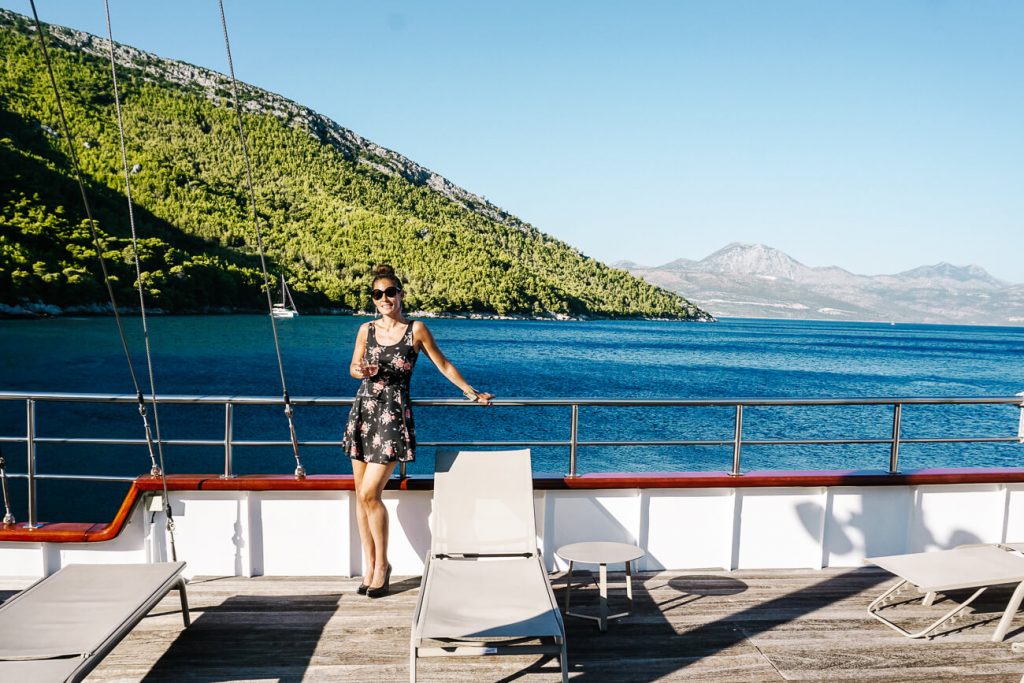 How much time do you need for a Sail Croatia cruise?
Most cruises along the Dalmatian coast of Croatia last a week, starting in Split or Dubrovnik. I would advise you to arrive at your destination at least the day before you check in on the Sail Croatia cruise, and leave again the day after you check out on the Sail Croatia cruise. Just to get some rest. Of course it is even better to plan some extra days, so you have plenty of time to explore your starting destination (in my case Split) and final destination (Dubrovnik).
Best travel time for a Sail Croatia cruise
The best months to visit the Dalmatian coast of Croatia are from May through October. However, July and August are high season so be prepared for extra crowds. Also, the temperatures can be high then. In spring and autumn temperatures are often slightly cooler and sometimes more pleasant.
What to bring on a Sail Croatia explorer cruise for one week?
Large bath towel (towels are available but large towels for the beach or deck are not)
Water shoes (golden tip!). The coast is very rocky and there are also many pebble beaches. If you plan to swim from the boat to one of the beautiful beaches, you are going to be very happy with this.
Sunscreen
Water bottle (on the boat you can refill it with water indefinitely)
Good shoes (mountain shoes are not necessary). There are several places where you can go for a hike hike.
Bandage box for yourself, I (clumsy as I am) cut myself quite badly while climbing rocks.
Flip flops
Summer clothes
Something warm for later in the evening and on the boat
Money (tip for the crew)
Conclusion
I had never been on a cruise but discovering the islands of the Dalmatian Coast with a Sail Croatia cruise was one of the best choices I could have made. The Sail Croatia explorer cruise is a small boutique ship cruising alond the beautiful islands. You spend the mornings and early afternoon on the boat enjoying views, eating and drinking and swimming in bays. And at the end of the afternoon you have the time to discover the islands and towns of the Dalmatian coast of Croatia!
Pin and save for later
More about a Sail Croatia cruise
Do you want to read more about cruising in Croatia? Have a look in the next article where you'll find a detailed breakdown of the Sail Croatia itinerary. Interested in things to do on the different islands? Have a look in my article about the Croatian islands. And make sure to have a look at the Sail Croatia website for lots more details, prices and availability.
This article may contain affiliate links. If you purchase something using one of our links, we may receive a commission at no extra cost to you, which helps us keep this blog alive. Thank you for your support! Please see our disclosures for more information.