Losinj in Croatia is a wonderful island to visit. You will find idyllic bays with beaches, nice towns, beautiful hiking trails, groups of dolphins, art and culture and a delicious cuisine. With its 1200 different plants and herbs, the island is also known as the island of scents and vitality. And because of its pleasant climate and pure nature you will find complete relaxation here. In this article I will tell you more about the best things to do on Losinj, the towns Mali Losinj and Veli Losinj, its attractions, restaurants and why you should definitely visit this beautiful island in Croatia.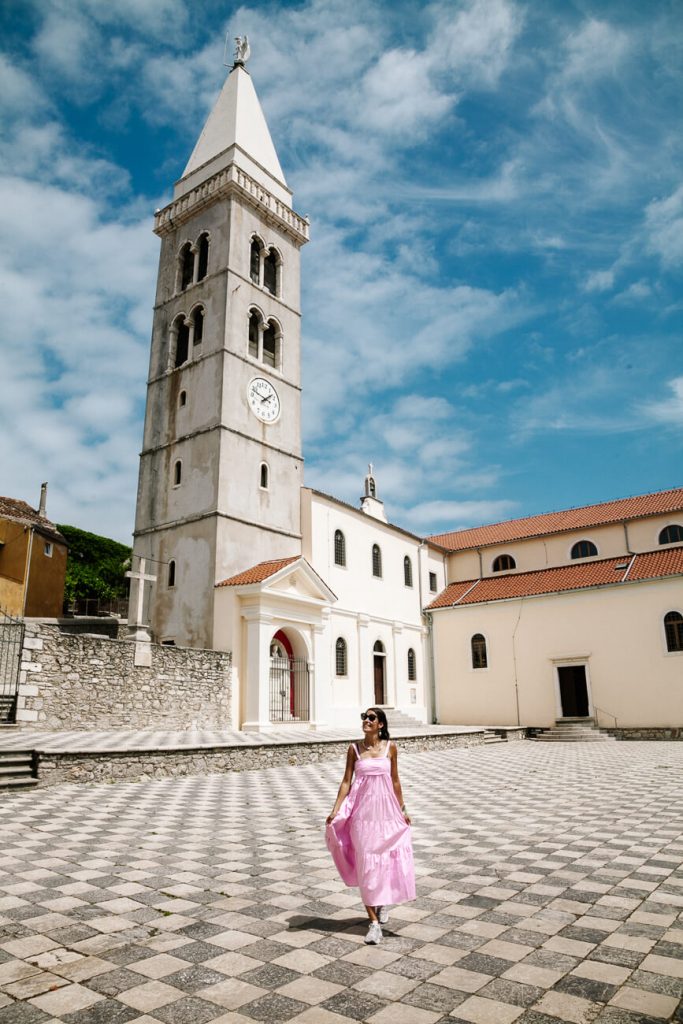 What to do on Losinj island in Croatia – 15 tips and things to do
Losinj lies together with the island of Cres in the north of the Kvarner Bay in Croatia. The island has an area of 75km2 and a 113km long coastline. There are 8000 people living on the island, spread over a number of small towns. However, the majority of the island consists of greenery, which invites you to take beautiful walking and cycling tours. The island is easy to explore by car, you can drive from north to south within 30 minutes. Want to discover Losinj island? These are my tips for the best things to do in Losinj in Croatia.
Visit Mali Losinj
Mali Losinj is located in a 5 km deep bay and a nice town to visit. It has a long promenade where you can stroll around and enjoy the vibe. There are nice restaurants, bars and stores everywhere and the views are as you would expect from Croatian islands. Azure blue water, beautiful houses with colorful facades and a harbor with numerous bobbing boats that come and go to the surrounding islands.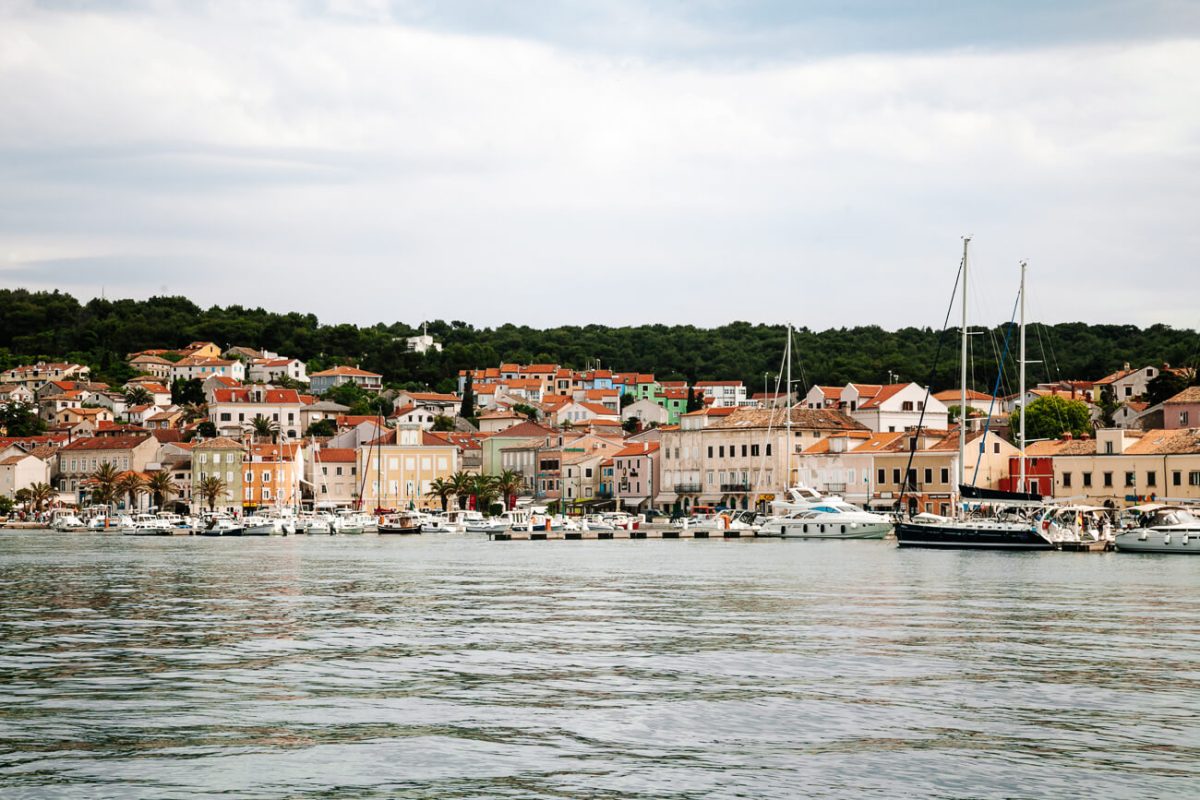 It is also worth visiting the old part of town. Here you will find narrow cute alleys and sights including the church of Mali Losinj.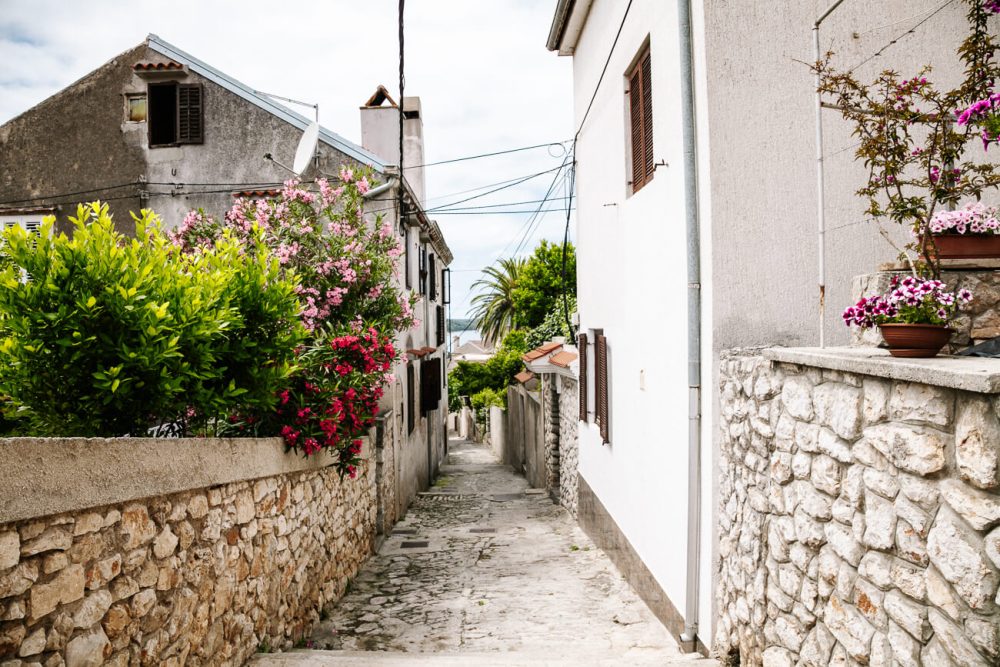 Mali Losinj means small but is the capital, and with 6000 inhabitants also the largest town on the island.
Go on a dolphin watching tour around Losinj Island
One of the best things to do on Losinj island is a trip to spot dolphins. Dozens of times, for both work and private, I got on boats to see dolphins. Sometimes I was unlucky and sometimes very lucky. Around Losinj over 250 bottlenose dolphins swim and the chances of seeing them are very high. I dare to say that this trip on Losinj is definitely in my top 5.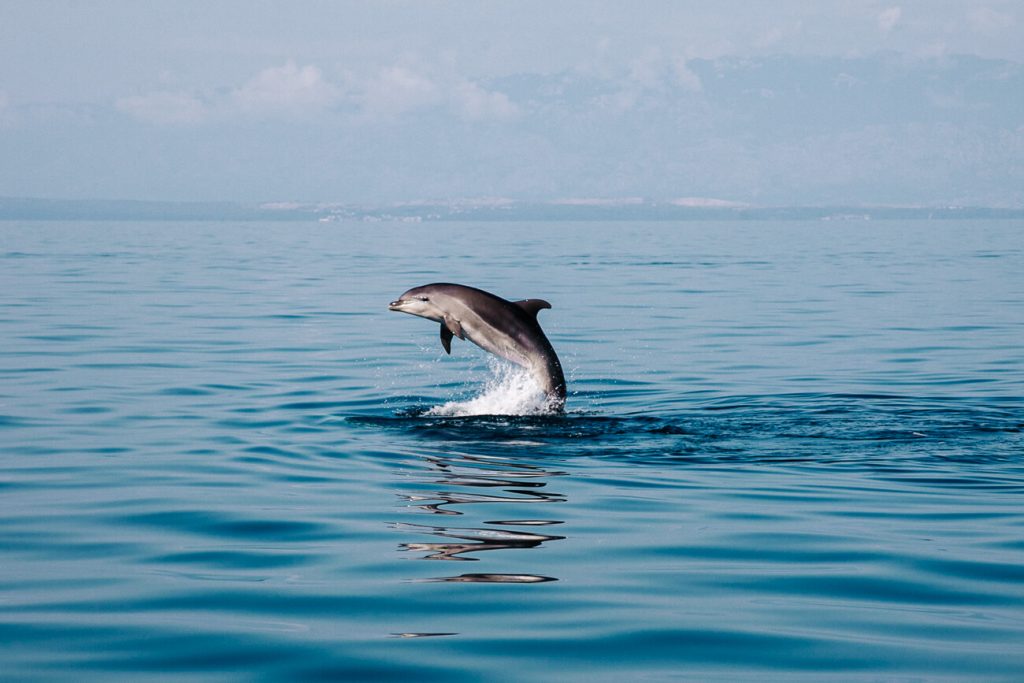 This was not a single jump or glimpse of a dolphin but a continuous experience of dolphins around the boat. Not just one and the same, but whole groups showing up: In the distance, very nearby, swimming and jumping. So beautiful. The trip takes about a maximum of 3 hours but most of the times 1.5 hours, because the boatmen find the animals very soon. You also have a chance of seeing sea turtles, the Atlantic bluefin tuna and groups of cormorants.
How to make a dolphin trip
It is important to make these kinds of trips with the right organizations. I myself made this trip with Blue World Institute from Veli Losinj, an institute that is committed to the Adriatic Sea, focusing on researching and educating about dolphins. Prior to the trip, you get an explanation about the institute, their work and the approach during the tour. The animals live in their natural habitat and are not bothered by boats or people. It is also possible to adopt a dolphin. With your contribution you support the work of the institute and get regular updates on your own dolphin. How lovely is that!
Keep in mind: Of course it is not possible to influence nature, but because of the knowledge and approach of the skippers, visitors are often surprised! In summer months there are often many boats on the water, the chance of seeing lots of dolphins is said to be somewhat less.
Stroll through the aromatic island garden of Losinj
Losinj is known for its many scents and colors. In the aromatic island garden, near Mali Losinj, you can meet owner Sandra. She created a garden with more than 250 wild aromatic plant species. Depending on the season, you will find rosemary, sage, myrtle, olives, lavender, figs and much more. The butterflies fly around you while you take a seat on one of the benches and relax. Afterwards it is recommended to have a look in the store and buy some of the natural homemade products such as oils and herbs. A visit does not take long but is definitely one of the lovely and typical things to do in Losinj in Croatia.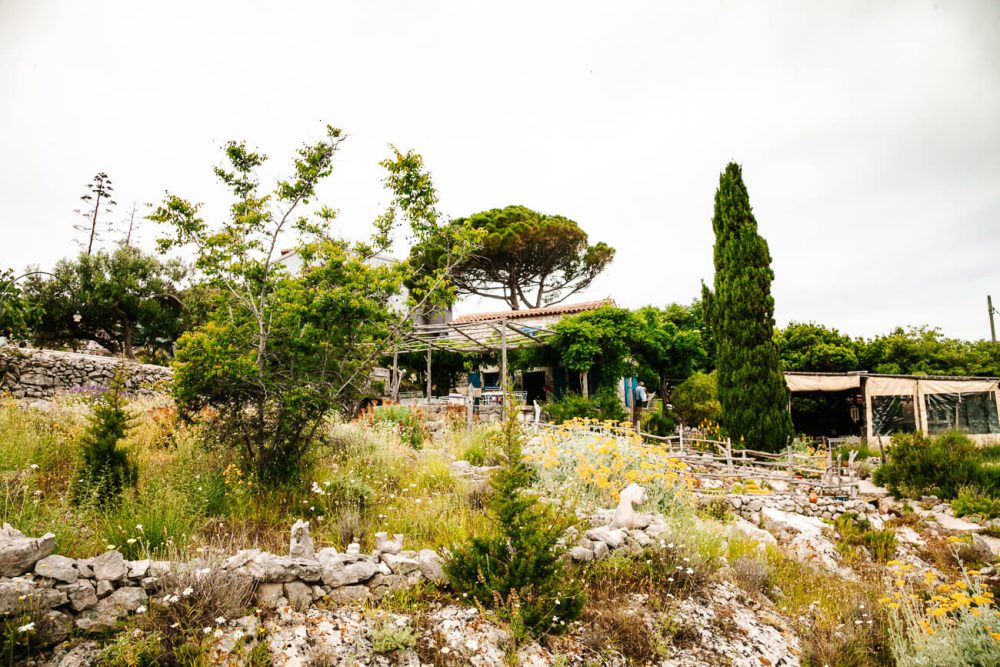 Did you know that Losinj has more than 1200 different plants and herbs and around 239 of them are used for healing and medical purposes?
Enjoy views over Losinj island at Providenca
Viewpoints are always part on my to do list. In Losinj, you should not miss the viewpoint Providenca. Here you have a view of the town Mali Losinj and the beautiful Kvarner Bay. Some short hiking trails take you past photo spots and signs with information about the history of the region. And in the spring and summer months, you can dine here or have a glass of wine while enjoying the beautiful sunset. A place to come back to again and again! Providenca is located on the mountain Umpiljak and can be reached on foot or by car.
Visit Veli Losinj
Veli Losinj is the oldest town on the island and is situated. Walking through the narrow streets of the town, you will see the houses and villas of the former shipping elite. In the center of the Veli Losinj you can visit the old port, with several colored houses, restaurants and the Sv. Antun church. Great photo spots! Also make sure to visit the fishing port Rovenska and its beach. From the Tower museum you have a beautiful view over the bay of Veli Losinj.
Veli Losinj means big but nowadays, it is much smaller than Mali Losinj, about 6 times. Veli Losinj used to be the largest city on the island and the names have never been changed. Today Veli Losinj, with 1000 inhabitants is the second largest town on the island, after Mali Losinj. Other small villages to visit on Losinj are Ćunski and Nerezine.
Go for a hike
Do you enjoy hiking as much as I do? The Losinj island archipelago has more than 250 kilometers of hiking trails. One of the hikes I would like to do in the future is the one to the Televrina peak on the 589 meter high Osoršćica mountain. The hike should be easy to moderate and the views must breathtaking. You can start the trek from Osor or Nerezine. Or you can choose to hike from Osor over the Osoršćica to Nerezine in 4 to 5 hours. Here you can find an overview of different hiking trails.
Art and culture – get to know Apoxyomeos.
Interested in art and culture? Visit the Museum of Apoxyomeos, one of the cultural things to do in Losinj in Croatia. In 1996, a 2000 year old Greek statue was accidentally found on the seabed around Losinj. After examination and restoration, this turned out to be Apoxyomeos, a bronze statue of the Greek athlete ("the Scraper") ,scraping sweat and dust from his body. A unique find, since there are only 7 statues of this Greek athlete in the world.
The museum is small but unique. By walking through different rooms you will be prepared for your meeting with Apoxyomeos. First there is a room with information about the find, a nice movie theater where a film about the restoration process is shown (one of the nicest museum cinemas because of the colored carpets on the walls) and a room where all publications about this historic find are displayed. At some points there are round windows and you can already catch a glimpse of Apoxyomenos. And then you will actually see him. I myself was very surprised by the story. In my opinion, a short visit to this museum should not be missed when visiting Mali Losinj.
Take a boat trip to surrounding islands
One of the best things to do when you're on the island of Losinj in Croatia, is to take a boat trip. You'll sail to several small islands, which are part of the archipelago. And the views of the shimmering blue sea and green surroundings are magnificent. Along the way, stop to swim in one of the many bays.
Eat an ice cream
Everywhere on the coast of Croatia you can find delicious ice cream, something I was completely unaware of during my first visit to Croatia. There are countless flavors but if you are Losinj, you should definitely try the lavender ice cream.
Lavender can be found everywhere on the Croatian islands. Along the coast, inland and often in gardens, for the butterflies and bees. Also in Losinj! And this creates wonderful scents on the island. Lavender is used as an herb in fish and meat dishes, in ice cream, for cosmetics and in the spa for relaxation massages. Do you love lavender? Then be sure to buy one of the delicious smelling lavender sachets.
Enjoy wellness and spa facilities
Losinj was declared a spa resort in 1892 because of its pleasant climate, pure air, rich flora and fauna with numerous medicinal plants and high sea quality. A visit to Losinj island is therefore already a wellness gift in itself. But in addition, many hotels like Bellevue Hotel in Mali Losinj have specialized in treatments with medicinal plants and herbs. There are numerous packages offered for guests and non-guests. Nice to pamper yourself for a day in one of the spas.
Visit the beautiful Losinj beaches
The beautiful and quiet beaches in Losinj are often only accessible by boat. In the harbor of Veli Losinj and Mali Losinj you can rent a boat and visit the surrounding beaches. If you don't have time for a boat trip, you will find the Veli Zal beach around Mali Losinj and the bay of Cikat, with three beautiful beaches, one of which is sandy. In both places you have several restaurants and water sports facilities.
Eat in delicious restaurants
In the towns of Mali Losinj and Veli Losinj there are numerous restaurants. But also on other parts of the island you will find fine places with the most delicious dishes. These are my tips for delicious food and drinks on the island of Losinj in Croatia.
Are you on Losinj Island in May? Then make sure you visit the Losinj Culinary festival. Several restaurants participate where special menus, tastings and other culinary events are organized.
Where to eat – 5 restaurant tips for Losinj island in Croatia
Diana
Diana restaurant is located on the waterfront in the Čikat bay. It is known as a steakhouse with the best cuts of meat, prepared the Argentine way. And as an Argentine lover I can confirm that this means a lot. I don't eat meat myself but I visited Diana because of their special fish and meat menus during the culinary Losinj festival. Very tasty and lovely people in the service!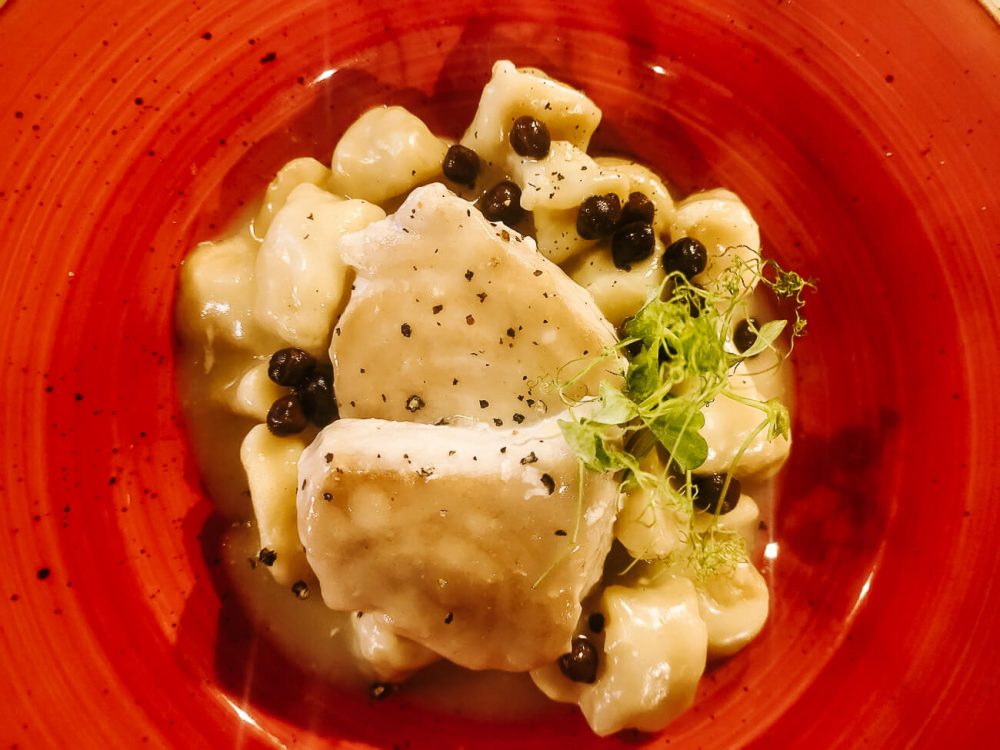 Be sure to get recommendations on local wines and try something new. All wines are produced by small-scale Croatian wineries!
Dine in Corrado in Mali Losinj
Want to dine in an authentic and cozy setting? Corrado Mali Losinj specializes in fish and the choice is huge! Never before have I been served such a large fish (halibut) and how delicious it was! Not to mention the plate of appetizers. You can sit on the nice covered terrace or the idyllic garden. This place is not to be missed if you like really good food!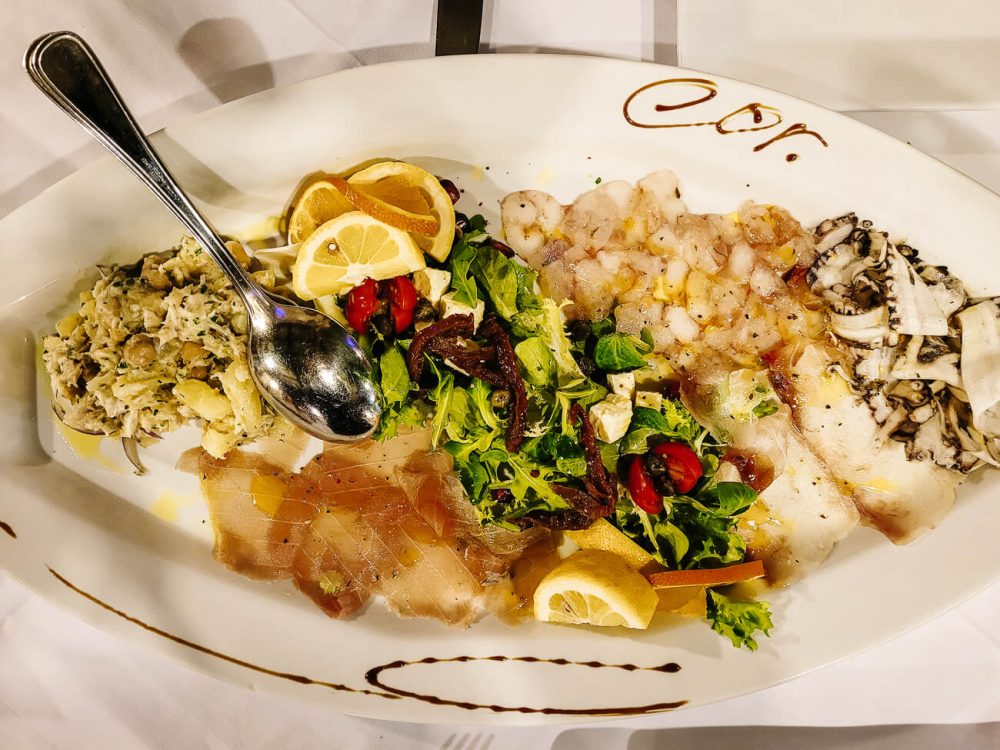 Za Kantuni in Mali Losinj
The restaurant Za Kantuni is located behind the promenade of Mali Losinj. You can expect tasty fish dishes, pastas and great Croatian wines on a nice terrace. Recommended!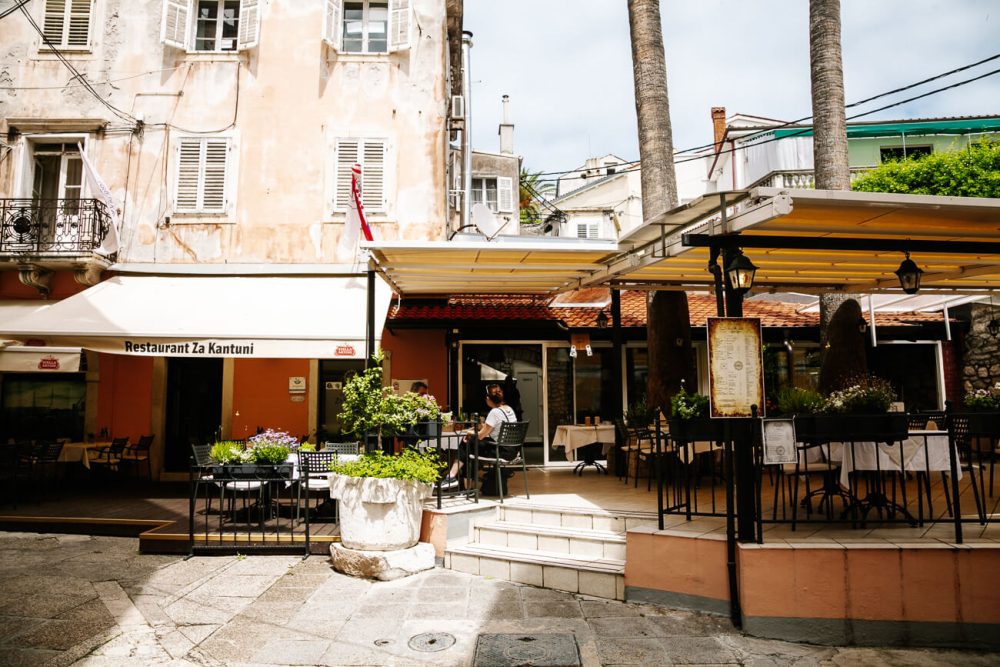 Bocca vera
On the boulevard of Mali Losinj you will find Bocca Vera. It may look like a standard tourist spot but it is anything but that. The food is deliciously fresh and the staff extremely friendly. Take a seat on the balcony and look out over the life on the promenade.
Borik
Are you looking for a nice place on the beach and sea? Then you'll want to book dinner at Borik, located next to Veli Zal beach. During the day, this is a trendy beach club and in the evening you can have a romantic dinner and drink cocktails here, while enjoying a nice breeze!
Mini travel guide Losinj Croatia
Where to stay on Losinj in Croatia
I myself stayed at the Bellevue Hotel, a 5-minute drive and 10-minute walk from Mali Losinj. Bellevue Hotel is a fine and spacious hotel, located on a beautiful bay. Directly on the sea you will find a lounge area, two large private sun terraces, from where you can walk right into the sea. There is an outdoor and heated indoor pool and a huge spa, one of the largest in Croatia.
The hotel houses a Japanese restaurant, cocktail bar and you can be inspired by art from local designers in the art gallery. There are different types of rooms, varying in size, including balcony or terrace. The rooms are fully equipped and if you have a room with sea view, there is nothing more to do than enjoy. From Bellevue Hotel all the sights of Losinj are within easy reach.
Curious aboout Hotel Bellevue? Check the availability and latest rates here. Looking for more places to stay on Losinj Island? You will find an overview with hotels in Losinj here.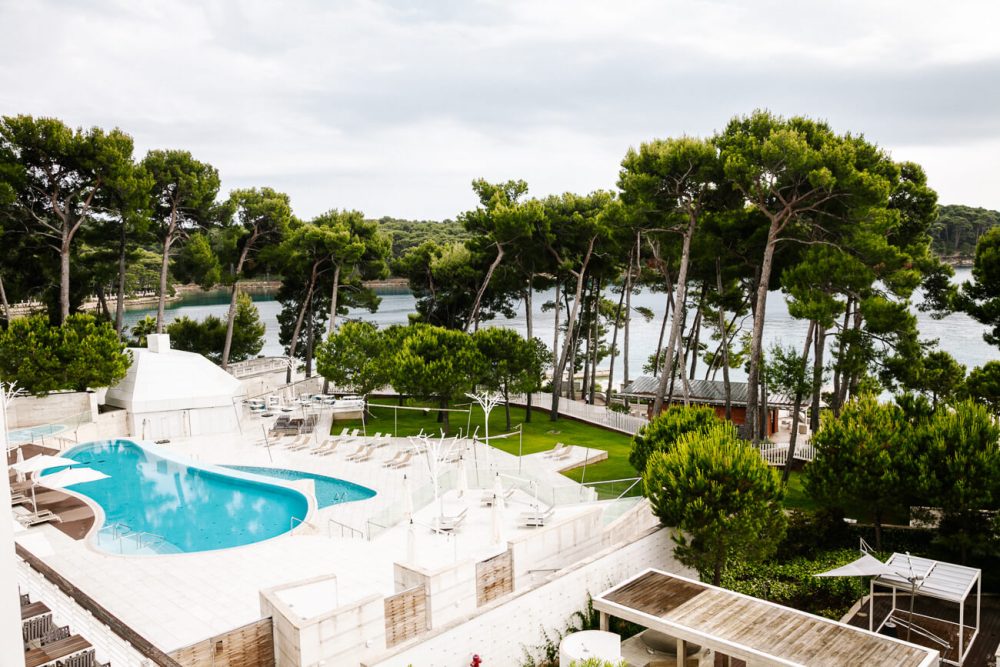 How to get to Losinj island in Croatia
There are two airports close to Losinj: Pula and Rijeka airport. The best is to rent a car here and make your way to Losinj island. The Jadrolinija ferries depart from Brestova, located on the mainland, to Porozina, on Cres island. It is a nice crossing of about 20 minutes. From Porozina you drive along a 25 km long scenic road over Cres island through to Losinj island, which are connected. Brestova is both from Pula and Rijeka within about 1 hour to reach. Want to know more about how to reach Losinj island? Here you can find everything you want to know, including the ferry times.
Car rental
Need a rental car for your trip to Croatia? Use Rental Cars to search and compare your car rental options. A quick and easy tool and no need to have up multiple tabs trying to figure out which company is the most affordable. They also have great discounts and cancellation policies.
More about Croatia
Are you as excited as I am about Losinj island? Want to read more about beautiful Croatia? In the next article you'll read more about a cruise along the Dalmatian Coast of Croatia.
This article may contain affiliate links. If you purchase something using one of our links, we may receive a commission at no extra cost to you, which helps us keep this blog alive. Thank you for your support! Please see our disclosures for more information.